Decorated Life is reader-supported. When you buy through links on our site, we may earn an affiliate commission. Learn More
What Color Cabinets Go With Black Granite Countertops? 15 Ideas
Black can be tricky to decorate because it's dark and dense. But all hope is not lost if you're looking for ideas on what color cabinets go with black granite countertops.
You'll get the best look with cabinet colors for black granite countertops when you limit your color palette to neutrals. If you want to add splashes of color, do so with your decor. Colors that go well with black counters include shades of gray, white, neutral off-white, black, and brown.
Extra White by Sherwin Williams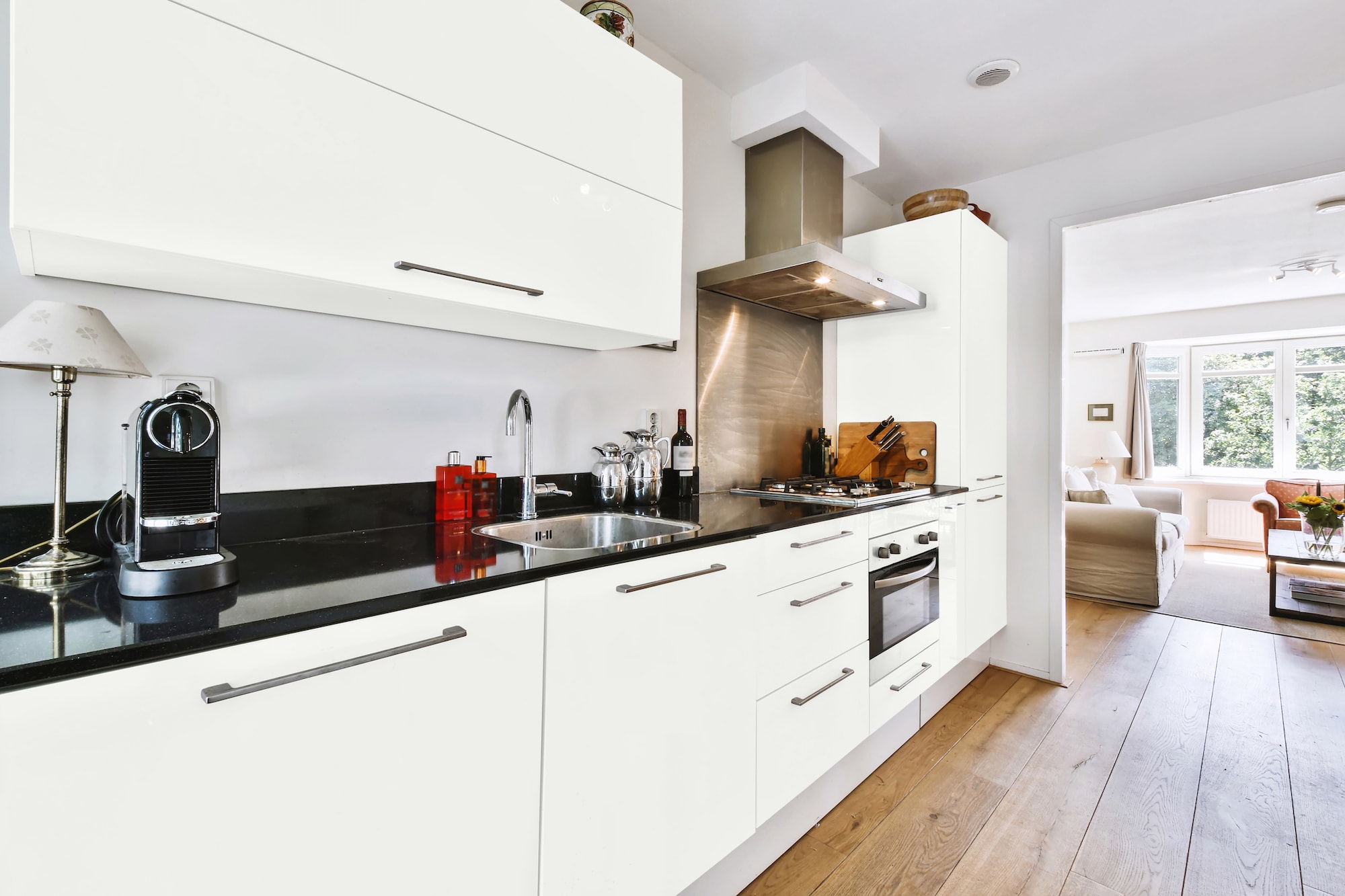 A black and white color combination can look retro or modern. Either way, it's a showstopping palette that lets you choose any accent colors and still look great.
Painting your cabinets Extra White gives you a crisp, fresh brightness. When paired with black countertops, Extra White cabinets can take on faint tints of gray for a white with a secret.
Pediment by Sherwin Williams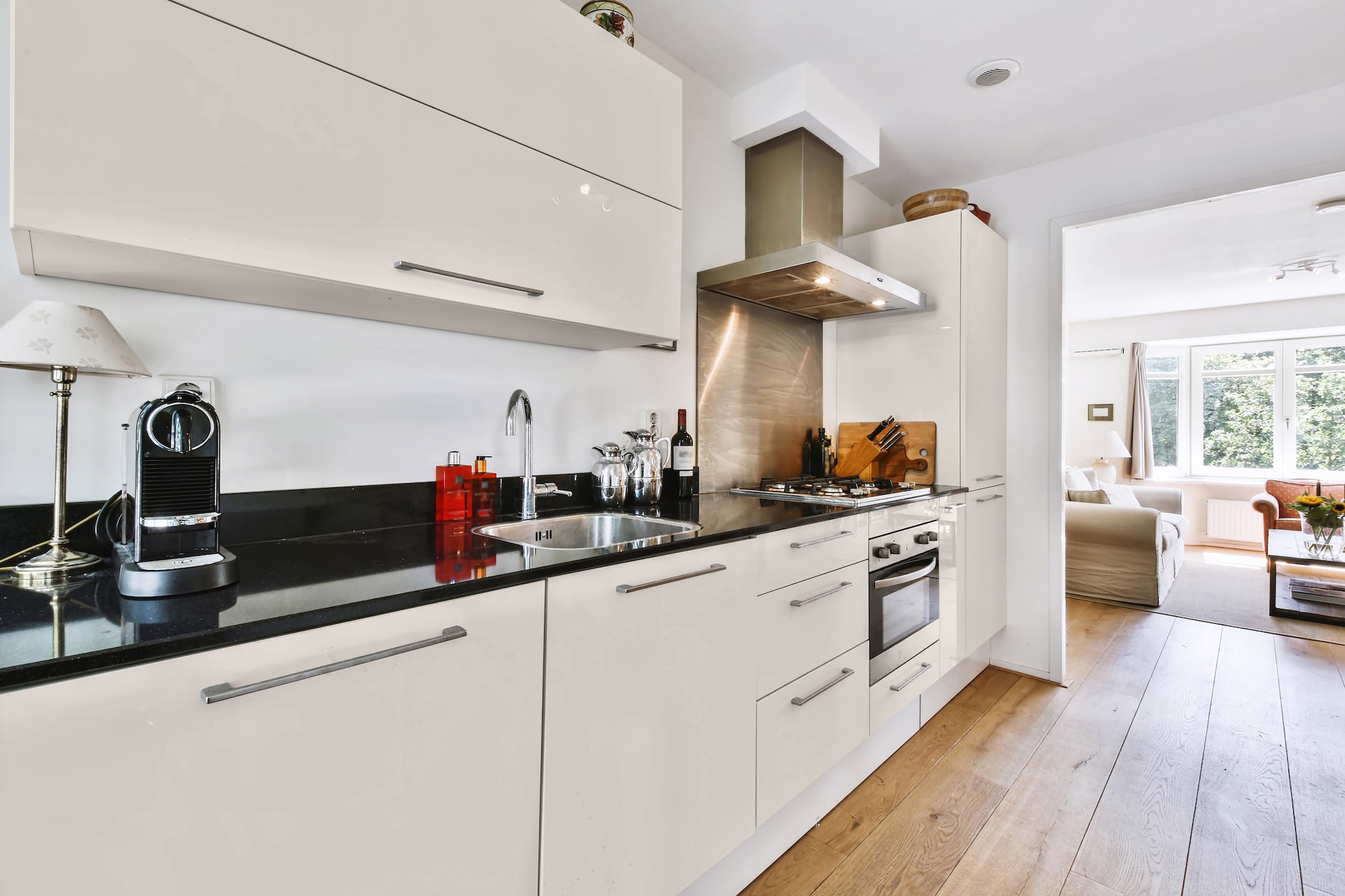 Black countertops can also stand out with cabinets painted in a pigmented tone. Pediment is a cool pigmented gray with an attitude.
When matched with black granite countertops, the dark shadows buried in this gray turn into mauve and brown hints. The color has enough personality to work for any theme and stand the test of time.
Lazy Gray by Sherwin Williams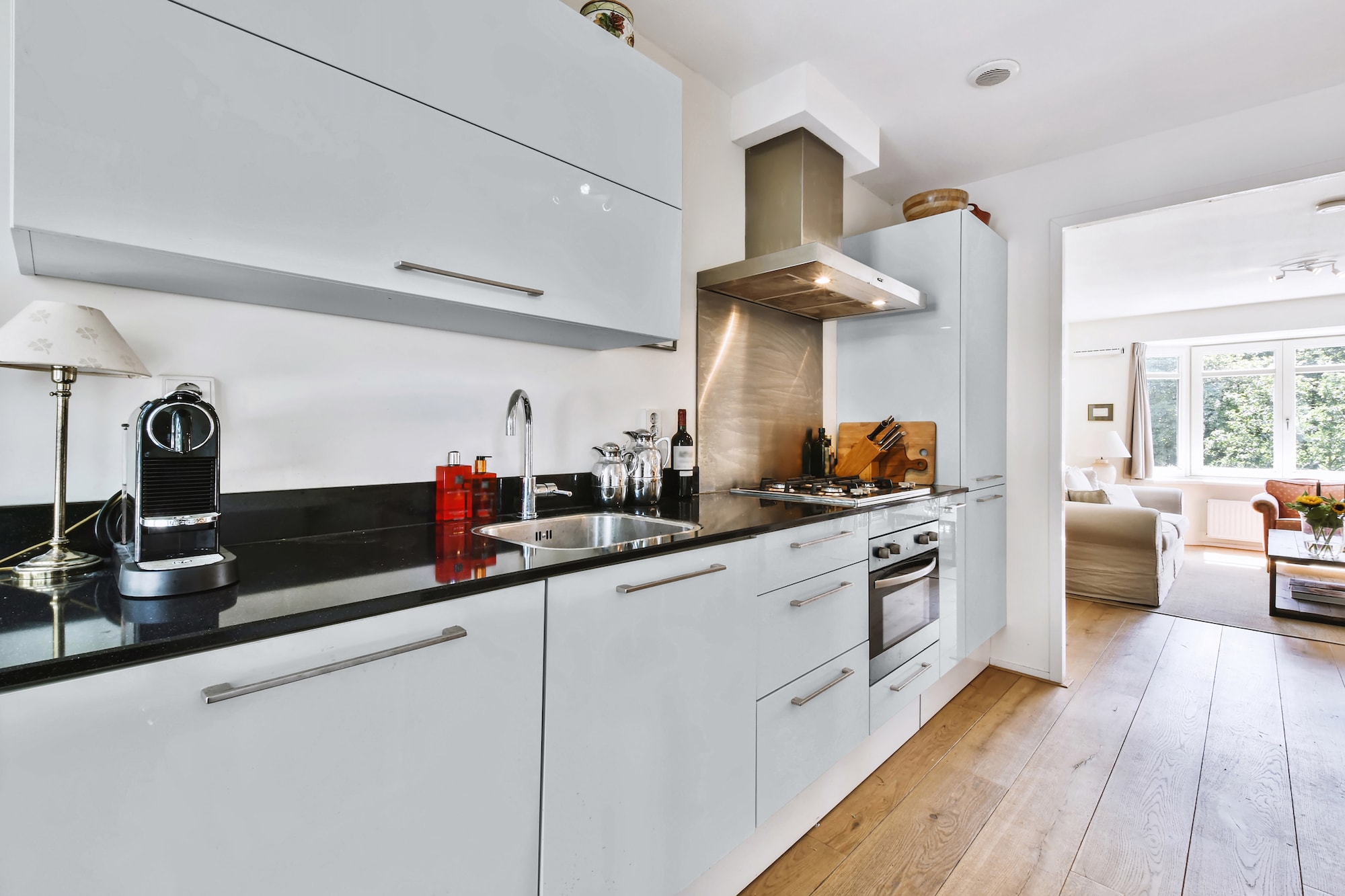 If you want to go with a darker shade of gray cabinets with black granite countertops, check out the classy appeal of Lazy Gray. This mid-toned gray can create energetic drama in your kitchen. 
The darkness of black can play on the shadows to make this gray go cool blue or mildly lavender in low lighting. However, you can appreciate the versatility and timeless appeal of a medium gray in bright light.
Iron Ore by Sherwin Williams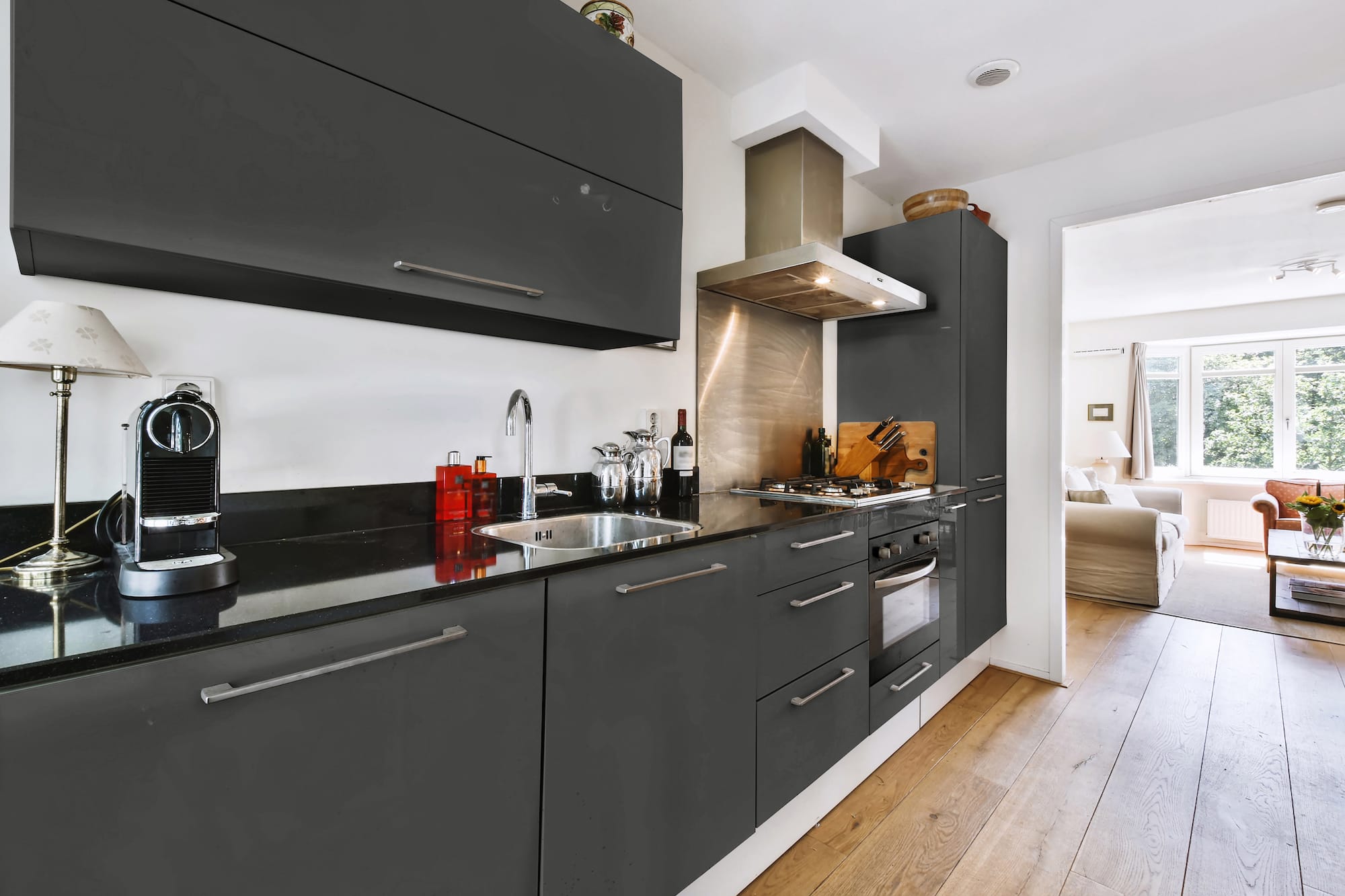 You can use a black-on-black color palette for a modern monochromatic vibe. For example, you can add black granite countertops to cabinets painted a dull near-black like Iron Ore.
This color is a few shades shy of being pure dark black, giving it just enough lightness to add style to your kitchen without feeling depressing or goth. If you want a lighter look, use this deeply saturated gray for your lower cabinets and white or open shelving for the uppers.
Westhighland White by Sherwin Williams
Westhighland White is a fascinating shade of neutral for kitchen cabinets topped with black granite countertops.
This white has warm pigments that can give your cabinets a creamy nuance. In addition, the absence of color in the shiny black stone can darken the shadows in the white to provide it with a warm texture.
On the Rocks by Sherwin Williams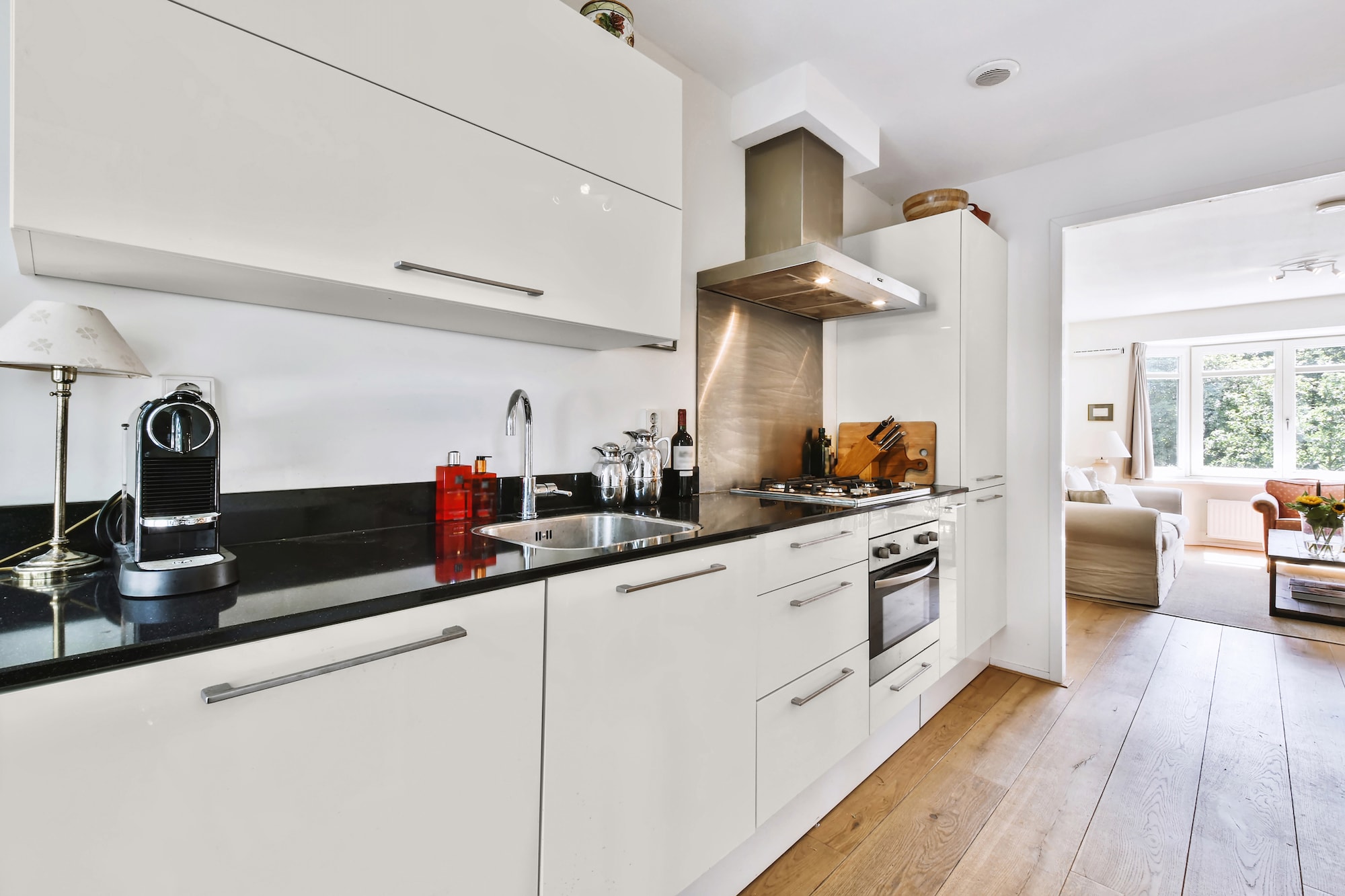 On the rocks isn't only for serving a good drink. This On the Rocks color is a cool neutral gray that can look blue, green, or brown depending on your accent colors.
Bold black can darken this gray for a look that can go traditional, transitional, modern, or neutral. Or it can go with all of the above over time, making for fantastic redecorating.
Silver Chain by Benjamin Moore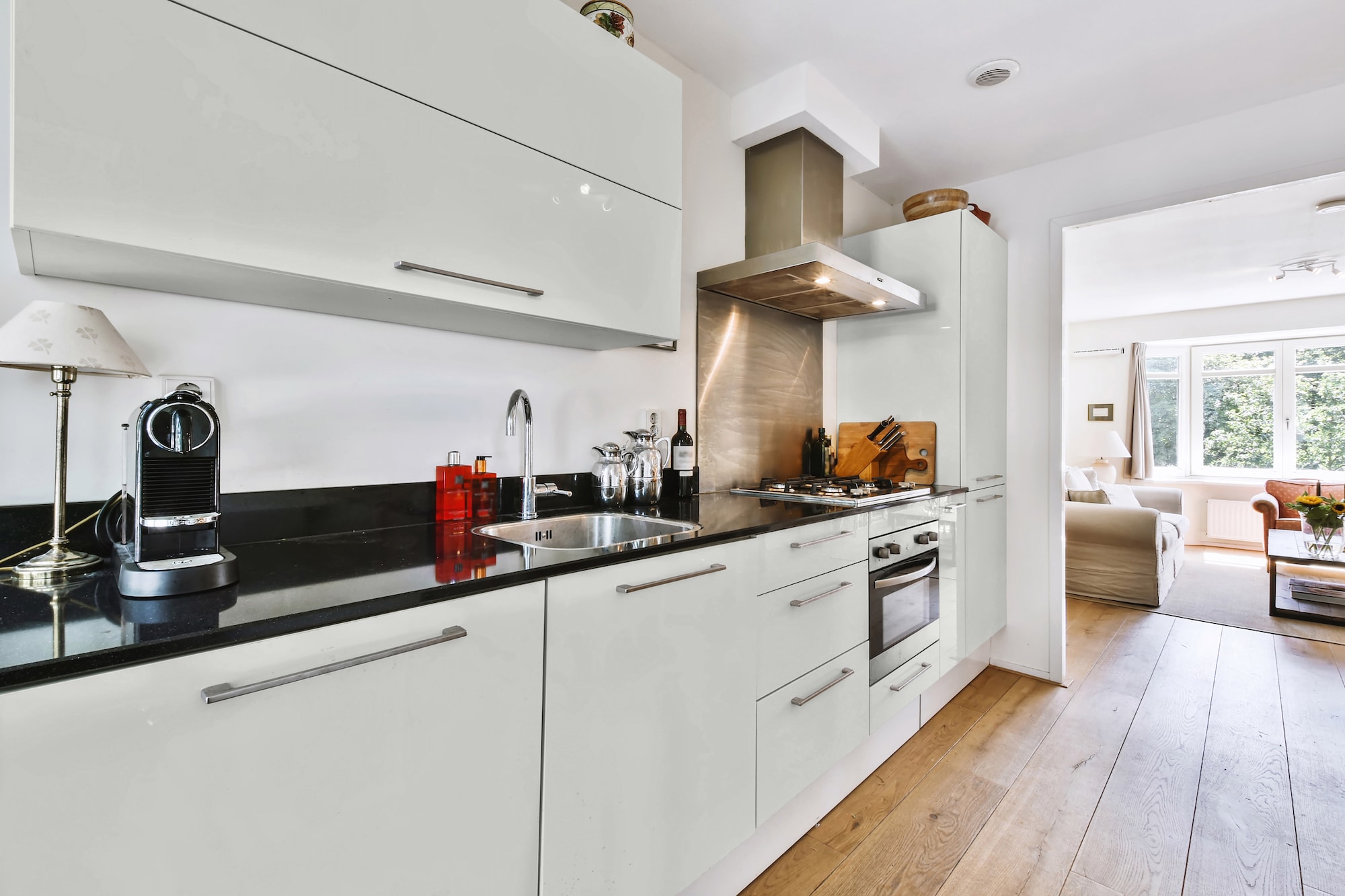 Silver Chain is another mid-toned gray that can work with black cabinets. The stone's sheen can play on the pigments in the gray, giving it a lustrous gleam.
Placed against black granite countertops, this shade of gray can look like a lovely mauve. However, it's one of those colors that can look different based on the lighting.
Herbal Escape by Benjamin Moore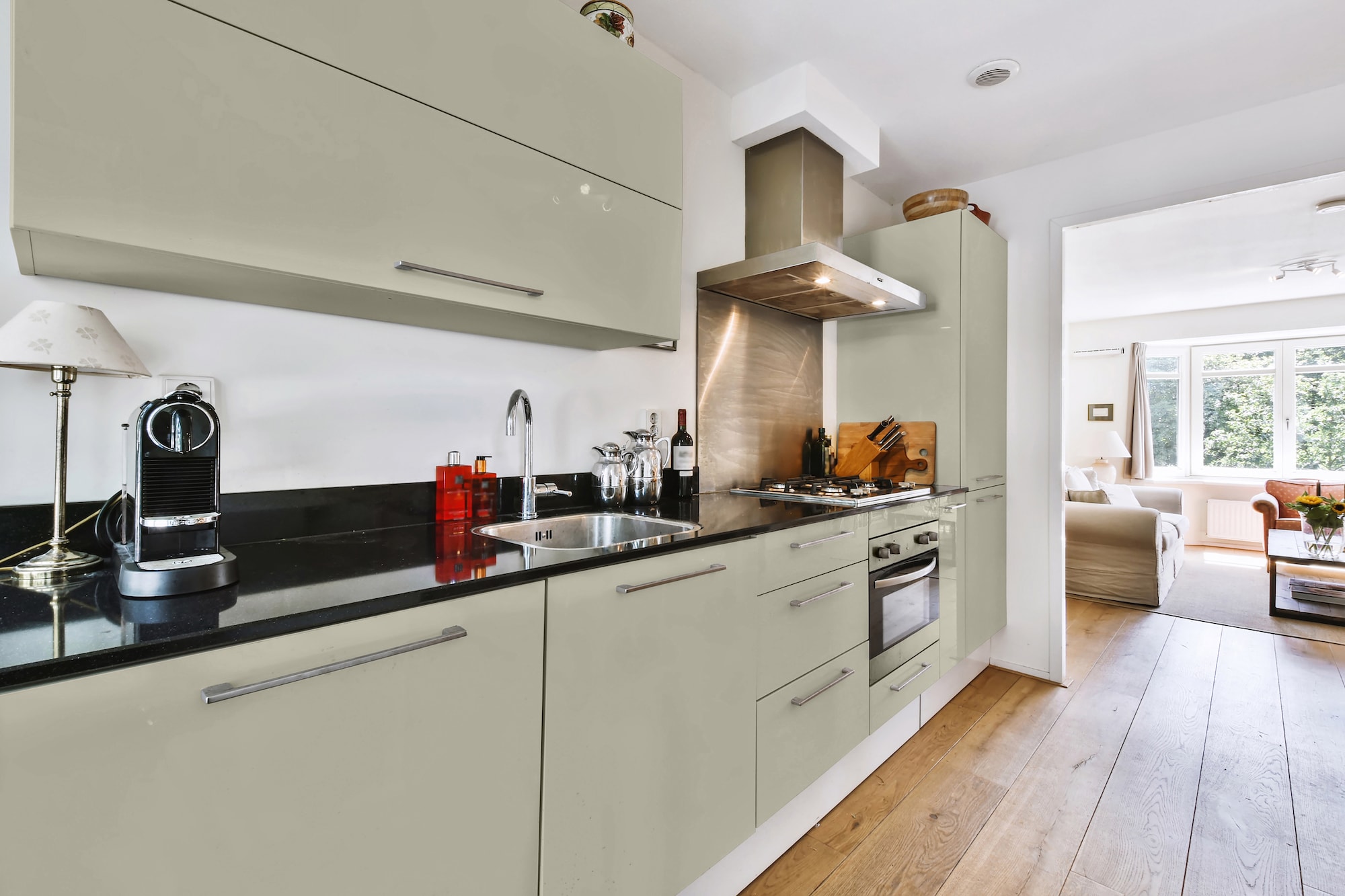 Herbal Escape is a darker, earthy neutral that can blend with black. This mixed color of dense, saturated gray-brown has rich darkness that can give your cabinets a classic look.
Thrown together with black granite countertops, Herbal Escape takes on a darker nuance that can get surprising lovely green tints.
Smokey Taupe by Benjamin Moore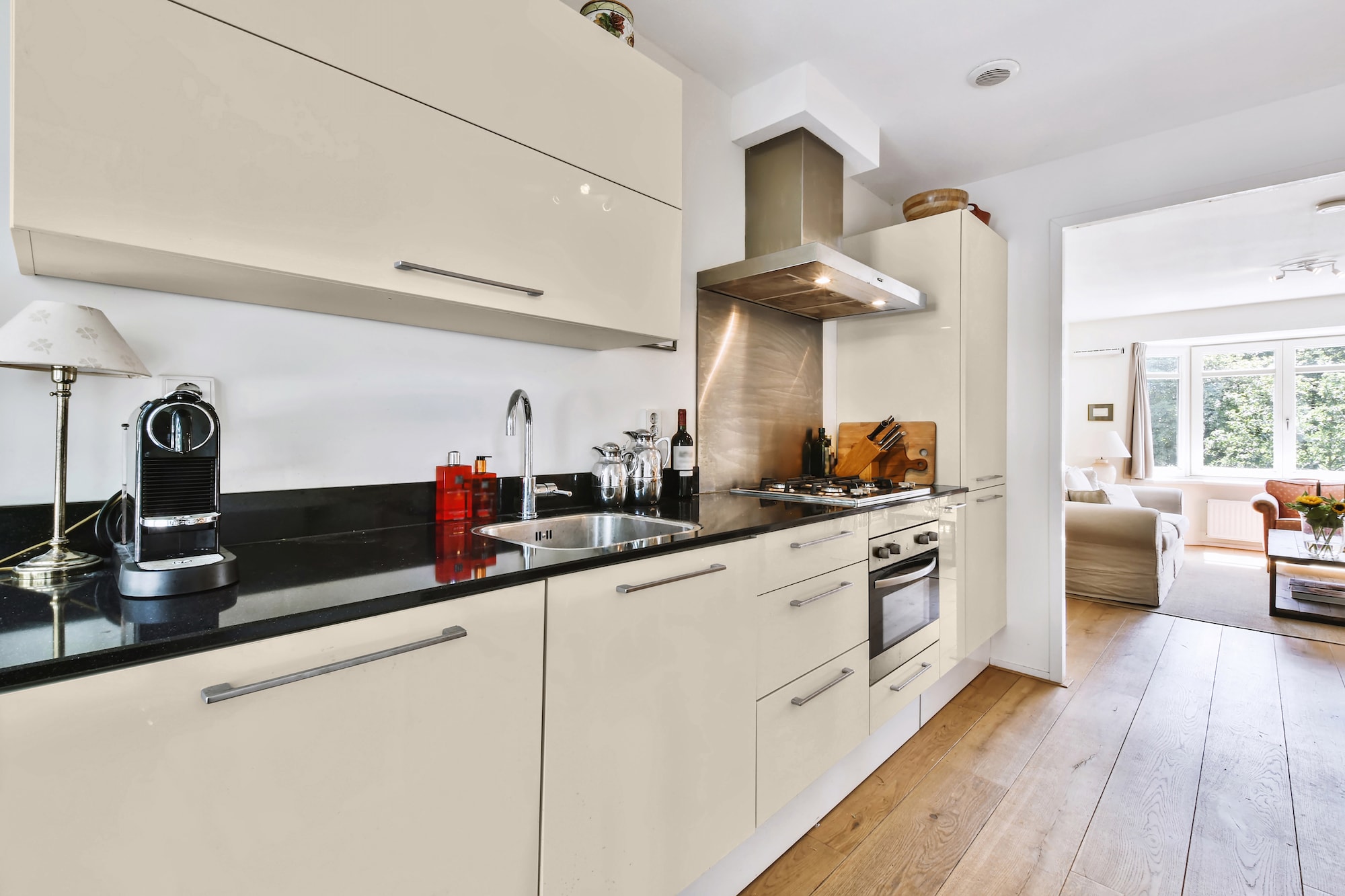 We're tickled by black granite countertops and cabinets painted taupe. Smokey Taupe is more brown than beige, darkened by the bleakness of black.
This traditional color combo will serve you well no matter how you choose to decorate your kitchen in terms of flooring, backsplash, and accent colors.
Spanish Olive by Benjamin Moore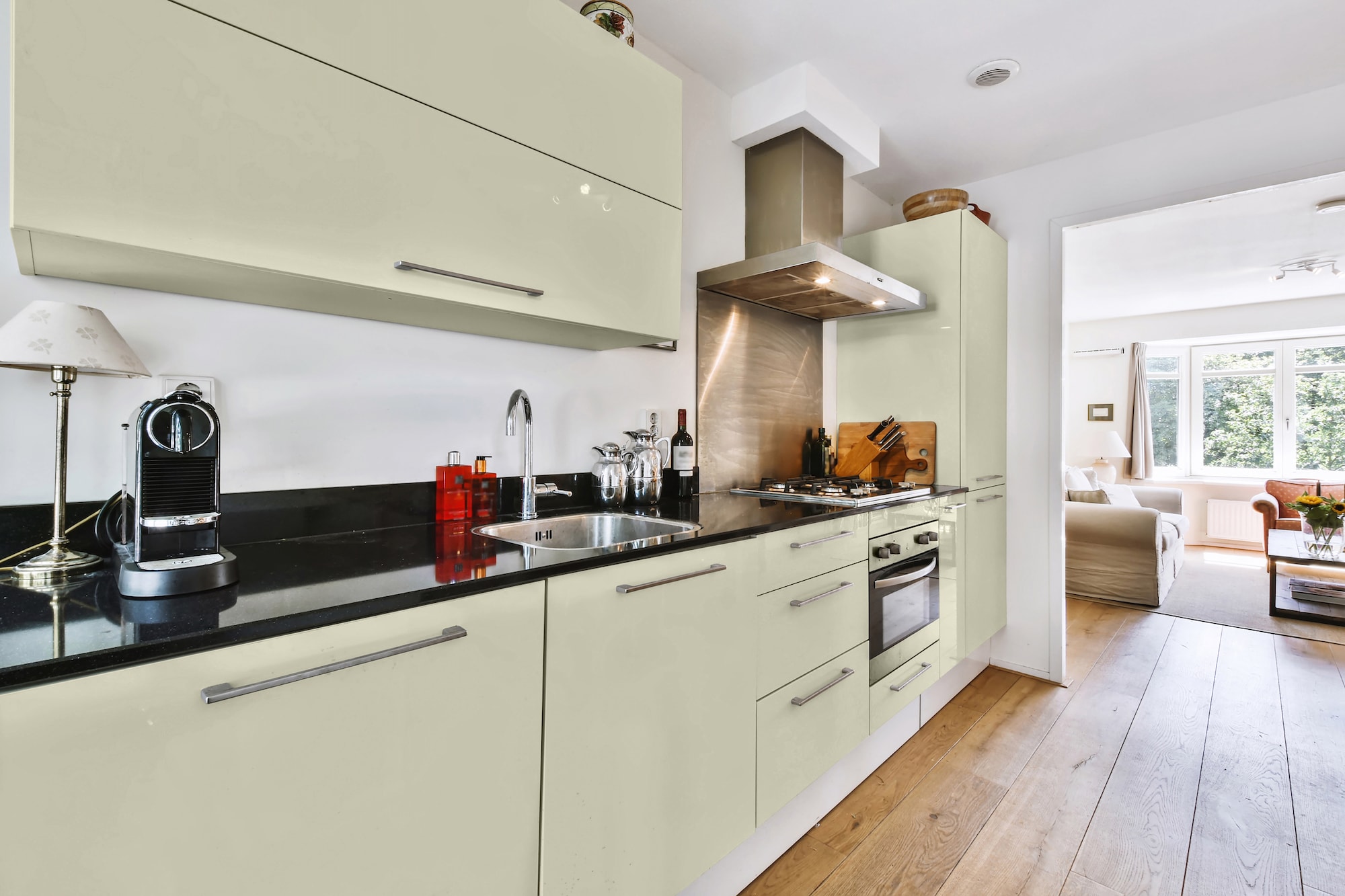 Feel the elegant European fashion in your kitchen with a black granite countertop and cabinets painted a rustic Spanish Olive.
This greenish-brown color gives you depth. It gives you shadows. And it gives you a richly tinted coloring that can feel calming and sophisticated.
Oxford White by Benjamin Moore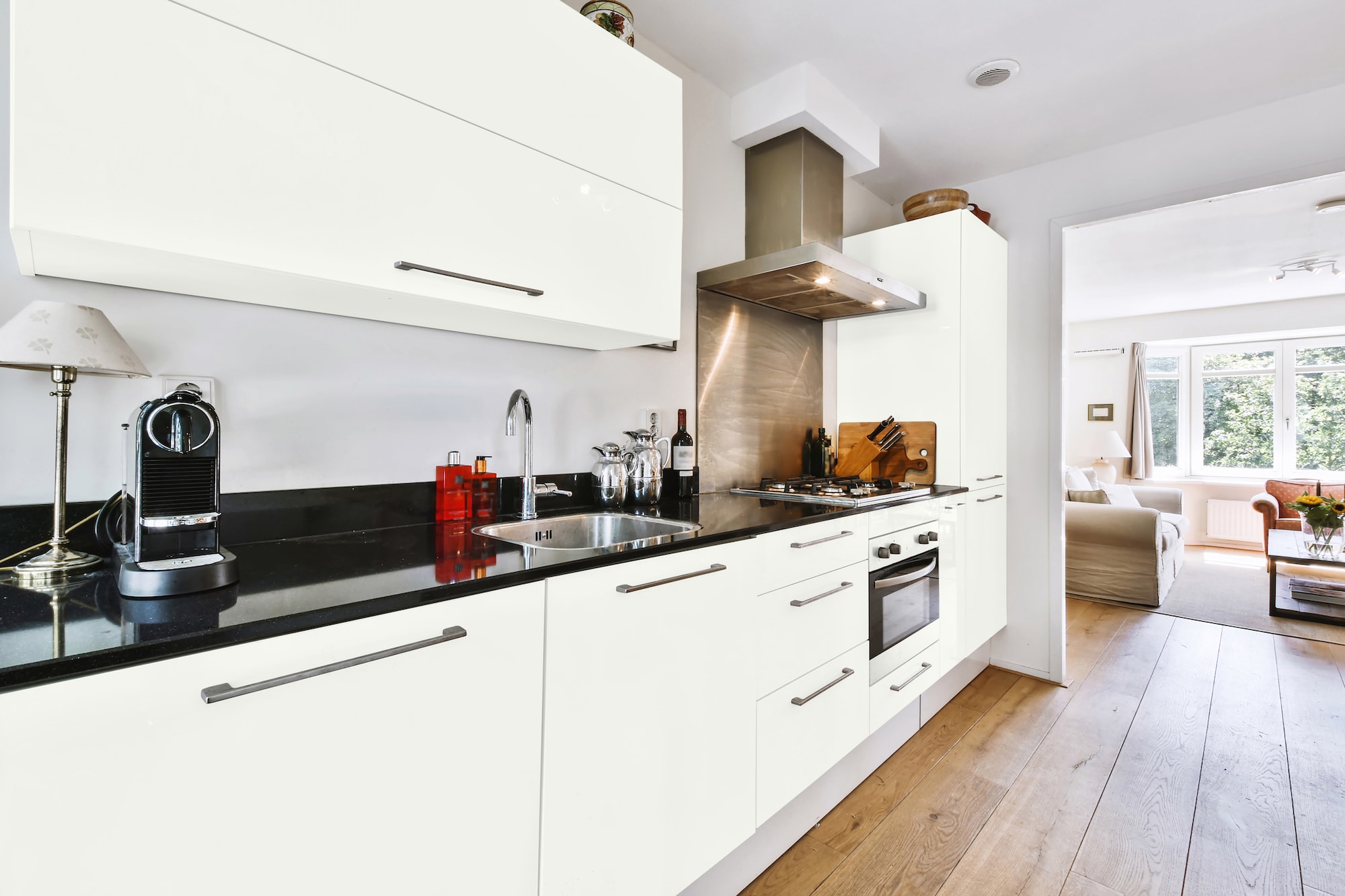 Oxford White is a white with a secret. If you look closely, you'll catch delicate notes of pigment that give this white some attitude.
Whether you're looking for a vintage black and white palette, a chic French country vibe or a modern no-nonsense minimalistic nuance, this barely darkened white is what you need for your black countertops.
Lunar Surface by Behr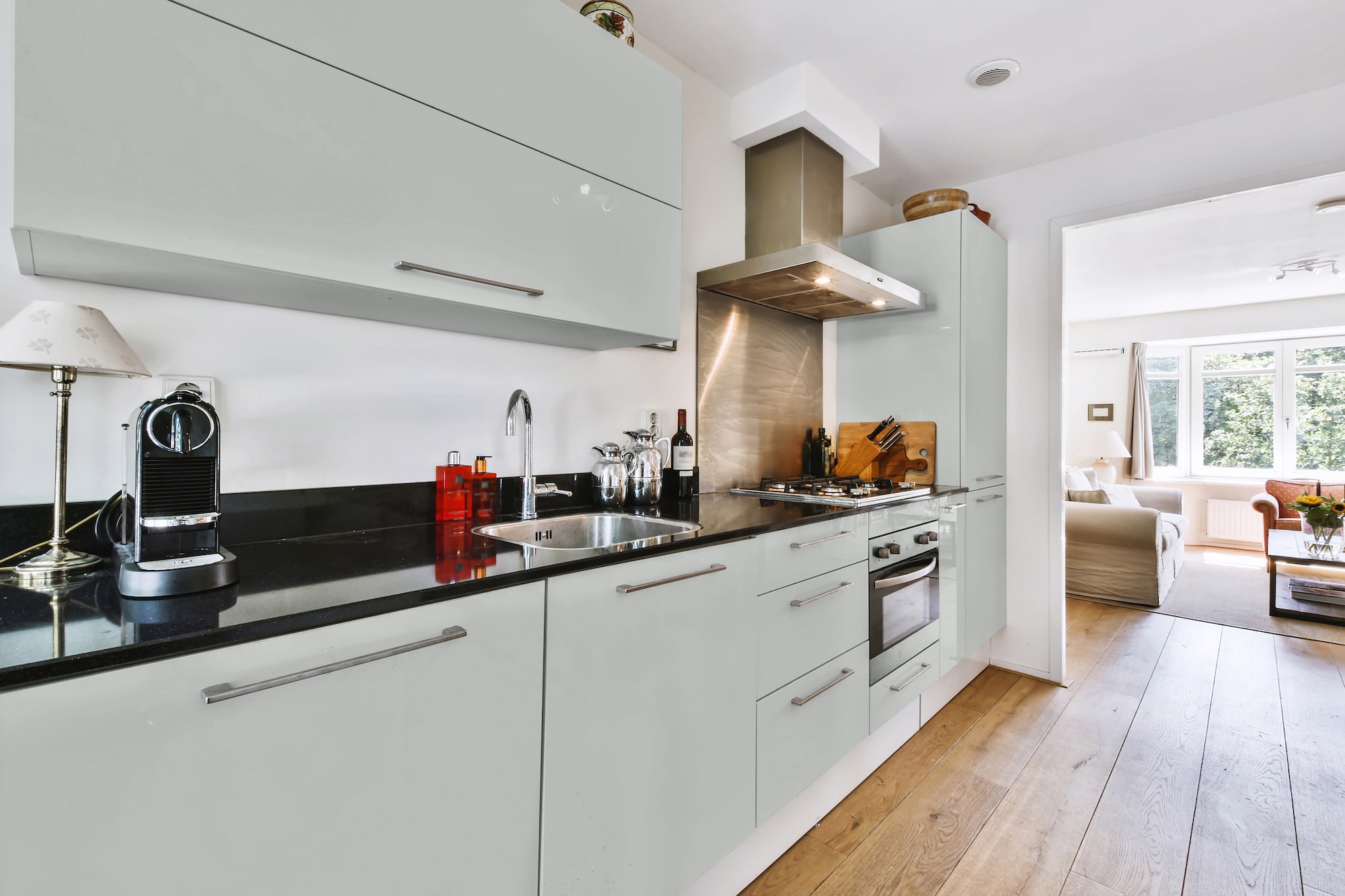 We're over the moon for the solar magic of Lunar Surface with black granite countertops. This shade of gray has got it going on in all the right places.
Want a gray with a bit of brown? Check. But want it to go softer with lilac hints? Roger that. With the right accents, you may even be able to get this gray to go green. We're certainly green with jealousy over the vast versatility of this medium gray.
Ultra Pure White by Behr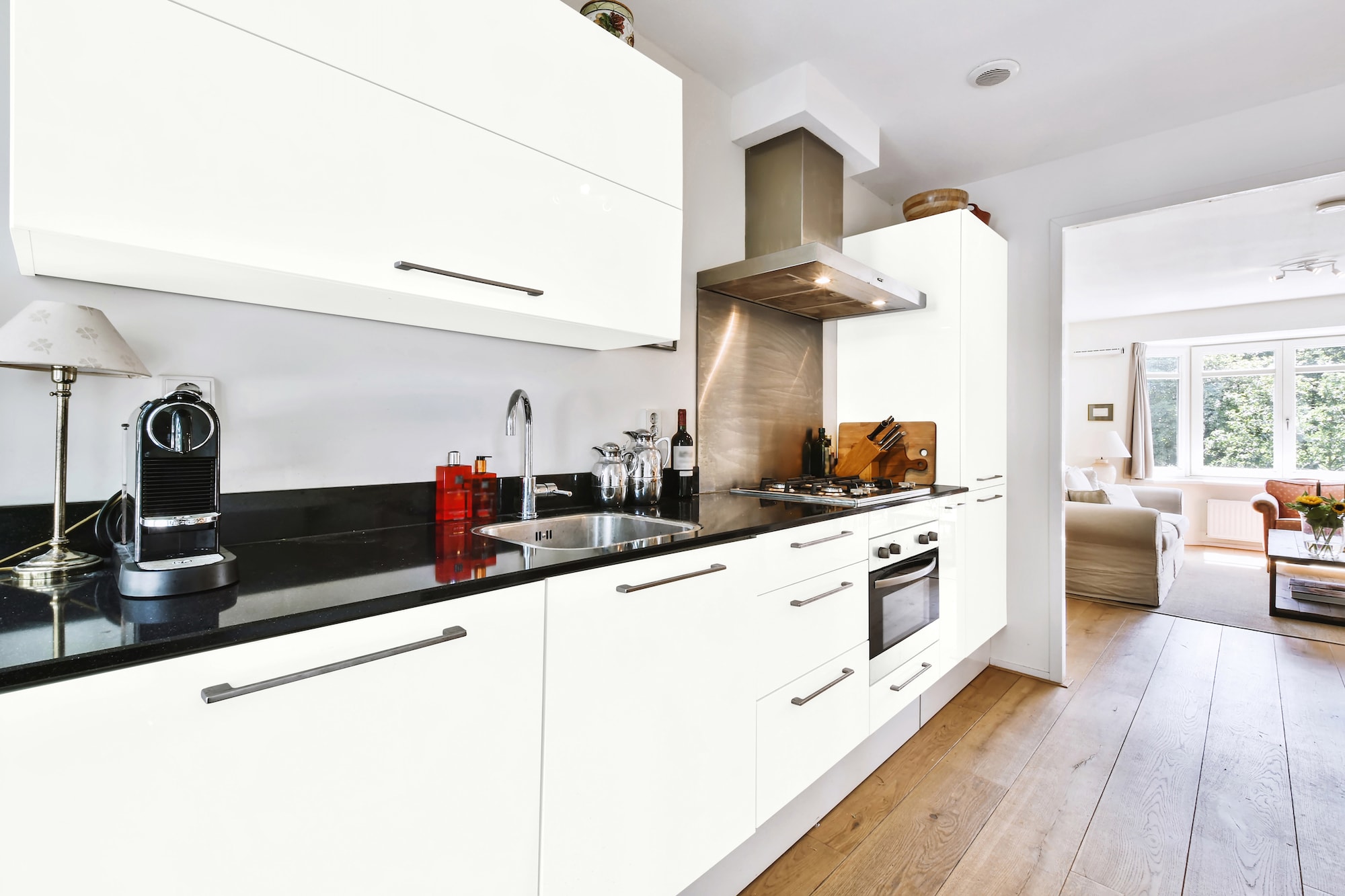 Whites are always a popular choice for kitchen cabinets, especially against the heavy darkness of black granite. This blank neutral is the best way to make small, tight windowless kitchens feel bigger and lighter.
Ultra Pure White is the brightest, coolest non-tinted shade of Blanco you can get. Choosing white colors like this is a fabulous choice for any themed kitchen. And it gives you the freedom to get a little bolder with accent color choices.
Ammonite by Farrow & Ball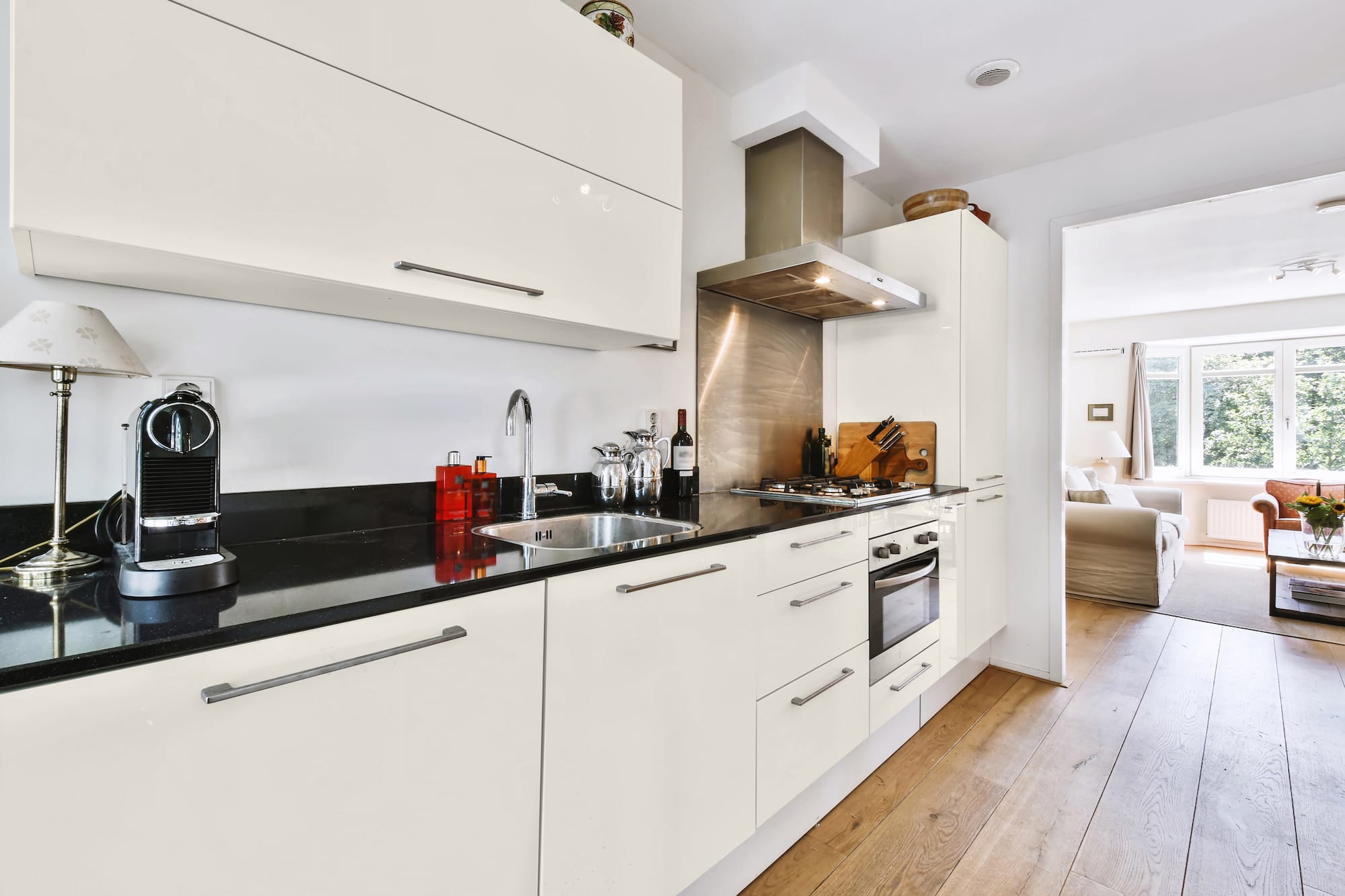 Ammonite – named from fossils found at the Dorset coastline – is a cool, understated shade of gray that creates a fascinating nuance against black granite.
This pale pigmented tone of gray could almost pass as a tinted white due to the lightness of the base. However, pairing it with the rich darkness of black granite can make the pigmented shade look like a darker stormy gray that's perfect for all-over cabinet color in any themed kitchen.
Tallow by Farrow & Ball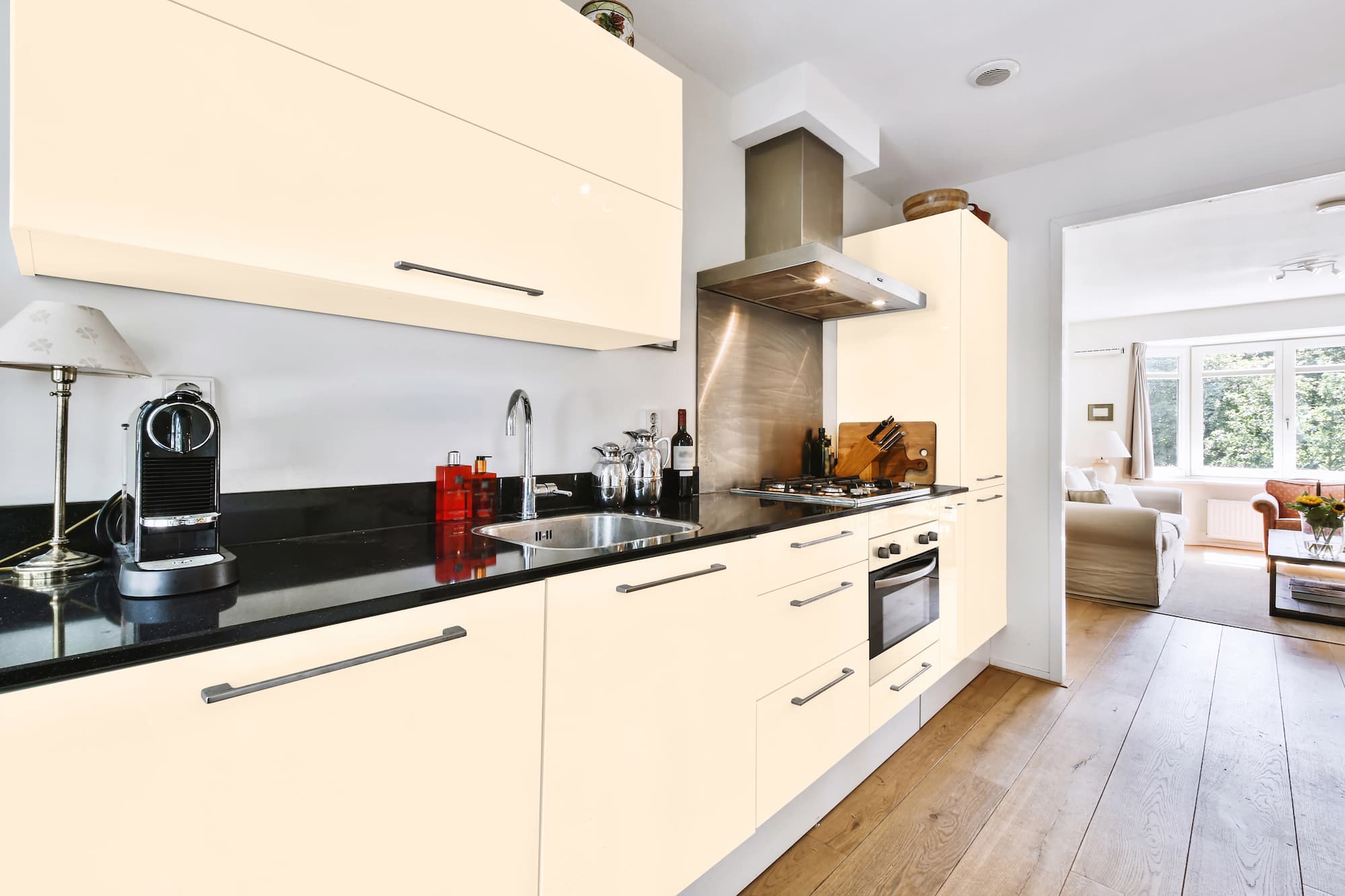 Tallow is a soothing neutral cream with faint yellow tints to add warm undernotes. This pale cream got its name from the material formerly used to make candles.
It gives your kitchen cabinets a rich reflective warmth to tone down black granite countertops. And slight tints of pink help freshen this pigmented off-white for a crisp, cozy kitchen aesthetic.
Final Words
Granite countertops give your kitchen an immediate visual upgrade that oozes functional luxury. But when decorating your space, it's crucial to your aesthetic that you pick cabinet colors that add to the beauty of glossy black granite countertops.
We've given you some ideas on what colors go best with the dark neutrality of black. Which color is your favorite? Drop us a line in the comments.