Fireplace Sconces Ideas for a Statement Look
Chimney breast wall sconces can be used as task lighting when you're reading or relaxing in front of the fire, or add a bit of romance to the room when they're turned down low. Wall sconces are also a great way to add extra light to a room without having to install new fixtures.
In this article, we'll share with you a few of our favorite fireplace wall sconce ideas to spruce up your fireplace. Keep reading to learn more!
Bright White Ambience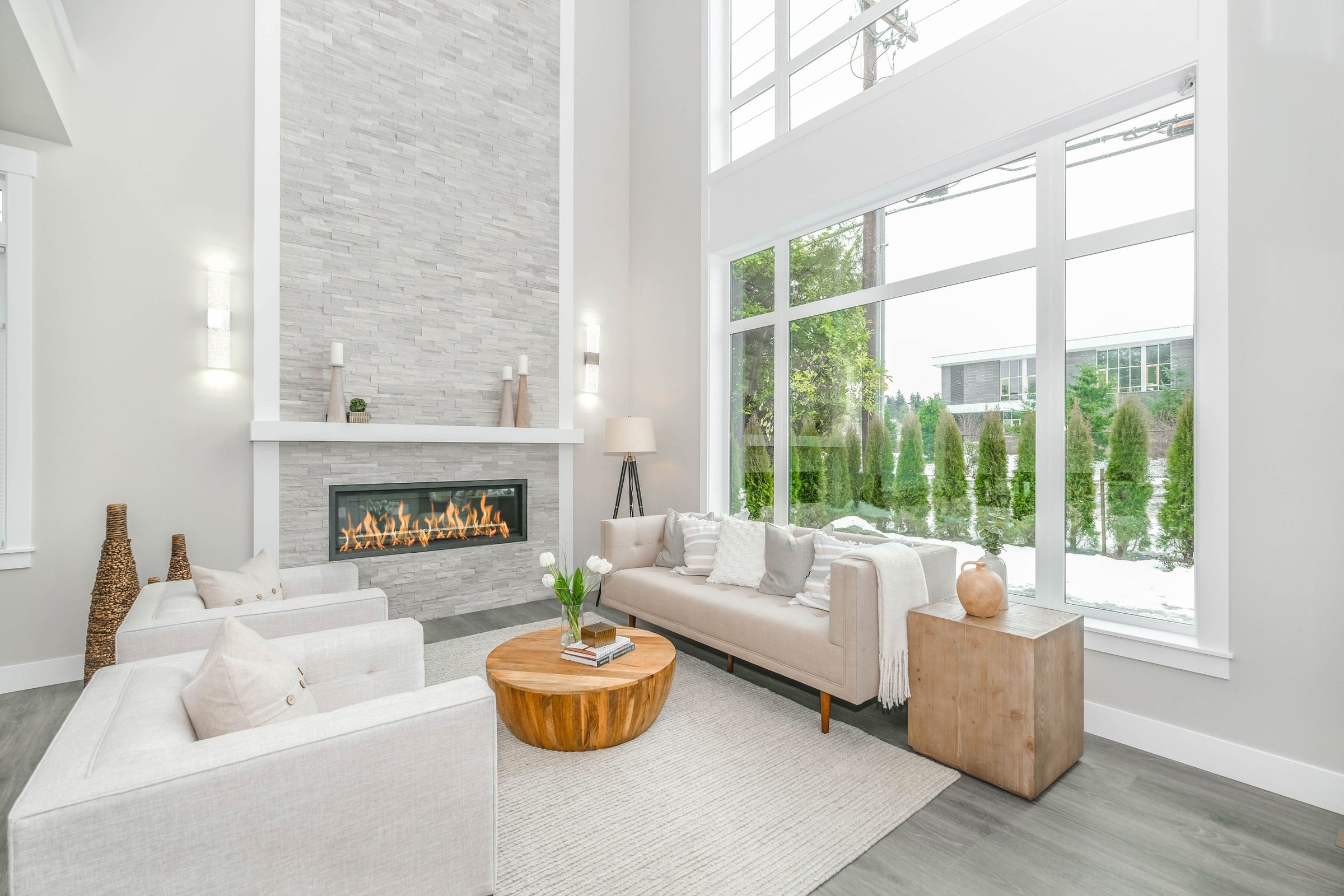 Even if you've got lots of natural light pouring into your living room, it can feel cold and uninviting if the light isn't distributed properly. If you're looking for a way to supplement the other lighting solutions in your living room, then consider how you can use a wall sconce to add light and warmth around your fireplace mantel.
When it comes to shape, simplicity is usually the best choice. In a room with tall ceilings like this one, choose long vertical sconces that help to fill up the empty wall space and bring the light higher up on the walls.
Finally, think about how the color of your wall sconces impacts the rest of the living room design. Make sure that the color you choose blends in well against the facade of your fireplace. If you have gray walls, then a metallic silver, chrome, or gunmetal finish will work well.
A Soft Warm Glow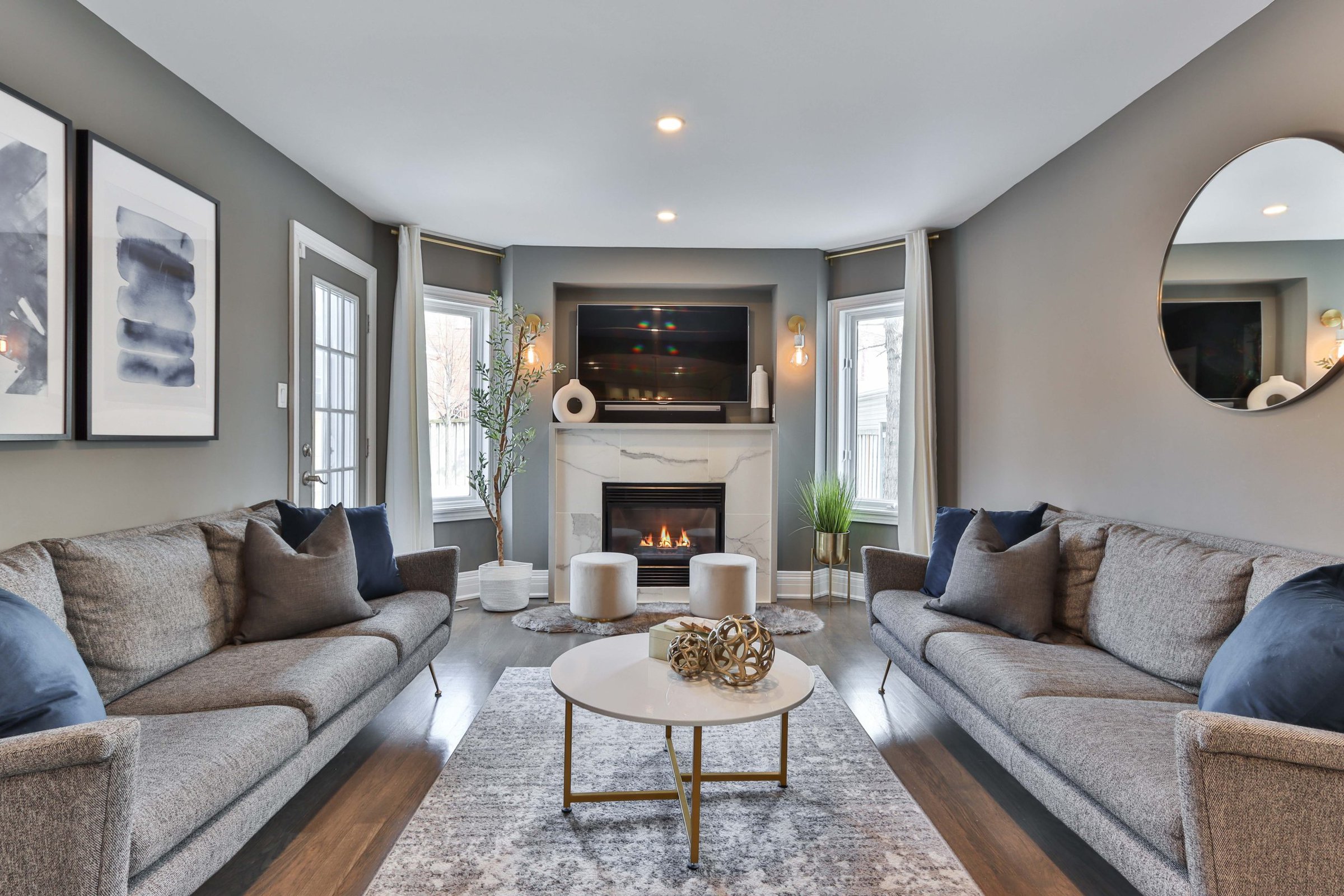 A fireplace adds warmth and light to any room, but it's even better when you complement it with wonderful wall sconces on both sides. And the right wall sconces will add a soft, warm glow to the living room, without pulling away the attention from the fireplace, which should be the main focal point.
One of the key points to consider when choosing wall sconces is how to contrast them against Consider choosing wall sconces with downward-pointing lights in contrast to a fireplace with upward-facing flames. This will help to create a balanced look.
Another thing you can try is keeping your wall sconce as simple as possible, with a minimalist uncovered bulb design, or a geometric shape that emits a soft glow. You may want to also consider choosing sconces with a built-in dimmer feature, so you can control the brightness of the lights.
Classic Candlelight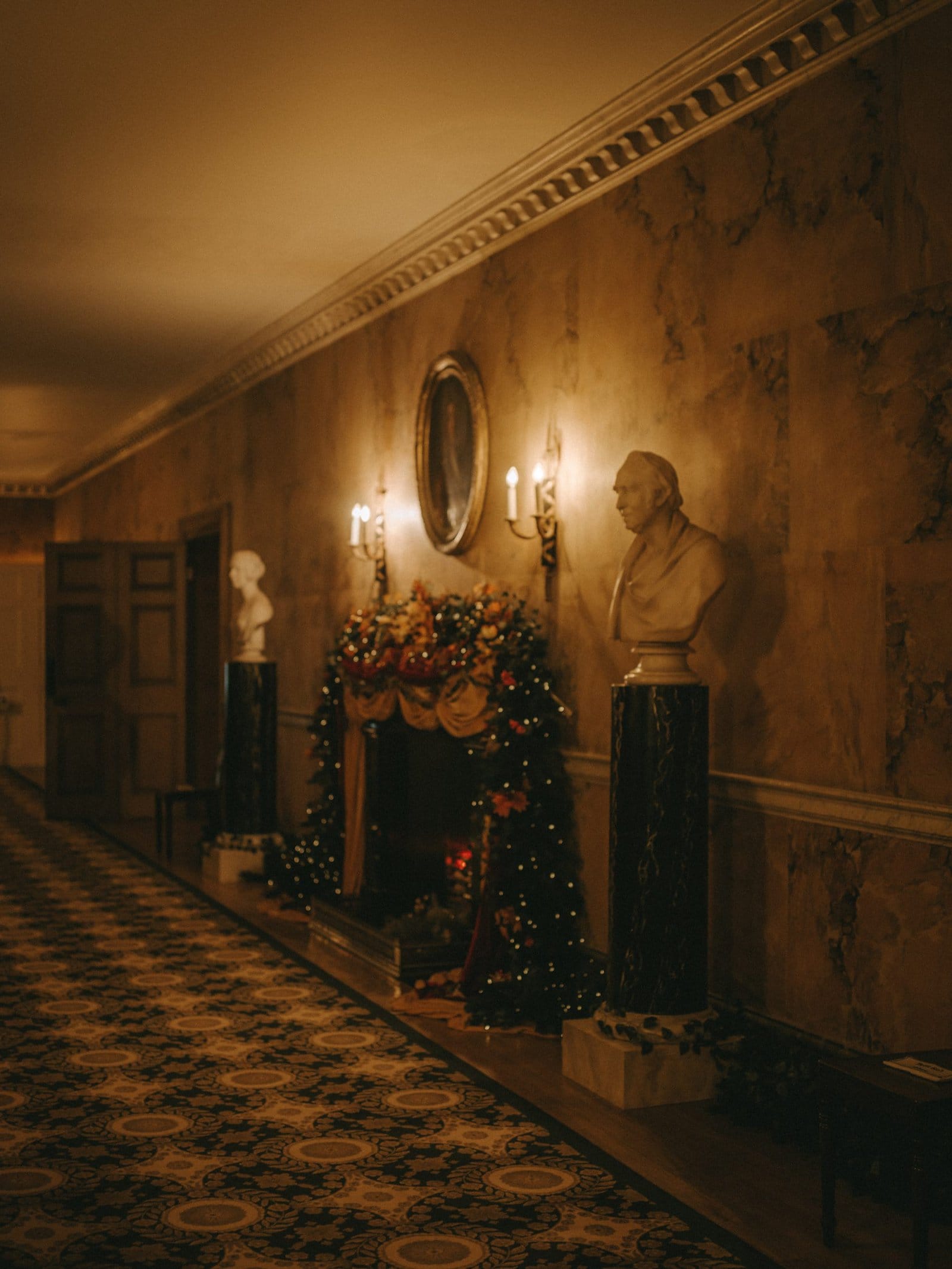 Suppose your favorite design style is inspired by medieval, Renaissance, or Victorian design styles. In that case, you may want to consider choosing wall sconces that take inspiration from the original wall sconces of the past— torches, and lanterns!
Wall sconces made to look like candles work best against brick or stone fireplaces, and they're an excellent way to highlight the original character of an older home. Just one candle sconce on each side of the fireplace is enough to give your living room a classic and historic feel.
Keep in mind that a candle-style wall sconce will emit just a small amount of light, so it's best used as a decorative feature and not as the main lighting method in your living room. However, they can be used as a way to highlight a favorite piece of artwork hung over the mantelpiece!
High-Mounted Spotlights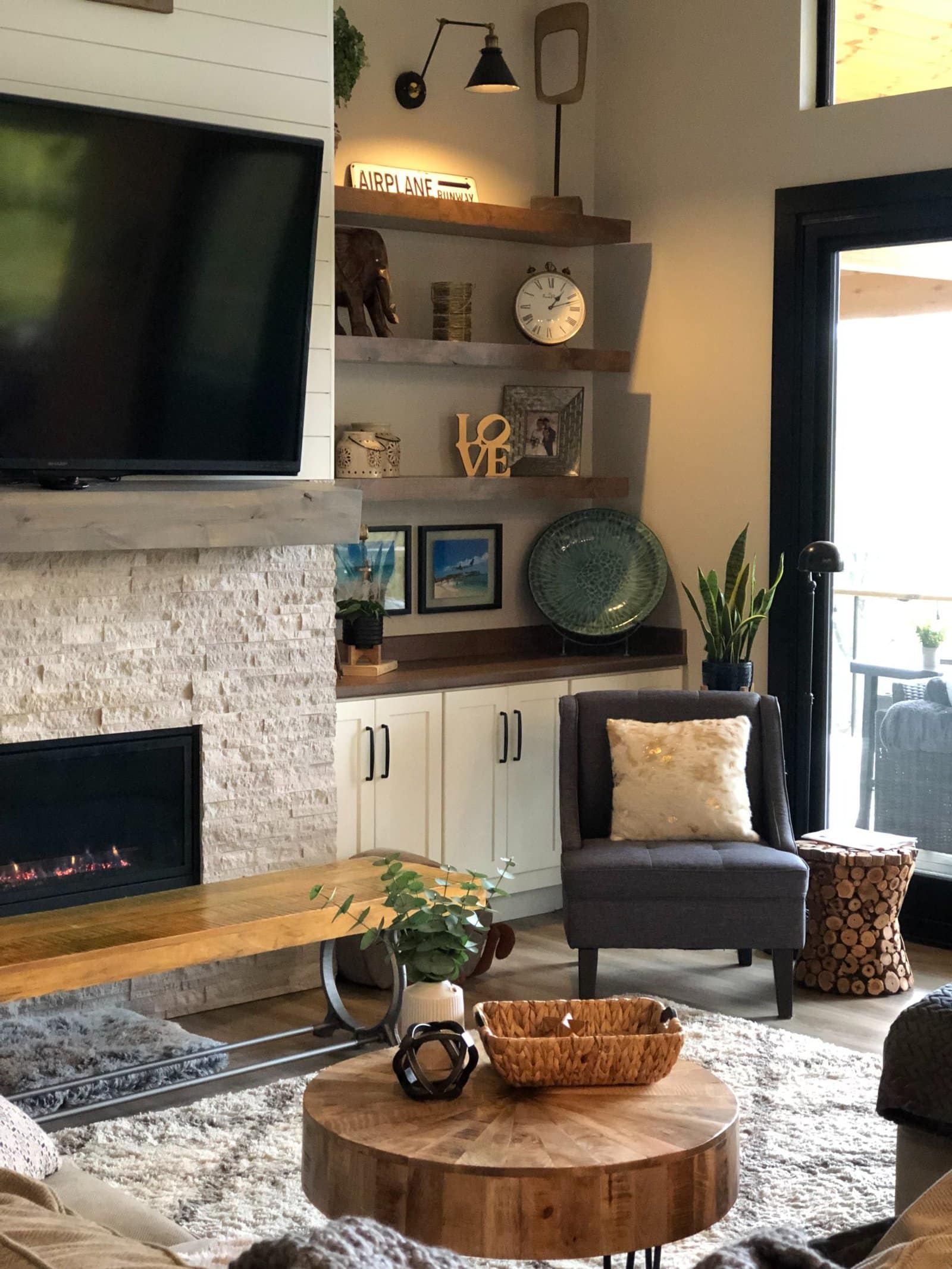 Do you have shelving units on either side of your fireplace? Built-in bookshelf surrounds are popular in modern homes, but they're not the most convenient if you're looking to hang a wall sconce. But there are always solutions to help you work around this issue.
For one, consider getting wall sconces that stick out far away from the wall, like the adjustable ones you see in this picture. You can mount them up high and out of the way of the shelves, and the sconces can serve as spotlights to help highlight your shelves.
Not only will high-mounted sconces give your living room a cozier atmosphere, they'll also help light up a room more than a lower-mounted sconce will—the higher you hand a light, the more it is evenly distributed around the room.
Traditional Double-Head Sconces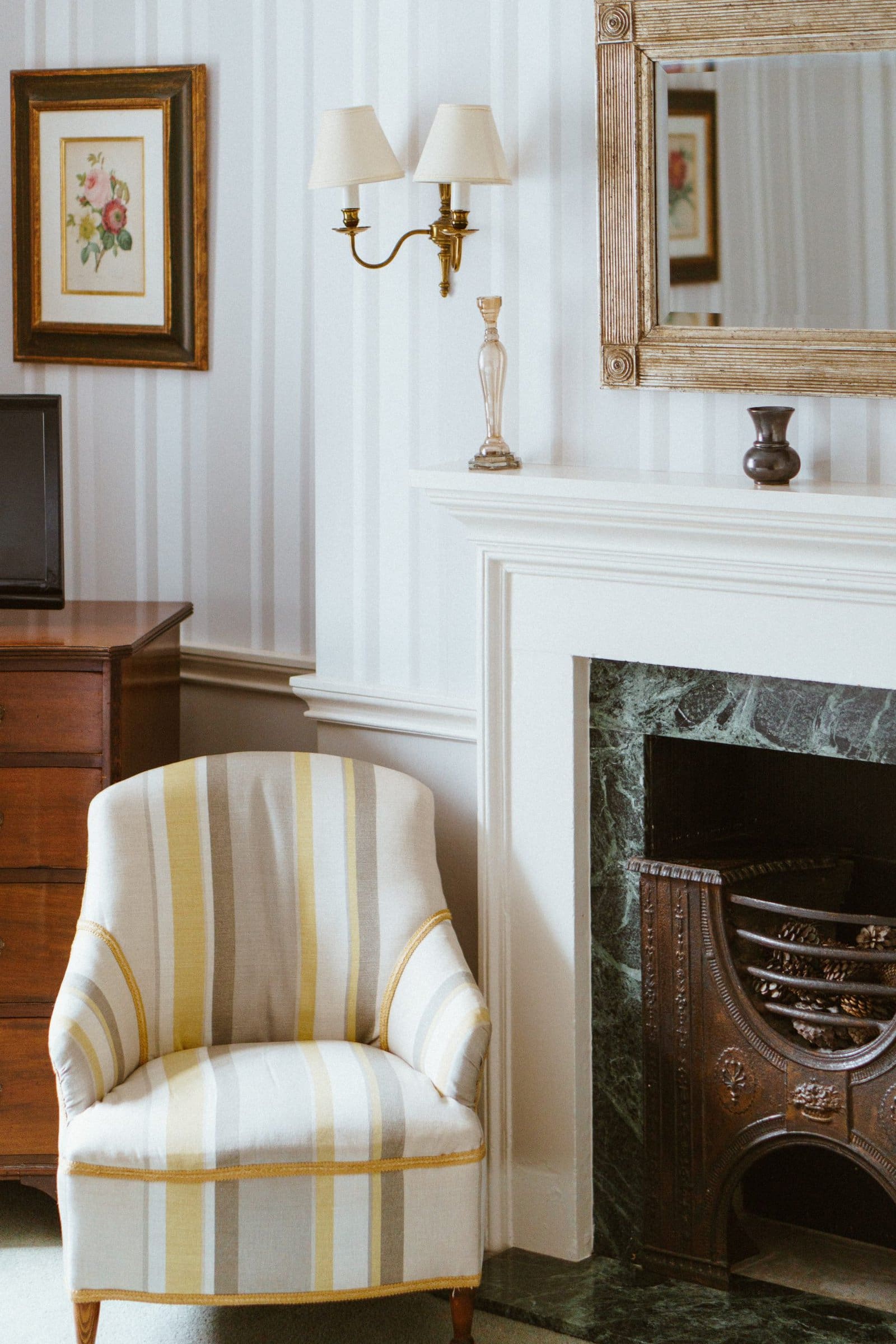 If your living room is styled with traditional colors and antique furnishings, then the wall sconces you choose to frame your fireplace should match. A classic brass wall sconce with a double-headed design will help brighten up your living room quickly and easily.
If you want to make your traditional wall sconces stand out against the backdrop of your fireplace, consider decorating the wall with patterned wallpaper in stripes or a floral motif. Stick to soft colors and neutrals to allow the metallic brass tone to take center stage.
Double-headed wall sconces work well in living rooms that don't have much natural light, since they can provide double the light from fewer points. If your living room gets lots of natural light through windows and you don't need much extra light, then consider getting dimmable LED light bulbs.
Mid-Century Industrial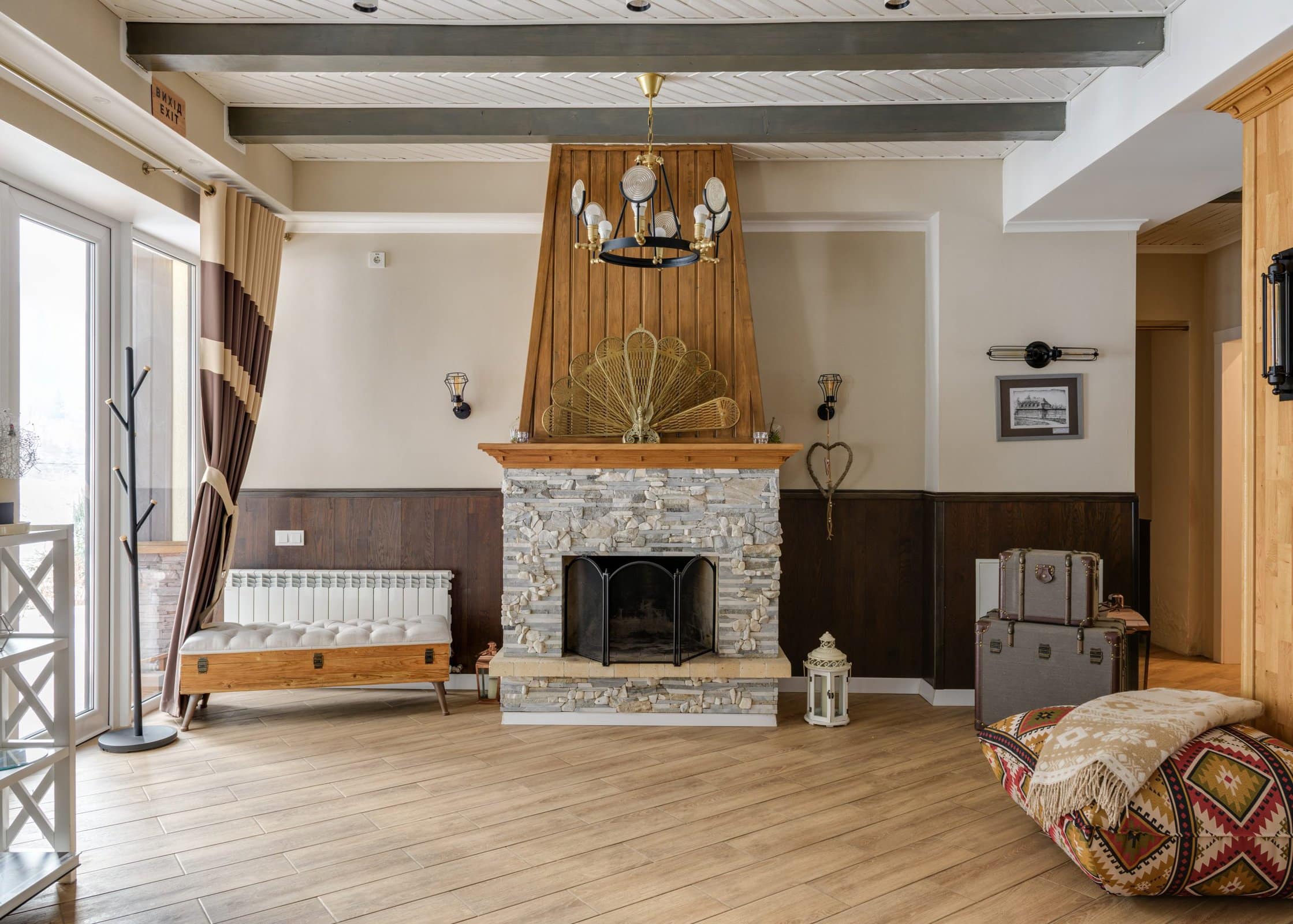 If there are two decor schemes that never seem to go out of style, it's mid-century modern and industrial. By combining the two into one unique and stylish design, you can be sure your living room will have a vintage feel without seeming old-fashioned or tired.
The way to pull this off is to pay attention to the materials you use, and that includes your wall sconces, too. Stick to lots of wooden and dark metal accents in your living room, and contrast them when you can, like in this living room.
The black metal industrial sconces in this example, complete with Edison bulbs and pull tabs, contrast beautifully against thoughtfully-placed wood paneling and vintage decor accents. Try hanging a piece of art on your mantelpiece and framing it with sconces directly to either side for a more polished look.
Small-Scale Scandinavian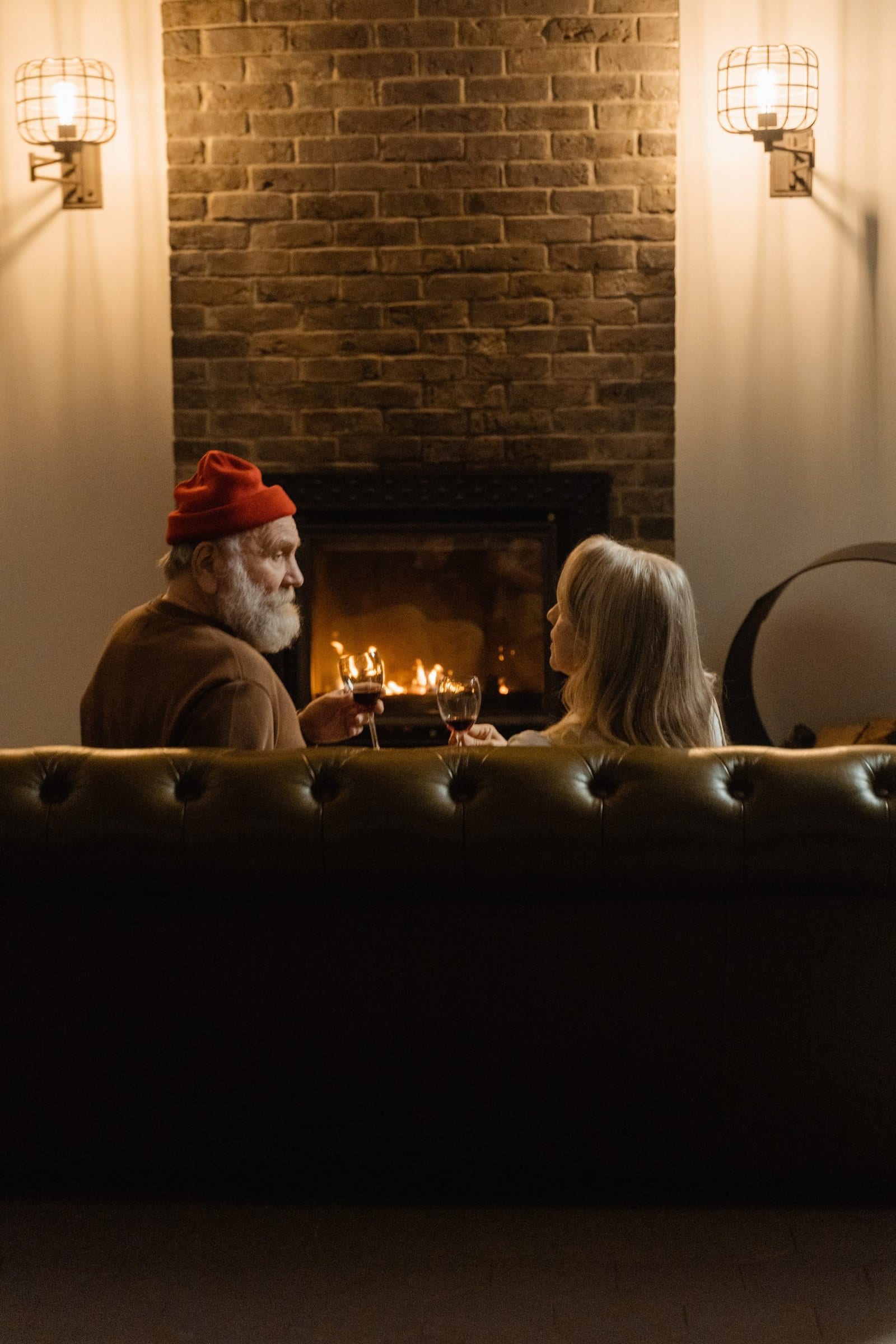 If your living room is quite small, with the fireplace taking up most of the main wall, then you may feel that you can't incorporate fireplace wall sconces into your design. But you'd be surprised how much a couple of well-placed wall lights can brighten up a space and make it feel cozier.
Rather than installing wall sconces on either side of the fireplace, add the high-up on the walls overlooking the fireplace mantel instead. They can sit side-by-side with a large piece of wall art, or they can shine down on bookshelves holding your favorite possessions. It's worth getting creative and using the space that you do have to your advantage.
As for the style of sconces that you choose, make sure that they match the overall vibe and atmosphere of the rest of your living room. If you've got a rustic brick fireplace, then consider choosing sconces with natural materials like wood to complete the look.
Vintage Antique Style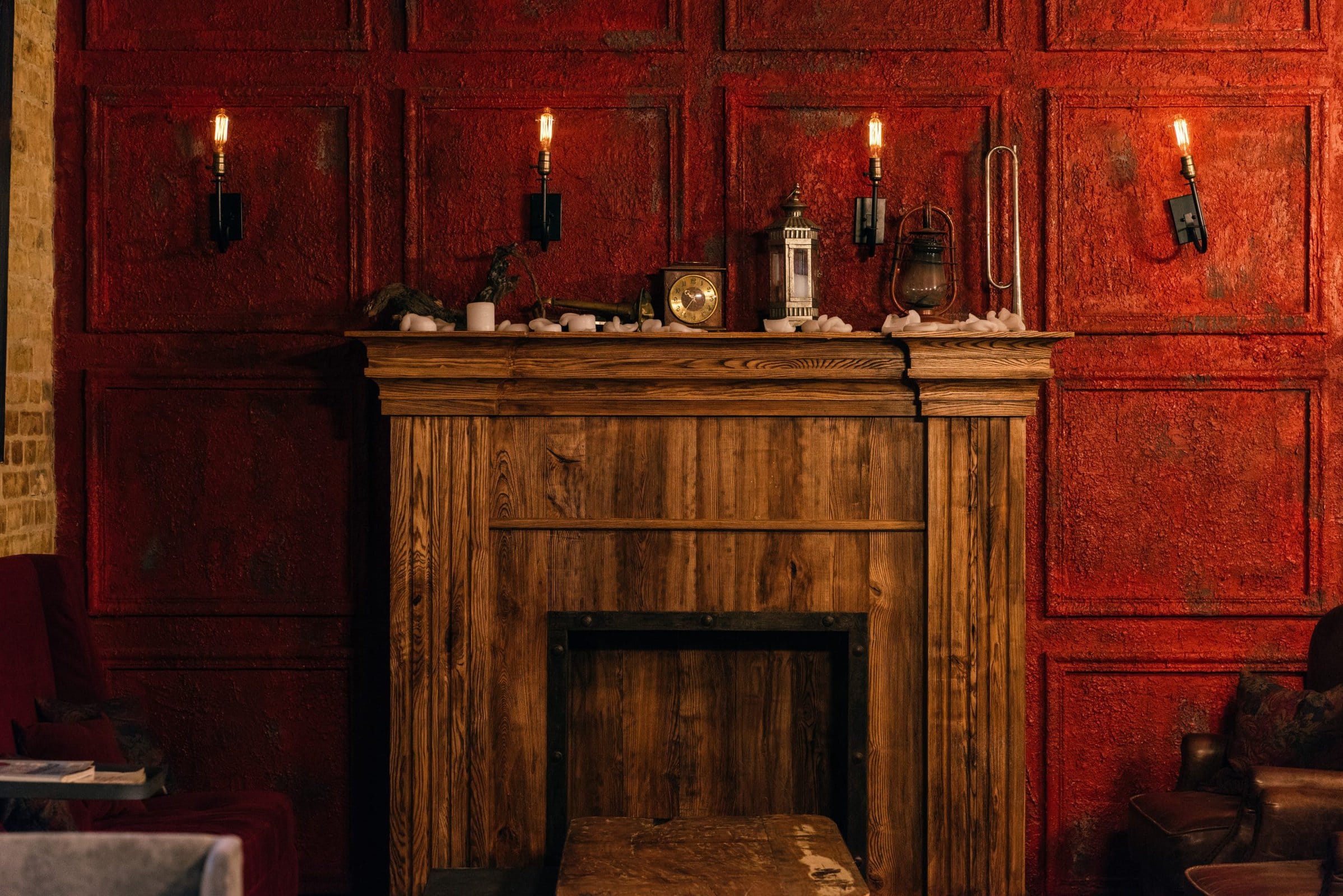 If you love the simple and timeless look of candles, or you're craving the classic look of industrial Edison lamps, check out this stunning example. You can use single-bulb sconces with a vintage-style metal base and antique-style bulbs to create a gorgeous ambiance.
Antique-style lighting tends to be very warm, so embrace that by pairing your wall sconces against walls decorated in warm colors like orange, red, or brown. You may also want to include wood tones in your furniture and decor to add a natural element to the room.
Since single-bulb sconces like the ones in this picture are quite small, you should install several above the fireplace mantle to create a sense of balance. Three or four sconces should be the ideal amount, depending on the size of your fireplace. Too many will make the wall above the fireplace feel cluttered.
Simple Transitional Lighting
If you want to give your living room a modern edge that doesn't feel too harsh or abstract, then consider choosing transitional-style wall sconces. They can help add a touch of elegance to your living room, without distracting from the rest of the room's design.
The transitional design style is all about creating a timeless look using simple silhouettes, lots of classic neutral colors, and simple materials like wood, metal, and natural fabrics. Using all of these components together in your living room keeps it from feeling dated, artificial, or old-fashioned.
Choose a wall sconce design that resembles a more classic, antique style, but with a modern, streamlined twist. These sconces look like classic lamp shade sconces, but they've got a sleek, minimalist edge that makes them totally contemporary.
Abstract Contemporary Glam
Wall sconces don't have to blend into the background— in fact, if you have a simple and minimalist modern design style, then the wall sconces you choose for your fireplace could serve as a focal point and statement piece. There are a few ways to make wall lighting stand out in a room without clashing.
For one, choose a wall sconce in a color that contrasts with the rest of the room. In this example, the cool gray tones of the living room are brightened up by the warm metallic tones in the gold wall sconces. Second, choose an interesting and unusual shape that will instantly draw the eye— these wall sconces are tall and have a commanding presence against the minimalist fireplace.
Make sure that the abstract modern wall sconces that you choose fit into the space well— for instance, if you have tall ceilings, choose sconces that are tall and vertical to help fill up the space.
Conclusion
If you're looking for a way to add extra warmth and style to your living room, why not try one of these fireplace wall sconce ideas? They're easy to install, and they can make a big impact in any room. So, why not give them a try? You might be surprised at how much they can transform your space.
Remember to consider the color, style, and design of your wall sconces and how they interact with the rest of your room. You can use them to add subtle lighting touches or create a strong contrast. The choice is yours!