Decorated Life is reader-supported. When you buy through links on our site, we may earn an affiliate commission. Learn More
How to Use Kitchen Wallpaper to Update Your Kitchen
By: Decorated Life Team
|
There are so many great ways to use kitchen wallpaper to update your kitchen space. You can create a feature wall, add kitchen wallpaper to cabinets, shelving, appliances and more. Your only problem is choosing a wallpaper that you love.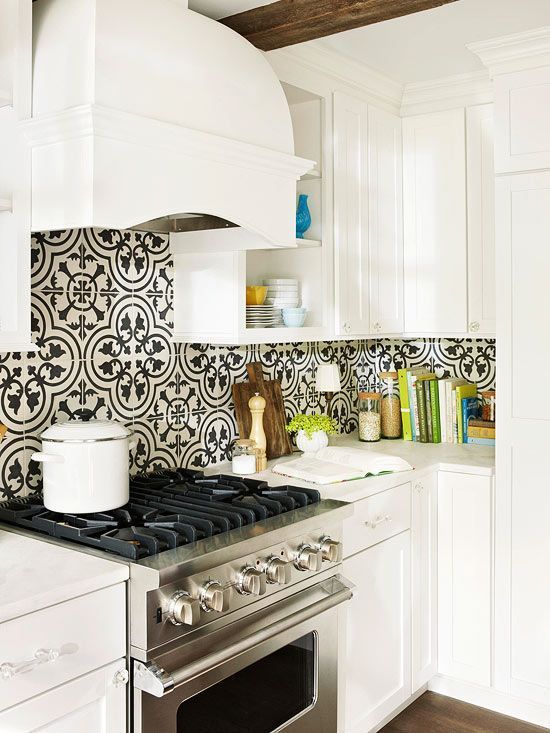 Patterned wallpaper for classic kitchen – Real Livin
Here are just a few ideas to get your kitchen looking fresh and new in a few hours. You can use strong floral contrasts, simple geometric patterns, wood or marble patterns.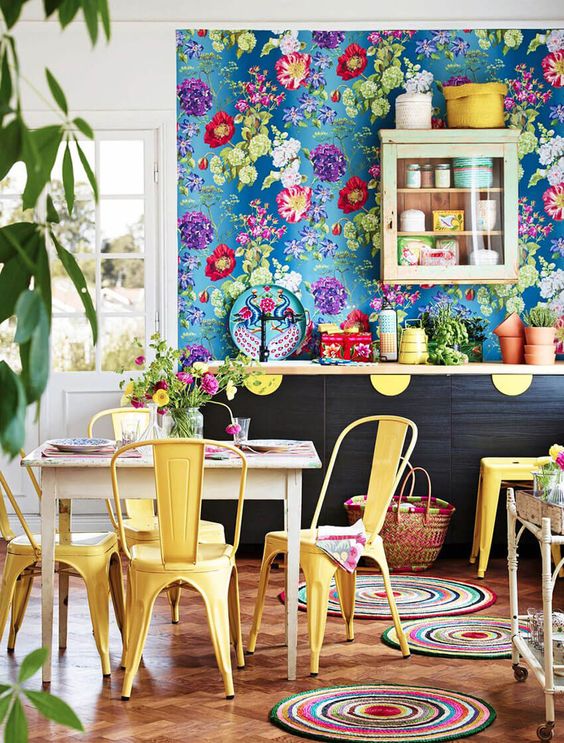 Bold wallpaper for a casual Boho look – Home You
Behind the Shelves
You can add new life to any space when you use wallpaper. When you add it behind your shelves, you can introduce color and pattern in a subtle and discreet way.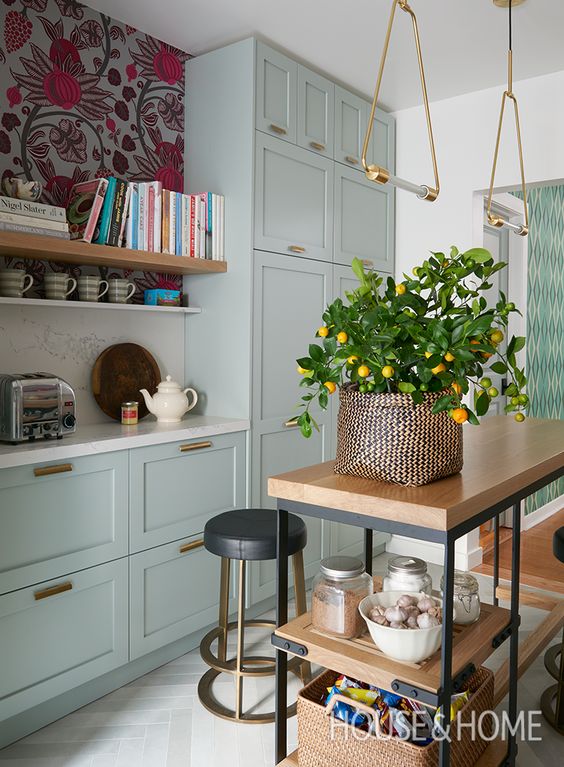 Bold wallpaper – refresh a space with color- Design – Sarah Hartill Photo – Alex Lukey
Distinct wallpaper can frame and highlight a display of dishes, platters, appliances or books with open shelving or behind glass. A pretty paper backdrop can work wonders on the backs of kitchen cabinets.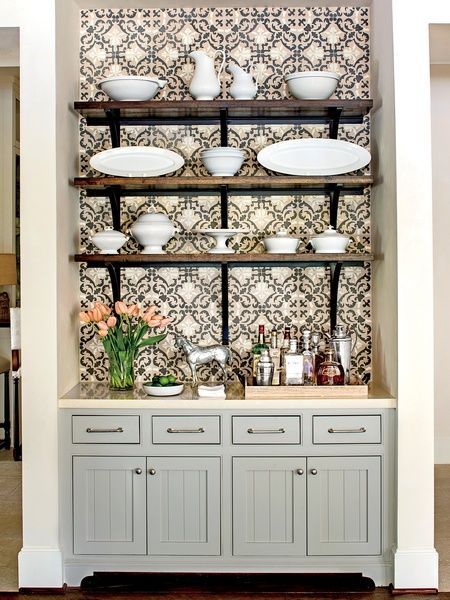 Add a patterned paper behind floating shelves – Style Blueprint
Wallpaper is an easy way to update the look of your kitchen island. You can create a feature of your island by adding a contrasting wallpaper to the sides.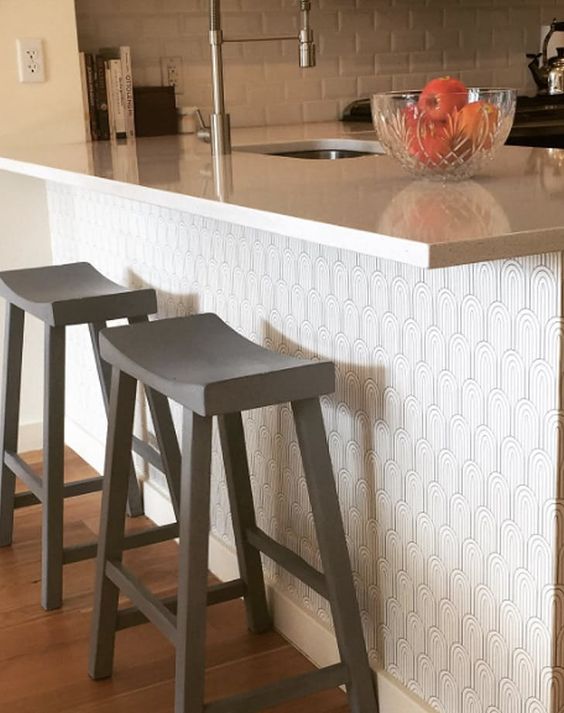 Removable Wallpaper on Kitchen Island – Pure Wow
This simple DIY is almost as cheap as paint, and less expensive than adding tiles, but the look you can create will update and upscale your kitchen. 
Kitchen Wallpaper Drawers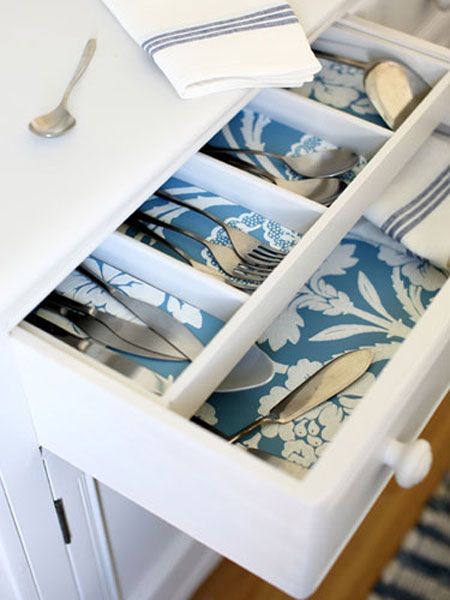 Whimsy or discreet using wallpaper – Design Files
Ever thought of adding wallpaper to your kitchen drawers? You can add wallpaper inside your drawers to protect your utensils, flatware or add it to the cabinet sides to make them look pretty.
Wallpaper in Blue – Home Depot
And all it takes is a few simple sheets of wallpaper to create unique looking kitchen cabinets.  
Wallpaper Your Appliances
You can camouflage an old appliance with wallpaper. Great if you are renting and need to remove the wallpaper later, or if your appliance is a little older and needs a new look.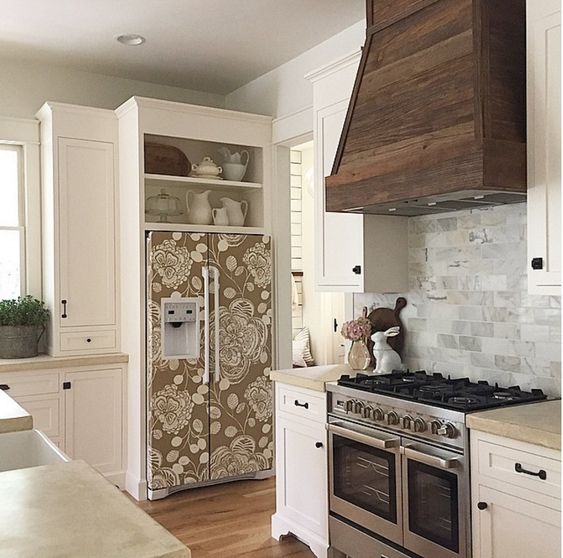 Wallpaper appliances – Addicted 2 Decorating
Using a material that is easy to remove means you can update your look again in the future. You may need to add polyurethane to make your wallpaper water-resistance.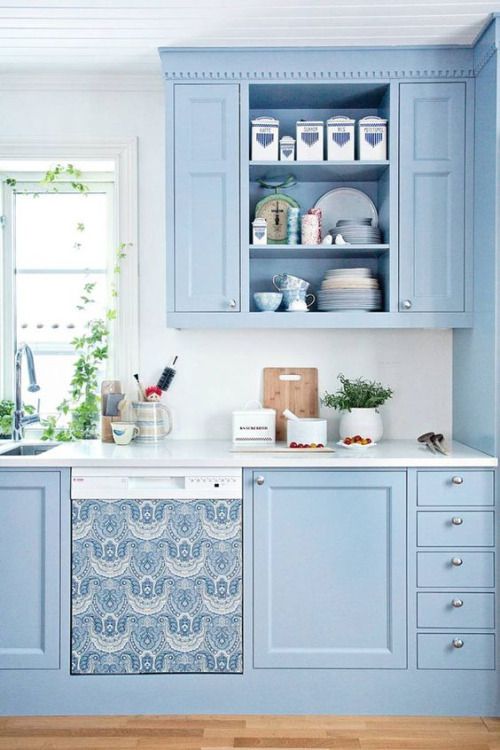 Kitchen wallpaper on Dishwasher – Drifter and the Gypsy
If you don't like the look of your kitchen cabinets and want a quick update, wallpaper on your cabinetry is a great fix.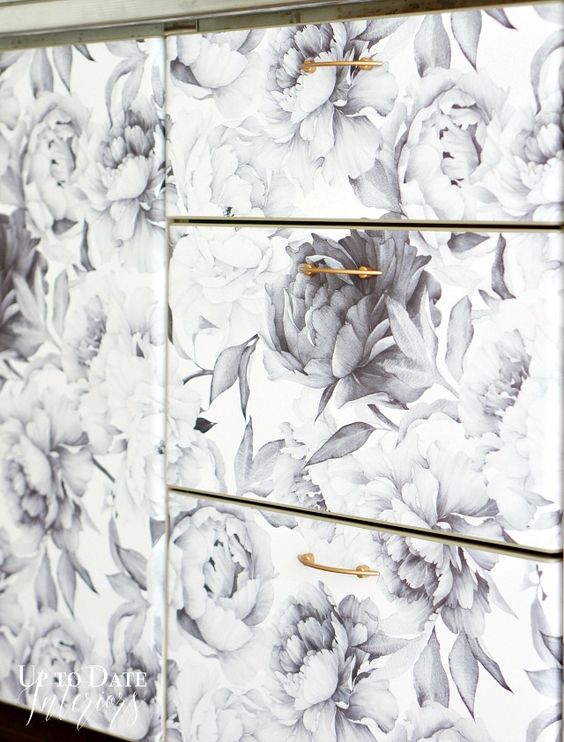 Wallpaper on kitchen cabinets – Up To Date Interiors
You don't want to over do it. Too much pattern can look messy. If you need a few more ideas, visit wallpaperfromthe70s.
How to Choose the Ideal Wallpaper?
Wallpaper Patterns
Most people get confused choosing wallpapers for their DIY kitchen project. While your pattern is an important factor, consider where you are placing your wallpaper. If you are applying it on cabinets or drawers, subtle colors and designs are preferred. If you are placing it on a wall, you can afford to be bolder and brighter.
Don't Skimp
Not all wallpapers are equal. Its worth buying a wallpaper that is not only affordable but one that is also good quality so it is durable enough to take the wear and tear of a working kitchen. Of course, this will also depend on where you place your wallpaper. Areas close to cooking, oils, and flames will need to be resilient compared to wallpaper placed in cabinets or on a feature wall.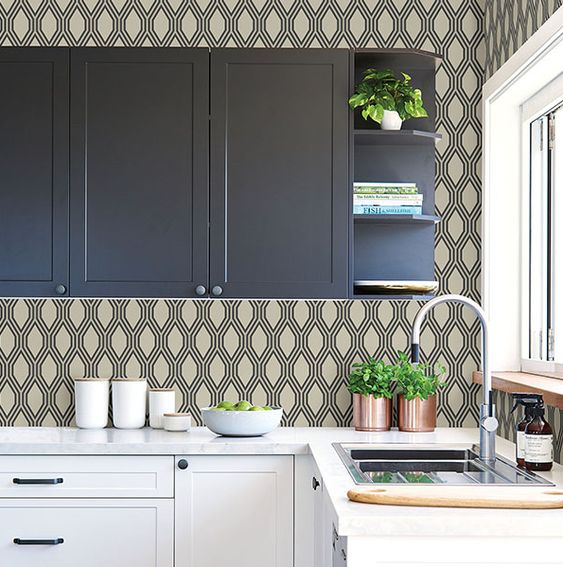 Wallpaper feature – Pinterest
Hire a Professional
If you are installing the wallpaper large areas you might want to hire a professional especially if you don't have the right skills. You can always test on small areas to see if you like the results before hiring a professional. Smaller projects like drawers are a good place to start.
Less is More
You don't always need a big bold pattern or color to create a feature or make a statement. Above all make sure your choice of wallpaper is easy to clean, and in colors and patterns that you will love for years to come.