Decorated Life is reader-supported. When you buy through links on our site, we may earn an affiliate commission. Learn More
20 Laundry Room Lighting Ideas
You're finally ready to do that laundry room renovation you've been wanting, because, let's face it, basic laundry rooms aren't all that exciting. When you're thinking about how you want your new space to look, don't forget to think about different laundry room lighting ideas, too.
There are so many different ways! You can do LED lighting for the laundry room, get really fancy with a laundry room chandelier, or stick with something basic like a flush mount or semi-flush mount ceiling light.
With so many options, you may need some help narrowing them down. Here are some of our favorites.
Recessed Light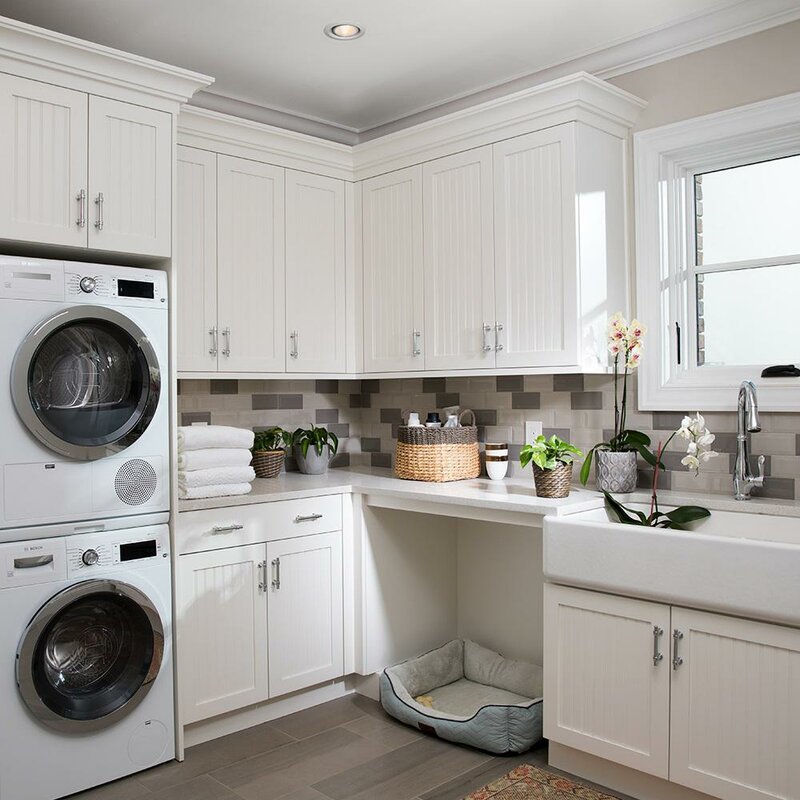 One of the most common laundry room ceiling lights solutions is recessed lighting, and it's something you may even be able to DIY if you're handy!
You can buy a set of recessed lighting and replace traditional overhead lights (like fluorescent lights!), but if you're not experienced in it, definitely call a pro to help you out.
Globe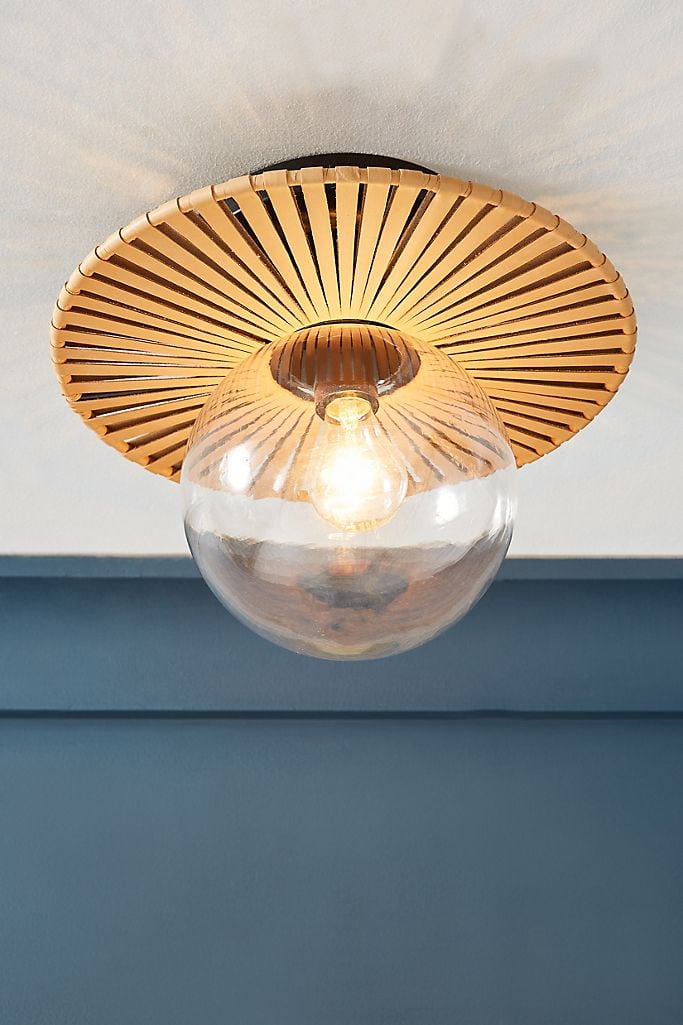 Swap out your boring builder-grade ceiling light with a globe light instead! This one has a glass globe around it, so you'll still get plenty of light, and the decorative mount adds a touch of style and uniqueness, too. Why not have a little fun with your laundry room decor, right?
Boho Hanging Light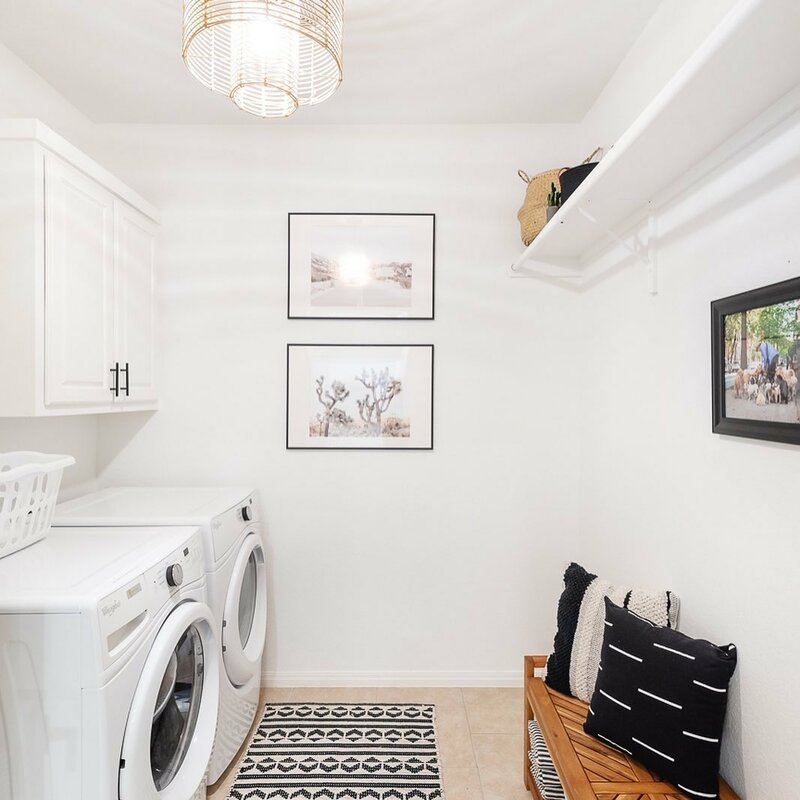 Consider designing your laundry room with a boho theme like this one. White walls, black and white accents, and some natural wood finish to round it all out. It's gorgeous!
This light really pulls the look together, too. And thanks to its design, it not only gives off plenty of light, but it also creates some really cool shadows!
Drum Light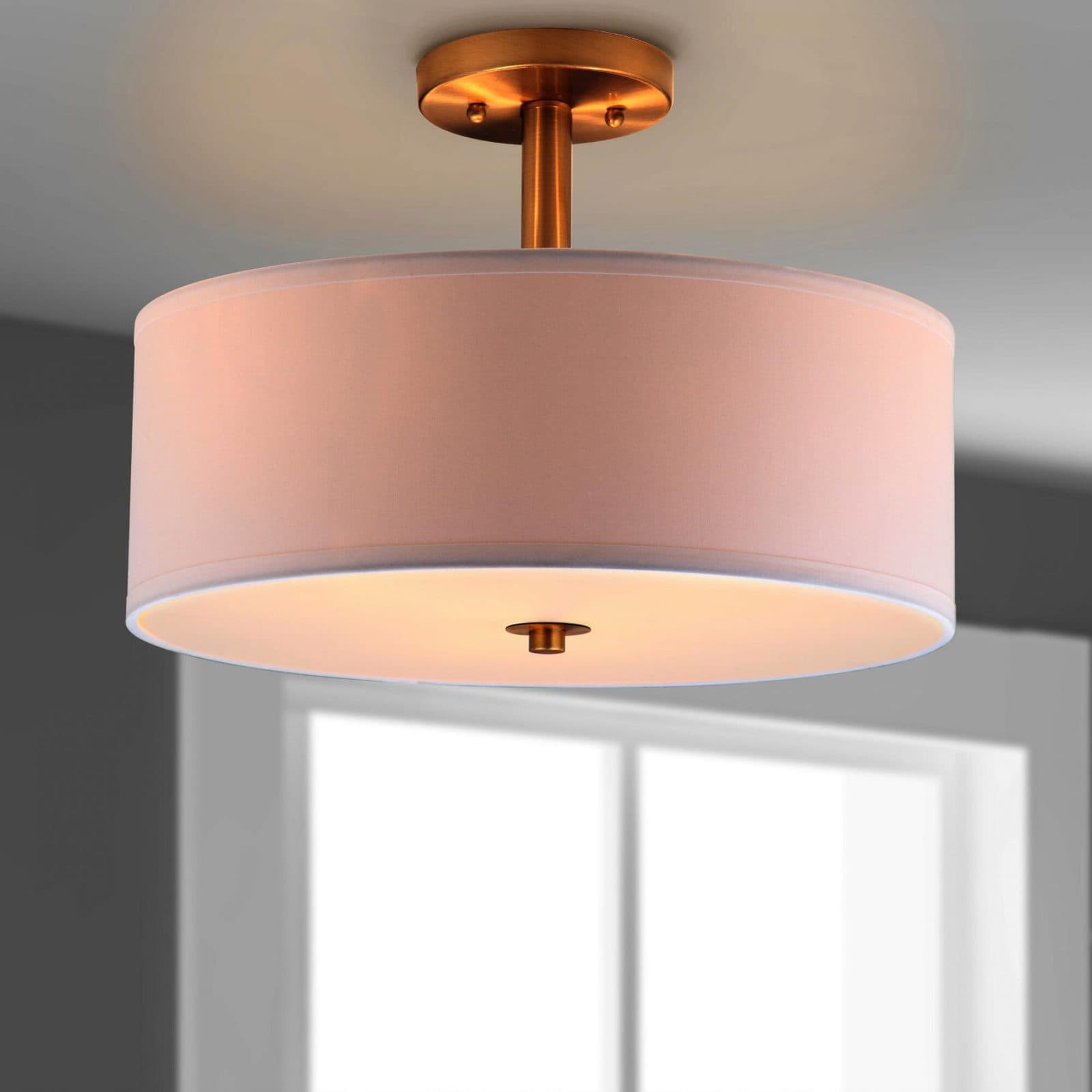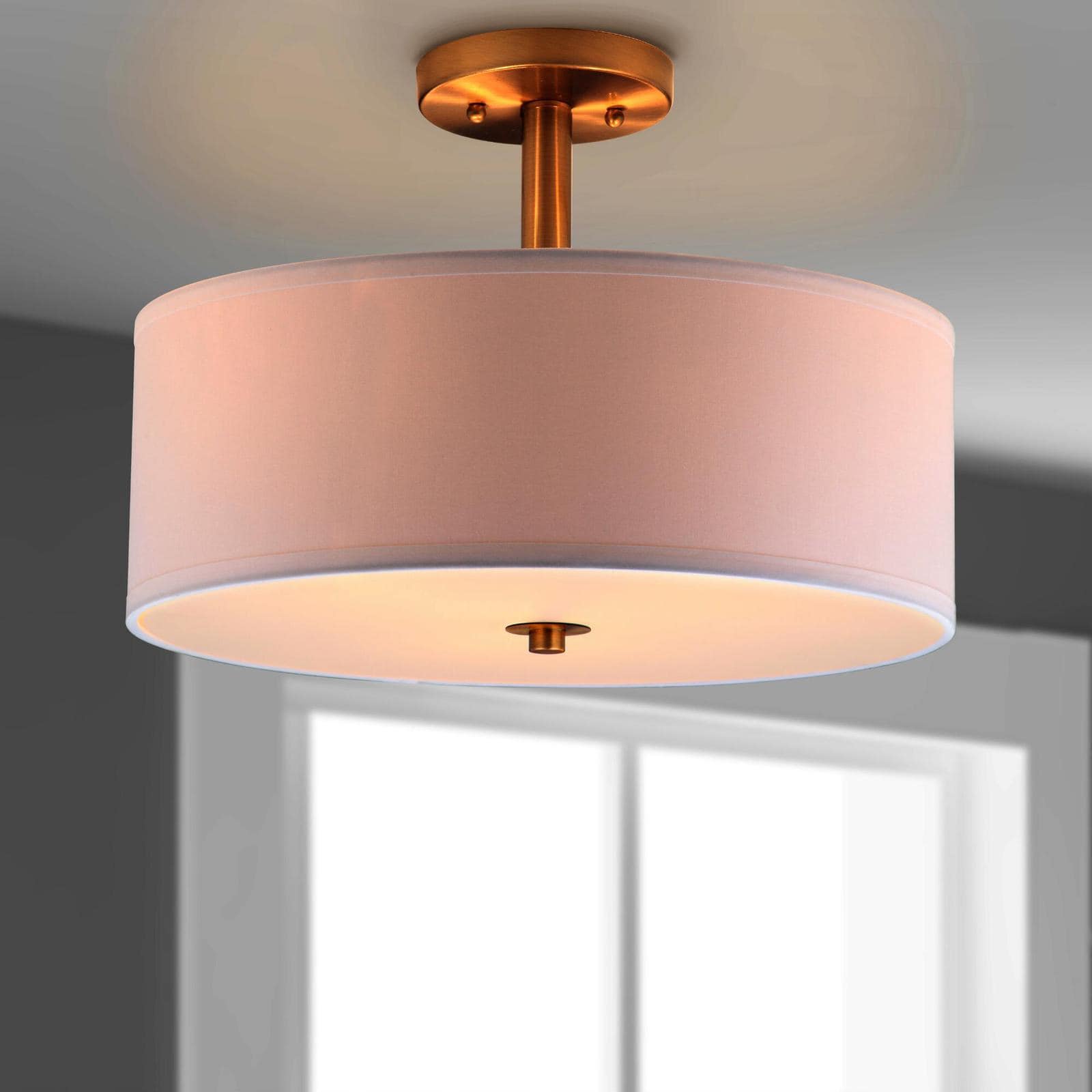 Look, we've all seen the horrible standard lights that come with homes. They're not great to look at and they tend to be hung in places like power bathrooms, closets, and laundry rooms.
If you don't love the standard light, but also don't want anything overly flashy, then consider a drum light instead. It's still pretty minimal, but it looks so much better and more polished than the builder-grade ones.
Edison Bulbs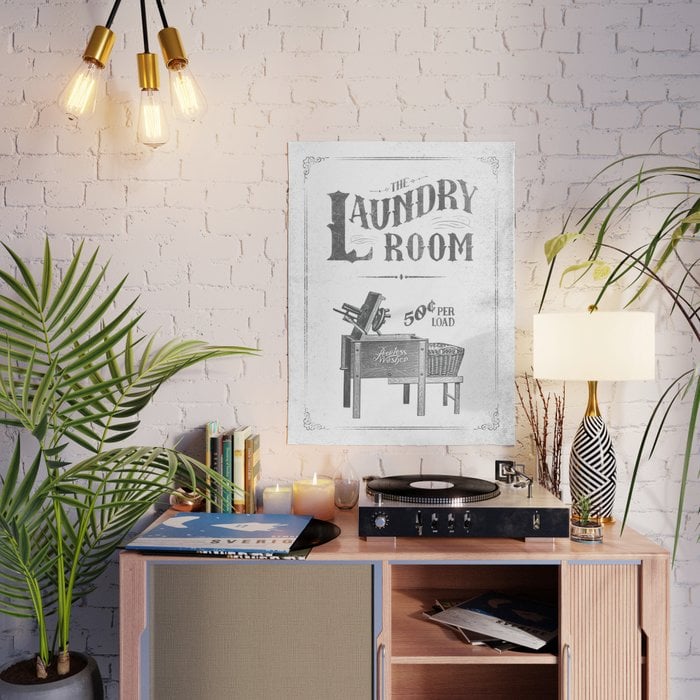 Your laundry room isn't a place where you're relaxing and hanging out, it's a spot where you do a job, so putting in some utility room lighting makes sense!
Edison bulbs are perfect for that. They are very industrial, but they still give off a lot of light. You'll be able to treat stains with no problem with a few of these bulbs hanging overhead.
Midcentury Modern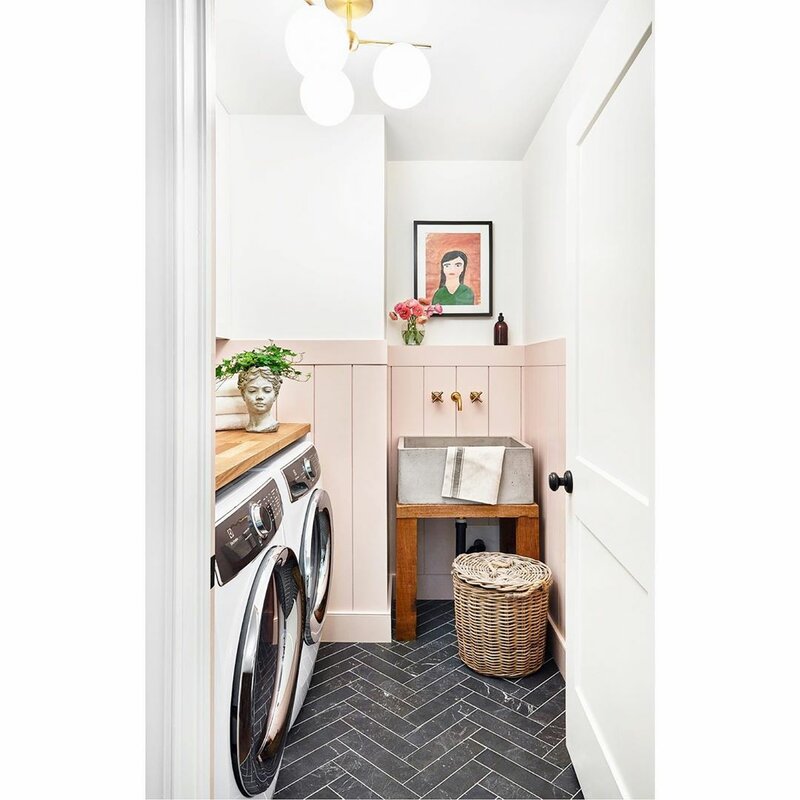 Laundry room light fixtures can have any kind of aesthetic you want them too, it's one of the few rooms in a home that has very little rules! So, if you have a certain decor style you want to try, your laundry room is the perfect spot to experiment!
A midcentury modern light, like this one, will give the space an updated look with a touch of glam. Paint the walls a jewel tone to really bring the look to life, too!
Under Cabinet & Shelf Lights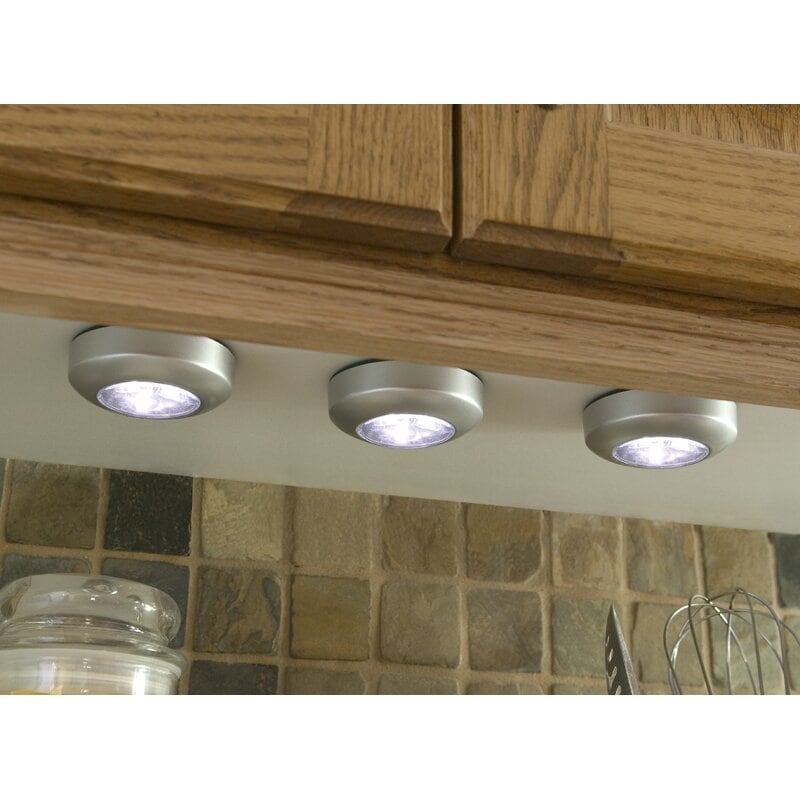 If you have some cabinets or shelving in your laundry room, consider adding some lighting underneath to add a little more brightness to the space. This would be especially great if you have a shelf over the washer and dryer because it will give you even more light to check for stains.
Barn Light Sconce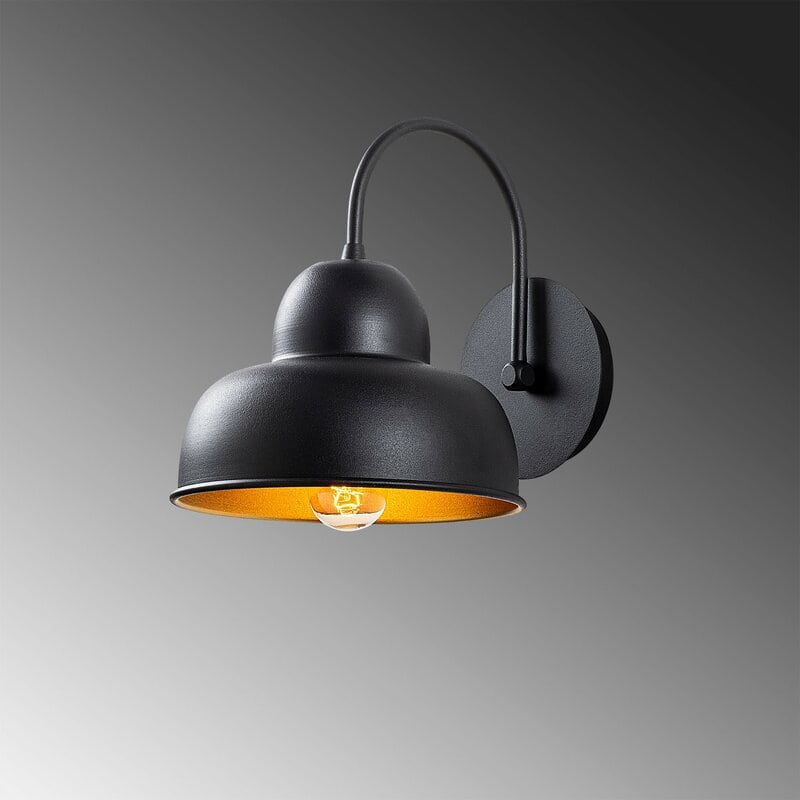 Instead of a ceiling light, consider mounting some sconces instead.
A barn light, like this one, is perfect for a home with a farmhouse-chic or rustic aesthetic. Toss in some shiplap, and you're well on your way to a laundry room Joanna Gaines would totally approve of.
Farmhouse Semi-Flush
Speaking of farmhouse, this light is also a great option for the style! It's a semi-flush ceiling light that has a touch of rustic charm.
The glass globe around the bulb allows for plenty of light, so you'll be able to wash and fold with ease.
Directional Spotlight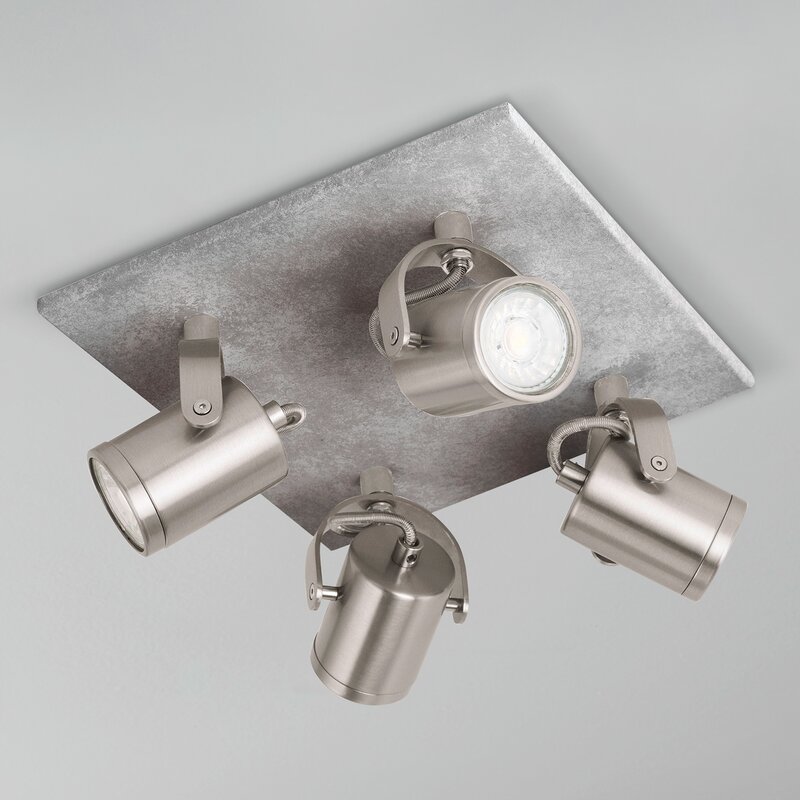 If your laundry room has an unusual layout, spotlights may be a great option for you! You can point them directly where you need the light most.
This fixture is great, because not only does it have four separate spotlights that you can position as needed, but it also looks really great and fits in with well an industrial type space.
Retro Flushmount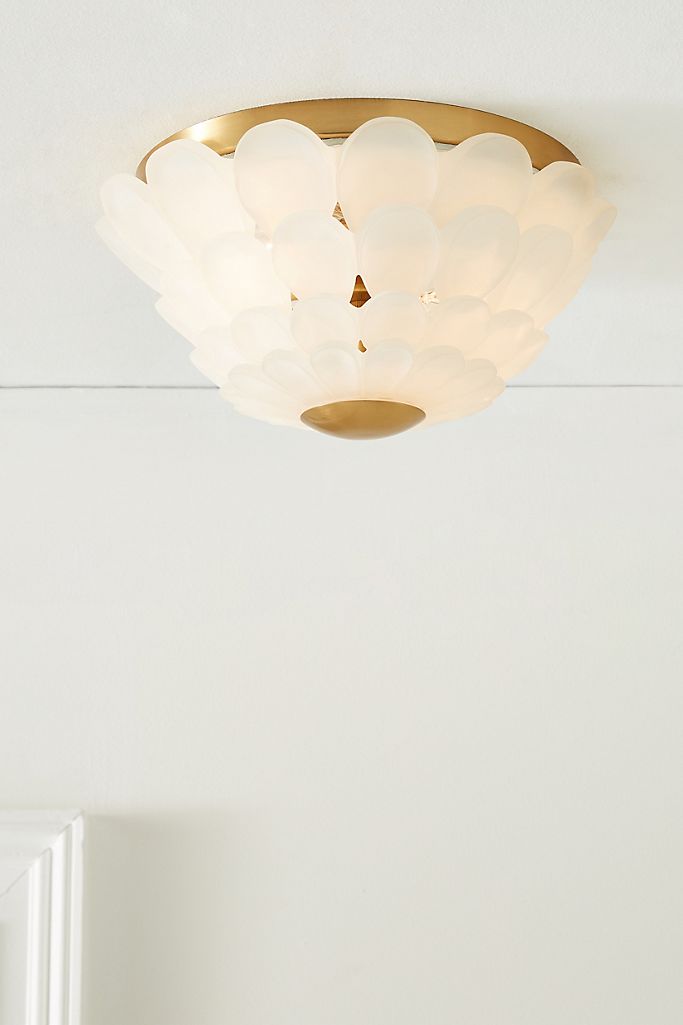 This looks like the kind of light you'd see in your grandma's house, except its gold touches make it way prettier than hers probably is. It's a fun retro fixture with a touch of glam.
You will certainly bring some character to your laundry room with a ceiling light like this one! Hang some gold hooks on the walls or find brass cabinet pulls to bring the look together while keeping the space functional.
Minimalist Utility Light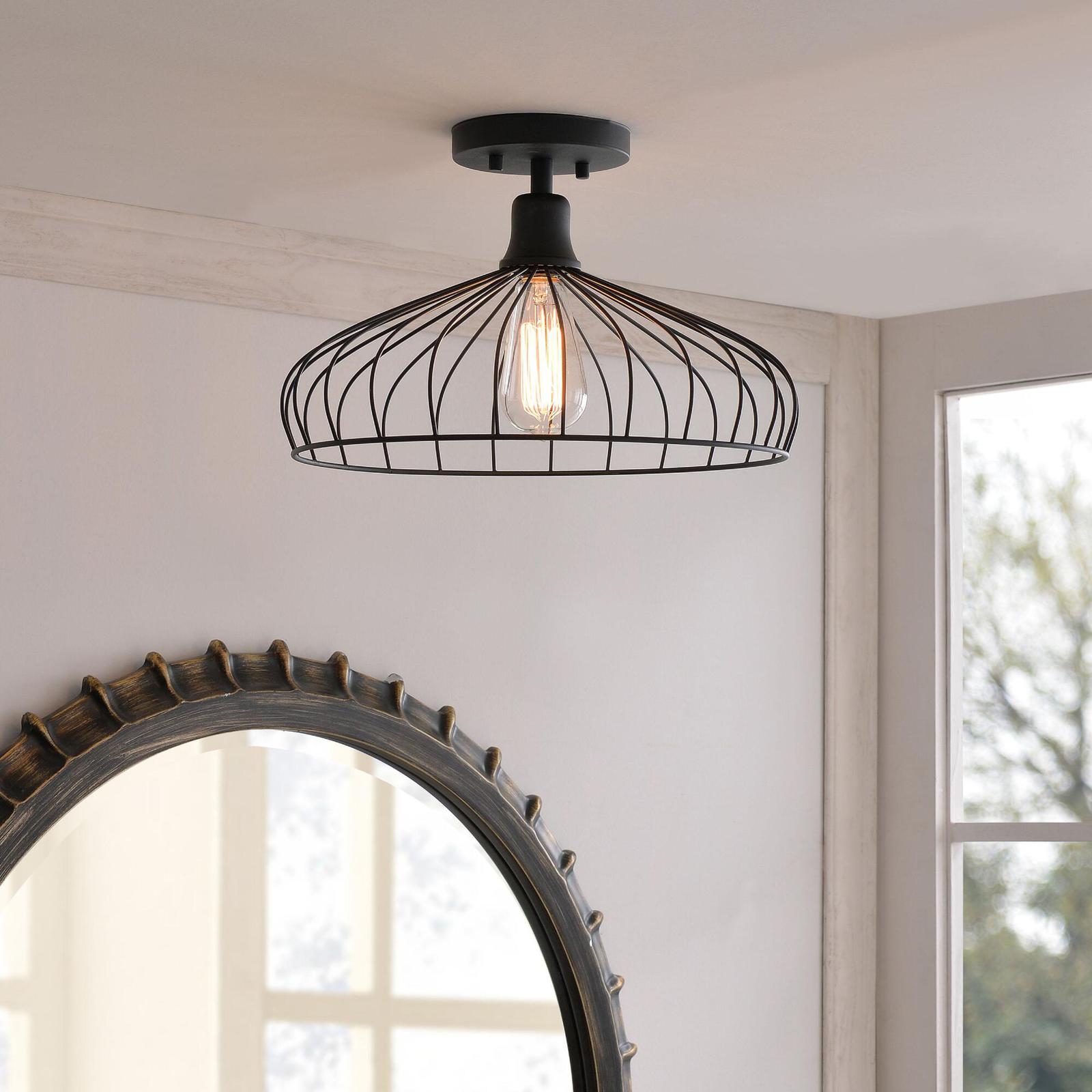 Here's another great option for utility lighting for laundry rooms. It's a little bit of a different take on a cage light, but it's still very minimalist and straight forward.
You do get a little bit of extra style with this light thanks to the option to show off an Edison bulb. It would look especially great with an industrial-chic aesthetic.
Pendant Lights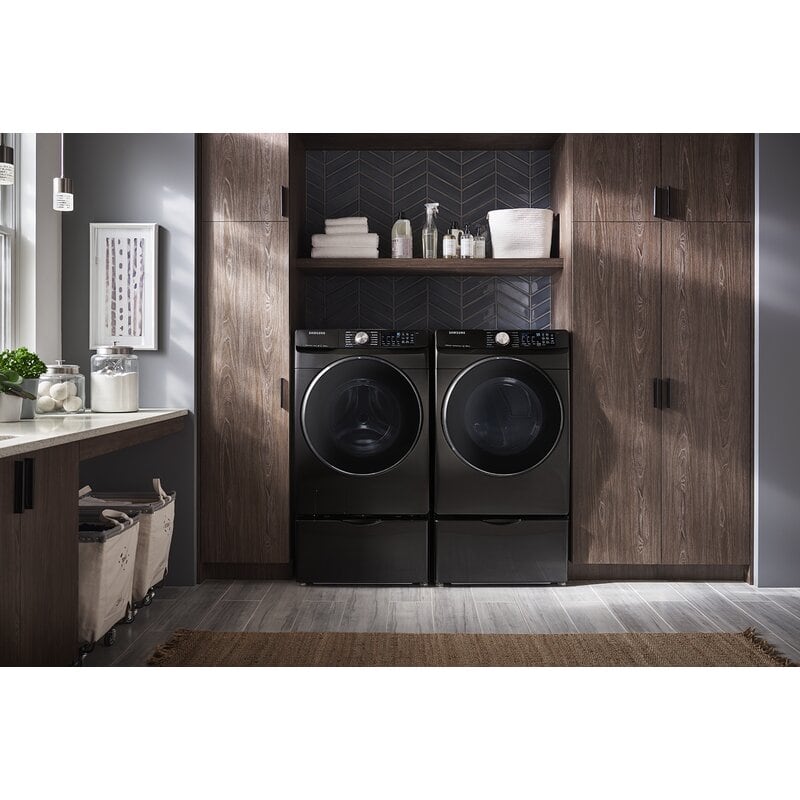 Instead of a standard ceiling light, you can always swap out for some pendant lights instead! Depending on where you hang them, they could make a lot of difference in the space.
For instance, in this picture, they have the lights hanging over the countertop where they treat and fold the clothes. That's where you need light the most, so it's a really smart spot to hang some lights.
Track Lighting
How cute is this track lighting? I know when I tend to think of track lighting, my mind goes to a 90s look that is, frankly, not all that great. But, this is the kind of light I'd totally put in my home!
What's great about track lighting is that you can point the spotlights in whatever direction works for you. Since the fixture itself is long, you're able to light up a lot more of the room than you might with a standard ceiling light.
Modern Chandelier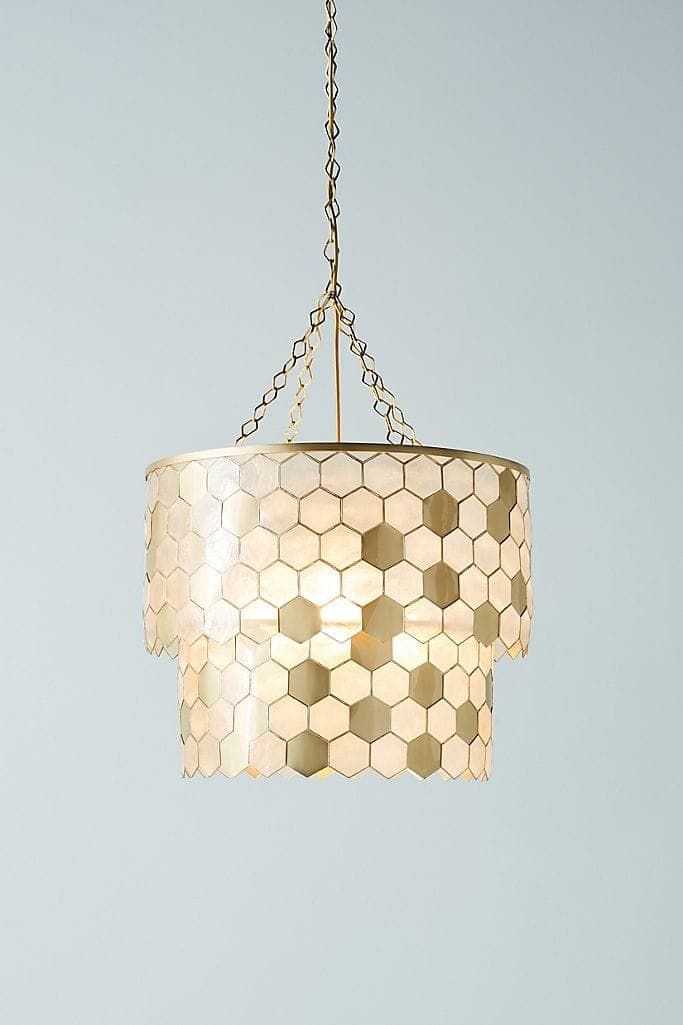 Sure, maybe the laundry room isn't the first place you'd think to put a chandelier, but if you have the ceiling height for it, why not?
Something like this is a great option because it's understated but still has a touch of glam to it. If you go the chandelier route, just make sure you find one that gives off enough light, because as cute as you may want your laundry room to be, it also needs to be functional.
Single Caged Light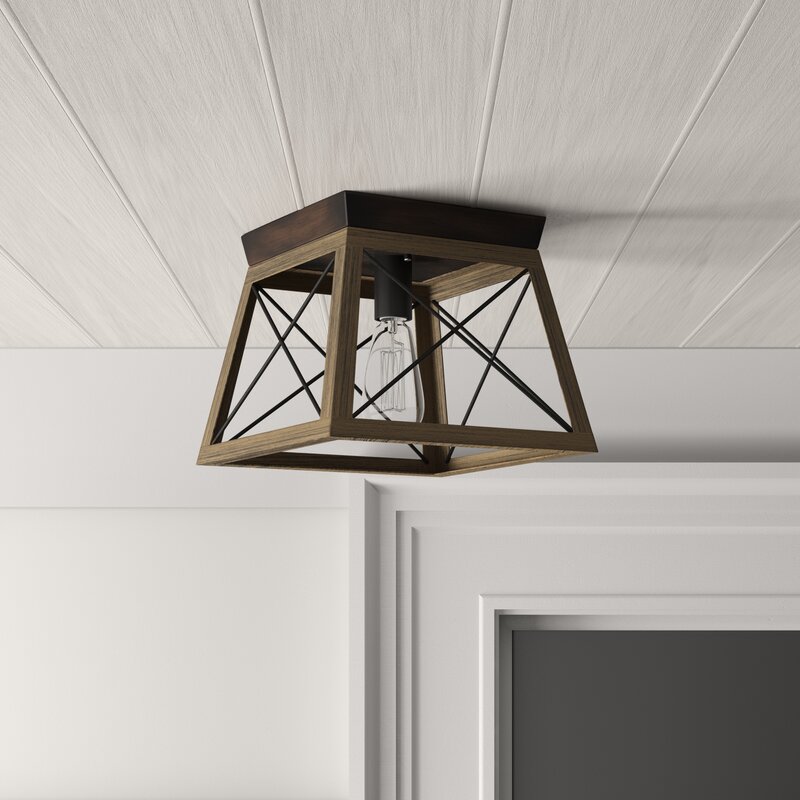 Another way to bring in that rustic industrial look into your laundry room is with a caged ceiling light like this one. It mixes the softness of wood and the coldness of metal that really works with that decor style.
If you want to really bring that look home, consider finding some textured wallpaper to create a faux brick accent wall behind the washer and dryer! It'll look like a cute basement utility room in no time. 
Fun Floral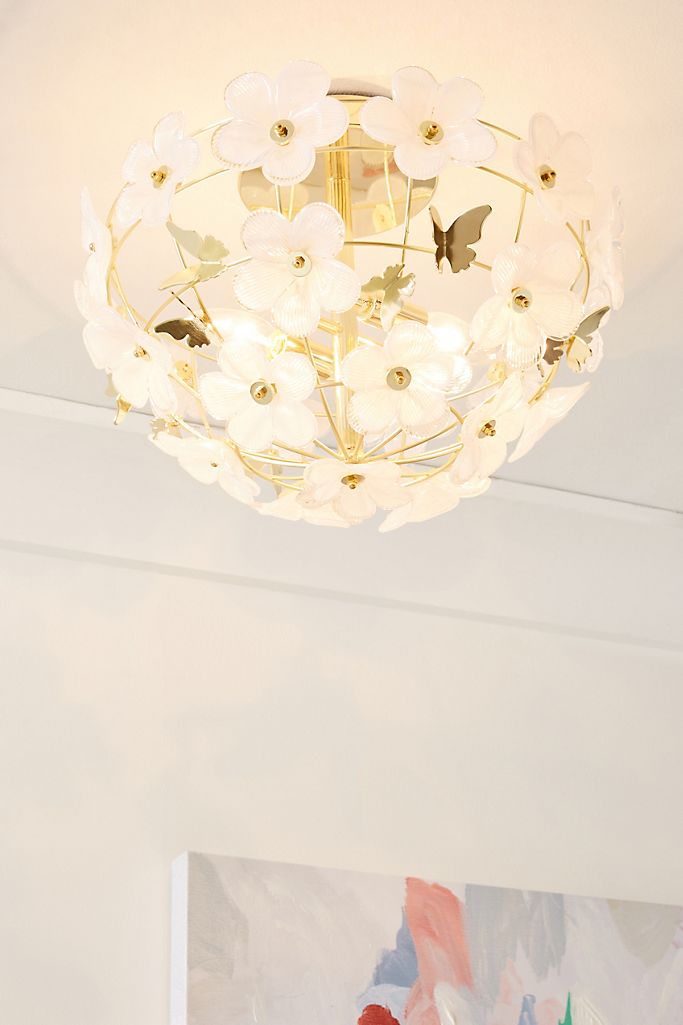 For a more soft, feminine space, consider this floral ceiling light! The gorgeous mixture of gold and flowers creates a really warm space that anyone would love to fold towels in. Paint the walls a cheery color and maybe laundry won't feel so much like a chore anymore?
Rustic Flushmount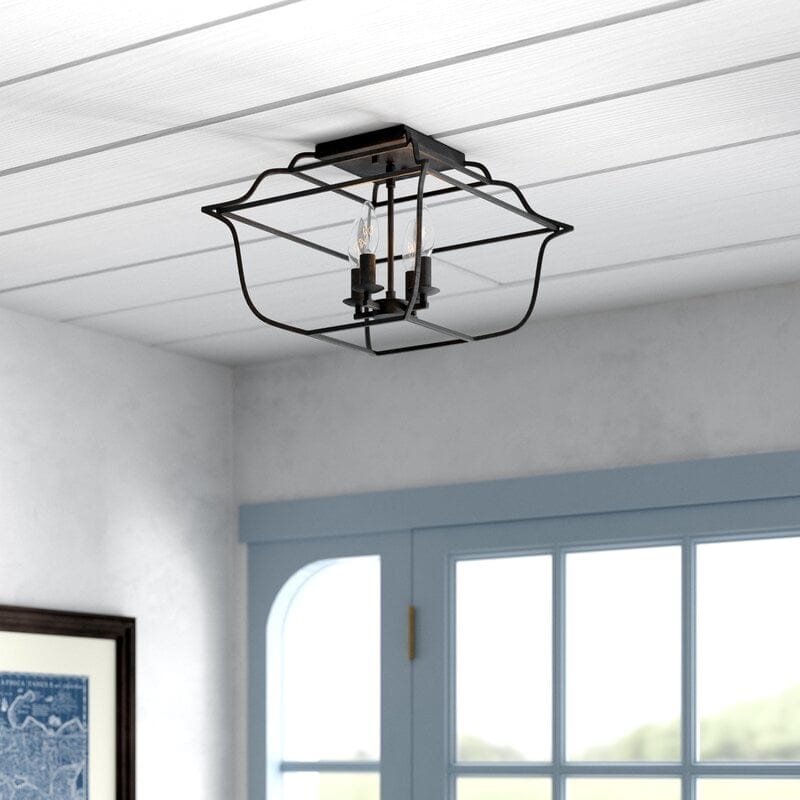 Here's a gorgeous rustic light fixture that will really bring some style to your laundry room.
Not only does it have a utility vibe, but it is a little more unique because it uses candelabra lights instead of standard light bulbs or even Edison bulbs. It's definitely something a little different, in a good way!
Industrial Sconce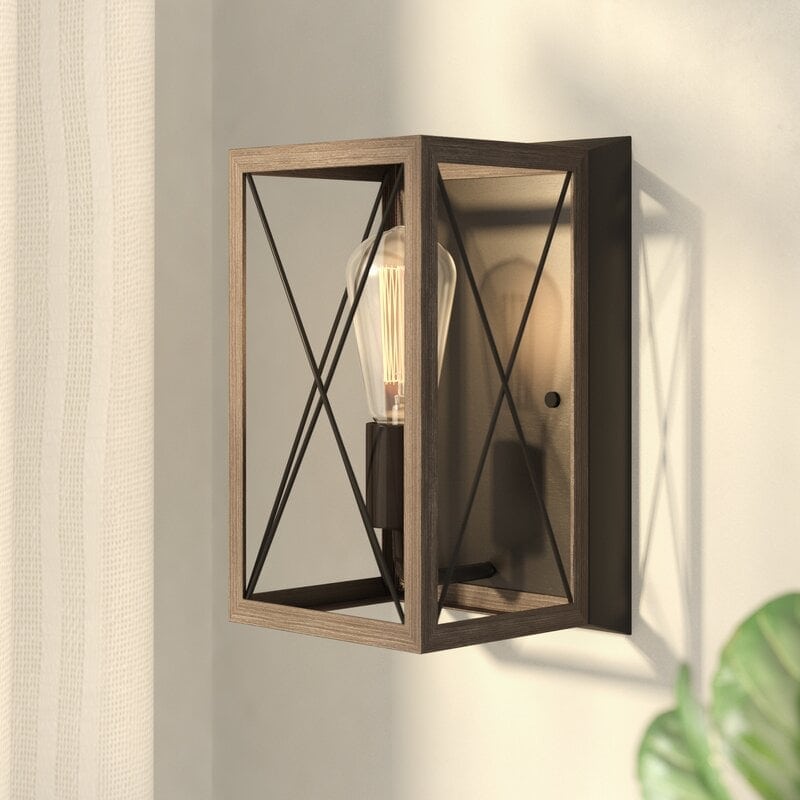 If you're more into the wall sconce look, this one's for you! It really has that rustic industrial chic look, especially with the Edison bulbs, and will fit right into a laundry room.
If you have to run wiring for something like this in your laundry room, make sure you place them strategically so you can get the maximum amount of light in the spaces you need it most.
Flushmount With Edison Bulbs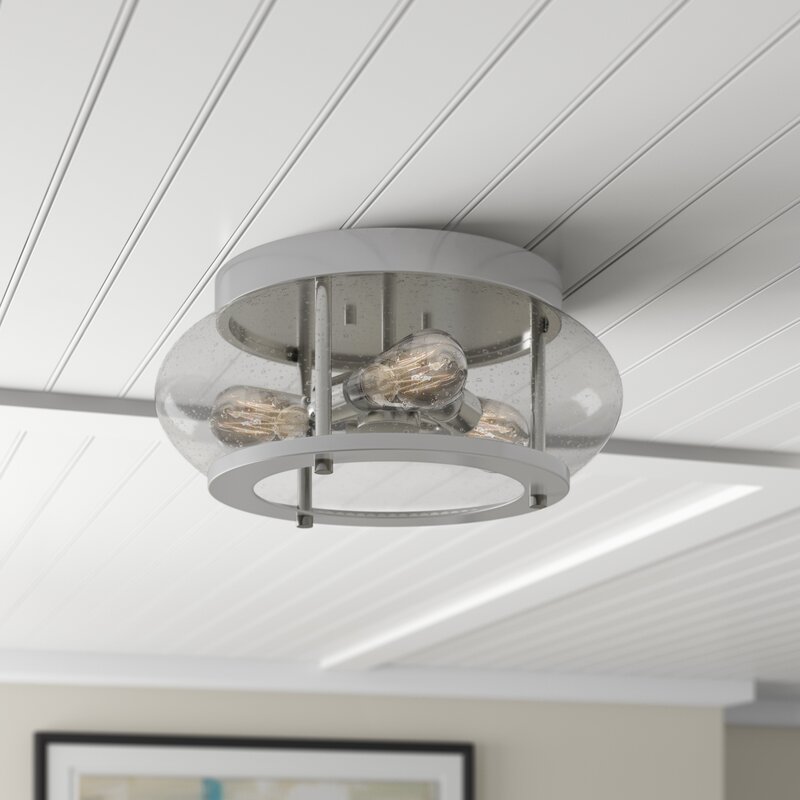 Edison bulbs have been a theme throughout this list. That's because they really encompass that utility room vibe you think of when you think of a laundry room! This ceiling light plays right into that look, too.
Final Thoughts
The best lighting for the laundry room in your home will depend on a number of factors, like if there is any natural light in the space, how decorative you want the room to be, and how much traffic comes in and out.
Maybe you'll want a motion-sensing light so you don't have to worry about a switch when you're carrying a heavy basket of clothes or maybe you just want a basic laundry room light that does its job and looks nice. Whatever it is you pick, just make sure you like it, because as tough as it is to admit, you're going to spend more time in your laundry room than you'd probably like.