Decorated Life is reader-supported. When you buy through links on our site, we may earn an affiliate commission. Learn More
Benjamin Moore Silver Satin Paint Color Review
Gray and greige colors have really been getting a workout in the home decor world lately, and I wouldn't blame you for thinking you've seen them all. But there's a gray out there that just might surprise you. Allow me to introduce Silver Satin by Benjamin Moore.
If you're looking for a light and refreshing color to uplift a room, Silver Satin is a great choice. It can make a dramatic difference in dark spaces, transforming them from caverns into airy havens. But when a quieter hand is needed, it can also offer a subtle contrast to pure white colors.
So whether you're bored with your space, looking for inspiration, or just curious, let's slap some samples on the wall and see what makes Silver Satin tick!
What Color is Silver Satin?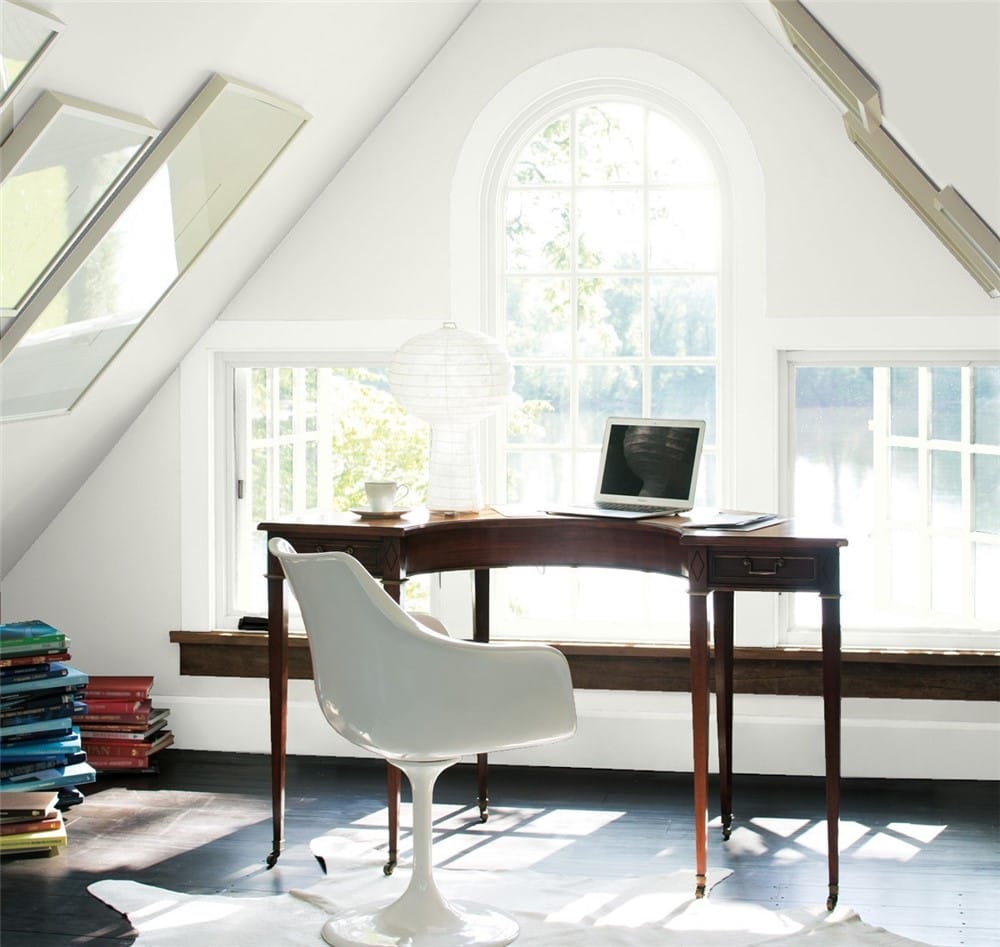 Silver Satin OC-26 is a very light gray, and part of Benjamin Moore's Off-White Collection. You could also describe it as an off-white that has traces of silver. It's not truly a greige, but it also isn't an ordinary gray. It sounds strange to describe, but when you look at it, you'll see what I mean!
LRV of 76.35
With a light reflectance value (LRV) of 76.35, Silver Satin is a pretty light color. LRV is a scale from 0 (completely black) to 100 (completely white). At this LRV, Silver Satin will readily brighten up a space. As an off-white, it's still able to contrast with a true white color as well. Off-whites range from light reflectance values of about 73 to 82, while whites will have a higher LRV.
Does Silver Satin Have Any Undertones?
Silver Satin has slight purple undertones, which is a common trait among gray colors. Due to its brightness, you'll also notice that Silver Satin can reflect other colors that are near it, even colors that are bouncing in from outside, so take that into account when choosing where to place this color.
Is Silver Satin a Warm or Cool Color?
Silver Satin is a warm, silvery off-white. When its purple undertones come into play, it can look cooler, such as in south-facing rooms. But in north-facing rooms, it will look warmer. This is another reason to choose your placement of Silver Satin carefully.
Where Can You Use Silver Satin?
Silver Satin is a bright neutral, so you can use it in many situations to uplift and open the space. It's an option for when you don't want to use a plain white, and it does offer a bit of contrast to a true white color.
Silver Satin is a great solution for dark hallways and alcoves. It can actually make small rooms seem larger than they are. If you want to open up a space without going too crazy, you can pair Silver Satin with a darker color to balance it out.
As a neutral, Silver Satin is versatile enough to be used in any room of the home. It can give a touch of warmth to cooler rooms, and its traces of silver complement metalwork nicely.
I hunted down some pictures of Silver Satin in the wild to help fuel your inspiration! Here we go!
Living Room
This modern loft uses Silver Satin to take advantage of the ample natural light.
Check out these before and after pics! Silver Satin has some serious brightening-up power.
Contrasting off-whites with black looks very sleek and polished. Silver Satin is pulling out the grays in the fireplace tile and the carpet.
Entryway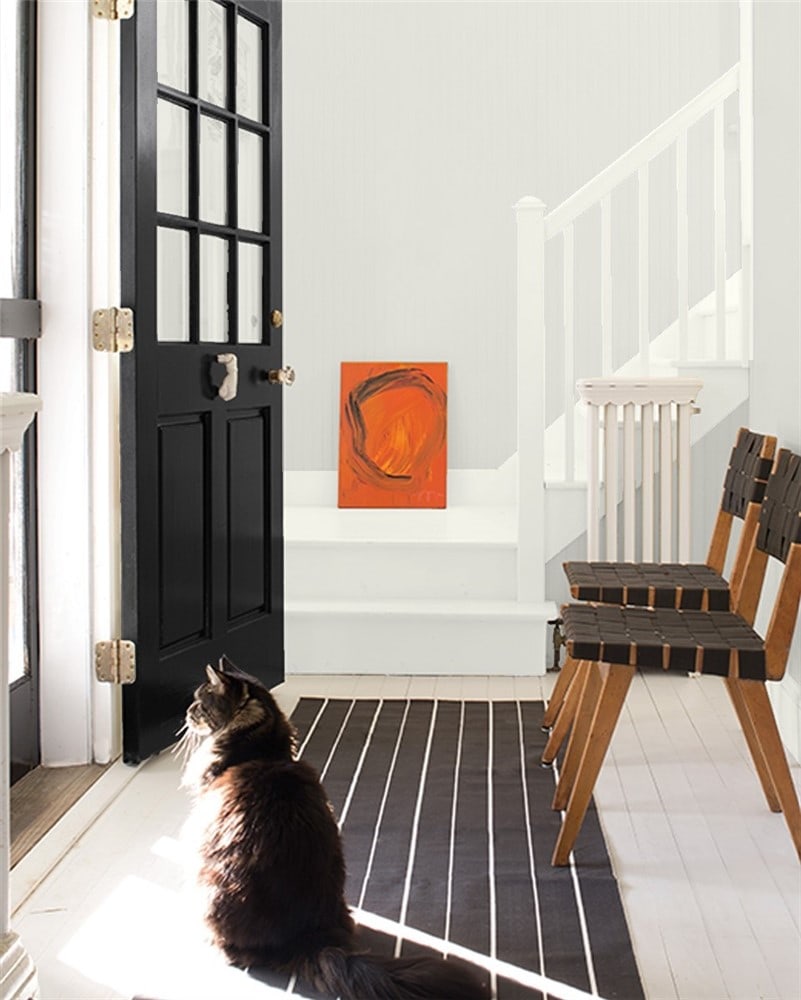 This entryway uses a very simple contrast between Silver Satin, black, and white for a classic look.
Silver Satin is the canvas for this charming modern farmhouse entryway. The elements are well-composed so that the colors lead your eyes through the scene.
Bathroom
A fresh coat of paint is such a great way to improve any room on a budget! This simple and practical master bathroom is still fresh and comfortable.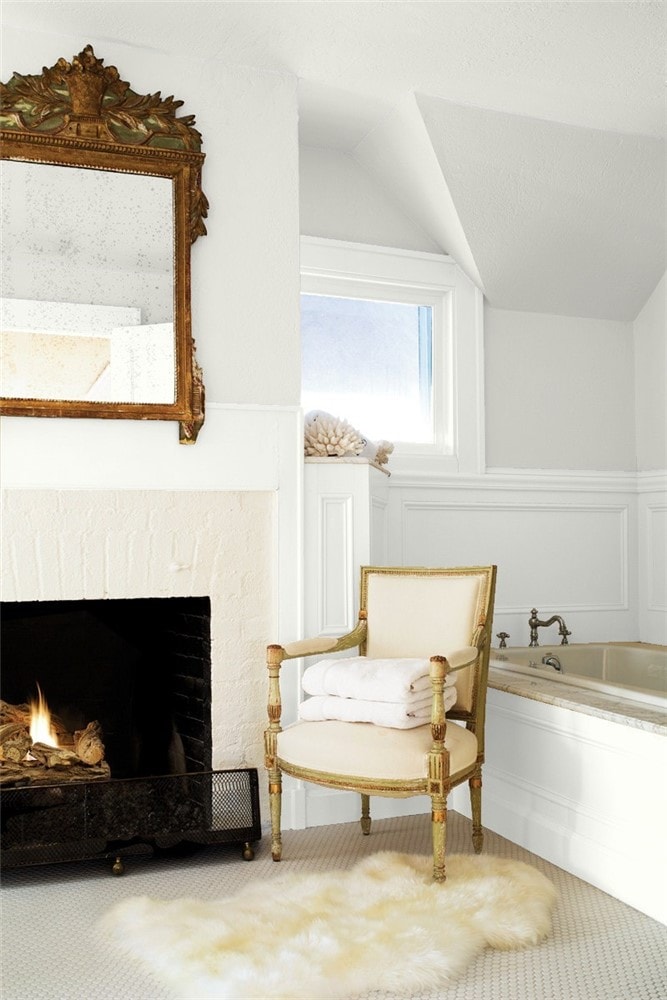 Silver Satin brings out the cream and gold in this luxe bathroom.
Kitchen/Dining Room
This gorgeous DIY dining room pairs Silver Satin with another popular Benjamin Moore color, Collingwood. The corner cabinet and trim are also a brighter white, demonstrating Silver Satin's contrast abilities.
In this elegant and sophisticated kitchen, as the designer tells us, the cabinets are not white! They're actually Silver Satin, which looks fabulous with all the metal and darker grays in the room.
This unique and eclectic kitchen is unified by using Silver Satin throughout the room. See how it complements the marble counter?
Office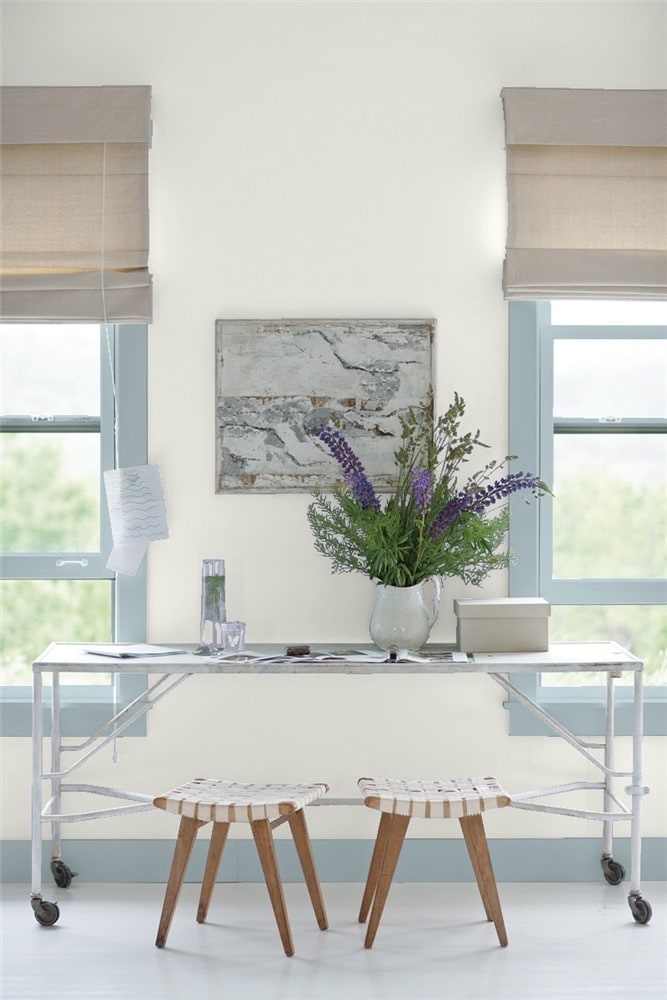 This harmonious home office brings cool blue trim with warm Silver Satin for a sense of balance and comfort.
Bedroom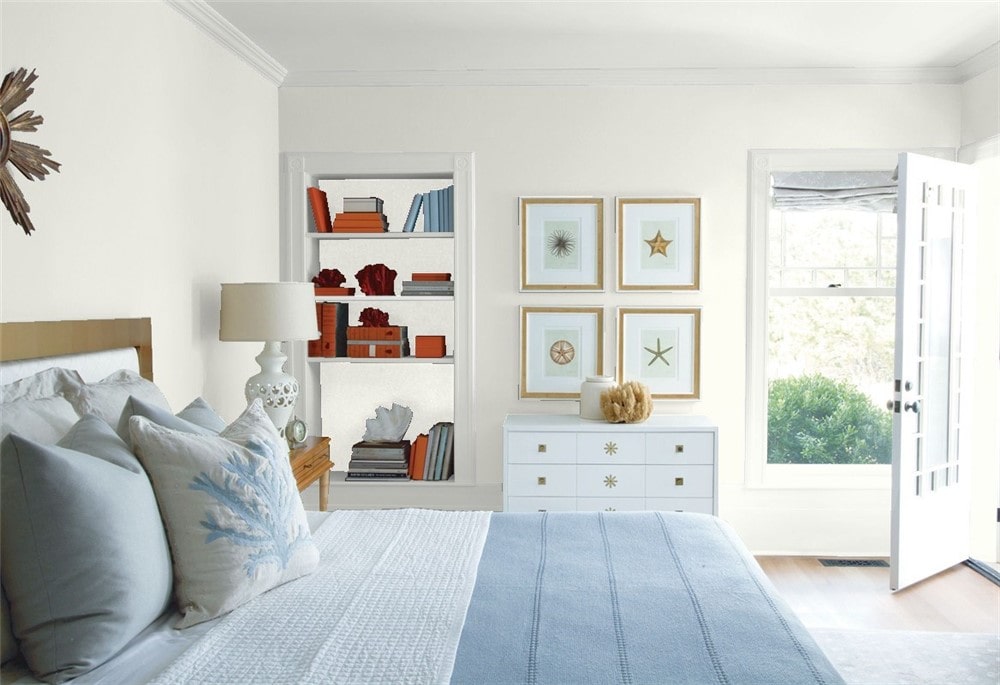 This breezy, beachy bedroom gets a brightness boost from Silver Satin. The gold picture frames are a nice harmonizer to Silver Satin's natural warmth.
This bedroom pairs Silver Satin with Benjamin Moore's Wrought Iron on the ceiling to control the spaciousness of the room and make it feel more cozy. What a sophisticated use of color!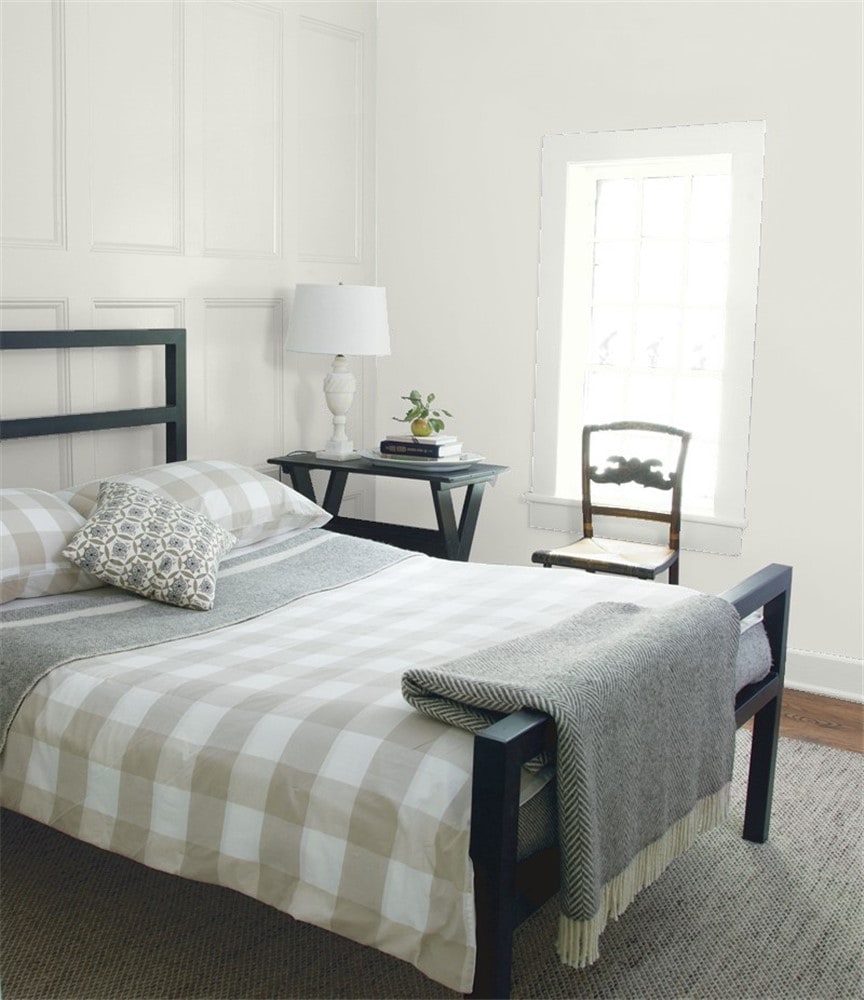 Silver Satin makes for a cozy and soothing bedroom with a natural vibe.
Silver Satin Coordinating Colors
Silver Satin is so light and wispy that it can almost have a barely-there feel. You can bring out its best traits by using it to capture the light in a room, and by contrasting it with other colors.
Most of the time you're going to be finding darker contrast colors for it, and a strong contrast, such as black, charcoal gray, or deep brown, can make Silver Satin look very crisp and polished.
But you can also pair Silver Satin with lighter colors for a more dreamy feel, like a watery blue or a spring blossom pink.
As an off-white, Silver Satin has the ability to contrast with lighter whites too, and this can really heighten the bright and clean feeling of a room. Silver Satin will add a touch of warmth in these situations.
Here's some color inspiration for you to explore with Silver Satin:
How Does Silver Satin Compare With Other Colors?
Silver Satin vs Edgecomb Gray by Benjamin Moore
If you're checking out popular neutrals from Benjamin Moore, you've probably encountered Edgecomb Gray. It's darker than Silver Satin, with an LRV of 63, and you'll see more of its earthy beige side, while Silver Satin is more ethereal.
Silver Satin vs Pale Oak by Benjamin Moore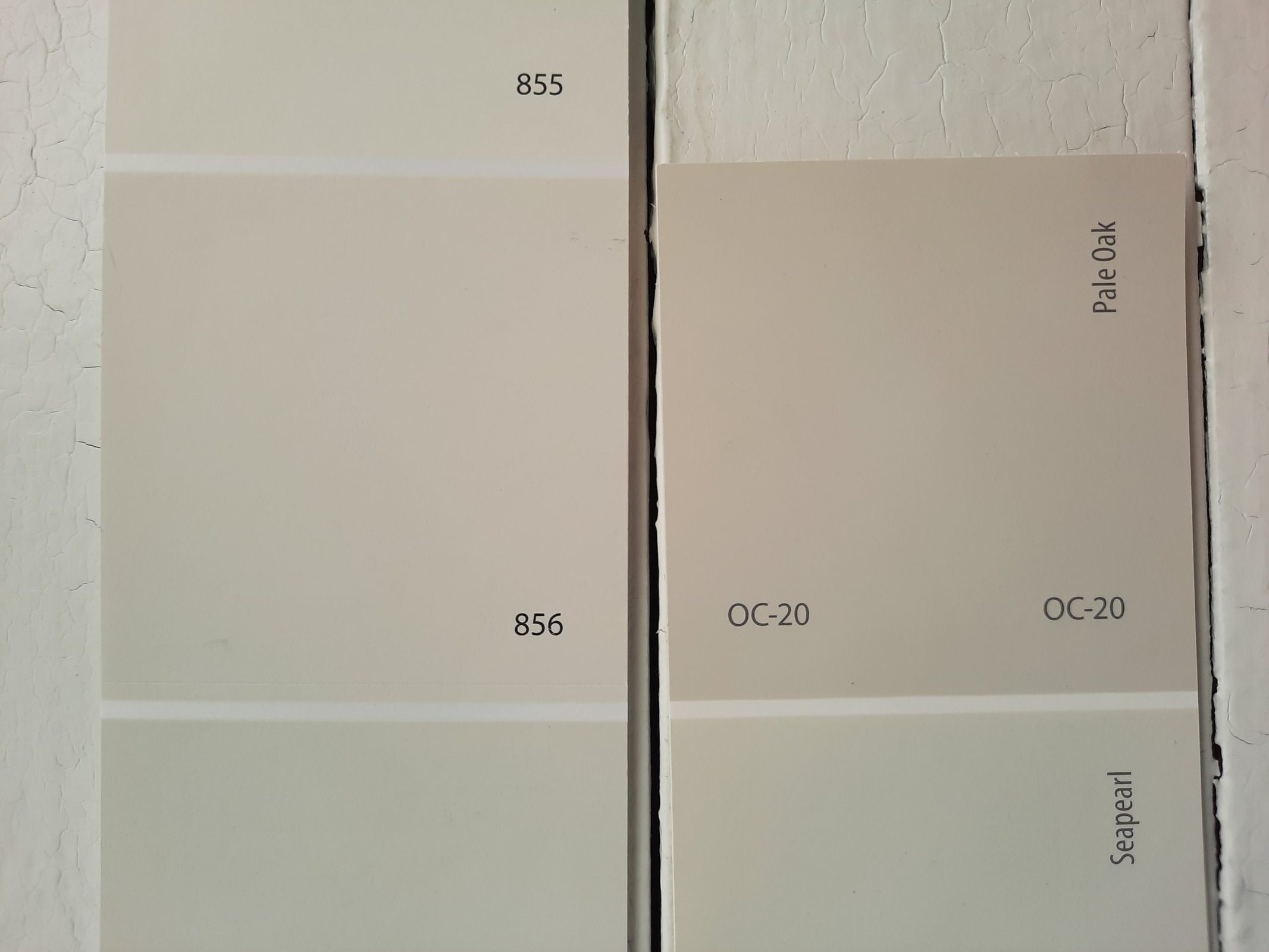 Pale Oak is very similar to Edgecomb Gray, as another popular greige. It's lighter than Edgecomb Gray, but darker than Silver Satin. It's also a touch warmer than Silver Satin. Pale Oak's LRV is 69.89.
Silver Satin vs Agreeable Gray by Sherwin Williams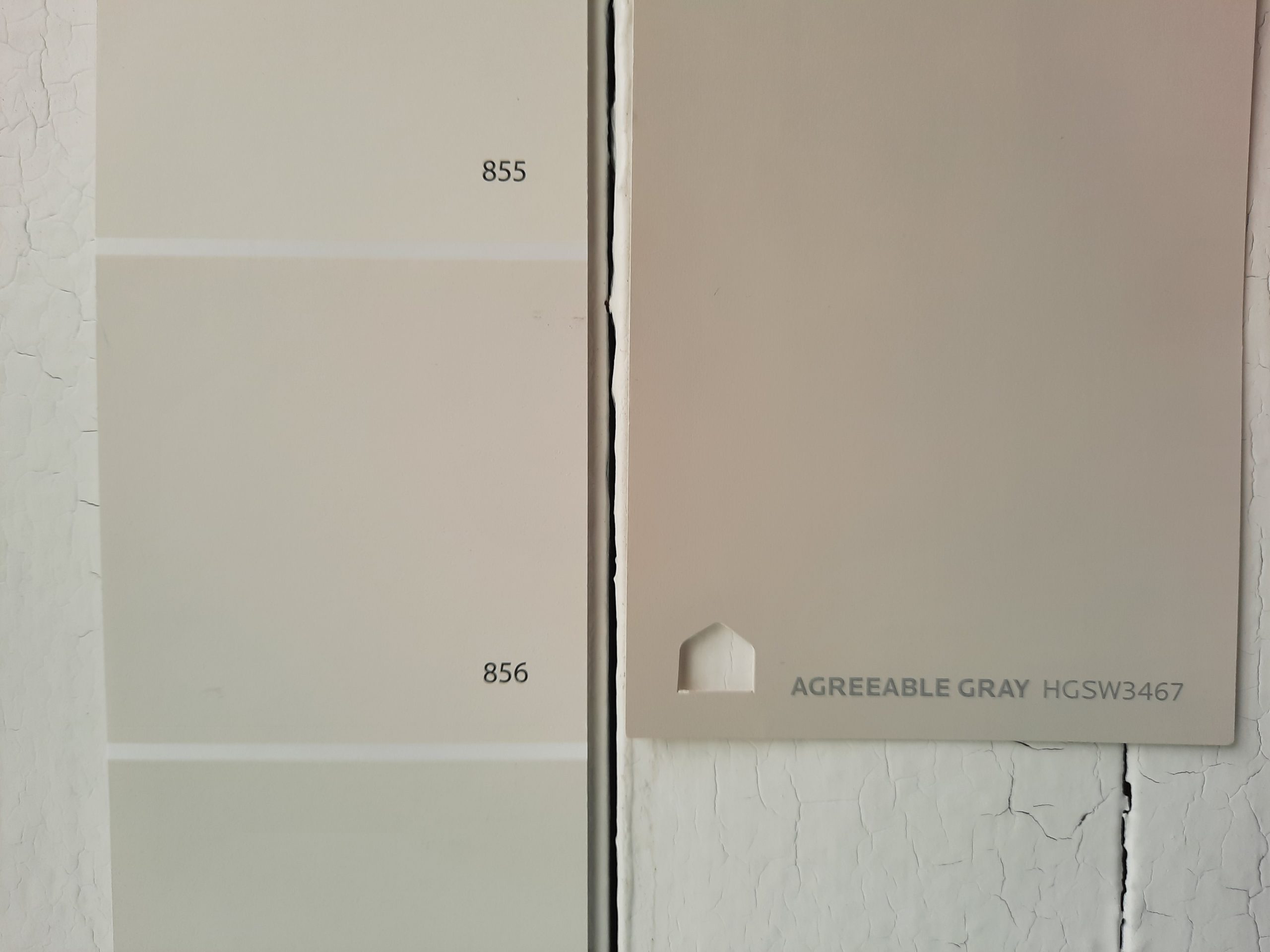 Agreeable Gray is a popular balanced gray from Sherwin Williams, with an LRV of 60. It's dark enough to be used as a contrast color with Silver Satin, and it's noticeably cooler.
Final Thoughts
Silver Satin is a light warm gray that has a few tricks up its sleeve. Its ability to brighten a room and make it more spacious is truly magical. While of course you can contrast it with nearly any darker color, it also has an interesting off-white ability to contrast with lighter colors. Since Silver Satin is neutral, there's hardly a color palette you couldn't add it to. If your next project could use a little sparkle, Silver Satin just might be the rabbit in your hat.