Decorated Life is reader-supported. When you buy through links on our site, we may earn an affiliate commission. Learn More
Where to Put a Floor Lamp in the Living Room?
Floor lamps are one of the best lighting solutions for living rooms – they're stylish, don't take up end table space, and you can place one in any area that needs a little extra something.
In fact, floor lamps are one of the very best practical decor items for any room.
But, with so many places to put one, you might have a hard time narrowing down the ideal spot in your living room. Try one of these 15 ideas for the best placement.
Fill in an Empty Corner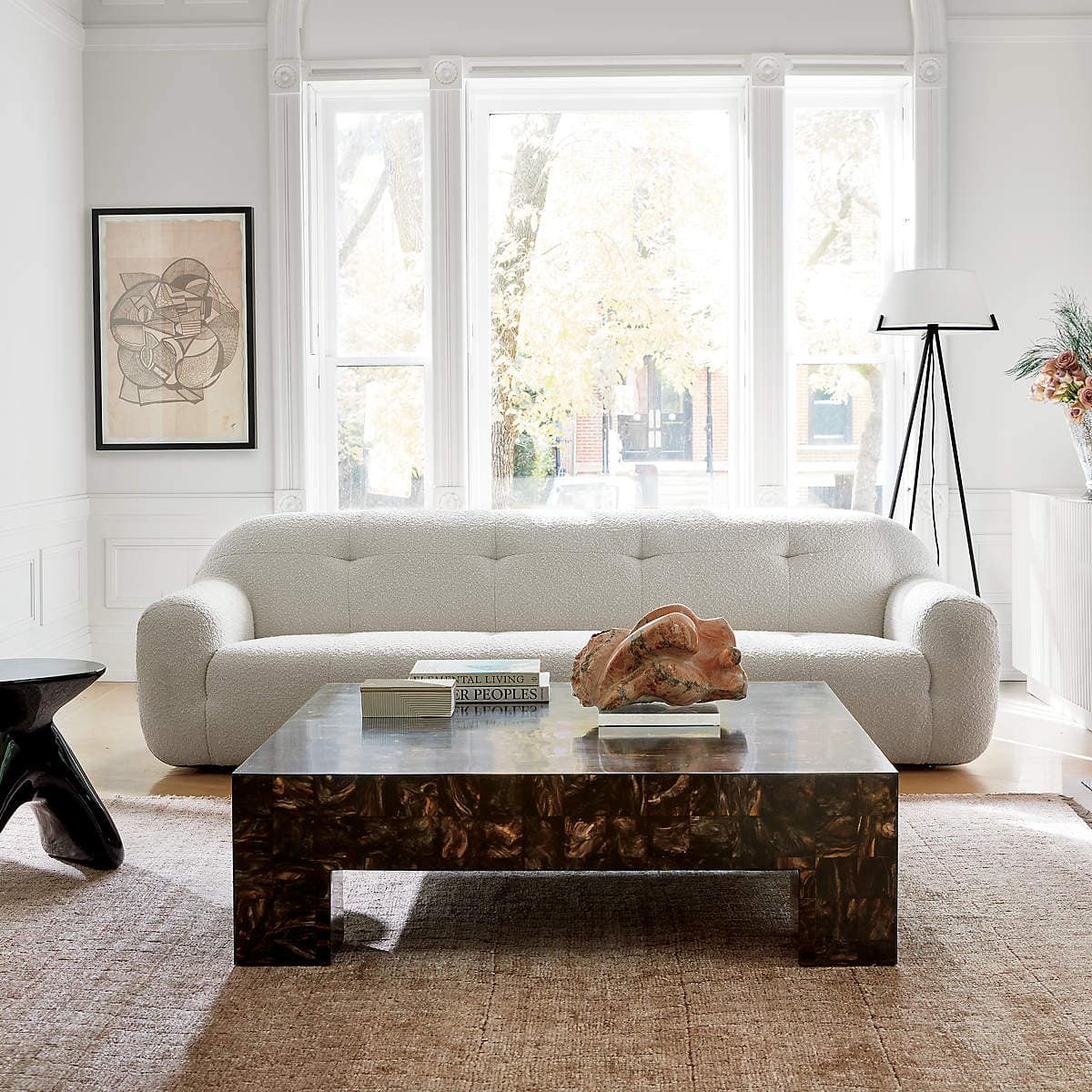 Floor lamps are great for filling any empty space – including living room corners. For example, in this room, there was space for a large piece of art on the left corner but not on the right corner. By placing a floor lamp on the left, it balances everything out.
If you have a corner in your living room that feels awkward or empty, adding a floor lamp is a smart way to fill it in.
Use a Modern Floor Lamp on Each Side of Your Sofa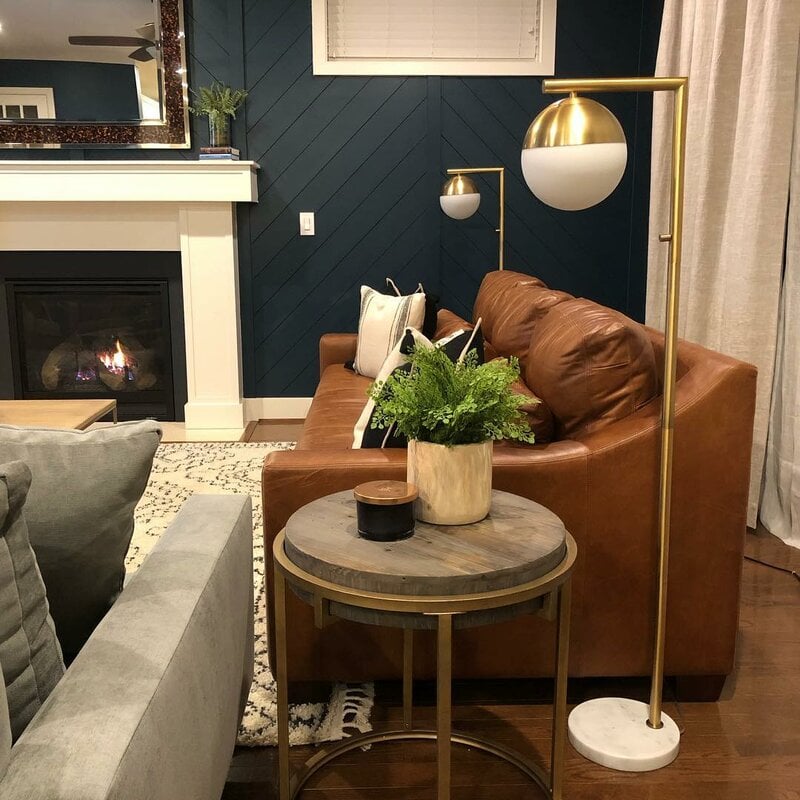 If you like a tidy look in your living room, place a floor lamp on each end of your sofa. Doing so creates a nice balance, especially if you also have matching end tables.
You can also use a metallic floor lamp, like pictured, against a dark wall to create contrast. The result is a very modern aesthetic.
Add a Floor Lamp Next to Your Sofa
Adding a floor lamp next to the sofa is one of the most common layouts. And there's a reason why – it always looks good.
If you're going to use only one lamp beside your sofa, choose something high quality. The wood base of this lamp makes it look high-end and brings another element of texture to the room's design.
Place a Shelf Floor Lamp Between Accent Chairs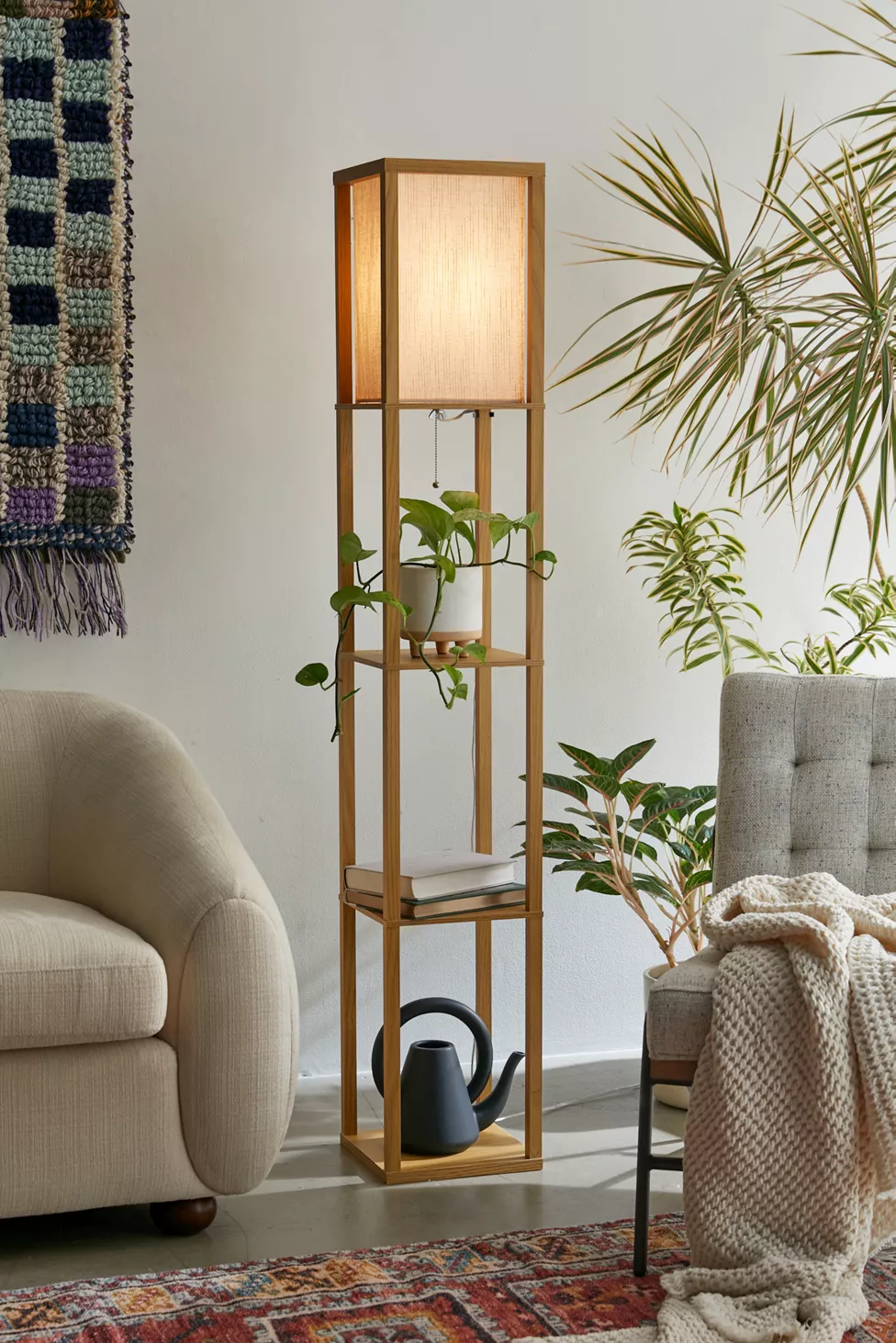 A floor lamp that pulls double duty is your best bet if you have a small living room. You can use a light like this, with built-in shelves or tables, and situate it between your accent chairs.
You can also place this on a corner between your sofa and chair if there's only one chair in your room. Line the shelves with plants or use them to sit your morning cup of coffee.
Mix a Floor Lamp with Your Plant Displays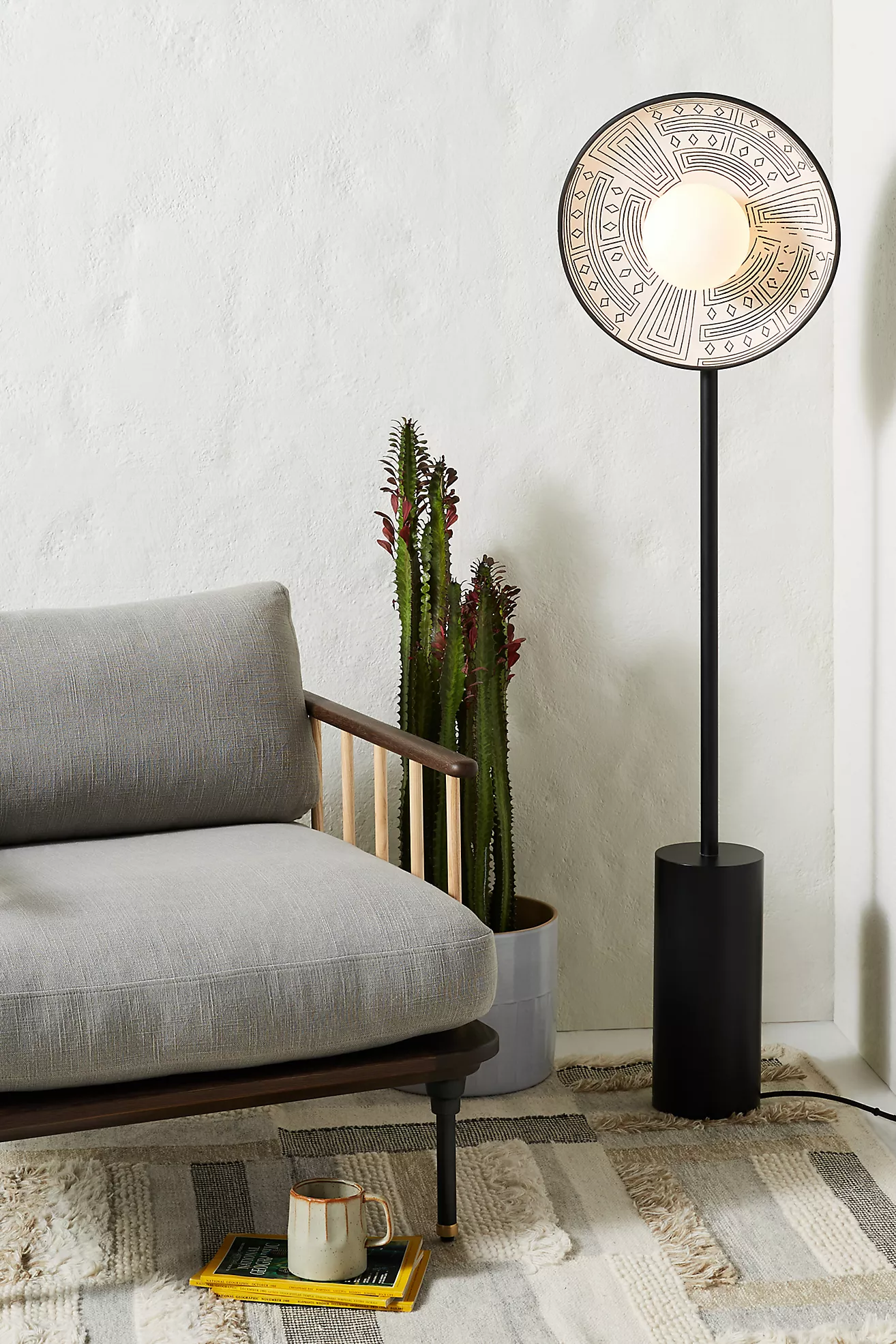 When creating a plant display in your living room, using plants of varying heights is essential. But you don't have to stop with just plants -you can also incorporate a floor lamp into your design for added height.
A plant and lamp combo works great for any empty space. However, you need to ensure your plants still have access to natural light.
Turn Your Lamp into Decor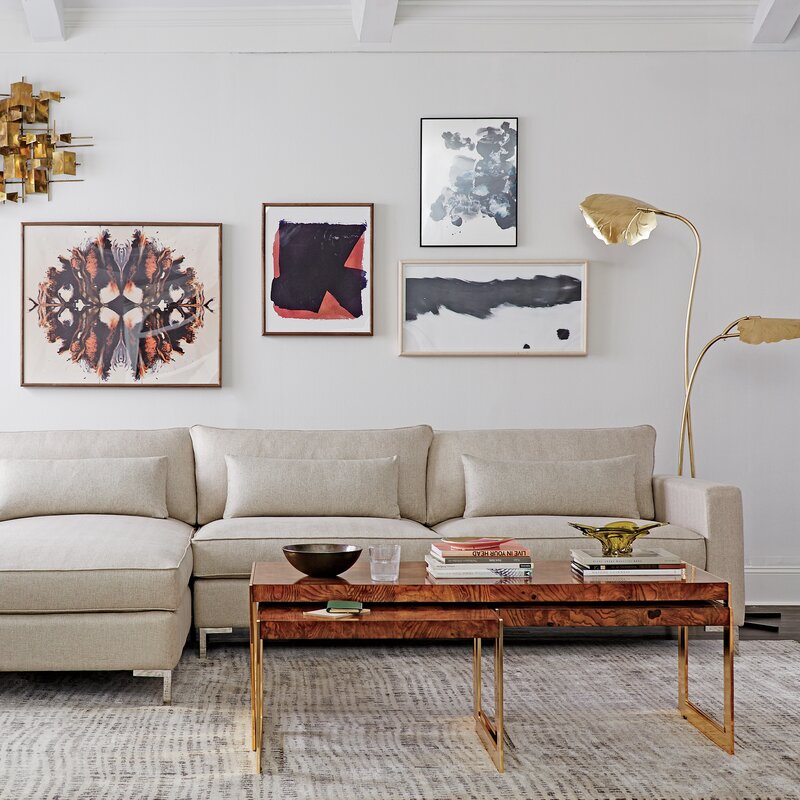 Don't overload your room with decor or knick-knacks if you're trying to create a minimal or modern living room design. Instead, use decorative but functional items, like a floor lamp that doubles as art.
You can place a decorative floor lamp just about anywhere in your living room, with one of the easiest spots being beside your sofa.
Position Your Lamp to Reach the Middle of the Room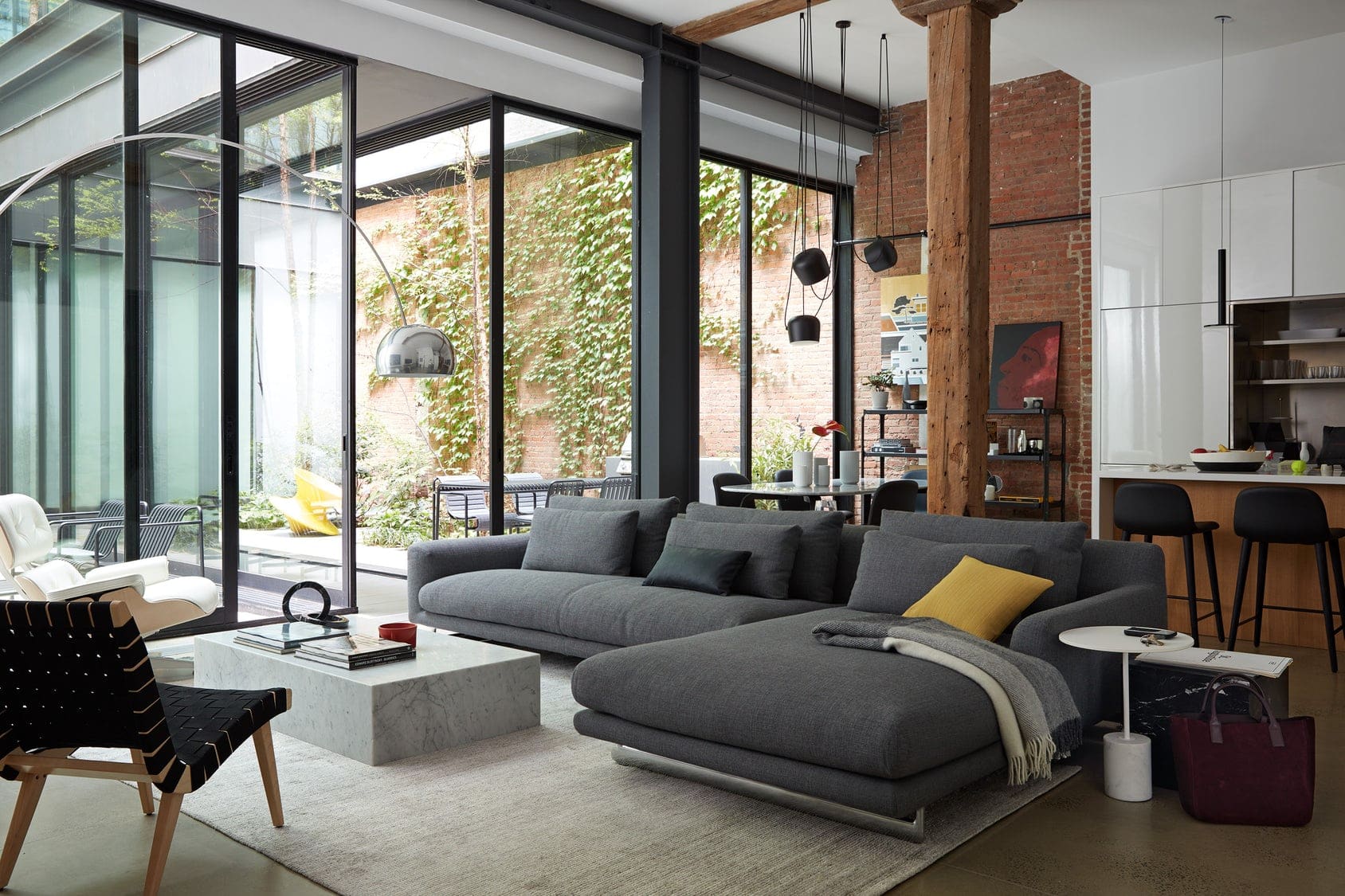 Want to make a dramatic statement? Get an ultra-large, arched floor lamp and position it so that light hits the center of your room. This works best if your furniture is placed close together with a coffee table in the middle.
You could also use a lamp like this to extend over an extra-long or sectional sofa.
Save Space with a Floor Lamp/End Table Combo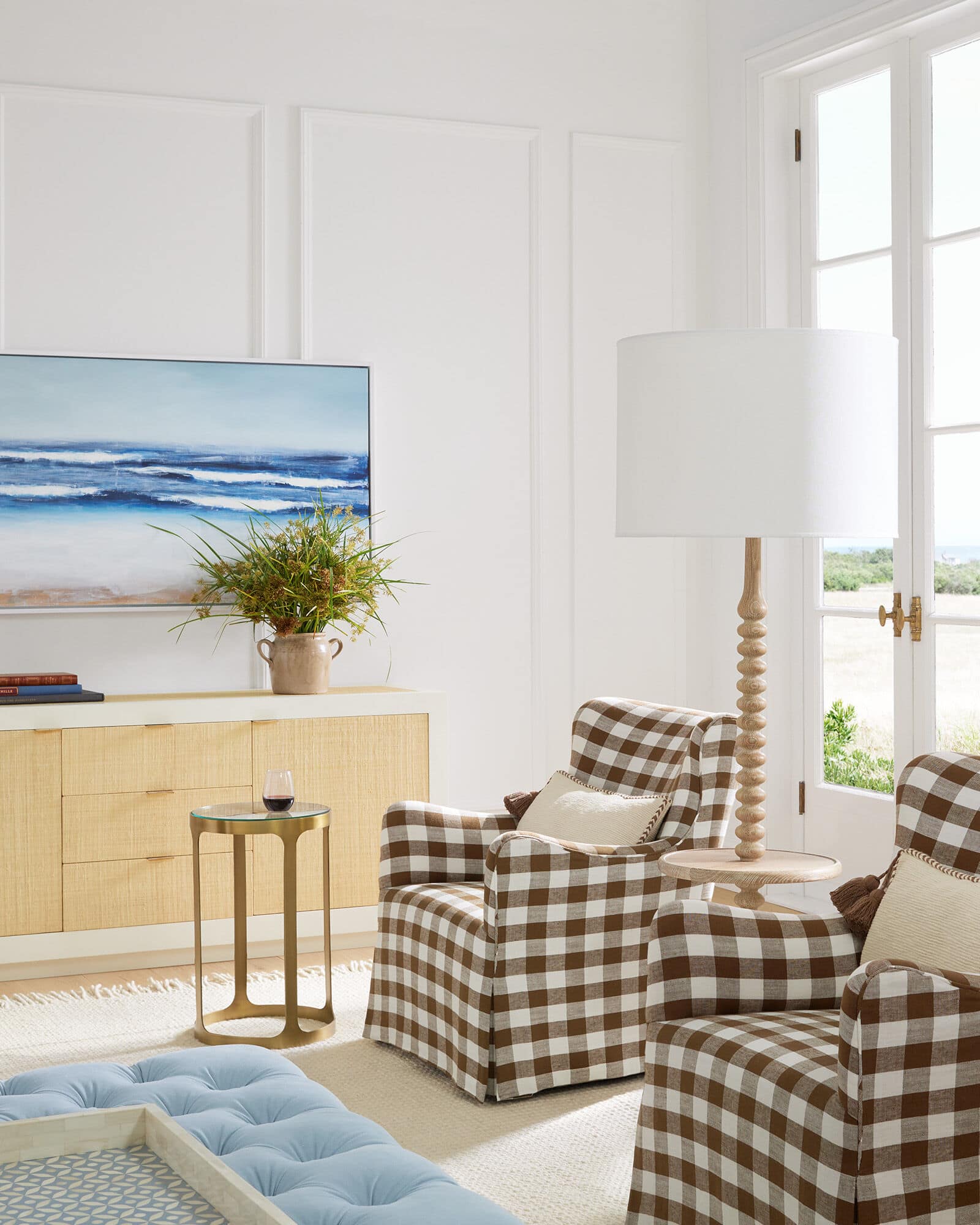 If you have a lamp/table combo, the best placement is between two chairs. This gives guests a place to sit down with their drinks or books and easy access to light.
Another great placement for this lamp is one on each side of the sofa or a single lamp beside your favorite reading chair.
Put a Large Curved Lamp Over the Sofa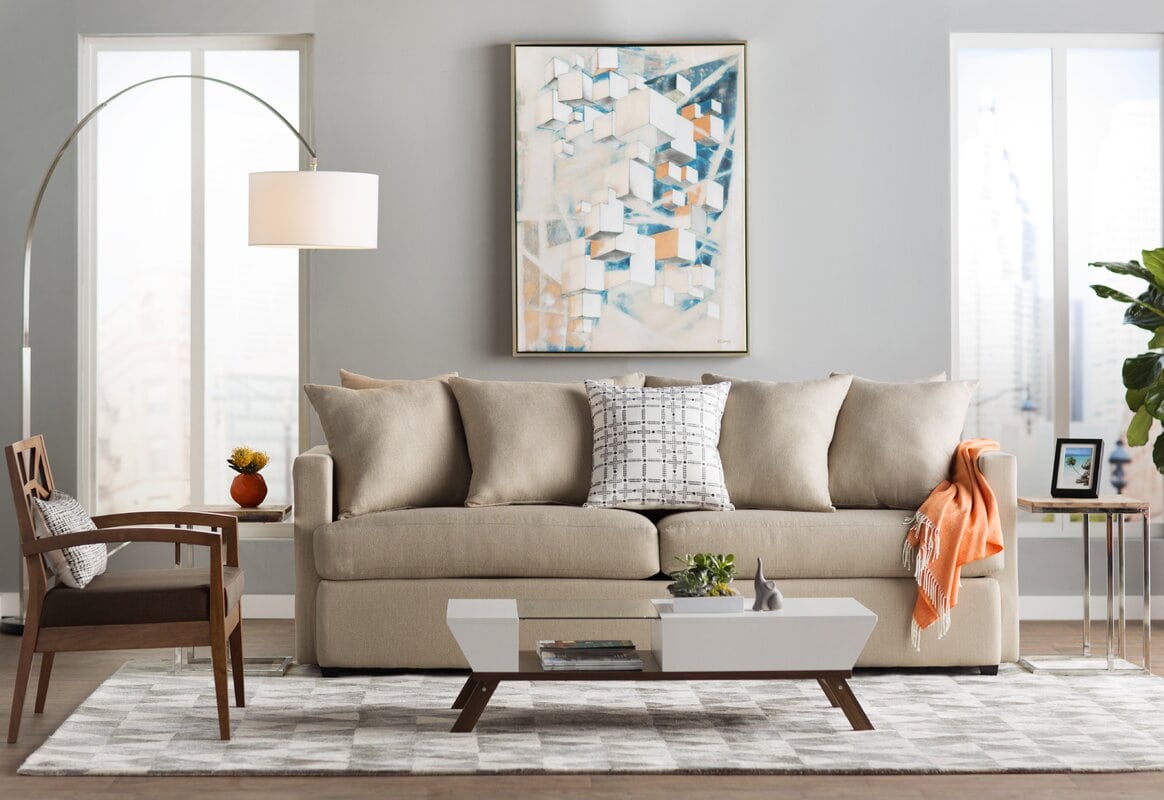 If you're looking for the most popular floor lamp placement in the living room, it's over the sofa. This placement works for every type of design style.
In this picture, a metallic lamp with a linen shade works beautifully in this traditional living room. If you want a more modern touch, look for something with a matte black base. If you like boho style, try to find a lamp with a wicker or rattan shade.
Push a Decorative Floor Lamp Against an Empty Wall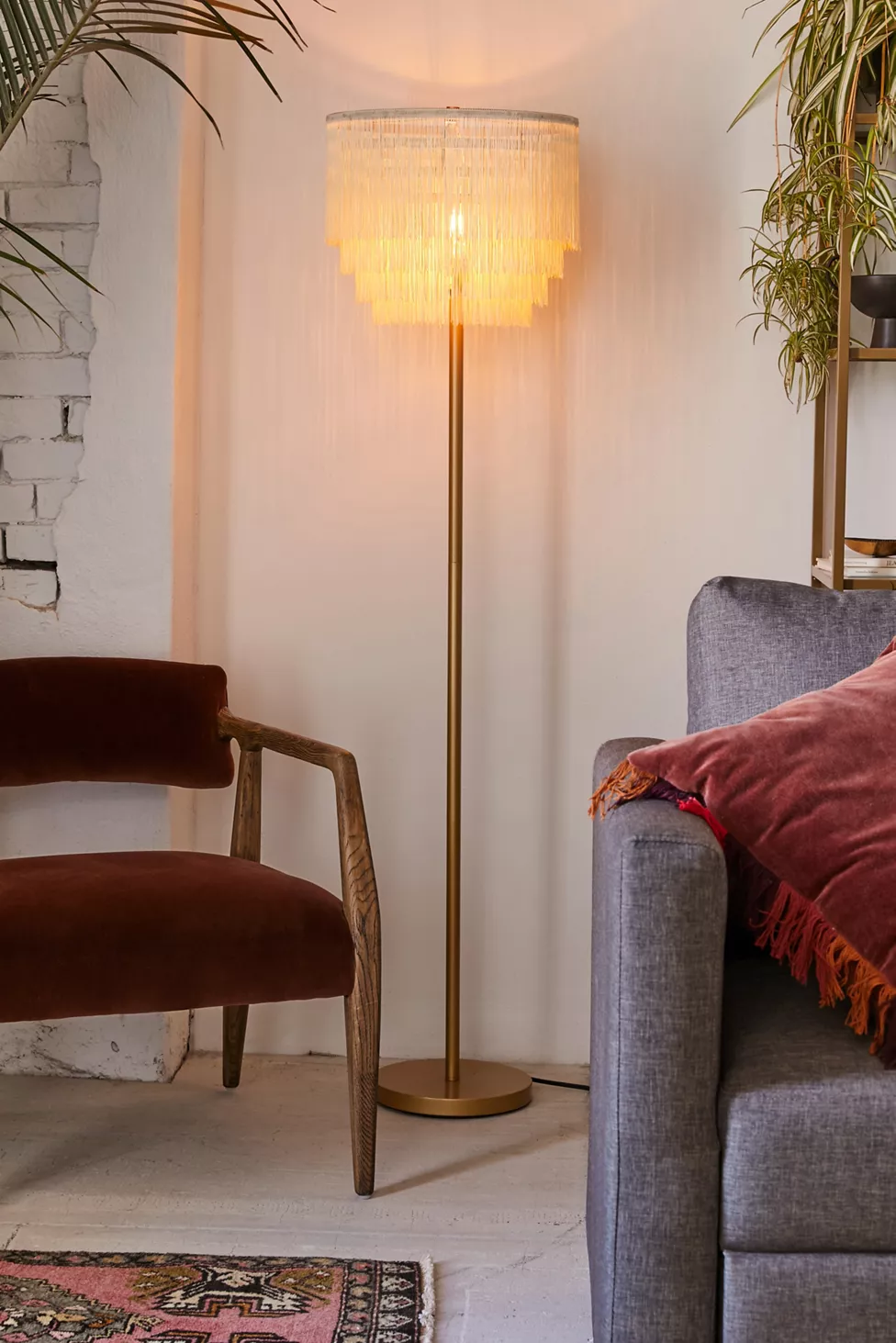 Empty walls in otherwise decorated living rooms look a bit awkward. Fortunately, a floor lamp can fill that void, adding functionality and style.
A fringe floor lamp like this is a pretty way to soften your living room and cover a bare space. But, any floor lamp you like will do this trick.
Add Light Behind Your Sofa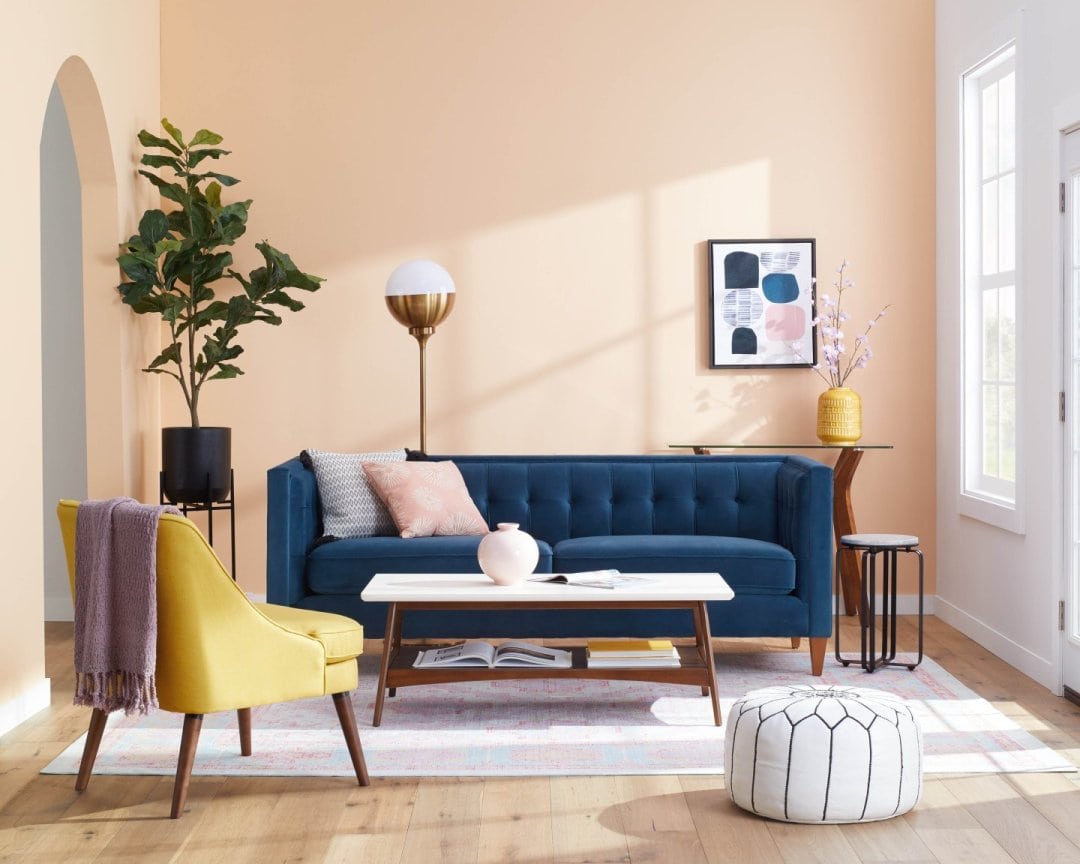 If you don't have space to put a floor lamp beside your sofa, you can add one behind it. Many types of floor lamps work behind the couch, depending on the space you have.
If you have a wide-open space, consider a lamp with a broad base and large shade. If your couch is against the wall, you'll need to use a slimmer base. You can also add an arched lamp and position it over one side of the sofa.
Balance Height with a Tall Floor Lamp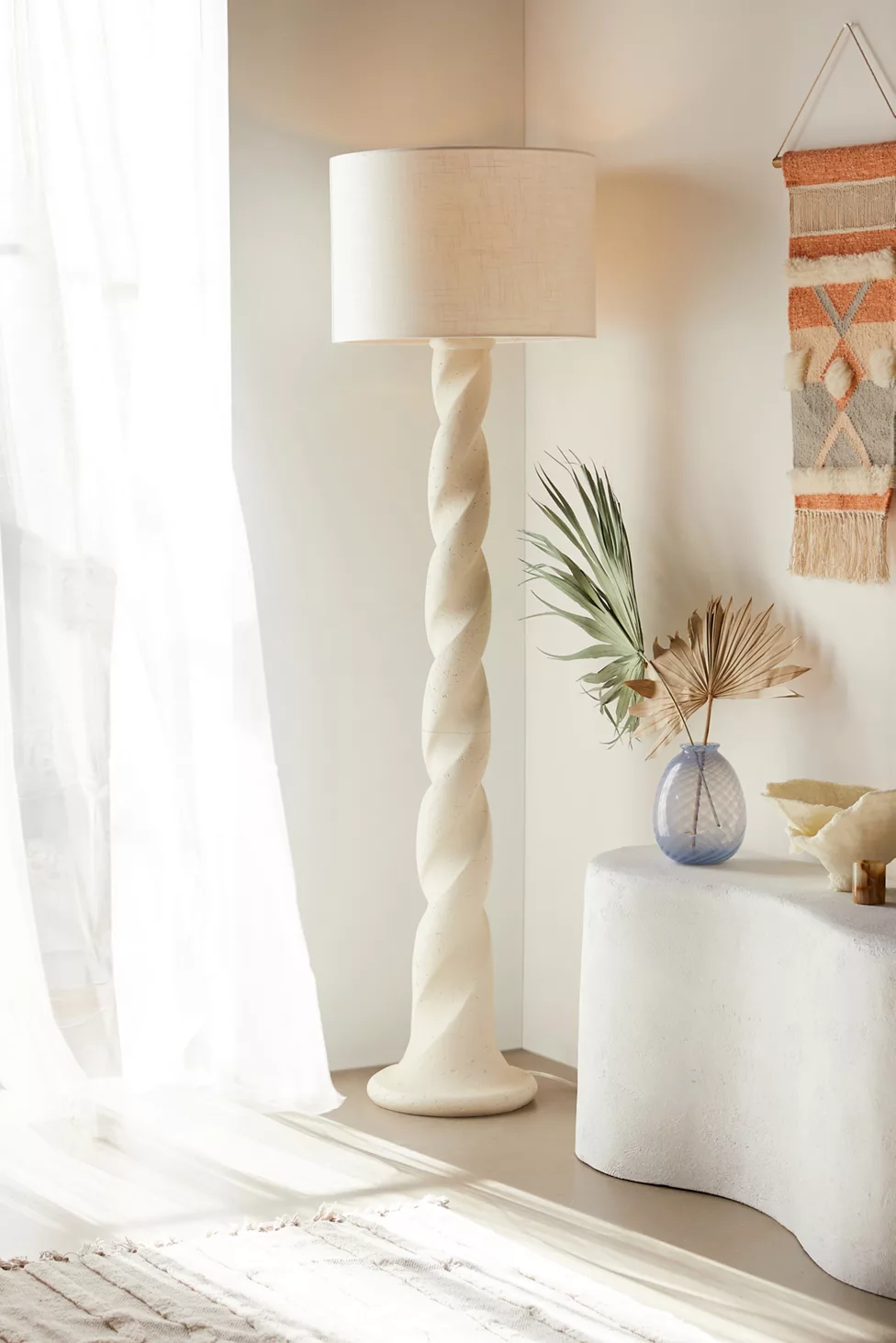 When you hang decor on the wall, especially over a console, sometimes the areas around the wall don't look right. This is typically because you need to bring in a taller item to help create balance in the room.
If you have an empty corner and it's next to wall art that you've hung high, try a tall floor lamp.
Place a Floor Lamp Opposite a Tree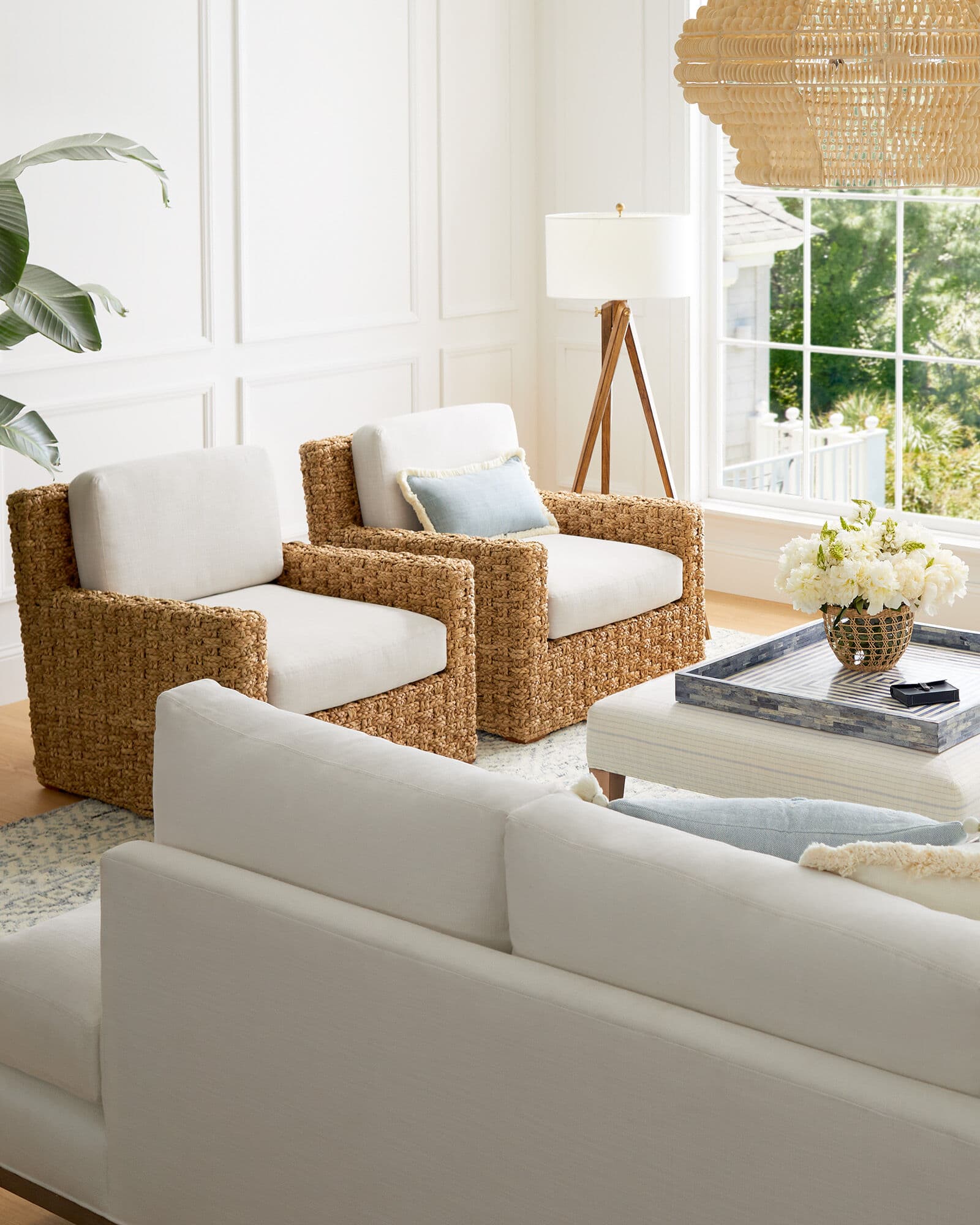 Another way to create height balance in your living room is to place a tree on one side and a lamp of similar height opposite it. You can do this on each side of a set of chairs or your sofa.
Using the mix of materials adds texture and interest to your space, while the similar height makes the two items coordinate.
Light Up Your Reading Chair with a Small Floor Lamp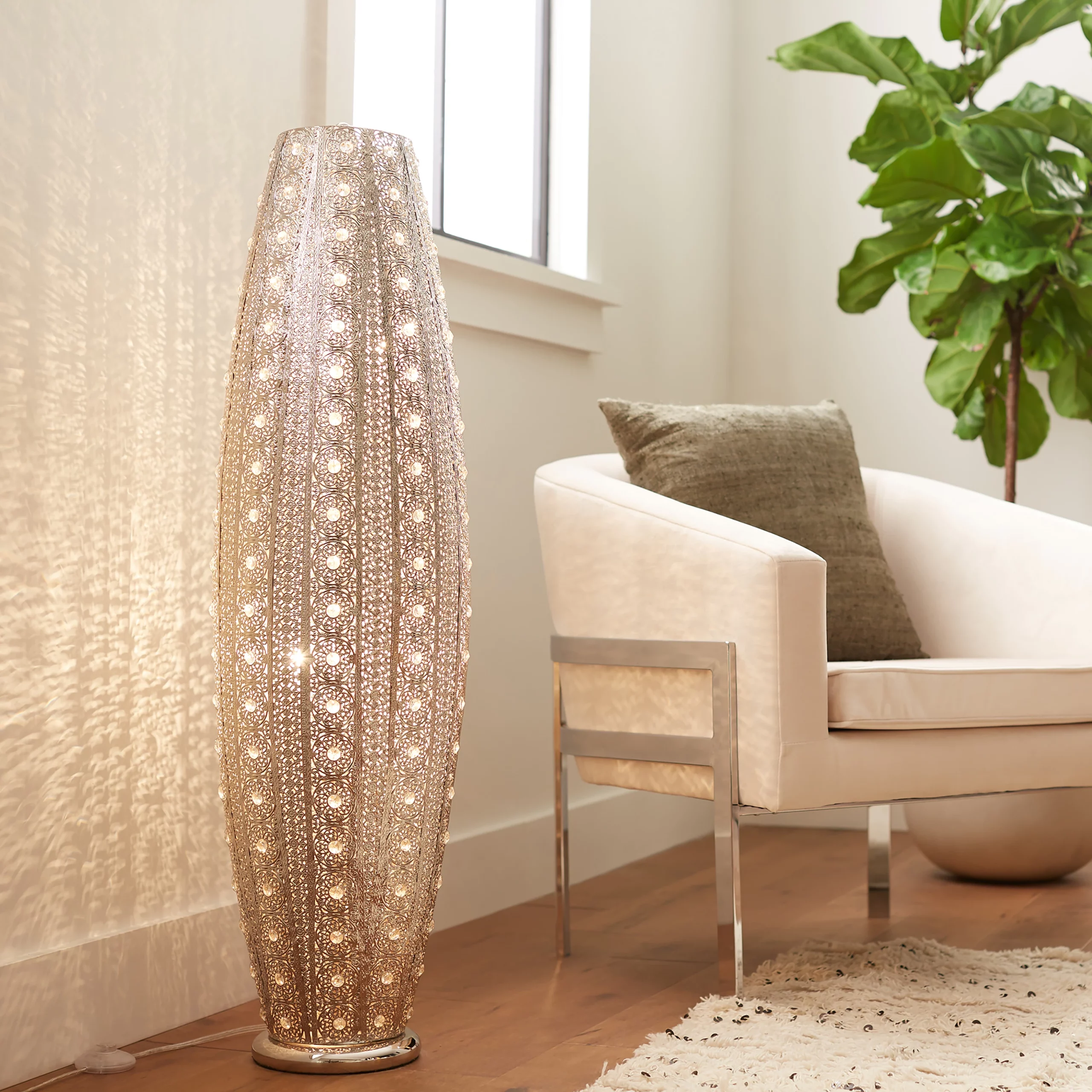 Not all floor lamps are super tall. If you're looking for something smaller, consider placing it beside your reading chair.
A small decorative lamp like this can add ambiance at night and light up the room just enough for you to kick back with a good book.
Illuminate Dark Areas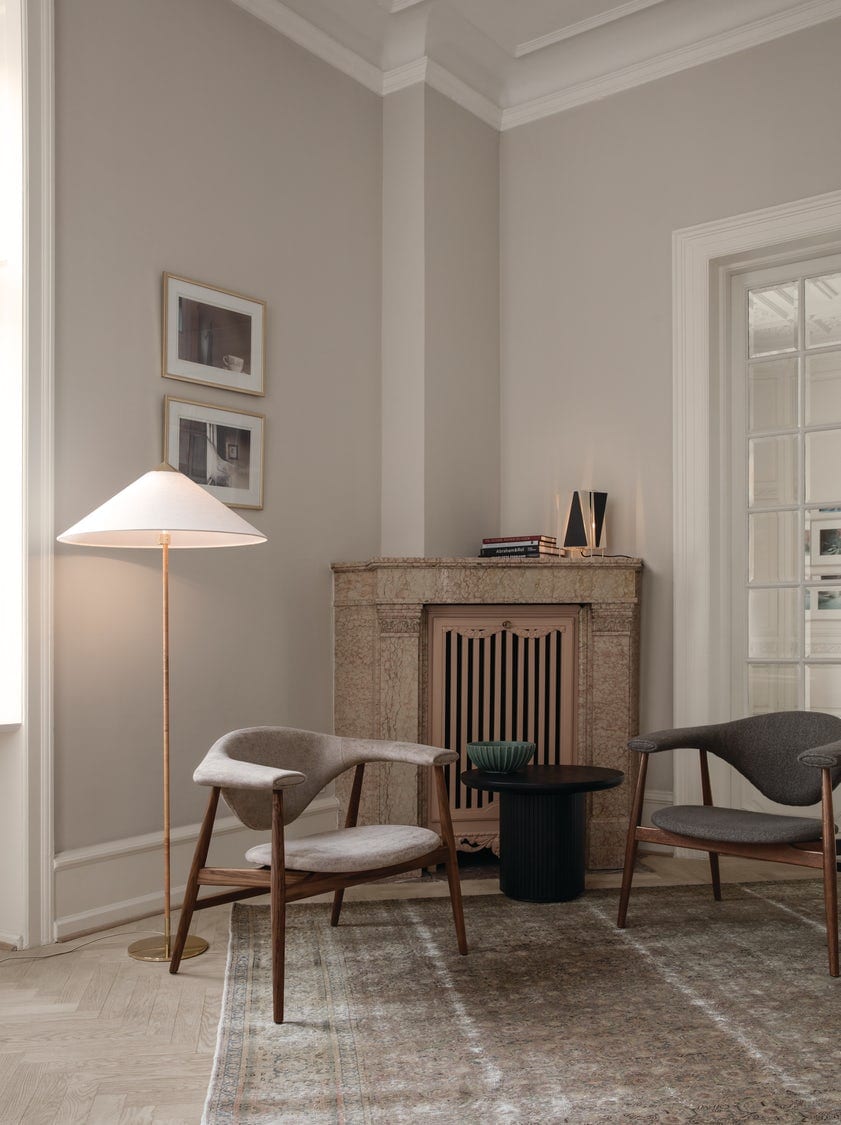 One of the best places to put your floor lamp? Any dark spot in your living room. If you have a large living room like this, with an extra dark corner, it's a good candidate for a floor lamp.
You can place your lamp between a set of chairs or put it in the corner and turn it on when you need light.
Final Thoughts
Floor lamps are the ultimate piece of practical home decor. Not only do they add necessary light to a room, but they look good doing it.
There are multiple types of floor lamps and almost as many places to put them. The most common spots for floor lamps in a living room are beside a sofa or chair, behind a couch, and in an empty corner. However, you can use one anywhere you need to add light or fill up an awkward space.