Decorated Life is reader-supported. When you buy through links on our site, we may earn an affiliate commission. Learn More
15 Practical Closet Lighting Ideas
Nothing can be as problematic as trying to pick an outfit from your closet when there's little to no lighting to help you see.
Thankfully, there are plenty of closet lighting solutions to try, from stick-on lights to wireless closet lighting and even closet lighting ideas without wiring. We've picked 15 closet light ideas to inspire you on the best closet lighting types to make your life easier.
Pick Spotlight Lighting in a Plug-In Format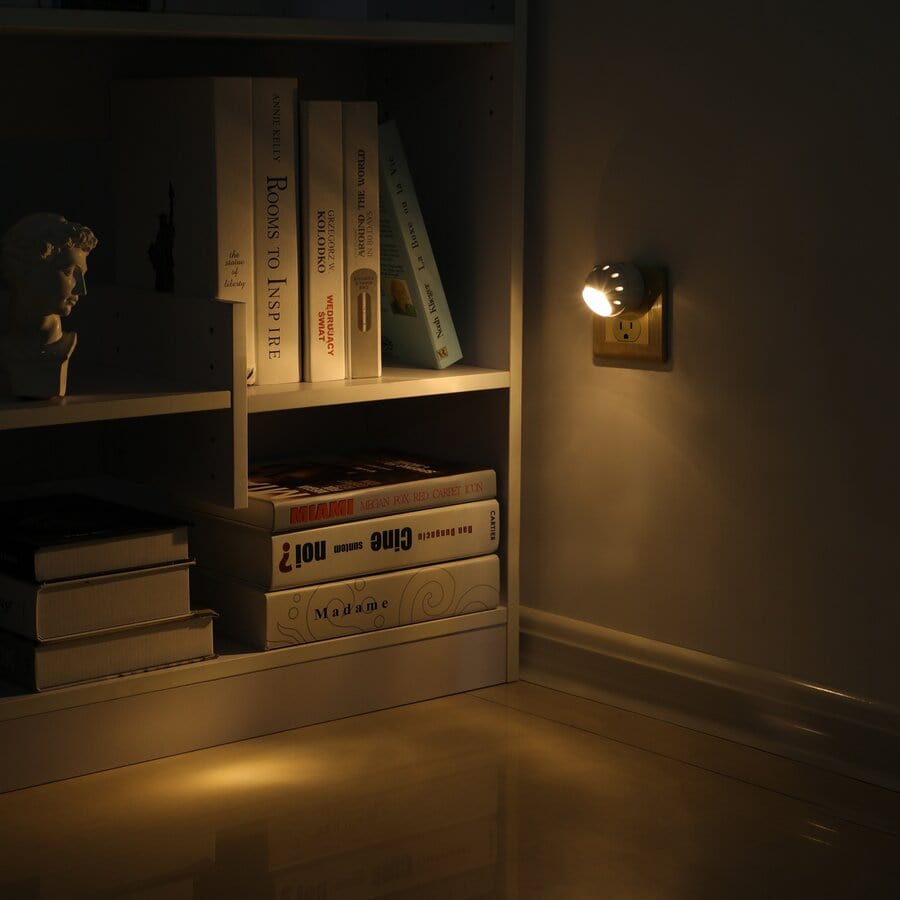 Some people prefer to have lighting in their closet that isn't going to blind you with brightness. So we love the idea of using smaller lights that you can plug into an outlet to provide faint light for you to see in your closet, but that won't disturb those in the bedroom when it's on.
These plug-in closet lights feature an LED bulb set to automatically turn on and off depending on the room's lighting. The plastic lens with a spiral design creates a cool nuance on the walls and ceiling.
Chance a Tiered Chandelier for Class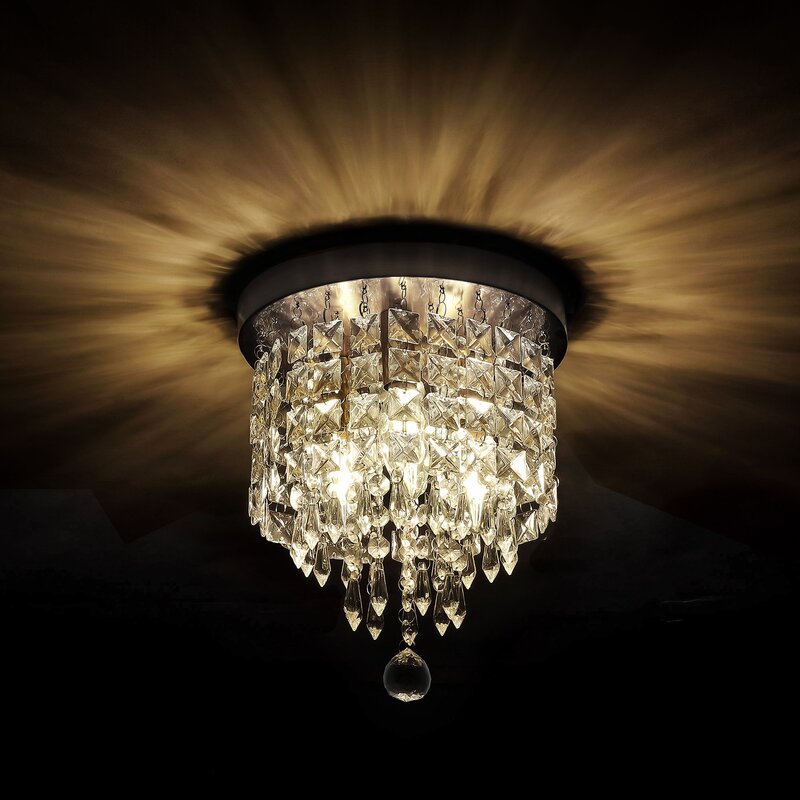 If you have a huge closet and want to give it a glamorous fancy upgrade, you can go with a flush-mounted chandelier decked out in different-sized glitzy crystals in a layered tier design.
This gorgeous chandelier doubles as a work of art with a glossy chrome stamped base and multiple k9 crystals surrounding three lights for a remarkable play-on light effect.
Try a Remote-Operated Wireless Bright Puck Light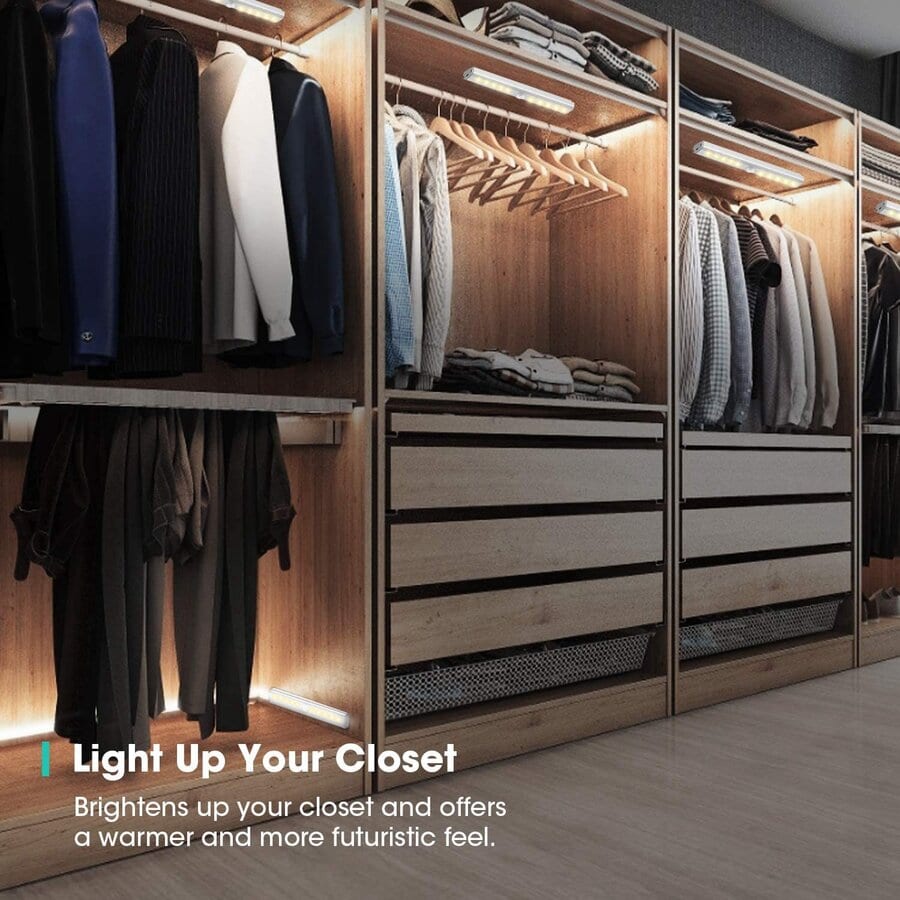 Another option for closet lighting is to use mini puck fixtures like these sleek European-style lights featuring a silver ring. This natural white round light's size, shape, and functionality are excellent for closets of all sizes.
You have the option of operating the light manually or with the use of remote control. And there are four modes of dimness – 10%, 40%, 80%, or 100%. Battery lights for the closet are a fantastic option for small closets where there's no option for hard wiring fixtures or plugging a light into an outlet.
Arrange a Motion Sensored Bright Light Bar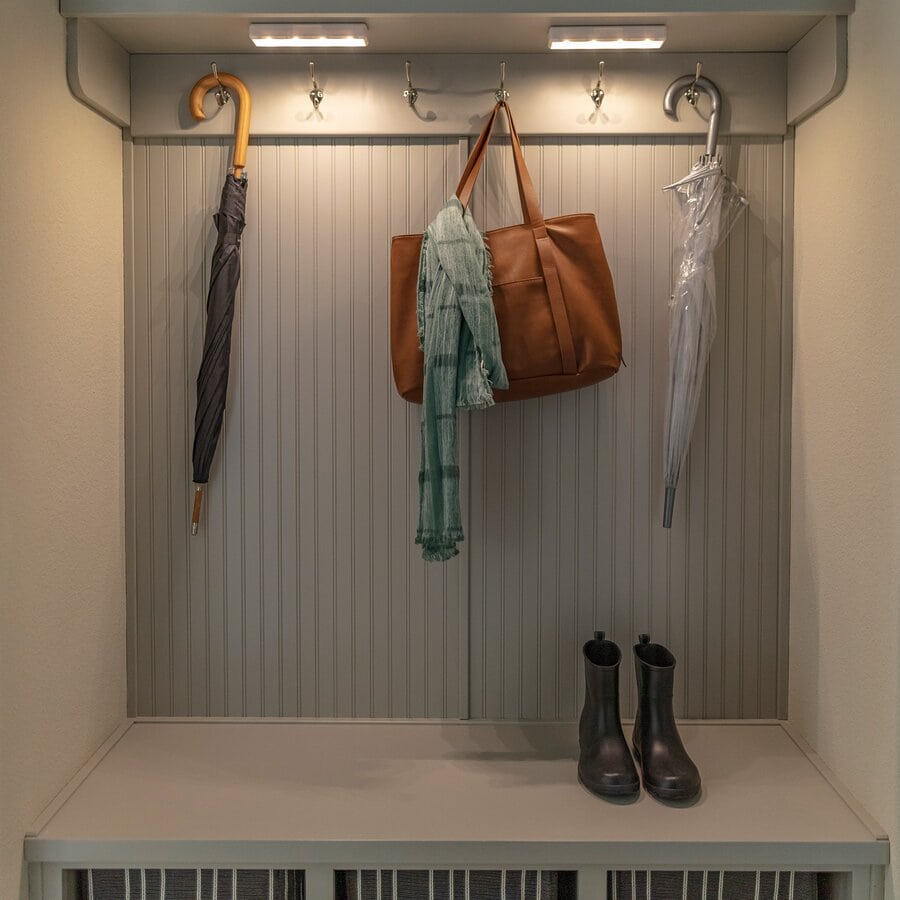 Having the proper lighting in your closet is crucial for picking the right outfit and making things easier to view. And stickable lighting is a huge trend for wardrobes due to the ease of use. There's no messy or expensive installation.
And we love motion sensor closet lights even more. Mounting a small light bar in your closet gives you the desired effect while having a motion-activated functionality makes for easier use.
Unique Flushed Heart Shape LED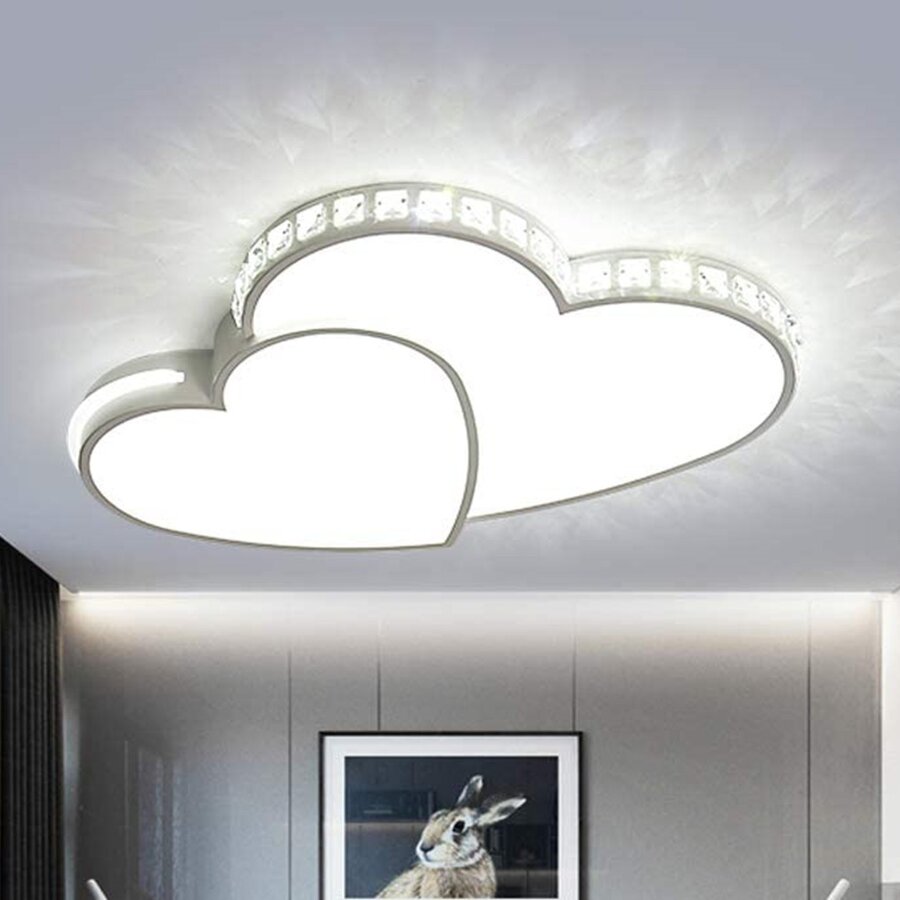 No rule says you have to use traditional lighting for your closest. On the contrary, we adore this flush unique light fixture, which gives your space glam and a chic style due to the overlapping heart shape.
The white acrylic shade and decorative molded trim create interesting plays of light on the roof while illuminating a large walk-in closet due to the bright LED bulbs.
Semi-Flush Chandelier in Bright LED Bulbs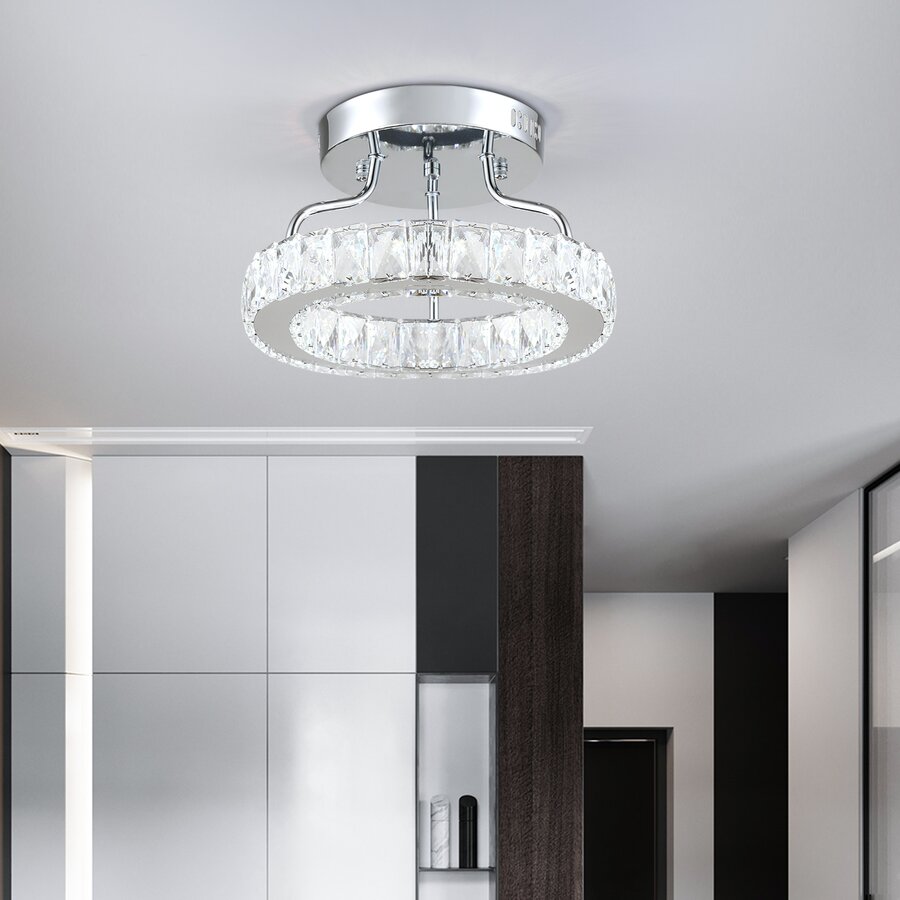 You can give your small closet a glitzy upscale feel with the simple use of a circular semi-flush light fixture with a shiny silver base.
A round canopy houses matching crystals surrounding a single light bulb. And two gently curved downrods extend the canopy off the roof, producing a semi-flush position.
Wall Mounted Double Sconce in Nickel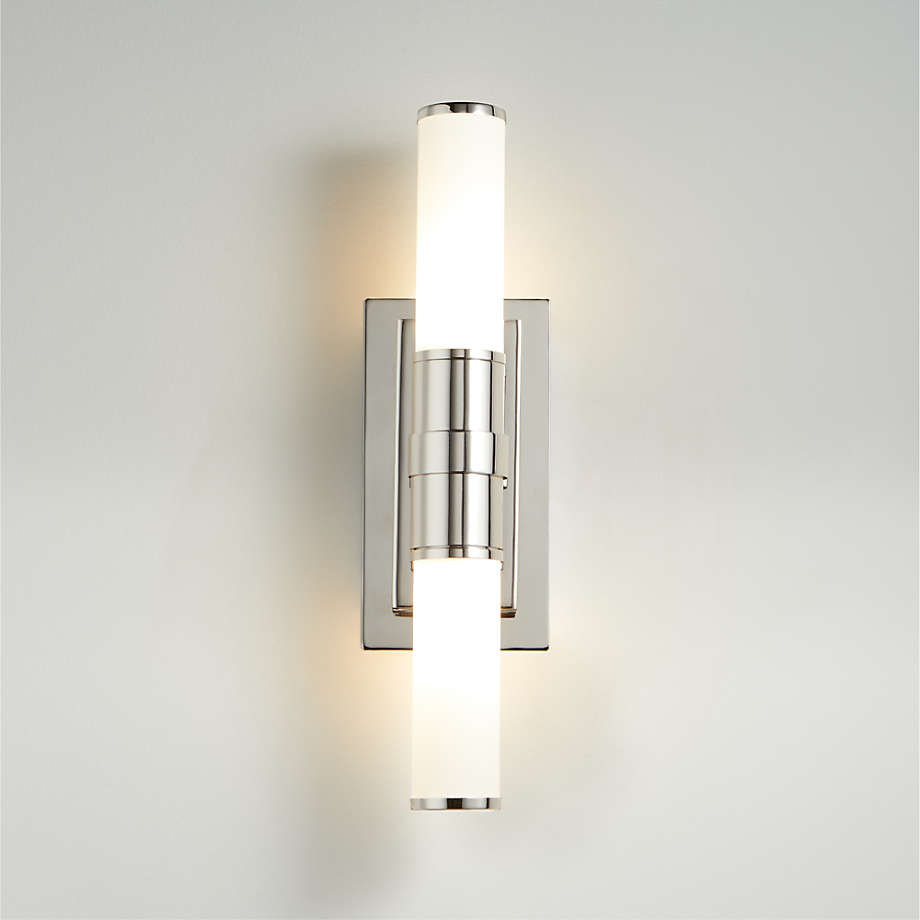 If you're looking for a modern style light fixture to brighten up your closet, you can get an eclectic aesthetic with this double-sided wall mount sconce in a shiny nickel finish.
You can mount this interesting light fixture horizontally or vertically to illuminate small areas with task, ambient, and accent LED lighting coming from the double frosted glass shades, separated by a polished nickel bracket.
Get Glammy with an Eclectic Wall Sconce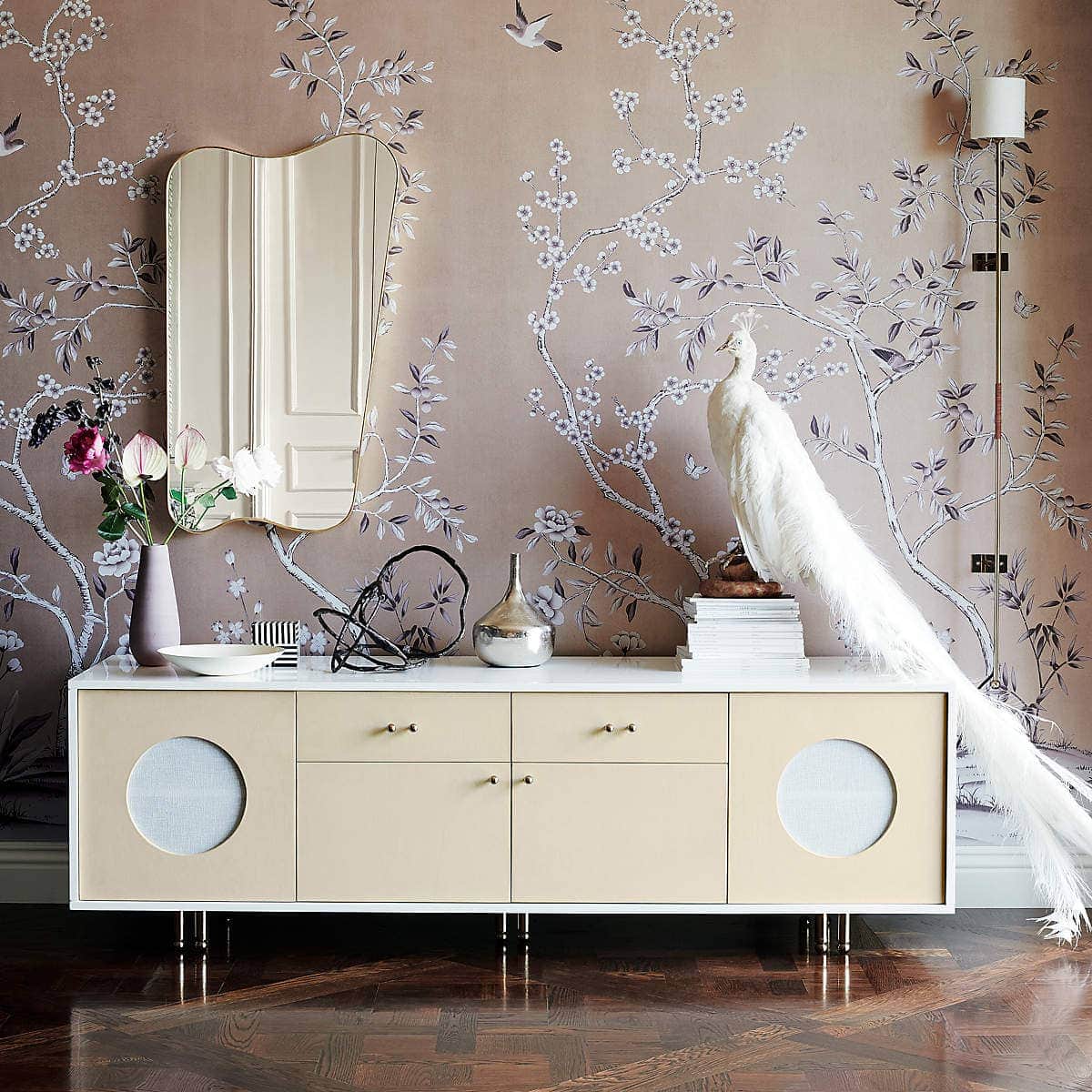 This wall-mounted sconce is an excellent fixture to illuminate closets in a minimalist, simplistic design that's modern chic.
The champagne linen/cotton blend shade rests atop an extra-long slender polished brass with a leather wrap. The iron base and black fabric cord give this sconce a dramatic flared design.
Go for a Glass Globe on a Gold Sconce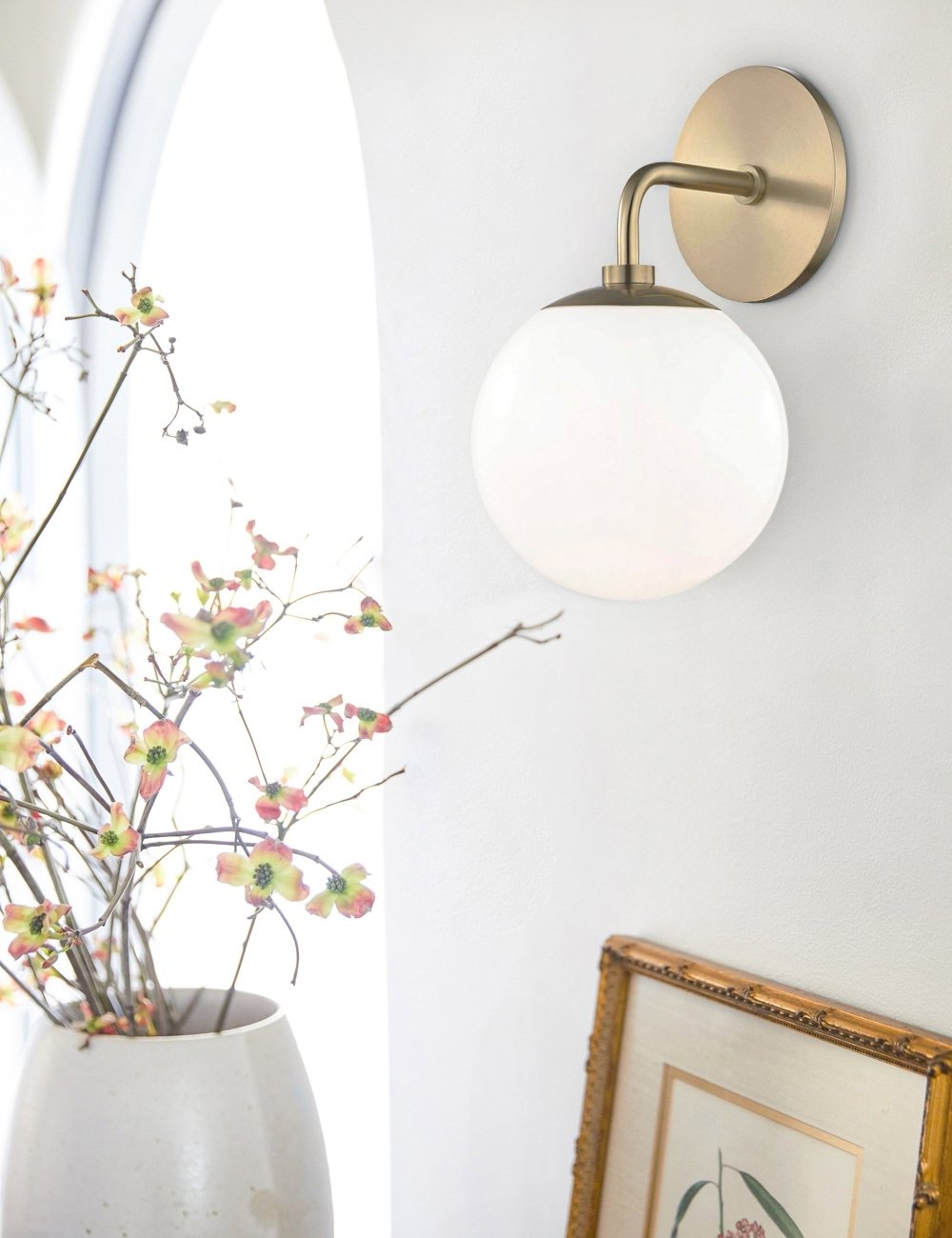 Another choice for closet lighting is to use a wall-mounted sconce in a simple contemporary globe design. We love the elegant simplicity of this aged brass light fixture with frosted glass.
The gold color of the brass hardware and the frosted white opal dome with a glossy finish gives your closet a luxe modern vibe.
Modern Chrome LED Lamp Bar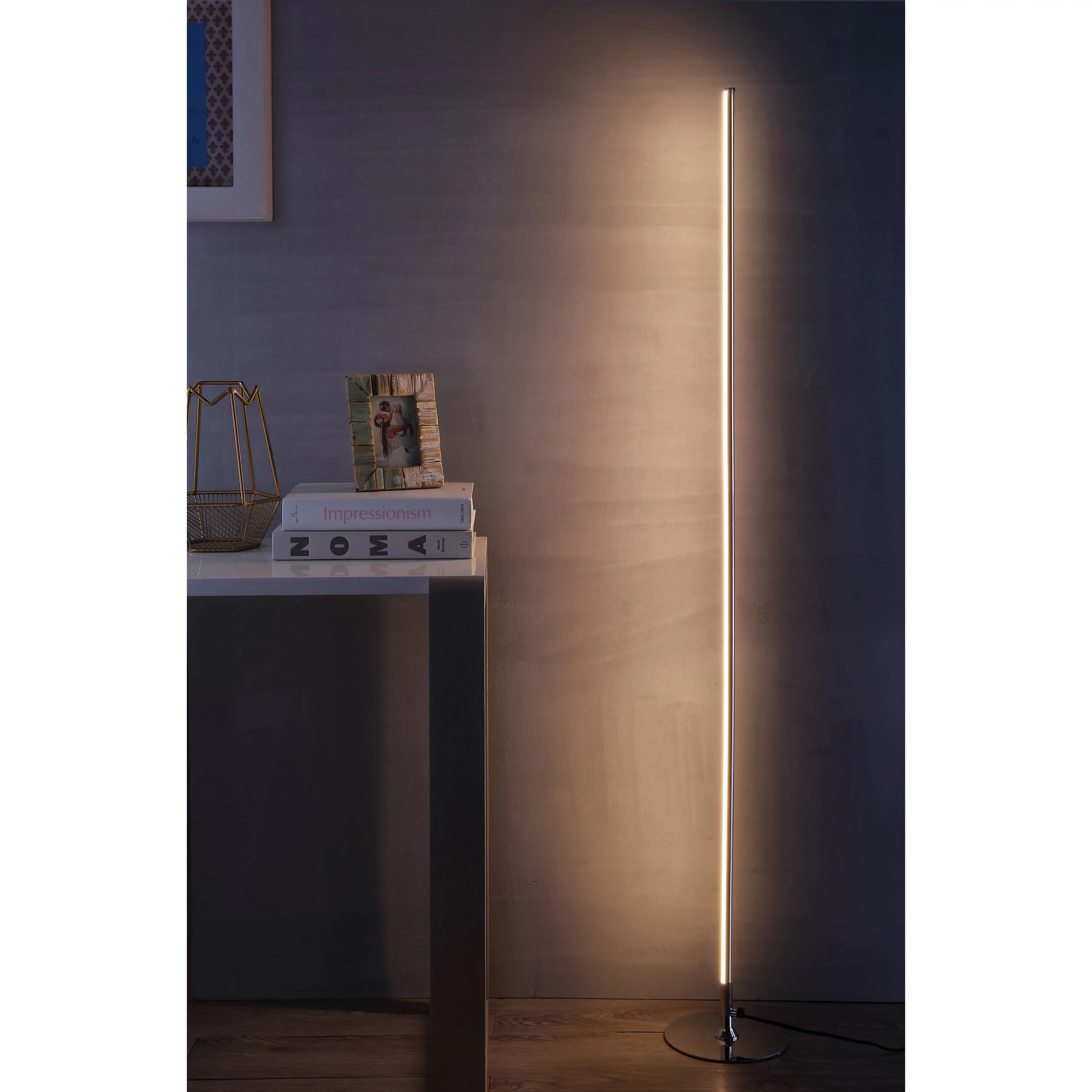 You can also light up your closet with the use of a long, straight floor lamp like this understated, minimalistic black LED light bar.
This tall light is sleek and stylish, with a chrome metal pillar base and built-in LEDs for a fun, futuristic contemporary glam aesthetic.
Colorful Mini LED for Fun Atmosphere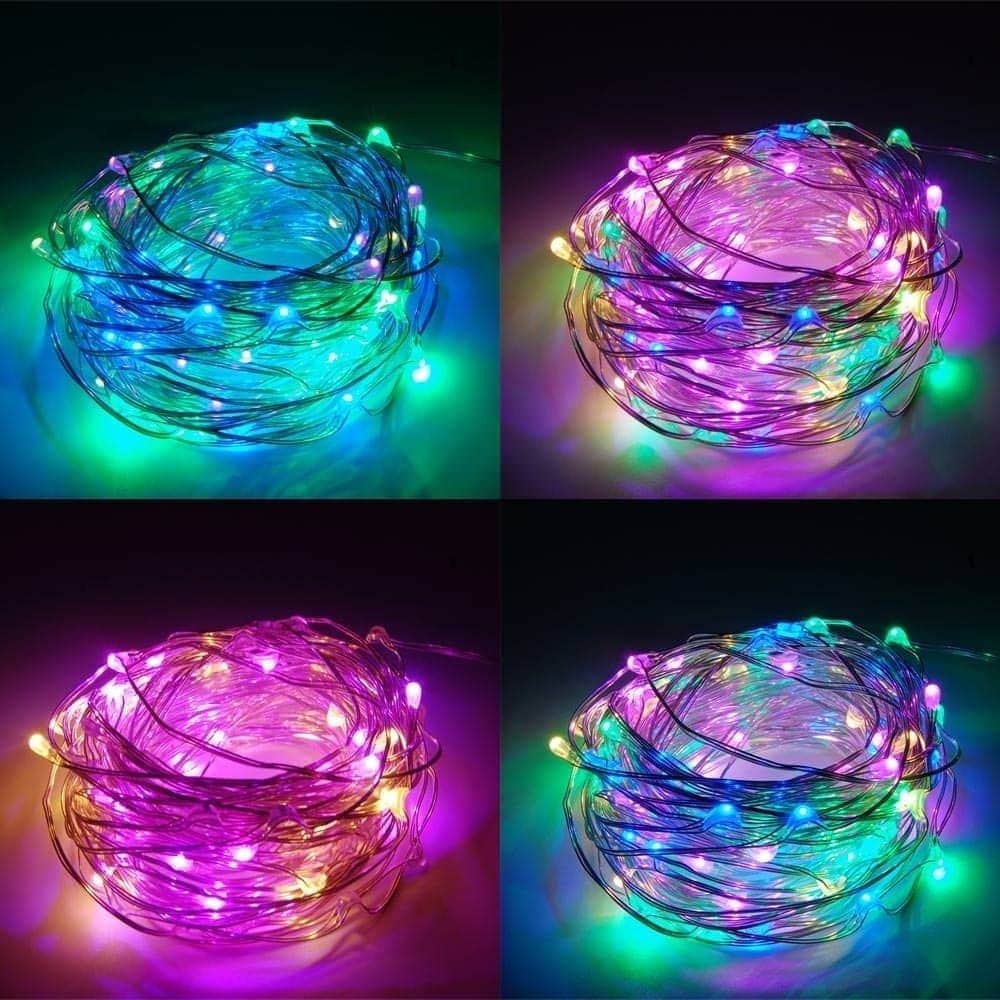 Why limit your light choices to traditional boring white or clear bulbs when you can try something much more fun, like strands of string lights in multiple colors.
We love the aesthetic you get when combining multiple lights in your closet, such as a standard white bulb overhead to give you good lighting for picking outfits with a novelty light and mixing in some colored lighting for fun.
Curved Twisted Lamp in Black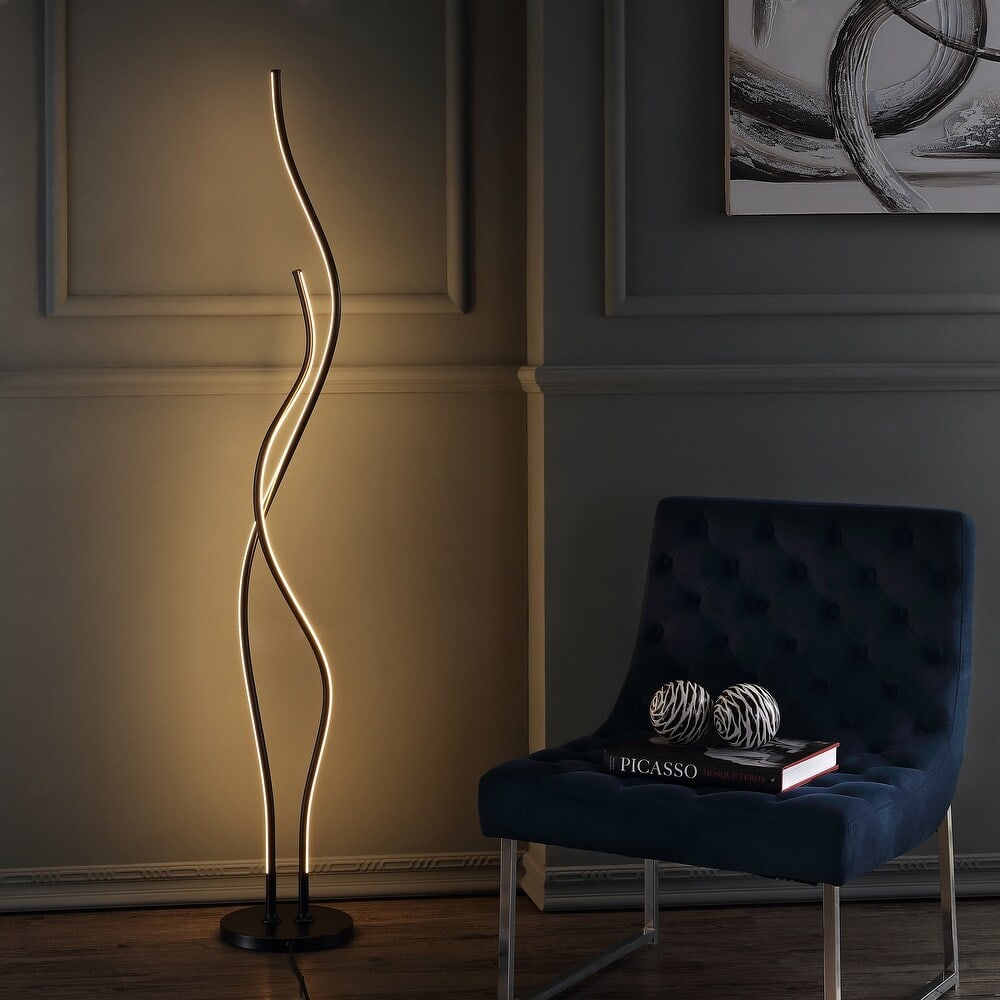 If you like the look of a standing floor lamp, but you also want something more than the traditional straight design, you're sure to love this eclectic modern lamp.
The minimal size makes this lamp great for small spaces, while the two chrome ribbons add a modern twist (literally) in a black mid-century black metal round base.
Wish Upon a Metal LED Star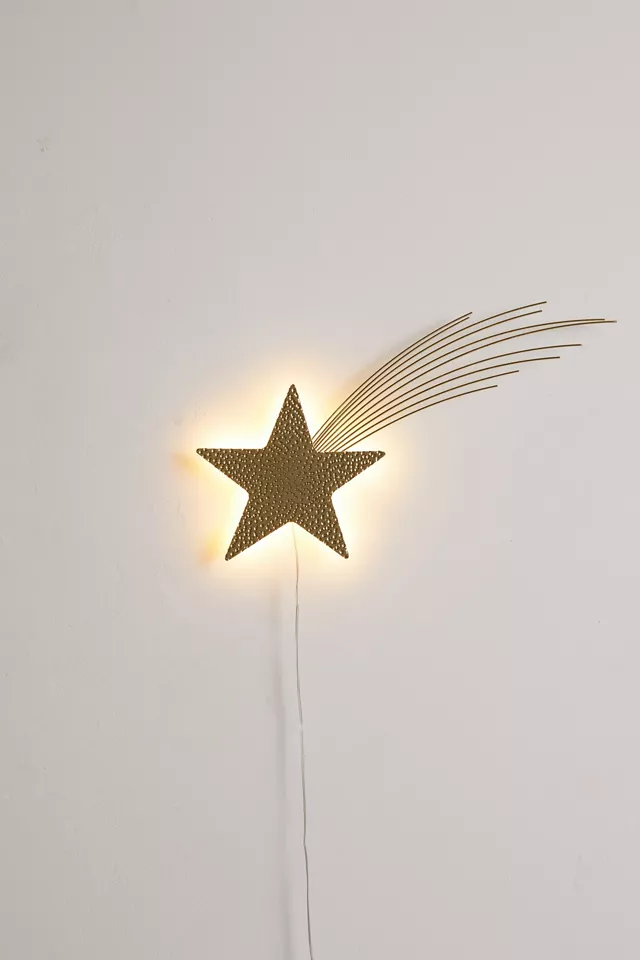 If you like the look of novelty lights, you're sure to get dreamy-eyed over this wall plug-in light fixture in a funky out-of-this-world shape.
The metal material offers an eclectic minimalist vibe, while the star shape with thin metal rods for the tail of a shooting star adds whimsy and illumination.
Get Dome-Tastic with an Overhead Pendant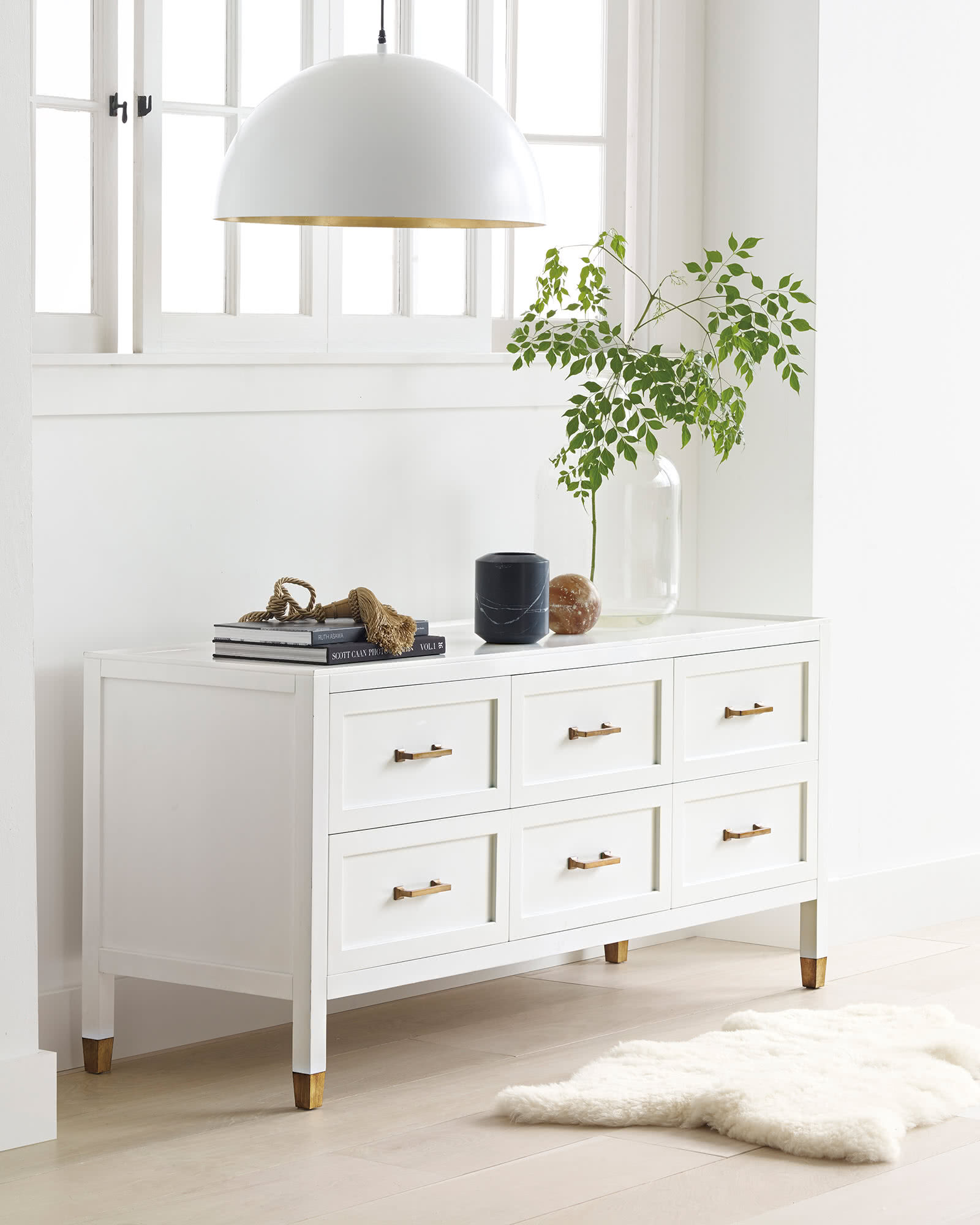 If you're looking for a no-frills, simple overhead light, you can't go wrong with a simple dome shape with a basic white finish.
The minimalistic shape is no-nonsense, while the inner gold-leaf finish adds a touch of elegance for contrast and style.
Put Up a Boho Beauty Pendant in Tassled Jute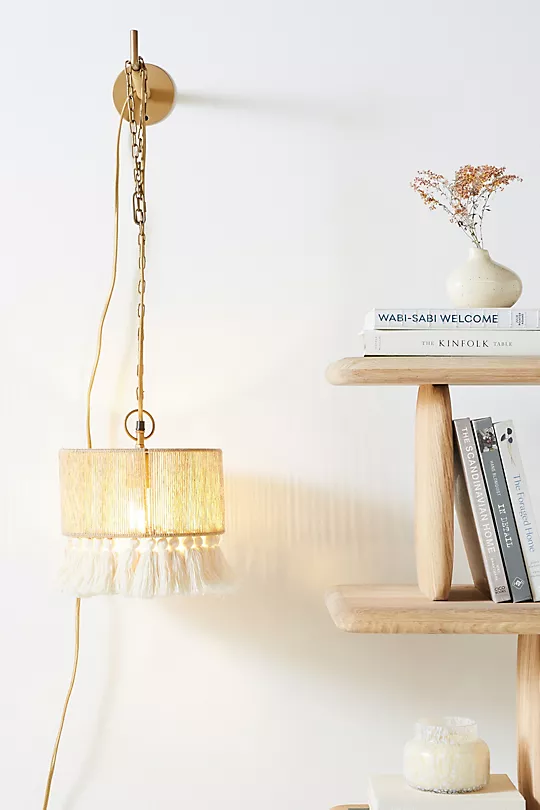 For a boho-chic feel for your closet, try a lighting solution that's less traditional than lamps made of glass or metal.
We adore this fabric sconce in natural tan jute with tasseled cream trim and a metal chain for height adjustment.
Final Words
Adding lighting in your closet makes it easier to pick outfits that look good with fewer hassles of fumbling around in the dark. You can use different types of lighting, depending on the closet size and the aesthetic you want to achieve.
Now that we've shown you our 15 favorite closet lighting ideas take a minute to tell us which lighting idea inspired you the most.