Decorated Life is reader-supported. When you buy through links on our site, we may earn an affiliate commission. Learn More
What Color Garage Door Goes With a Red Brick House? 15 Ideas
Red brick exteriors are a popular choice for homes of all architectural styles. The tones and color of red brick vary as much as the colors you can use for your garage door.
When you're trying to decide on the best garage door color for a red brick house, consider the color tones and variations buried within the red. Bricks are rarely one color but instead different shades like brown, orange, pink, and black layered on top of the red. Use these accents to select appropriate garage door colors in shades of white, gray, black, green, red, blue, taupe, or neutral off-whites.
Online by Sherwin Williams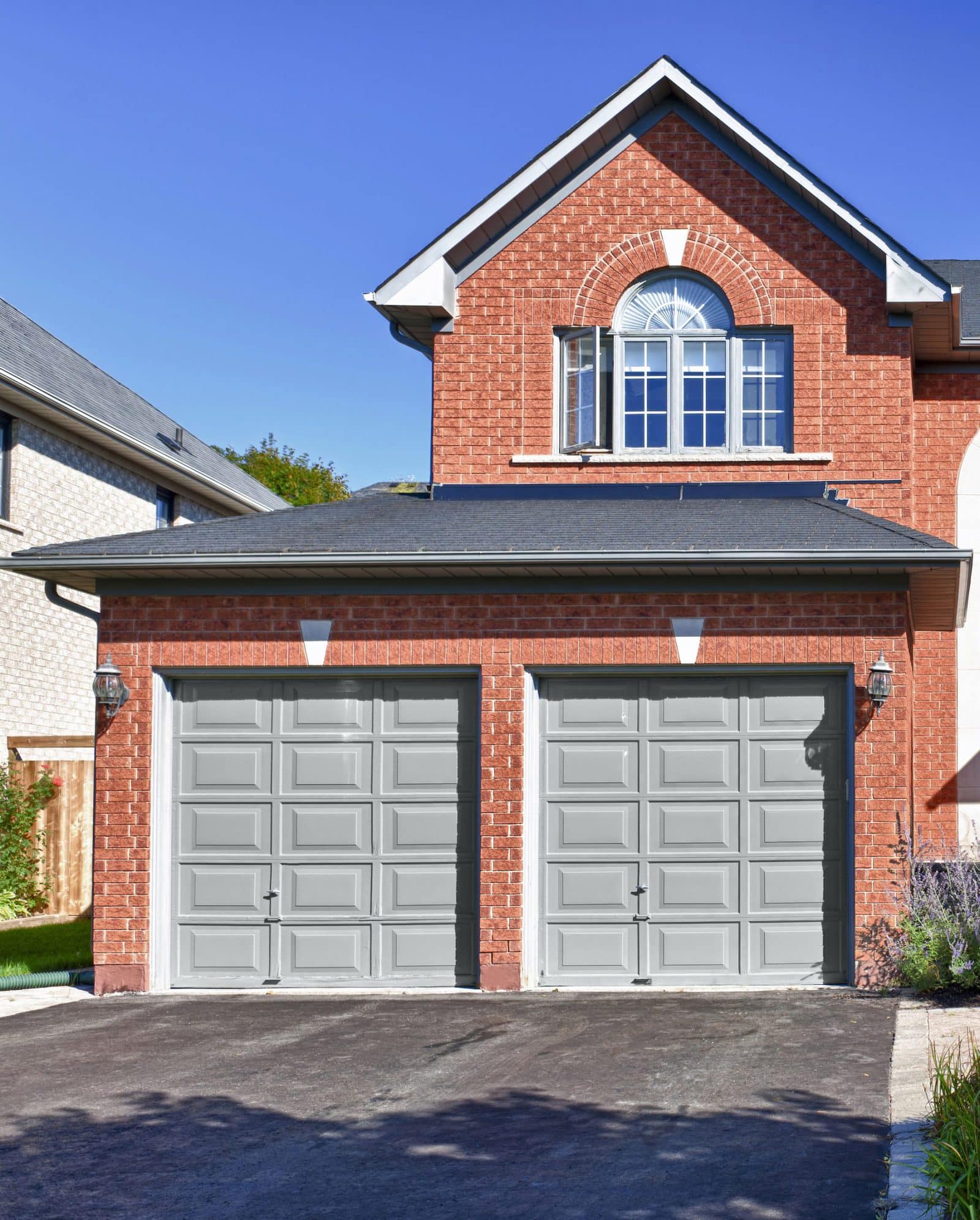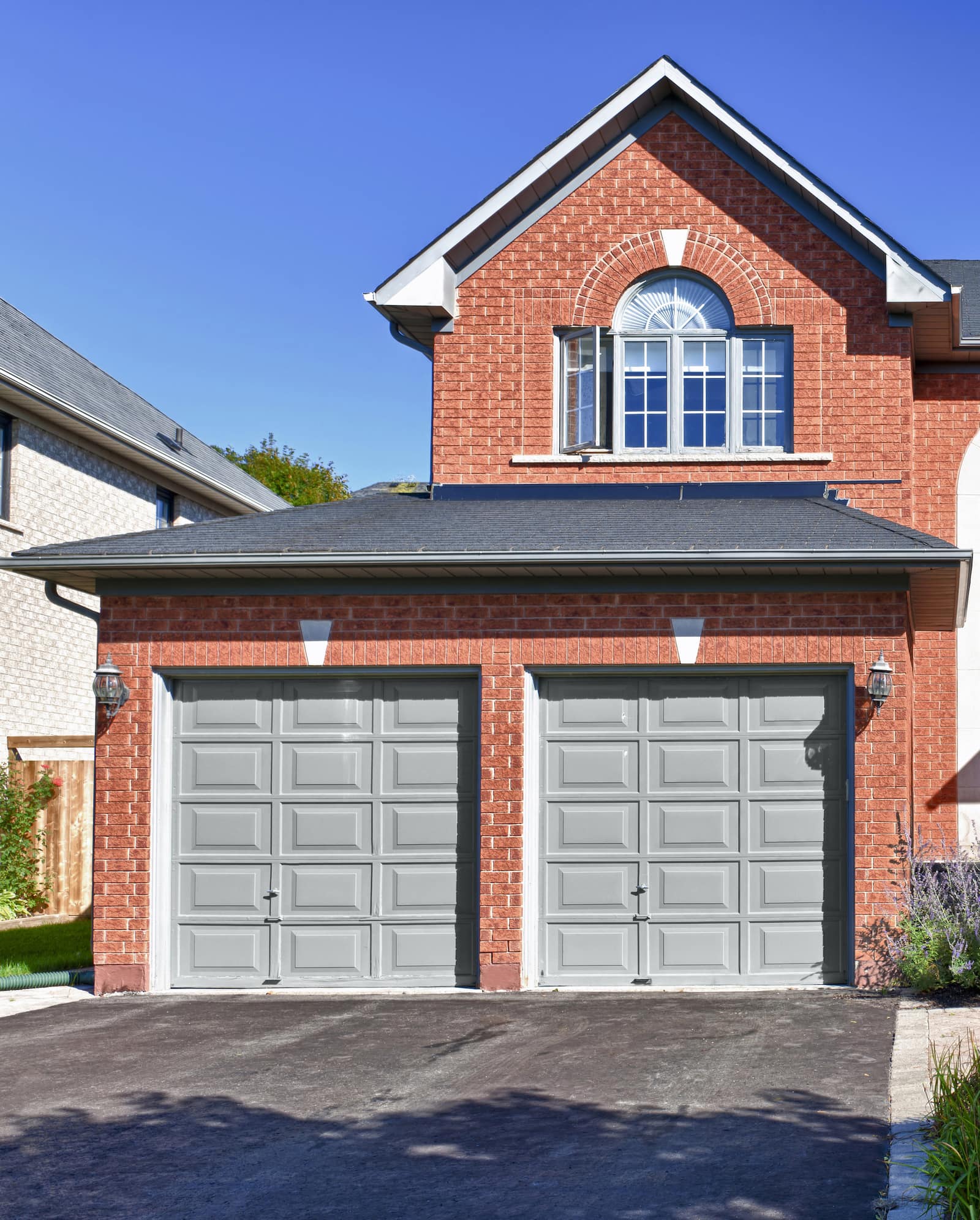 Give your home a refreshing, updated look with a darker-toned gray like Online for your garage door color with a red brick house.
This shade of gray has a mysterious ability to change in hue based on the lighting and variations in red brick. As a result, you can see blue, green, yellow, or brown notes nestled in the saturated gray.
Heron Plume by Sherwin Williams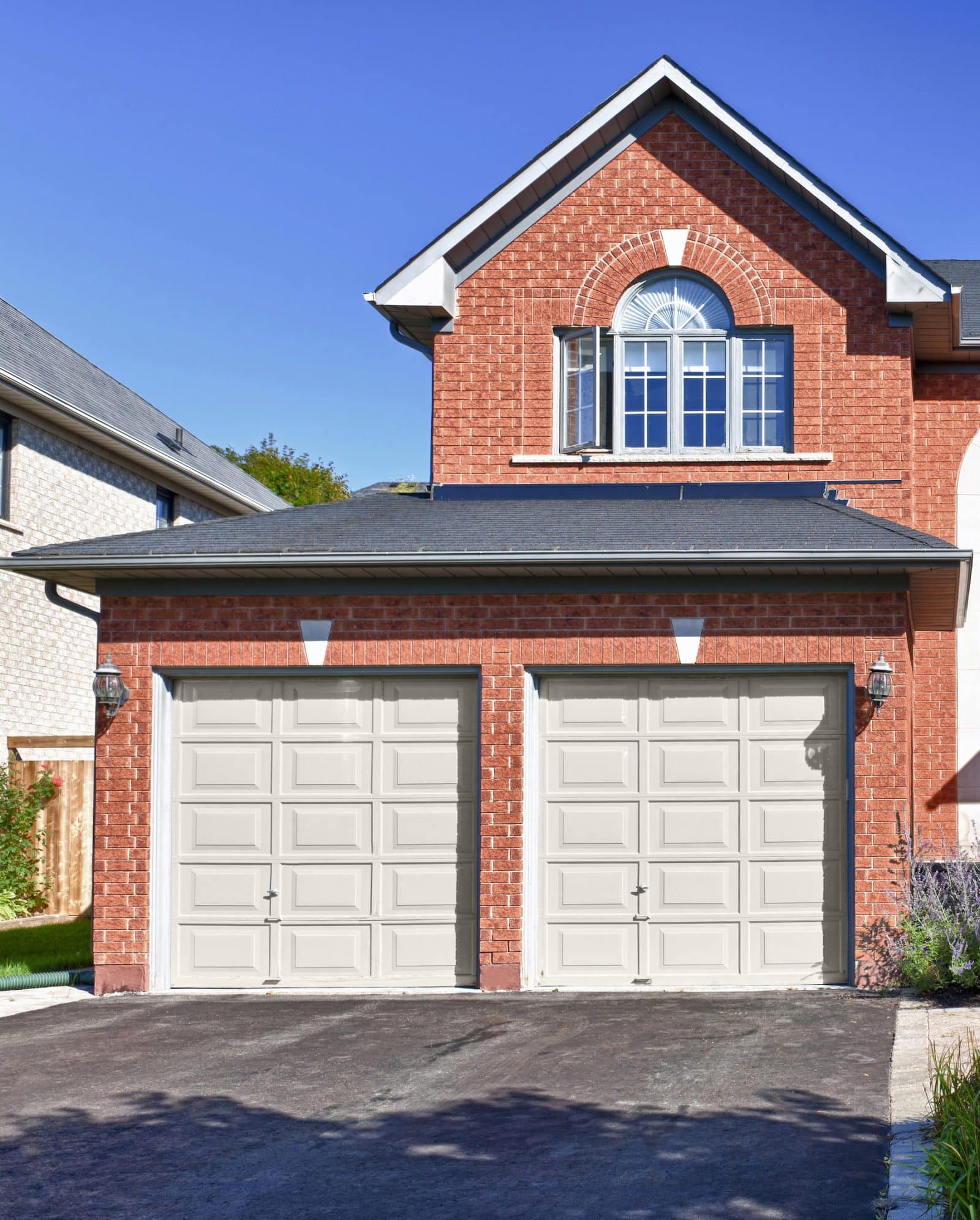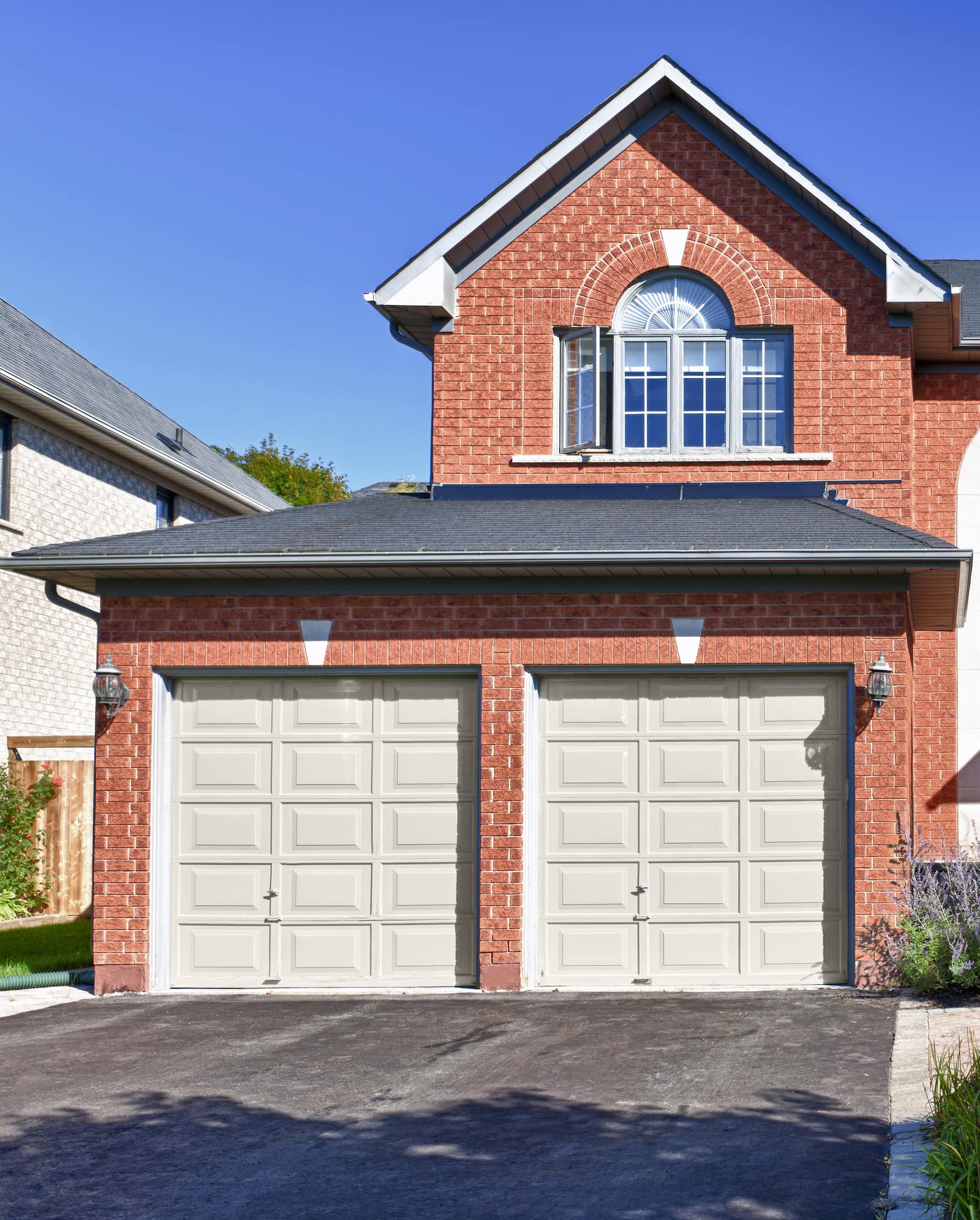 Heron Plume is a yellow-pigmented shade of neutral off-white. The faint tints buried in the base prevent this color from being pure white.
This white can make your garage look slightly gray to brown when used with the rich, bold warmth of red brick. Use this color for the garage doors and trim while adding pops of color to the door and window shutters.
Popular Gray by Sherwin Williams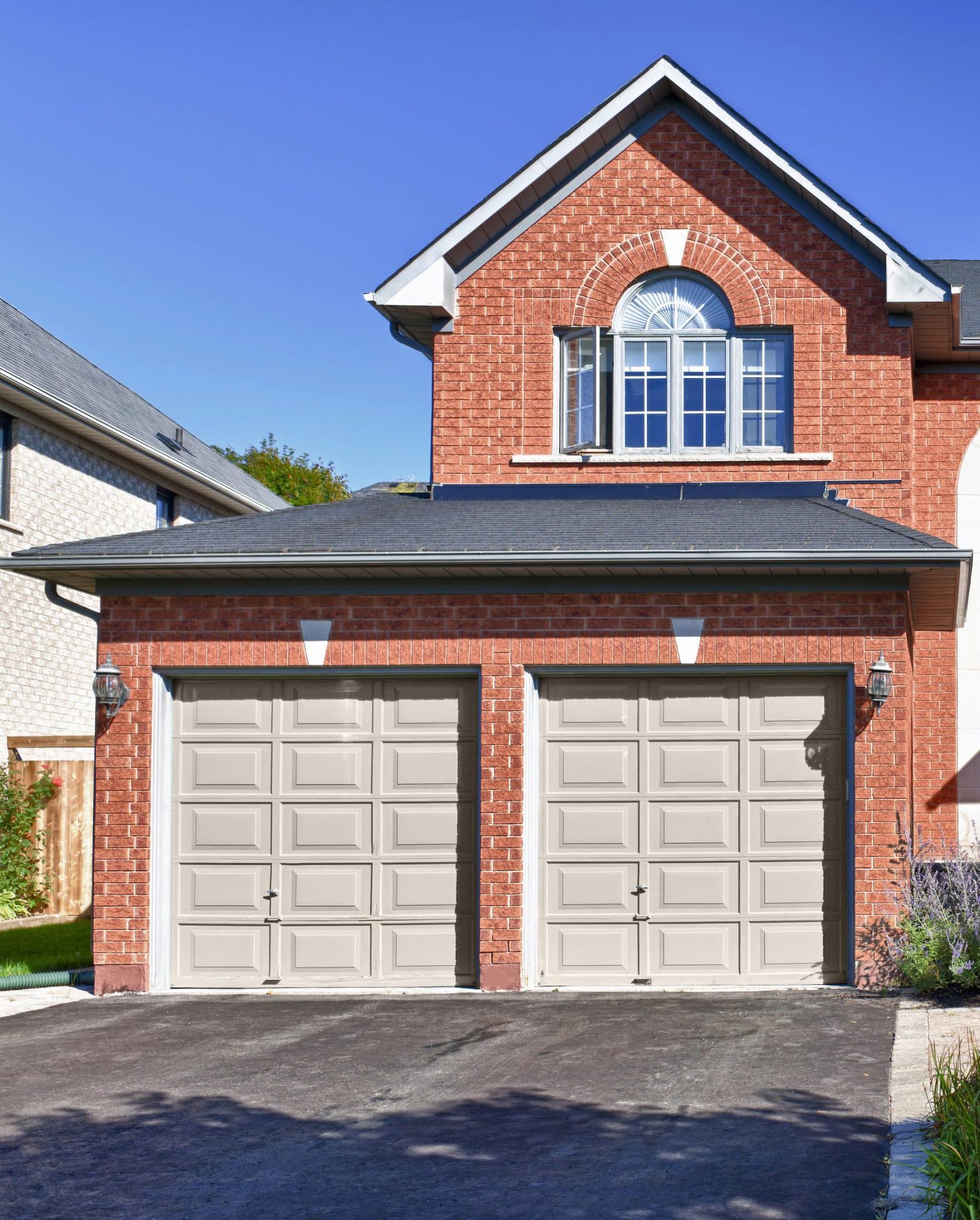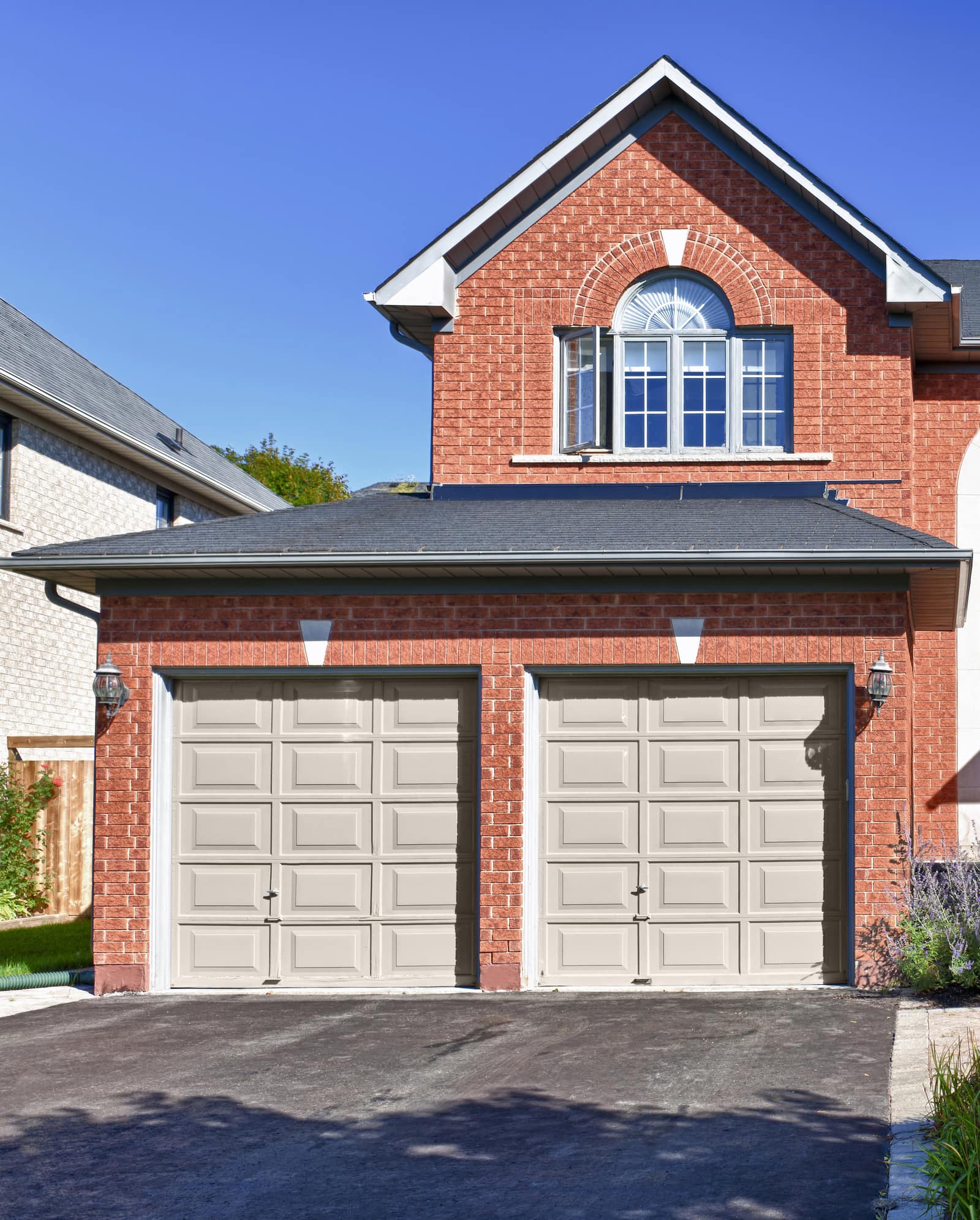 Popular Gray is a light-toned gray with faint yellow accents. When you pair Popular Gray with red brick, the warm notes of red can tint the gray with subtle pink notes.
The red-tinted shades can give this elegant gray-brown highlights that boost your home's appeal. And like most neutrals, Popular Gray is a versatile choice that will stay in style for decades and goes with anything.
Extra White by Sherwin Williams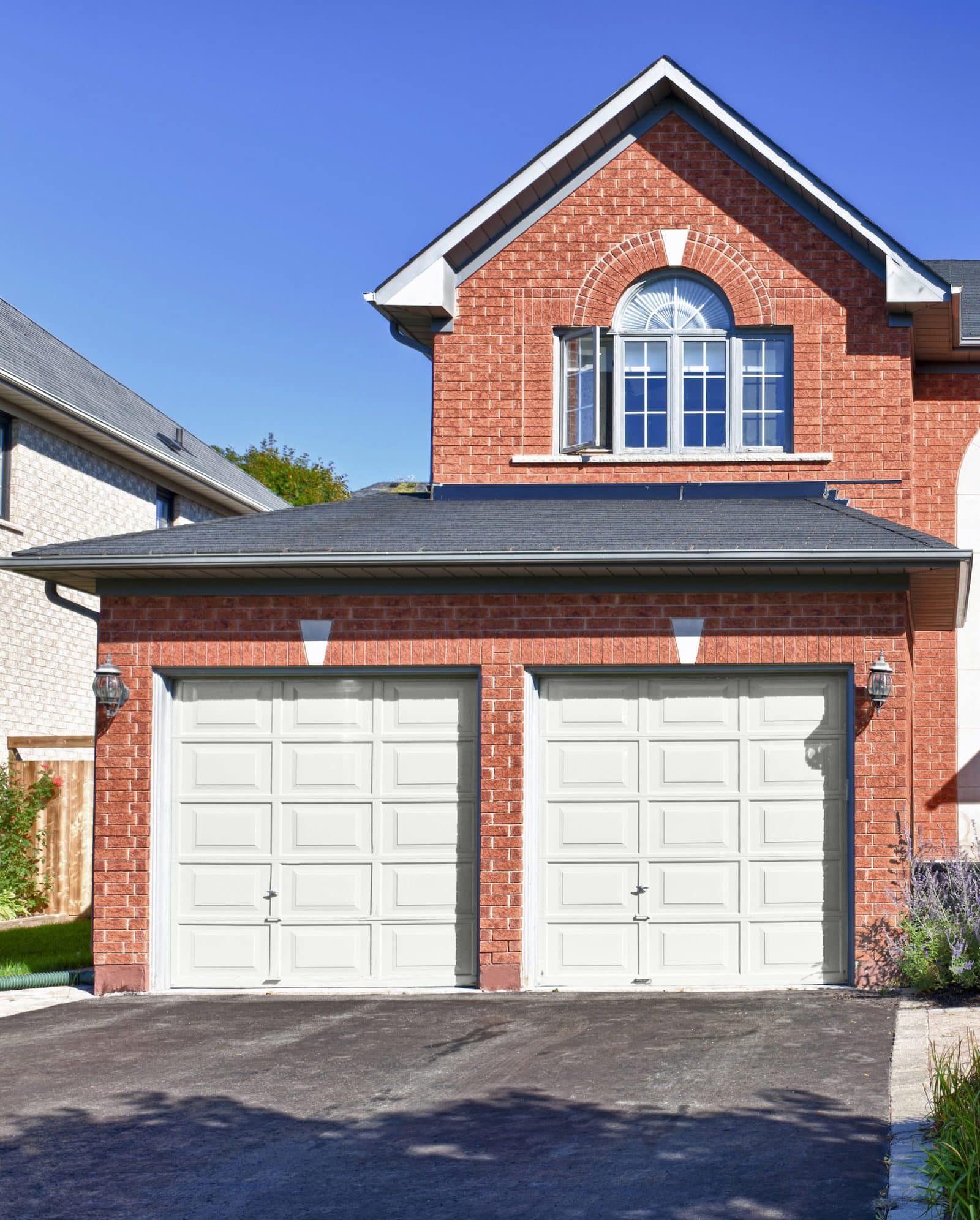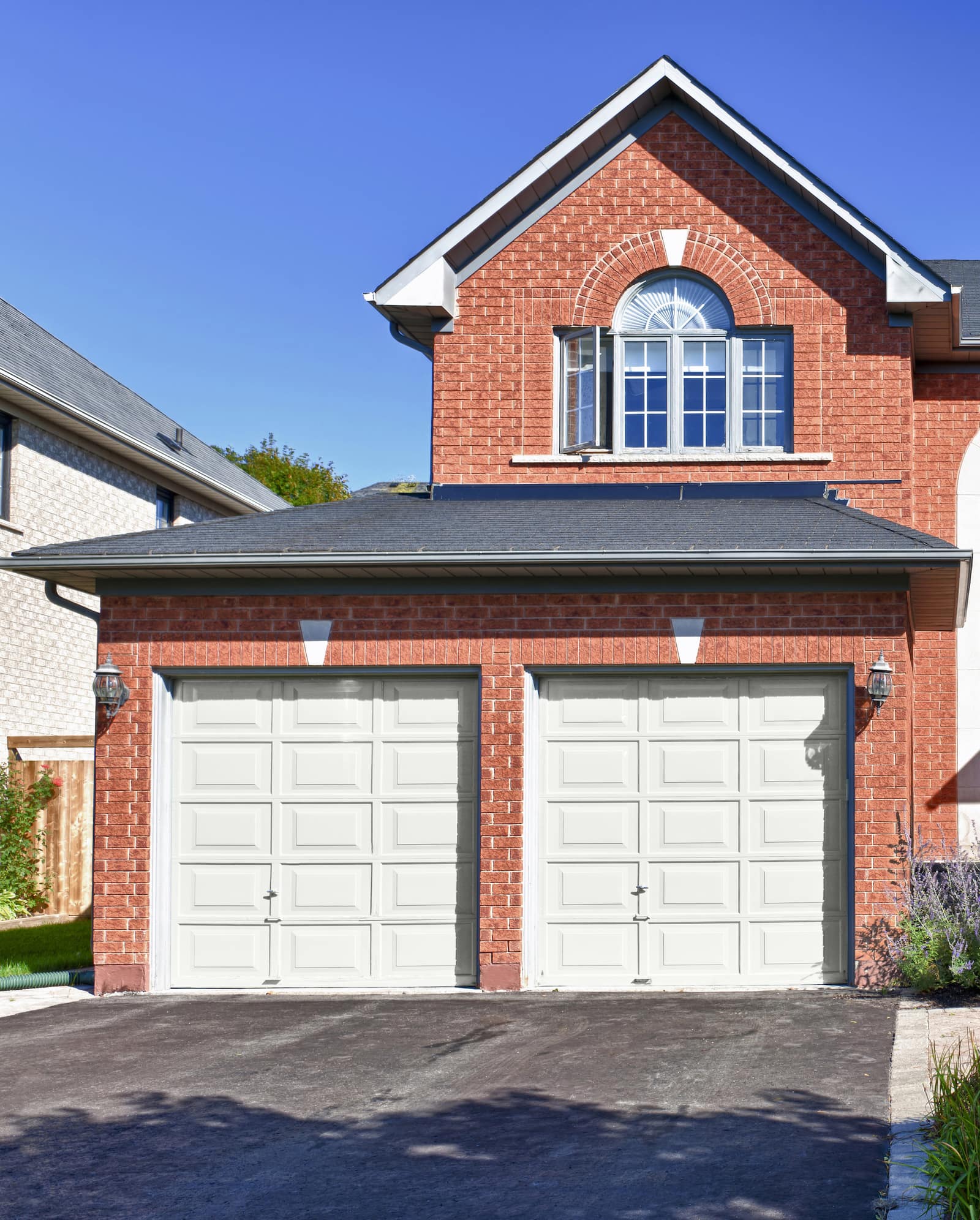 For a traditional approach, stick with a garage door in white. Extra White is a crisp, blank white palette that goes with any shade of red bricks.
White is the most popular choice for exterior colors because it's timeless and never goes out of style. And white goes with literally anything, giving you huge creative freedom for accent colors.
Pavilion Beige by Sherwin Williams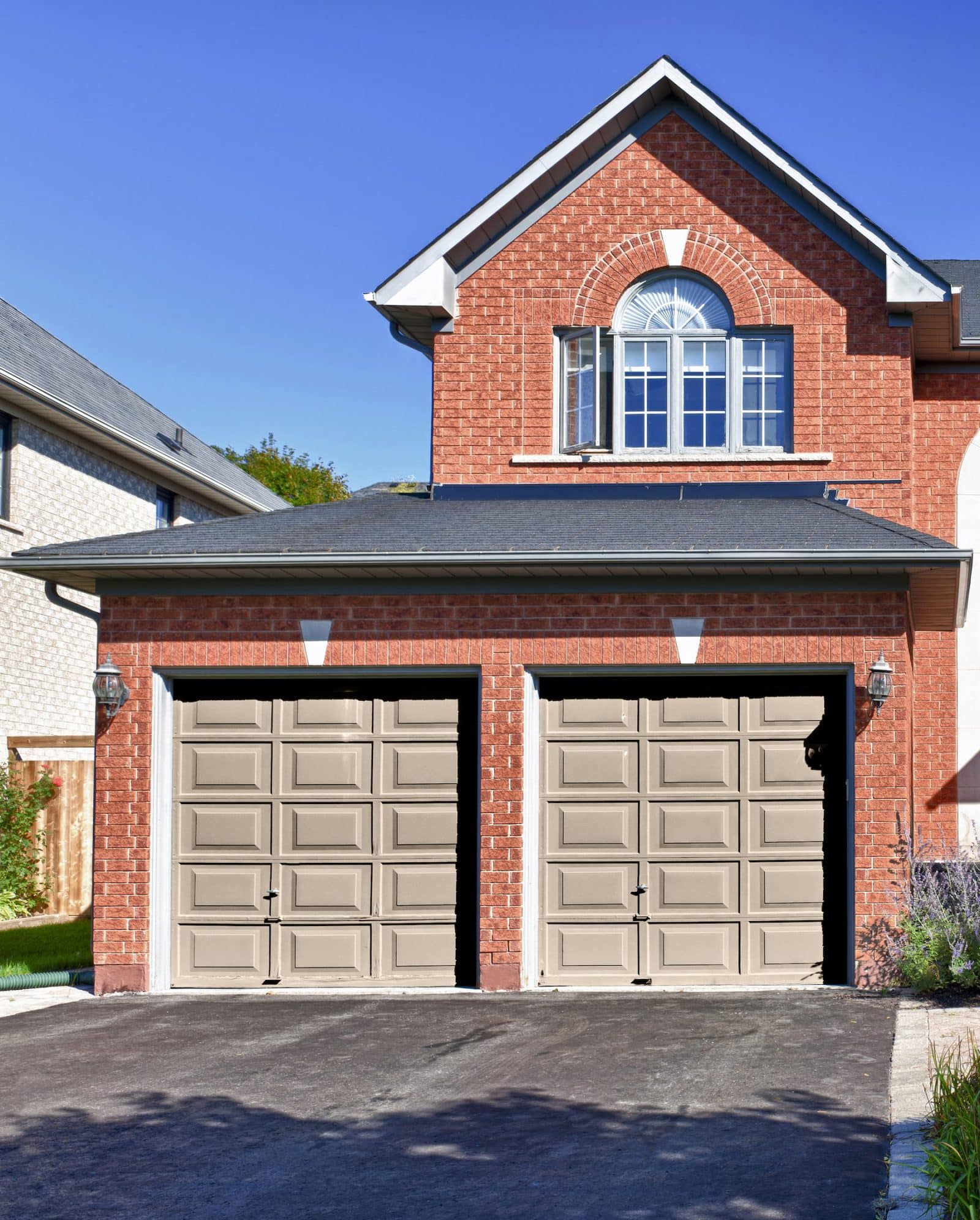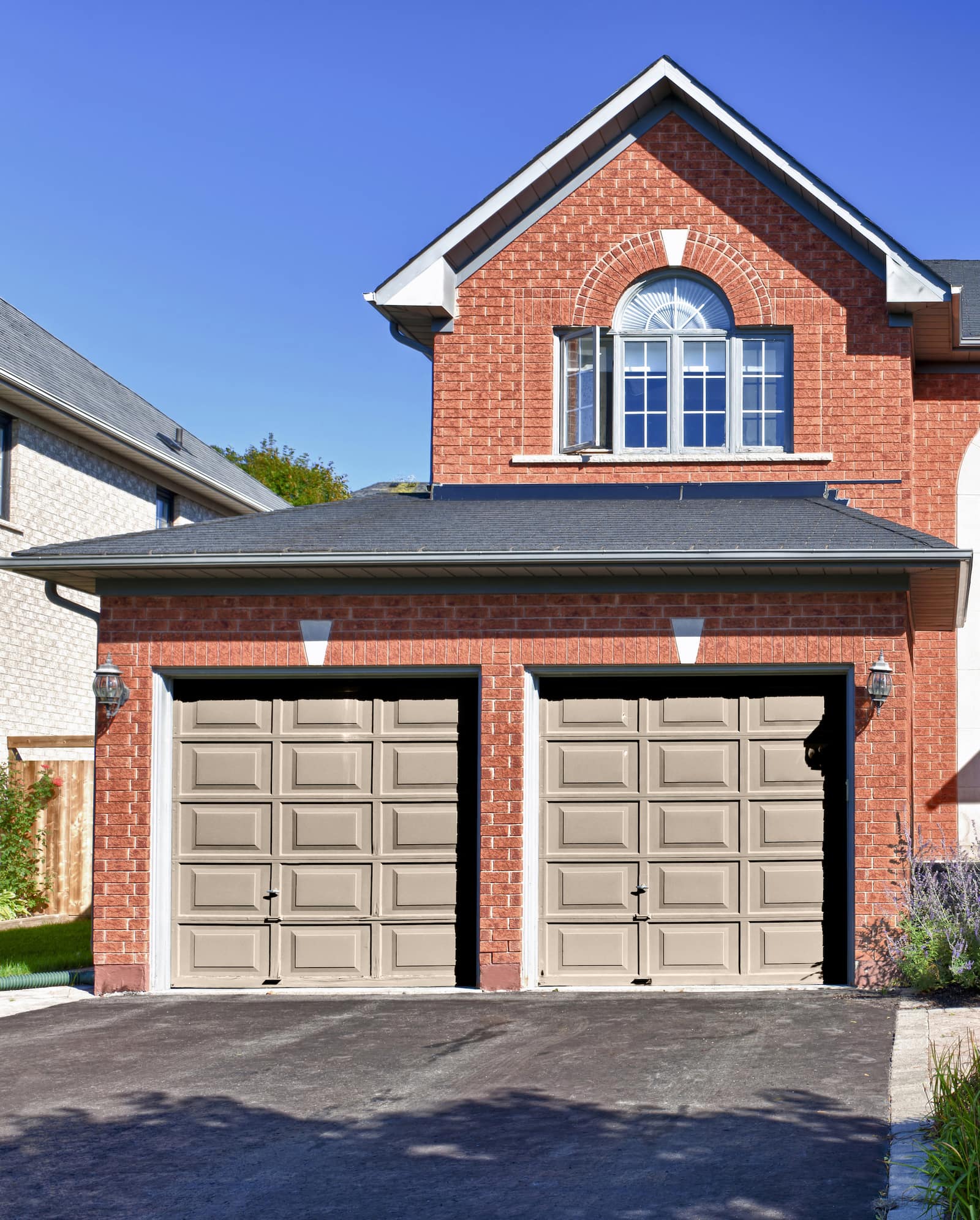 Pavilion Beige is a mid blend of brownish tan that can balance against red brick. This shade will give your garage doors a pigment boost for an earthy neutral approach.
Because this color has brown and yellow undernotes, the variations in your red brick house will influence how the beige looks on your garage door.
Threshold Taupe by Sherwin Williams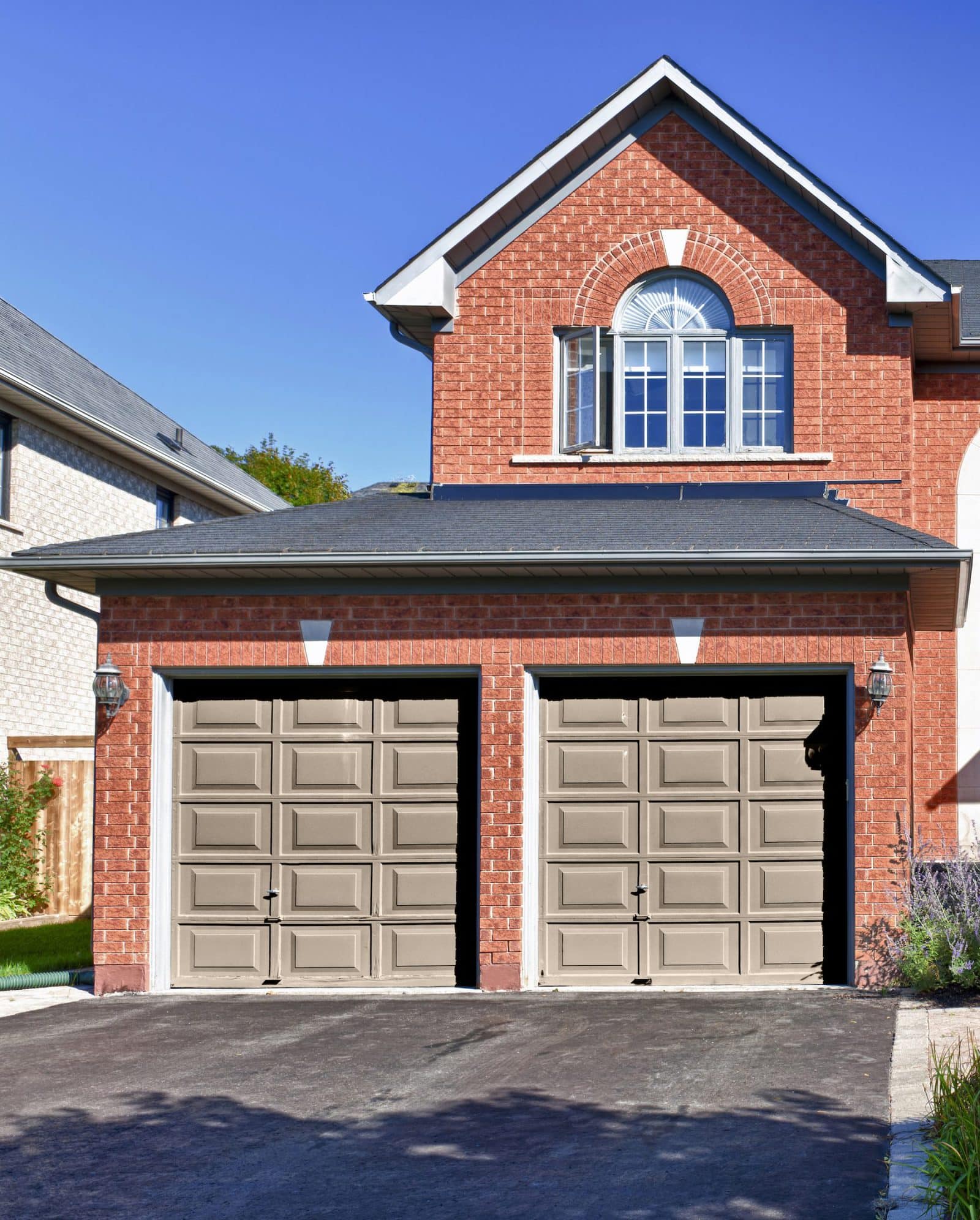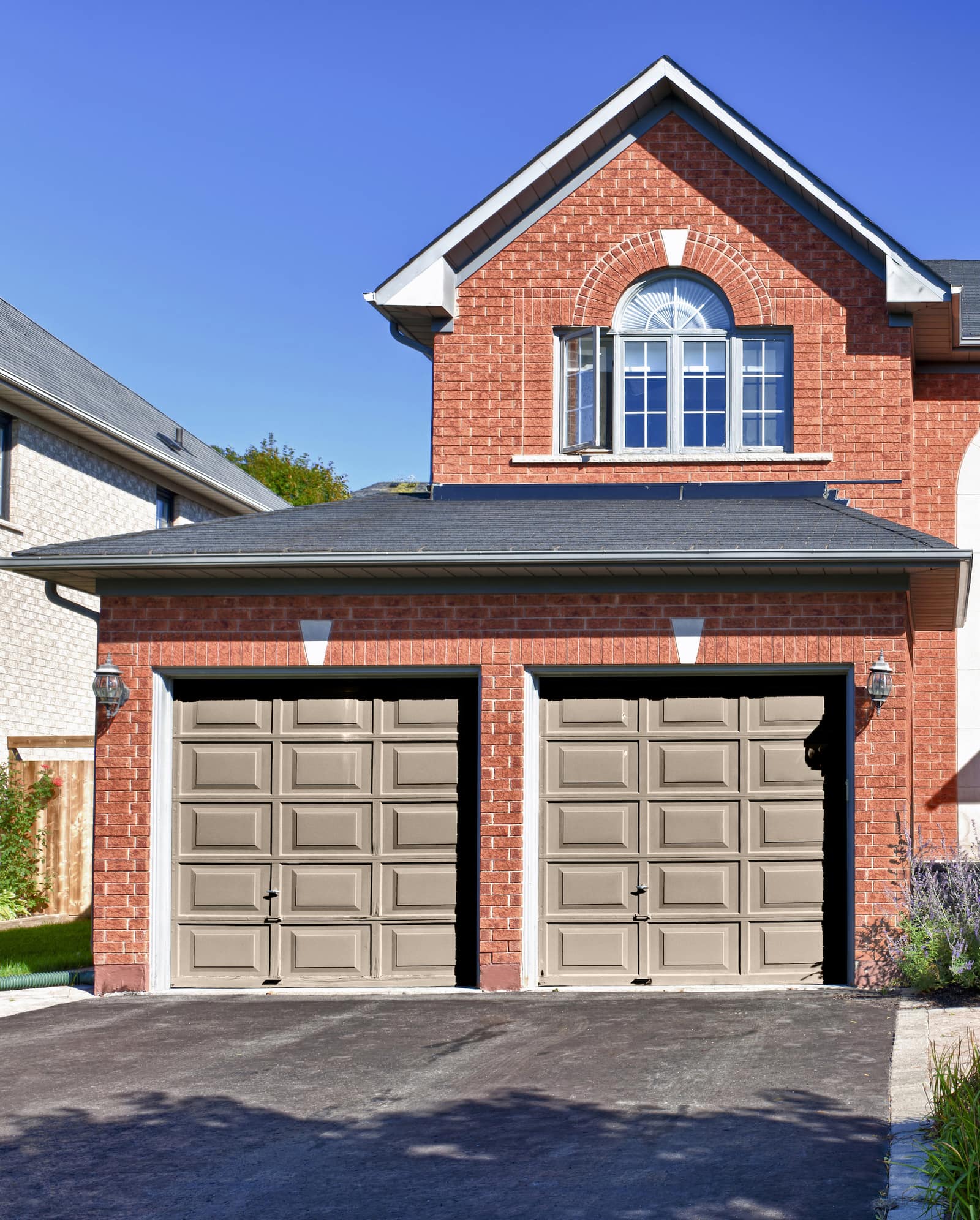 Threshold Taupe is a dark-toned brown-gray with lilac accents. The rich tints give this brown a deep beauty that can radiate with red brick.
When used with red brick that has heavy orange influences, you'll find this taupe looks richer and brown. Brick with brown and black notes can cause the taupe to darken, while cream and ivory can make it go lighter.
Hazelwood by Benjamin Moore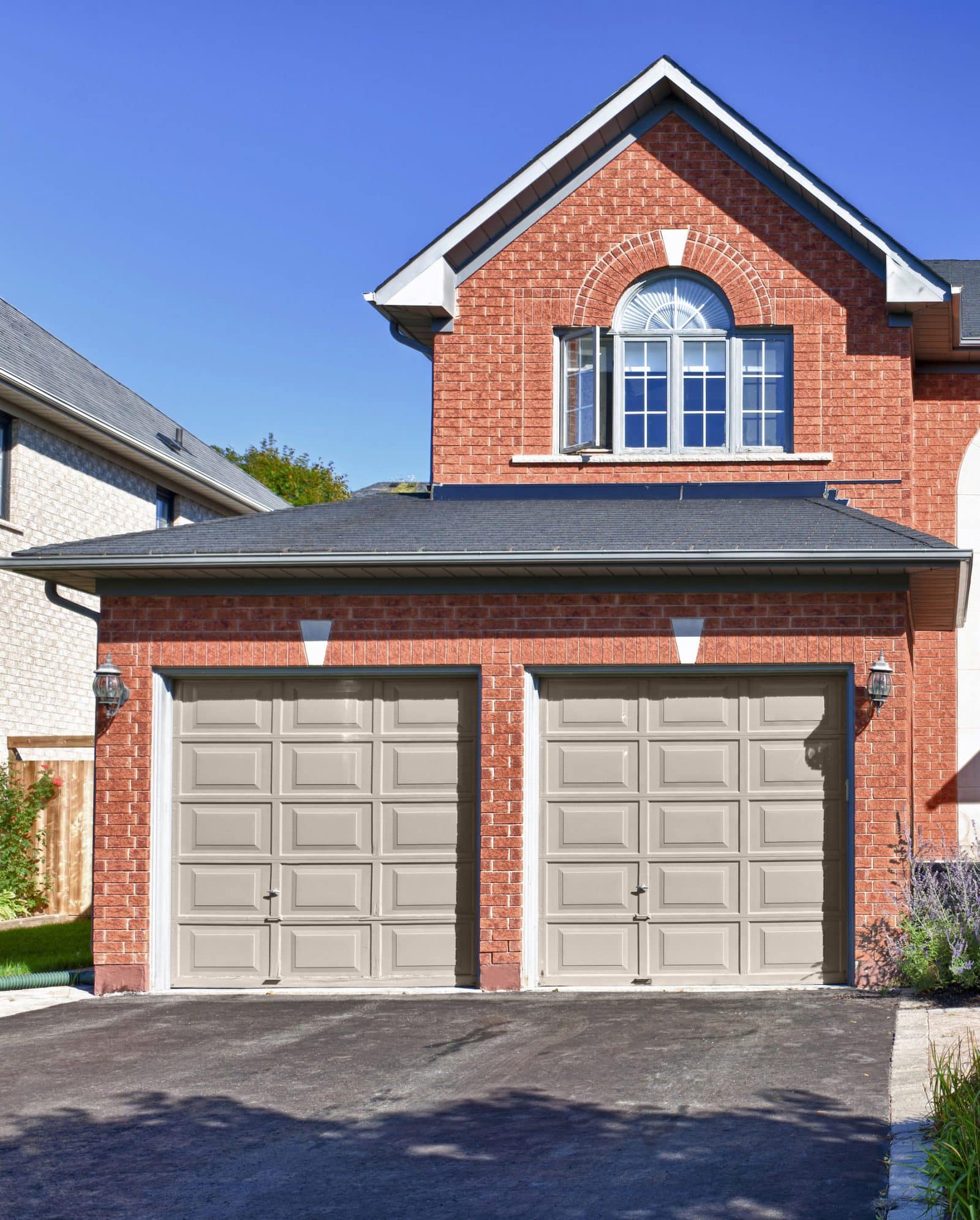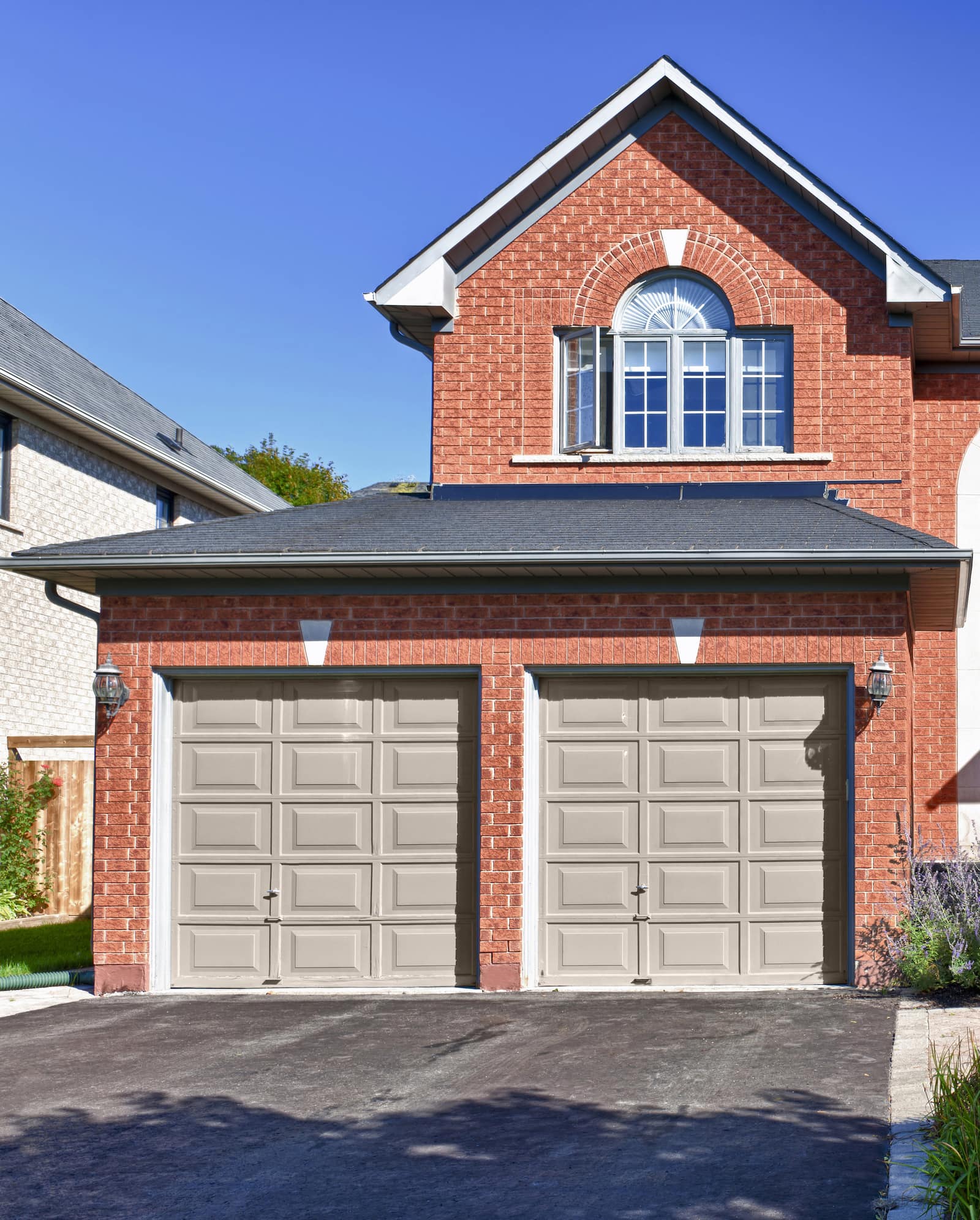 Hazelwood is a mid-toned brown pigmented beige that serves as a timeless neutral color. Used next to a red brick exterior, Hazelwood takes on a dusting of cocoa brown.
The darkness of red contrasts with Hazelwood to create a light beige that brightens the garage doors for a warmer curb appeal.
Collingwood by Benjamin Moore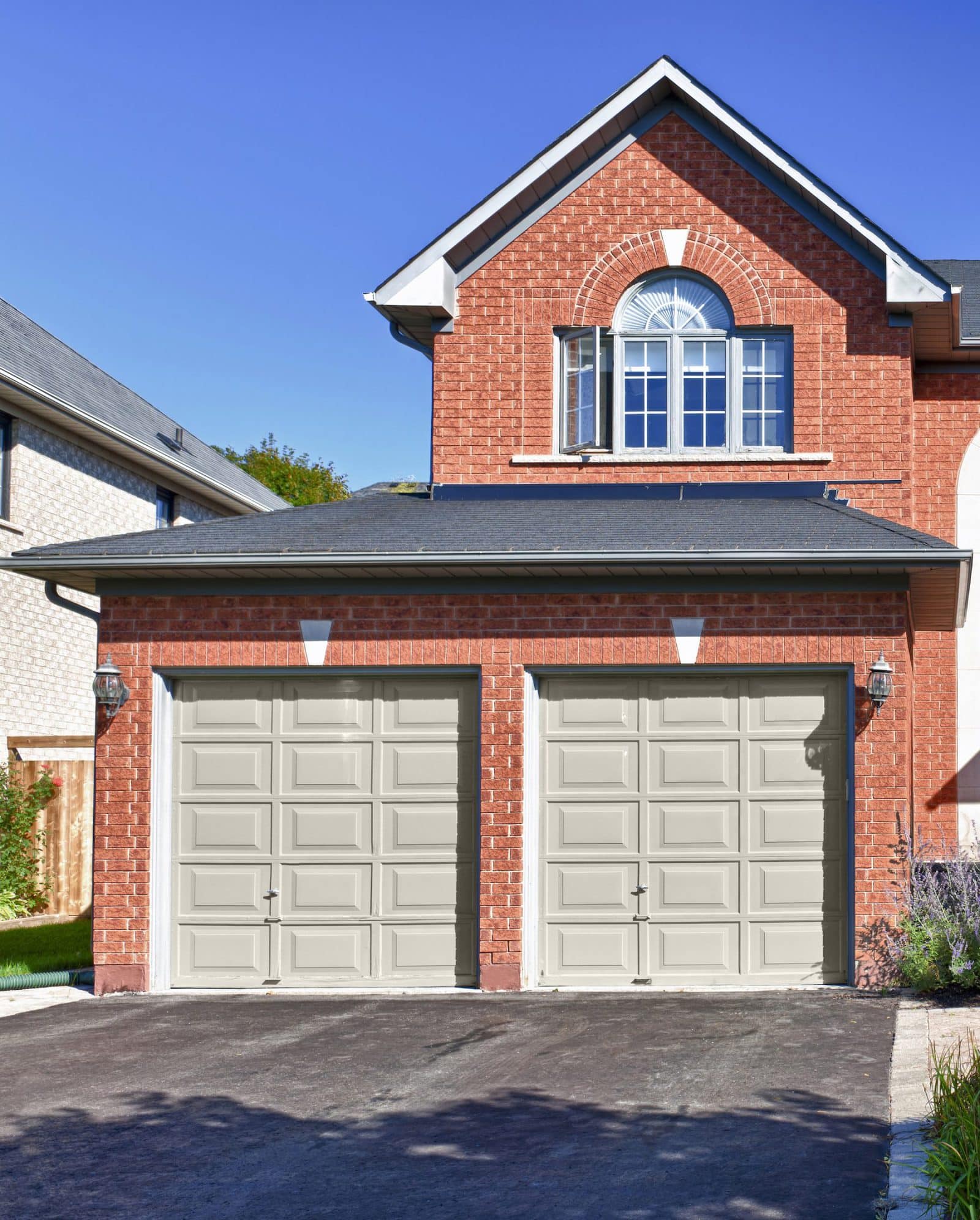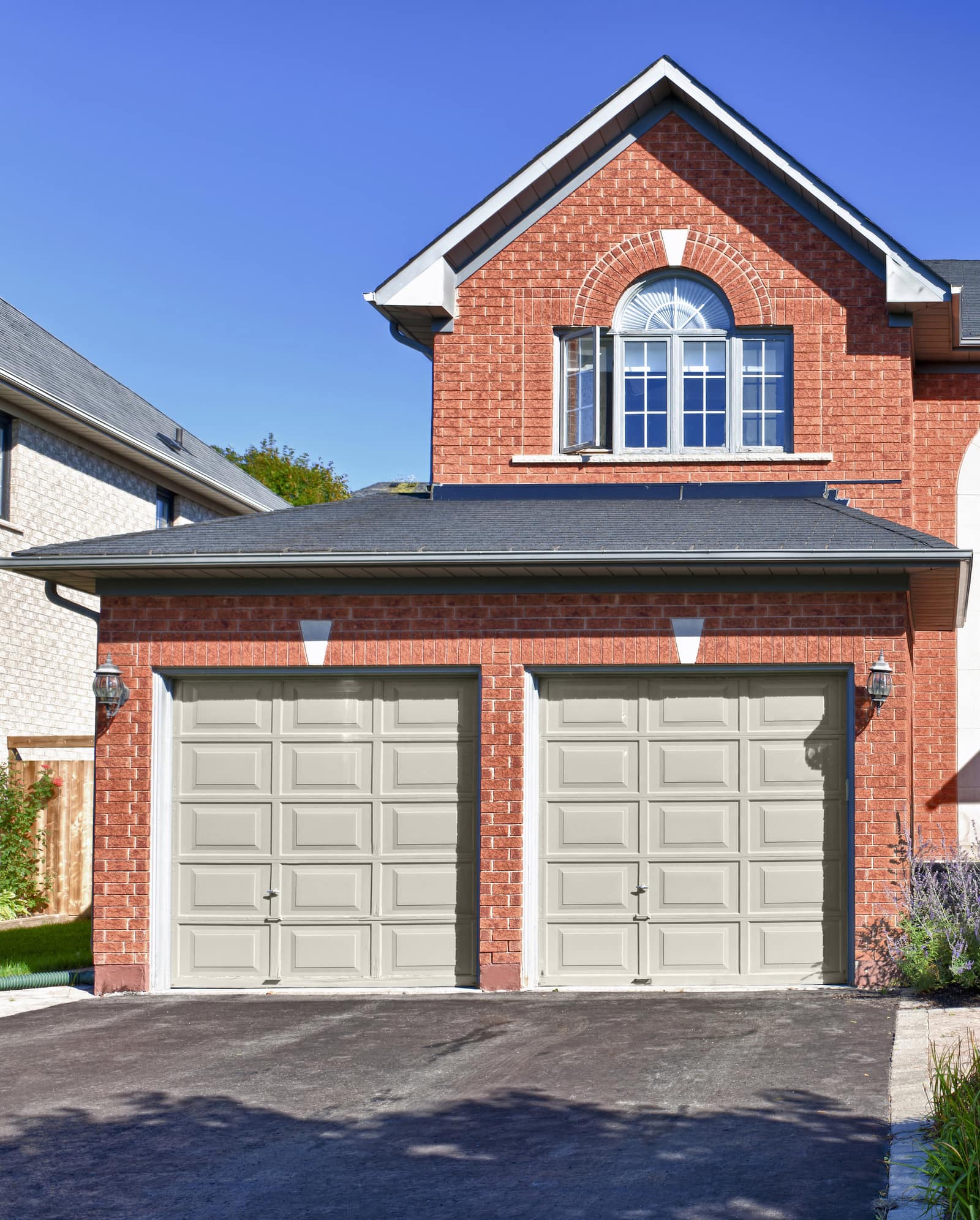 You can use an elegant tan like Collingwood to contrast light and dark. This mid-toned gray has dirty brown hues enhanced by red brick.
No matter the shade of red brick on your exterior, Collingwood can create an instant boost of contrasting warmth. Every architectural style and color palette can pull off red brick and pale gray.
Tapestry Beige by Benjamin Moore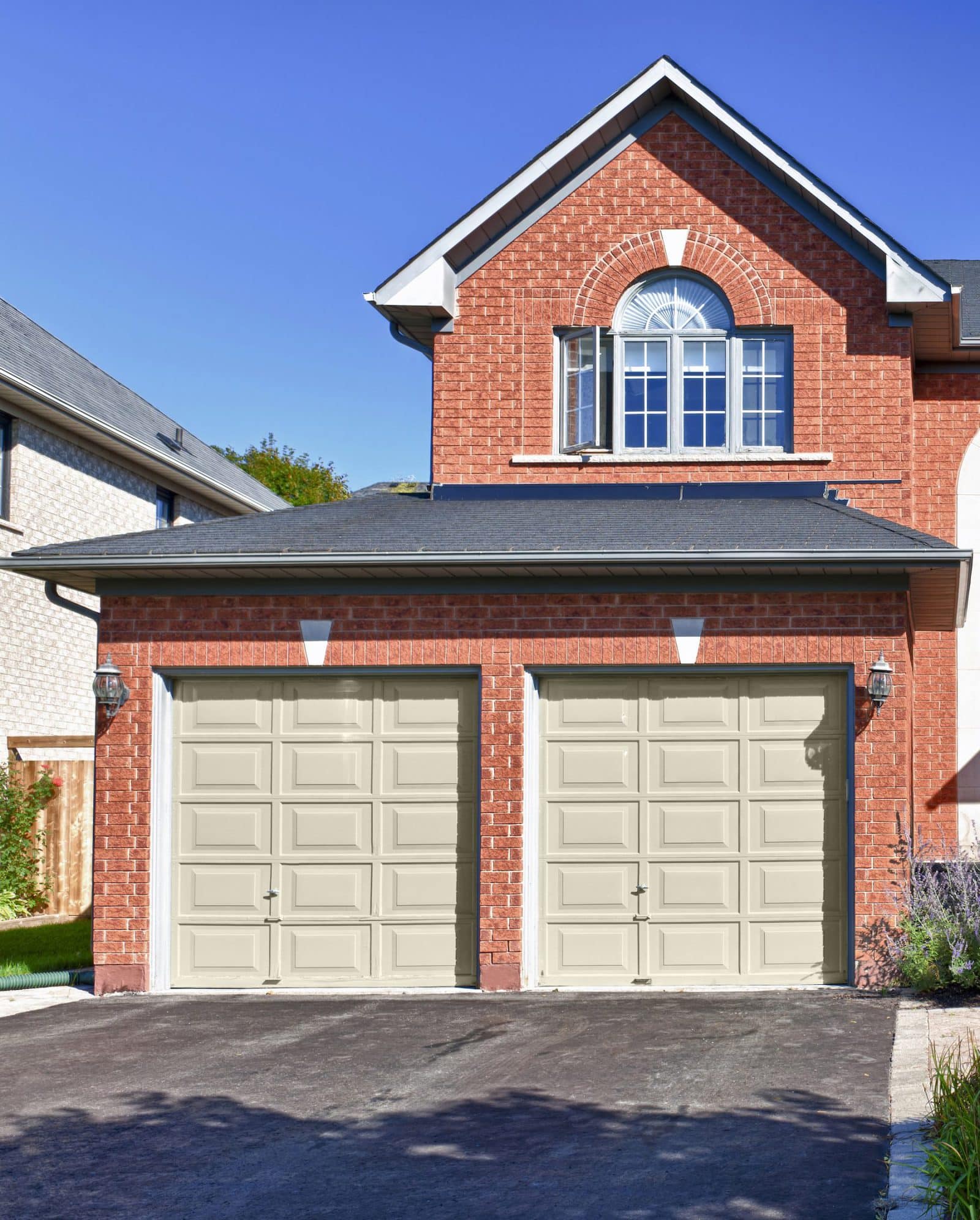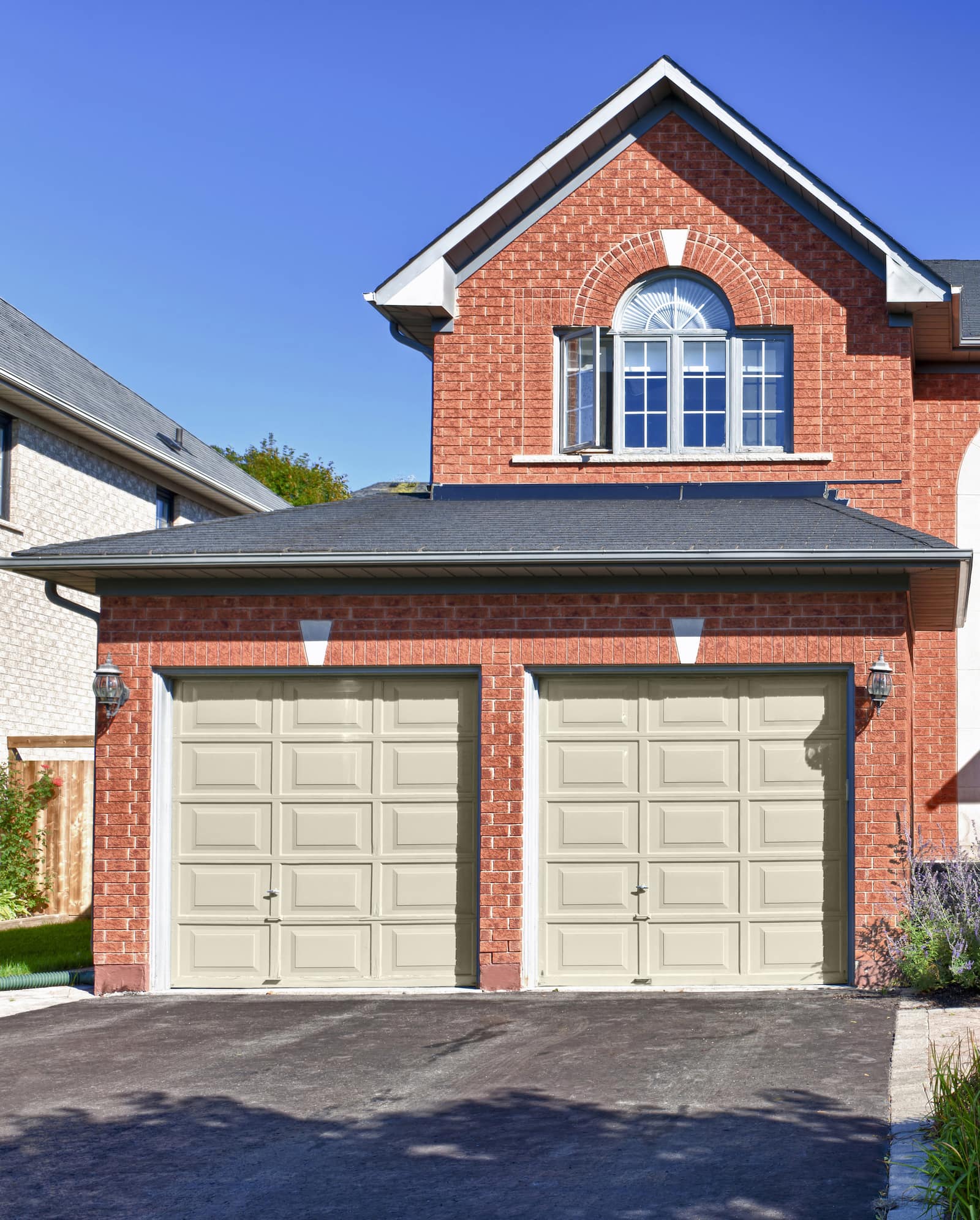 Tapestry Beige is a light shade that brightens up a red brick house for more curb appeal. Using a color like beige gives your garage doors depth and dimension, often lacking in white and neutral colors.
The warm hues of brick can play with the pigments in the neutral to make the beige look yellow and brown. Used as a garage door color, your home can look earthy and welcoming.
Grandma's China by Benjamin Moore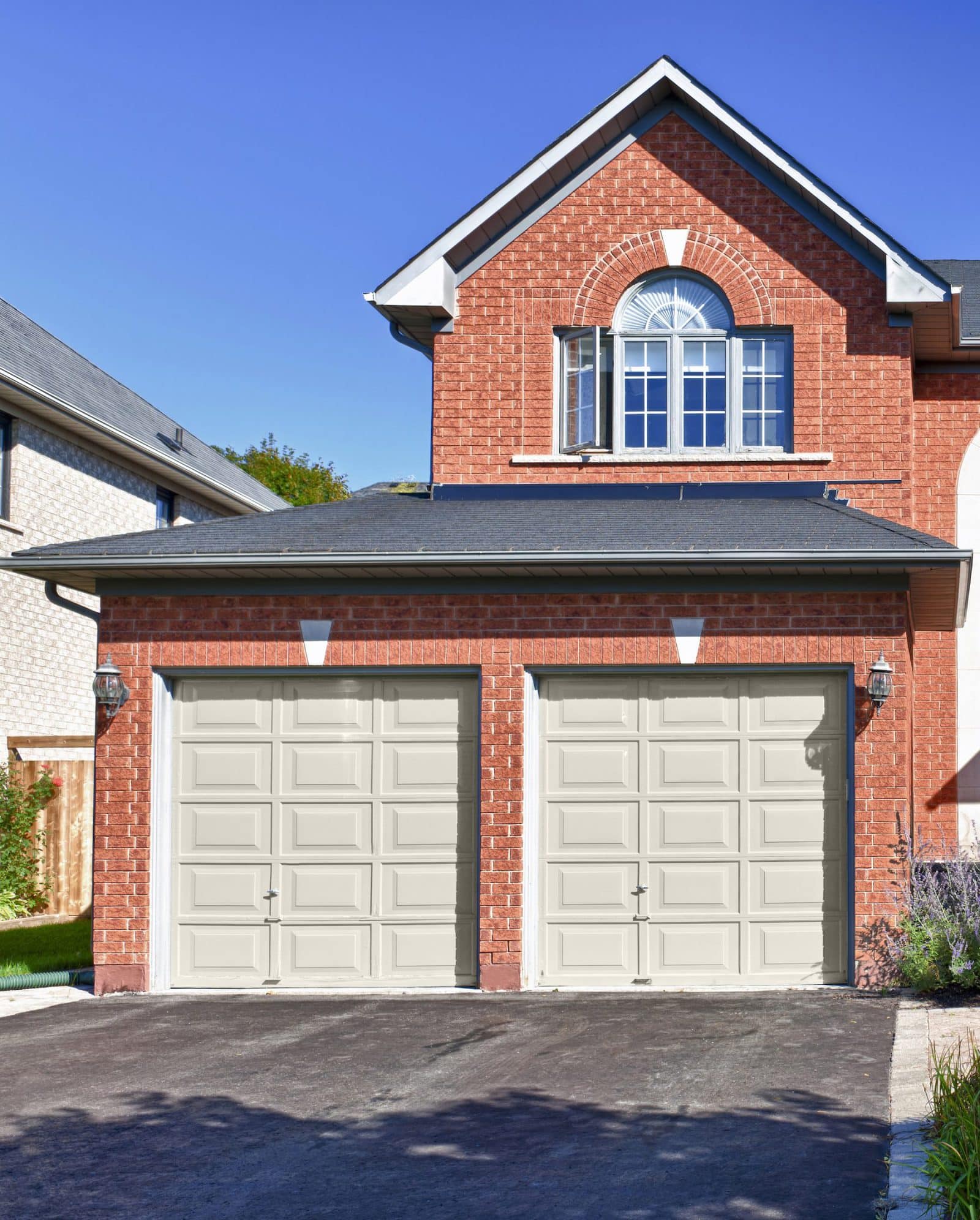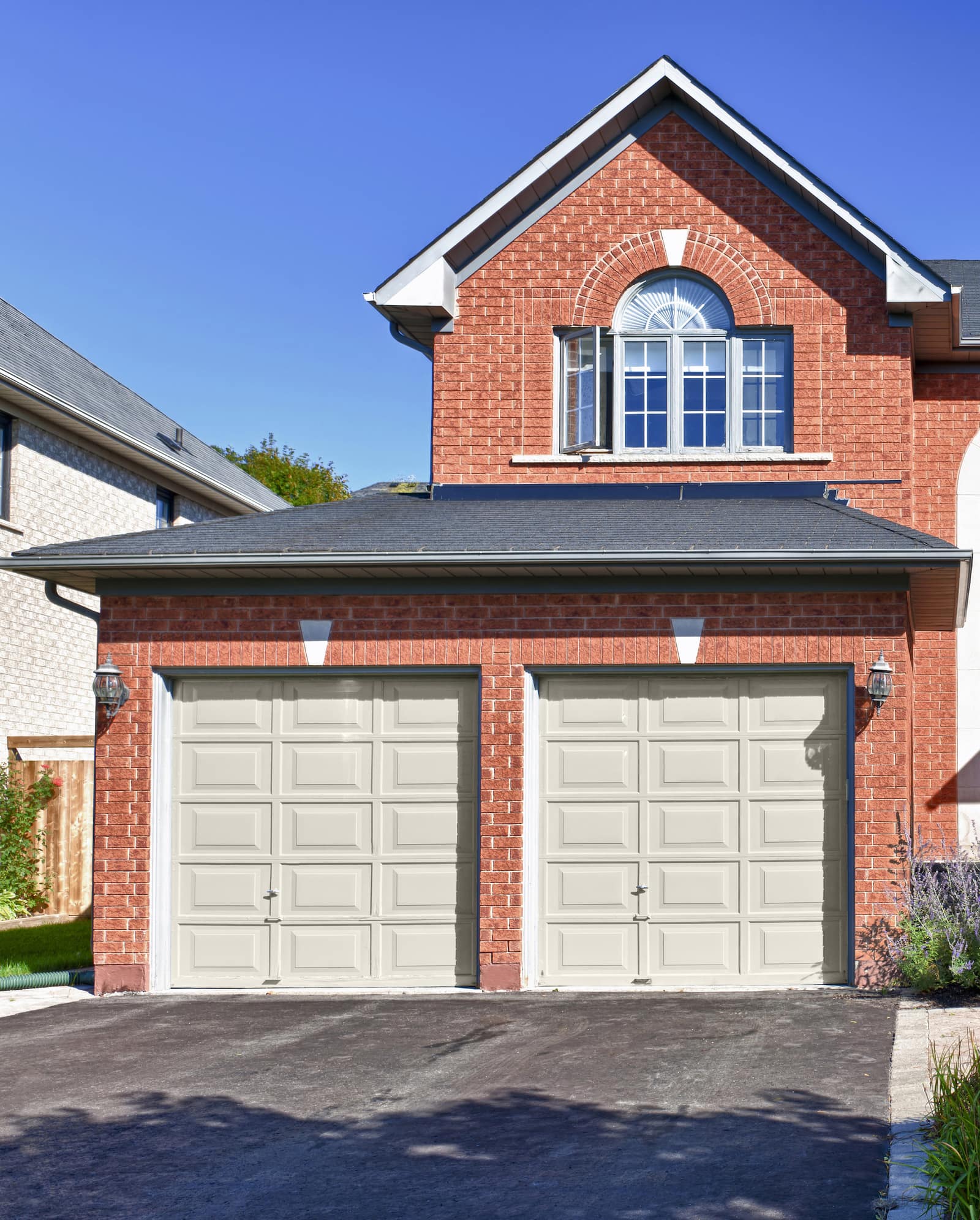 For a classic shade of white to go with a red brick house, choose a fancy pigmented shade like Grandma's China. This white has some shadow to it, so you're not blinded by the light of a crisp, bright white.
The delicate pigments take this white from sterile cold to a warm shadowed creamy beige. The red brick brings out the yellow and gray tints for a versatile neutral palette.
Herb Bouquet by Benjamin Moore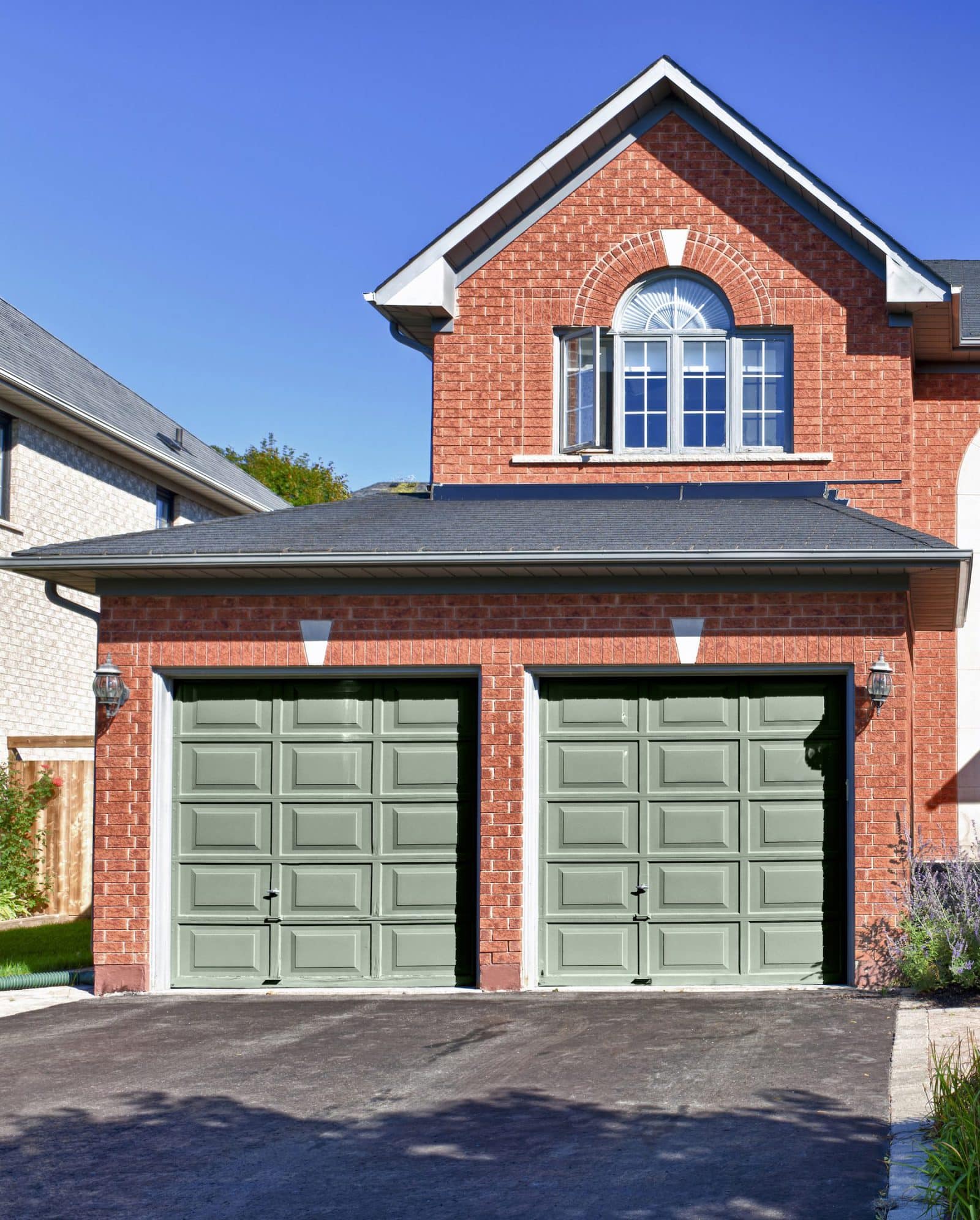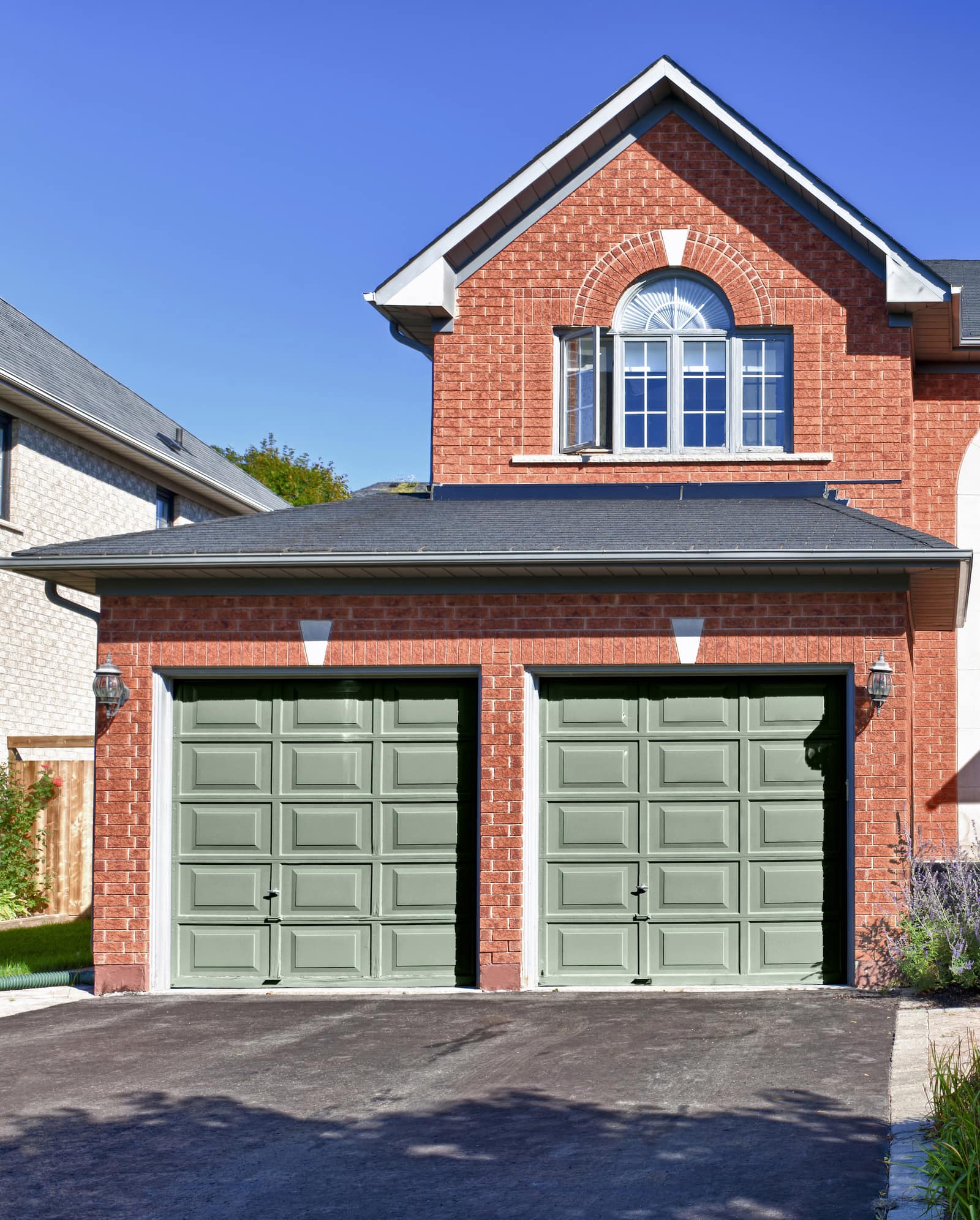 Herb Bouquet is an elegant shade of green to use with a red brick house. This color has smoky gray and brown undernotes that save you from looking like a Christmas nut using a green and red color scheme.
When you use Herb Bouquet for your garage doors, the multi-faceted tones of red brick can turn this darker color into a neutral that works from modern to traditional.
Fashion Gray by Behr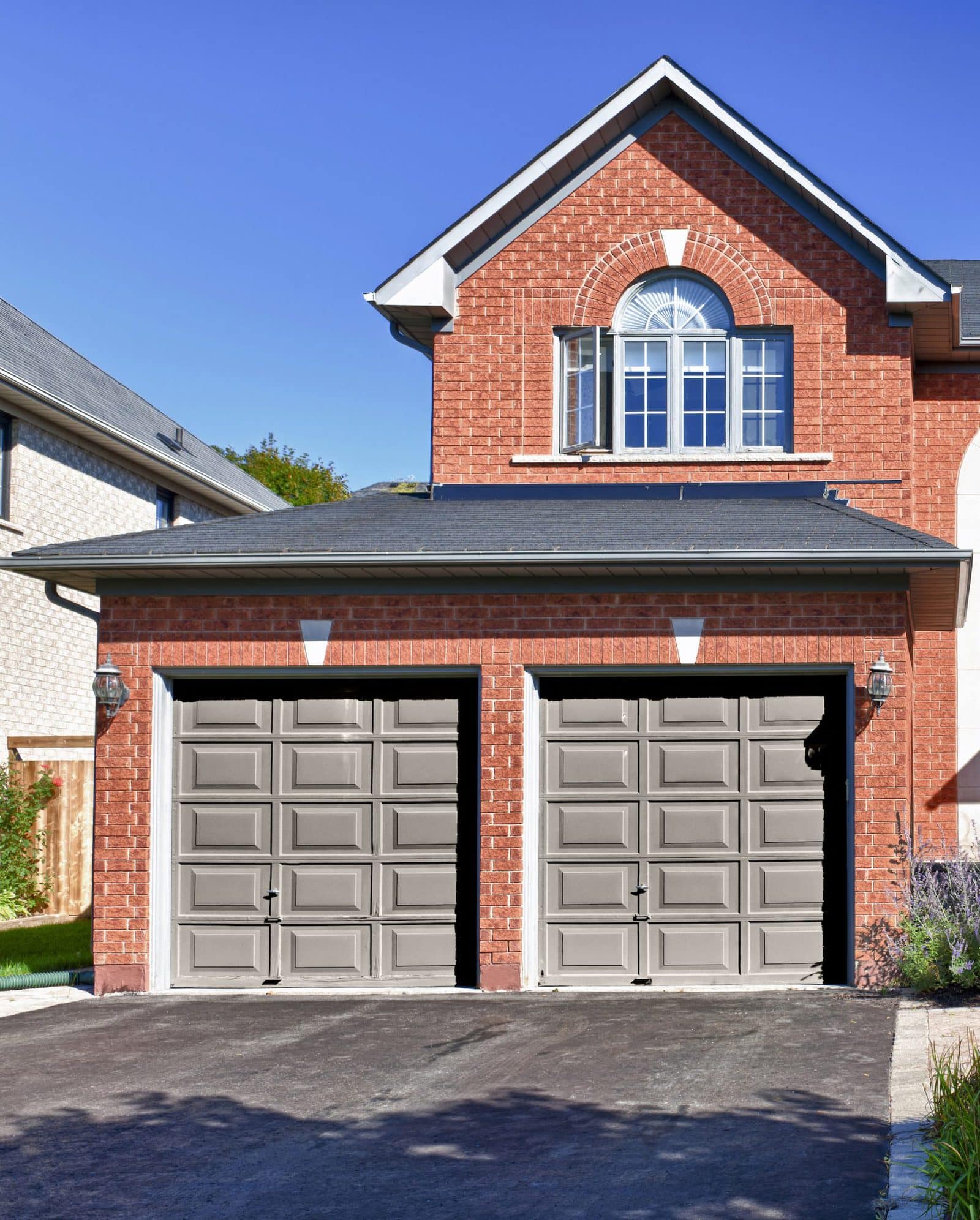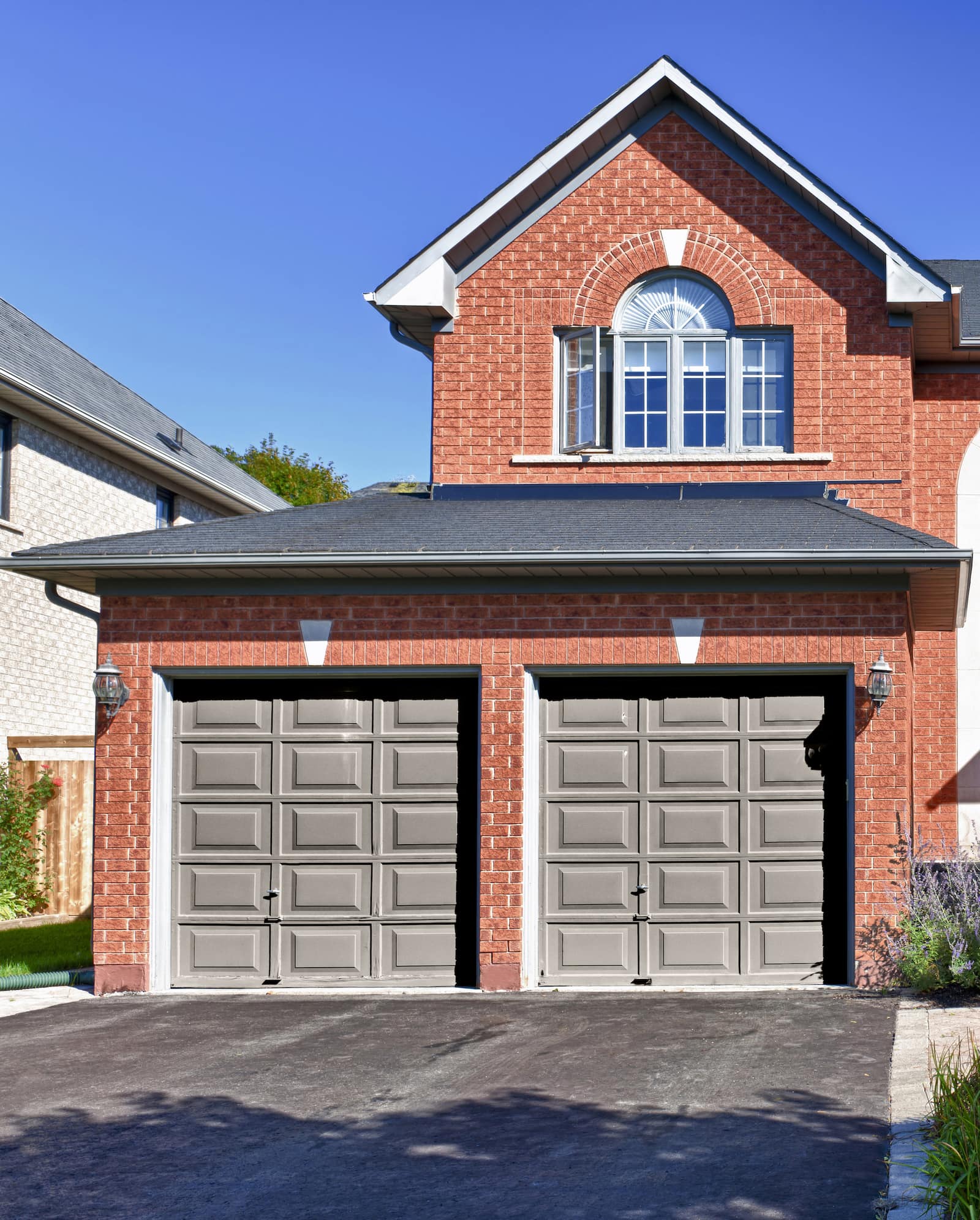 Fashion Gray is a dark-based neutral gray with heavily saturated hues of brown, green, mauve, and yellow, depending on lighting and shade of red brick that can pop with a red brick house with a dark garage door.
This color has a low LRV that absorbs light to make your garage doors look darker. In addition, the various tones in the red bricks can trigger all the little color nuances for a smooth transition that can work for all architectural style homes.
Creamy Mushroom by Behr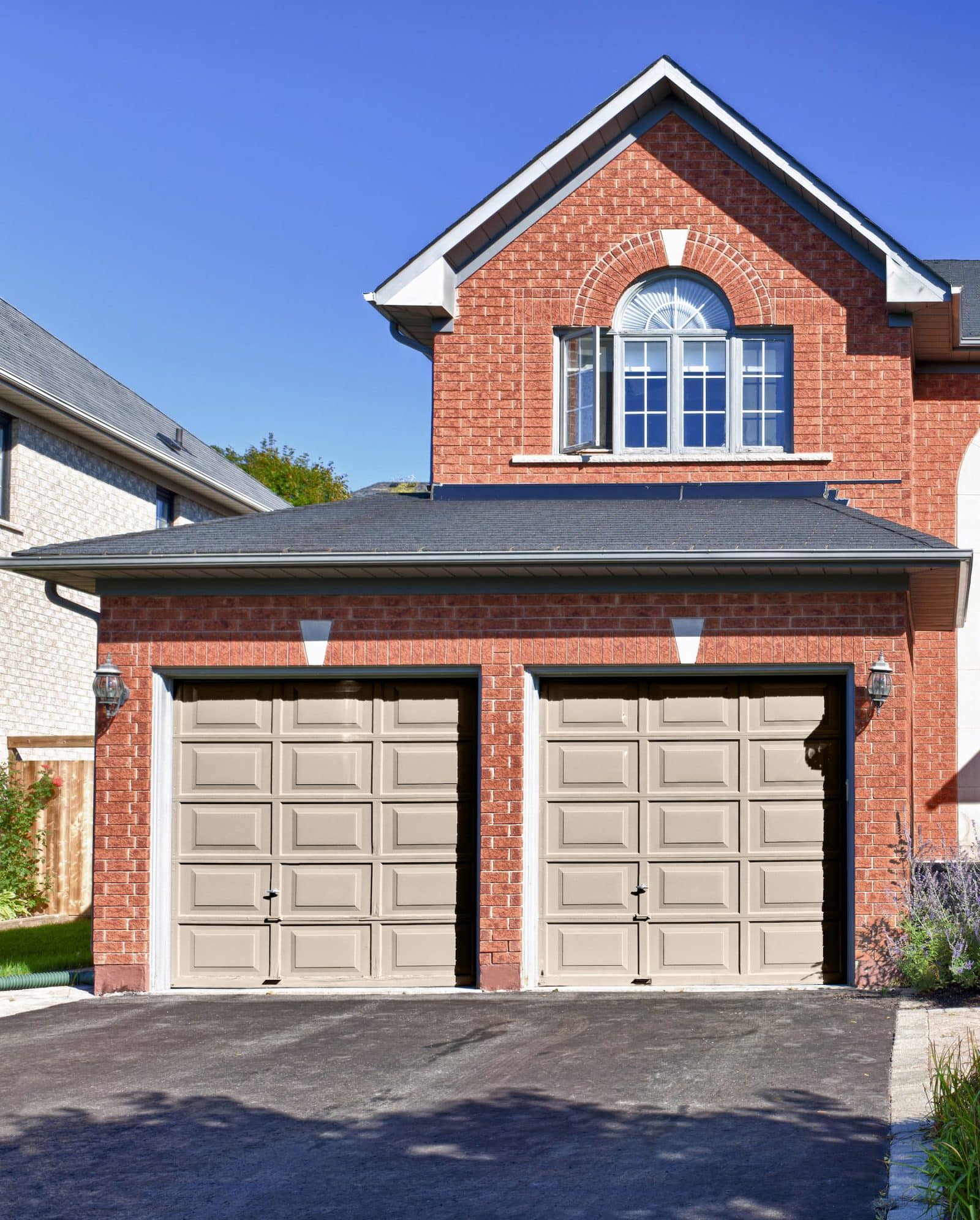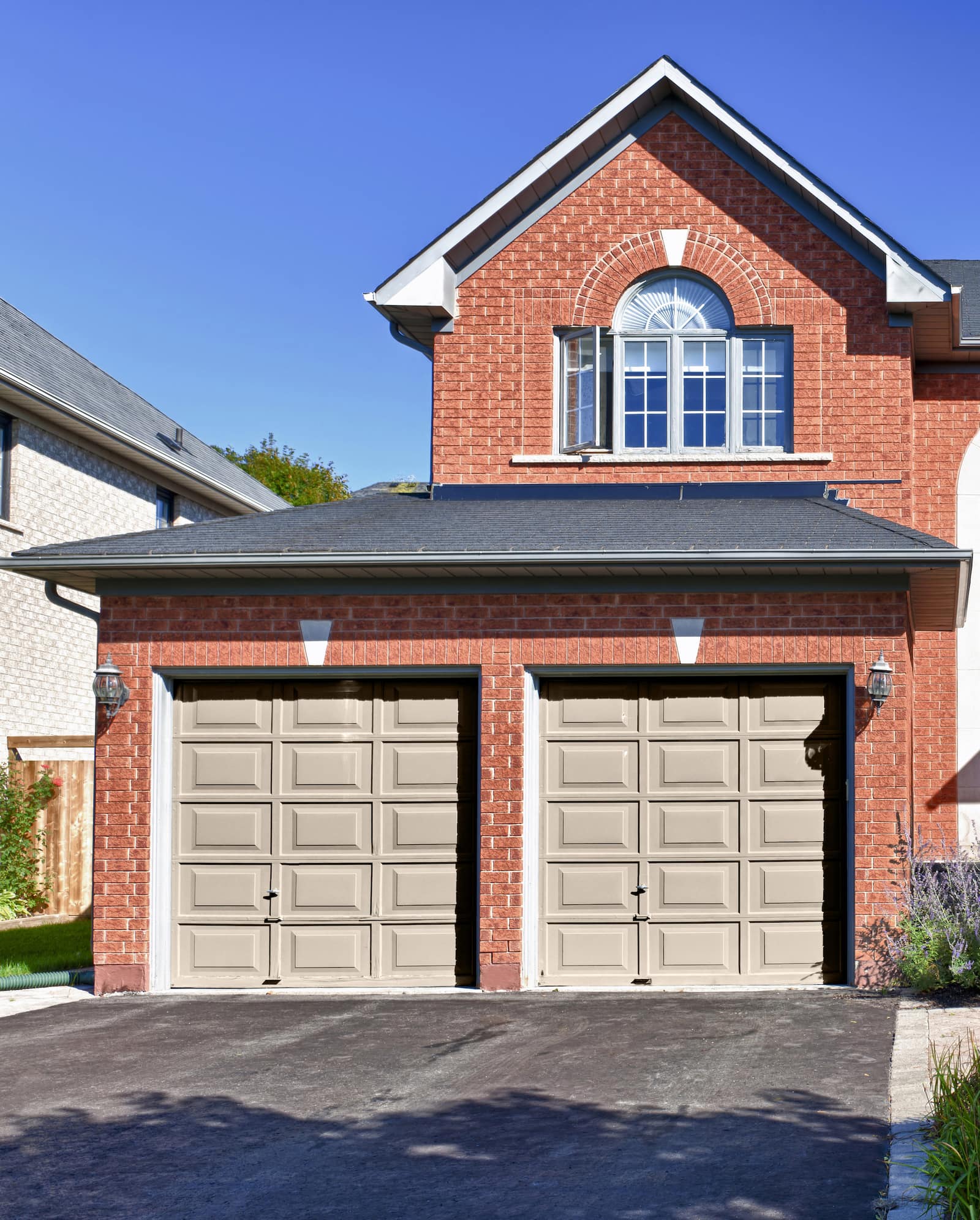 Neutrals like tan can work fabulous for the garage door color against a red brick exterior. The densely saturated Creamy Mushroom is a smoky, dirty shade of brown-based tan taupe.
The rich notes of red and its various hues pull out faint notes of gray, lavender, and mauve for a lovely blended color that can look different for everyone.
Joa's White by Farrow & Ball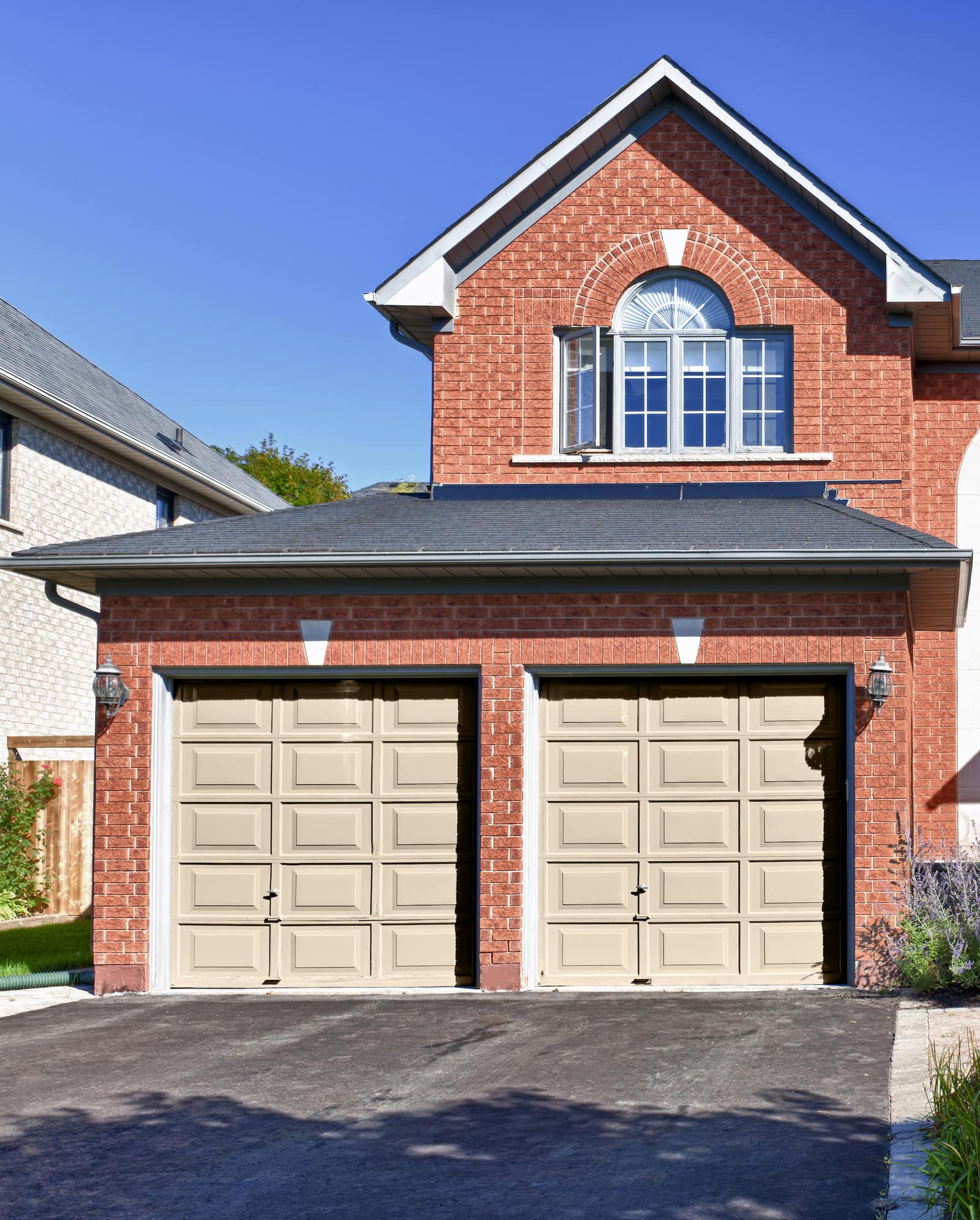 Joa's White is a warm, clean off-white taupe with rich red notes. When used against a red brick house, this light contemporary can blossom into an earthy limestone.
This neutral can work with light red, pink, cream, and tan bricks for a softer curb appeal. But if you add it to a dark red brick house, the delicate black pigments buried in the taupe come to life.
Railings by Farrow & Ball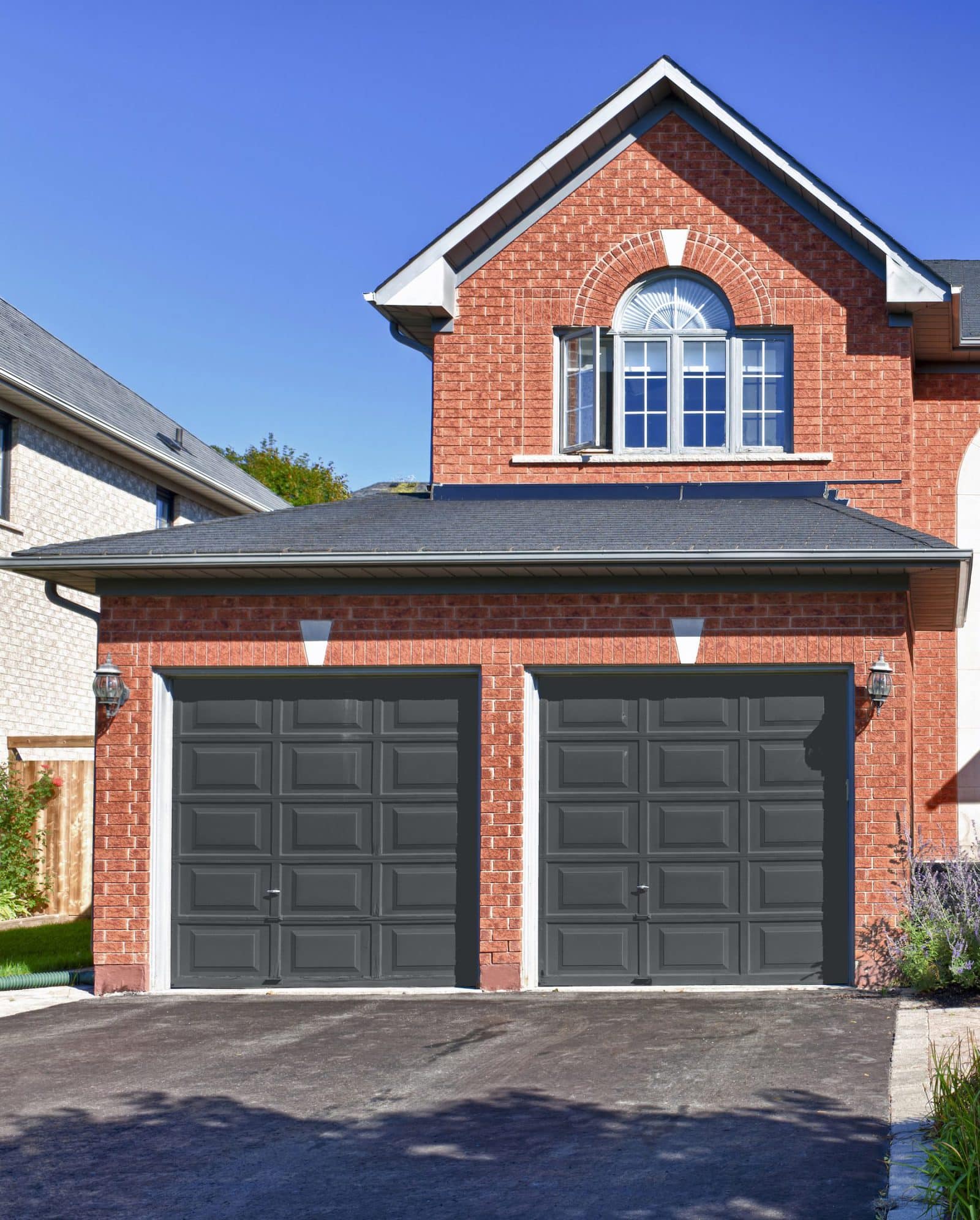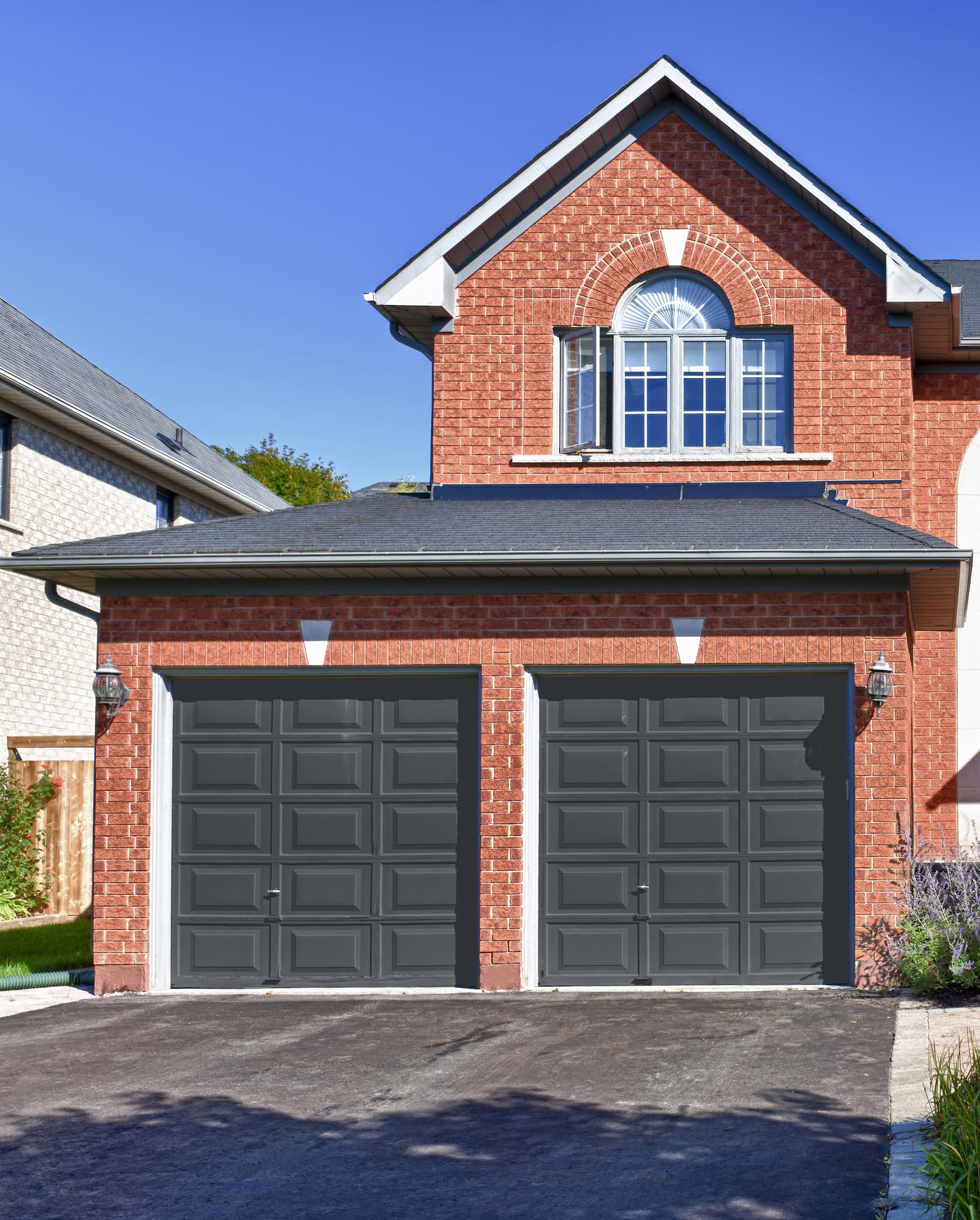 Go with red brick houses with black garage doors for a modern, show-stopping curb appeal. Try Railings if you don't want to go with a jet black.
This soft shade of black has rich blue hues that give it body and personality. This color can work with all shades of red brick, especially darker shades with black and brown streaks.
Final Words
The popularity of a red brick house means that you can take many different paths when choosing garage door colors. Because red is a warm, bold color, you'll get the best look by using neutrals like whites and off-whites, grays, beiges, taupes, and black. You can also go with some shades of blue and green.