Decorated Life is reader-supported. When you buy through links on our site, we may earn an affiliate commission. Learn More
What Rug Size for King Bed? – 12 Ideas
Having a rug in your bedroom is essential for a few reasons. If you have hardwood floors in your bedroom it gives you somewhere cosy to stand – particularly on a cold morning. It also creates a feature in your room by adding texture, color and maybe pattern if you're feeling bold!
A rug helps to anchor your bed in the room, making the room feel bigger, and well put together. Rugs are a great addition to most bedrooms, even if you have a plain carpet instead of hardwood floors. But what is the best rug size for a king bed? The short answer is that there isn't a right answer, but here's a few ideas to help inspire your bedroom decor journey!
Choose an 8×10 Rug to Cover Both Sides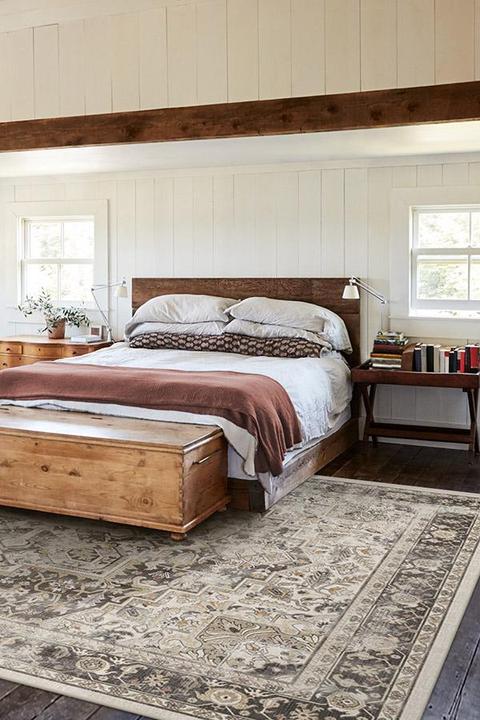 If you're looking for a rug that's going to provide comfort when you step out of bed in the morning, then choosing an 8×10 or larger rug would be perfect for you. There are a lot of different options for rug placement under a king size bed, but if you want it under your feet you will need to have most of the rug under the bed, with the rug the opposite way to your bed.
The way the rug is placed under the king bed in this photo is the perfect compromise between seeing the rug and getting to use it for comfort.
Use a Smaller Rug on One Side of your King Size Bed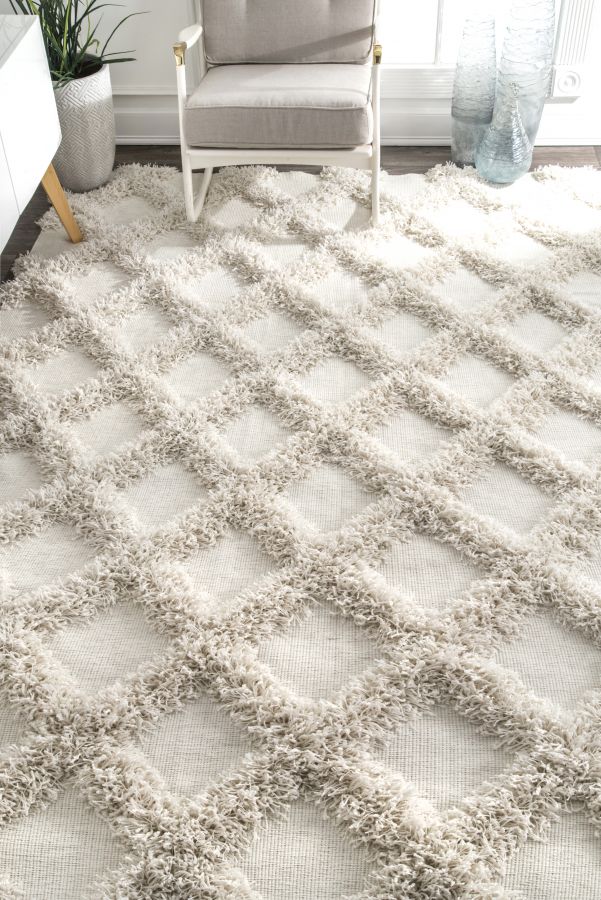 If you live alone, then you might like to consider choosing a rug placement that will give you the maximum comfort. Choosing a shaggy rug like this will be really comfortable to stand on, and you can get away with choosing a smaller size.
Opt for something like a 5×8 then tuck place one side of the rug under your king size bed so that it's only just standing on it. You then have the whole rug on your side of the bed to enjoy and it makes the room feel bigger while still keeping the rug grounded. This is a really easy trick to add subtle style elements to your room while keeping it cosy!
Place a Smaller Rug at the End of your Bed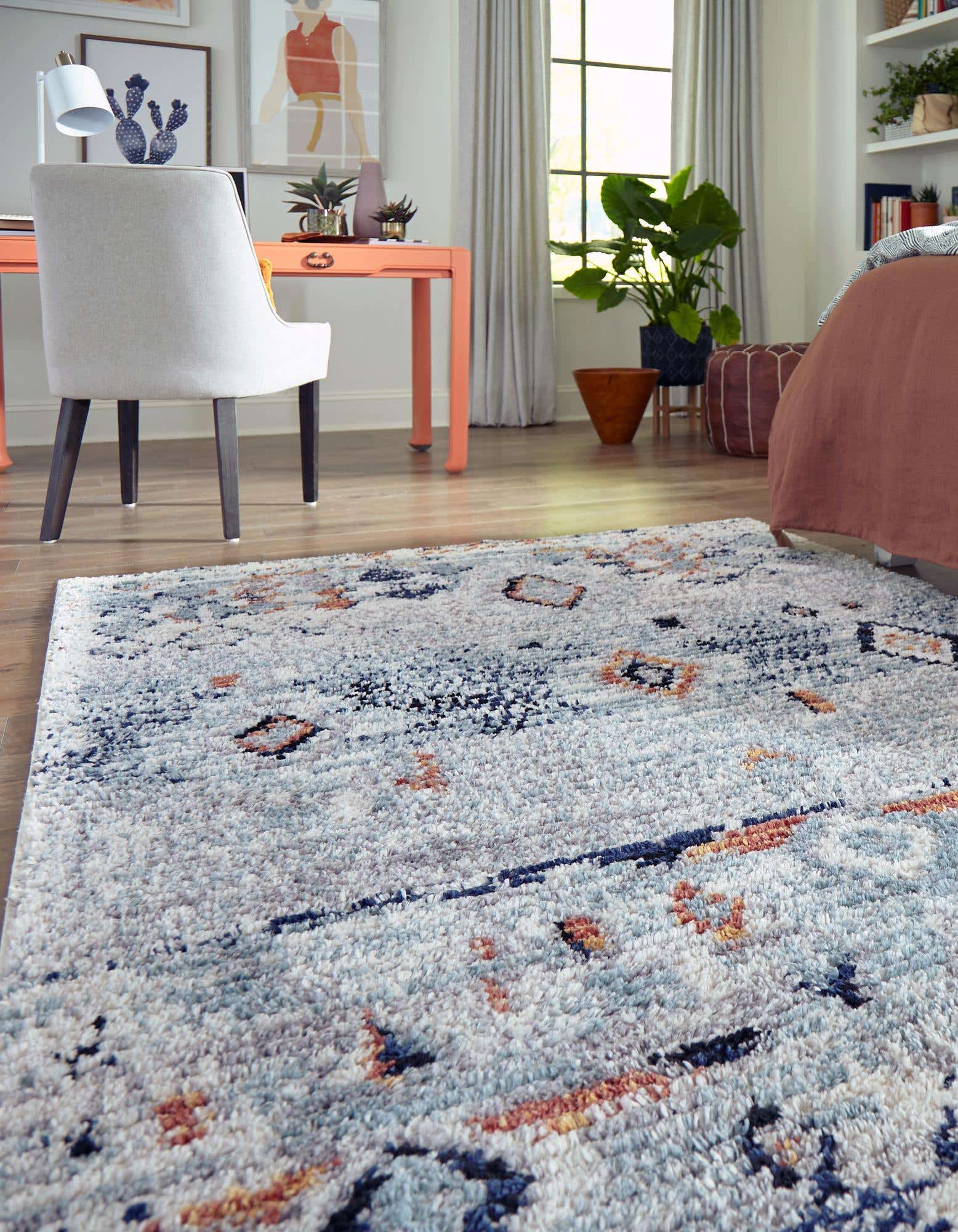 If the main reason you would like a rug for your bedroom is to add color and another design element, then choose a smaller rug to put at the foot of your king-size bed, rather than under it.
By doing this you will see more of the pattern, making it a more prominent feature in the room which is great if the rest of your decor is neutral. a 3×5 would be the best size of rug for next to your king bed.
Choose Colorful Rugs to Tie a Space Together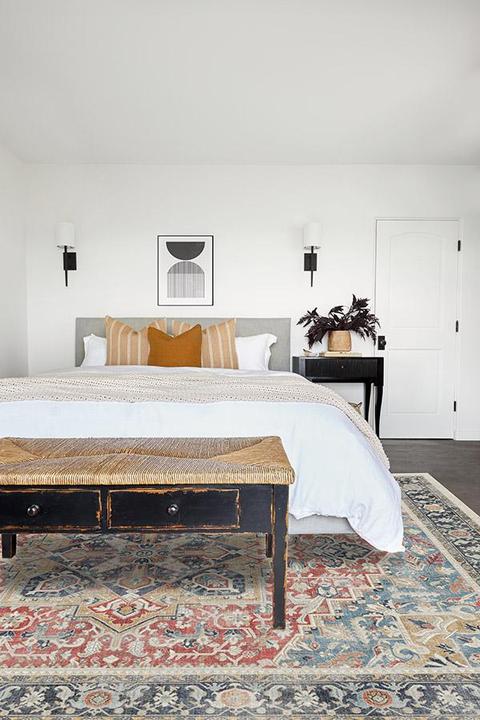 When thinking about unique bedroom decor, try choosing a large colorful rug placed under your king size bed. Match the cushions to some of the key colors in your rug and keep the rest of the room neutral with natural wood and white sheets to create a room that feels like it belongs in a hotel.
For this style bigger is better if you have the space. A 9×12 area rug would be an incredible feature.
Use a Giant Rug like Carpet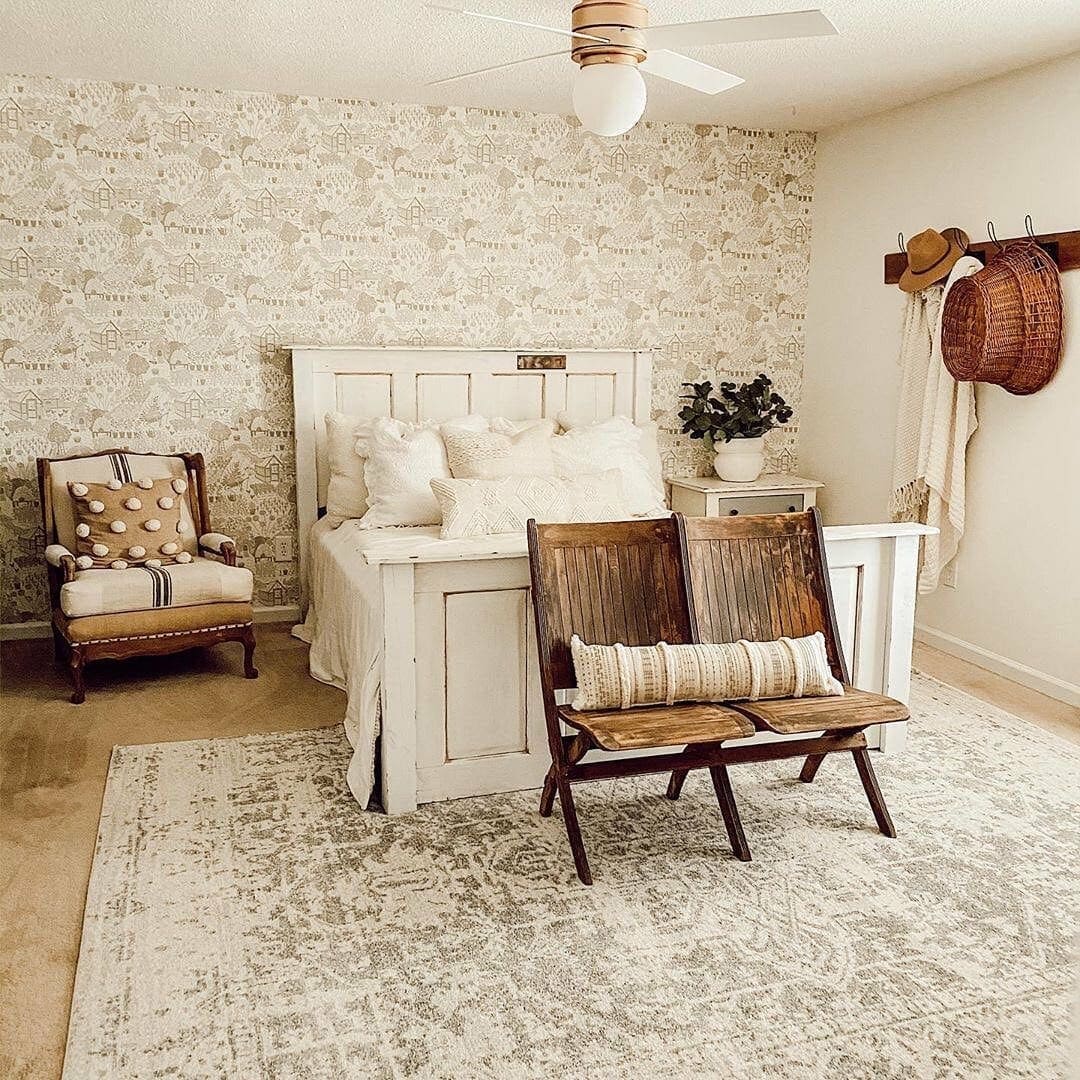 If you've got hardwood floors and wished they were warmer then you can use the trend of oversized area rugs under your king size bed to your advantage to create a carpeted area in your bedroom.
This 12×18 rug takes up most of the floor space which provides you with comfort, but leaving a little of the wooden floor on show makes it look like a design choice. If you're not comfortable with huge amounts of color then picking something neutral will blend in with the floor.
Place an Ombre Rug to Enlarge the Room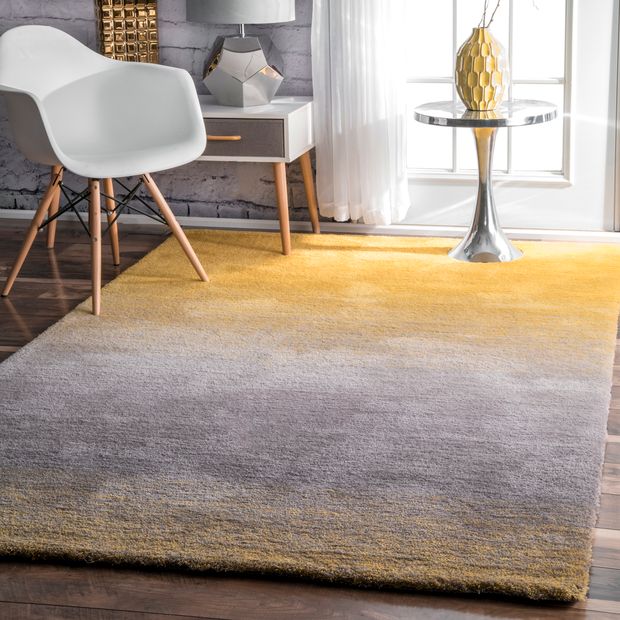 One of the easiest ways to make a room feel bigger is by using colors and lighting. One of the best ways to do this is with an ombre rug.
Place the rug under all four legs of your king size bed with the darkest color towards the headboard to instantly make the room feel larger. For this trick to work the rug should be a similar size to a king size bed, so a 8×10 would be perfect.
Place a Rug Next to Your Bed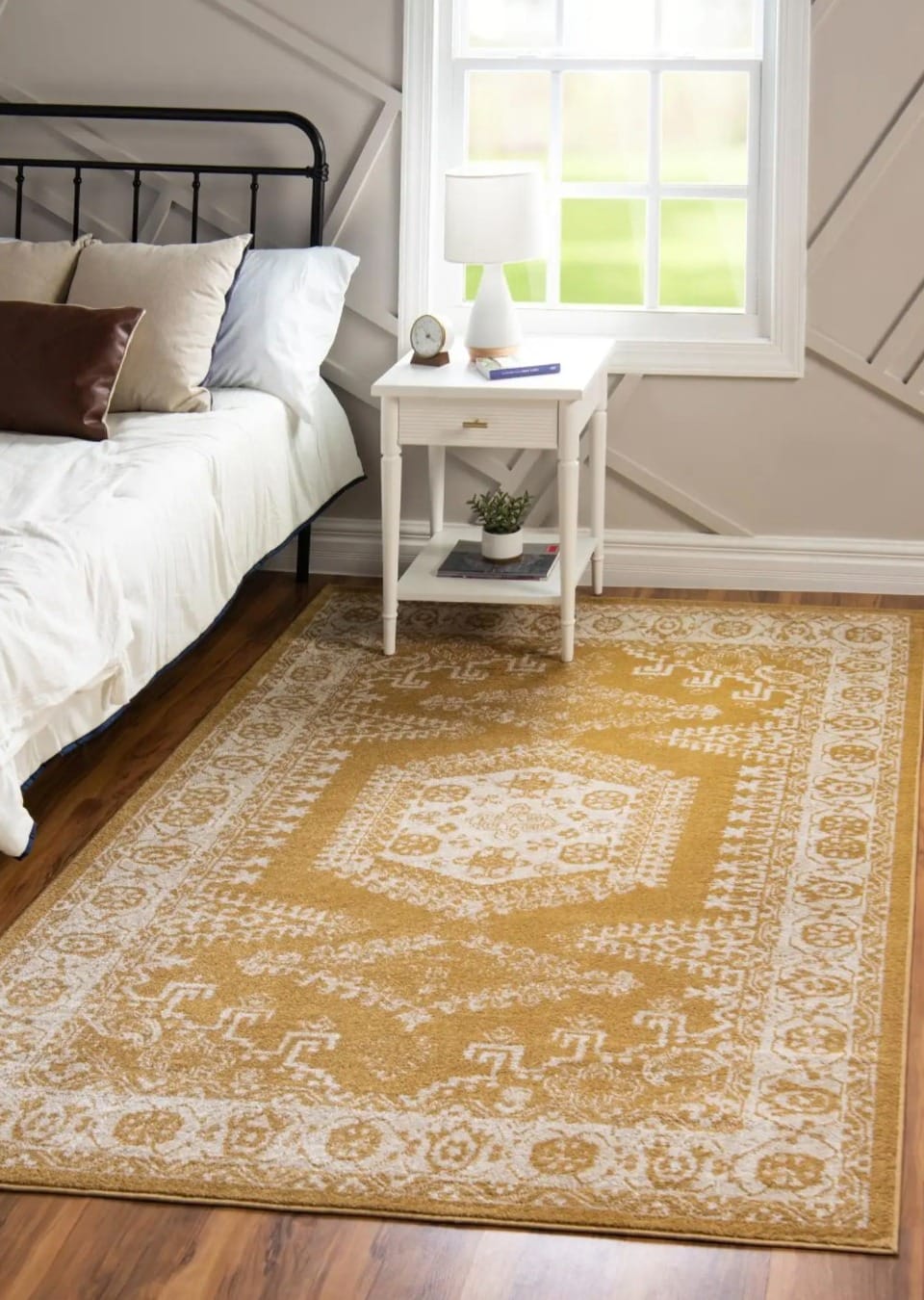 While area rugs are often placed under king size beds as a design choice, there's nothing stopping you from doing something different. Choose a smaller rug (like this 5×8) to act as a runner that gives you something soft to step on in the morning and adds extra details to your room.
This rug would look great next to a king size! Just place the rug next to the bed with a bedside table on top to make it feel like part of the bed area.
Be Unique with a Square Area Rug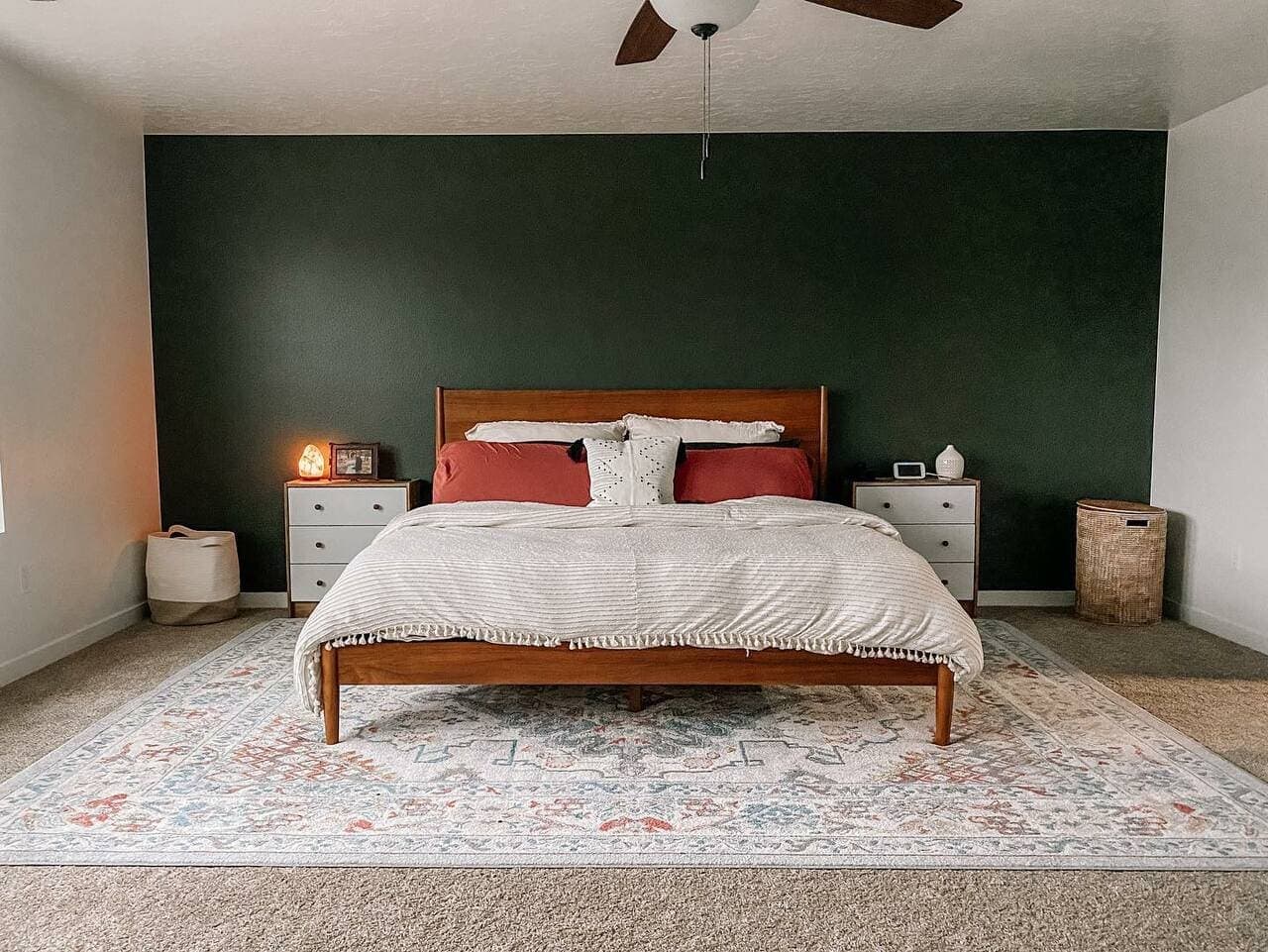 So far every rug has been rectangular because that's what usually fits well under a bed, but why not go for something more unique like a square rug?
These are great if you have a rectangular room because it makes the space feel bigger by having floor space on either side of the rug. Place your bed in the center of the rug with your nightstands on either side for a modern look.
Bring Personality into your Room with a Pelt Rug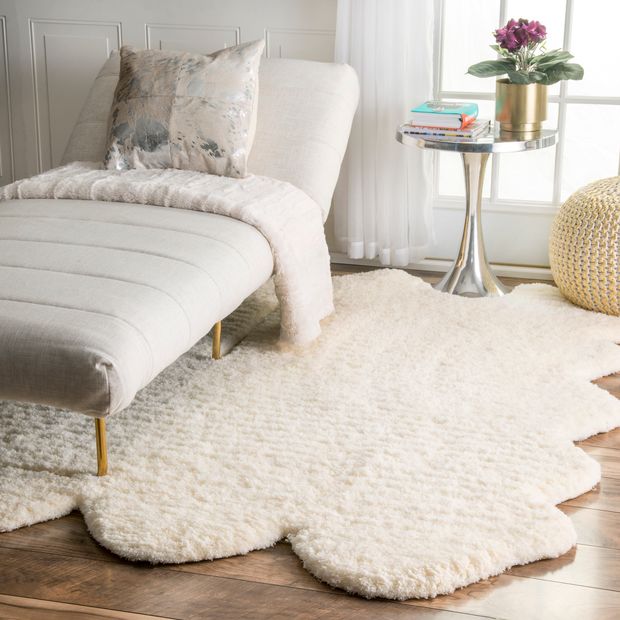 If you're looking for something that will wow any guests, this faux pelt rug will certainly have an impact. The organic shape makes it unique and will add a brilliant flare to your room.
With a more freeform shape you don't need to worry about putting the rug in the center of the bed – it would actually look better on an angle. Play around with the placement and see what you like.
Use a Rug the Other Way Around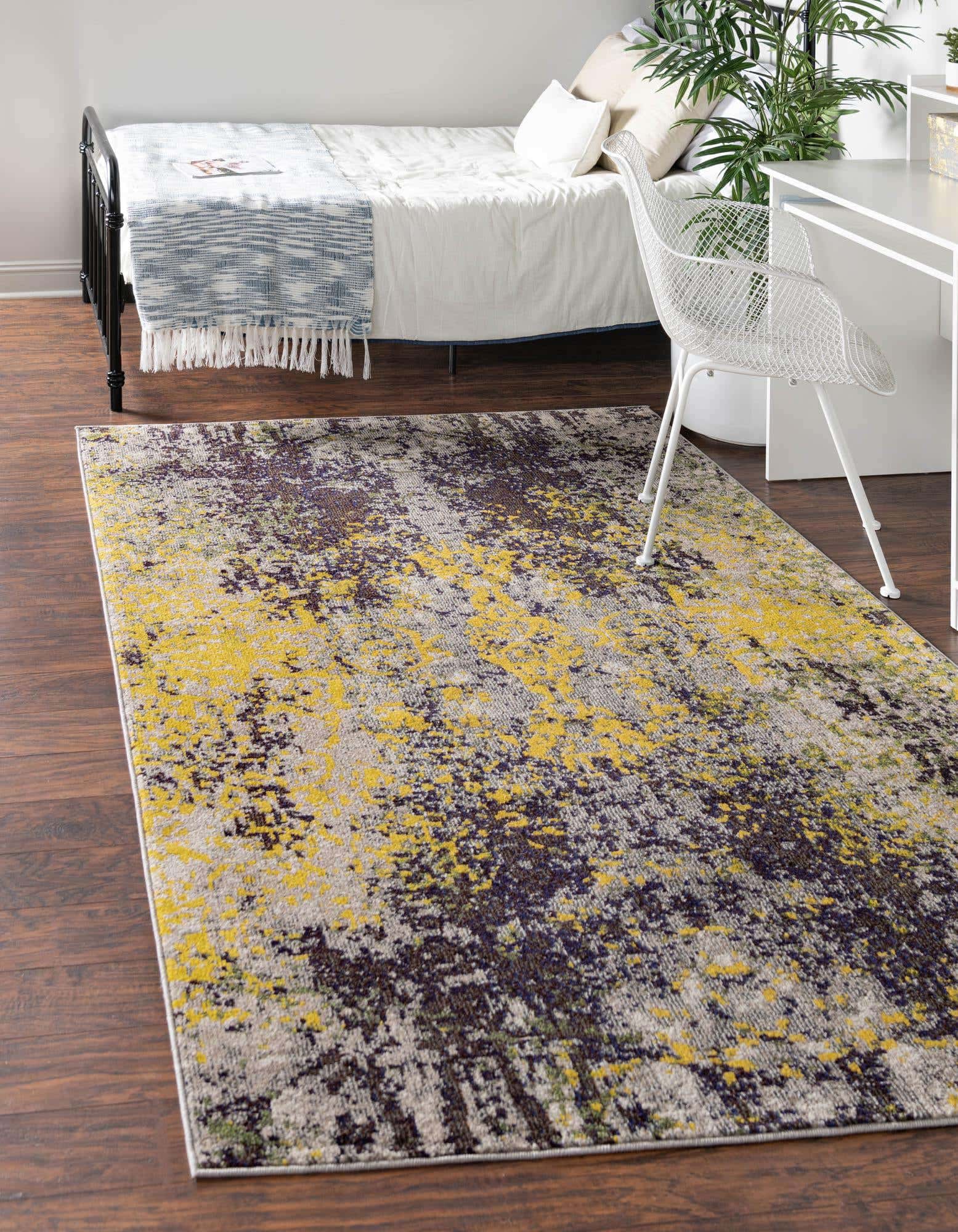 While a lot of these suggestions so far have focused on placing a rug under your king size bed, why not place it next to the bed? It creates a feeling of space as well as a comfortable spot to walk on when you first wake up.
Placing the rug like this creates a segregated area by your bed and "getting ready" space which helps to break the room up and makes it feel larger. While the photo shows a single bed, it's absolutely something you could do with a king size bed. You would need an 8×10 size rug for this.
Choose a Fluffy Rug for Comfort as Well as Aesthetics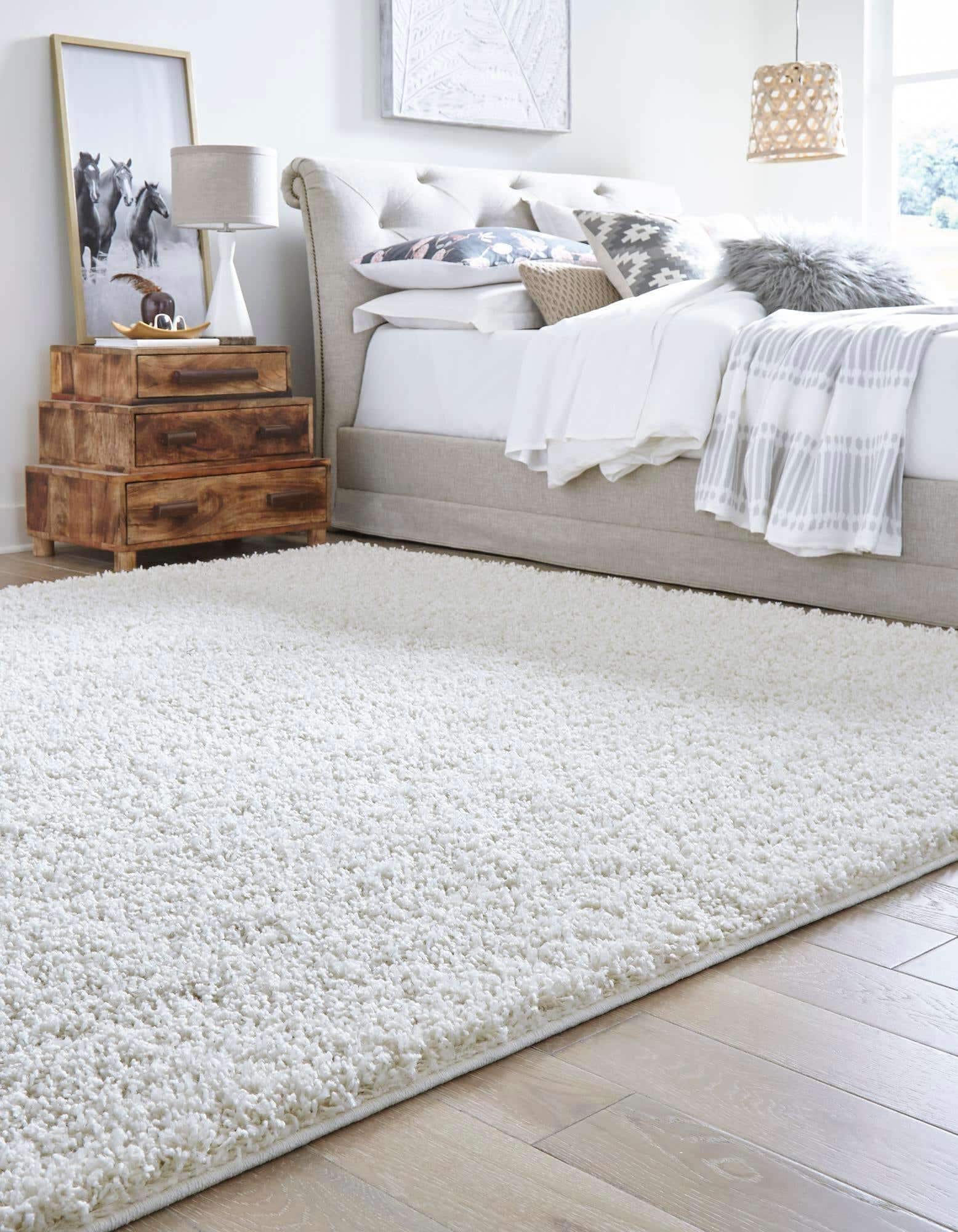 While a lot of area rugs for under king size beds are used to make a separate area in your bedroom or as a stylish feature, it's completely alright to simply want a rug that makes your bedroom feel cozy!
This ultra fluffy rug will do just that, and it comes in a huge variety of different colors which allows you to choose something that perfectly fits your style – whether you want the rug to blend in or be a standout feature.
Use a Round Rug with a King Sized Bed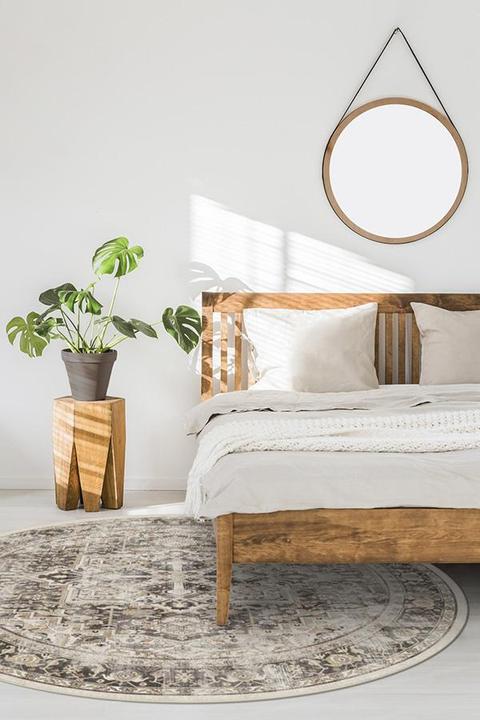 Using a different shaped rug is an easy way to create a unique looking space in your bedroom, and a talking point if any guests come over. Round rugs lend themselves well to creating a cozy space, regardless of how big your room actually is.
Choose a smaller round rug and tuck it slightly under your bed with a chair next to it if your room is quite narrow, or if you want to go for something more dramatic then choose a rug that's around 10ft wide and place your bed in the middle.
Final Thoughts…
Ultimately there are so many different ways to style a rug under your king size bed. They don't all have to be centered, and they don't need to be huge rugs that cover all of the floor. You don't even need to have wooden floors for a rug to look good!
Whatever style or rug placement that you choose, it's an excellent way to create separate spaces within one room and to make your space look bigger with very minimal effort! There are a huge variety of shapes and sizes to choose from so you're sure to find something that fits.