Decorated Life is reader-supported. When you buy through links on our site, we may earn an affiliate commission. Learn More
Farrow & Ball Pigeon Paint Color Review
Have you ever looked closely at the fluffy Wedgewood blue feathers of a pigeon? This beautiful natural shade inspired a paint color from Farrow & Ball that has enduring popularity in home decor. But like the iridescent rainbow feathers of pigeons themselves, this paint color can display interesting undertones that make its character unique.
Let's take a flight with Pigeon to find out more about this intriguing color, and gather inspiration to feather our own nests with!
What Color is Pigeon?
Pigeon is a blue-gray color that, interestingly enough, can actually come across as a greige. This is a medium-toned gray that can work well in darker rooms, where it will look more blue.
What Undertones Does Pigeon Have?
Pigeon has very noticeable green undertones that will come out in well-lit settings. It will look like a sage or fern green. It can also sometimes appear greige, which is a combination of gray and beige.
Is Pigeon a Warm or a Cool Color?
Pigeon is a gray color with blue and green tones, so it's normally a cool color. However, under brighter lighting it can sometimes appear greige, which will make it look warmer than it usually is.
Where Can You Use Pigeon?
Pigeon is a neutral color that can be used anywhere in your home. Just keep in mind its changeable nature, and be sure to sample this color under lighting conditions throughout the day to get an accurate read on how it will perform in your space.
I've spotted Pigeon roosting in the wild so that you can get inspired for your next project. Let's check out this paint color in real homes!
Entry
Pigeon brings a cool gray to the doorway that complements this yellow stone exterior.
Darker spaces like hallways will showcase Pigeon's blue side.
Black, white, and Pigeon make this stairway look classic and elegant.
Living Room
Pigeon is a great neutral for relaxed spaces like this casual living room.
Pigeon partners with lace white, soft pinks, and floral decor for a romantic vintage look in this living room.
This modern living room brings out Pigeon's green side with lots of potted plants and natural light.
Kitchen and Dining Room
Pigeon on the kitchen island and cabinets complements the silver appliances in this modern renovation.
This light and bright kitchen transformation pairs Pigeon cabinets with lots of white.
Pigeon is the backdrop for this modern dining room, which conveys a sense of balance with white contrast and geometric decor.
Bedroom
Pigeon shows its sage side in this earthy and grounded bedroom.
But in this Scandinavian inspired bedroom, Pigeon displays its blue hues.
Bathroom and Vanity
Accents and furniture stand out in Pigeon, while white walls make a small room feel larger.
Navy blue is a beautiful coordinating color for Pigeon, bringing out its Wedgewood blue undertones.
Black and gold are bold and elegant next to Pigeon in this dressing room vanity.
Pigeon Coordinating Colors
Grays are fantastic neutrals that are easy to coordinate with the color palettes you love best. The choices you make might bring out more of Pigeon's blues or greens, though, so sample carefully under different lighting conditions to make sure you have a winning combination.
Black and white make classic companions for gray colors like Pigeon. Their sharp contrast looks crisp and elegant. You can also pair Pigeon with other neutrals such as browns, tans, and other grays.
Pigeon looks great with blue colors, including soft muted blues, dark and navy blues, wispy silver blues, and even vivid teal blues.
Here are some coordinating color ideas for Pigeon to jump-start your inspiration:
How Does Pigeon Compare with Other Colors?
Pigeon vs Evergreen Fog by Sherwin Williams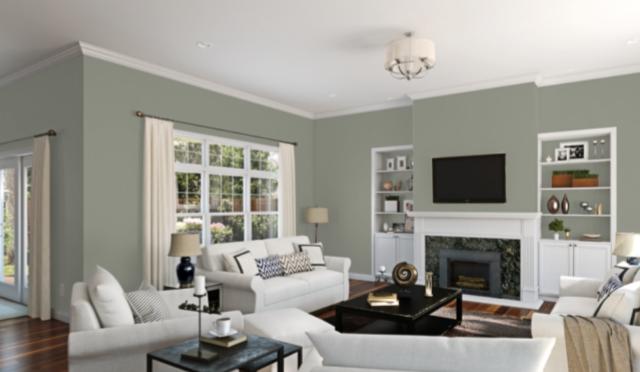 Evergreen Fog may initially seem like an unusual choice to compare to Pigeon because it's primarily a green color. But Pigeon's green undertones can mimic Evergreen Fog, and both colors have a strong gray component. The primary difference between these two is that Pigeon is going to have more of a blue side.
Pigeon vs Heather Gray by Benjamin Moore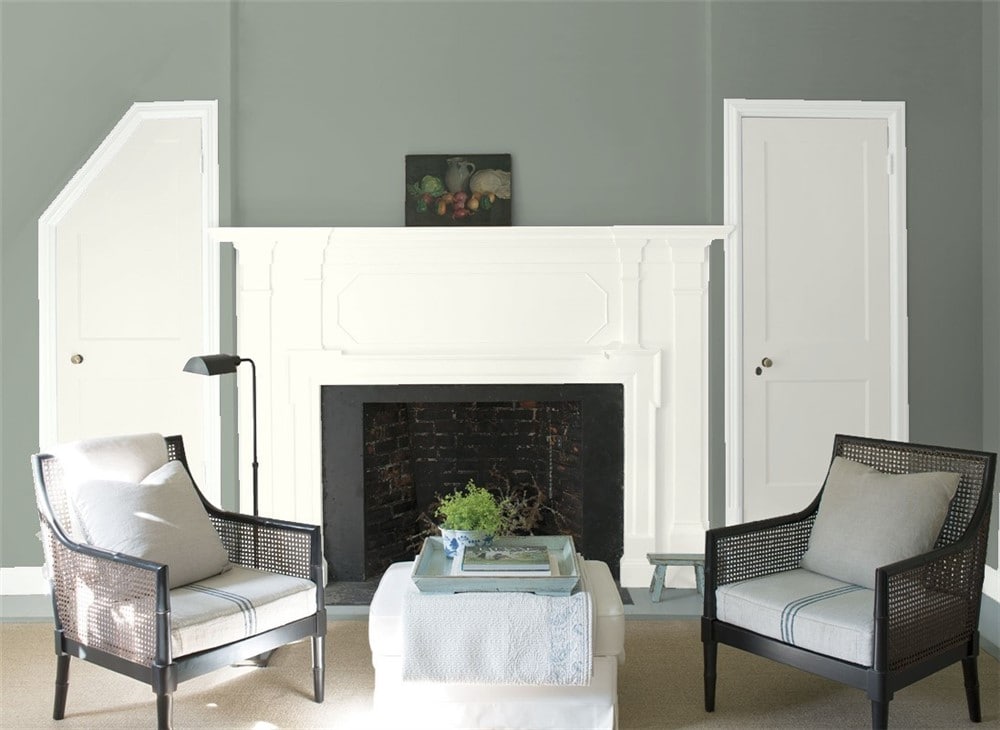 Heather Gray is a medium toned gray with green undertones. Depending on your lighting conditions, it may show more green for you than Pigeon does. But on the whole, these two colors are a near match.
Pigeon vs Urban Nature by Behr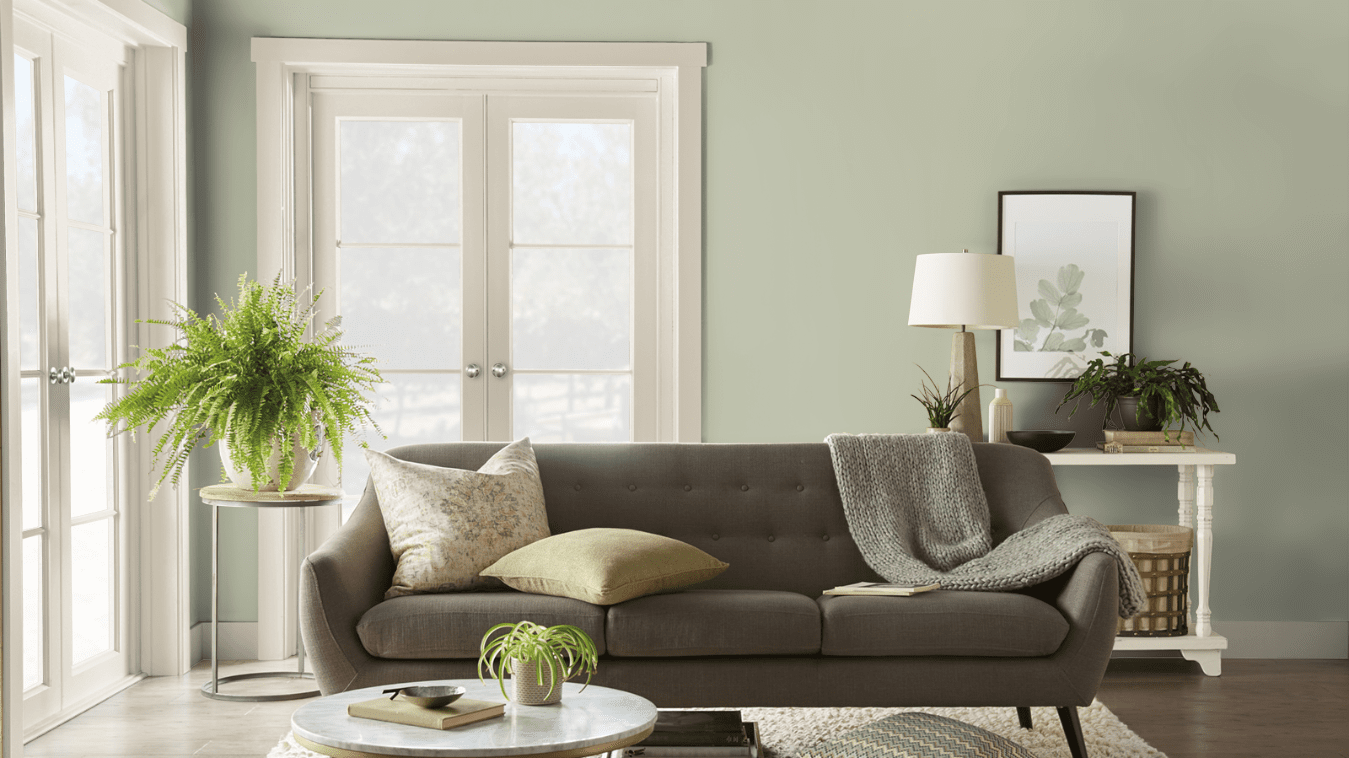 Urban Nature is a light-to-medium gray with a strong green side. It's definitely lighter than Pigeon, and not as blue, but still part of that gray chameleon family.
Final Thoughts
Pigeon is a color that functions well as a neutral, but has enough color elements to add interest. Its changeable nature is a unique feature that can bring sophistication to your decor. Will you invite Pigeon to help perk up your nest?