Decorated Life is reader-supported. When you buy through links on our site, we may earn an affiliate commission. Learn More
12 Great Ideas for Hiding Pipes in the Bathroom
Nothing can irritate you faster than spending a lot of time and money to give your bathroom a fantastic, magazine-worthy remodel only to have to deal with the unsightly view of pipes.
We've gathered twelve varying ways to hide pipes in your bathroom, from simple, inexpensive fixes to more permanent designs that completely obscure your bathroom plumbing pipes. Join us as we show you how to hide or disguise your pipes in the bathroom.
Hide Your Pipes with a Stand-Up Cabinet
When you're trying to hide pipes in your bathroom, one of the easiest – and most convenient – options is to install a vanity.
This beautiful blue-gray cabinet features a sliding barn door that discreetly hides the pipes when closed and hides the two open shelves when slid open.
Choose a Wall-Mounted Vanity for Floor Space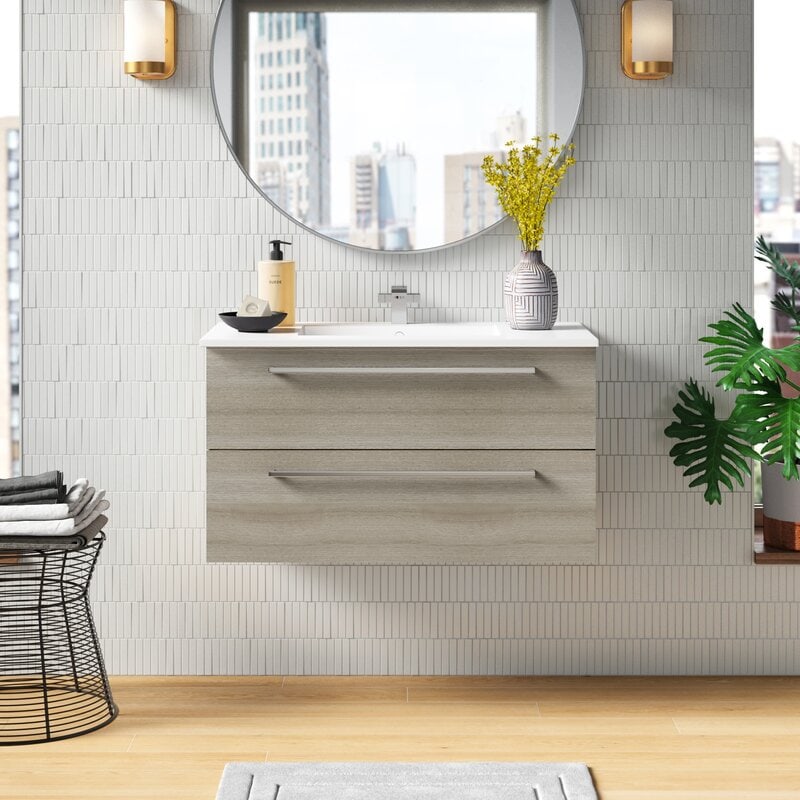 When you have a smaller bathroom, every bit of real estate space is crucial. Hanging a vanity on the wall is a fantastic space-saving solution for hiding pipes in the bathroom without taking up too much room.
This simple, wall-mounted vanity in a light Aria finish gives you a workspace by your sink and a bit of storage in two pull-out drawers with fancy European bar handles while leaving a gap of open floor space below for floor use.
Play Around with a Pedestal Sink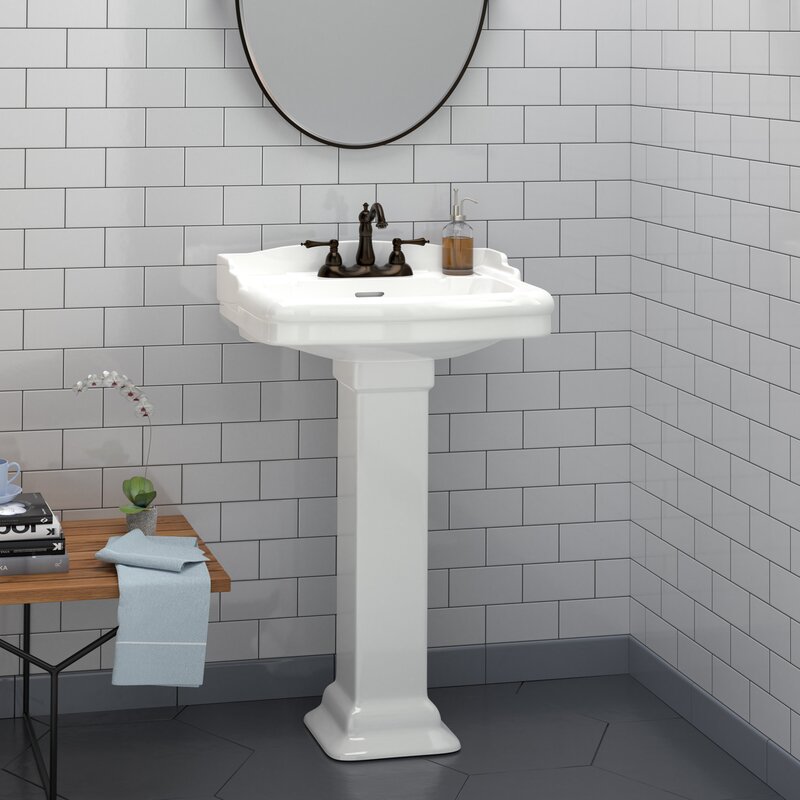 If having a vanity in your bathroom isn't appealing, you can get creative with a pedestal sink for plumbing hides.
These classic small-framed sinks work as a stand-alone feature, without the need for a cabinet or vanity surround. Instead, the plumbing is hidden within the tall, narrow pedestal base for a more modern feel.
Add Sliding Baskets to Hide Pipes and Add Storage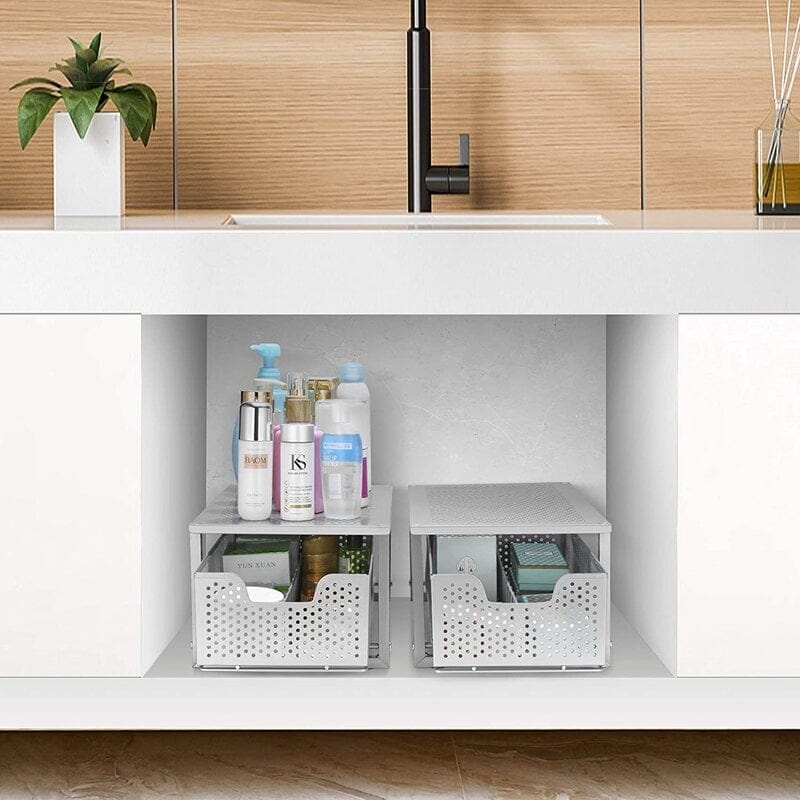 Another great way to hide your plumbing pipes is to fit the space with storage options, like these pull-out sliding baskets.
An awesome feature of these storage baskets is that they're stackable and compact, giving you additional storage and organization without taking up all your room.
Drop-In a Rustic Slatted Storage Cabinet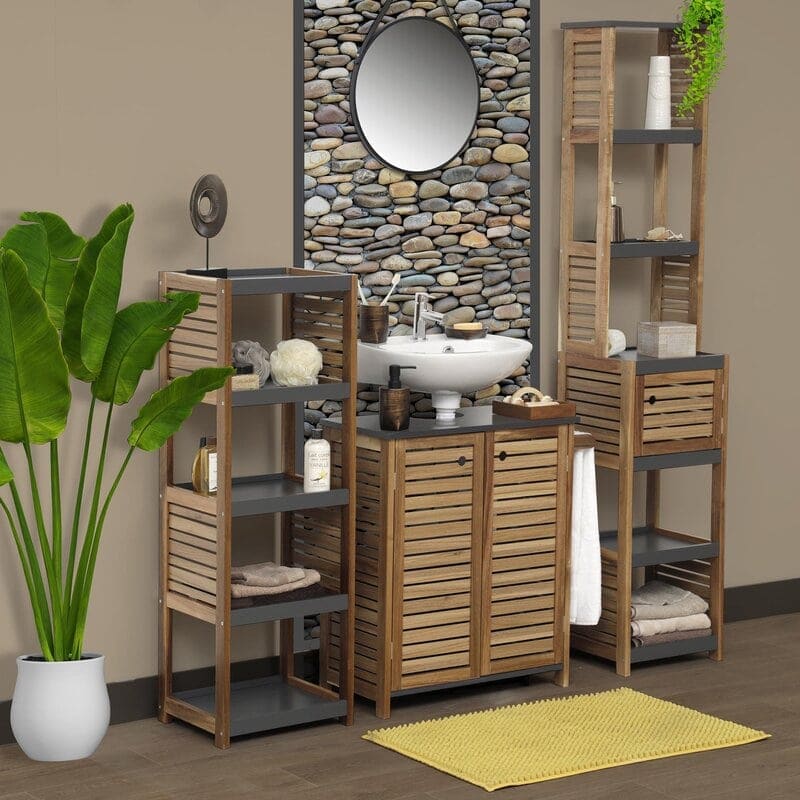 For a bathroom storage option for non-pedestal sinks, you can choose something simple, like this under-sink cabinet with double slatted doors.
Inside, there's one non-adjustable shelf with an external towel rack mounted on the side. This compact rustic minimalistic cabinet is suitable for covering exposed plumbing pipes and giving your bathroom a soothing aesthetic.
Find a Freestanding Metal Shelf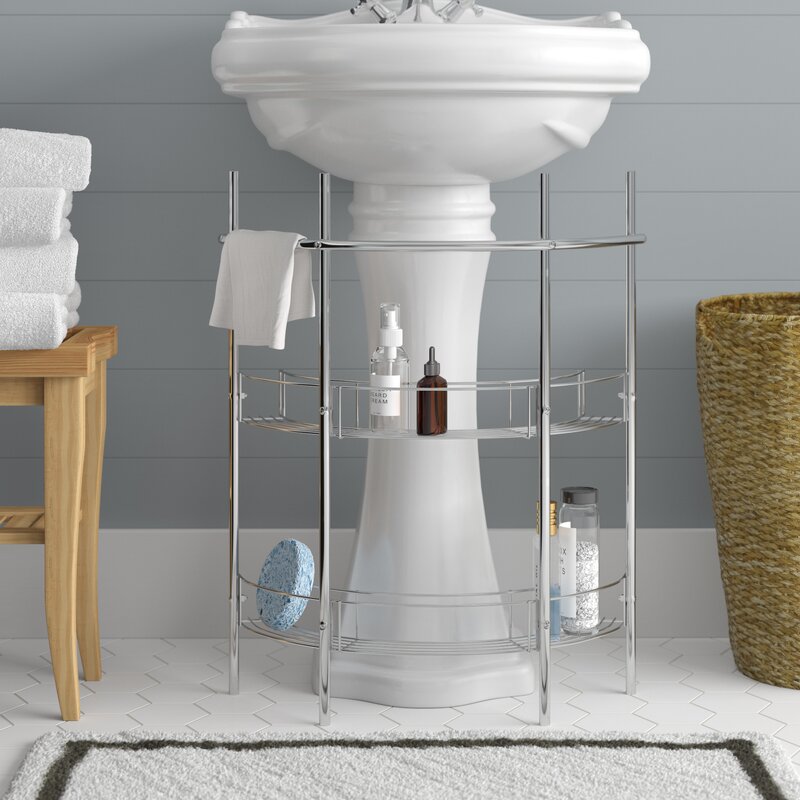 Placing a slender metal shelf in front of your bathroom sink can help hide pipes under bathroom sink while giving you a versatile decor piece.
You can use this chrome metal shelf for storing small goods like soaps, candles, and cleaning products, or use it for towel storage. Or you can get very creative and choose to stock the two shelves with luscious green plants for a more zen bathroom.
Use Fabric Baskets to Block the View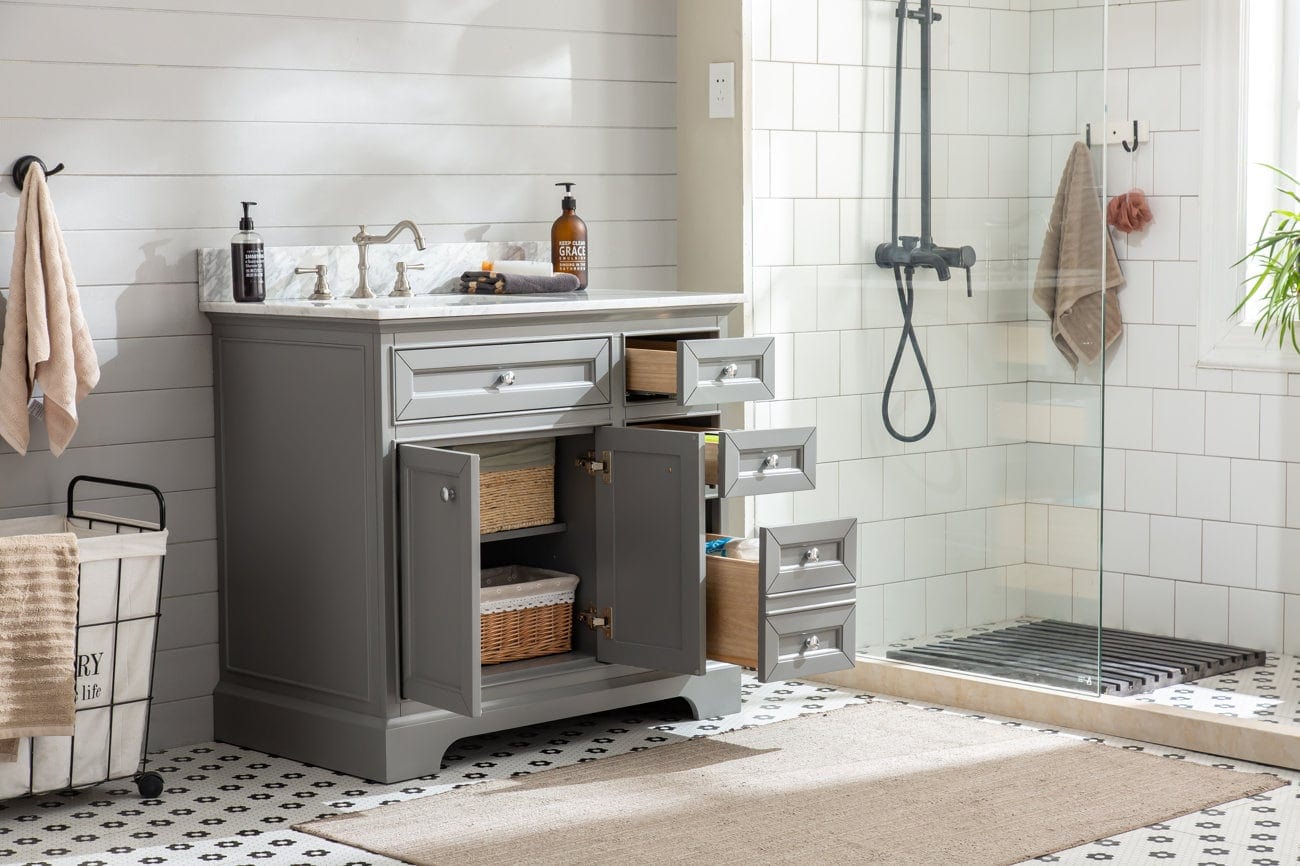 Adding woven or fabric baskets under your sink to block the sight of your pipes is a homey, craft look that works for a lot of different themes.
You can choose smaller baskets in different tones and materials or pick one or two large-sized baskets for storing dirty clothes.
Use a Fabric Skirt Wrap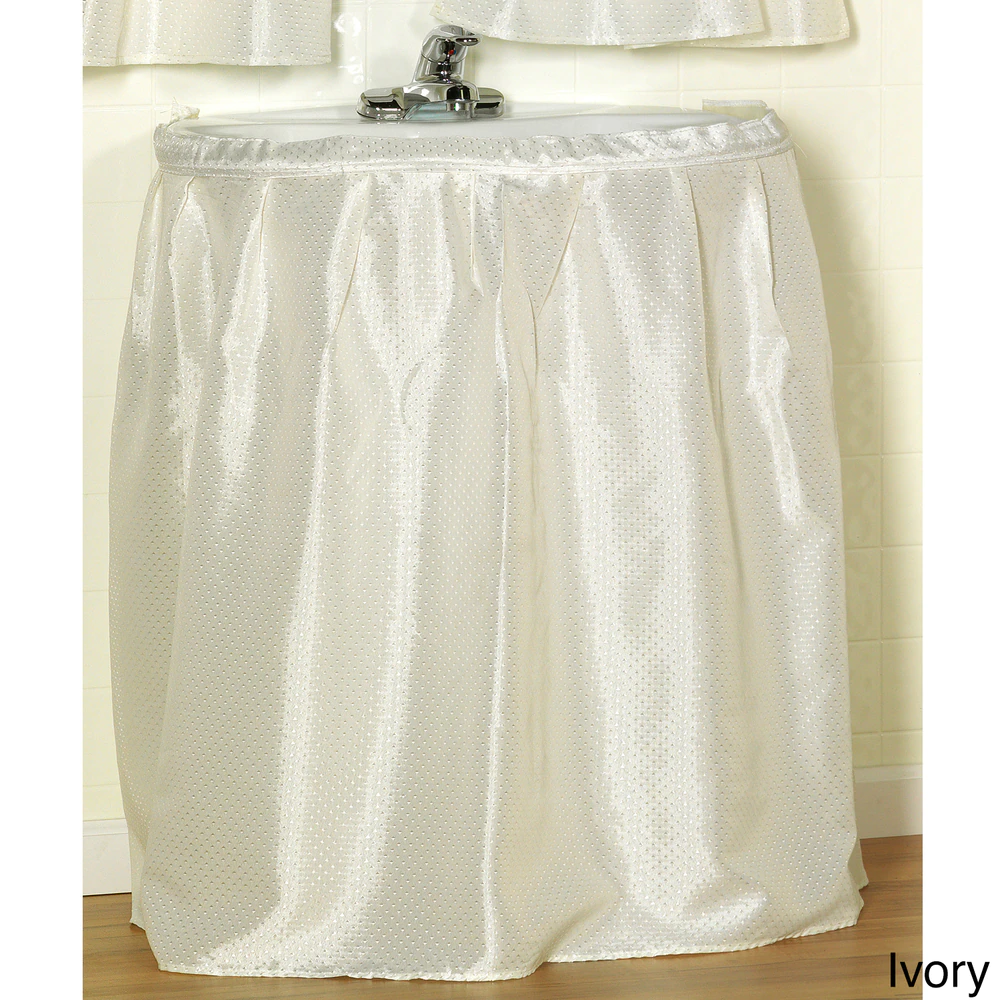 You can also use a fabric skirt wrap to hide the plumbing under your sink. By hanging a skirt, you get to keep your exposed pipes hidden away like dirty laundry.
And because it's a temporary and budget-friendly option, you can easily redecorate for the seasons or different themes.
Try a Teak Table with Fabric Baskets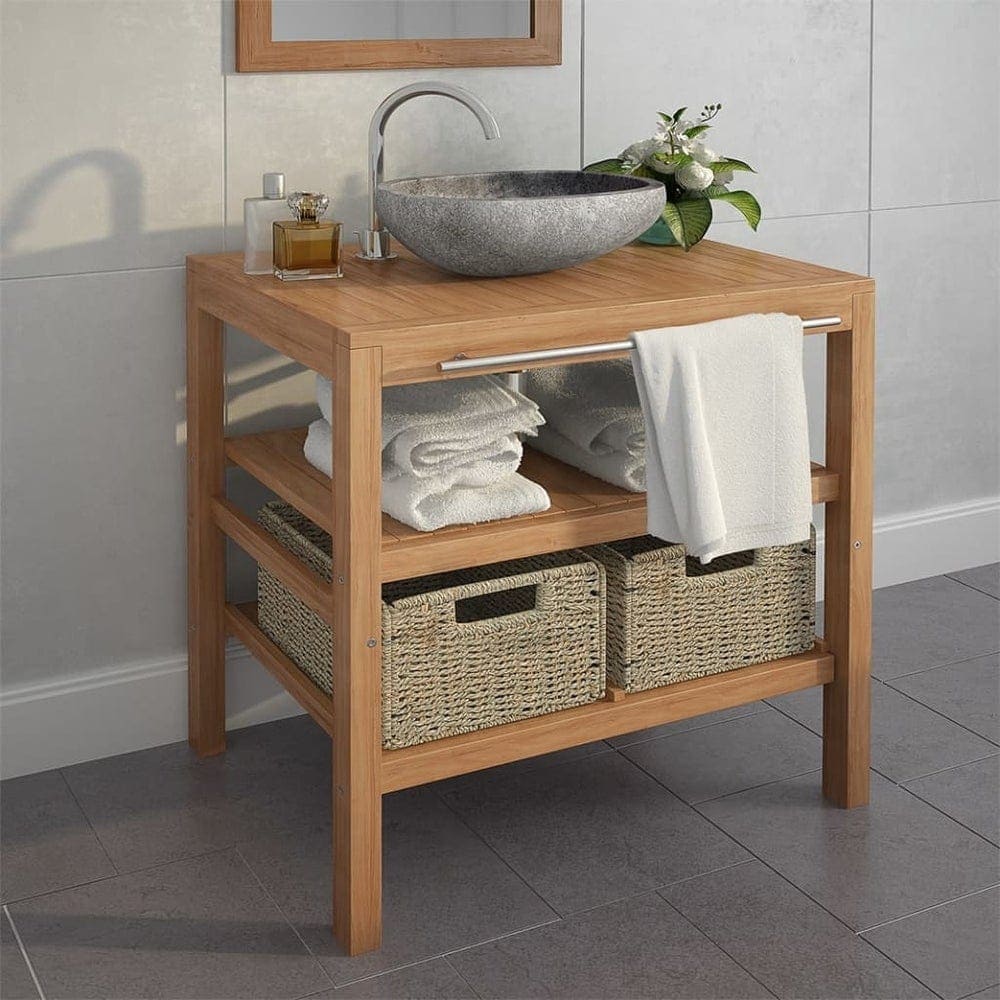 A spa-worthy way of hiding your bathroom pipes is with a simple teak table with open sides and shelves with rustic seagrass baskets for organized storage.
There's even a long, slender silver towel rack and a hole that's perfect for above-mount sinks. And the thin, minimalist shape is excellent for small bathrooms, eliminating the need for any other furniture pieces.
Wrap Your Pipes in Washi Paper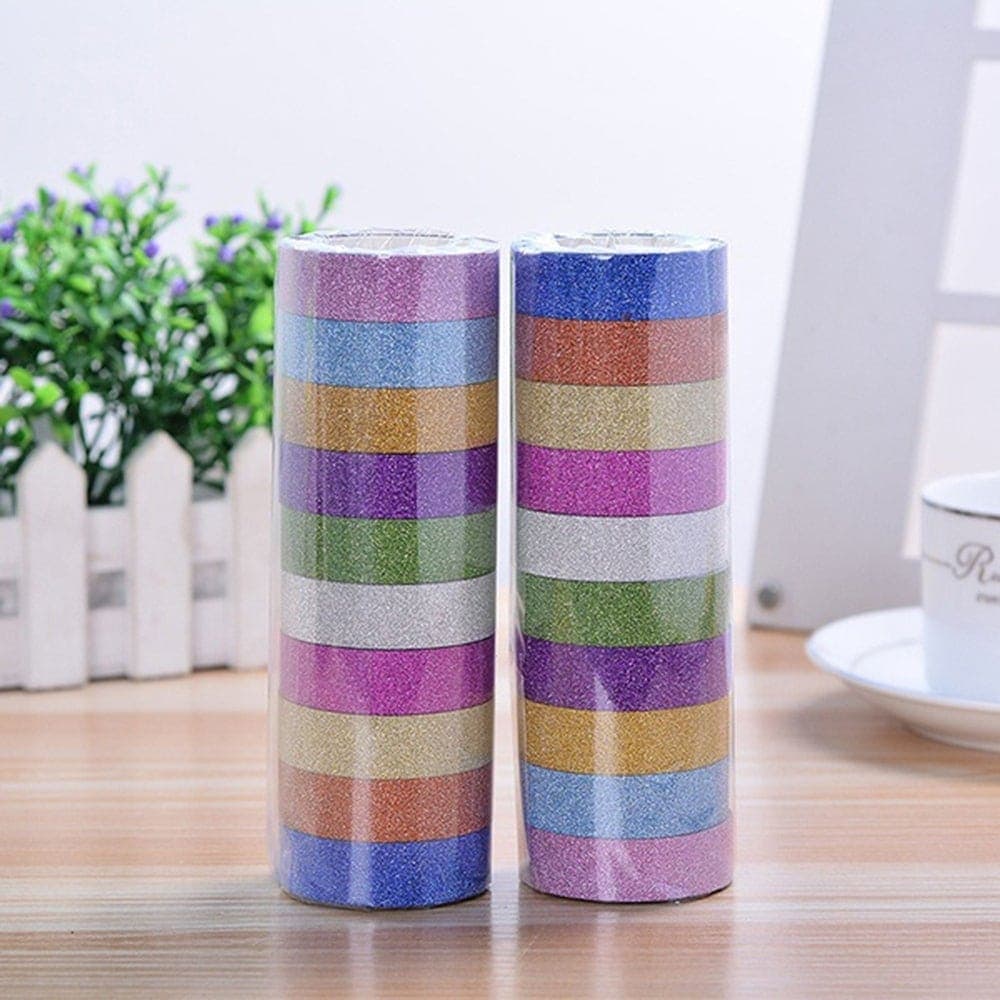 If putting something in front of your pipes to block the view isn't your idea of great decor, there's also the option for covering the lines with decorative tape.
Using Washi paper adhesive tape is suitable for wrapping pipes to give them a decorative look that makes them less harsh than chrome or rusted and dingy pipes.
Consider a Beaded Curtain Wrap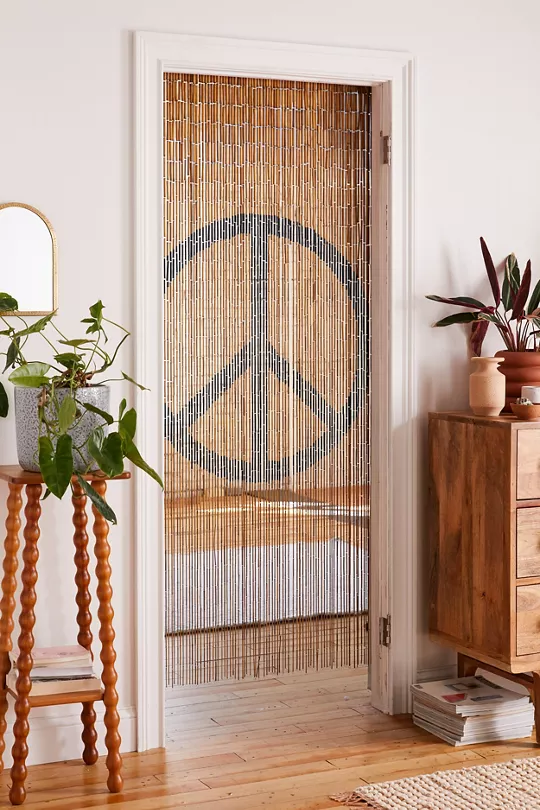 Hanging a beaded curtain around the exterior of your sink is another decorative pipe cover choice for hiding bathroom plumbing.
There are tons of designs and sizes, allowing you to find one that fits your budget and style. And just like with sink skirts, beaded curtains are inexpensive, allowing for easier redecorating.
Hide Your Plumbing with a Classy Metal Shelf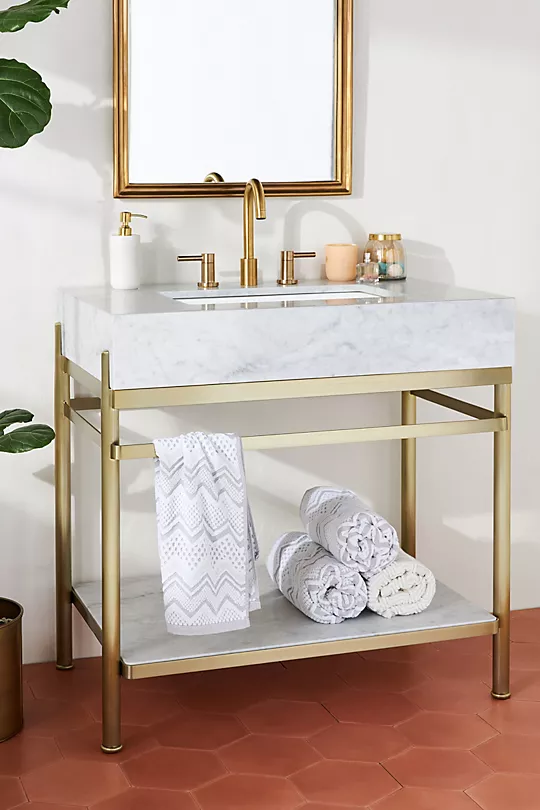 To give your bathroom a modern touch for hiding your pipes, you can go with a glamorous metal shelf in place of a full vanity.
This stylish piece has a contemporary slender metal frame in chic, polished satin brass with a white marble bottom shelf and a thin metal bar for hanging hand towels.
Wrapping Up
Leaving your bathroom plumbing exposed can be unsightly and ruin the aesthetic of a gorgeous bathroom remodel. We've demonstrated multiple ways to hide pipes in a bathroom, from adding a vanity or baskets in front of the pipes to wrapping them with colorful tape or painting them.
Which idea is your preferred method? Got something we didn't list? We love to learn new things, so drop us a comment or pic below.