Decorated Life is reader-supported. When you buy through links on our site, we may earn an affiliate commission. Learn More
What is the Best Size Rug for Under a Queen Bed? 10 Ideas
A beautiful rug is the perfect finishing touch for your bedroom. It helps to pull everything together, as well as making your bedroom feel more cosy and comfortable. The question is, what size rug should you be using?
The most popular bed size in the US is a queen, which is 60" x 80". So today we're going to be looking at what rugs will work best under a queen sized bed, and where you should place them.
Let's take a look…
8 x 10 Rug Under The Foot of The Bed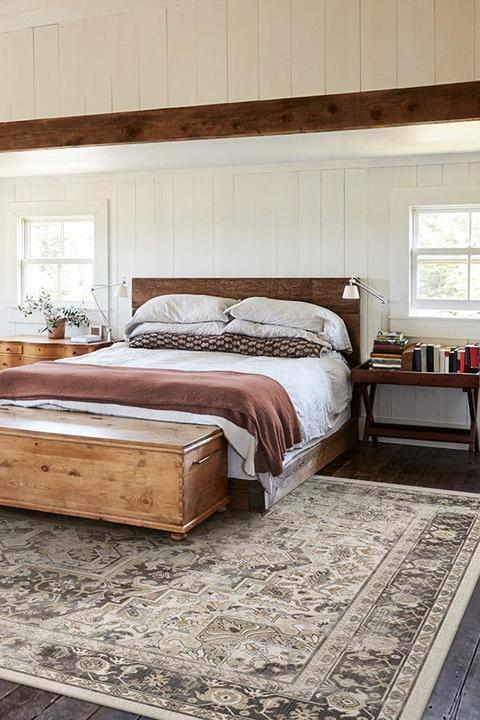 Using a large 8' x 10' rug under the foot of a queen sized bed is an easy way to give your bedroom a designer look. The rug should be placed towards the foot of the bed, leaving space for the bedside tables to sit on the floor.
This placement will also allow you to put an ottoman at the foot of your bed, whilst still allowing plenty of the rug to create a frame around your bed.
4' x 6' Rectangular Rug at The End of a Queen Bed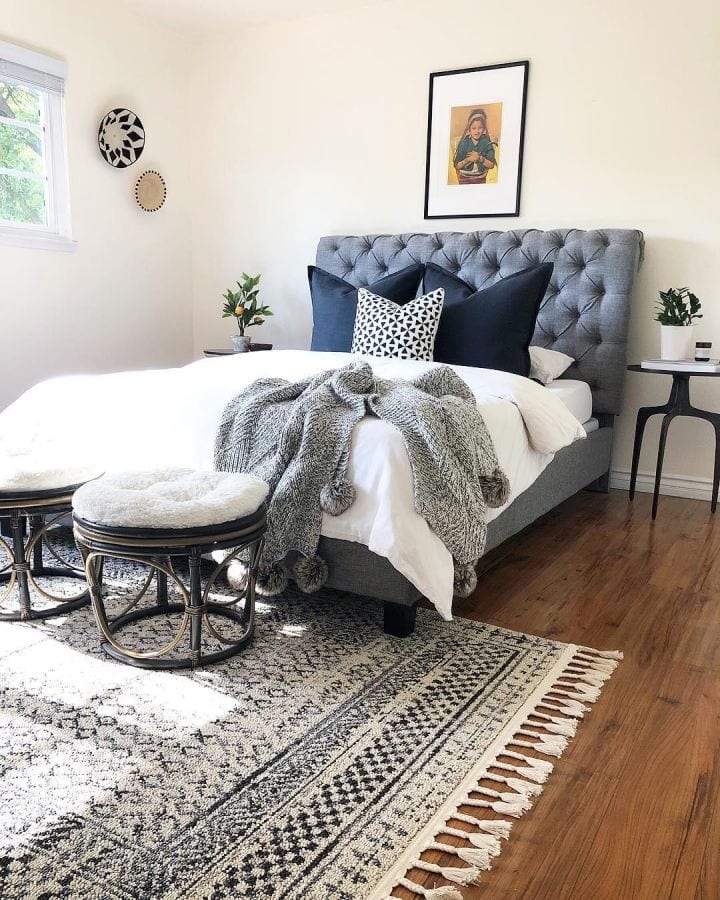 If you want your bedroom rug to sit at the end of your bed, then 4' x 6' will suit a queen sized bed perfectly. This gorgeous rug features a geometric design in a monochromatic color scheme which is ideal for creating a calming environment in your bedroom.
This type of rug works well with wooden floors, adding another element of texture to your room. Tassels are the perfect finishing touch, adding a touch of playfulness to this look.
7'10" x 10'3" Rectangle Rug Underneath a Queen Bed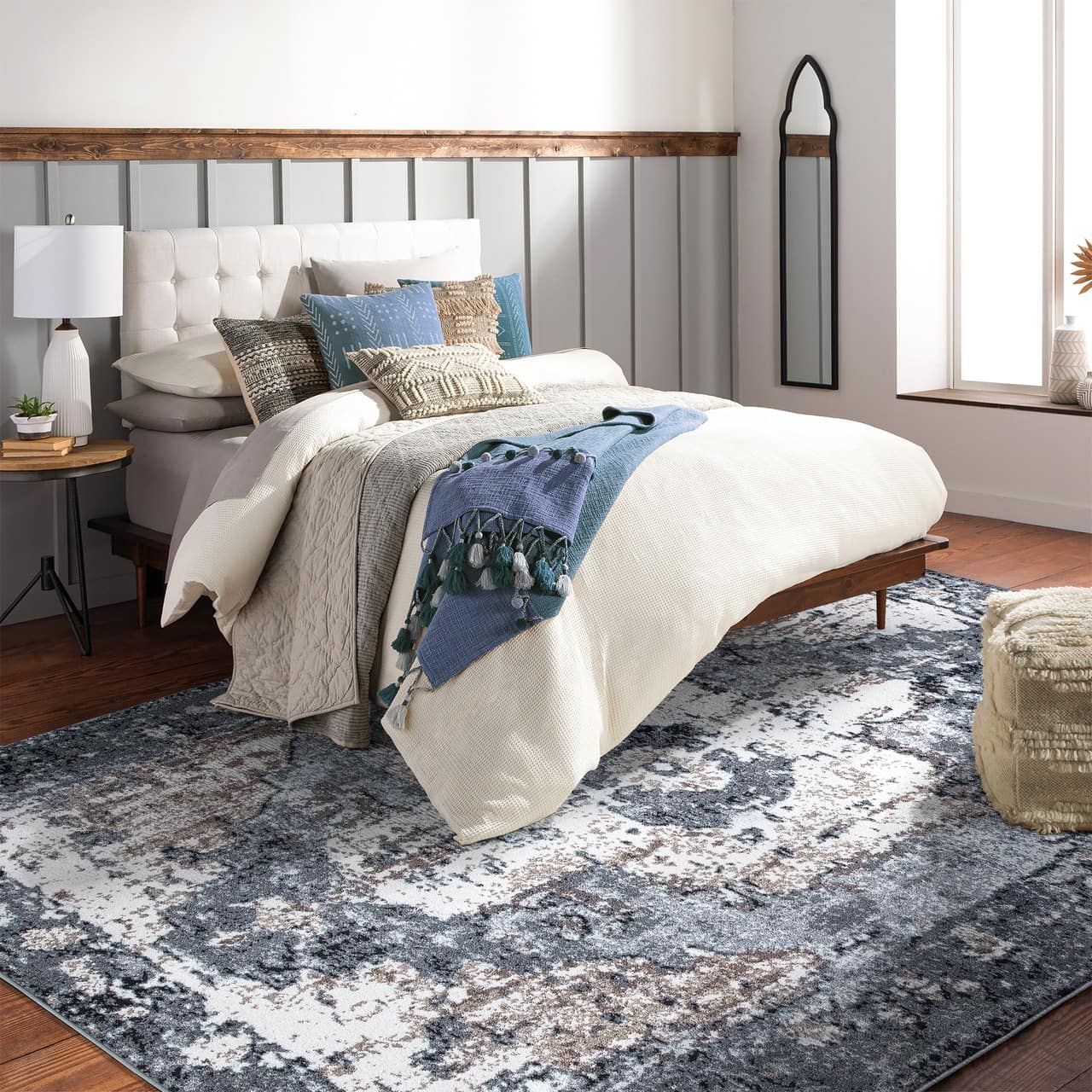 This 7'10" x 10'3" rug is an ideal area rug size for queen bed. The placement of this rug is asymmetrical, which works well as the bed is not placed in the centre of the room. This allows more of the rug to be on the side of the bed where there will be most foot traffic.
This beautiful rug is ideal for a bedroom, as it's lovely and soft with a medium pile. The soft color palette and lightly distressed design are perfect for creating an elegant look in your bedroom.
5 x 7 Rug Placed Beside The Bed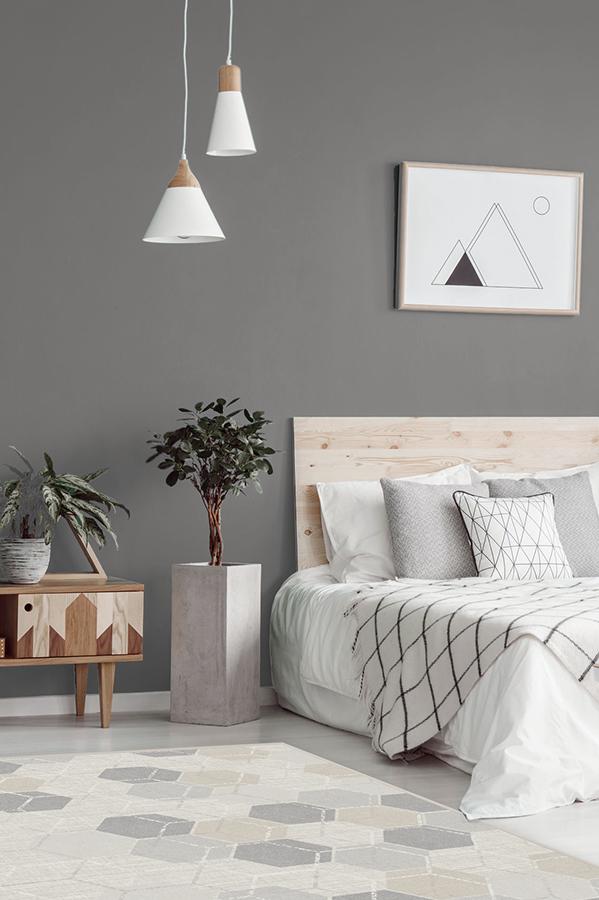 Placing a 5' x 7' rug beside your queen sized bed will give you something beautifully soft to step onto when you get out of bed in the morning. This rug placement is ideal if your queen sized bed isn't placed centrally in your room, as it can help balance things out.
If you want a really soft luxurious feel, this rug can be used with a cushioned rug pad. This rug is washable too, so there's no need to worry about stains on the light colored material.
Go Large With an 8 x 10 Rug Under The Entire Bed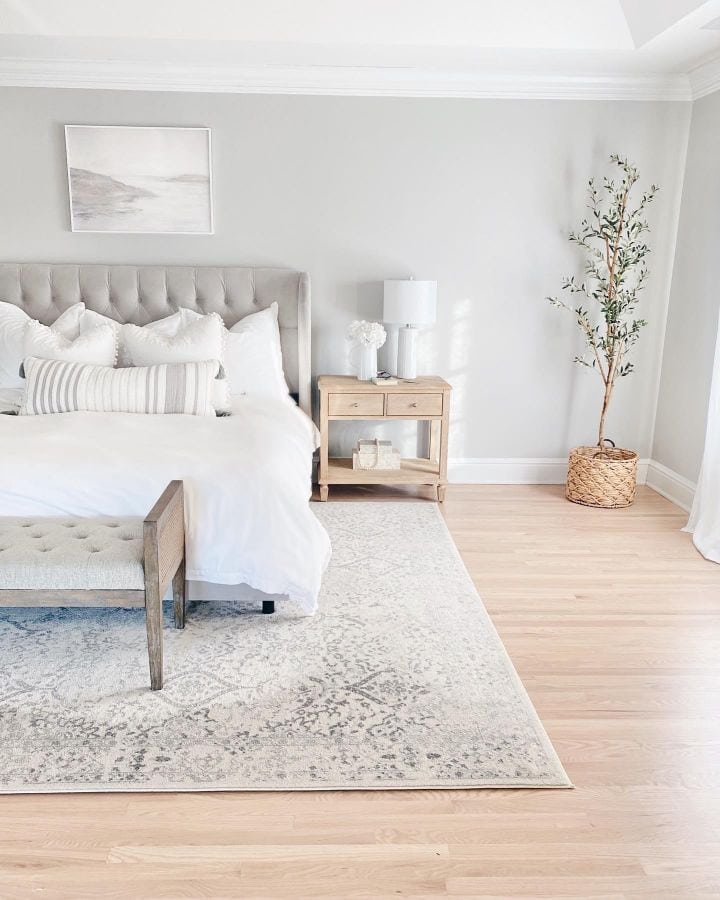 With the exception of a few inches to leave room for the bedside tables to stand on the floor, the bed sits almost entirely on this beautiful 8 x 10 rug.
8 x 10 is one of the best sizes for a queen size bed, as it allows for plenty of rug to be on show. This allows you to step onto a luxuriously soft rug as soon as you wake up in the morning. Bliss.
Make a Statement With a 10 x 14 Rug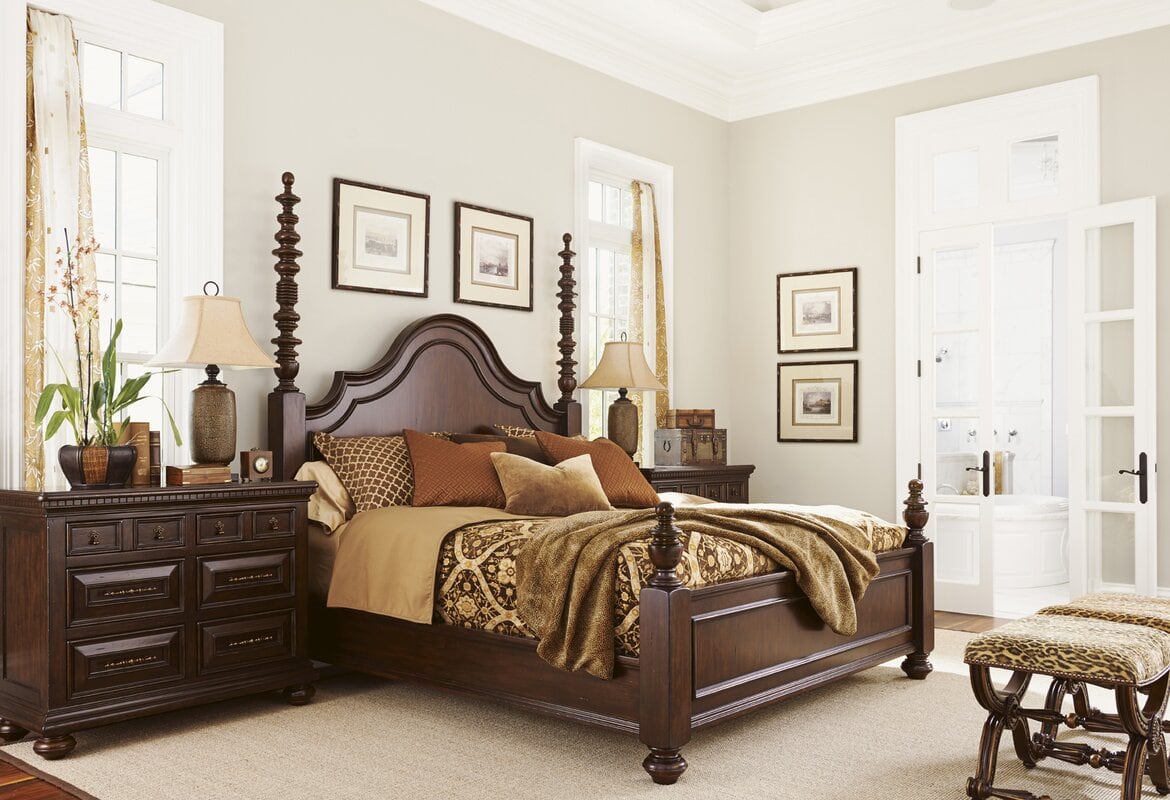 If you've got the space for it, make a statement by going big with a 10' x 14' rug under your queen sized bed. This extra large rug size is ideal in bedrooms with wooden floors that can be cold underfoot in the winter.
This placement allows the entire bed to sit on the rug, as well as the other furniture in the room. The rug anchors the space well, pulling all of the elements of this design together.
6-Foot Round Rug at The End of The Bed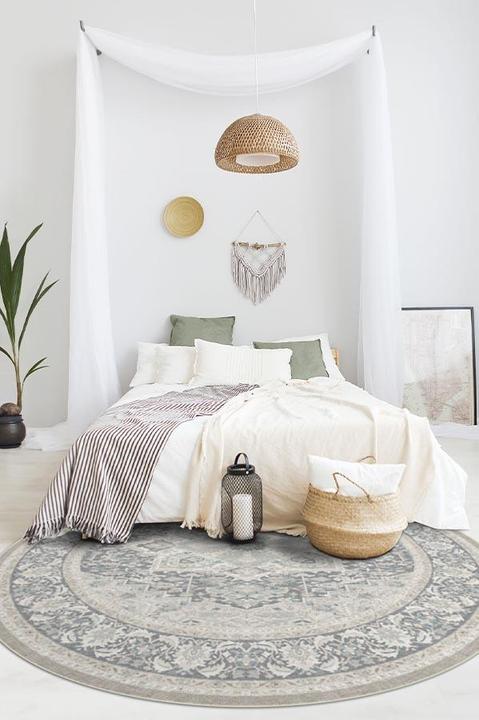 Round rugs are a little more unusual, but they can work really well at the foot of a queen sized bed. The best round rug size for queen sized bed is 6-foot. This ensures the rug is big enough to make a statement, whilst still staying in balance with the size of the bed.
This Heriz rug features a classic Persian design, in a soft muted color palette that would work well in most interiors.
Layer Different Textured Rugs for a Luxe Look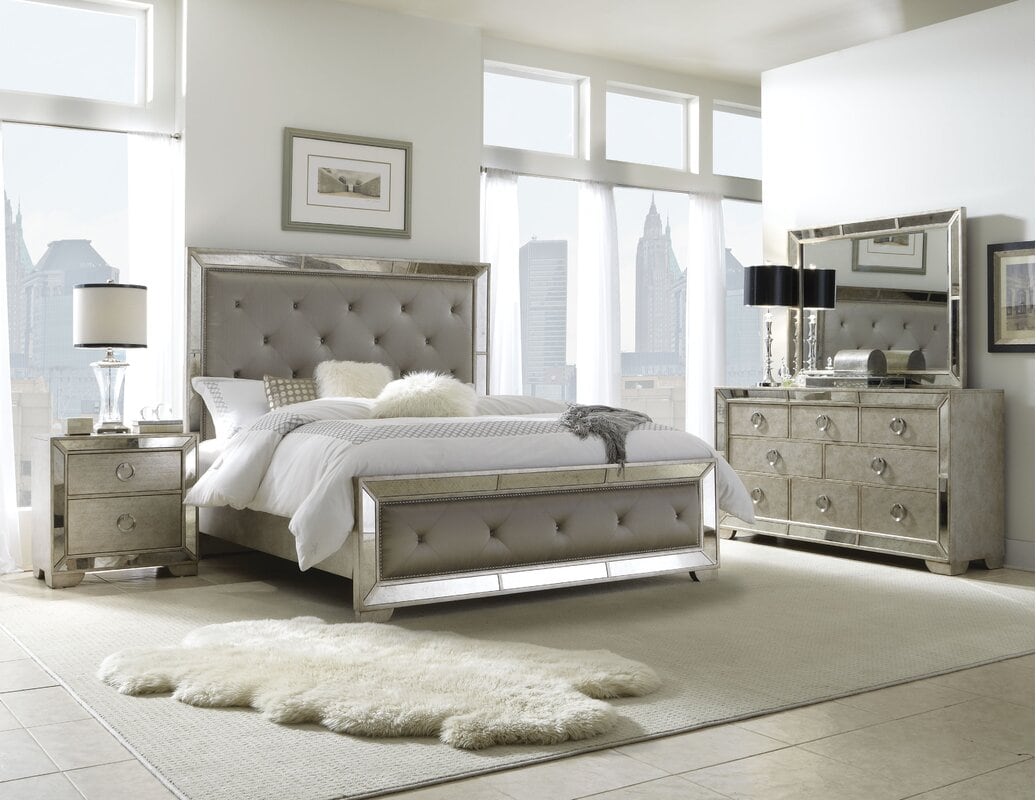 A great way to create a luxe look in your bedroom is to layer plush rugs over your main rug. In this design an oversized 9 x 12 rug has been used as the main area rug, which is a great rug size under queen bed.
It has been layered with a beautiful soft faux sheepskin rug. Although these rugs are the same color, the different textures add interest to the room and give it an elegant, glamorous feel.
Round Rug With Asymmetrical Placement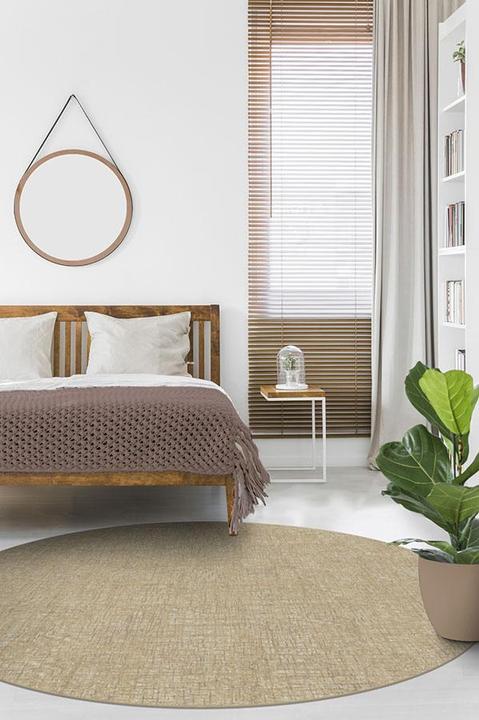 This is another great placement option for a 6' round rug. An asymmetrical placement will create a unique look in your room, which you can balance out by placing other larger furniture and accessories on the other side of the room.
This natural crosshatch rug features delicate hand-drawn lines in neutral sand and cream hues. It's washable too, and can be used with a choice of two different rug pads, depending on how cushioned you want it to feel.
5' x 7'6" Queen Bed Rug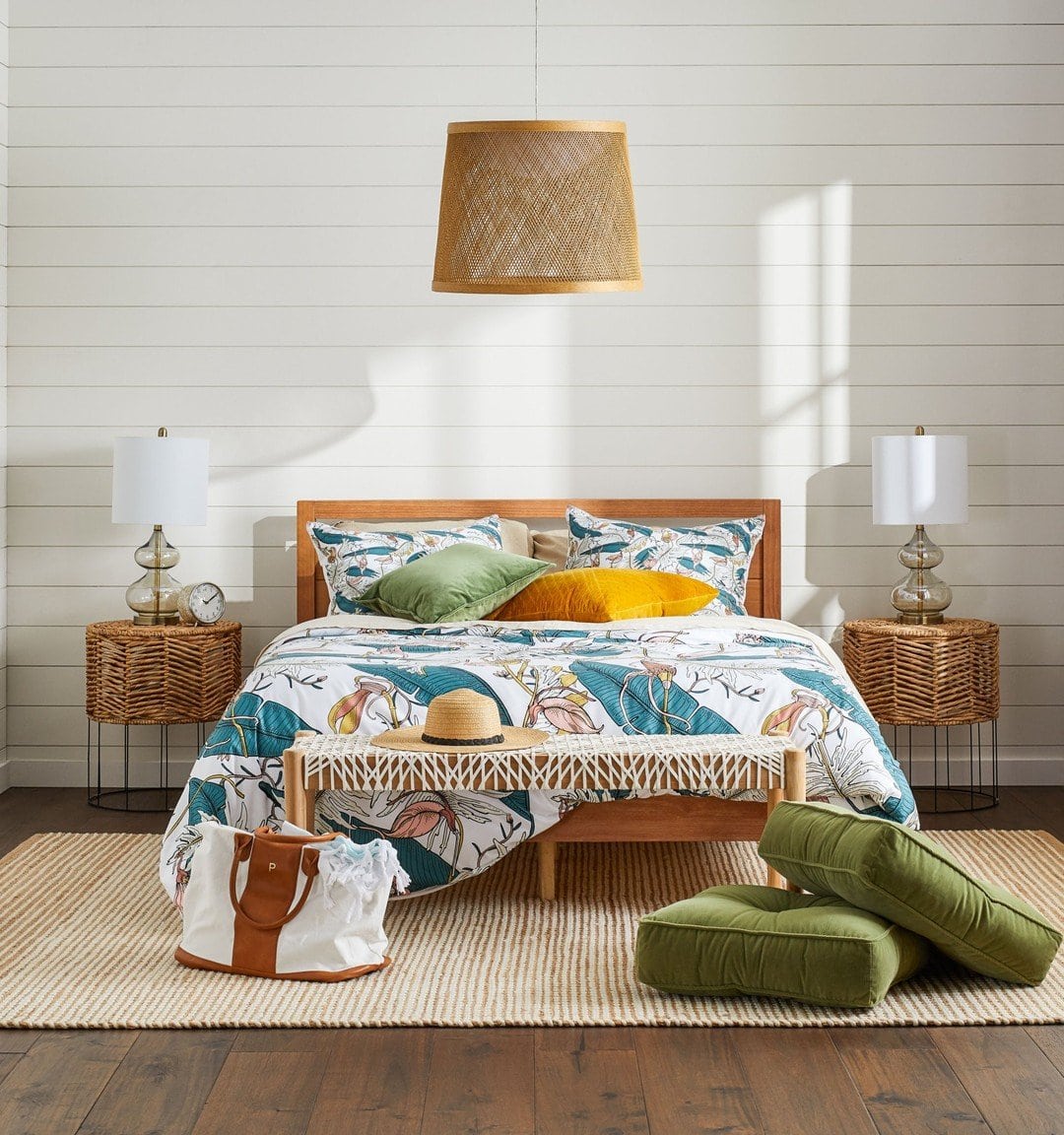 This rug is long and thin, and looks great placed under the foot of a queen sized bed. Natural fibre rugs such as Jute or Hessian work well with most interior styles, and are great for adding a touch of warmth to your room thanks to their natural warm tones.
In this room the natural rug compliments the rattan bedside tables and light fitting beautifully, creating a cohesive design with a natural, relaxed look.
Final Thoughts…
When you are choosing a rug to go underneath your queen bed, it's important to consider the size of your bedroom. If you have a smaller room, you may want to consider choosing a round rug, or a 5' x 7' rug beside your bed.
If you've got a little more space in your room then the best size rug for under queen bed is 8' x 10'. This allows the rug to be placed central to the foot of your bed, while still allowing plenty of the rug to be on display around the sides of your bed.