Decorated Life is reader-supported. When you buy through links on our site, we may earn an affiliate commission. Learn More
30 Stylish & Creative Narrow Bathroom Ideas
Whether it's your master or your guest bath, if it has a long skinny layout it's not always easy to to make the most out of the space. With not much floor space, you may need to get creative with your storage or consider narrow bathroom ideas that are more minimal.
A long skinny bathroom can feel awkward, but with the right decor, colors, and accents it can still be both functional and aesthetically pleasing. If you've found yourself in a home with a narrow bathroom, here are a few ways to get the most out of it.
Creative Tiling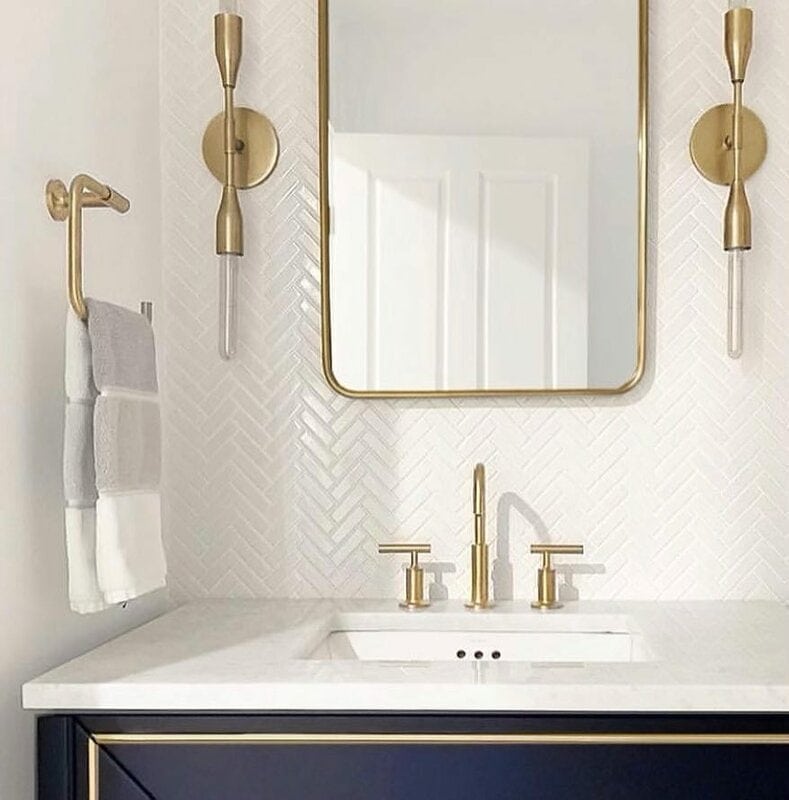 Adding tile up one of your bathroom walls can look really pretty and add a decorative touch to the space. However, it can get really expensive if you're using specialty tiles on a large wall.
But, if you have a long narrow bathroom where the sink is on one of the shorter walls, you can cover it with gorgeous tiles without spending much at all.
Go White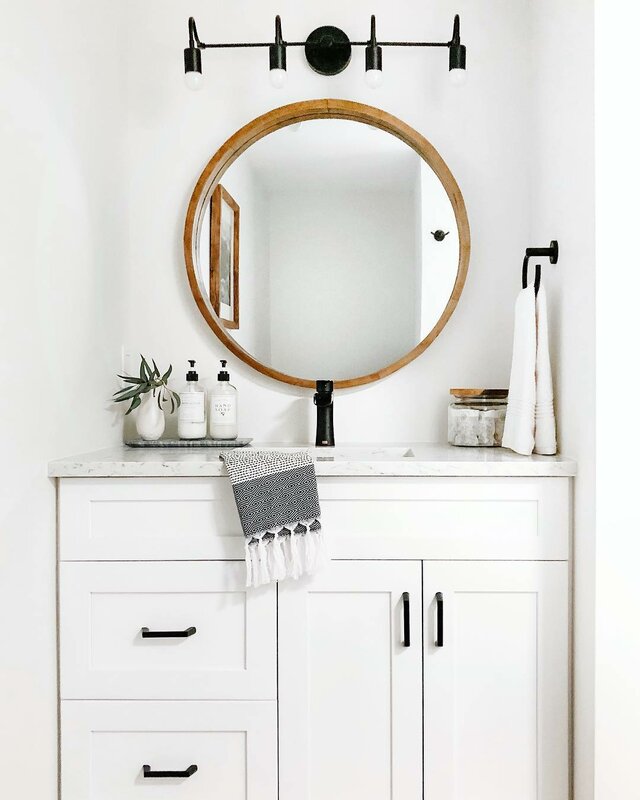 To make a small narrow bathroom feel a little more spacious, use as much white as you possibly can because it will give the illusion of more space.
In this photo, the vanity, walls, towels, and even accents on the jars are white and there is just a little bit of neutral contrast here and there. The final look not only gives off the airy feeling, but it also looks really good without being boring.
Keep it Simple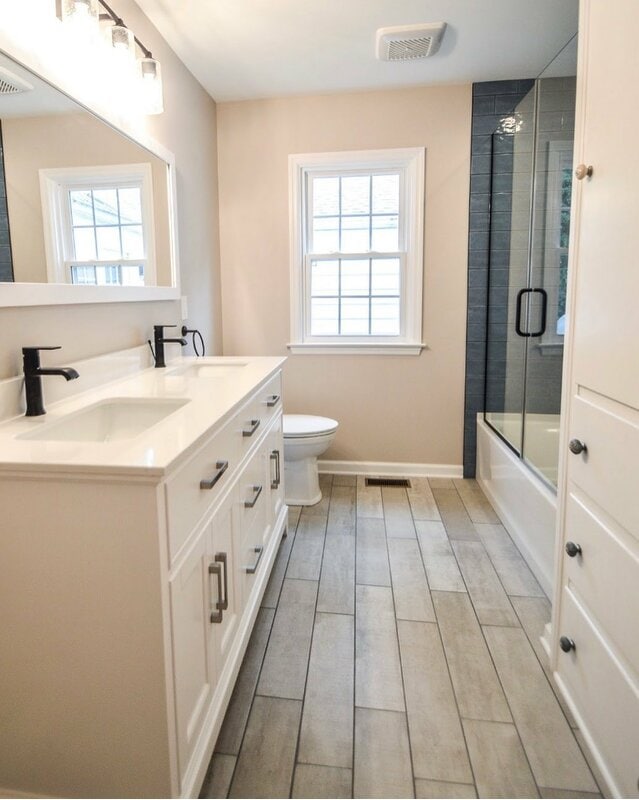 This bathroom has enough space for everything a master bath needs – a shower, double vanity, toilet, and storage – but there isn't a lot of extra space left over.
Even though the narrow bathroom is packed tight, it doesn't feel cramped because instead of shower curtain they opted for a glass door and the counters aren't cluttered with things. Sticking to a minimalist decor style will help make the space feel larger than it is.
Wallpaper and Wainscoting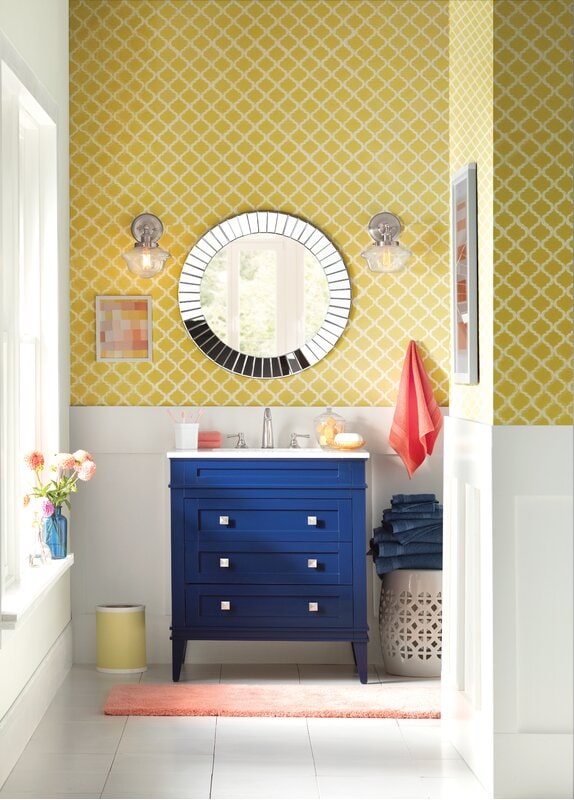 If you've always wanted to try wallpaper but haven't ever jumped in because it's not an easy task, try it out in your long narrow bathroom! Better yet, pair it up with some gorgeous wainscoting, too.
In this photo, they have a bright yellow patterned wallpaper on top of the wall with white wainscoting details on the bottom half. It gives the bathroom a lot of character and charm but still doesn't feel over the top.
Install a Small Vanity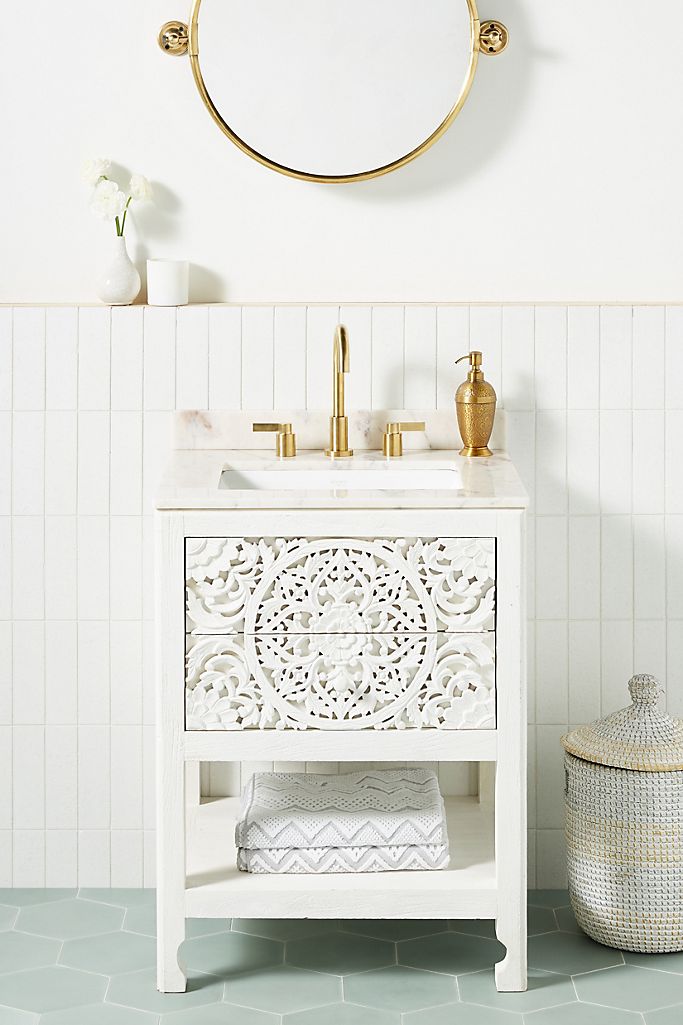 Whether your narrow bathroom is a half bath or full, install a small vanity with a cabinet. It will not only save on space, but it will also do it without sacrificing storage.
It's not uncommon to find a pedestal sink in a small half bathroom because they appear to take up less space. But, a similarly sized vanity doesn't take up much more room and it offers cabinet space. Plus, a vanity has a lot more character than a plain pedestal sink does.
Organized Storage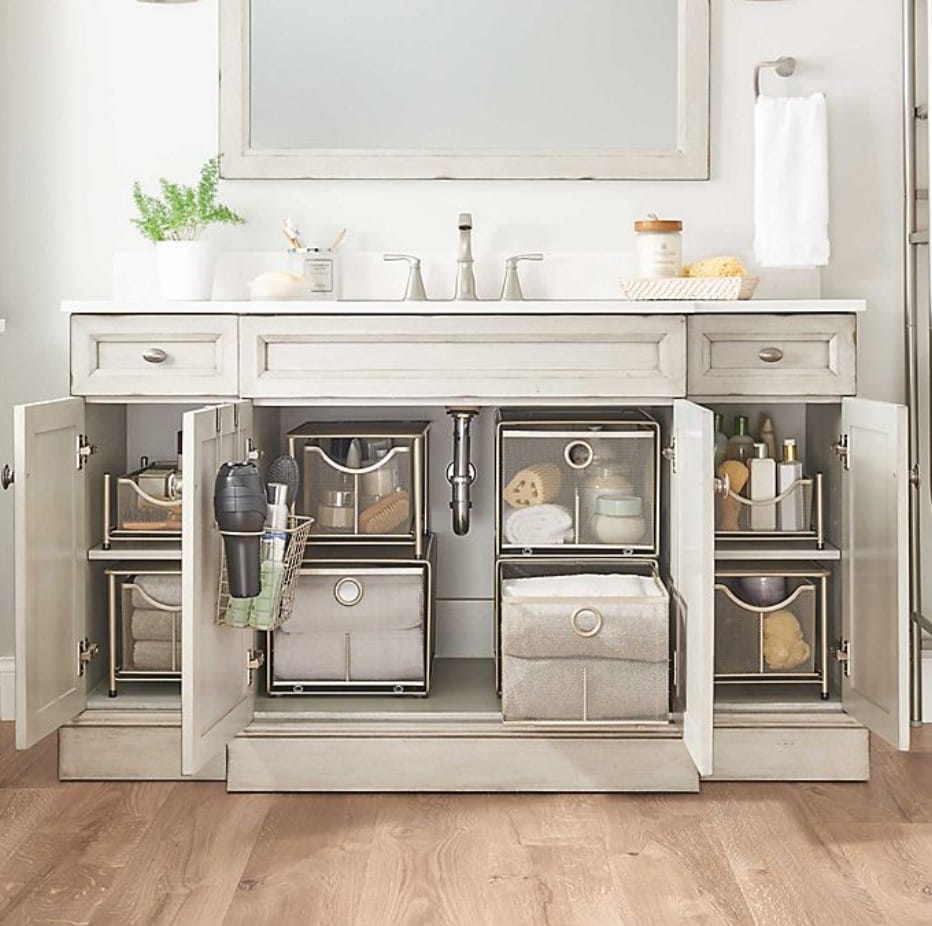 The thing about a long narrow bathroom is that there probably isn't much storage space outside of the vanity, so you want to make it count. Get cabinet and drawer organizers to help you use up every last bit of open space in your vanity so you don't have to store things on your countertop.
Make the Floor Stand Out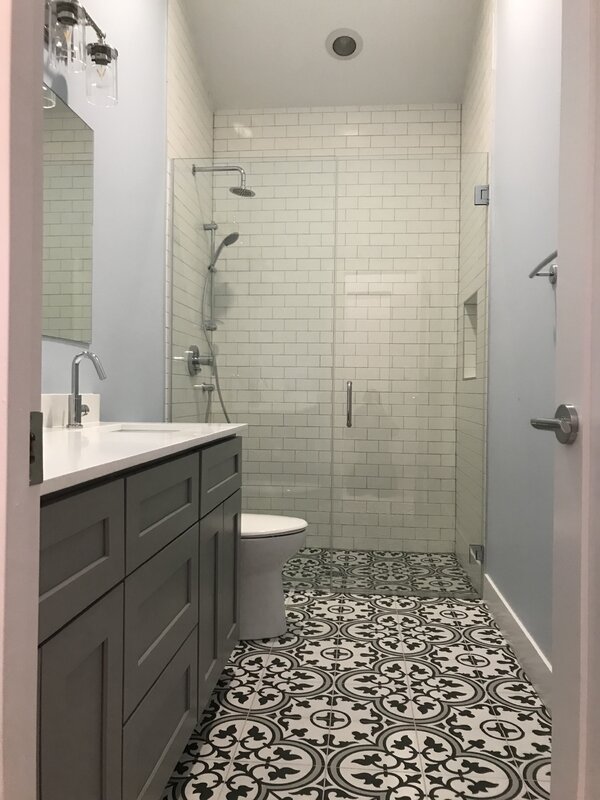 Rather than trying to make the walls or a piece of art stand out, put the focus on the floor instead!
In this bathroom, the decorative tile extends all the way into the shower. The design draws the eye and the extension into the shower makes the bathroom appear longer than it actually is, giving the illusion of a larger space.
Don't Be Afraid to go Bold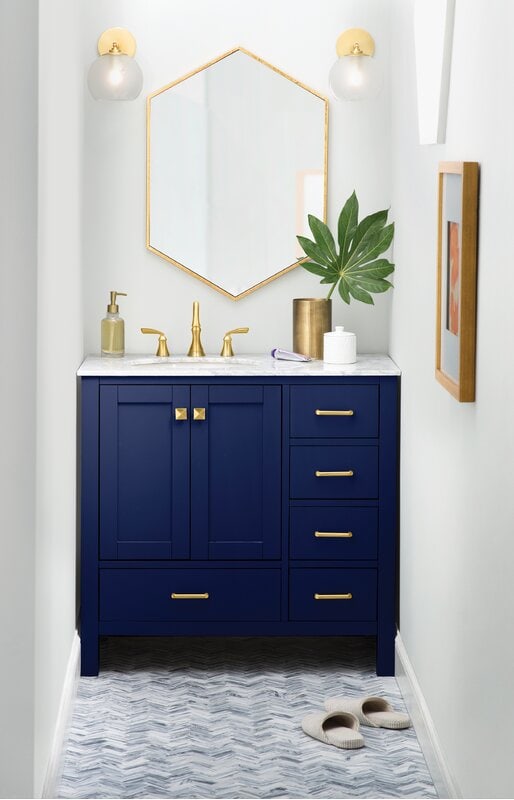 Ideally, you want to work a lot of white or light colors into a small space so that it doesn't feel cramped, but that doesn't mean it has to be beige and boring. You can add in pops of bold color!
Take a note from this bathroom and paint the vanity a bold color, add in metallic accents, and add a little texture with some funky floor tiles. It looks totally glam, not at all boring, but still doesn't make the space seem small.
Be Willing to Sacrifice Counter Space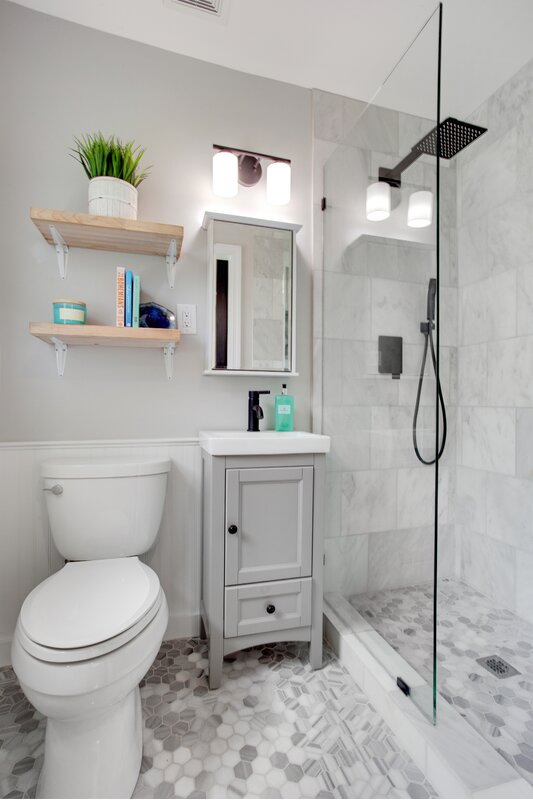 If you are hoping to convert a half bath into a narrow full bathroom, you will likely need to give up on the idea of a large vanity. But, don't worry, that doesn't mean it can't be done in a stylish way!
In this bathroom, the shower takes up the bulk of the footprint and the vanity is tiny. Still, there is a cabinet under the sink and they were able to hang shelves for extra storage. The finished product looks fantastic, but there's no getting around the lack of counter space.
Narrow Side Sconces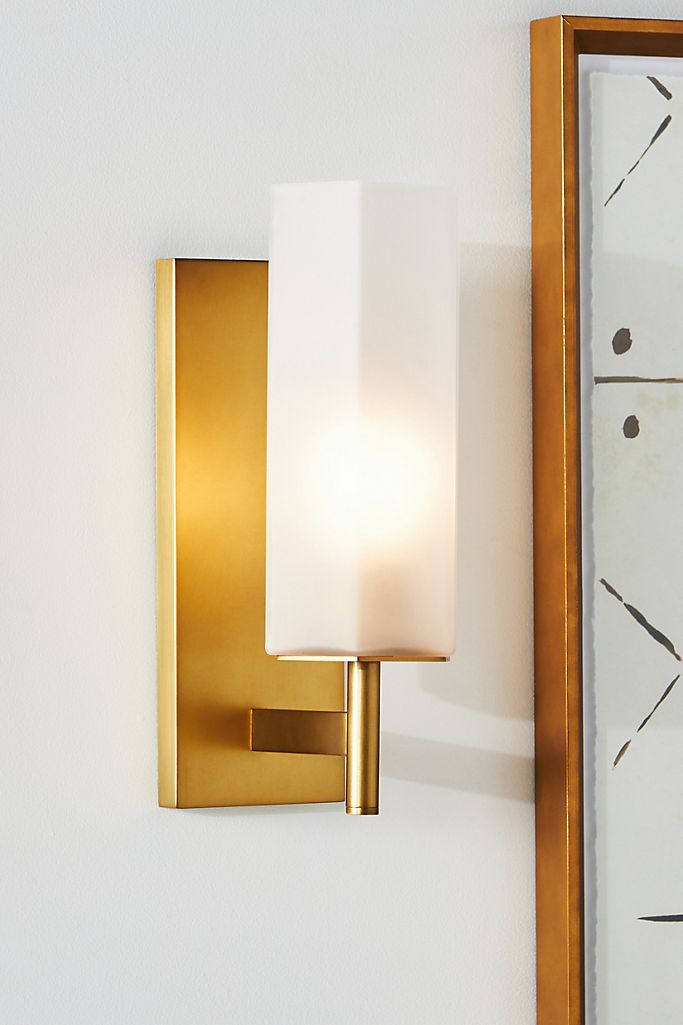 You can make your bathroom look a little brighter and wider by installing sconces on either side of the vanity mirror instead of using a traditional vanity light over the mirror.
If you do this, though, you'll want to make sure you pick sconces that are narrow so that they enhance the space rather than overwhelm it. As pretty as a globe sconce is, it probably has no place in narrow bathroom designs.
Squeeze In a Stand Up Shower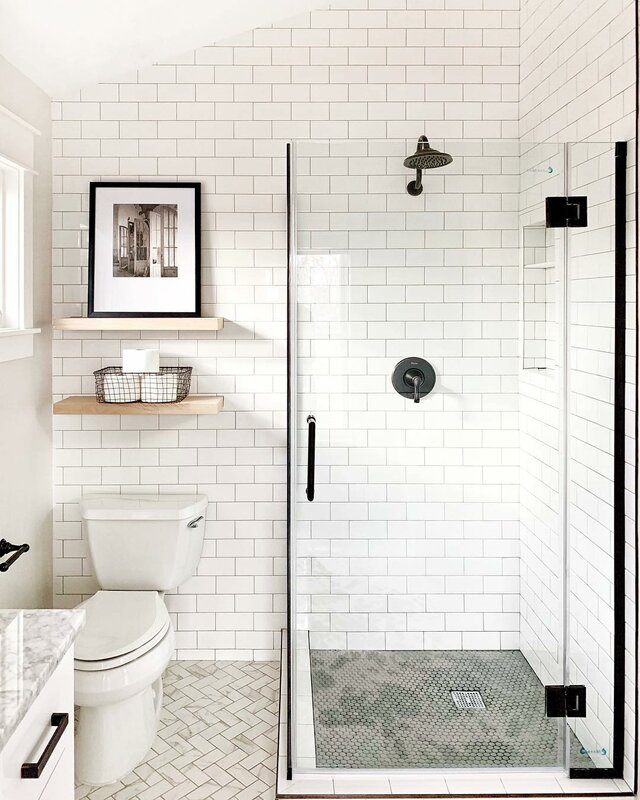 One way to save on space in a bathroom is to opt for a stand up shower instead of a shower/tub combo. It's half the footprint of a tub and you can still call it a full bath.
If you're converting a half bath into a full by installing a stand up shower, consider a glass enclosure like the one in this photo. It keeps the space feeling open and airy where a shower curtain would make it feel super cramped.
Use Over The Toilet Storage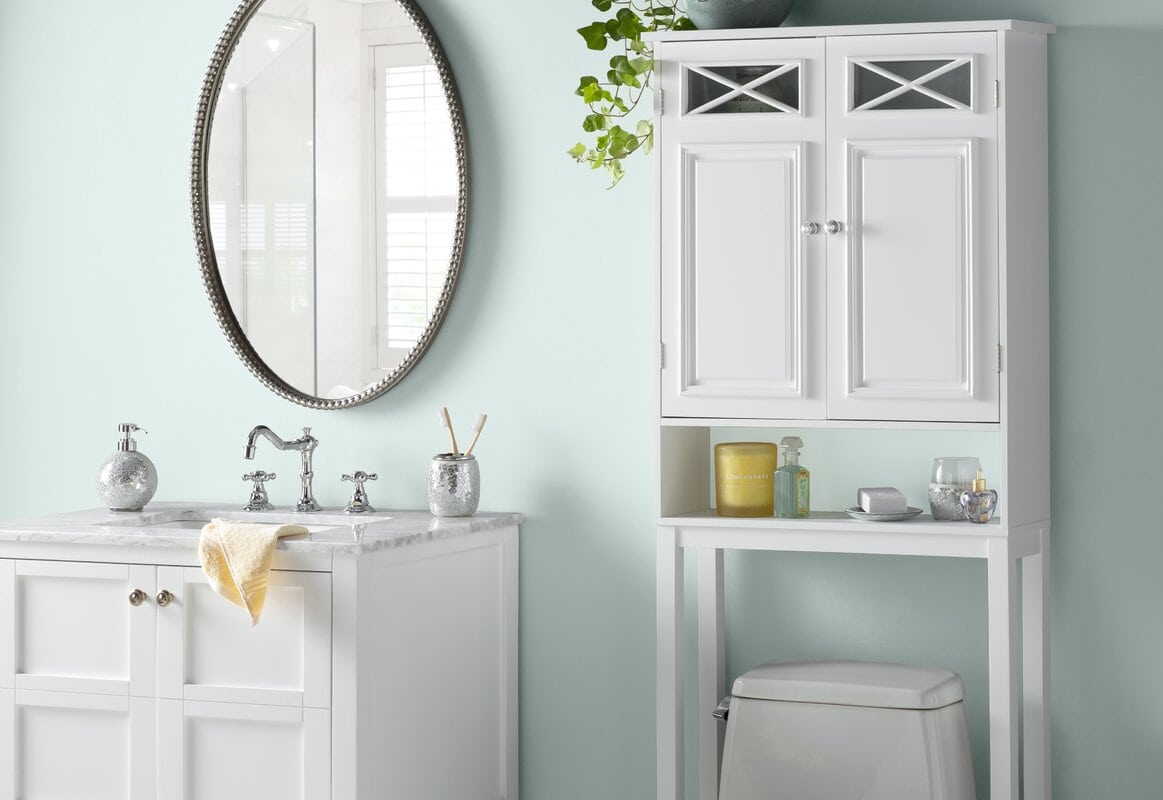 When you have a long narrow bathroom, you need to use height to your advantage. You can do this, and give yourself a little storage space, by installing an over-the-toilet cabinet.
You can also hang traditional shelves over the toilet to get some storage space, but if you do that, make sure whatever you put on them looks clean and tidy because a cluttered shelf can make the space feel tight.
Save Counter Space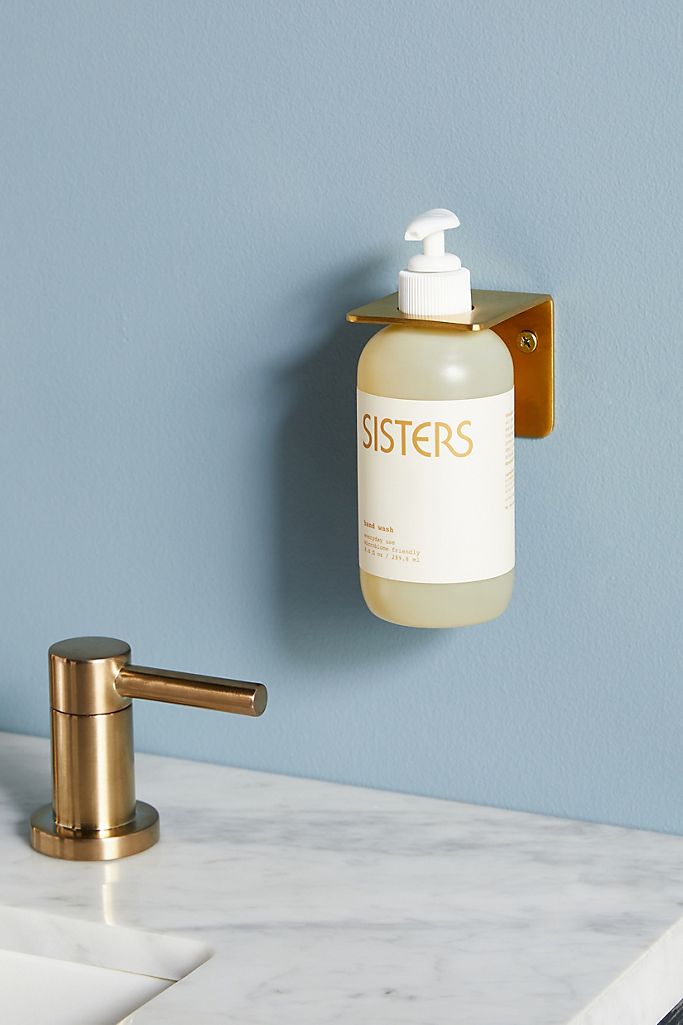 Since clutter has a way of making a tight space feel even tighter, you want to do as much as you can to avoid having too much stuff out on your counters.
One way to do that is by mounting your soap dispenser to the wall. Soap is a must-have in any bathroom, but it can take up a surprising bit of space on the vanity, so a mount like this one can serve a great purpose.
Find a Shallow Vanity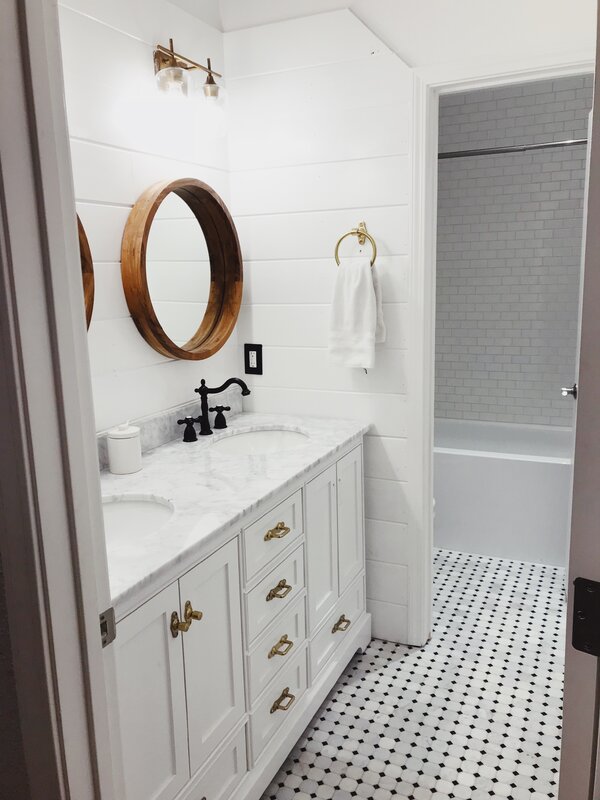 It might not be a huge difference, but you may be able to free up a little bit of space in your bathroom by swapping out your standard vanity for one with less depth. You'll have to sacrifice counter space in order to do this, but if an extra inch of floor space will make a big difference in your bathroom, it'll be worth it.
Prioritize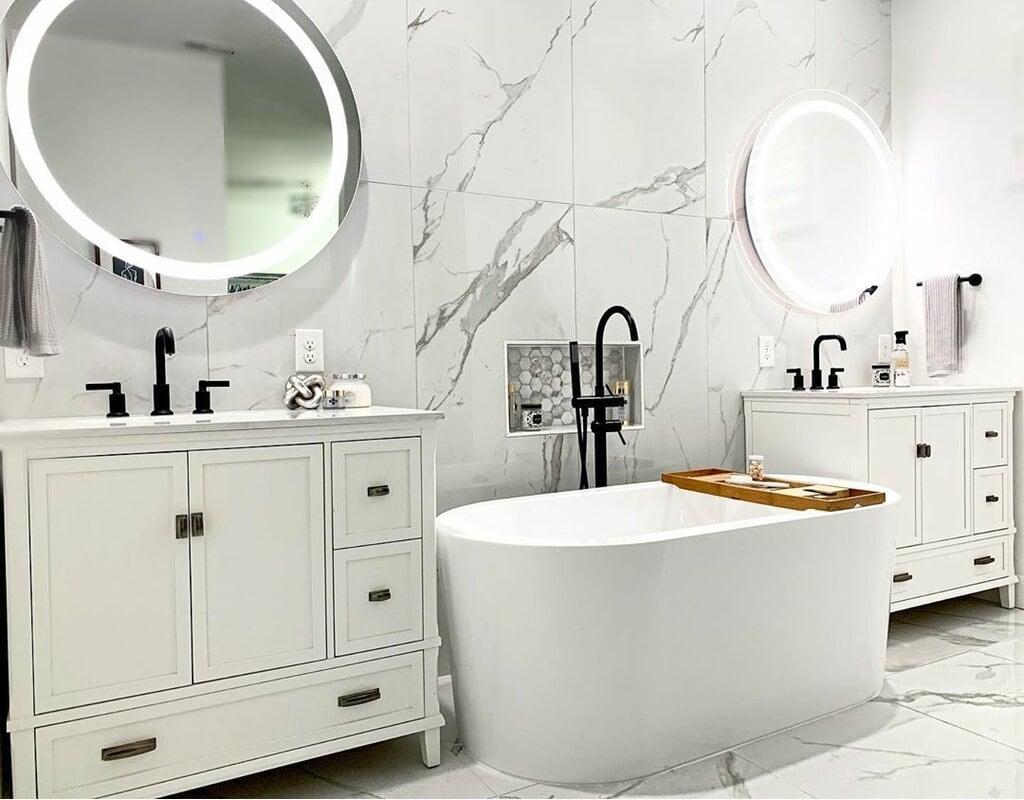 If you're thinking about configuring a new layout for your narrow bathroom remodel, you'll need to come up with your list of priorities, because you're going to have to sacrifice somewhere, especially if it's the master bath.
In this photo, the two vanities are very small, but they were able to fit a soaking tub into their space. For some, this would be a worthy trade off, while this may seem completely absurd to someone else who loves a lot of counter space. Whatever that "must have" thing is for you, make sure you know what you're willing to sacrifice in order to get it in the tight space.
Don't Let Any Space Go To Waste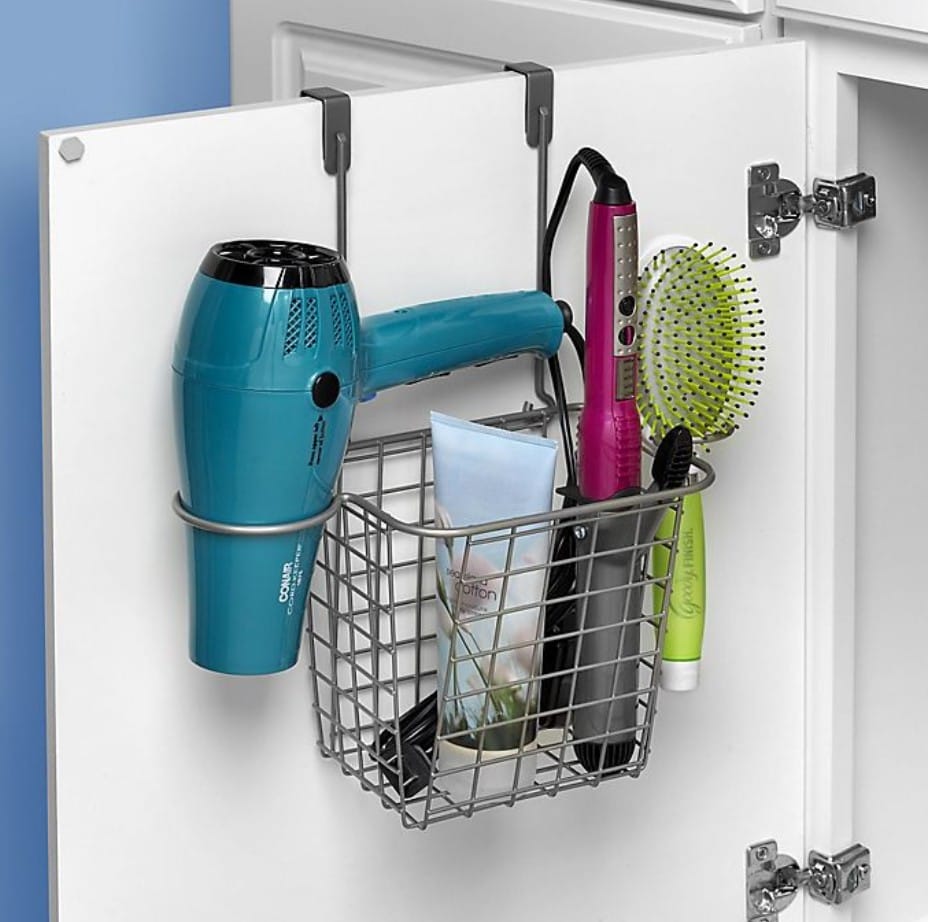 A narrow bathroom leaves very little for storage space, so you want to make the very most of what you already have. Get creative! If you store your styling tools in an over the cabinet basket like this one, that frees up an entire drawer for you to store makeup, toiletries, or towels.
Make a Statement Wall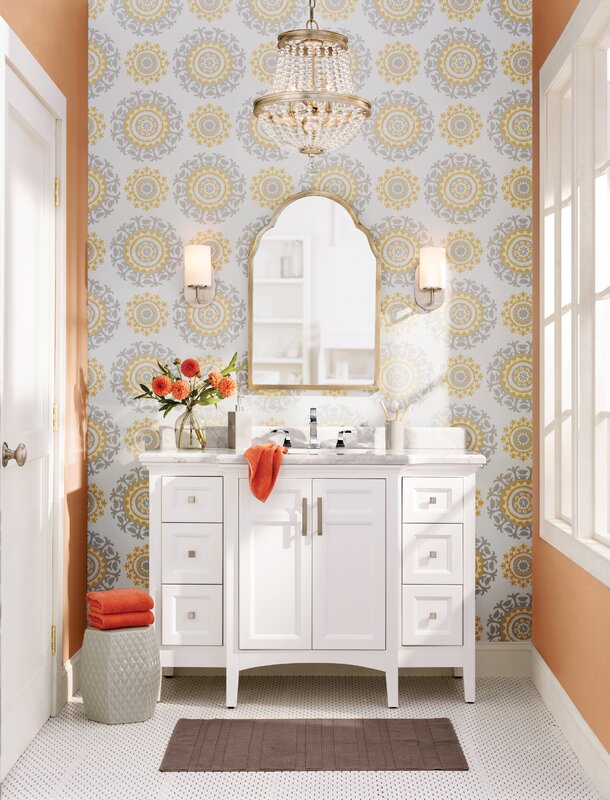 Depending on the layout of your bathroom, you may be able to sneak in a statement wall that will help make the space feel more curated and, depending on what you do with the wall, possibly even larger.
In this bathroom, the high ceilings seem even higher thanks to the wallpaper's pattern and hanging chandelier. The decorative mirror and styled vanity add character and everything seems so thoughtfully designed that the size of the space doesn't really matter.
Use Over-The-Door Towel Storage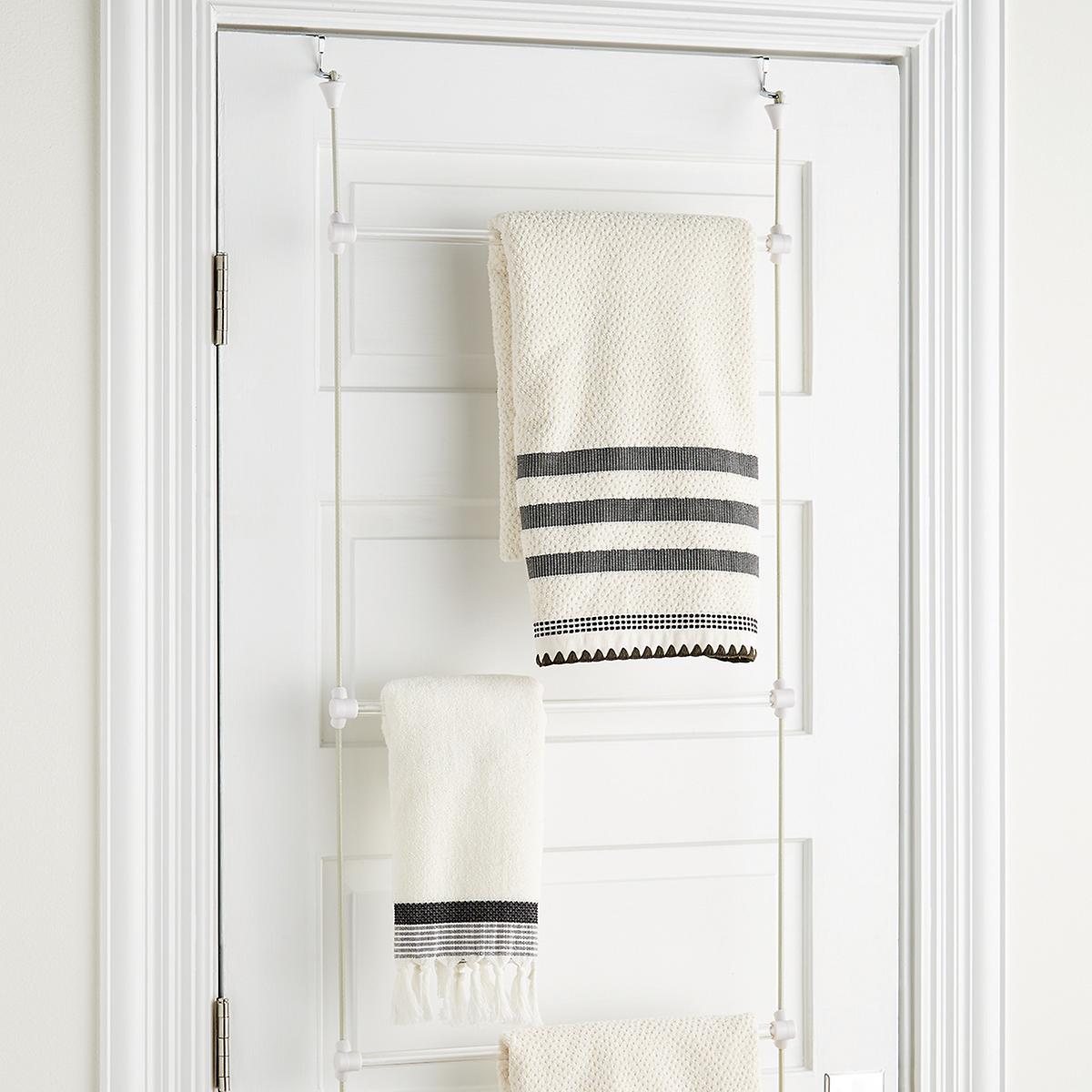 Another great way to use up every bit of spare space you have in your narrow bathroom is to hang towels on the door instead of the wall.
You can get an over-the-door towel rack like the one in this photo, or you can hang a few hooks on the back of the door for the same purpose. Either way, it's a smart place to store them because it means you won't accidentally ram your shoulder into a towel bar that's sticking out of a wall as you try to pass through the narrow space.
Mount a Floating Vanity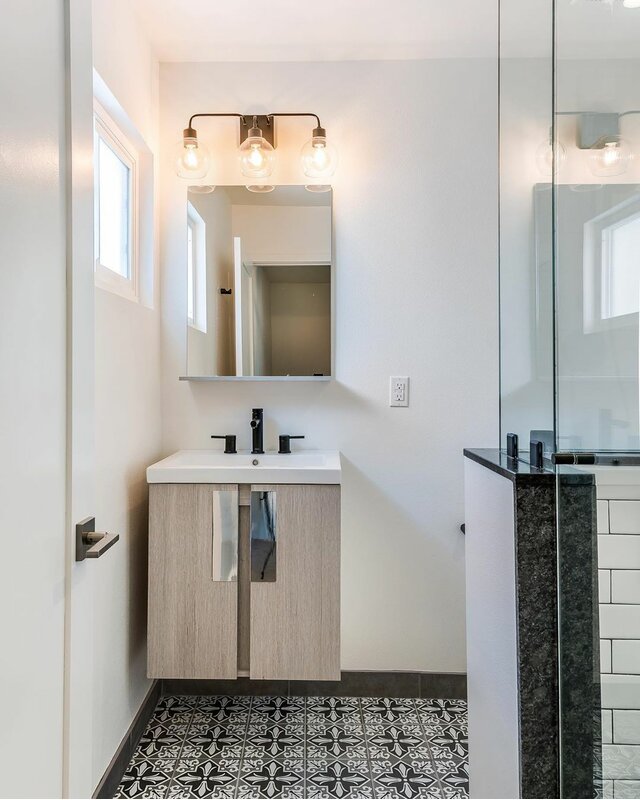 Yes, we've really harped on using up as much space as you possibly can throughout this article, but if you have a really, really small bathroom, a floating vanity may be a better idea.
A floating vanity is better than a pedestal sink because you get a little bit of cabinet storage but that little bit of space between the floor and the vanity will create a sense of openness that can make the bathroom feel a little bit bigger than it is.
Create Some Contrast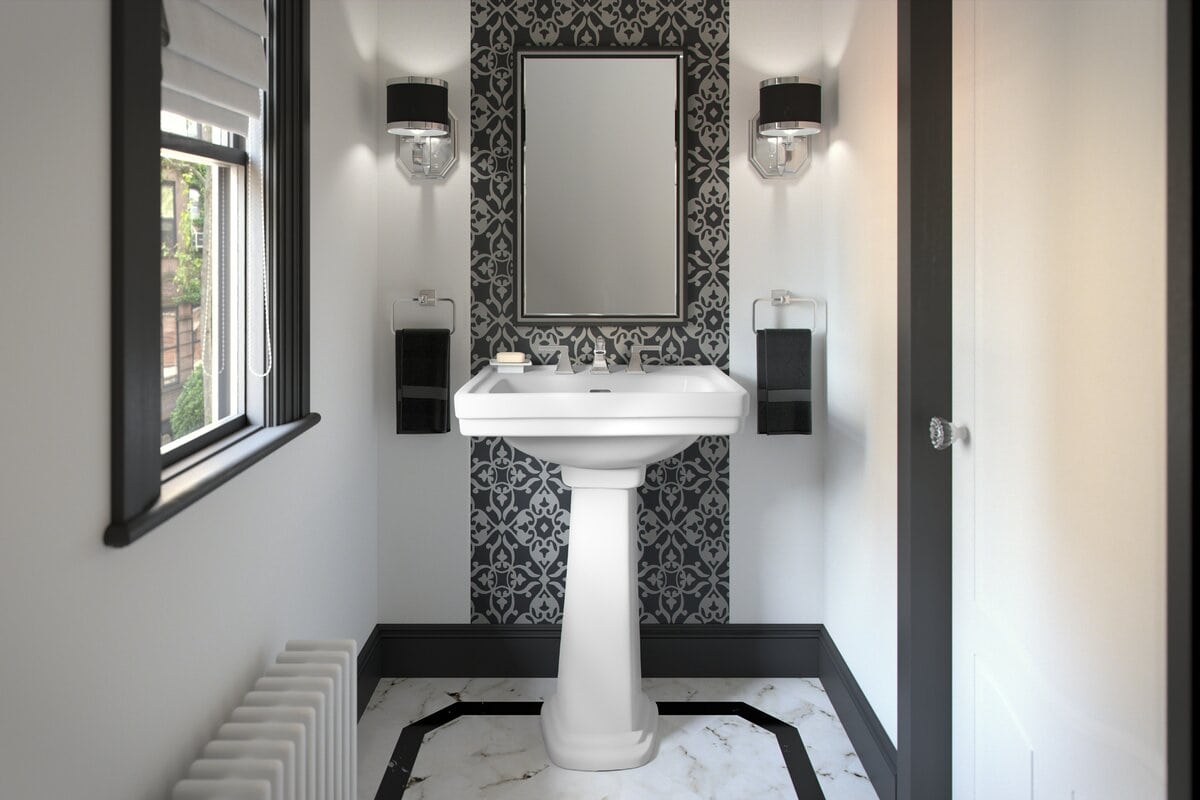 This narrow bathroom doesn't seem cramped or boring at all. In fact, the contrast between the white walls and black trim and accents creates a sense of depth that makes the bathroom feel spacious.
You can do something similar in your bathroom, and it doesn't have to be black and white if you're not a fan of those colors. Just choose contrasting shades and use the darker color sparingly to create some variety and depth to the room.
Hang a Round Mirror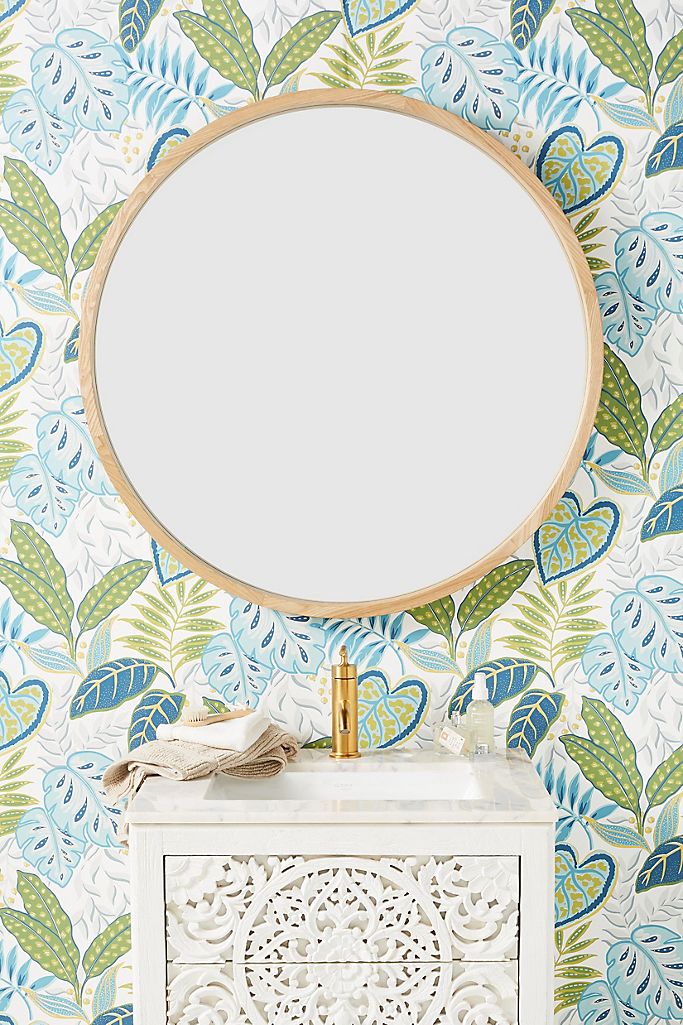 Long narrow bathrooms feel cramped partially because the sharp rectangular angles make it seem that way. But, if you hang a round vanity mirror, it adds a little softness to the harsh edges and can even make the vanity wall look a little wider while doing it.
Get a Runner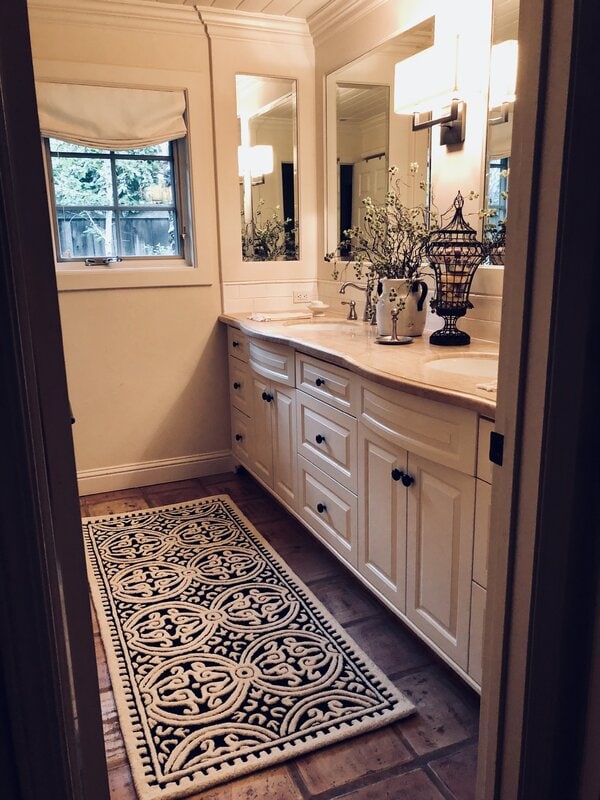 We are used to seeing rugs in bathrooms, but if you have a long narrow bathroom, two or three small rugs will make the space feel cluttered, even if there is plenty of room for them.
Instead, opt for a long runner that goes most of the length of the bathroom. This will create the illusion of even more length in the space to make it look bigger than it is. You can really play up this effect with a runner that has a linear design.
Save Space with a Big Single Vanity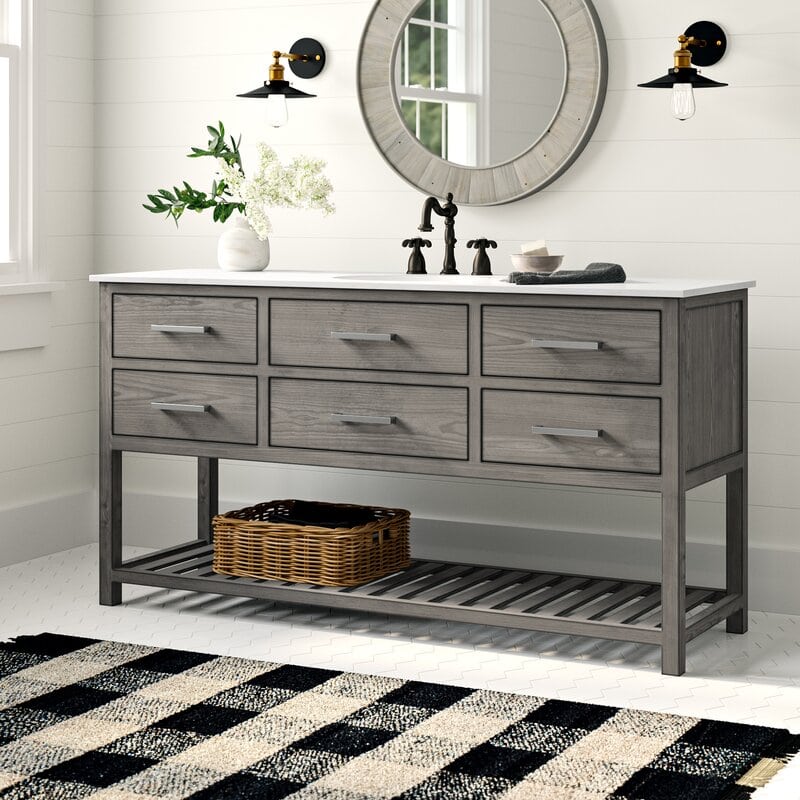 If it is the master bathroom that's long and narrow, then it's tempting to want that double vanity because who wants to have to share a sink? But, if you switch to a large single vanity, you can shave off some inches on either end while still having plenty of counter space of your own.
Sure, you may have to take turns with your partner when you're brushing teeth, but you've created a little more openness in an otherwise very tight space so it may be a price worth paying.
Mount a Cabinet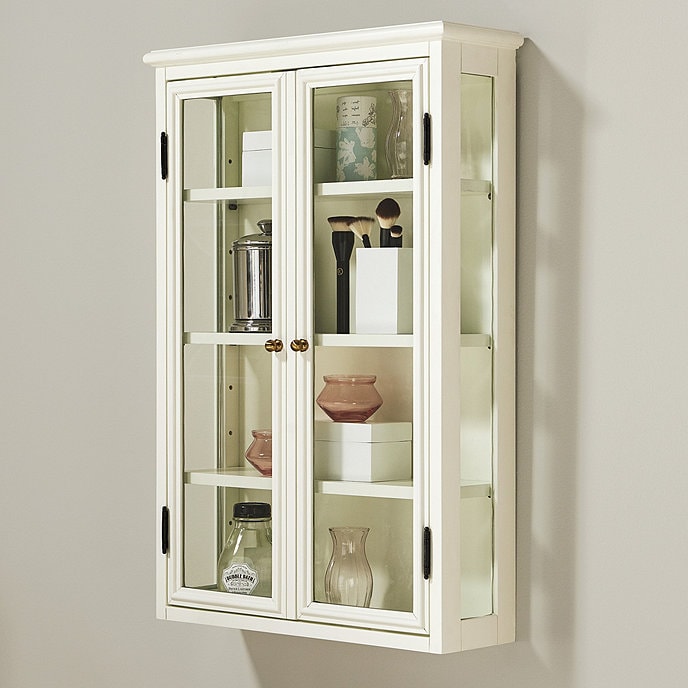 Another easy way to add some storage space to a narrow bathroom is by mounting a shallow cabinet on an open wall. It will look more polished than open shelves and you won't be limited by the toilet on how many shelves you can have within it. Just remember to keep it shallow, because otherwise you might run into it if it's sticking out too far.
Keep the Shower Curtain Open
This is simultaneously a really easy and incredibly difficult tip for making your narrow bathroom feel significantly larger. On one hand, it's very simple to just open your shower curtain up, but on the other, in order for this to work you will need to keep your shower very clean.
Assuming you're up for the challenge, invest in a solid shower curtain that will look good bunched up when it's open. Also, consider getting decorative bottles to put your shampoo, soap, and conditioners in so that when they're out on display they look aesthetically pleasing.
Go (Really, Really) Skinny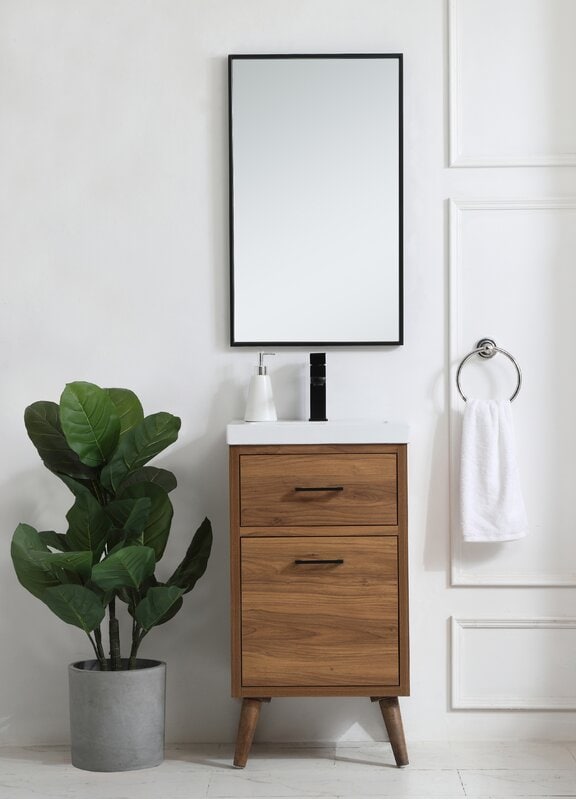 If all you need your vanity for is to wash your hands, then there is no need to take up a ton of space with more than you need! You can install a really thin vanity and mirror in your bathroom to give you open space to make the room feel larger or to install a shower or tub if you'd like. It's all about what's important to you.
Decorate Upward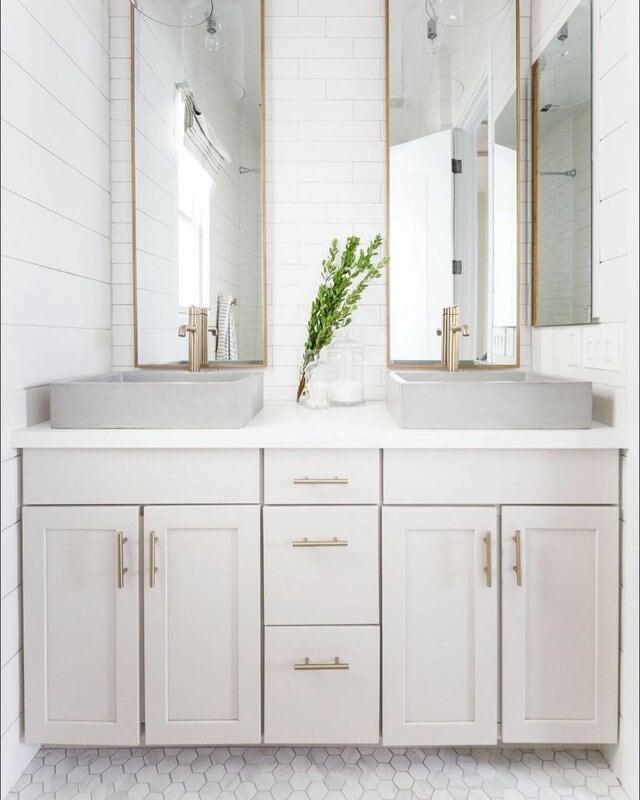 Here is another great example of utilizing the height of a long narrow bathroom to make the room feel larger than it is. Between the shiplap, subway tile, and mirrors, this tiny bathroom feels huge.
The white walls create an airy sense of space and the tall mirrors draw the eye up instead of out, which has a similar effect. Plus, the white walls reflecting off the oversize mirrors makes the space even brighter. It's really the perfect way to decorate a small narrow bathroom.
Find a Mirror with Built-In Storage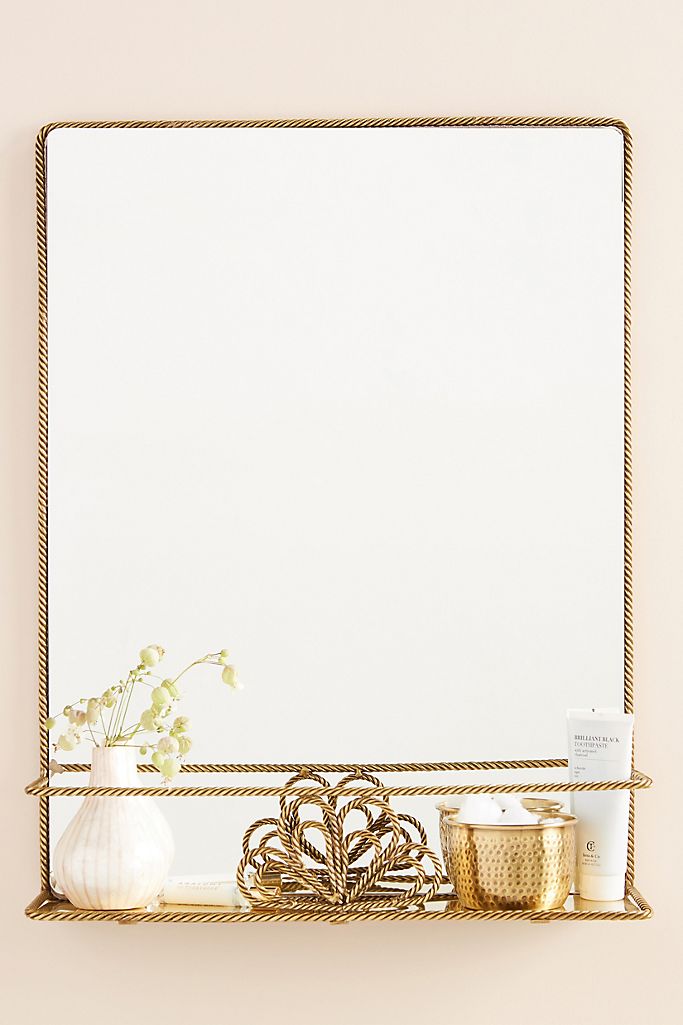 Another creative solution to clearing up counter space is hanging a mirror with a built in shelf.
You'll want to pick something with a small shelf so that you don't just move clutter from the sink to the mirror, but if you do it right, you can have easy access to what you need while still keeping the space from feeling cramped.
Get a Vanity with a Storage Shelf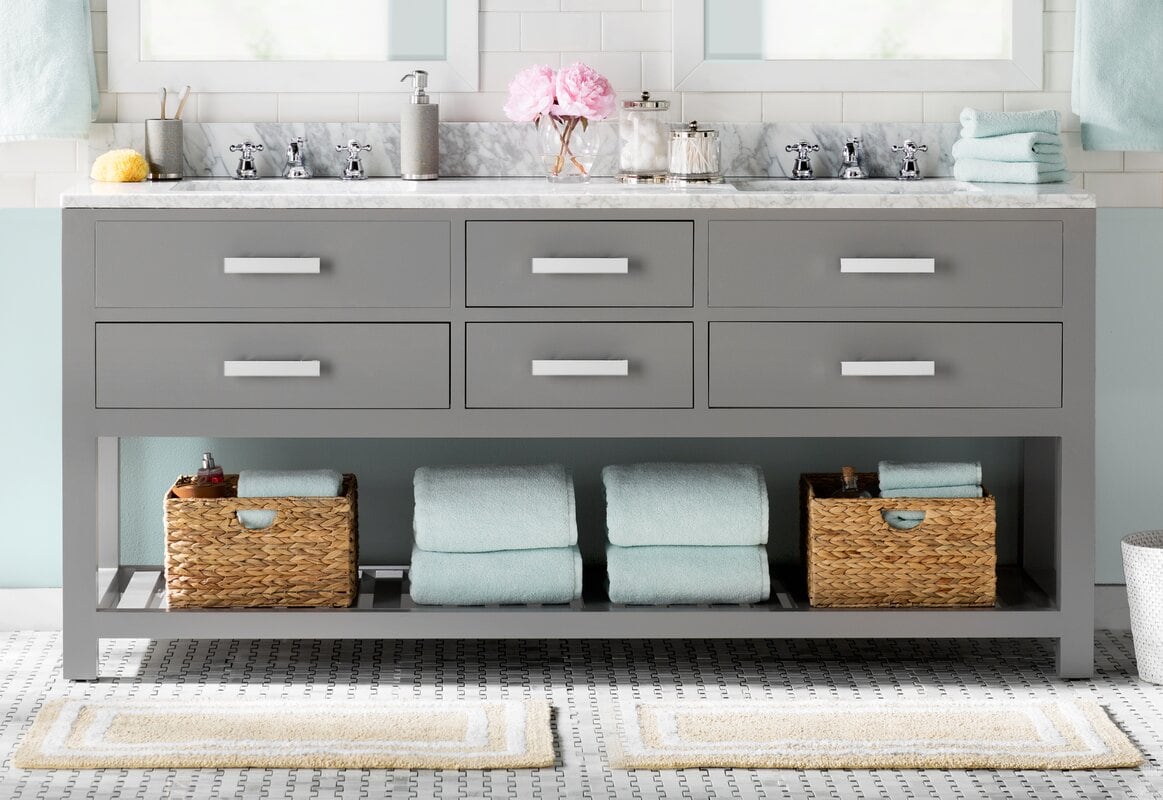 If you don't want to have to organize your vanity's cabinet and drawers in order to optimize your storage space, that's okay! There are ways to work around that without sacrificing any footprint in your narrow bathroom.
A vanity like this one, with an open storage shelf along the bottom, are stylish and have just as much storage space in them as a traditional vanity but it's just already laid out for you so you don't have to implement an organizational system on your own.
Hang Two Mirrors Instead of One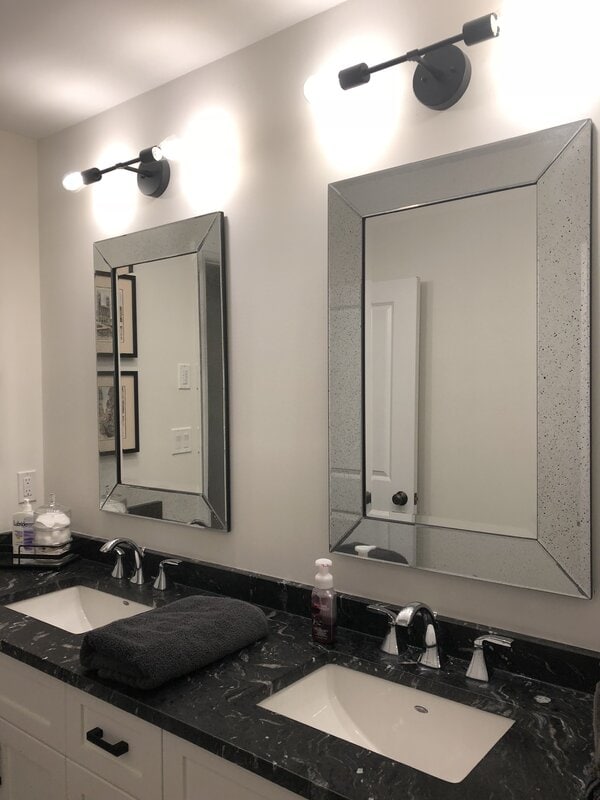 Here is another way to make your bathroom appear wider than it is, but that doesn't actually give you more space to work with in your bathroom. Hang separate mirrors over a double vanity instead of just one.
Two mirrors will help break up the wall space a bit to create a sense of separation. It will seem like there is more wall space than there is by appearing to add some width.
Final Thoughts
Figuring out what will work with your narrow bathroom layout may take a little bit of time, but it will be well worth the work. With the right lighting, rugs, storage solutions, or just general decor, you can make the space look amazing without it feeling the least bit cramped.