Decorated Life is reader-supported. When you buy through links on our site, we may earn an affiliate commission. Learn More
What Wall Color Goes With Cherry Floors?
When you have beautiful cherry wood floors, you might hesitate about wall colors. We don't blame you! Matching a wall color with the rich tones of cherry wood can be tricky.
One way to decide what wall color goes with cherry floors is to determine the type of wood – heart or sap. Heartwood comes from the core and can be a light red-brown to a rich, deep red. Sapwood has more of a yellowish creamy tint and is the softer layer between the heart and the bark.
Wall colors that go great with cherry wood include whites, grays, blues, and greens. However, avoid walls in red or yellow, which can clash with the richness of cherry floors.
Pure White by Sherwin Williams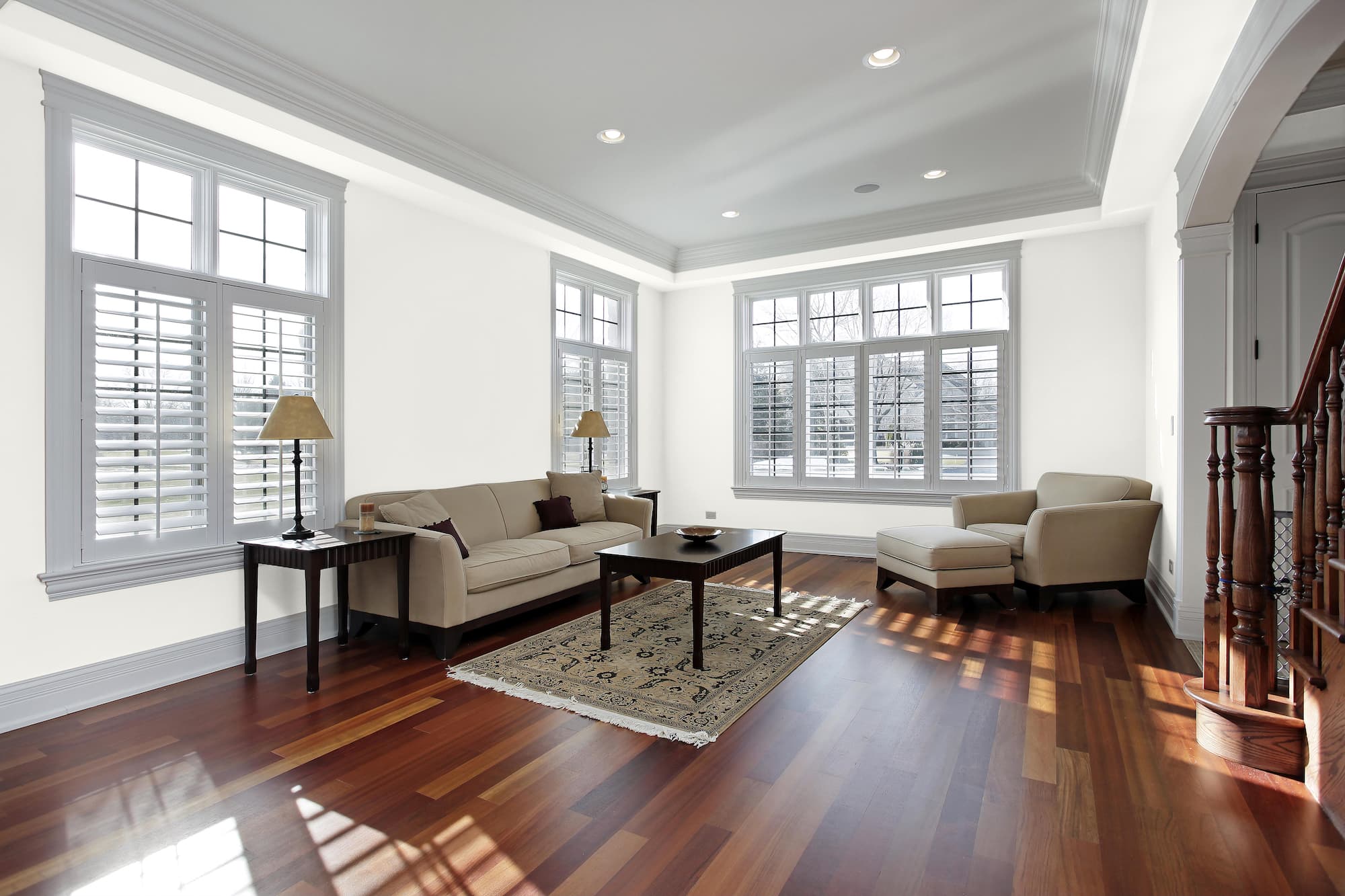 Hands down, one of the easiest ways to decorate a room with rich cherry wood floors is to pick a shade of white. Pure white is exactly as it sounds, with no frills.
This chilly, cool white can get the faintest tints of gray when used with dark floors, making it one of the most lovely paint colors that go with cherry wood floors.
Tres Naturale by Sherwin Williams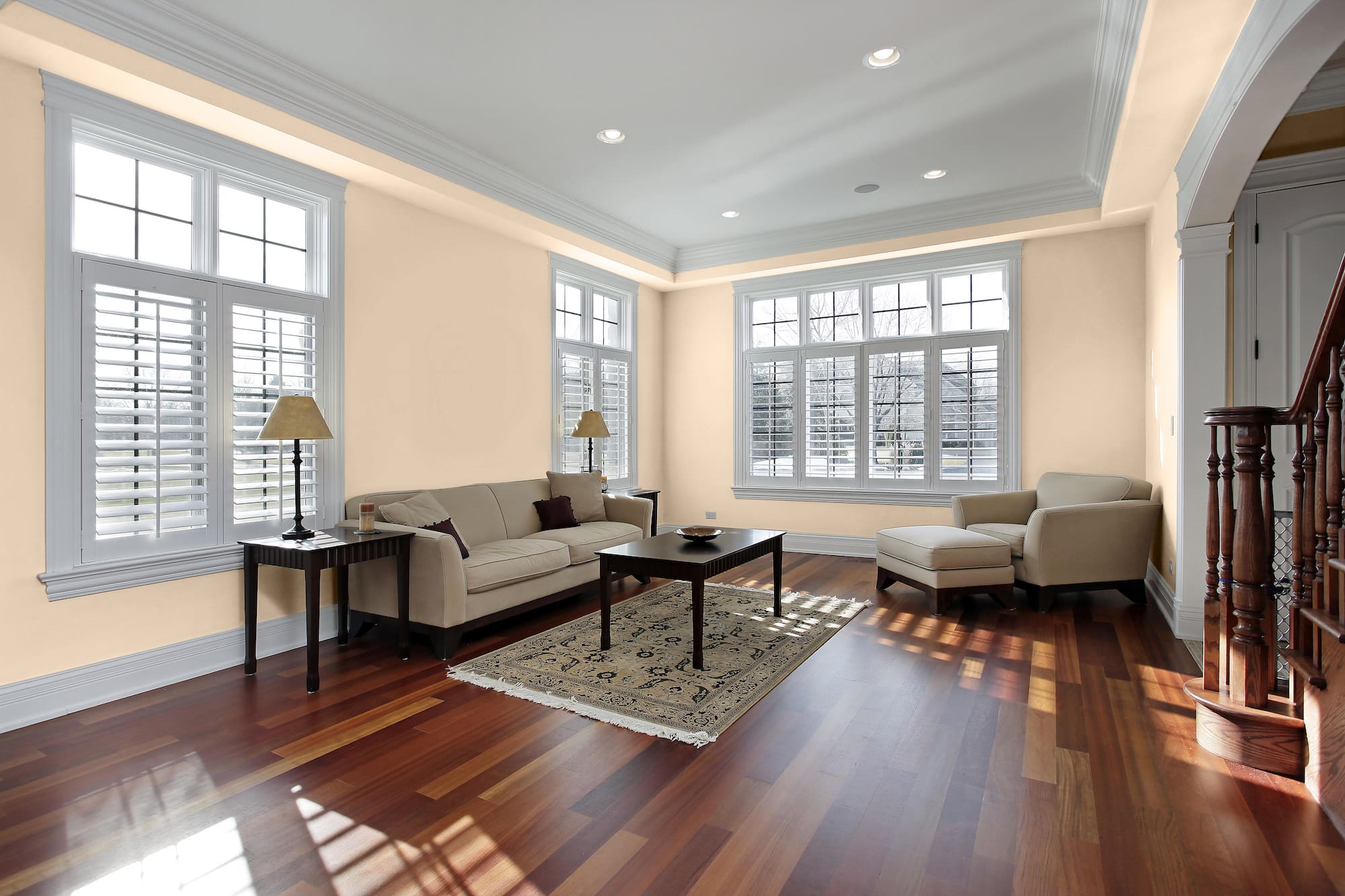 Tres Naturale is a darker tone of beige that can benefit from being matched with darker-toned cherry wood floors. In addition, you can get hints of pink, brown, and gold from this versatile shade.
A rich pigmented neutral like this is one of the best paint colors for Brazilian cherry floors. You get neutrality, but you don't have to sacrifice your personality.
Bluebell by Sherwin Williams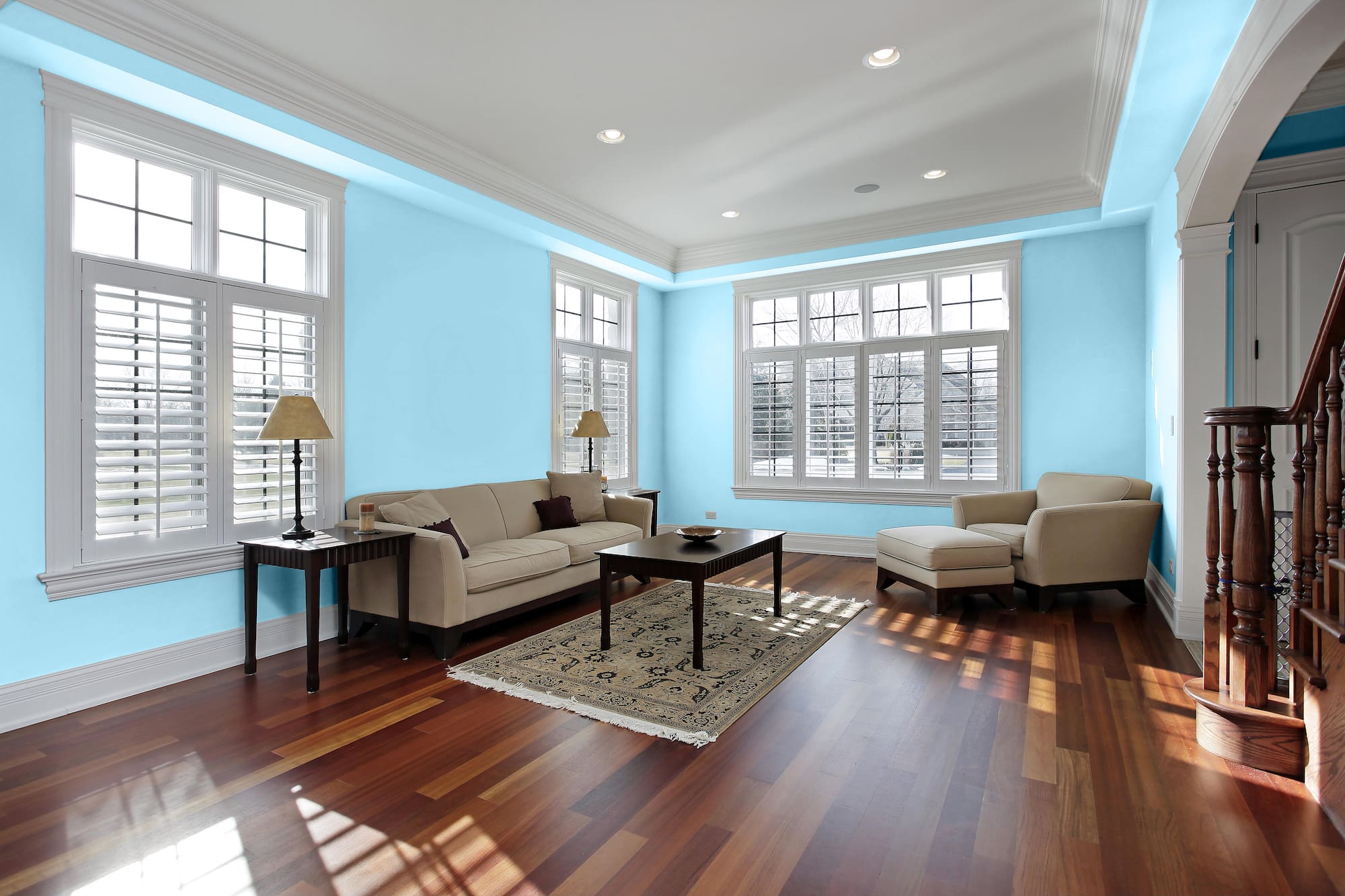 Bluebell is a pure light blue that can make you feel cheerful and calm when used for your wall color. This cool, crisp, brilliant blue can look light or dark, depending on lighting and nearby accents.
When put against dark (or light) cherry wood floors, the hardwood can cast fascinating shadows that highlight the gray and mauve pigmented undernotes in the blue for a darker tone.
Jacaranda by Sherwin Williams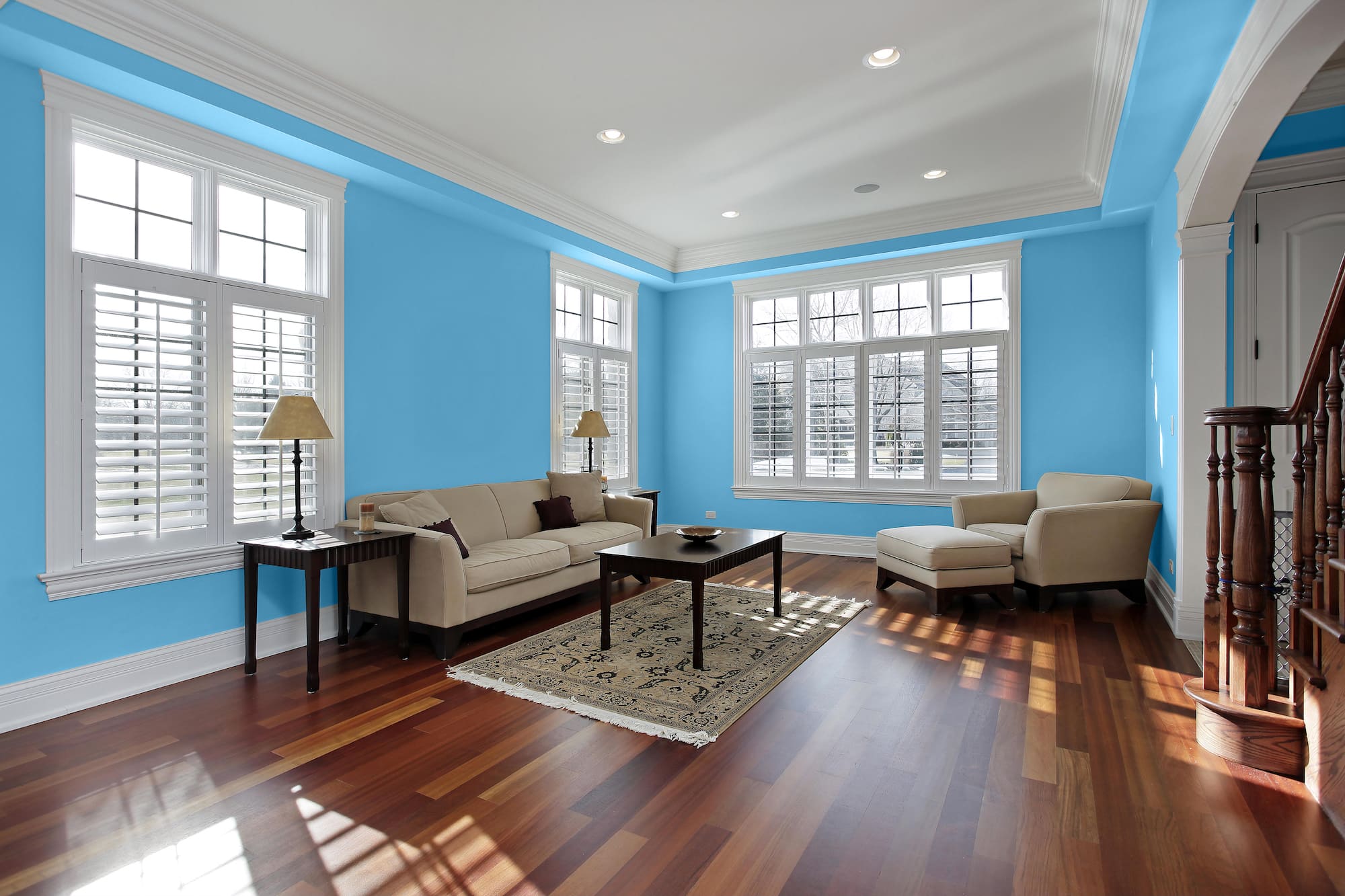 Jacaranda is a bold, mid-toned saturated shade of blue that can be the perfect vibrancy to match the richness of dark cherry wood floors.
This shade of blue has shadows of gray and potential brown nuances that tone down the bright boldness for a more subtle look.
Vegan by Sherwin Williams
Vegan is a light-medium-toned green that can give your room an earthy modern vibe. On the other hand, the warm tones of red or yellow on cherry wood floors make your space feel like a luxurious rustic nuance.
Balance the beauty of the mid-green with neutral accents like Creamy and Naturel. Earthy nudes and browns with tans and off-whites tone down the brightness of the green and the floors.
Extra White by Sherwin Williams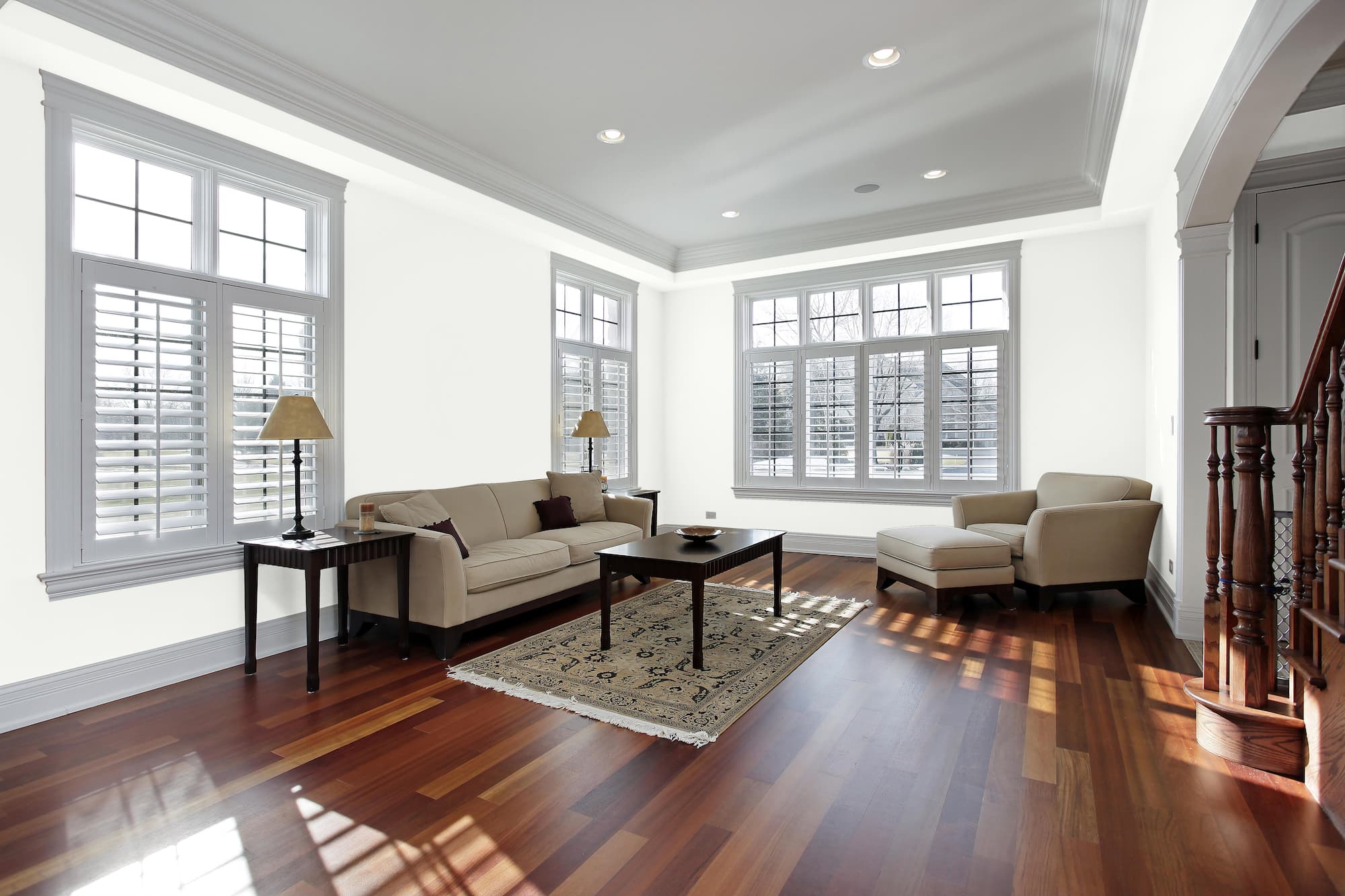 You can't get more bright and neutral for a wall color than with a white like Extra White. In addition, this color has little to no pigmentation, making it an easy color to manipulate.
When you have cherry wood floors, your white walls can start to take on interesting red notes. And depending on your type of cherry wood, you may also get yellow, brown, or gray hints.
Soho Loft by Benjamin Moore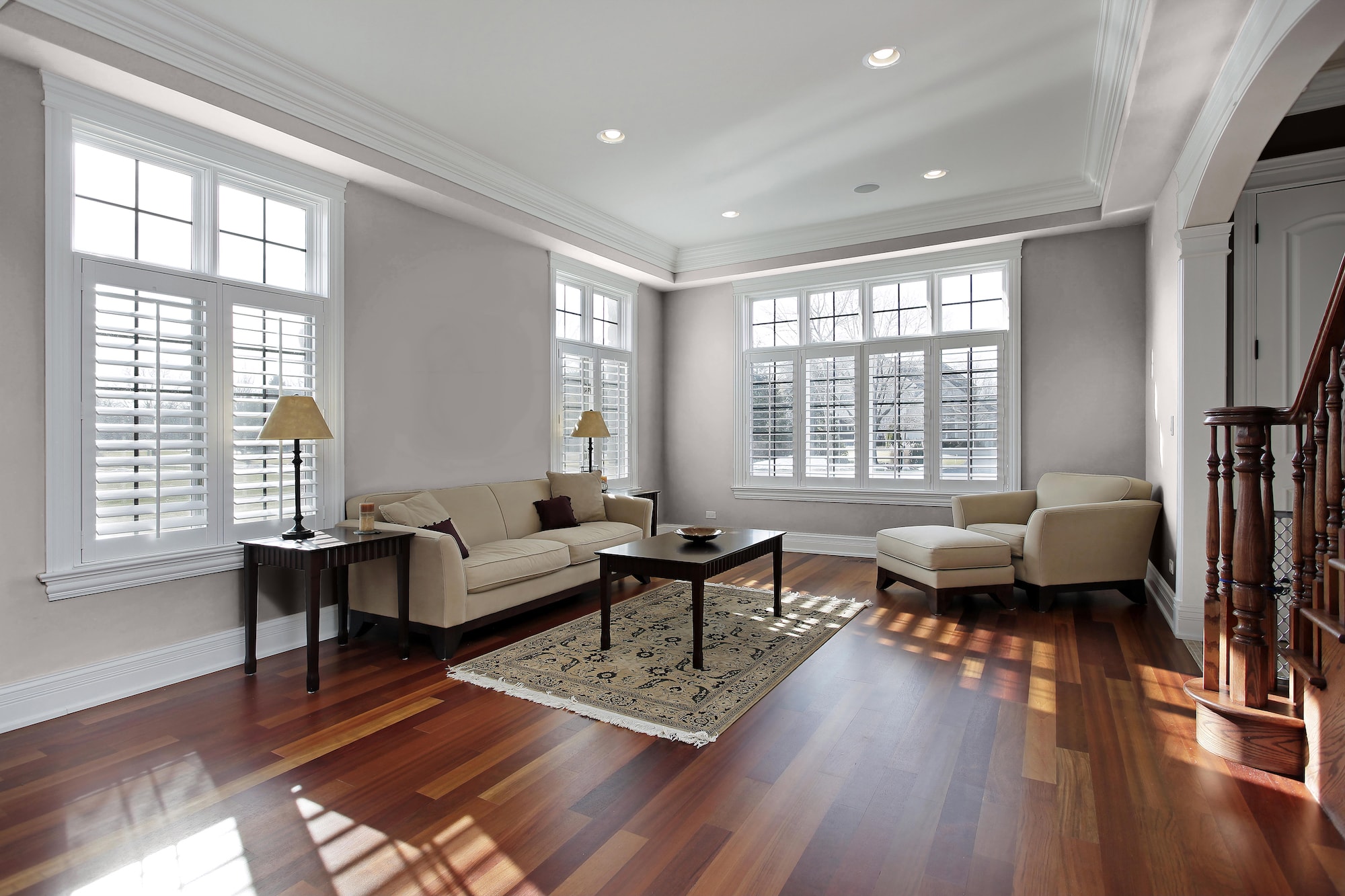 For a minimally-tinted wall color to pair with the richness of cherry woods, try a warm-toned mid-gray like Soho Loft.
This versatile color can work for any design theme, making it a one-stop color you can keep for years to come, no matter how you change your decor.
Upper West Side by Benjamin Moore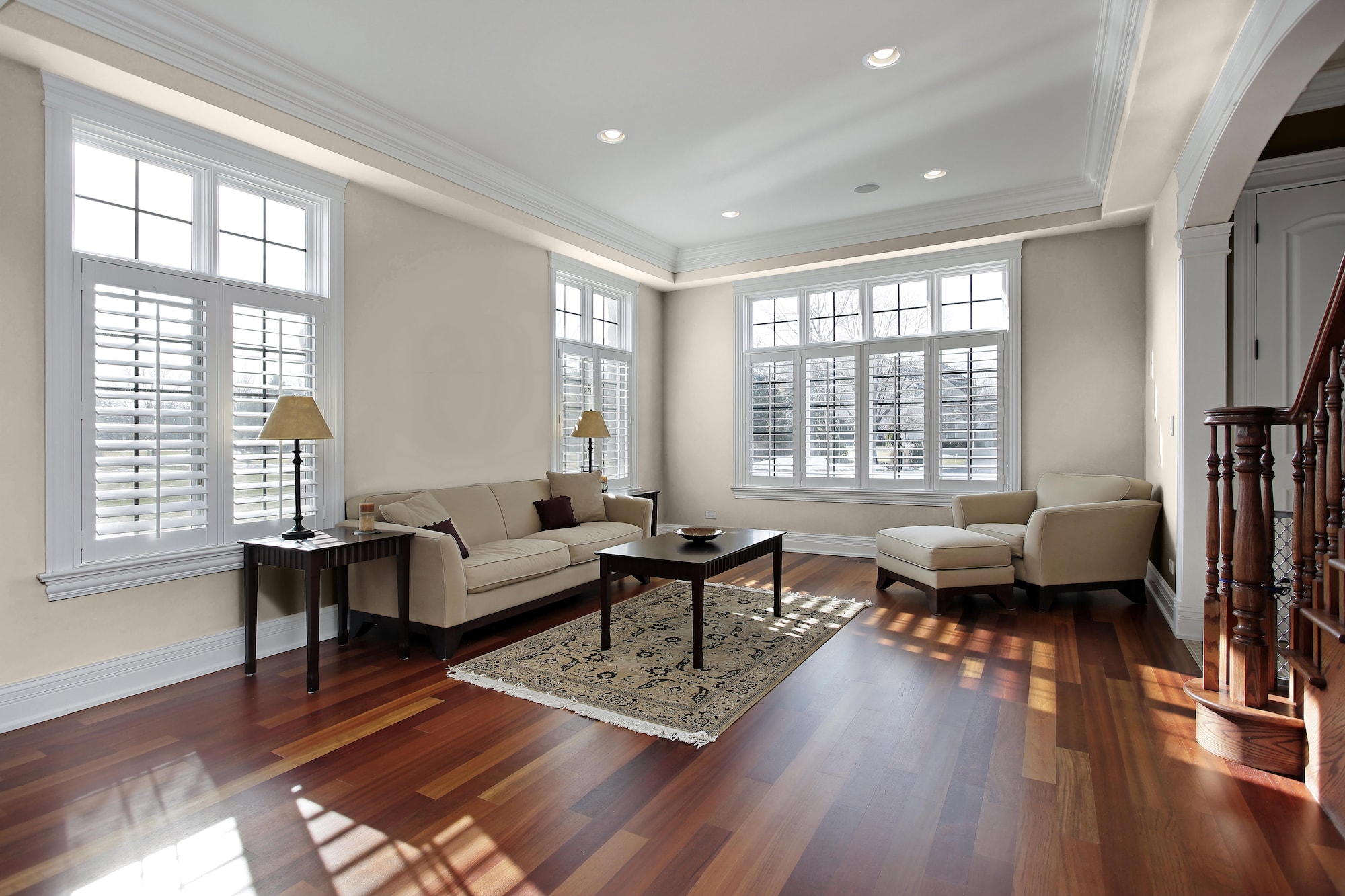 Upper West Side is a neutral, versatile shade of taupe that you can make look a few different colors, depending on what you put nearby.
The richness of cherry wood floors can make this flexible color look brown. Or it can awaken the mauve undernotes to make your walls look slightly purple or gray.
Pressed Violet by Benjamin Moore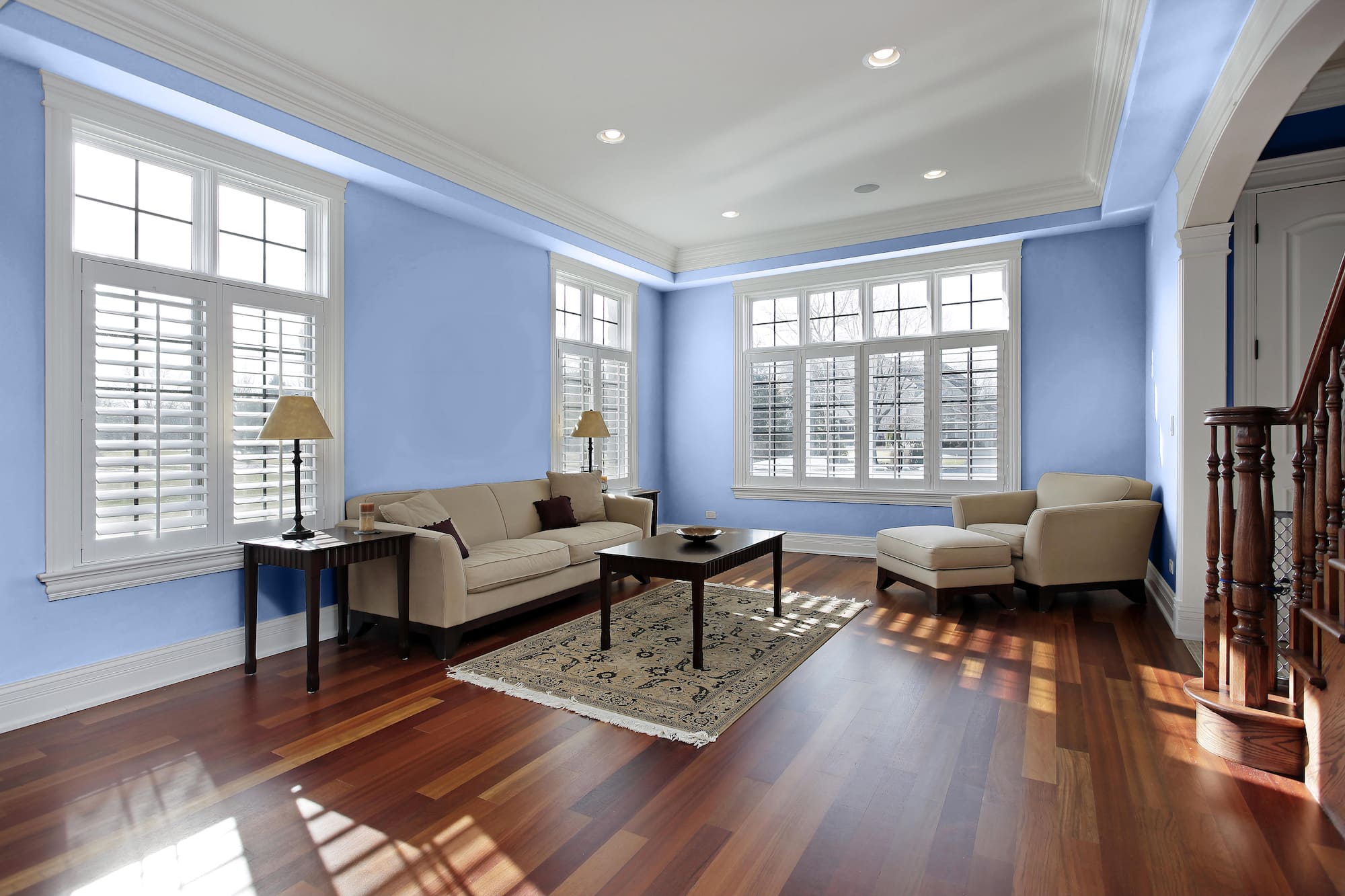 For a wall color that gives you noticeable cool pigmentation, try Pressed Violet. This incredible color is a soft, light blend of blue and lavender.
Romantic and subtle, this purple on the walls and cherry heartwood on the floors creates a timeless design that relaxes yet rejuvenates.
Rushing River by Benjamin Moore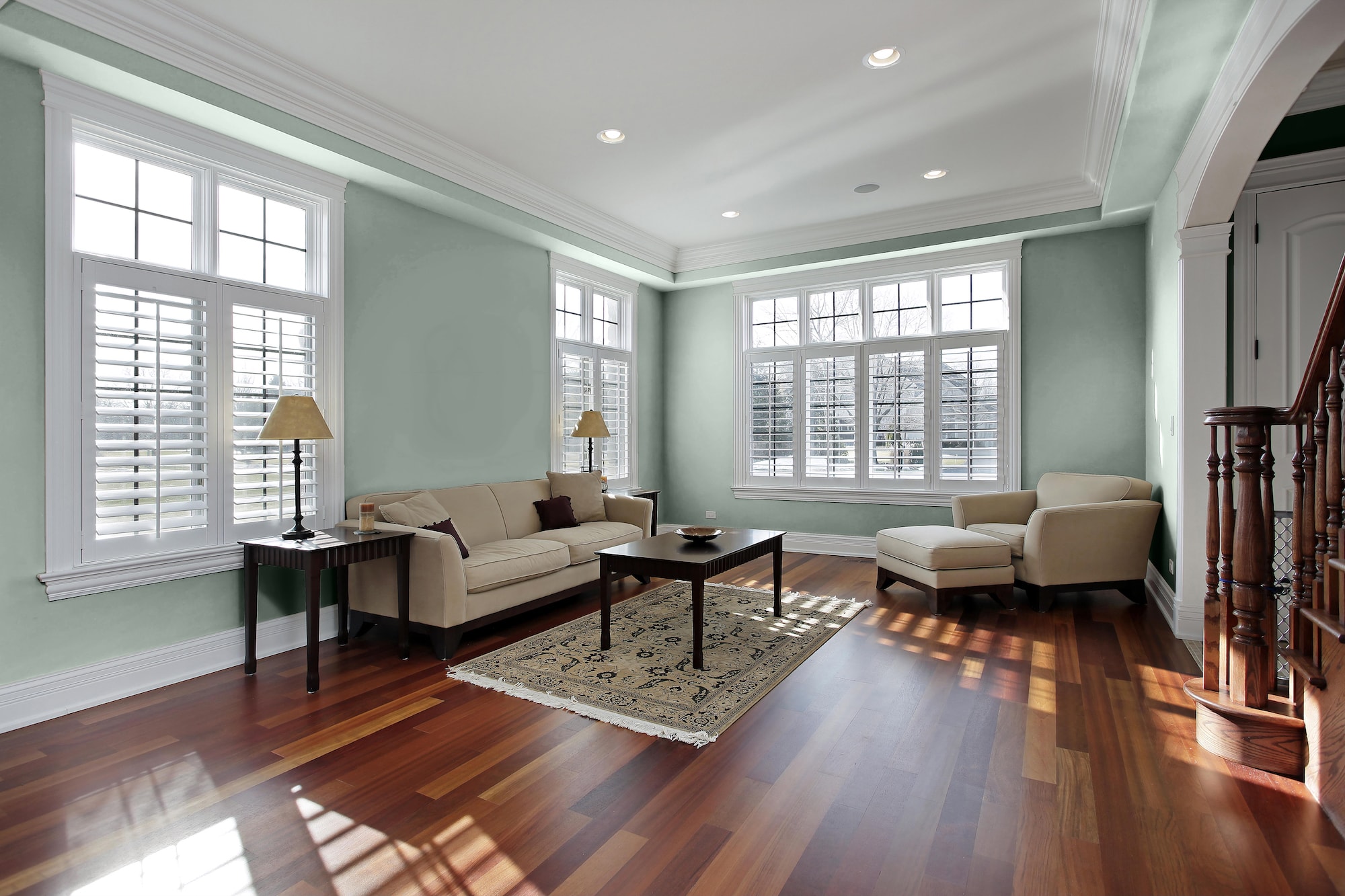 Rushing River is a stunning color to use in a room with warm-toned cherry hardwood floors. You get to say that you've chosen a shade of green for your walls.
But you don't have to feel like you're surrounded by the forest or rolling in itchy green grass. This gorgeous green is subtle and cool-toned with classy gray undernotes for a minty gray-green.
Decorator's White by Benjamin Moore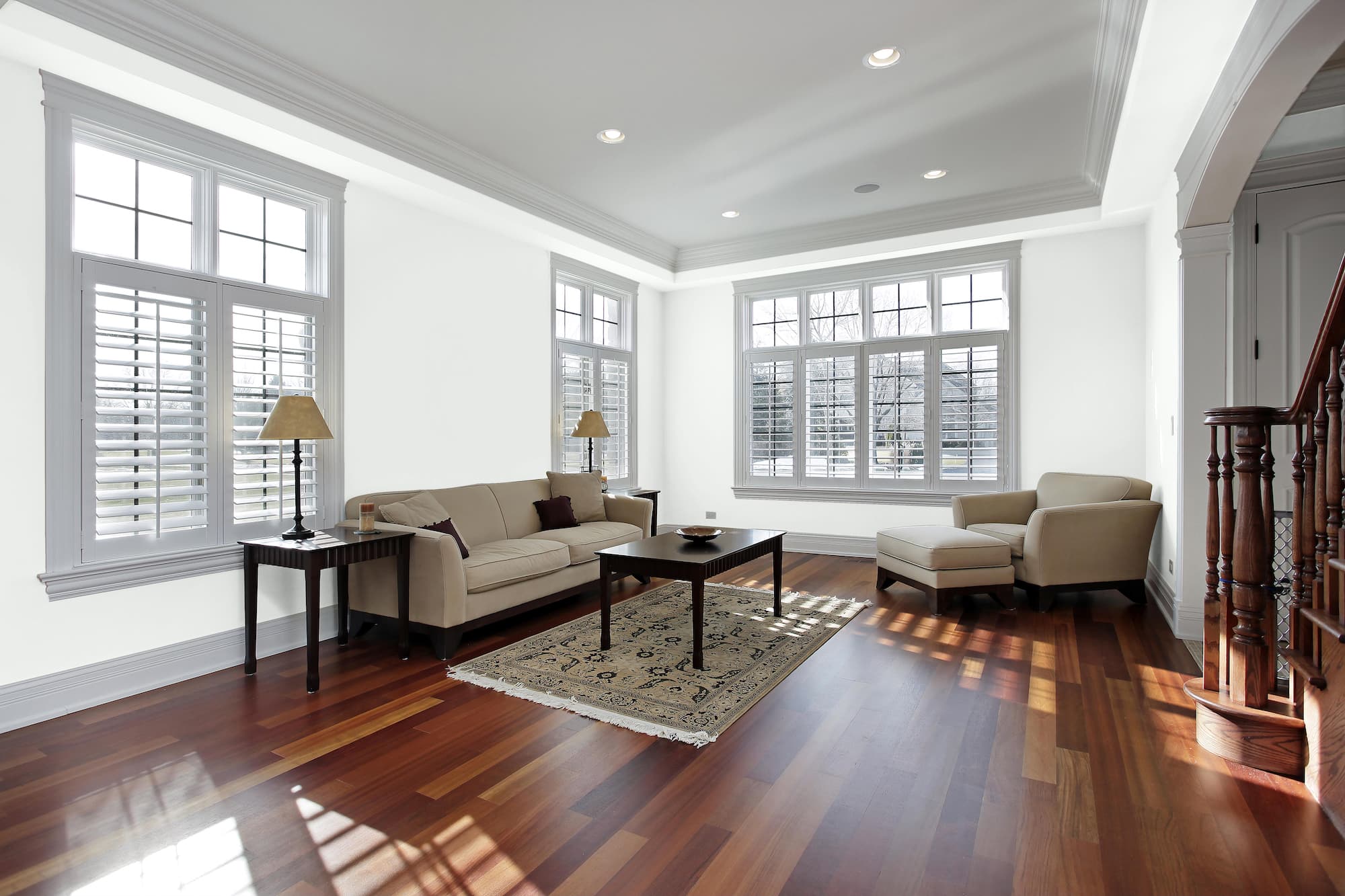 Decorator's White is a great choice for the warm tones of cherry floors. This shade has the faintest pigments of gray that adds shadows of tinting.
You can use this white for a more modern shade of white with warm tints rather than a stark uncolored white.
Ultra Pure White by Behr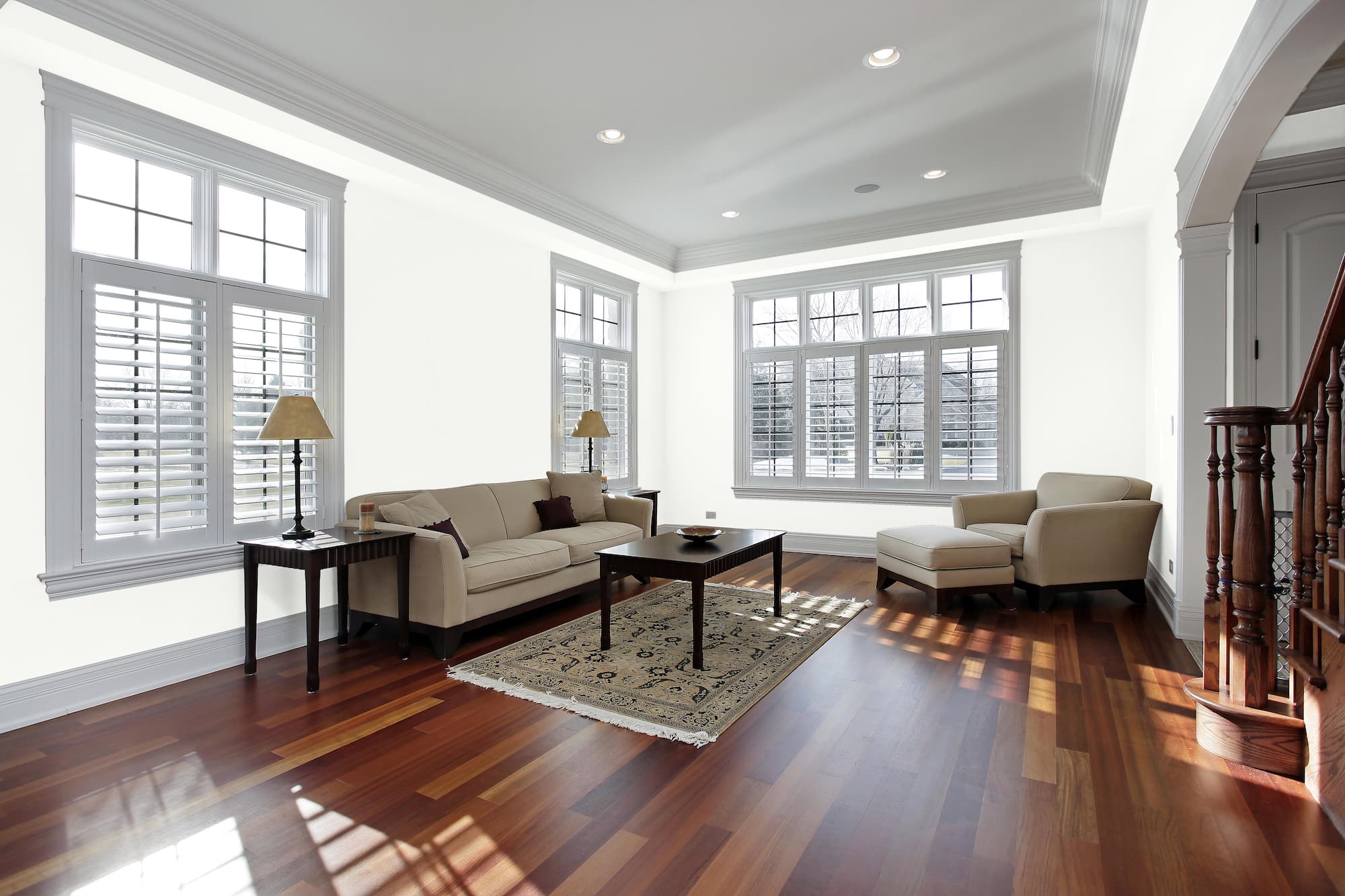 Whites are always an easy go-to color with any flooring and all colors. Ultra-pure white is the brightest, purest blank white that you can get.
When you put this stark, non-pigmented white against the various tones of cherry wood floors, your walls can take on lovely shadows cast by the floors.
Clary Sage by Behr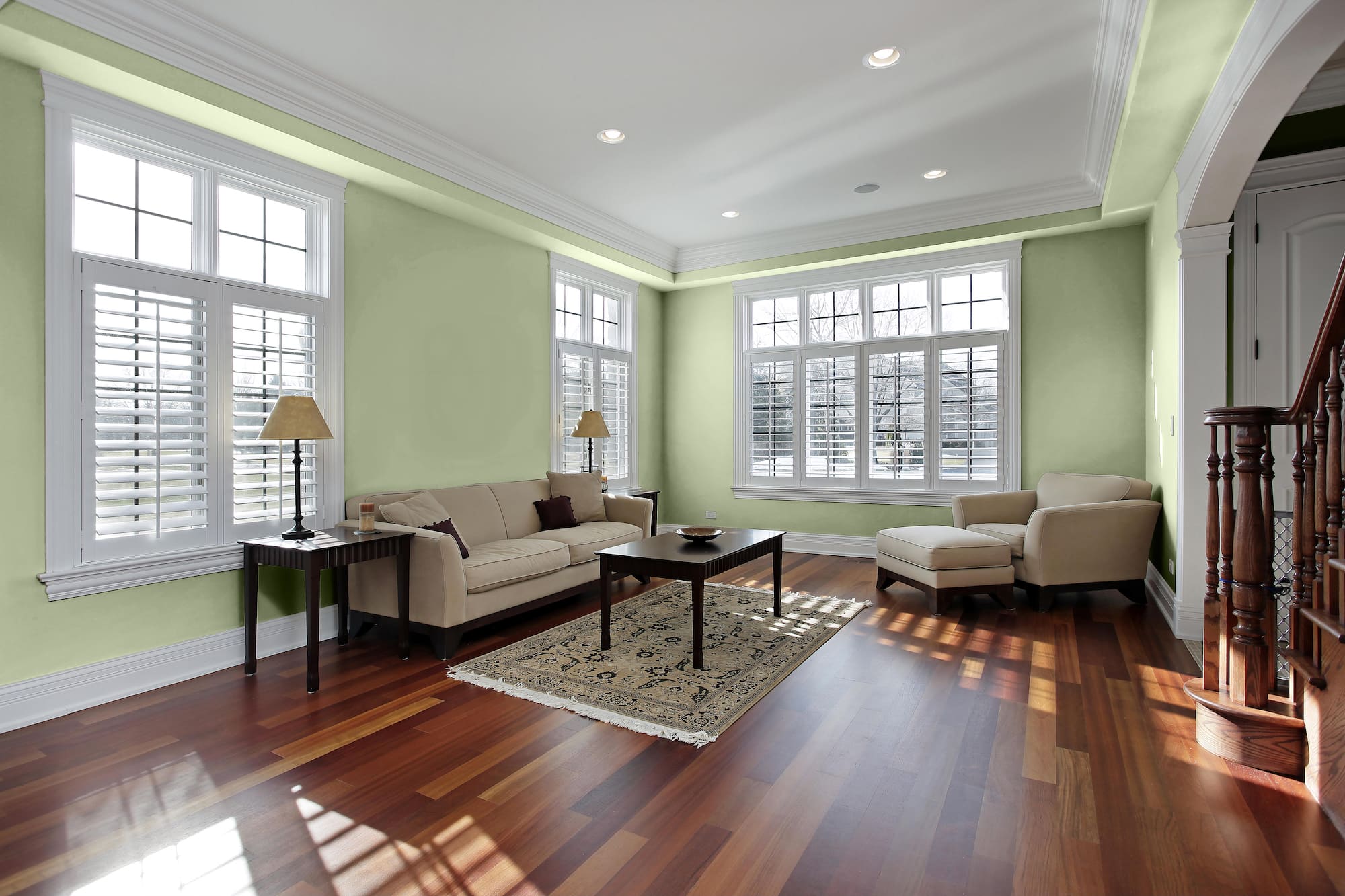 Clary Sage is a dark-toned shade of green that makes the best partner for cherry wood floors of any hue – heart or sapwood.
Although this color is green, it's a neutral shade on the darker side. The rich tones of the floors can pull out the brown hues in the green for a natural, neutral nuance.
Palm by Farrow & Ball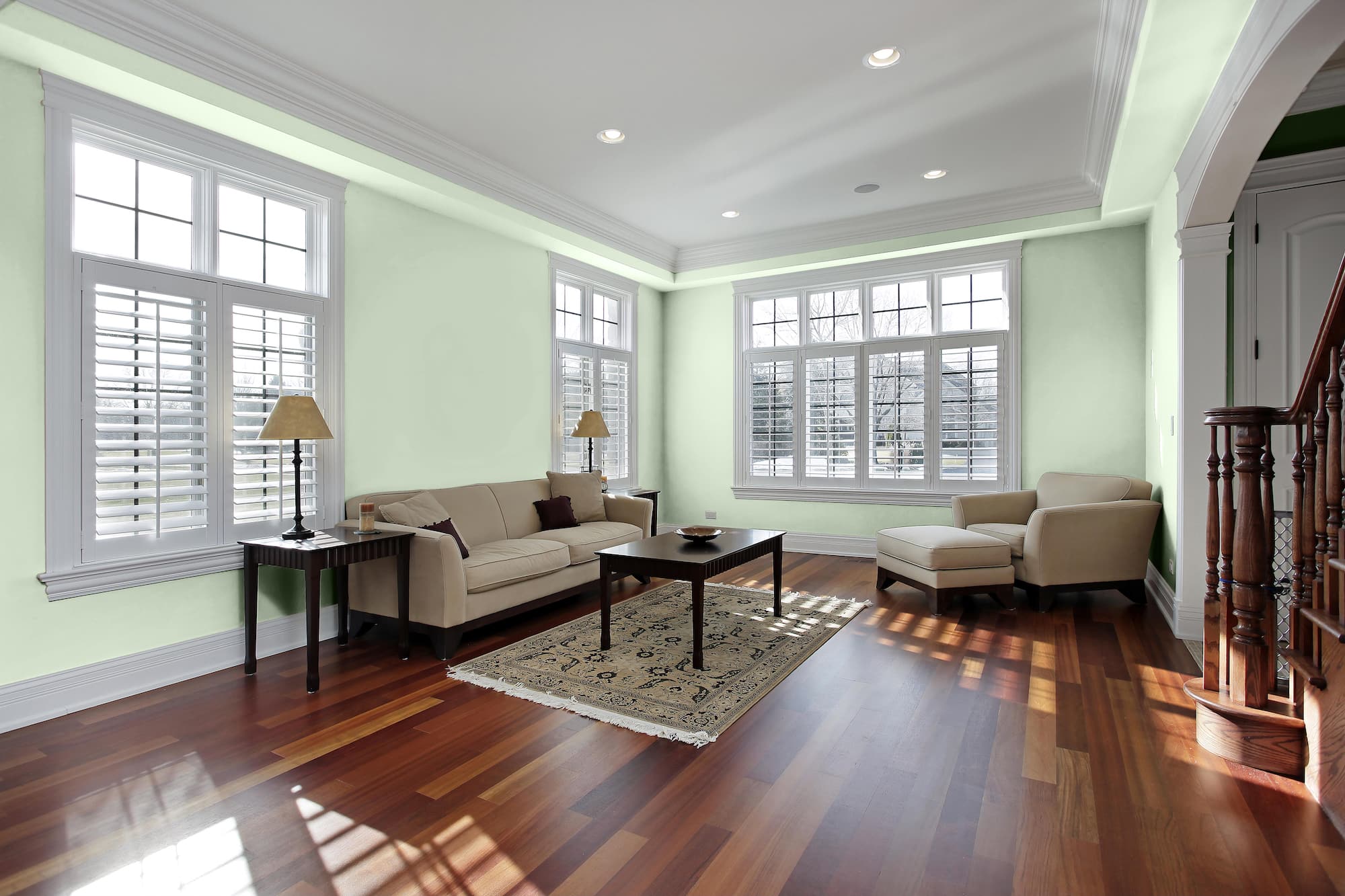 Palm is a nature-inspired shade of green that takes you to a tropical paradise from where you'd find these spindly iconic trees.
This refreshing pale green pick up the earthy tones in cherry wood, giving your room a soothing yet energetic nuance.
Hazy by Farrow & Ball
Hazy is a muted shade of gray-blue that can look excellent as the wall color in a room with lovely cherry wood floors.
Inspired by marine conditions, this color can give your space a fantastic coastal feel for a soothing, dreamy nuance.
Final Words
If you're lucky enough to have the beauty of tropical, warm rich-toned cherry wood floors, you want to do them justice by picking the right wall color. We've shown you fifteen choices for wall colors that go with cherry floors.