Decorated Life is reader-supported. When you buy through links on our site, we may earn an affiliate commission. Learn More
20 Best Ceiling Lights for Your Bedroom
If you're in the market for a new bedroom light, you'll quickly discover pendants and chandeliers are the dominant choices. But that doesn't mean you can't find a suitable flush mount or ceiling fan if that's what you prefer.
The best choice depends upon your style and whether you want a subtle or bold fixture.
Need some inspo for your room? Check out these top 20 ceiling lights for bedrooms.
Draw Attention to the Bed with a Round Chandelier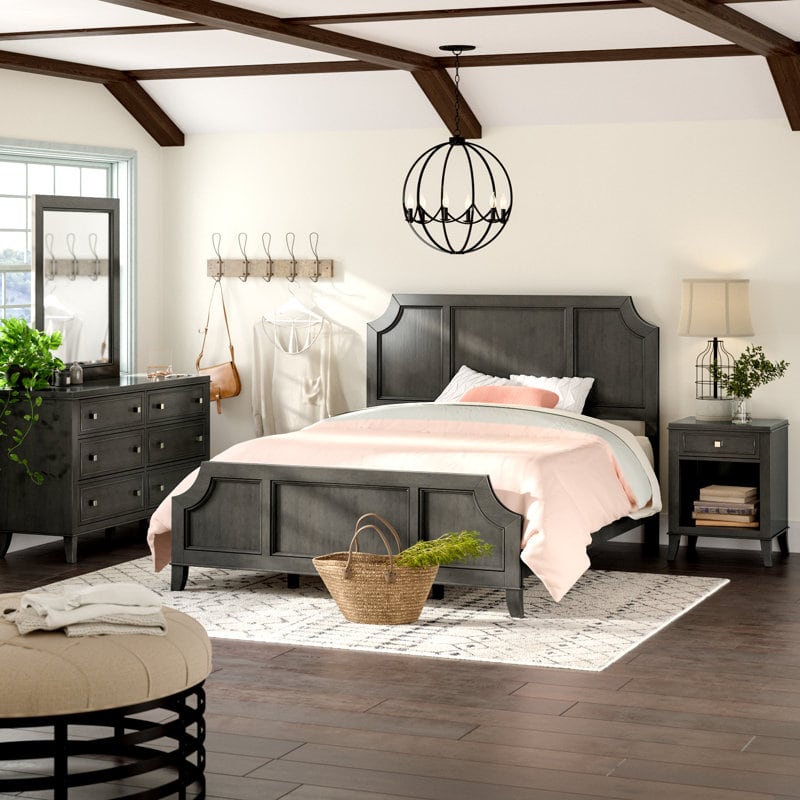 Chandeliers are perfect for creating focal points. But sometimes they look a bit too busy -especially if you have a casual-style room.
This round-style chandelier is the perfect low-maintenance light fixture for a casual, modern, or farmhouse space. A matte black finish gives it a contemporary feel, while the gold looks feminine. This style of light looks perfect over a bed.
Add Drama with a Giant Pendant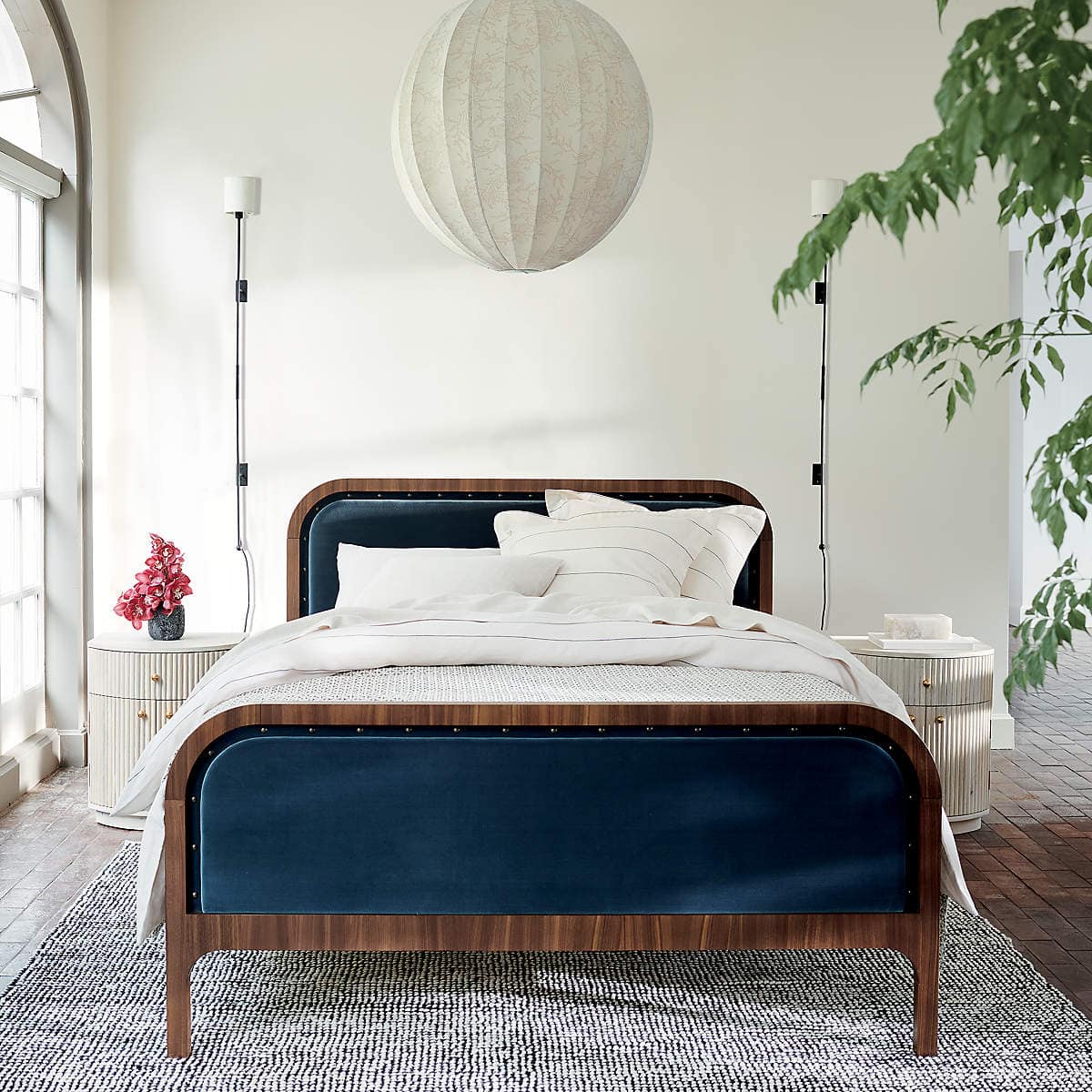 If you want drama in your bedroom ceiling lights, choose something oversized like this pendant light from CB2.
This large pendant measures approximately 32 inches in diameter. Its size stands out, but its tone on tone color scheme and simple shape offer a classic feel. You can use this light in casual, traditional, modern, and boho spaces that need an interesting touch.
Bring in Natural Texture with Jute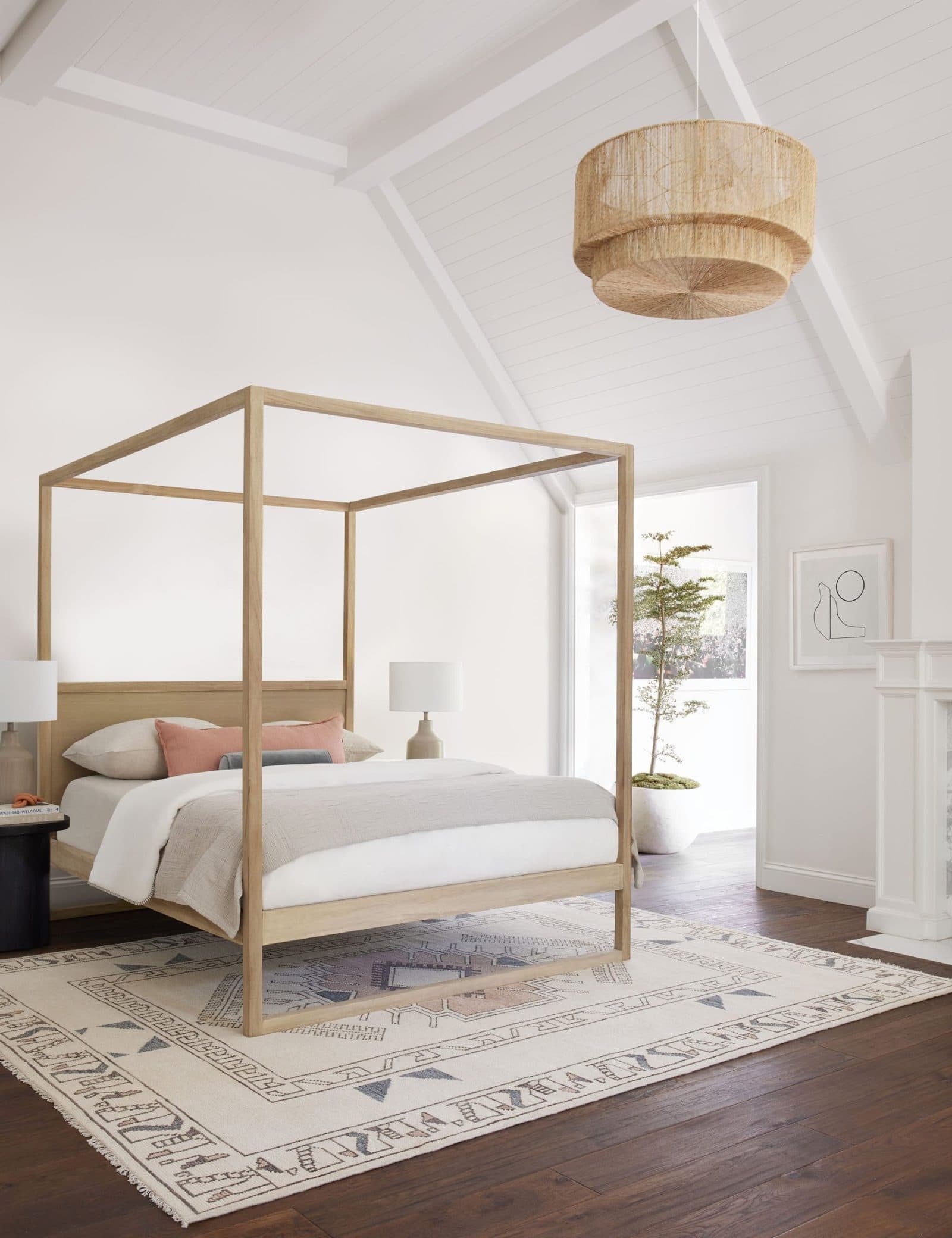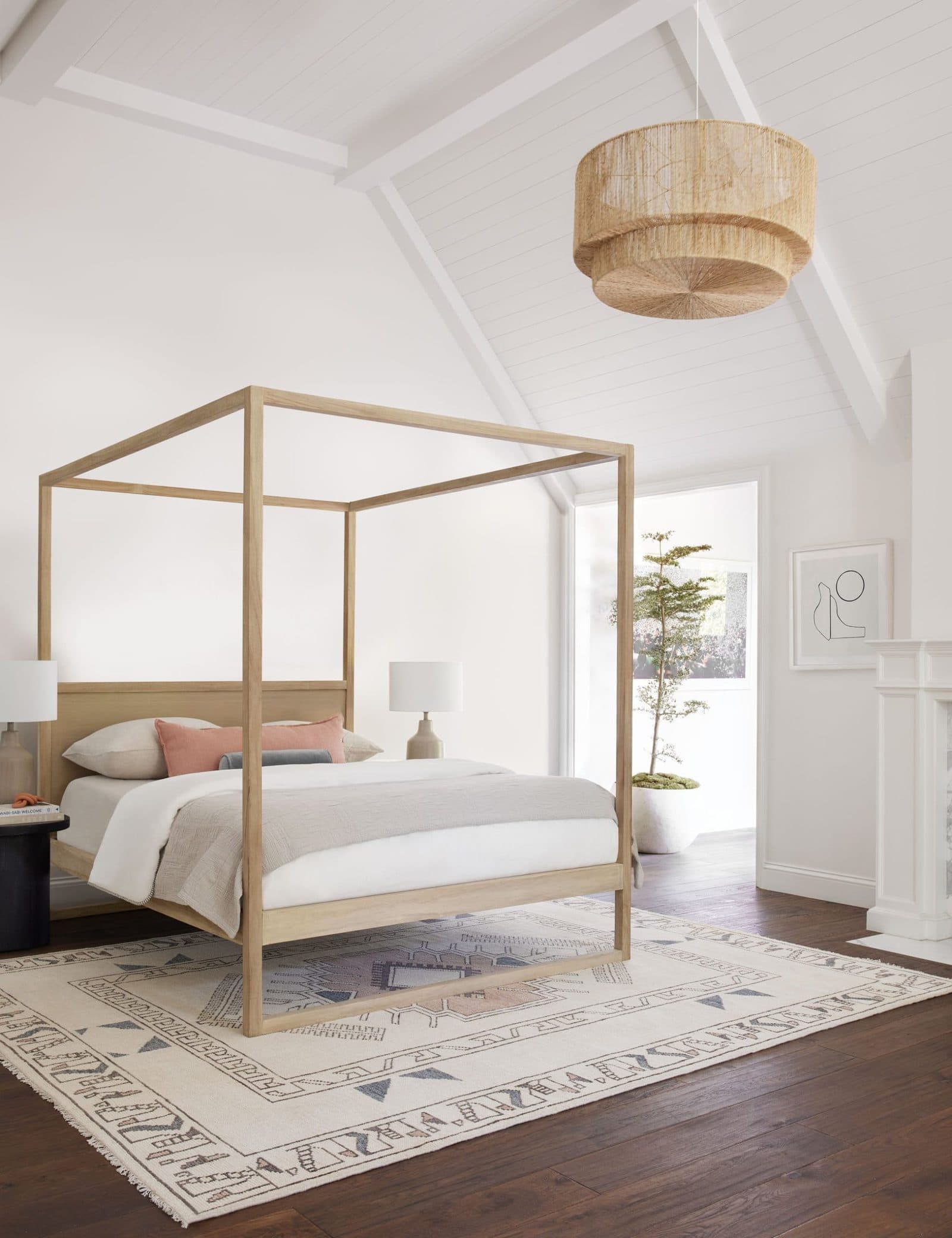 Textural pieces can elevate a room, making it feel higher-end and more pulled together. And while the texture is often brought in with rugs and blankets, you can also get it in your light fixture.
This jute pendant light from Lulu and Georgia is pretty large at 24 inches in diameter. However, it has an adjustable cord that ranges from 18 to 60 inches – so no matter if you have standard or tall ceilings, this light can work.
Hang Ceiling Lamps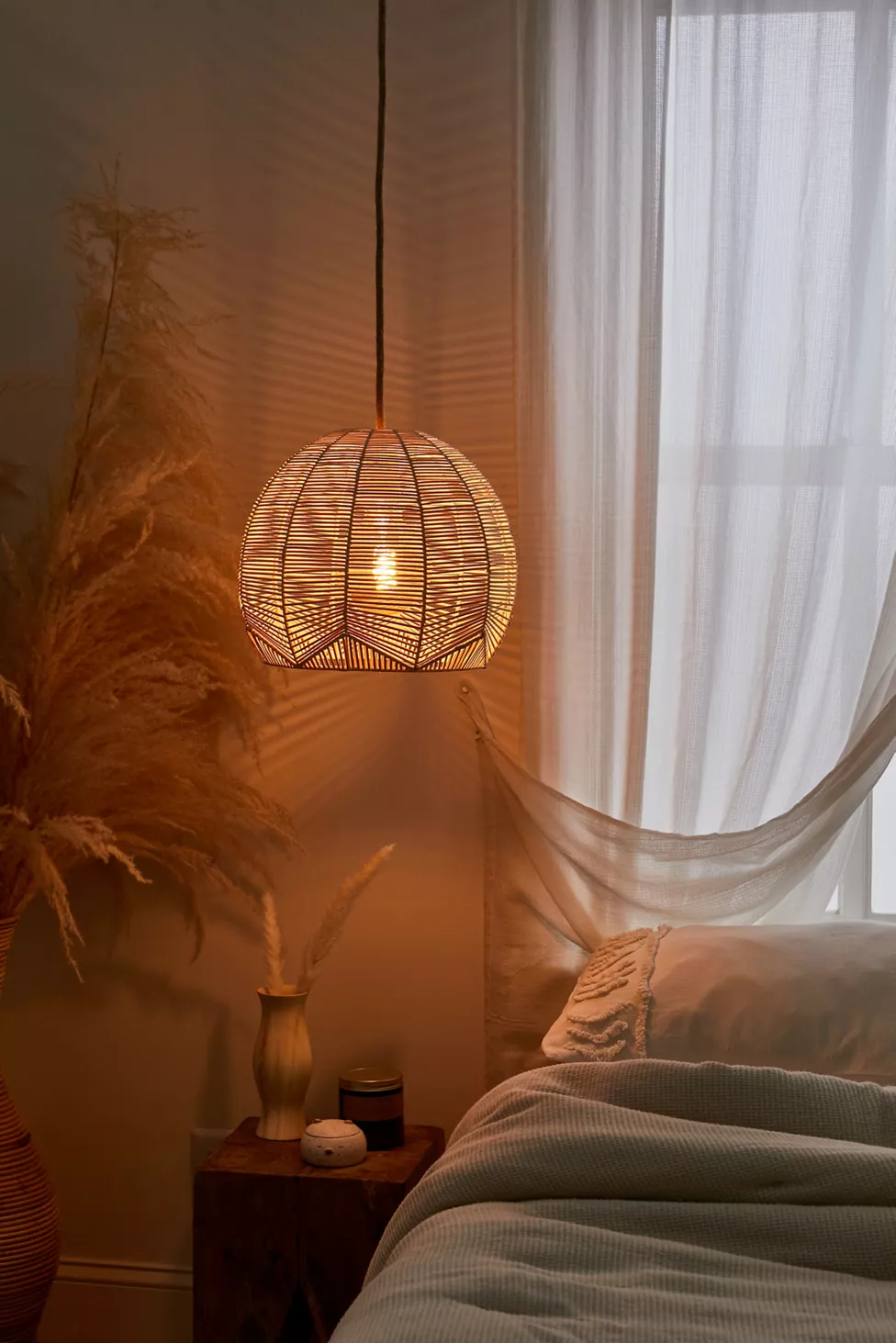 If you're looking to replace your ordinary table lamps, consider hanging a bedroom ceiling lamp instead. To do this, place pendants with long cords on either side of your bed to mimic the look of a lamp.
This pendant from Urban Outfitters is an excellent option if you like an earthy boho feel. It has a super long 120-inch cord and features a rattan shade in a fun design.
Cool Off with a Ceiling Fan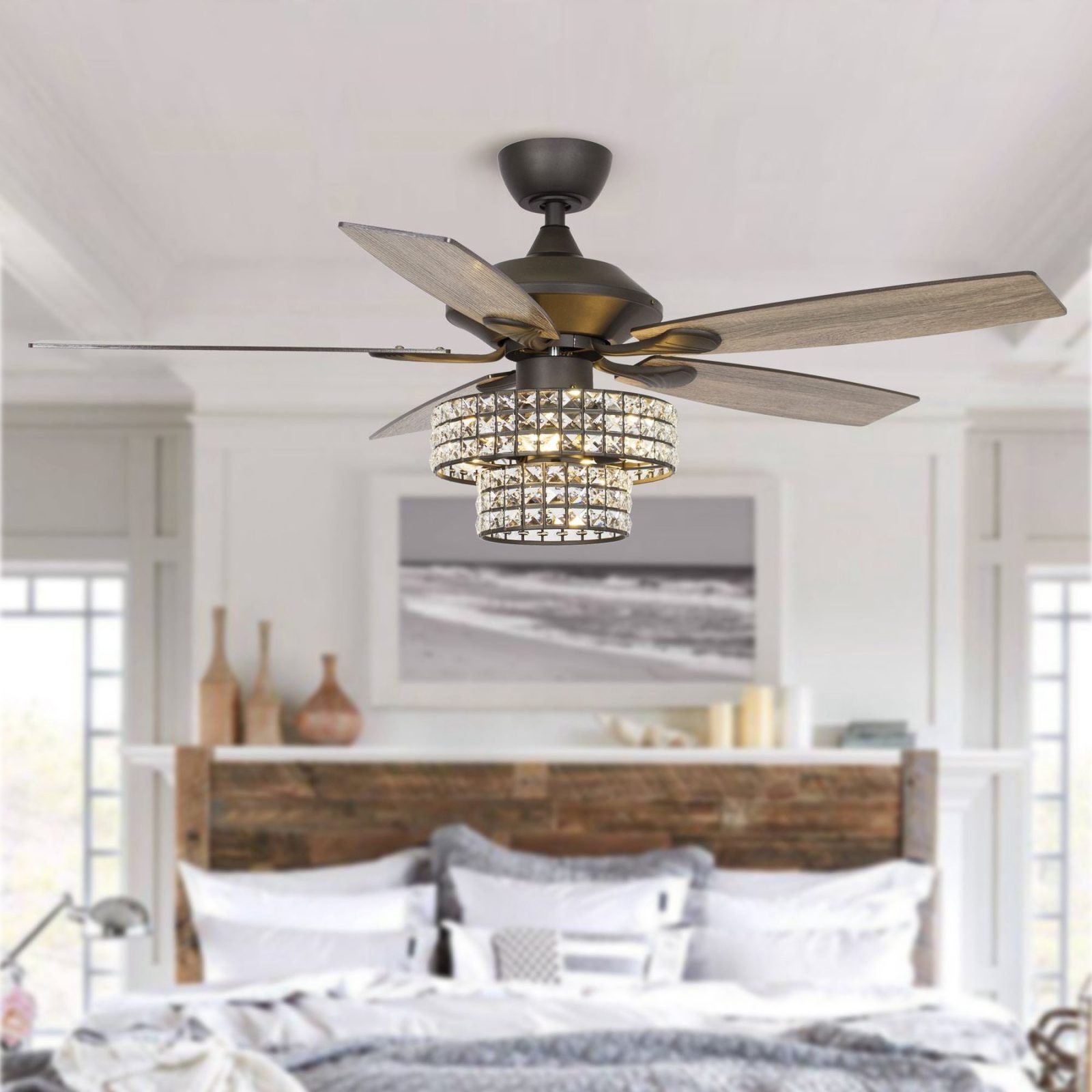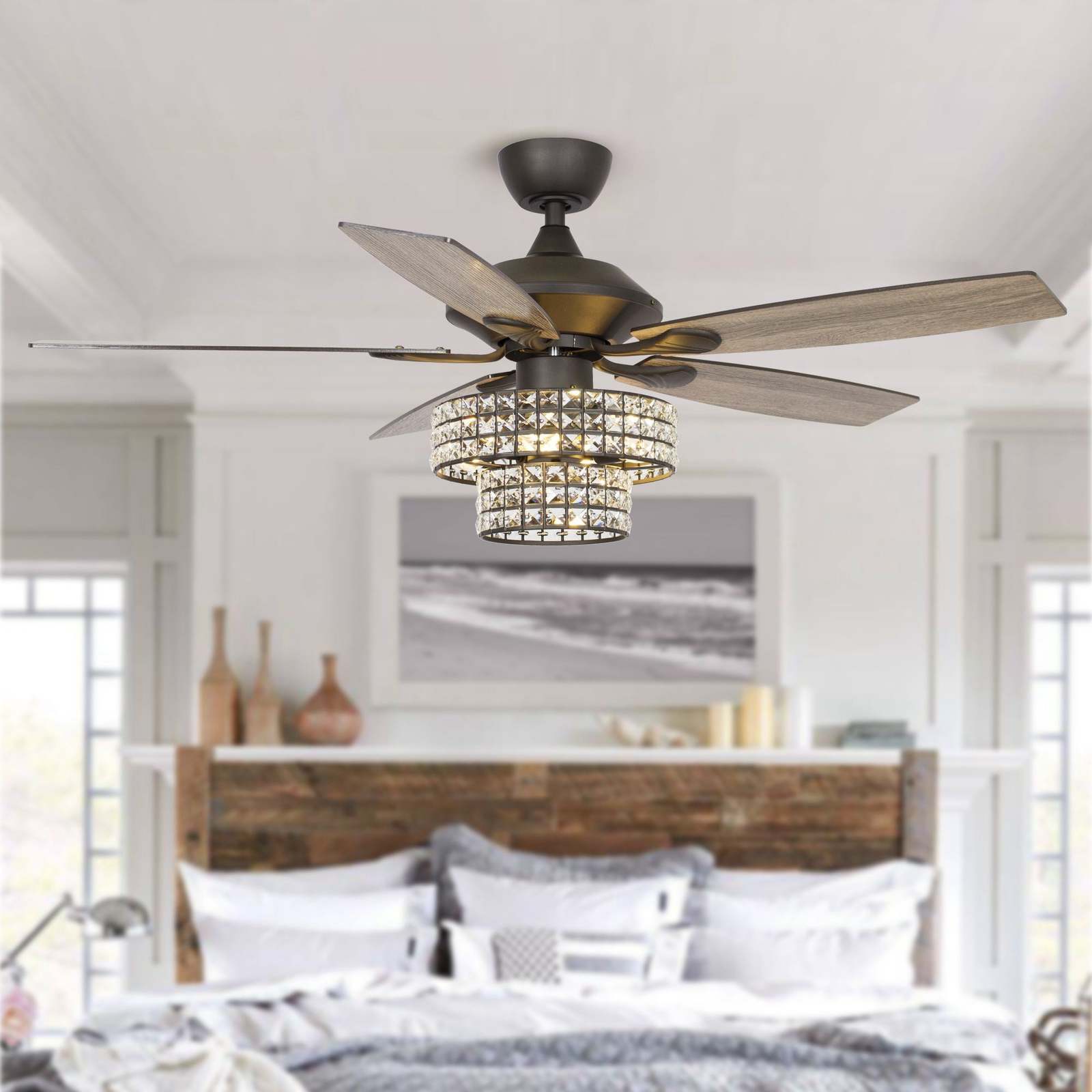 While most bedroom lights favor chandeliers and pendants, you can still find beautiful ceiling fans.
If you like to keep a fan on you at night, consider a contemporary option like this. The crystals give it a glam vibe, but it could still work in modern farmhouse, traditional, contemporary, and glam style bedrooms. It comes in chrome or black.
Play-Off Nature with a Honeycomb Pattern
Copying patterns in nature often yield the most beautiful home decor pieces. And when it comes to this honeycomb chandelier, there's no exception.
This bedroom ceiling light fixture is from Serena and Lily. It comes in three different sizes, so you can choose something small and understated or go bold, as shown in the photo. This fixture is neutral enough to go with most design styles.
Go Industrial with a Factory Style Light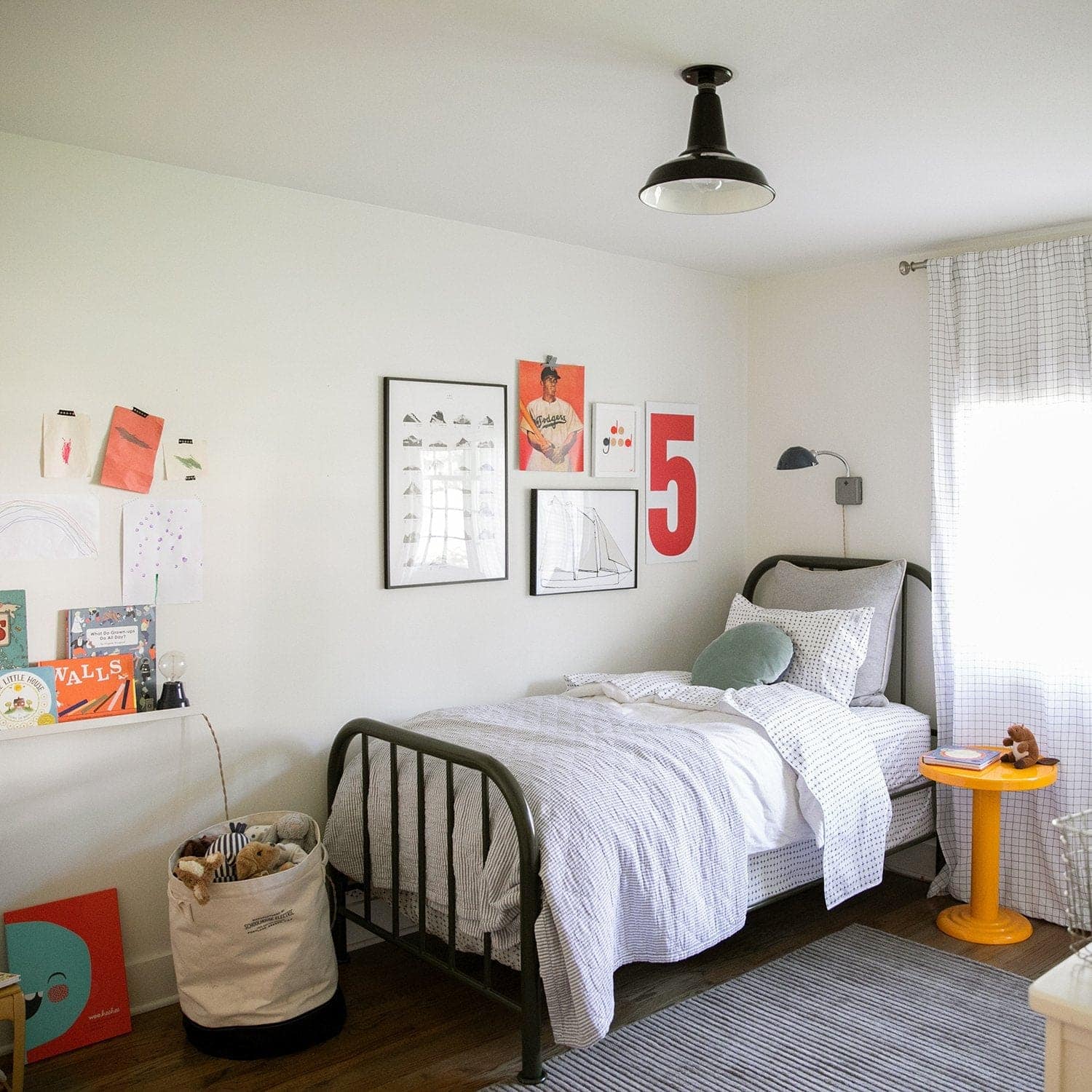 This fixture couldn't be a better fit if you like the industrial look. From Schoolhouse, the design inspiration for this light is 1930's factories.
It has a sleek design appropriate for modern, Scandinavian, minimal, and industrial-style bedrooms. You can find this fixture in three colors: black, white, and gray.
Create a Focal Point with a Candle-Style Fixture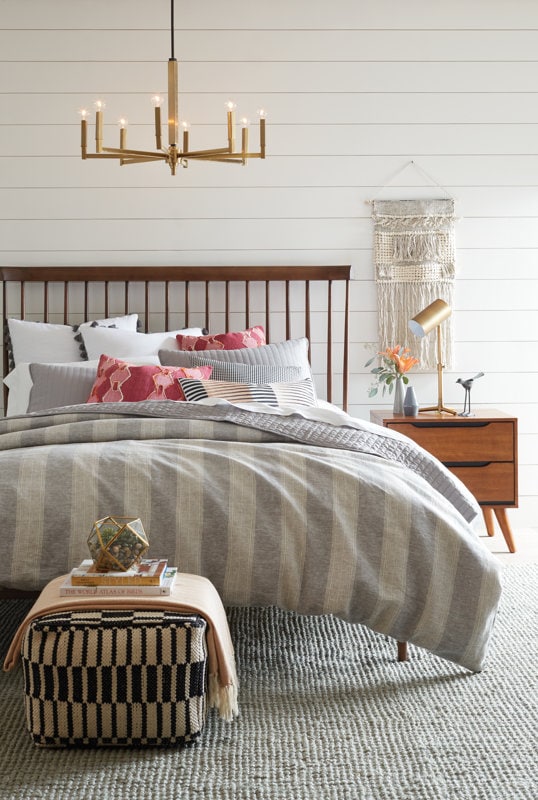 If you want your light fixture to be the room's focal point, consider something like this. This eight-light candle-style chandelier draws attention and looks perfectly centered over the bed.
It comes in a brass finish, has an adjustable height cord, and is adaptable for sloped ceilings. This light fixture is a traditional style and can work in many different spaces.
Get the Farmhouse Look with a Beaded Chandelier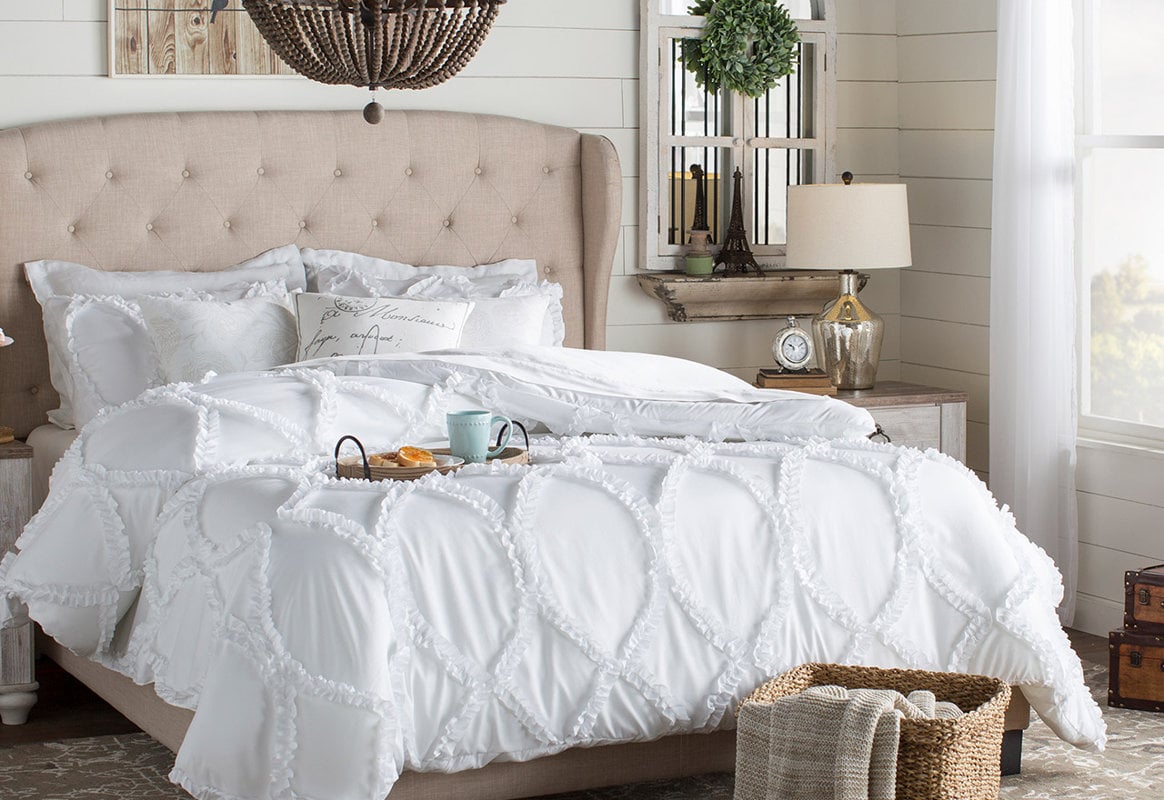 There's no doubt in my mind, if you like the modern farmhouse look, you've seen this light fixture in several rooms. And there's a good reason for that – it's the perfect mixture of rustic and glam.
This version of the classic farmhouse light is from Wayfair. It features weathered tobacco beads on a metal and wood frame. If you're looking to add texture to your room, this is a top choice.
Keep it Clean and Simple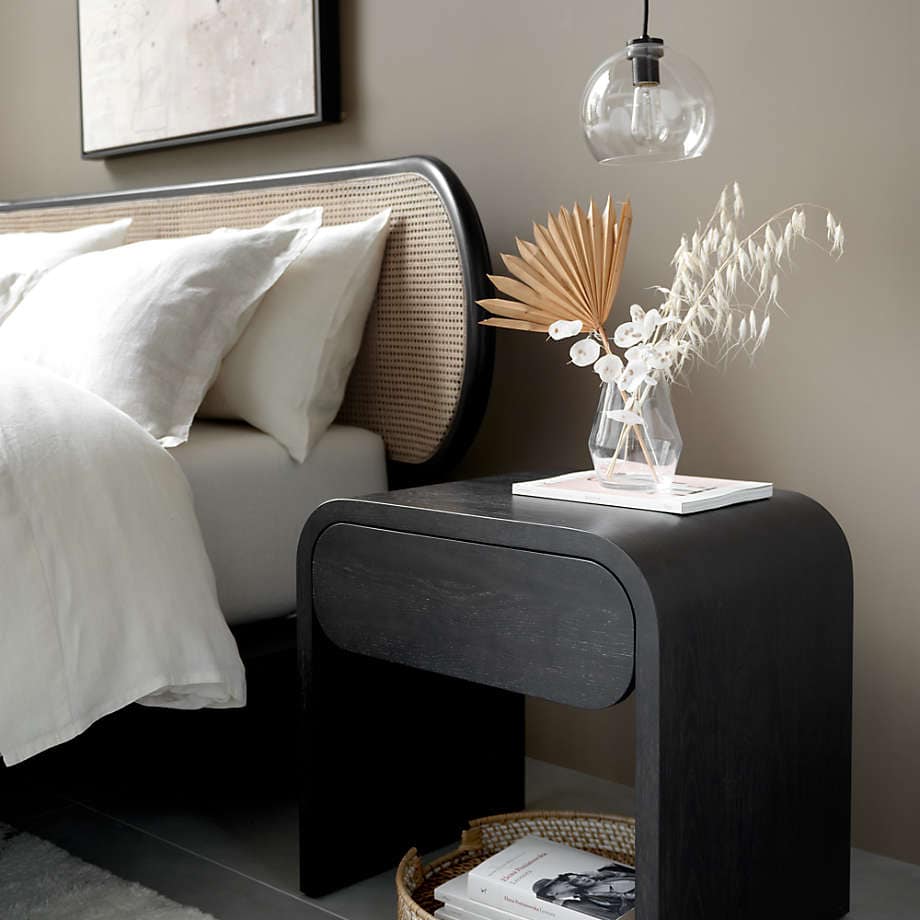 If you want your lighting to look clean and simple but still stylish, try this pendant from Crate & Barrel. It comes with a long adjustable cord so you can create the perfect height.
The cool thing about this light is that you can mix and match with others in the same line. Plus, this comes in three color choices for the glass shade and two color choices for the socket.
Try a New Spin on the Ceiling Fan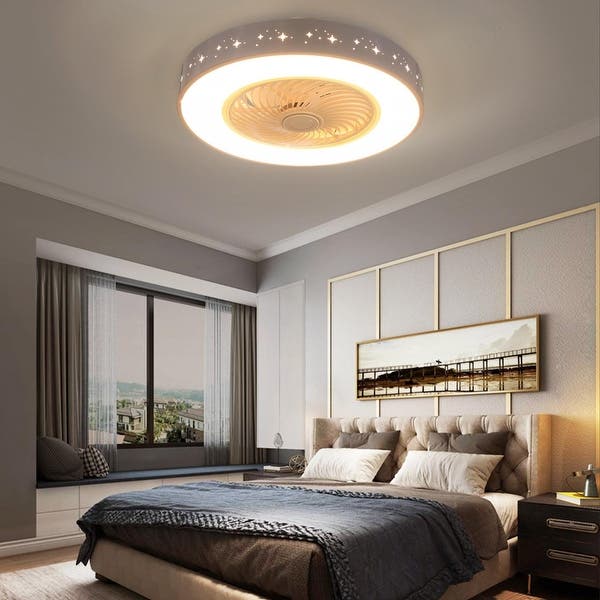 Do you like having the latest tech for your home? If yes, check out these upgraded ceiling fans from Overstock.
These lights have a built-in ceiling fan and dimmable light, all remote-controlled. This fixture is 22 inches in diameter and comes with three light settings: white light, neutral light, and warm light. You can use this fixture in any mid-century modern bedroom.
Be Subtle with a Small Caged Pendant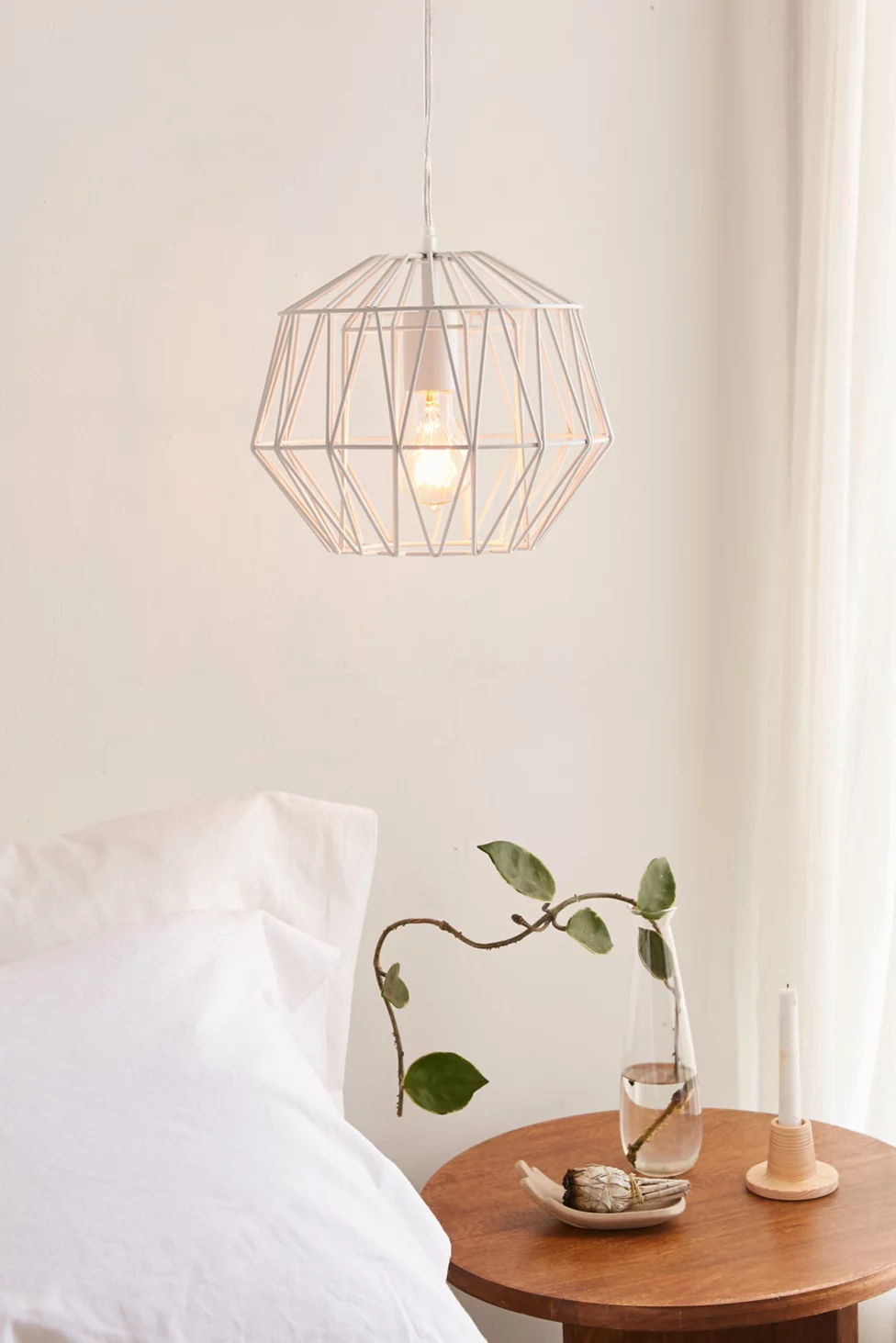 Not every room needs to have a light fixture as the focal point. Sometimes you want your bed, wall art, or even plants to be the center of attention. And to get that look, you need a more subtle light.
This pendant from Urban Outfitters is perfect when you want a beautiful, timeless light that doesn't draw too much attention. It looks good in the room, services its purpose, and won't steal the show.
Define Your Space with a Giant Rattan Pendant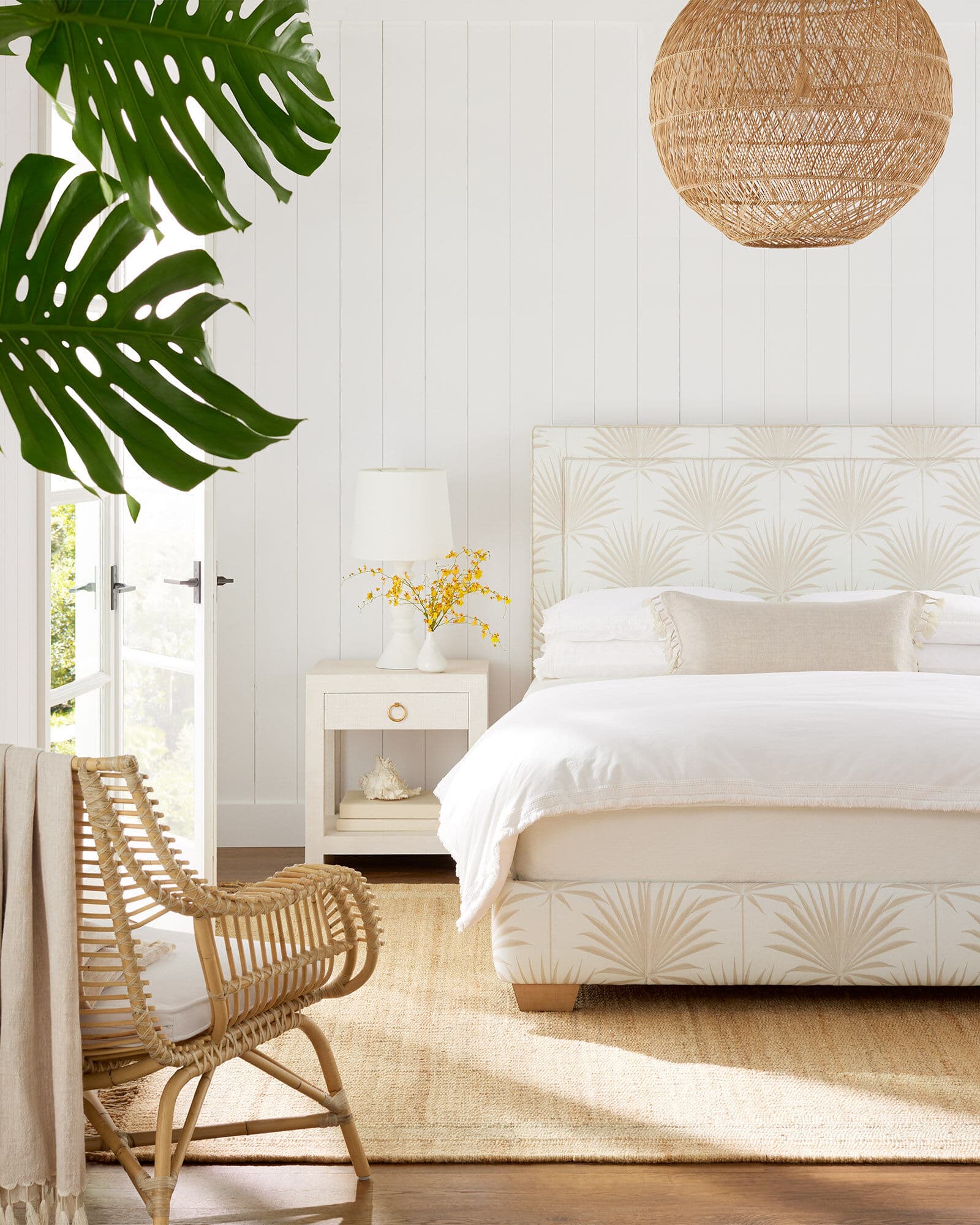 Now, let's cover a light fixture that's the opposite of subtle. If you're looking to define a space or create a focal point in the room, you can't go wrong with this rattan pendant.
From Serena & Lily, this light fixture comes in two sizes – small, 20 inches in diameter, and large, 30 inches in diameter. If you center your light over your bed, you can make a bold statement with the large option.
Match Any Modern Decor with a Simple Flush Mount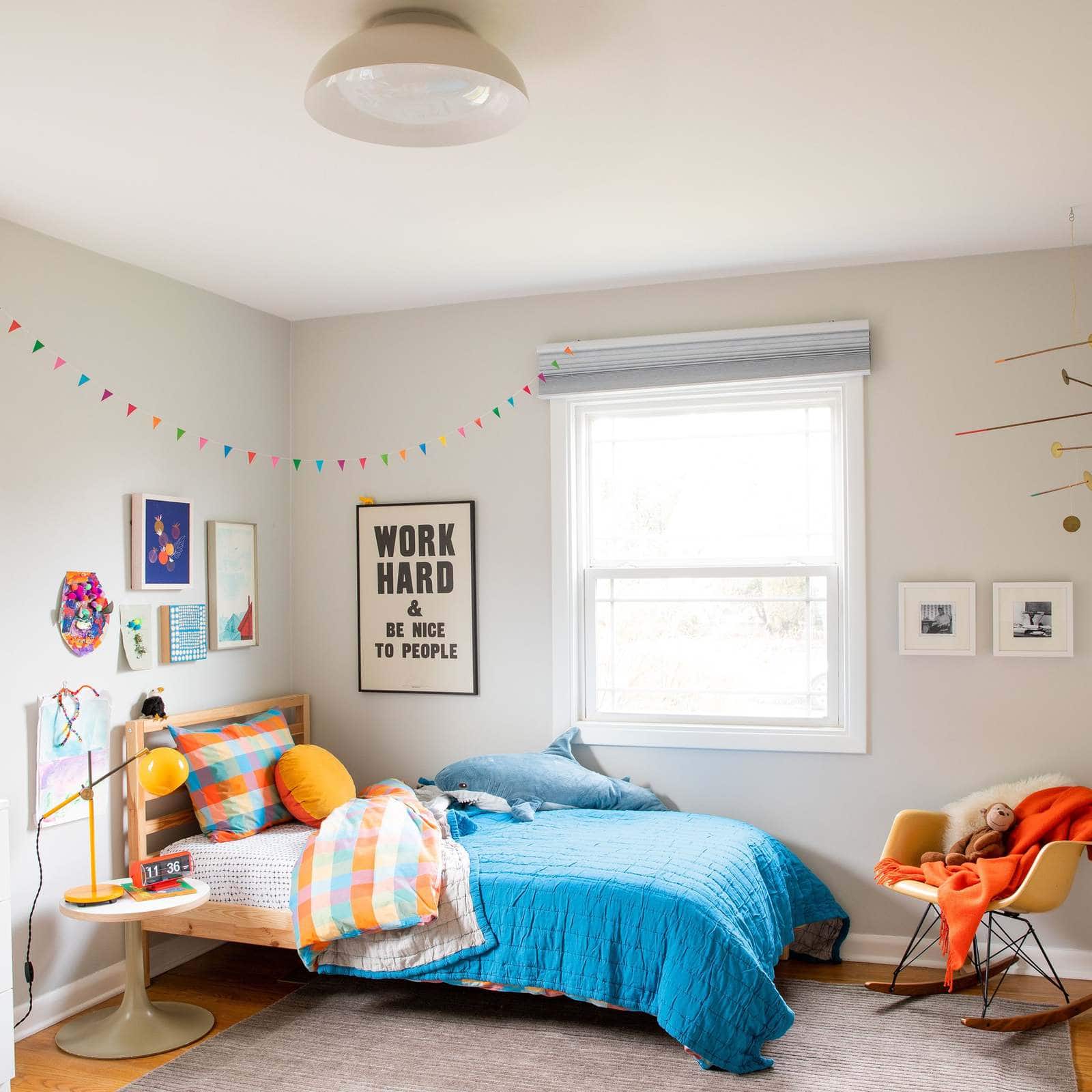 If you hate picking out light fixtures and want an option that matches any type of modern or contemporary decor, look no further.
This simple flush mount fixture from Schoolhouse comes in six colors, but if you want to play it safe, just go with black. This light will work in any modern design but can also fit a modern farmhouse and some boho-style bedrooms.
Add Interest with a Sputnik Style Light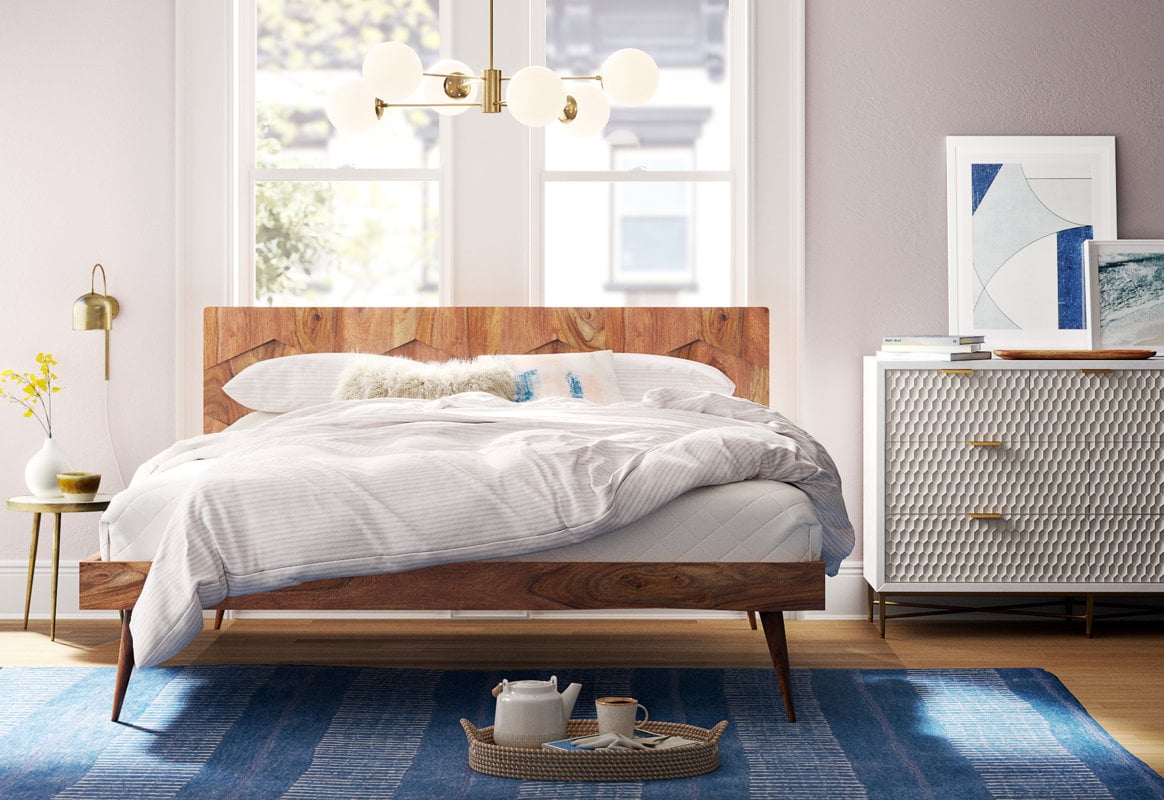 If you're a fan of Sputnik light fixtures, you can find many variations, including this one from Wayfair. This light is perfect for modern bedrooms but can also work for slightly rustic or traditional styles.
You can get this fixture in two colors: satin brass or black. It holds six light bulbs, and you can adapt it for sloped ceilings.
Give Your Bedroom a Glam Look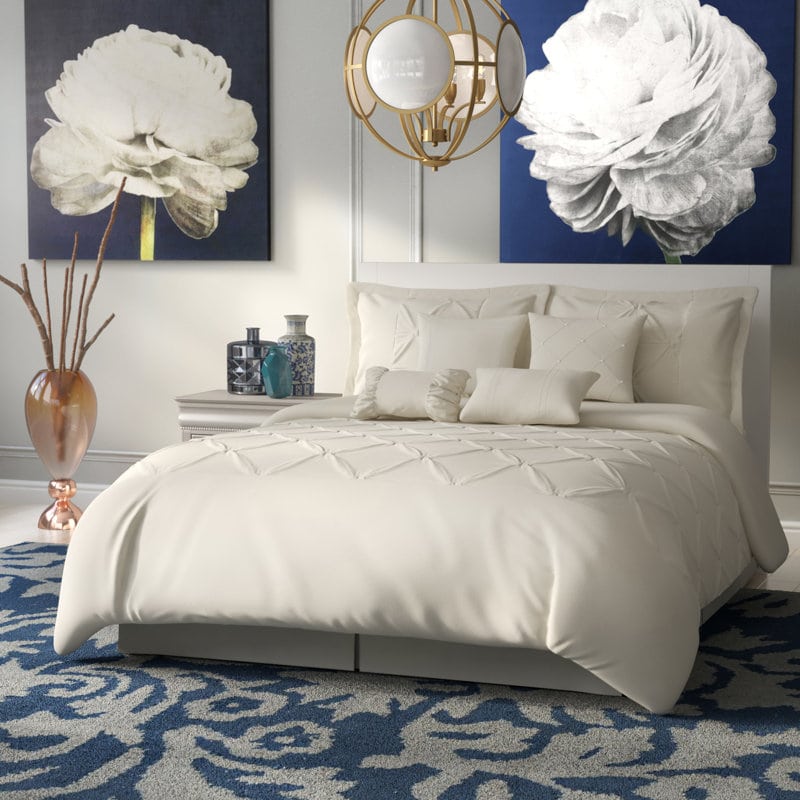 Glam looks are perfect for the bedroom. They're usually relaxing and a bit on the romantic side.
So, if you're looking to soften your bedroom, a unique light fixture like this can help. It's a pretty gold shaded globe that holds four lights and features frosted glass. This light fixture will pop in dark-colored rooms and look romantic when surrounded by light shades.
Showcase Mixed Metals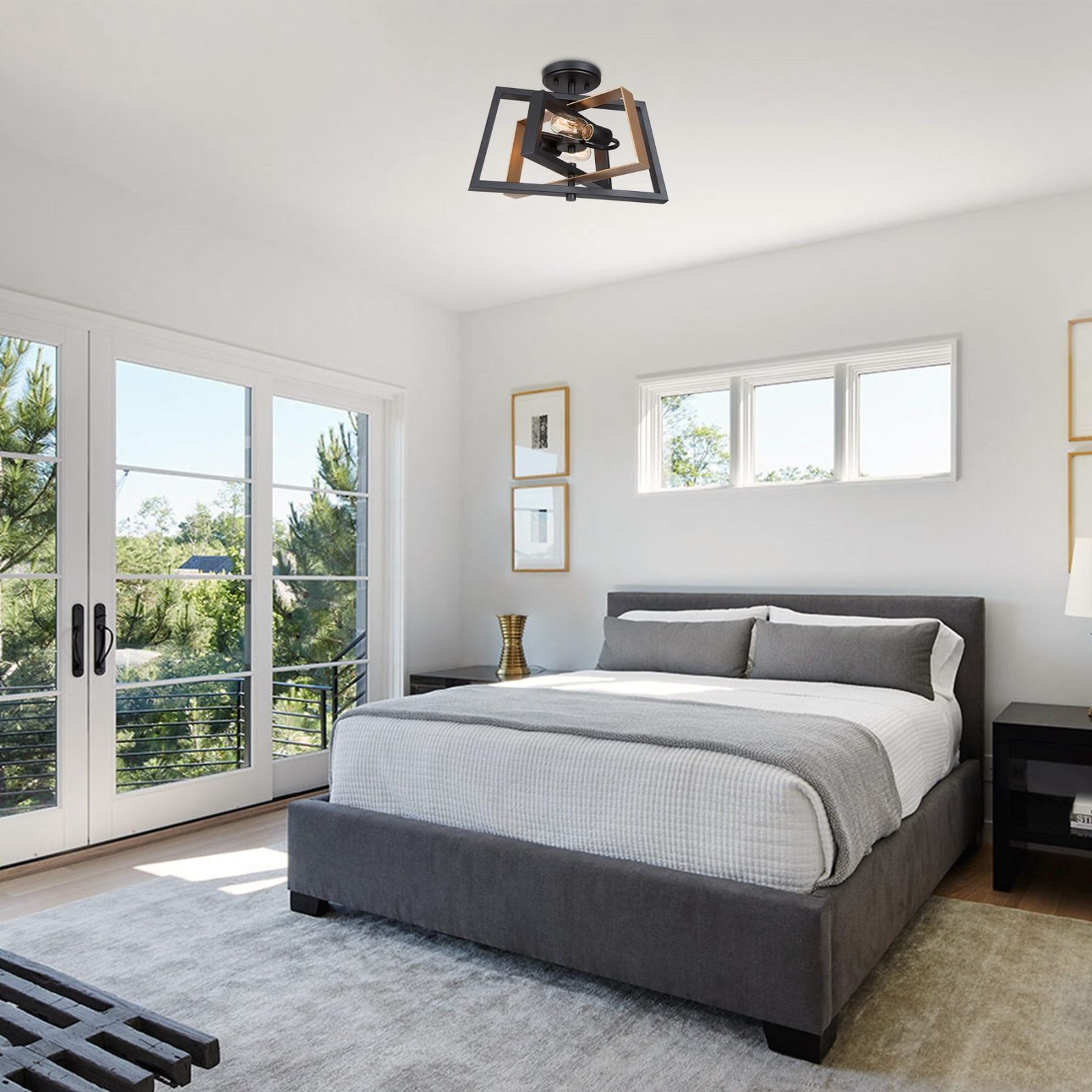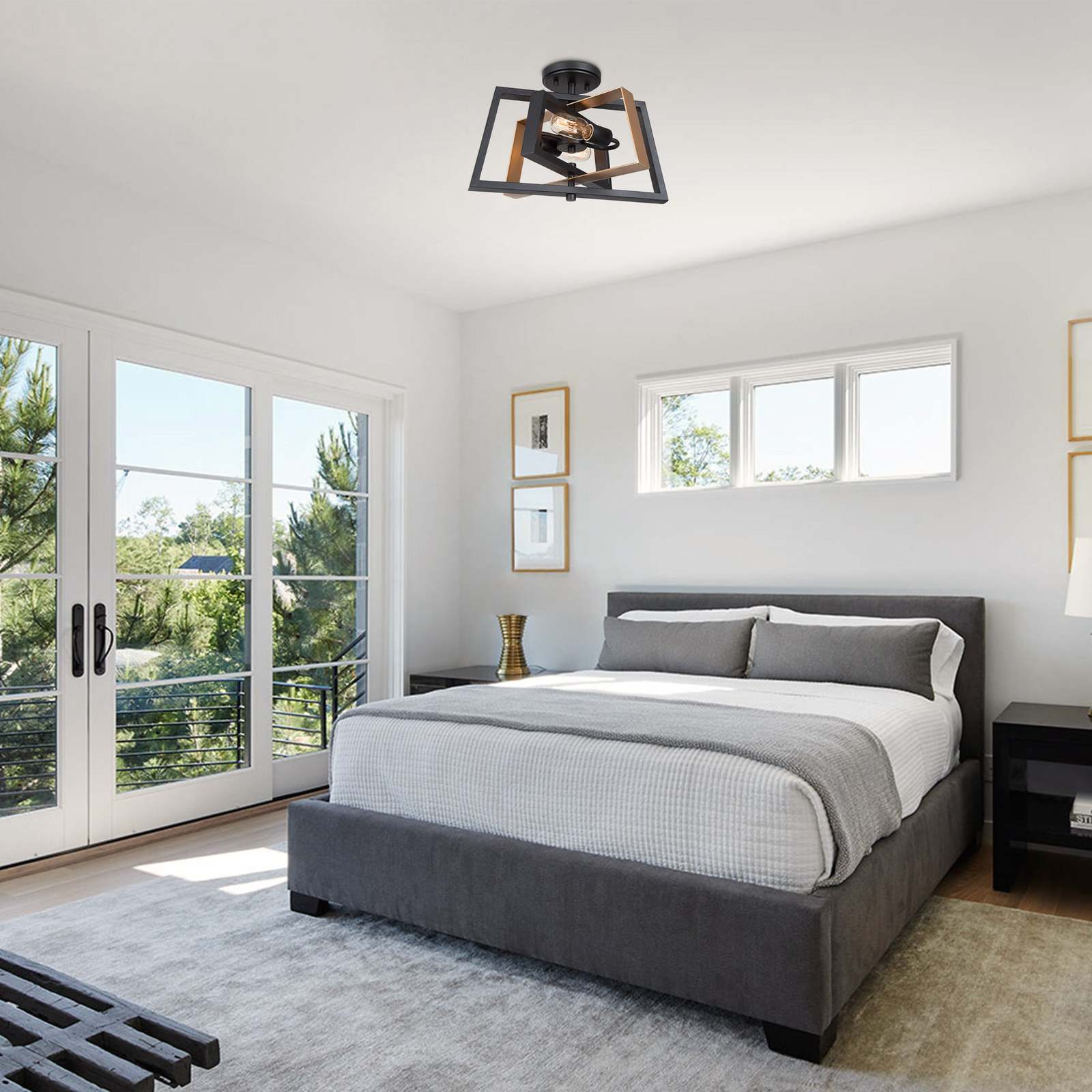 An easy light fixture option for modern and transitional bedrooms is this geometric semi-flush ceiling mount.
This light features a fun shape that is mostly matte black with one band of gold. This is an excellent meet-in-the-middle choice if you prefer lights that look good but aren't super bold or large. It has interest but isn't overpowering.
Put Off Industrial Vibes with a Wire Cage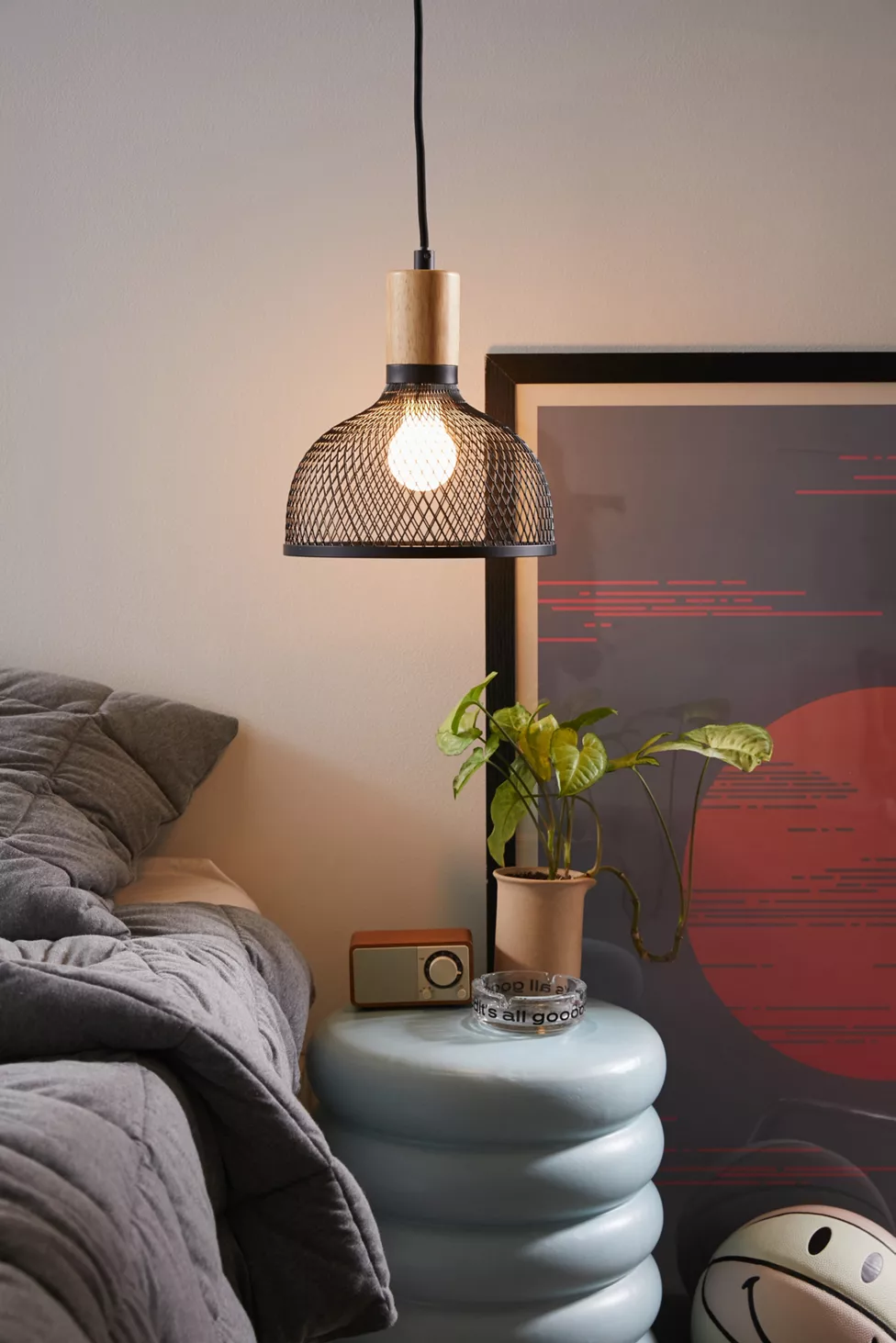 If you like industrial or minimal style, this pendant light from Urban Outfitters is another great bedroom ceiling light fixture to consider.
It has a black wire cage, a fabric-covered cord, and a wood detail near the socket. The mix of materials makes it feel modern without being too cold. You could use two of these lights over each side of your bed in place of regular table lamps.
Bring the Outdoors Inside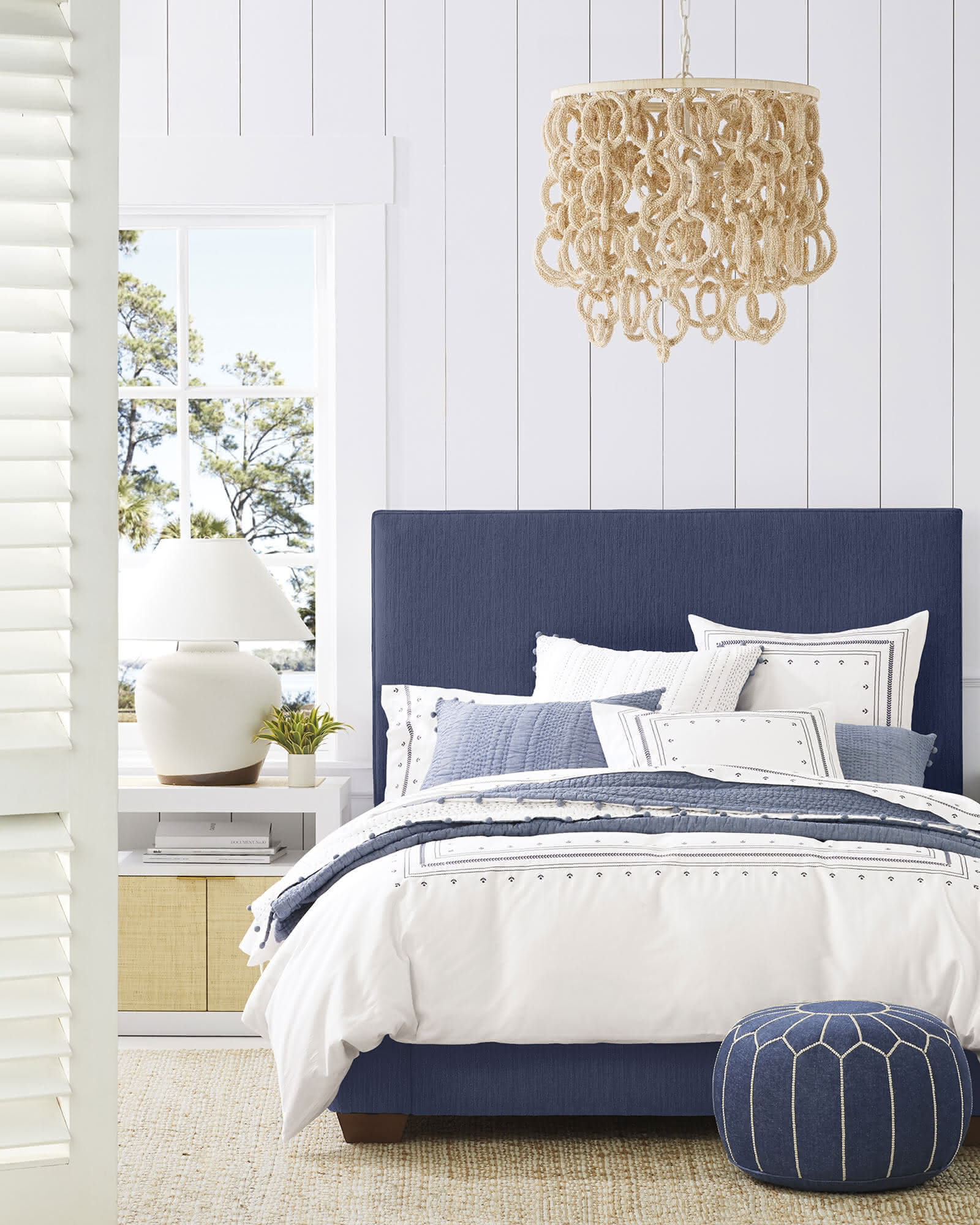 If you want to pay homage to mother nature, you'll love this chandelier. It's handcrafted of coconut beads with a long nautical style chain.
This chandelier is rather large at 24 inches in diameter and 24.5 inches tall, so it makes quite the statement. Since it is composed of natural materials, each fixture is one-of-a-kind. This light goes best in modern nautical and nature-inspired bedrooms.
Go with a Basic, Modern Ceiling Fan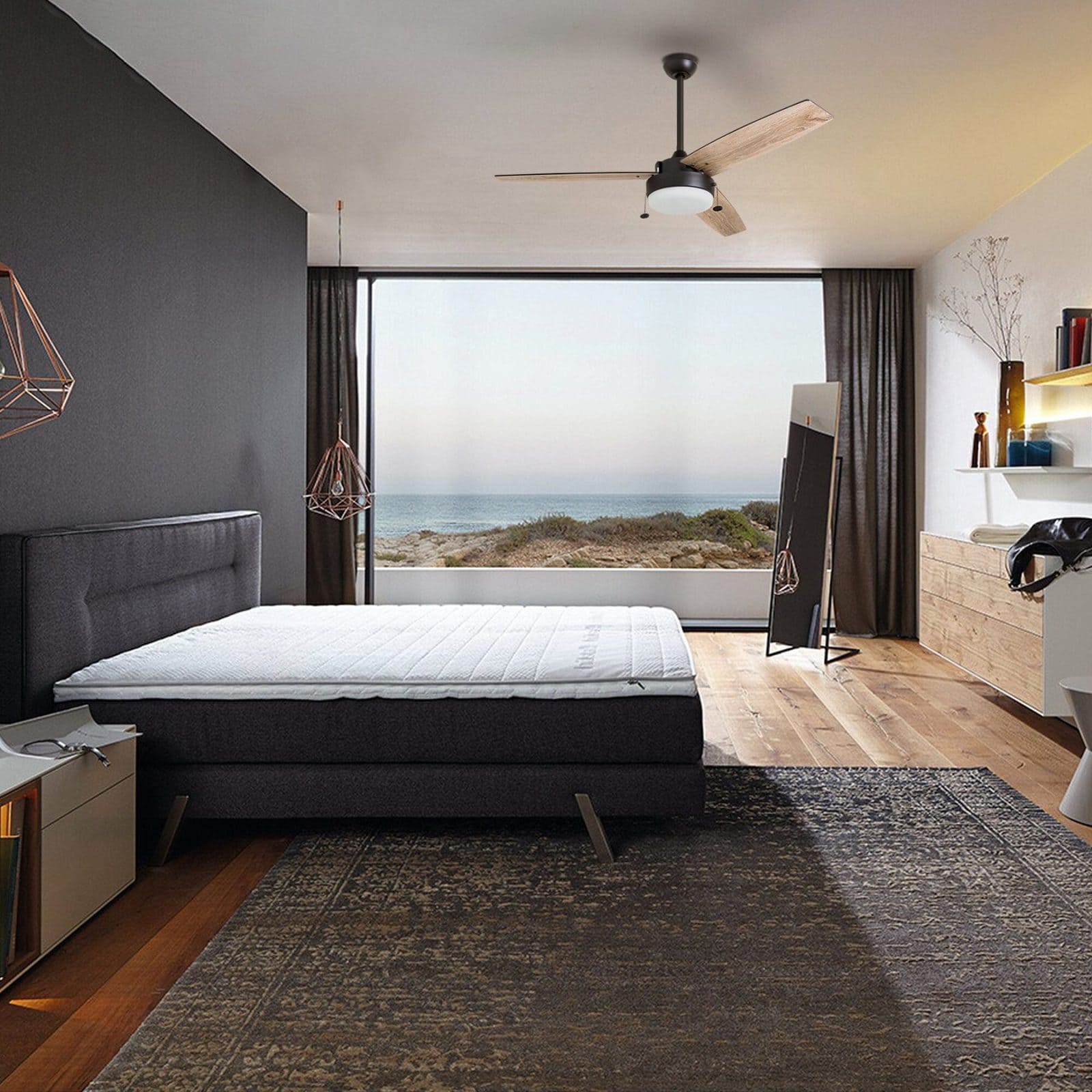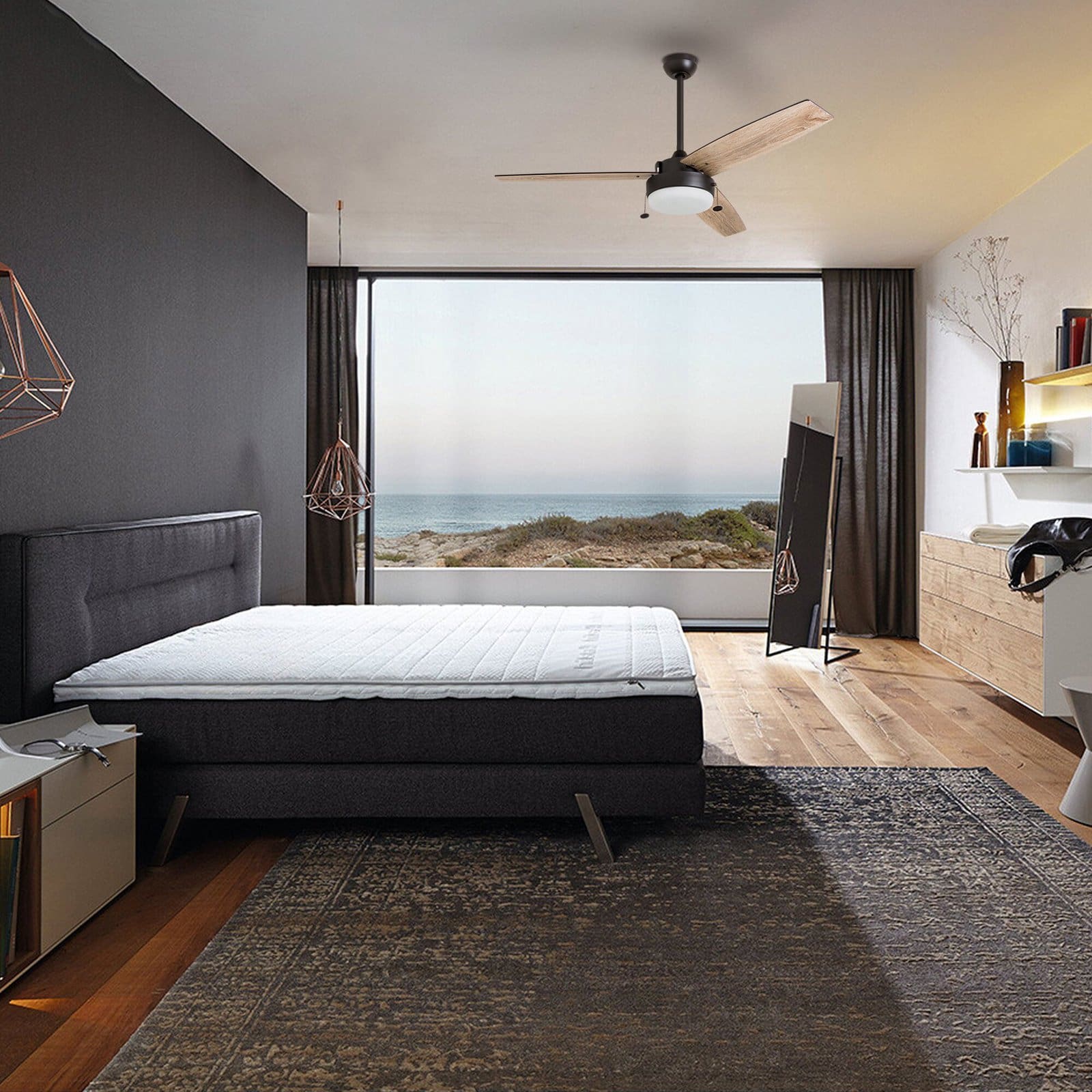 It can be hard to find ceiling fans that match your room style. Luckily, this black and wood option goes with almost everything and still looks good.
You can find this ceiling fan at Wayfair, and it comes in two options: espresso bronze or brushed nickel. It also has two reversible blade options, so you can choose the one you like best right out of the box.
Final Thoughts
Right now, pendants and chandeliers are the dominating trends in bedroom lighting. That doesn't mean you don't have other options, though. You can find great ceiling fans and flush mounts for just about any style.
If you want a versatile option, choose something with a basic shape in matte black. And if you want to do something a bit unique, swap out your ordinary table lamps and hang pendants instead.