Decorated Life is reader-supported. When you buy through links on our site, we may earn an affiliate commission. Learn More
Glam Bedroom Ideas on a Budget
Glam bedrooms are rich and luxurious. They're full of shiny metallics, lavish fabrics, and unexpected accessories.
While styling your room this way can be costly, it's possible to make your bedroom look like it's fit for royalty, even on a tight budget.
If you're trying to pull off high style, here are 13 glam bedroom ideas on a budget.
Change Up the Look with Throw Pillows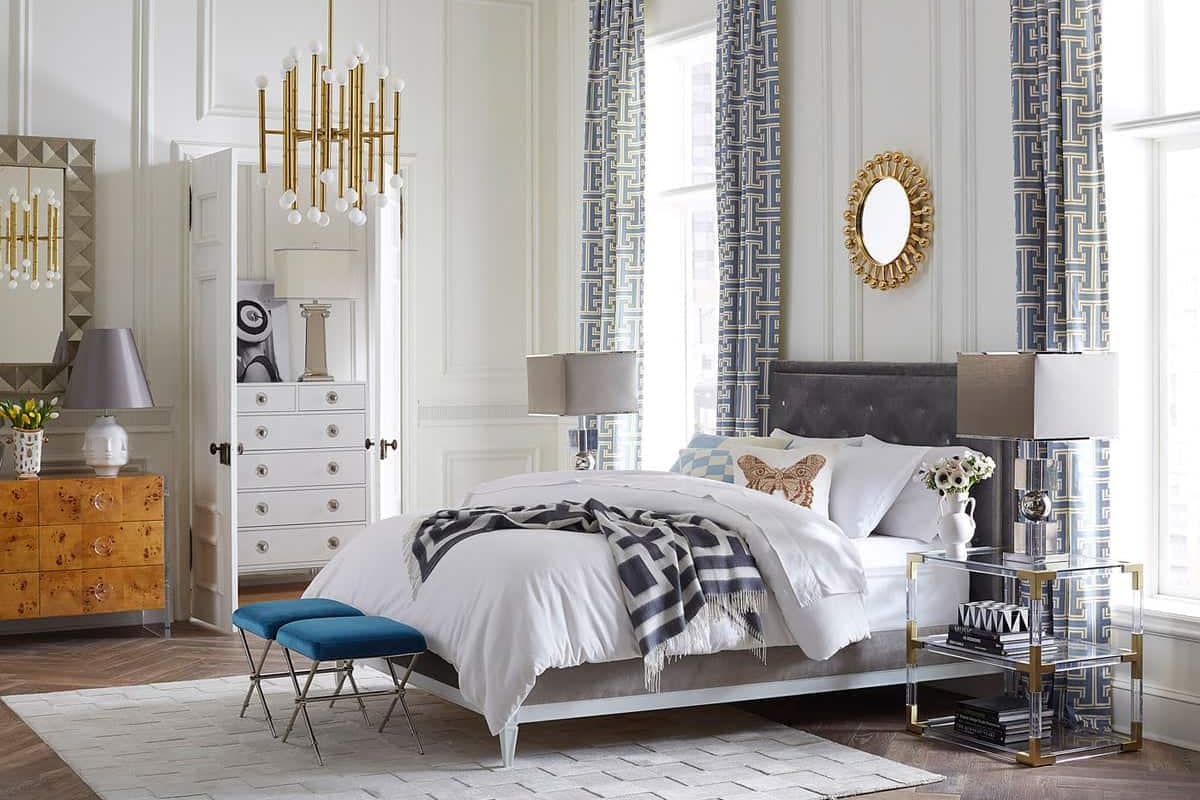 One of the best ways to switch up your bedroom look is adding or changing out your throw pillows.
For a glam touch, try jewel tones, velvet pillows, or something with gold beading like this butterfly pillow from Jonathan Adler. If you want to get the most bang for your buck, frequent the clearance section of your favorite home decor store.
Bring in Texture with Your Bedding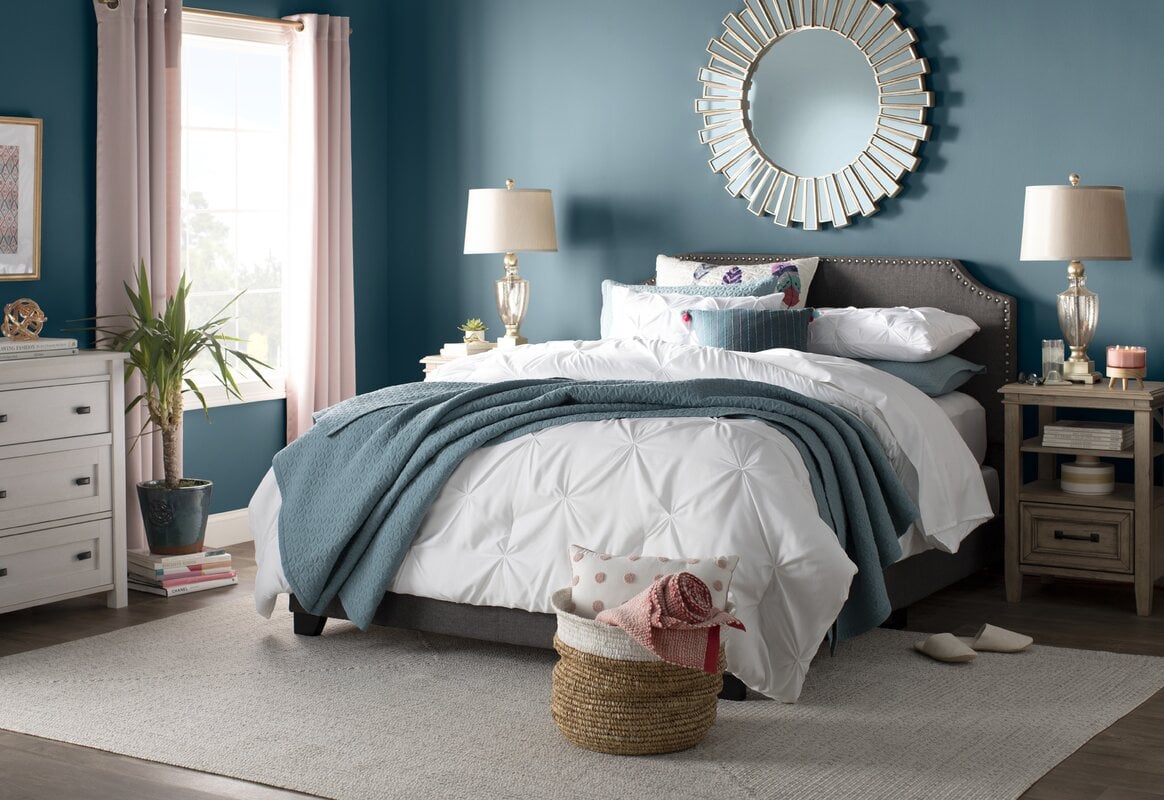 Glam bedrooms have a lot of fabrics in them – everything from velvet to cotton to satin. To get this style on a budget, skip the plain comforter and look for something with texture.
One inexpensive option is this comforter set from Wayfair. It's soft and basic, but the pleating gives it an extra flair. It comes in nine colors.
Don't Forget the Mirrors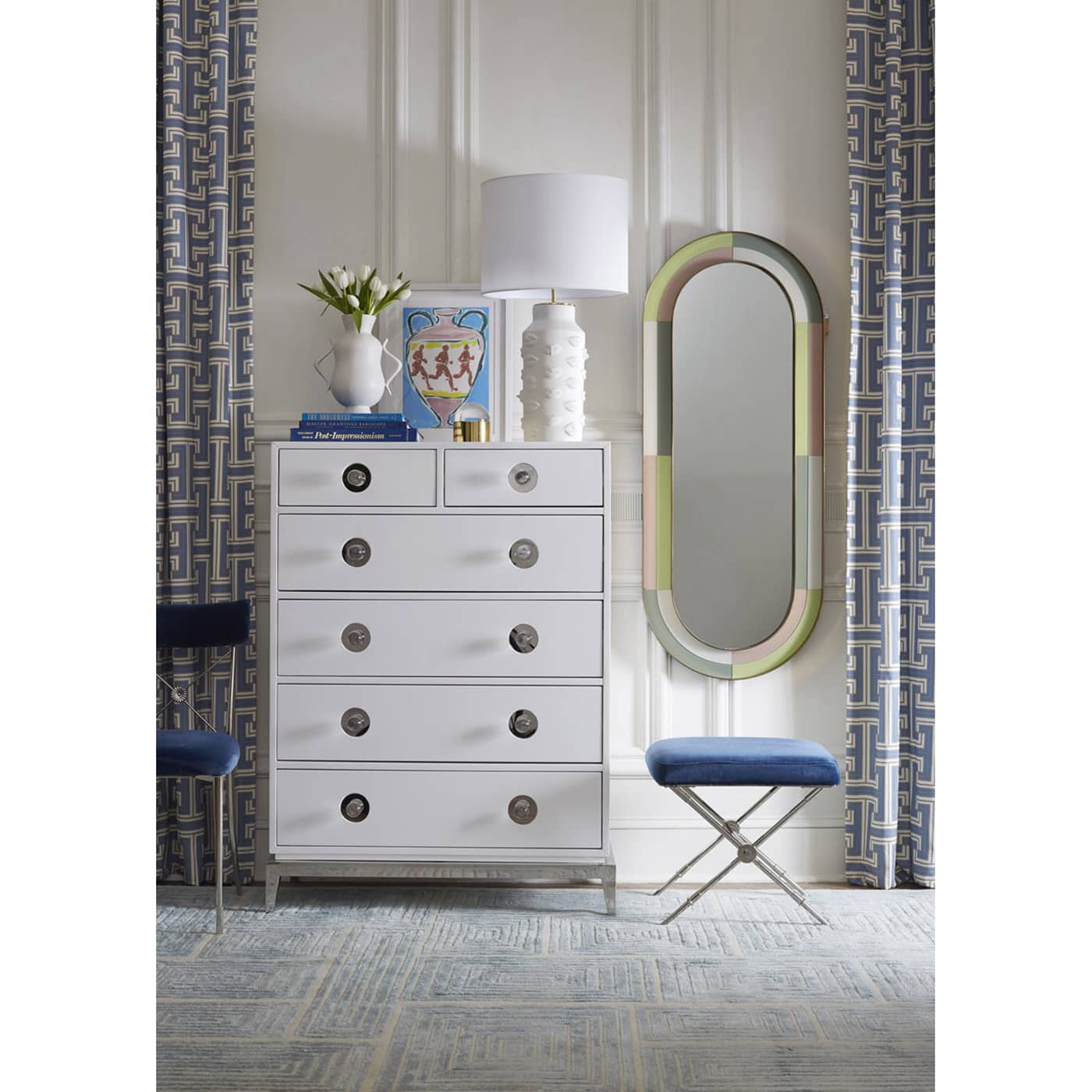 You'll be hard-pressed to find a glam bedroom that doesn't have at least one mirror in it. And the cool thing is that anything metallic or unique works.
If you like a modern-glam look, try a colorful mirror as pictured. If you prefer a more traditional glam style, look for something with an ornate frame.
Place a Unique Bench at the End of Your Bed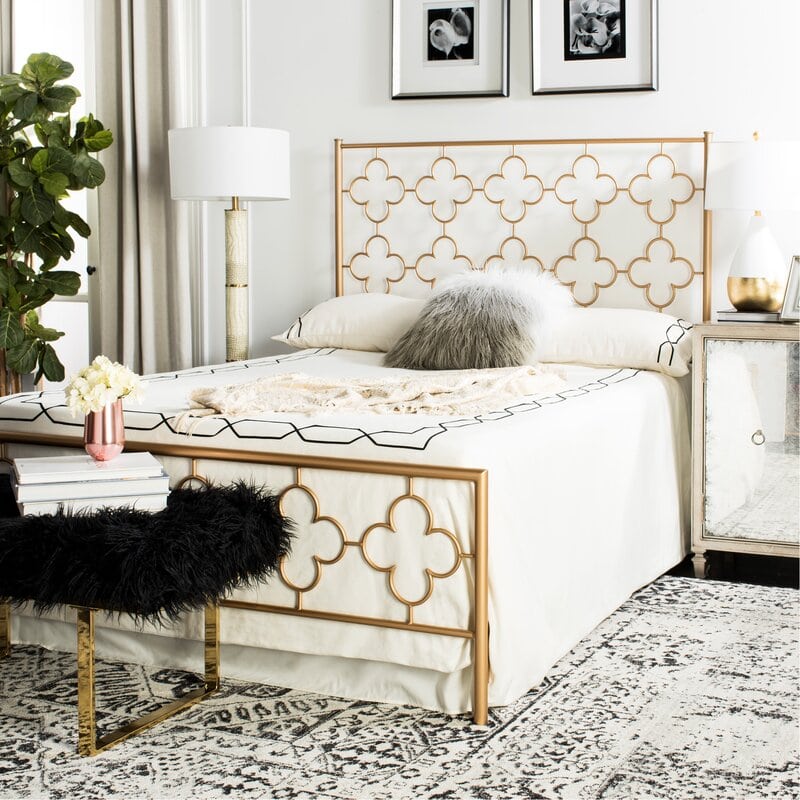 When you're on a budget, a good rule is to keep your bigger pieces neutral, so they work as your style changes. Then, bring in less expensive pieces to complement the style you love now.
For an affordable piece, consider a bench. A bench at the end of your bed is a great way to add glam flair – especially if it's faux fur, velvet, or tufted satin.
Pay Attention to Dresser Pulls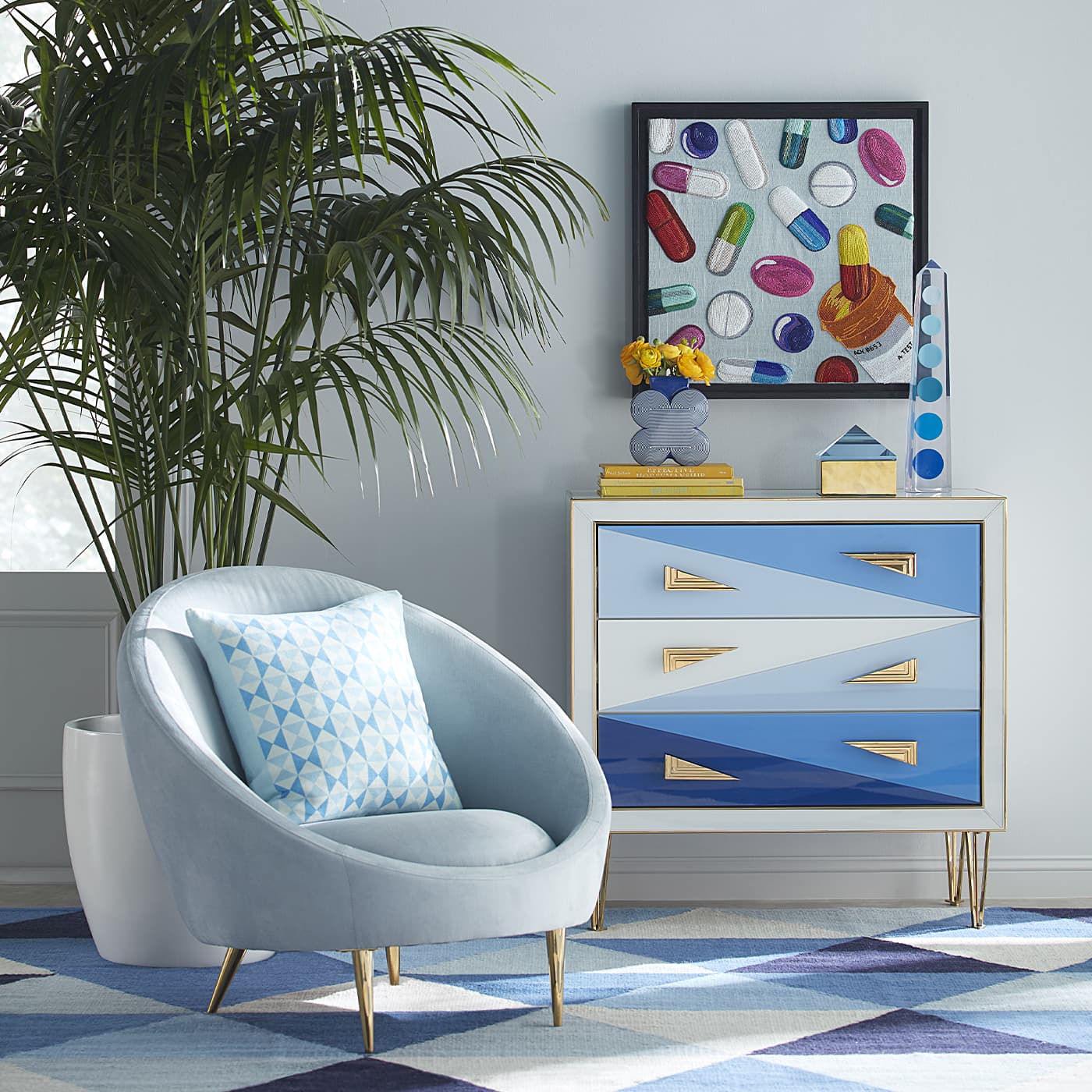 The pulls on your dresser can make or break your glam look. Luckily, you can change them and transform the dresser you already have.
Consider finding a pull similar to these brass geometric handles for modern glam. Alternatively, anything metallic or crystal will work beautifully.
Choose an Appropriate Light Fixture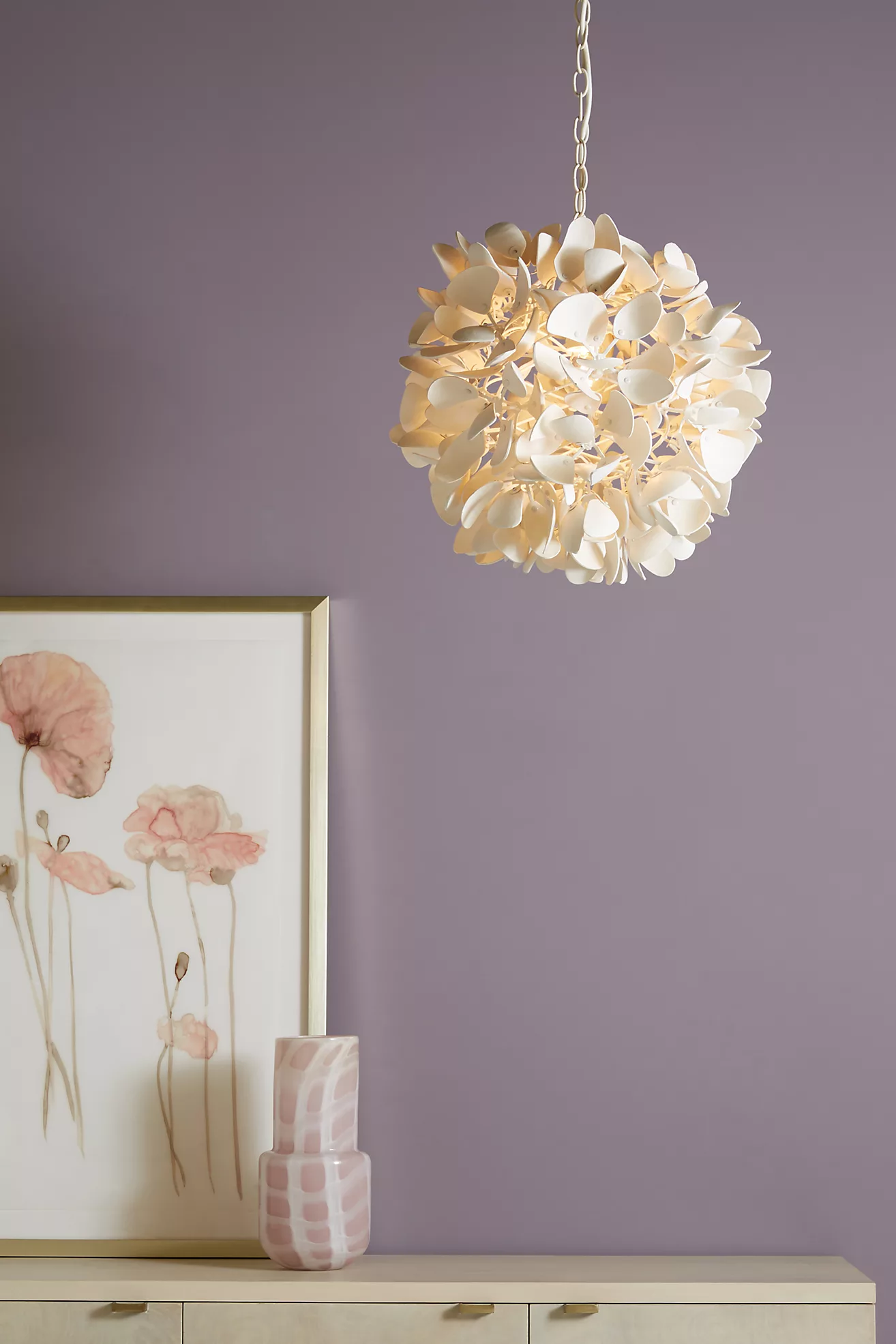 Having a statement-making light fixture in a glam bedroom is essential. It will set the tone for the rest of the room.
This Magnolia pendant from Anthropologie is an attractive option if you like a softer look. Other appropriate fixtures include dramatic chandeliers, metallics, and anything with clear or crystal beads.
Mix and Match Fabrics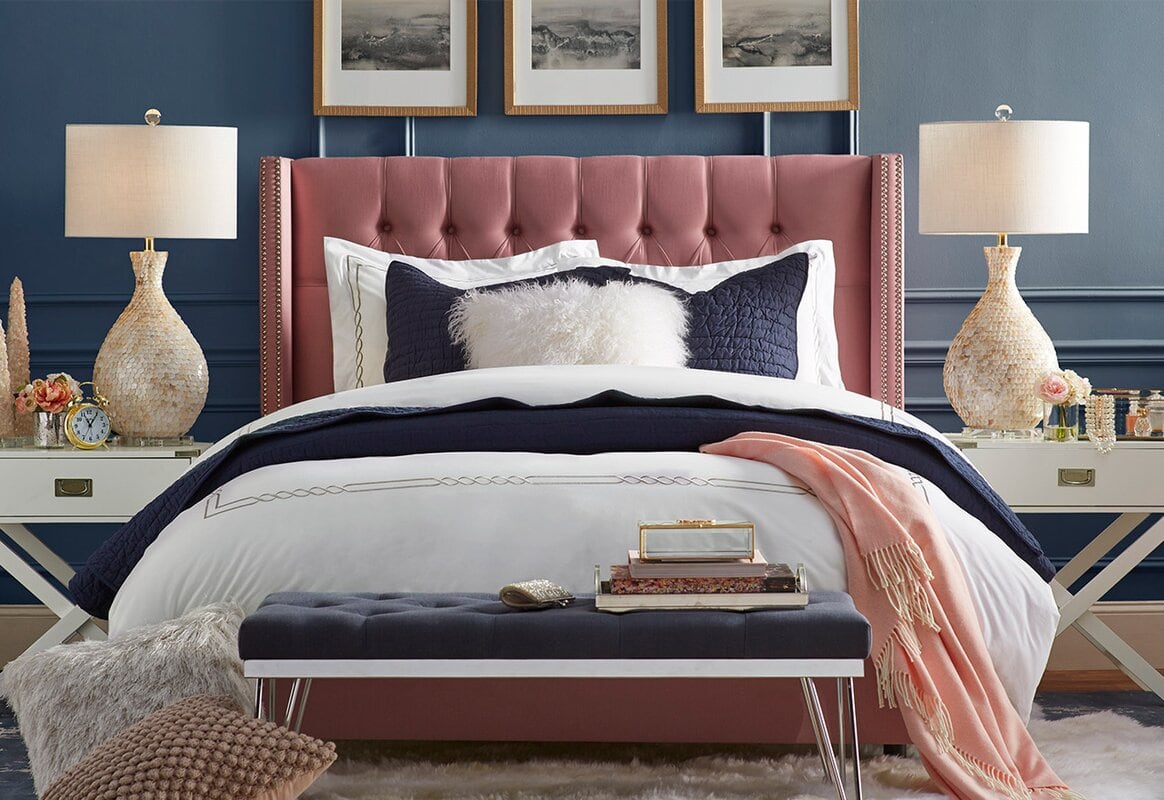 One thing that makes glam bedrooms so luxurious is the mix of fabrics. So, the more you use, the better.
If you have an upholstered headboard, use a different material for your comforter. Then layer in pillows and add a throw blanket or two on top. Great fabric options are velvet, satin, and faux fur.
Accent Your Walls with Wallpaper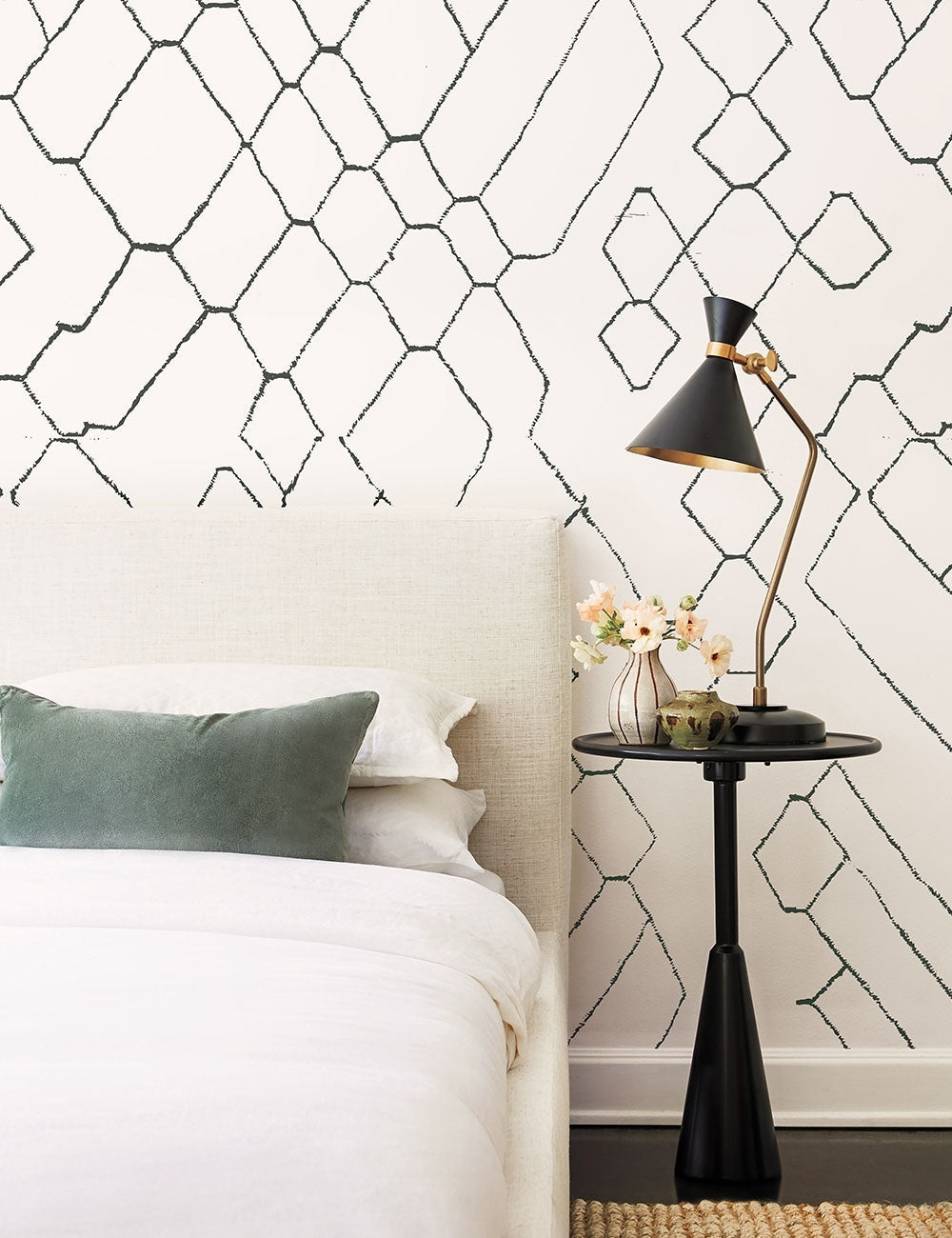 If you want to add something beyond paint to your walls, consider wallpaper. You can create a focal point behind your bed or add paper to the entire room.
This Moroccan print from Lulu and Georgia is an excellent choice for a modern glam look. However, you can find many other budget-friendly options if you prefer something bolder.
Layer in the Metallics
Metallics are a staple in glam rooms. And while you don't have to go crazy with them, you need at least a few.
Easy ways to add metallic are through picture frames, mirrors, and drawer pulls. You can also try metallic lamps like these from Wayfair. Consider using the same metallic finish throughout the room or use a mix.
Put Your Money Where it Counts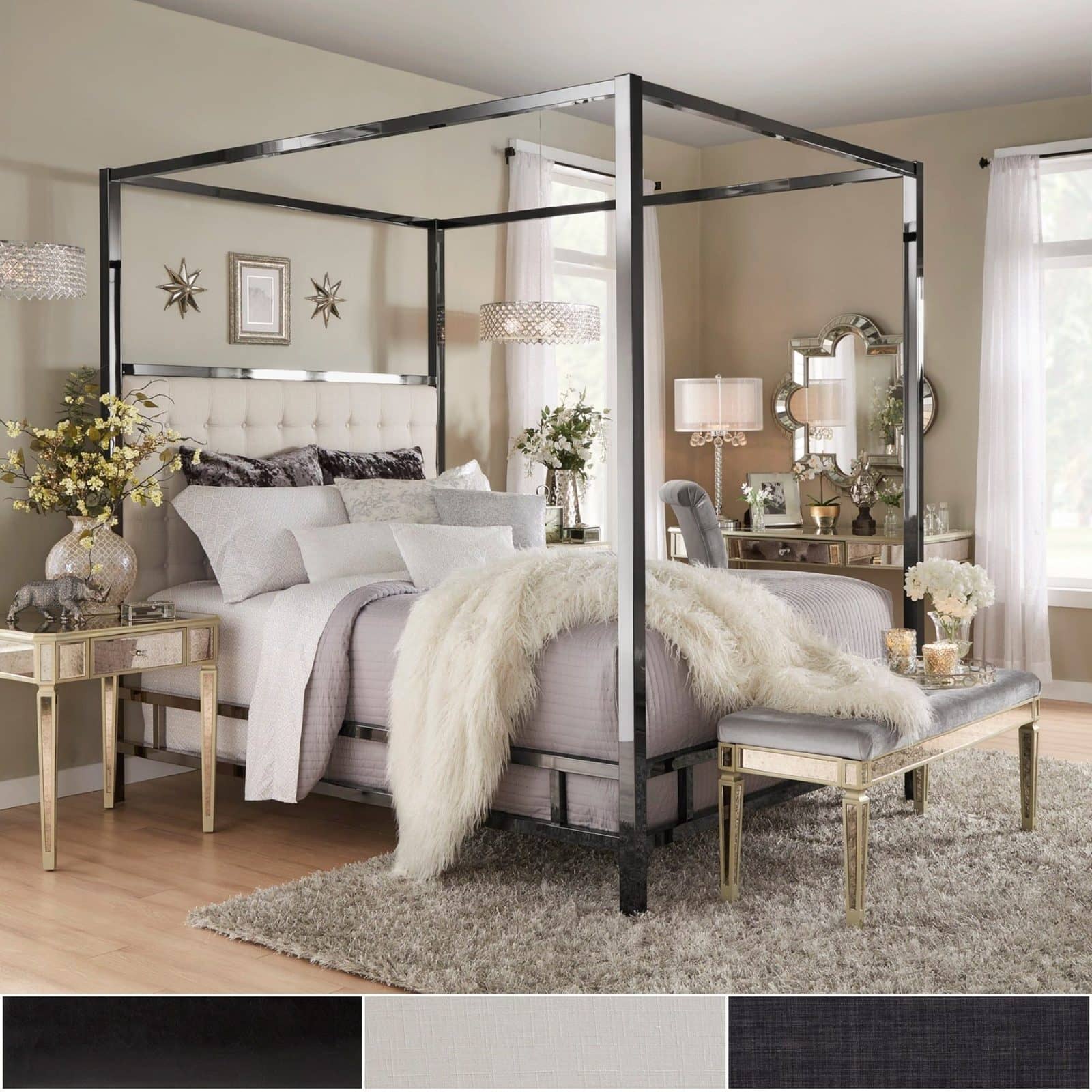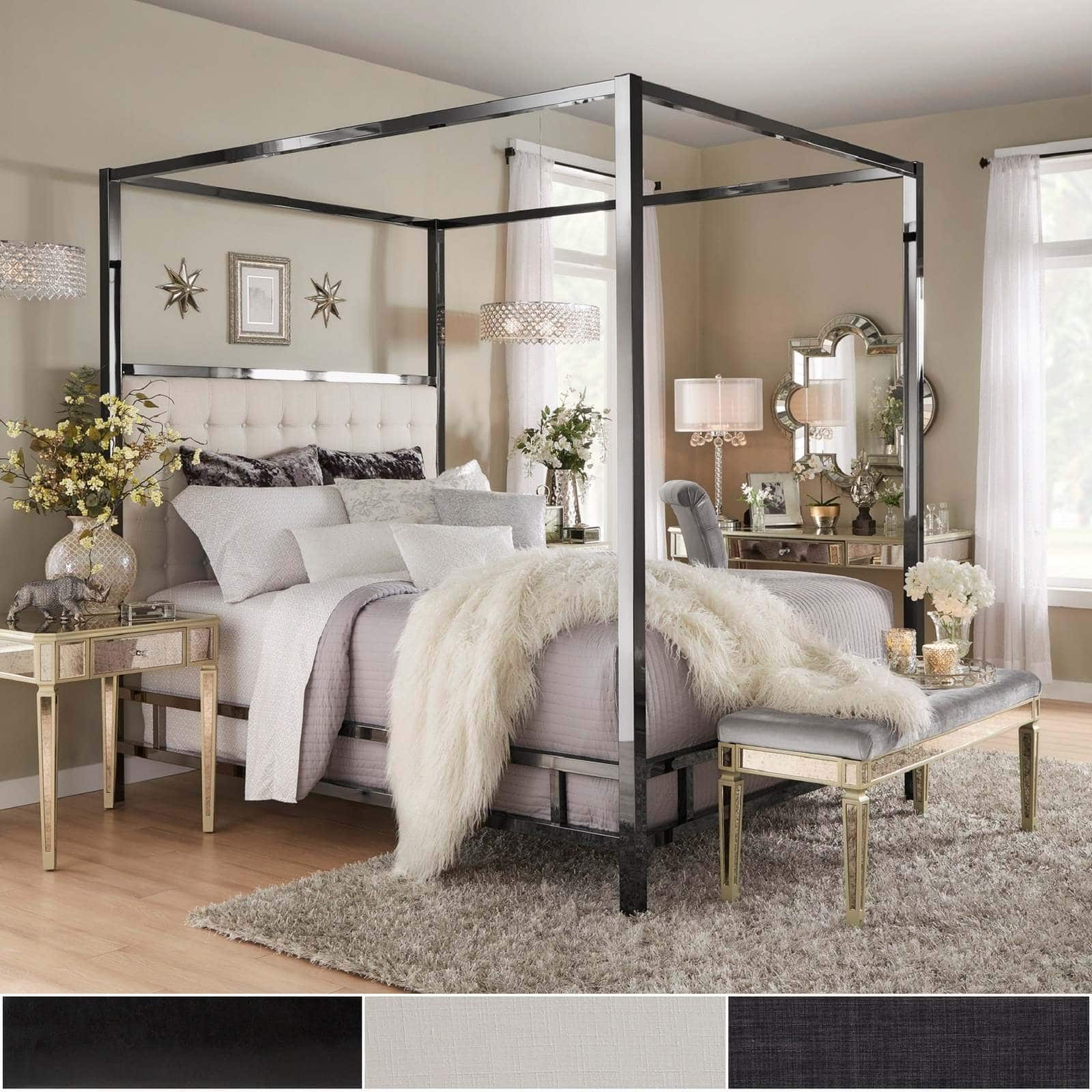 Decorating on a budget can be challenging. So, if you're saving up for your room makeover, put the bulk of your money toward the big pieces, like a new bed.
This bed from Overstock is simple and fits a lot of styles. It works great for glam, but you can also use it for modern, boho, and traditional looks if you find your style changing down the road.
Add Drama with Your Curtains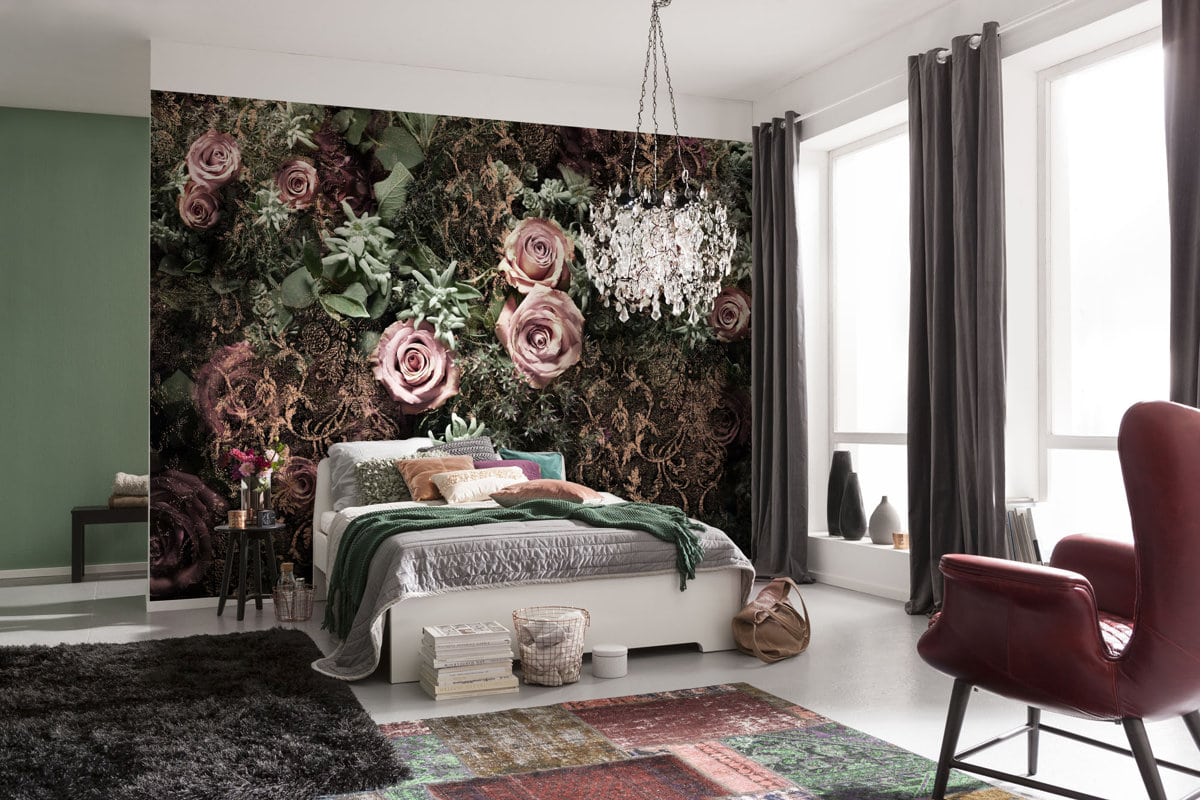 Every glam bedroom needs a long set of curtains. Curtains are a great way to make your room feel bigger and add drama.
Try hanging your curtains a few inches above the top of the window and position the rod to extend a few inches past the edges. Then, hang your curtains so that they kiss the floor.
Have Fun with Accessories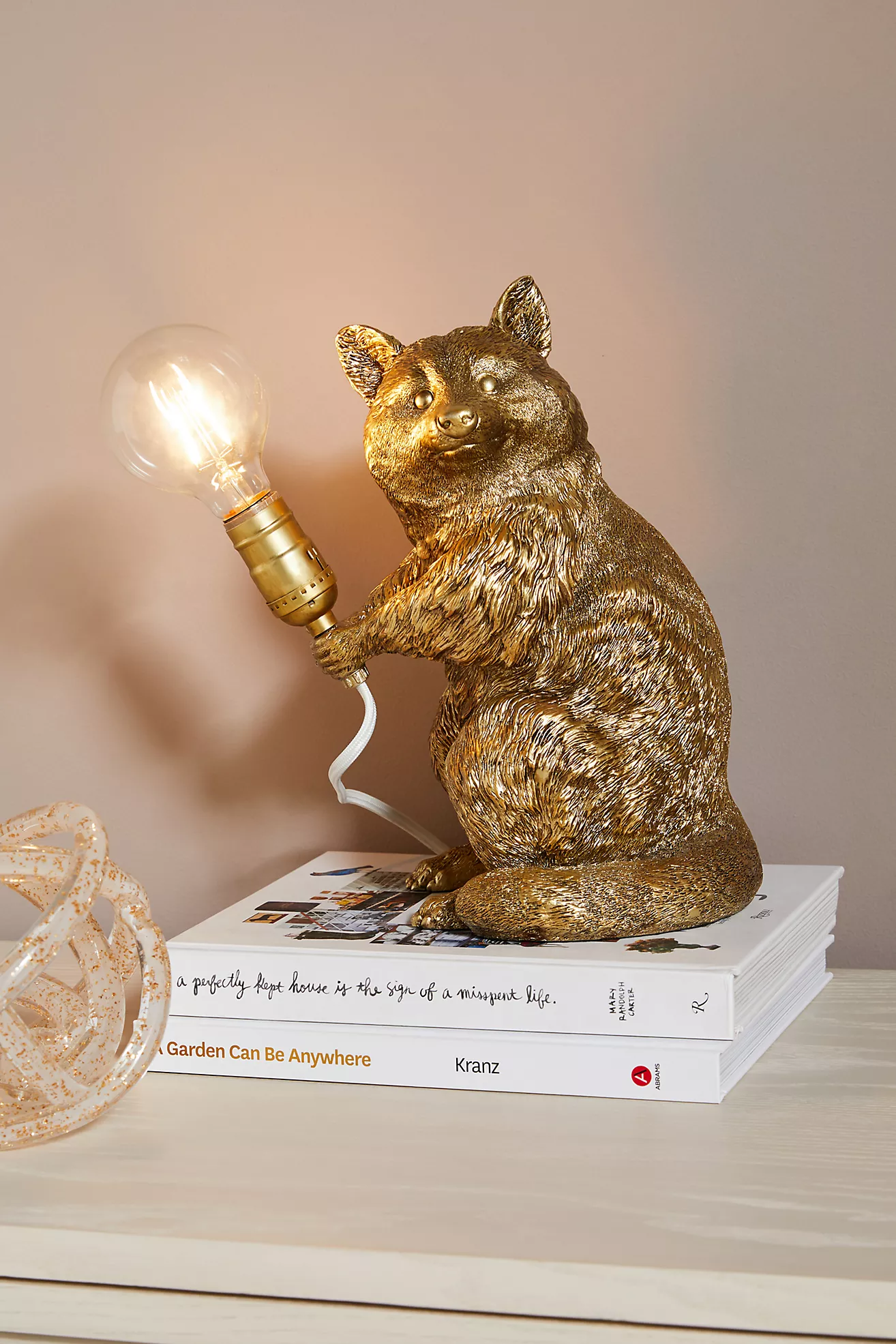 Accessories are where glam bedrooms shine – because the more unique an item, the better.
For example, this brass raccoon table lamp from Anthropologie would work perfectly on a bedside table. However, one of the best ways to find glam bedroom decor on a budget is to hit the thrift stores and yard sales.
Look for Unique Wall Art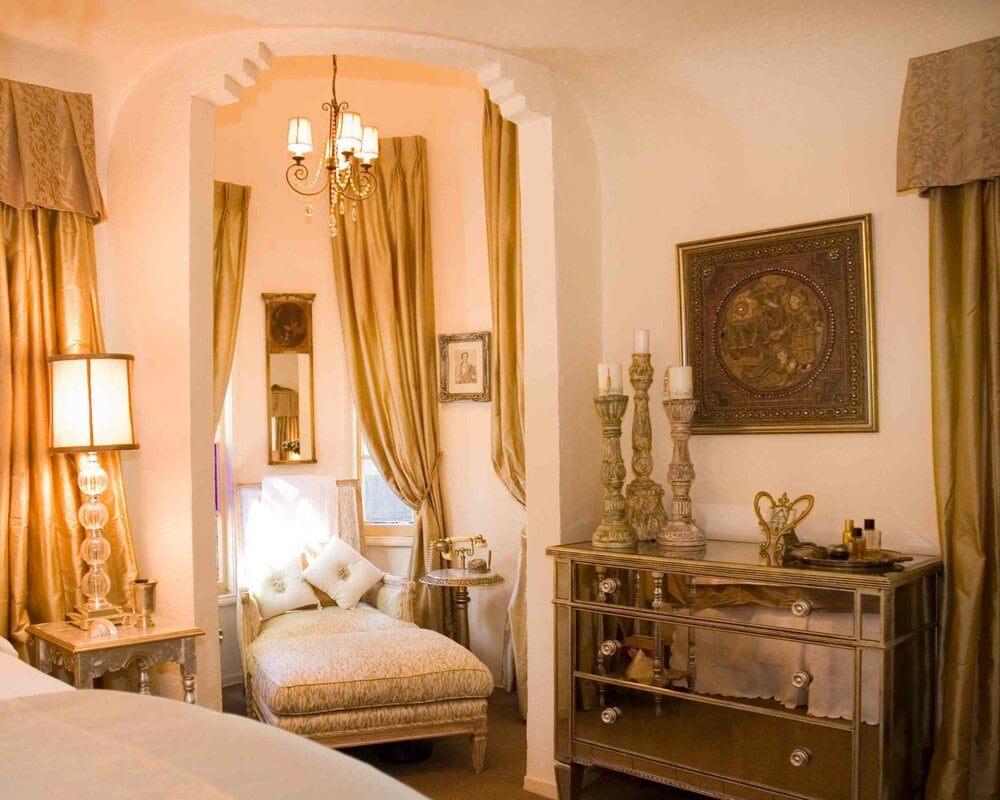 Glam bedrooms don't always have a ton of wall art. But, when they do, it's mirrors and unique pieces.
If you need to fill in a space on your wall, try finding something with an ornate frame. You can also use mirrors, beaded crystal decor, and simple metallic picture frames.
Final Thoughts
Glam bedrooms are full of rich fabric and lots of metallics. They give off a very high-end look and can feel modern or traditional.
If you're decorating on a tight budget, try simple things like swapping out your dresser pulls, thrifting accessories, and going for a budget-friendly comforter. You can add in more expensive pieces as time allows.