Decorated Life is reader-supported. When you buy through links on our site, we may earn an affiliate commission. Learn More
15 Over the Kitchen Sink Lighting Ideas
Having poor above kitchen sink lighting can be a hassle when you're trying to wash dishes or veggies. But having harsh bright lighting over the kitchen sink can wash out your room's decor.
But just because you care deeply about function doesn't mean you have to sacrifice style. So check out these 15 kitchen sink lighting ideas to explore the wide spectrum of light ideas you have available in lighting types of recessed, pendant, chandelier, and canopy.
No matter your kitchen's color palette and design theme, picking the right style of lighting are crucial for the sake of your room's design and your peace of mind.
Simple But Effective – Recessed Lighting is Key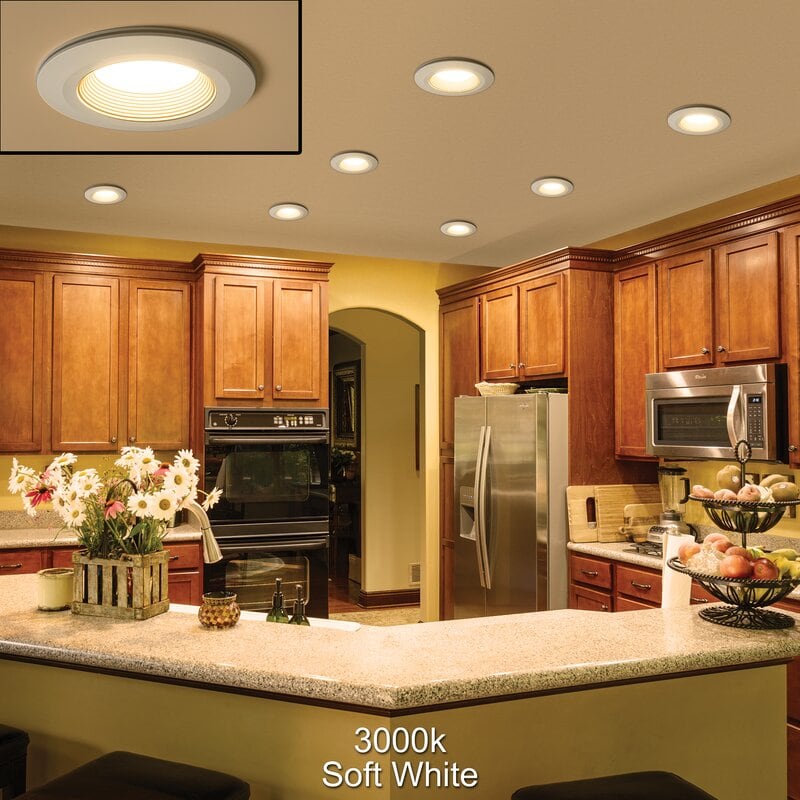 Perhaps the most effective and popular type of lighting used over the sink is recessed. These fixtures rest flush against the ceiling and shine light directly down.
Most fixtures offer basic functionality but do little for aesthetics. But these lights come in a range of styles, from completely basic and flat to models with adjustable globes or decorative plates.
Put Up Some Dangling Dome Pendants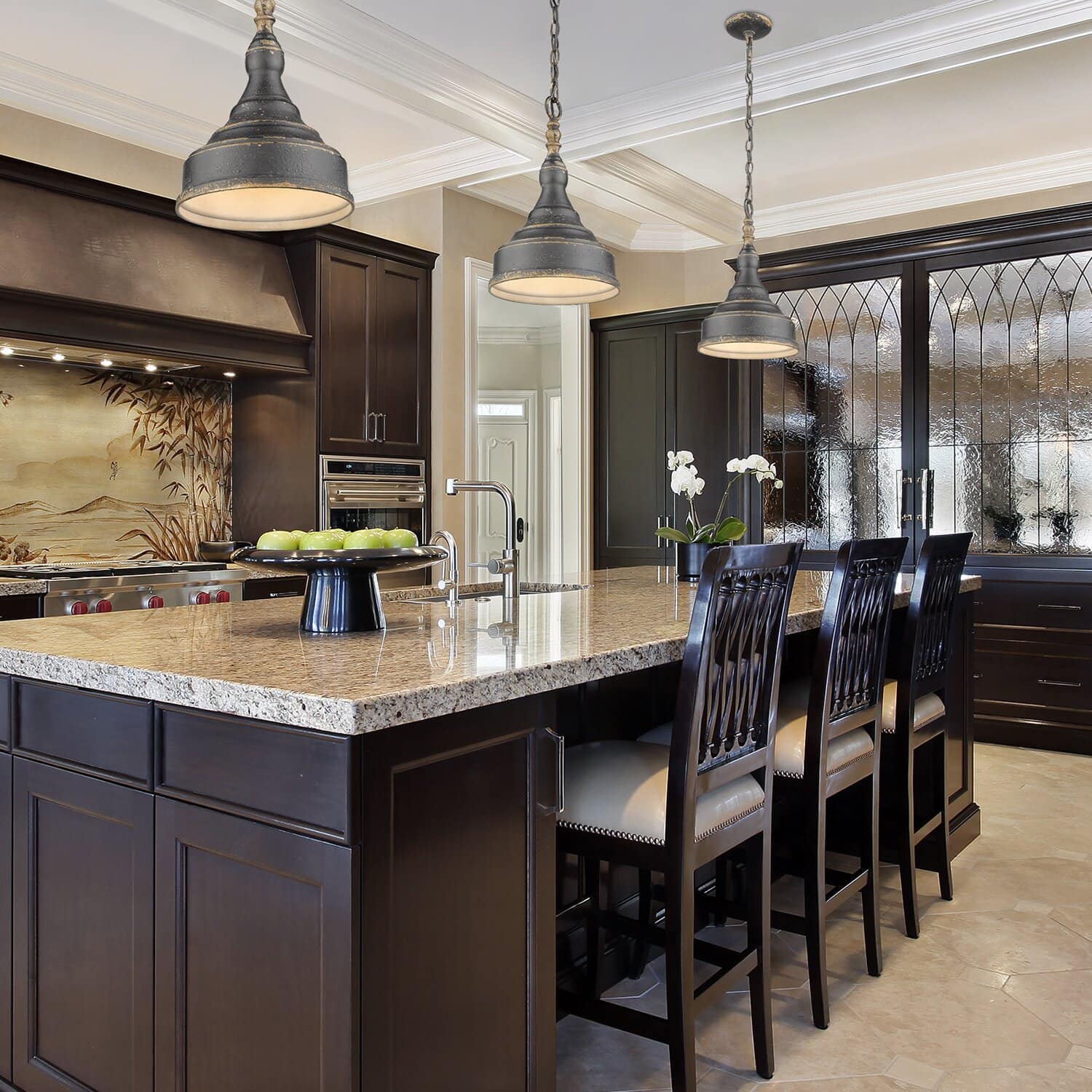 Dangling pendants are excellent lighting fixtures for going over the sink, especially when you're working with a sink on an island in the middle of the room.
You'll want to pick a lighting fixture that's both functional and stylish when it's left out in the open, such as these dome pendants. The aged brass look can give your kitchen an upgraded rustic appeal.
Try Out a Teardrop Pendant Type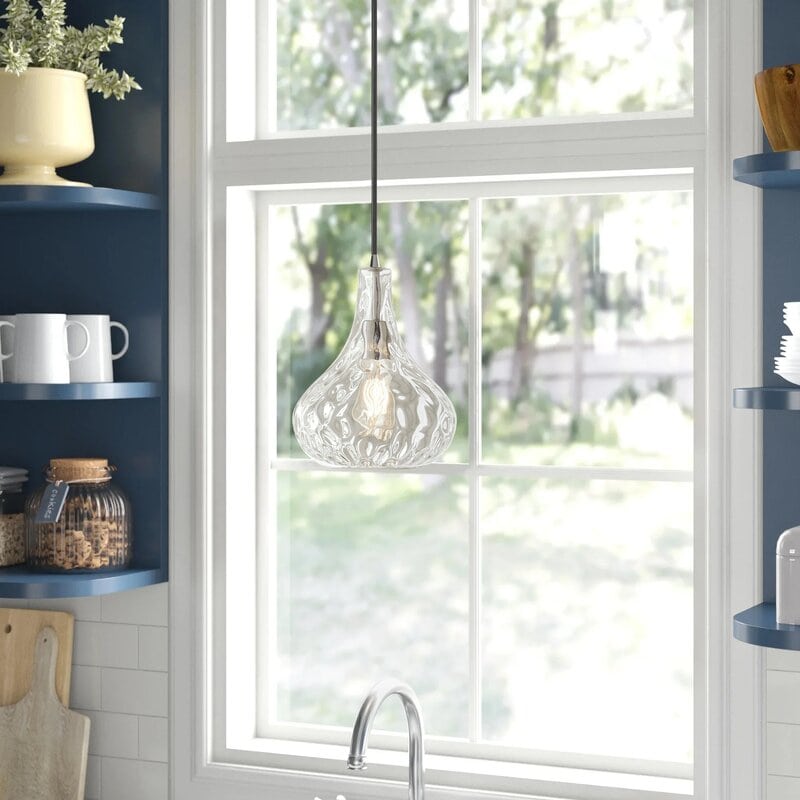 You can get a fantastically wonderful look by placing a single pendant light over a sink set in front of a window.
We love the look you can get using a teardrop pendant in polished nickel with a clear glass dome. The sun shining through the window can create dazzling light displays that dance around the room.
Roll Back Time with a Clear Mini Retro Pendant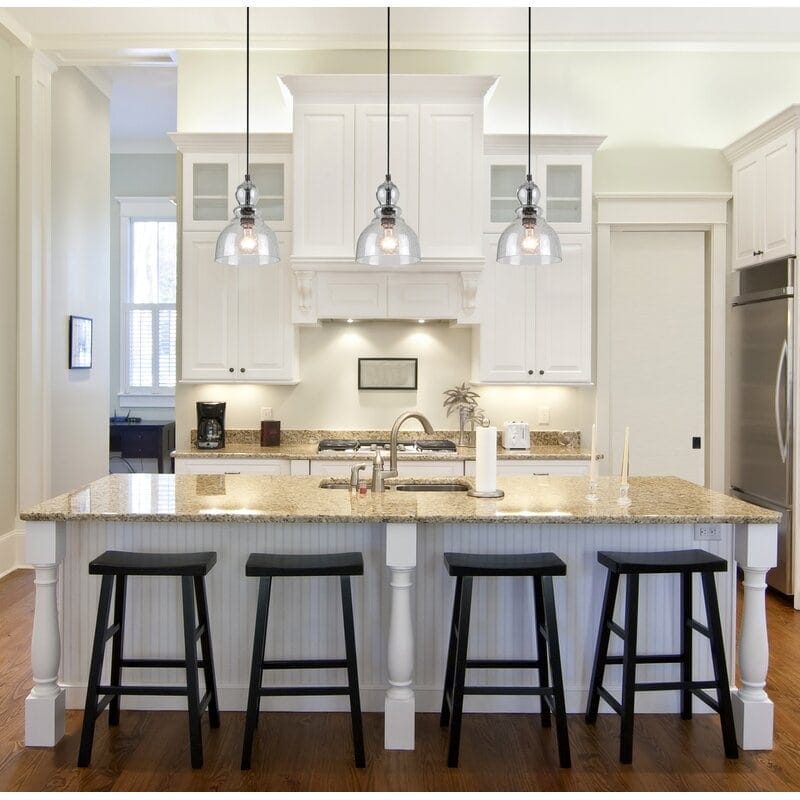 If you're looking for a light to go over your island sink that will look stylish without drawing too much attention, you're sure to enjoy the simplicity of this retro pendant light.
With a choice of oil-rubbed bronze or brushed nickel finish on the socket and canopy, we adore how this vintage dangling hand-blown translucent seeded glass dome lights up a space.
Jazz Up the Kitchen with an Industrial Rustic Jar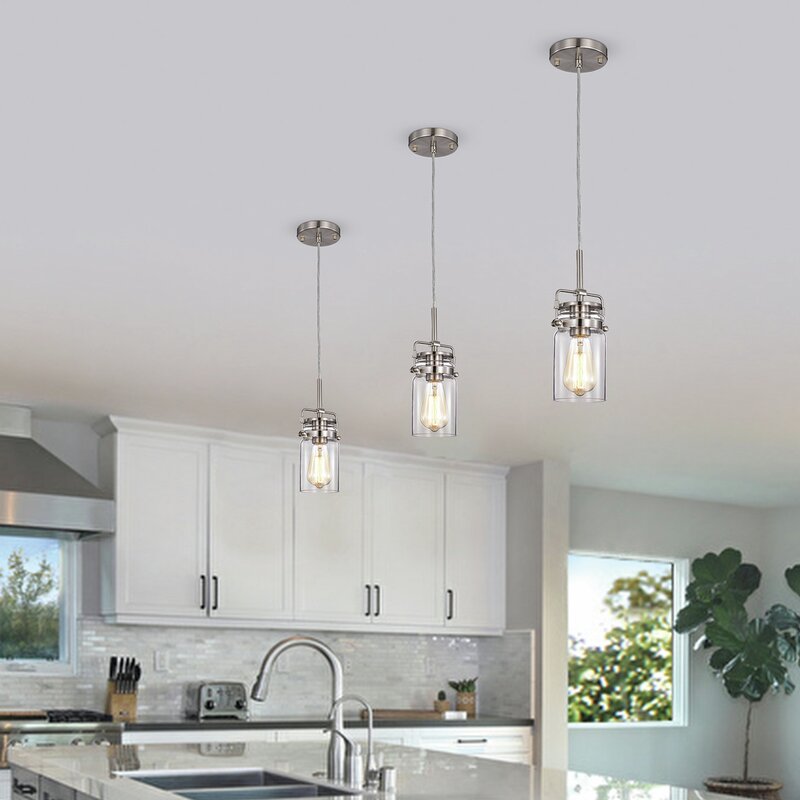 Enjoy the look of a farmhouse silhouette with a pendant light shaped like a jar with a sleek metal finish and exposed hardware.
The clear glass shade lets you see through, allowing for brighter light and making it the perfect time to use a decorative Edison bulb. And the silver drop rod and decorative trim offer a metallic element that boosts industrial, farmhouse, or coastal, making this over-the-sink light versatile.
Dress Up with a Jumbo Jewelled Teardrop Pendant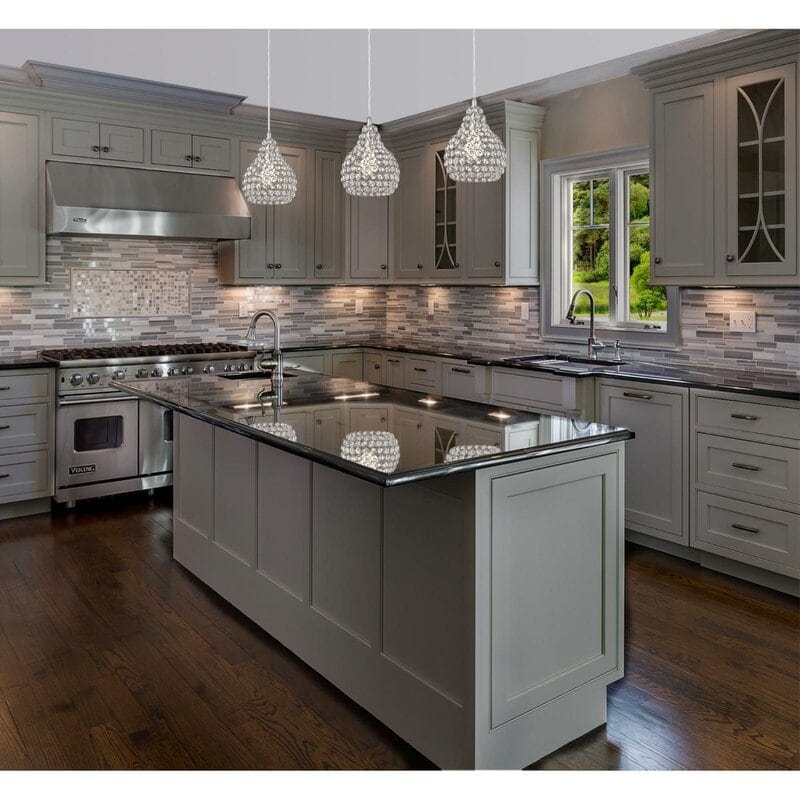 You can give your kitchen an upscale, glamorous feel to rival any magazine layout by picking a teardrop pendant covered in tiny crystal prisms.
The brushed nickel finish drop rod paired with the translucent globe surrounded with jewels can create the perfect ambiance lighting for over the sink.
One Downrod + 3 Vintage Pendants = A Gorgeous Canopy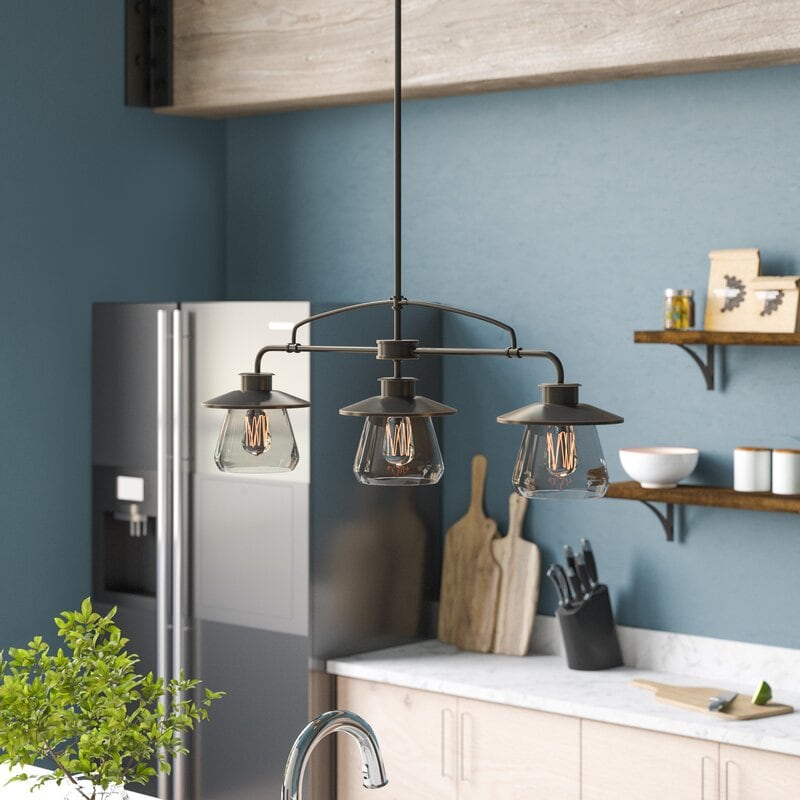 If you love rustic industrial designs, you're sure to fall in love with this gorgeous vintage canopy light featuring three lantern-style pendants with clear glass globes.
The metal downrod and bracketed canopy make this the perfect overhead lighting for going over a sink. Using exposed vintage bulbs allows for an excellent ambiance that's adjustable for customized lighting.
Ratchet Up the Style with a Ratty Bell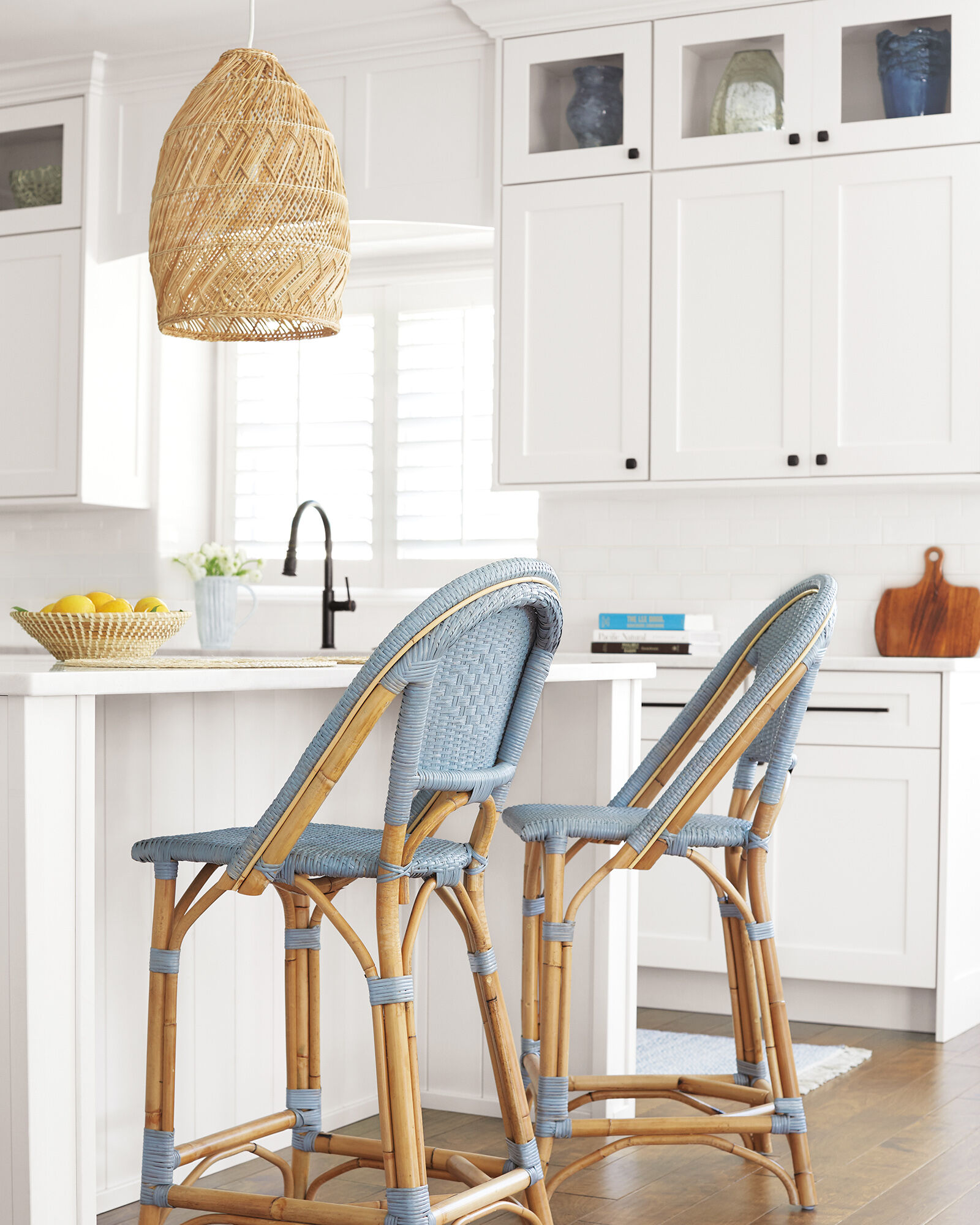 Your kitchen space can get major benefits from the elegant natural beauty of a bell-shaped rattan pendant light hung above the sink.
The open-weave design provides texture while letting light shine out of the pendant to keep your room bright while directing straight enough down into your sink.
Illuminate Your Kitchen Sink with an Industrial Pendant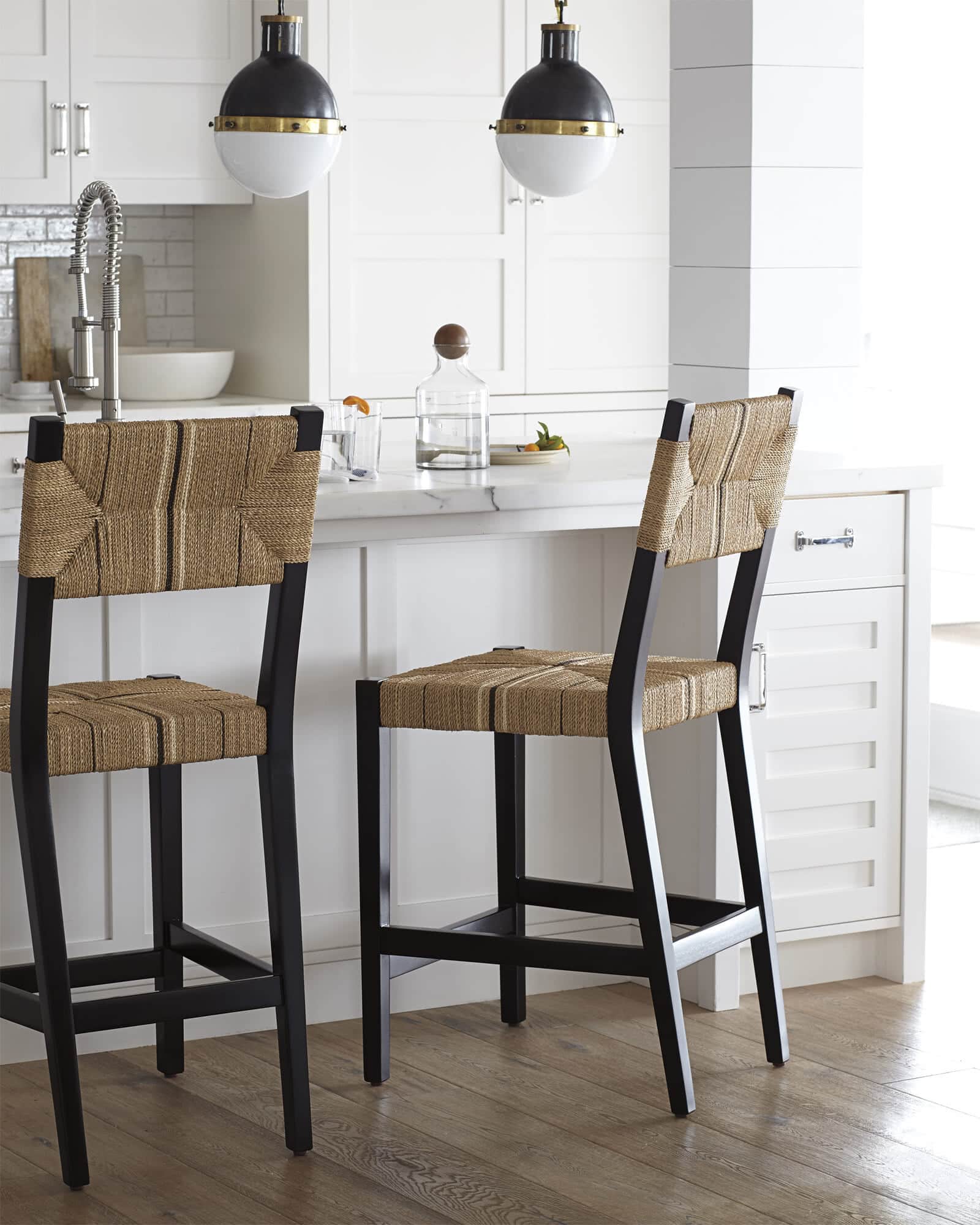 If your design tastes run on the more dramatic, modern industrial side, you're sure to appreciate the classic beauty of pendant lights like these.
Adding these lights with a half-white bottom globe and a modern-style black top half with a gold band in the middle makes the perfect accent for over the kitchen sink. Exposed bolts lock the two pieces together.
Get Down with an Overhead Dome Light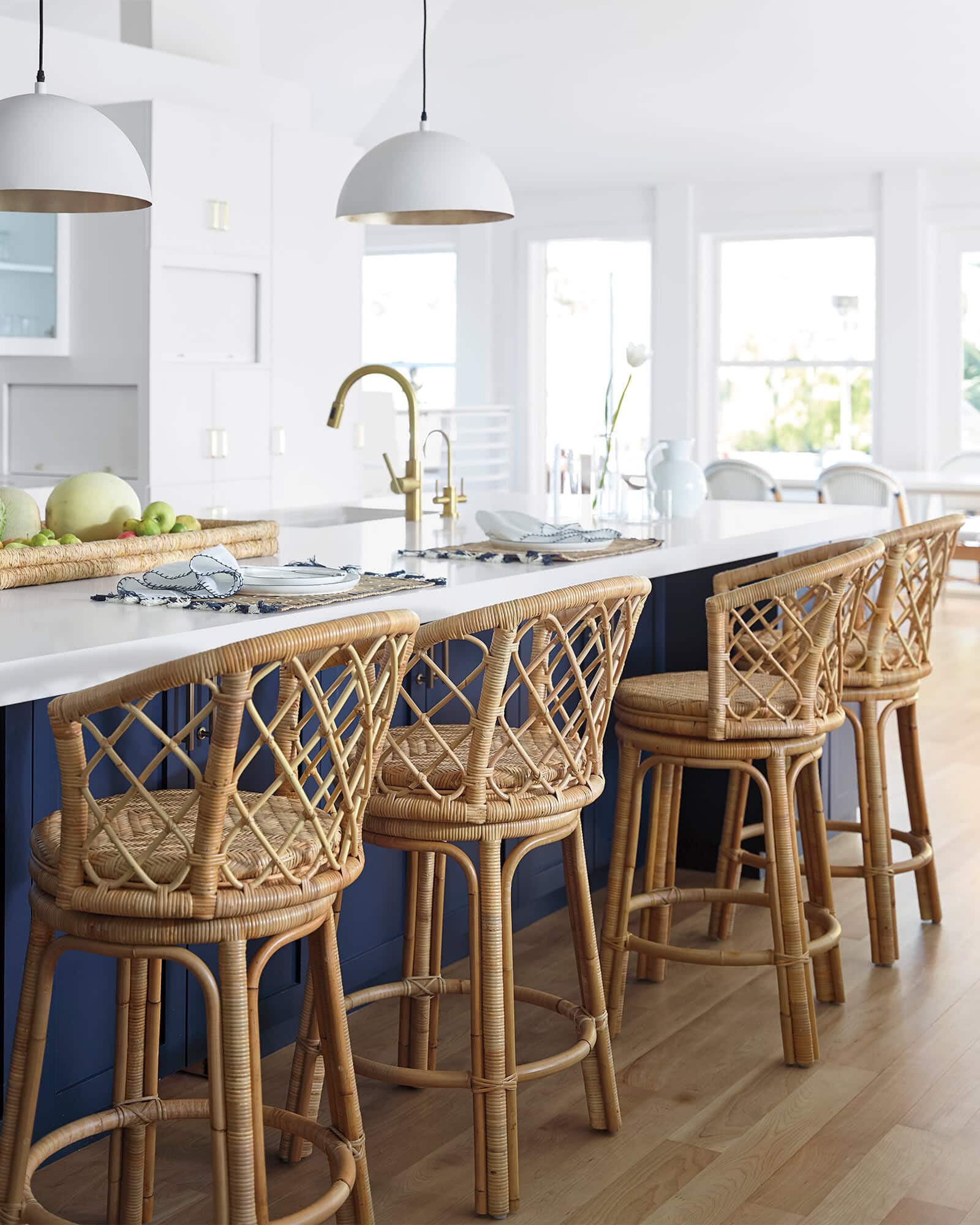 Going simple with an overhead light strikes the perfect balance when your kitchen is full of bold, eclectic pieces, like a brass sink, bright white counters, and a rich blue island.
An elegant yet subtle white dome-shaped light provides the perfect coverage while working at the sink. While the classic, understated style tones down the bold mix of colors and textures.
Cooking Up Class with a Contemporary Single Chandelier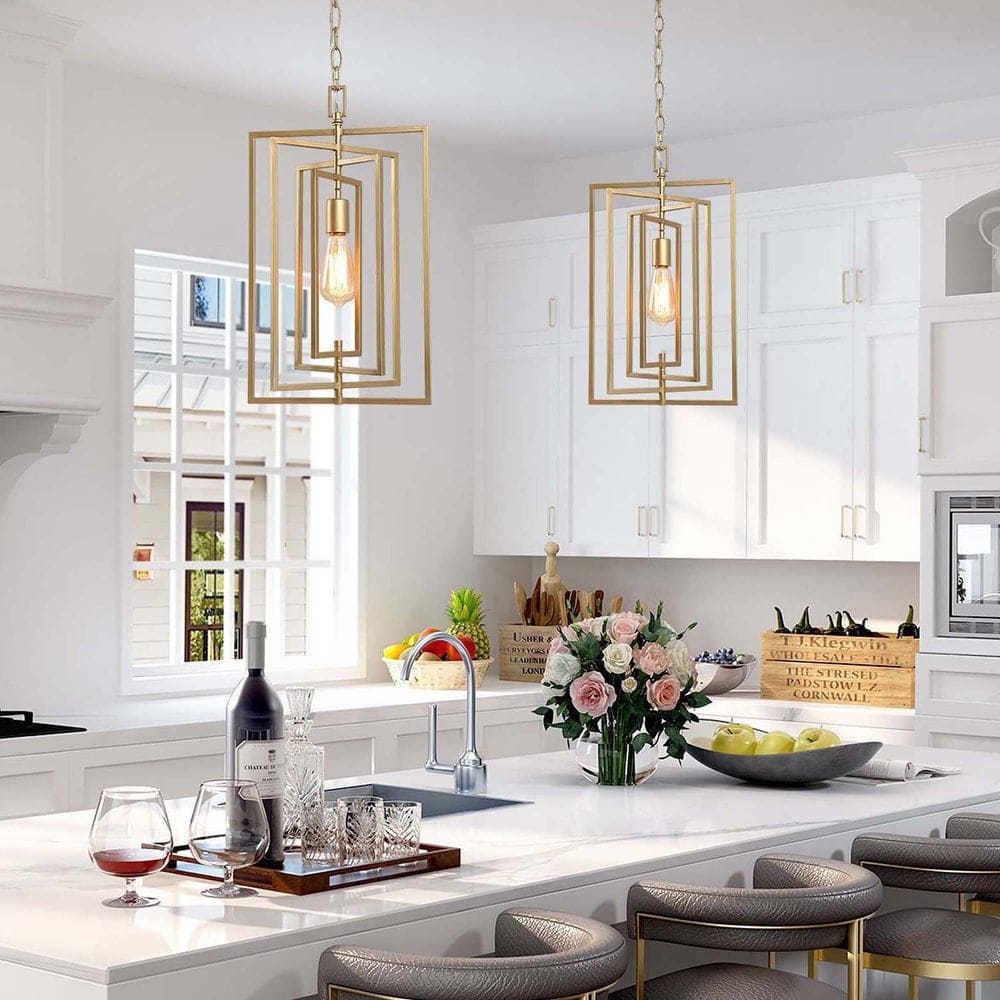 If you like contemporary style pieces with lots of character and class, check out these pendant lights consisting of four geometric rectangles that rotate around a single Edison bulb.
You have the choice of two different heights and colors – gold for some glam or black for a more modern feel. Both light fixtures dangle from a chain, making the perfect lighting for over the sink.
Modern Yet Rustic Metal Magic Lighting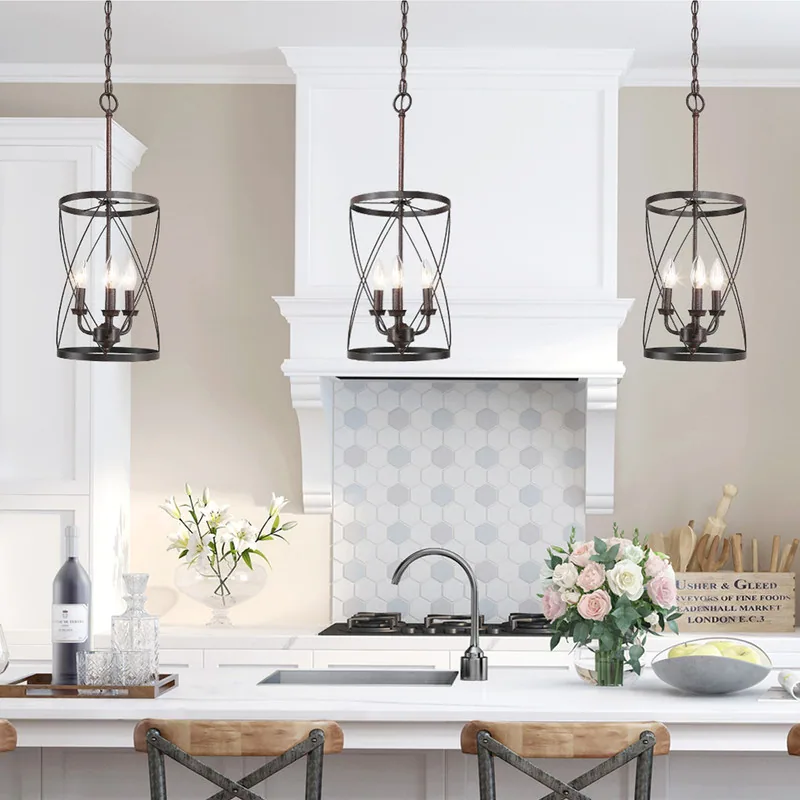 If you're looking for a pendant light to go over the sink that will achieve an upscale, rustic vibe, you've got to consider these carbon three-bulb pendants in a drop-length chain.
The curved rustic black iron X cage surrounding the three candlelight bulbs creates an aura of French country perfection while also working for shabby chic.
Round and Glam 3-Light Chandelier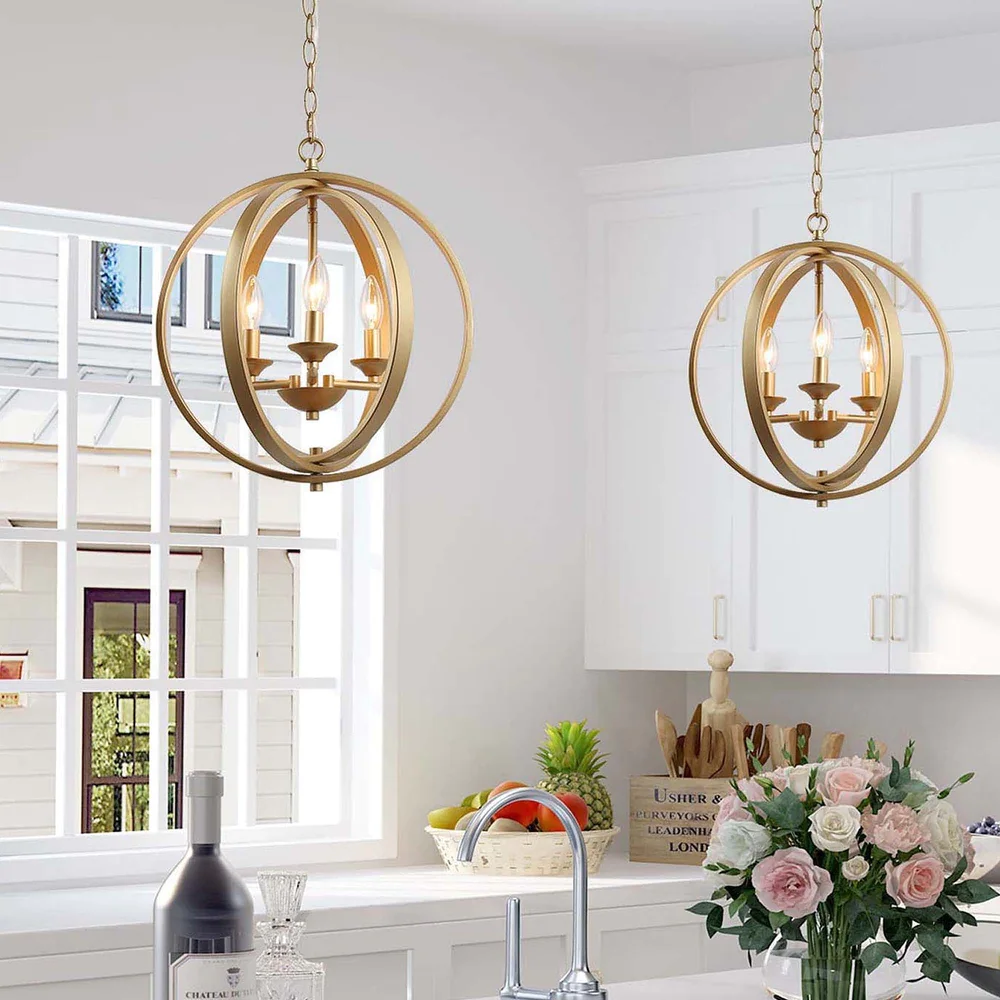 Glam out your kitchen by adding round three-light chandeliers over the sink. We can't get over the gorgeous upscale glitz you can achieve in your space with these stylish lights.
These round globes offer a combination of modern due to the lustrous gold sheen and open spherical design and traditional due to the candlelight bulbs and rustic contemporary flair.
Work With Geometric Distressed Wood Fixtures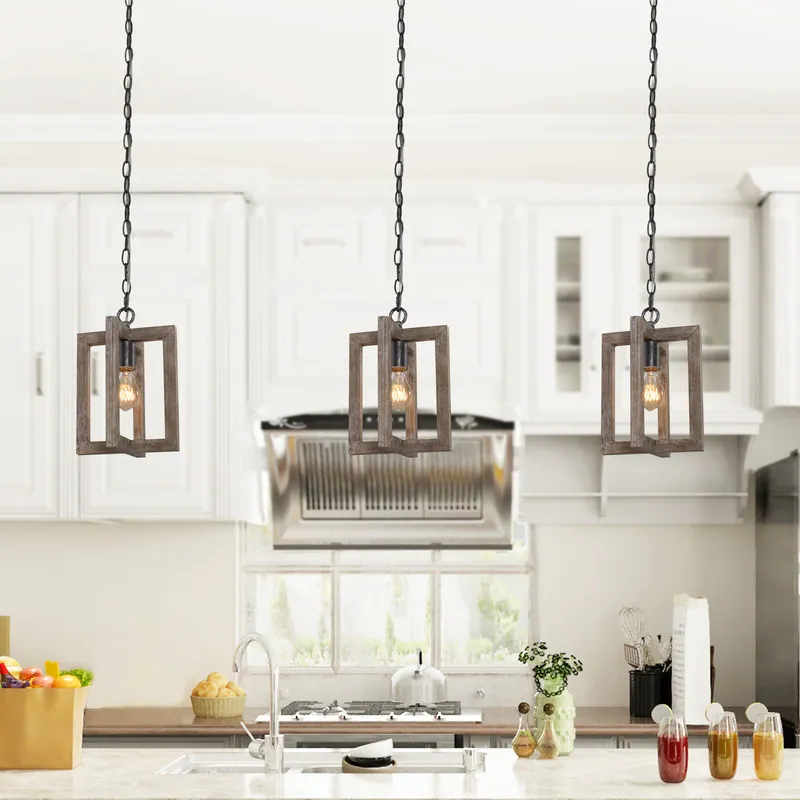 Embrace the wonderful rustic ambiance you can achieve with a faux wood fixture in a simple yet stylish geometric pattern of overlapping squares.
The single open iridescent bulb shines straight down over your sink, while the dangling chain allows for adjusting the pendant's height for optimal lighting.
Check Out a Chunky Chandelier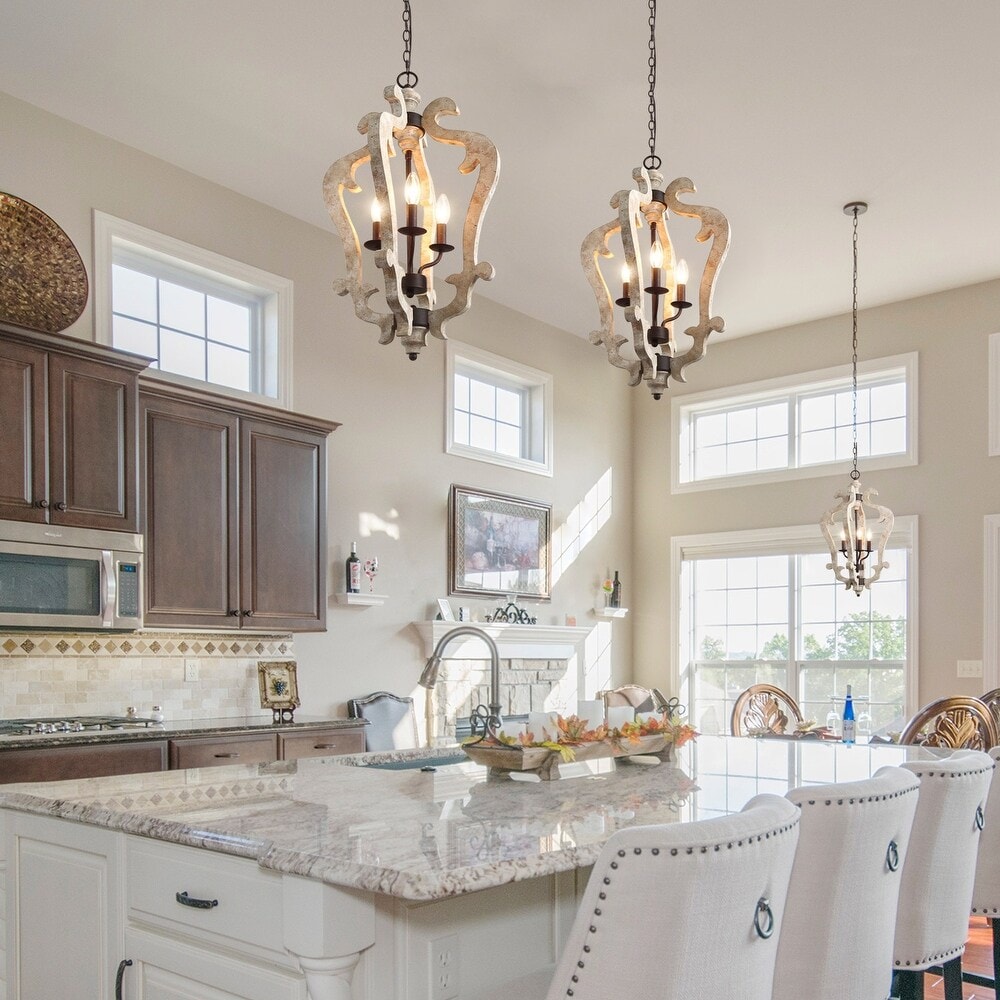 You can have style and function in a French country cottage chic theme by choosing rustic farmhouse wood lantern chandeliers for the lighting over your kitchen sink.
These lanterns contain whitewashed taupe-colored, wood-weather scrollwork surrounding bobeches housing three candle bulbs in the dome. The soft aged look can make any kitchen look lovingly worn-in and inviting.
And That's a Wrap
Having the right lighting over your kitchen sink can make a huge difference in the quality of your skill while doing activities. Over-the-sink lighting can also greatly affect your room's ambiance – feel. We've shown how creative you can be with the type of lighting you choose.
What do you think of our design ideas? Did we list one that inspires your kitchen design? Or does your kitchen have something completely different than what we've shown? Drop your deets in the comments!