Decorated Life is reader-supported. When you buy through links on our site, we may earn an affiliate commission. Learn More
17 Kitchen Island Lighting Ideas for Every Style
No matter the size or style of your kitchen, lighting is important. Not only is it practical, but it can change the entire look of the room without requiring a full-on remodel.
If you're trying to make a big impact, the best place to start is with your kitchen island lighting. And luckily, no matter your decor preferences, there are plenty of options at various price points.
Here are 17 of the best kitchen island lighting ideas.
Use Lantern Chandeliers for a Farmhouse Look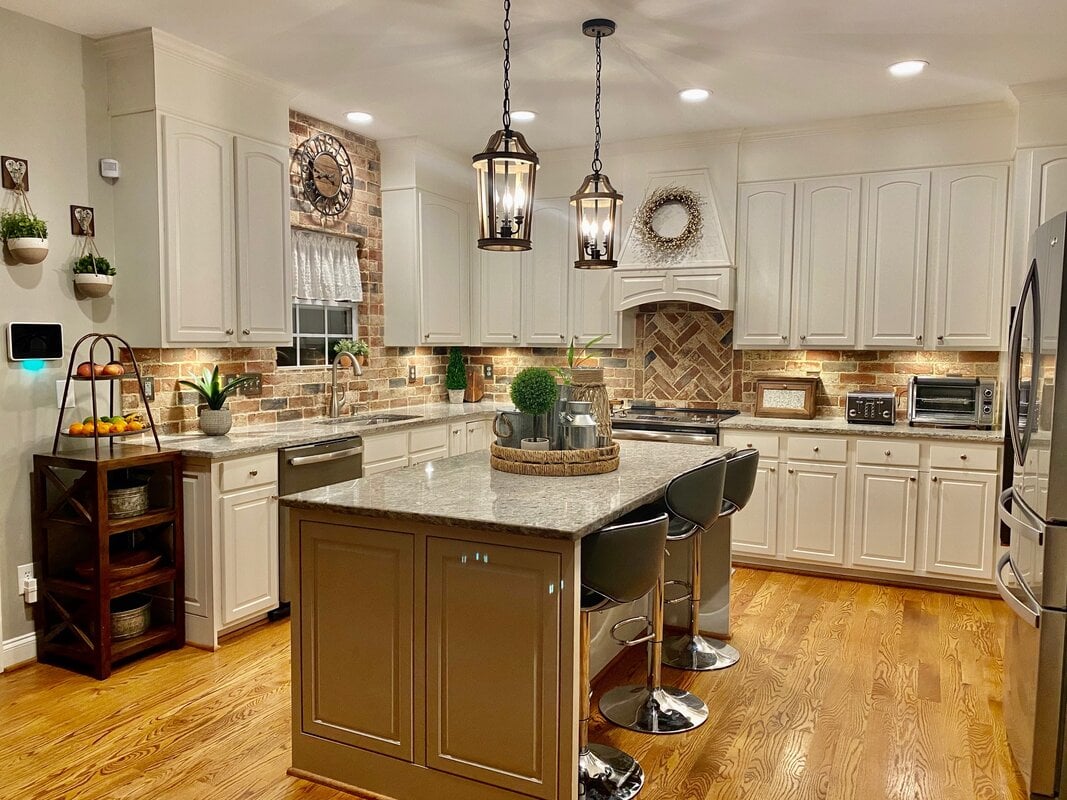 Lantern chandeliers are the perfect farmhouse kitchen island lighting. These lanterns have a rustic feel but give plenty of light since they have room for three bulbs.
Since these light fixtures are on the smaller side, you can adjust the number you hang based on the size of your island.
Go Modern with Wrought Iron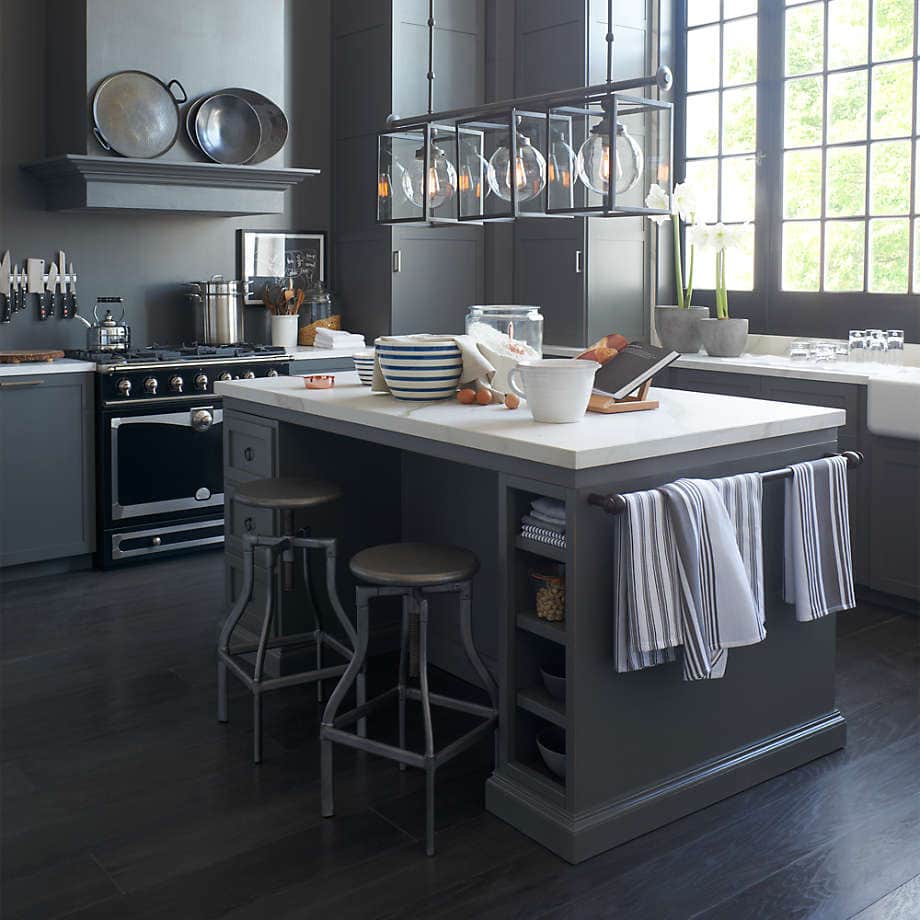 If you prefer a modern style that still has character, this is the perfect light for you. This light fixture has three glass globes encased in wrought iron lanterns.
The shape of this light fixture has clean lines perfect for a modern kitchen. The wrought iron finish brings a bit of a vintage flair for the ideal mixture of old and new.
Glam it Up with Retro-Style Pendants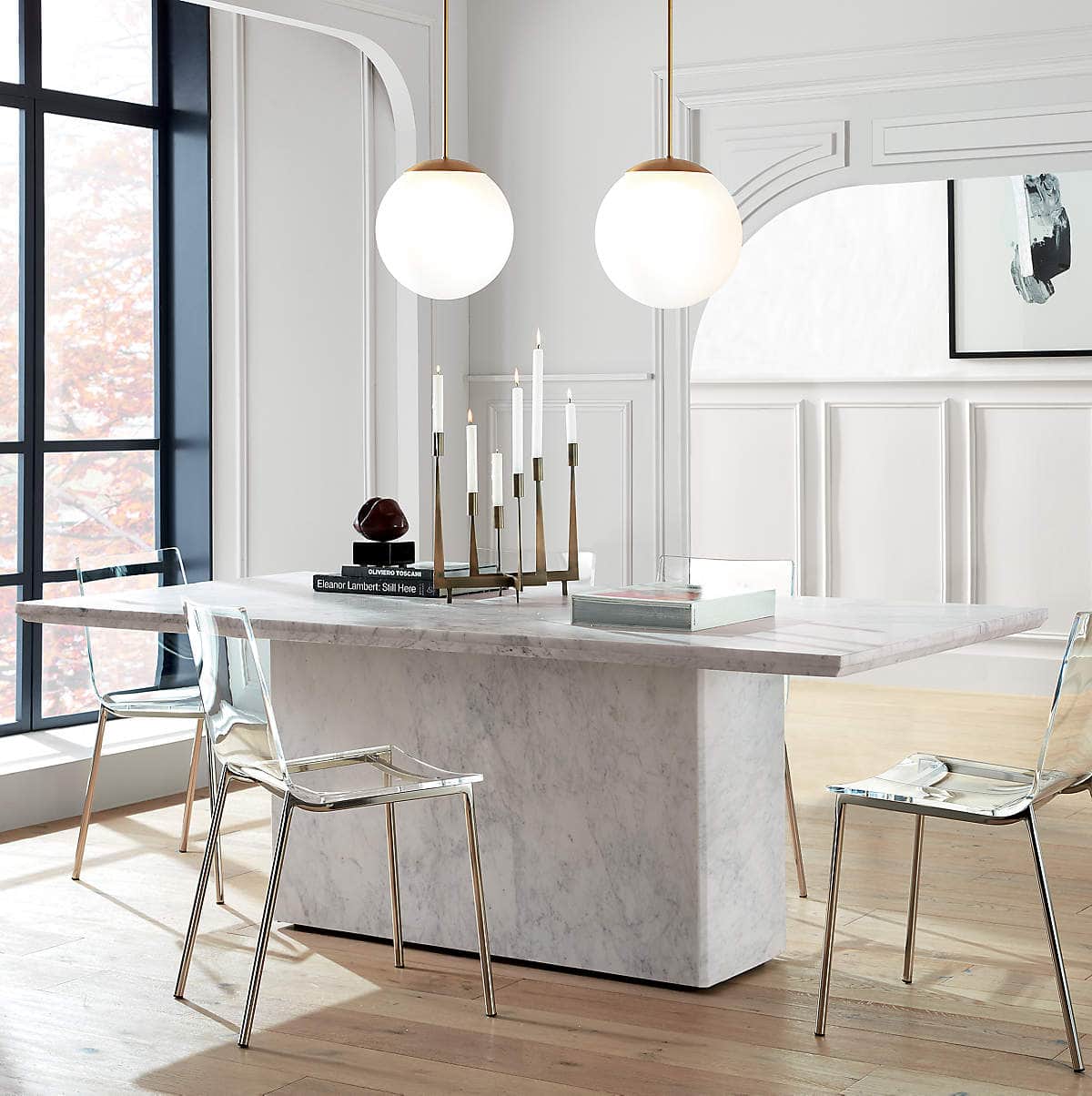 Sometimes the simplest ideas make the biggest impact, and that's certainly the case with these retro-style pendant lights. These lights are large and feature a frosted globe and brass finish.
The pendants are large enough to provide ample lighting even in the darkest of kitchens. You can use these with modern, glam, or retro-style decor. One would be perfect for small kitchen island lighting.
Hang a Black Beehive Light for Easy Style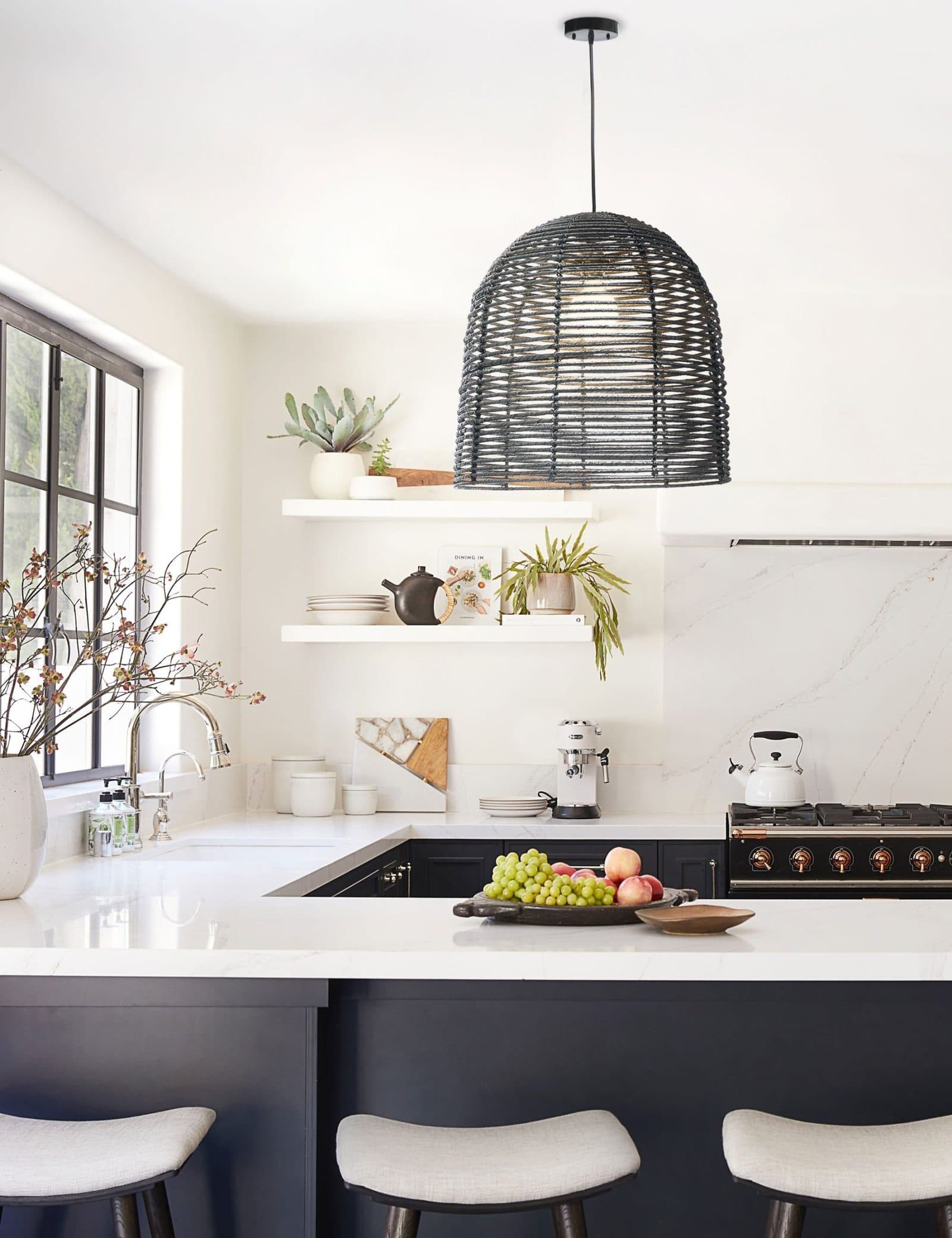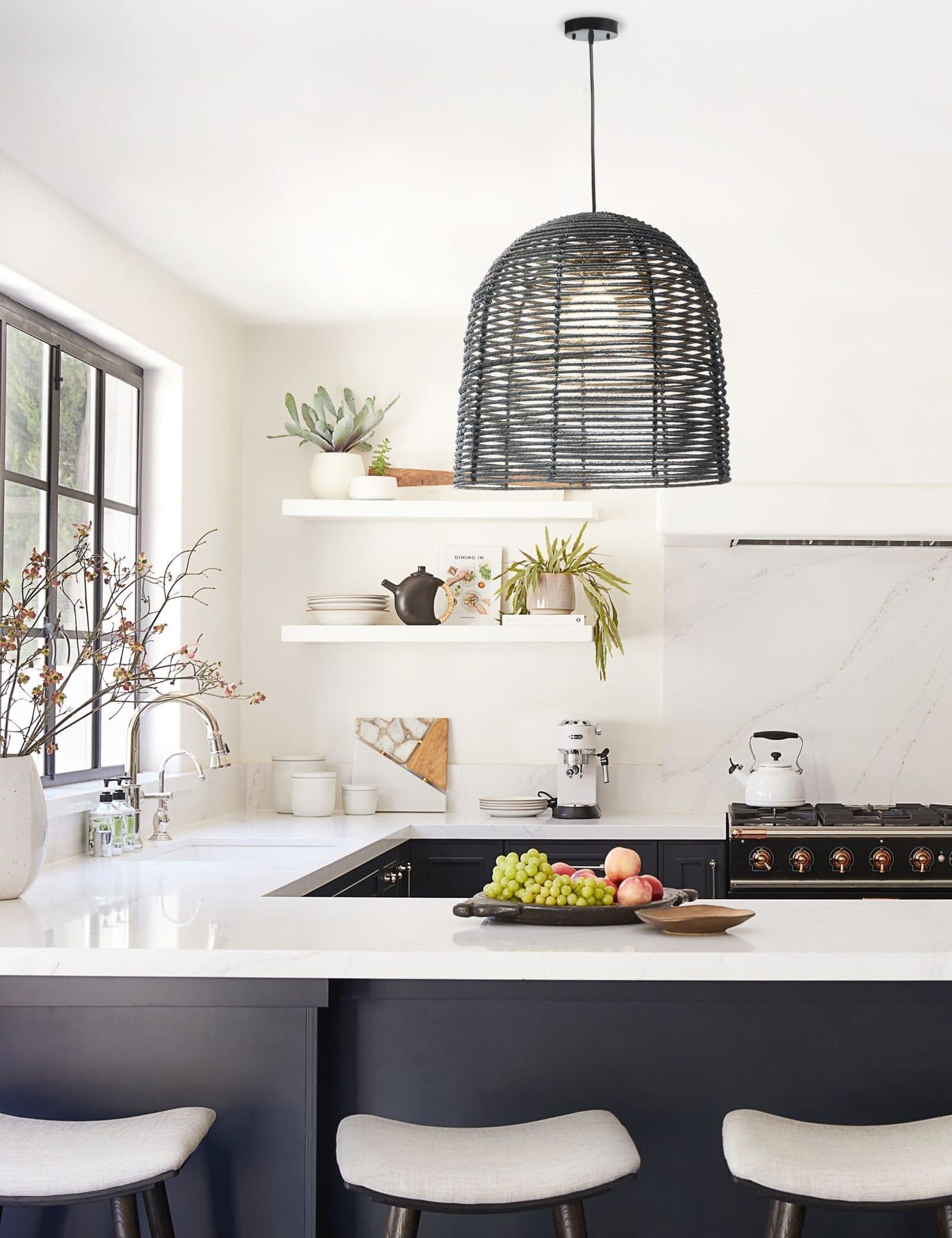 This black beehive light from Lulu and Georgia is one of the most versatile kitchen island lighting ideas we've found. You can easily incorporate this into your kitchen if you have a casual, modern, minimal, or boho style.
The beehive is jute painted black. The pendant is 20 inches in diameter, so you could add more than one of these if you have a large island.
Try Aged Wood for a Rustic Touch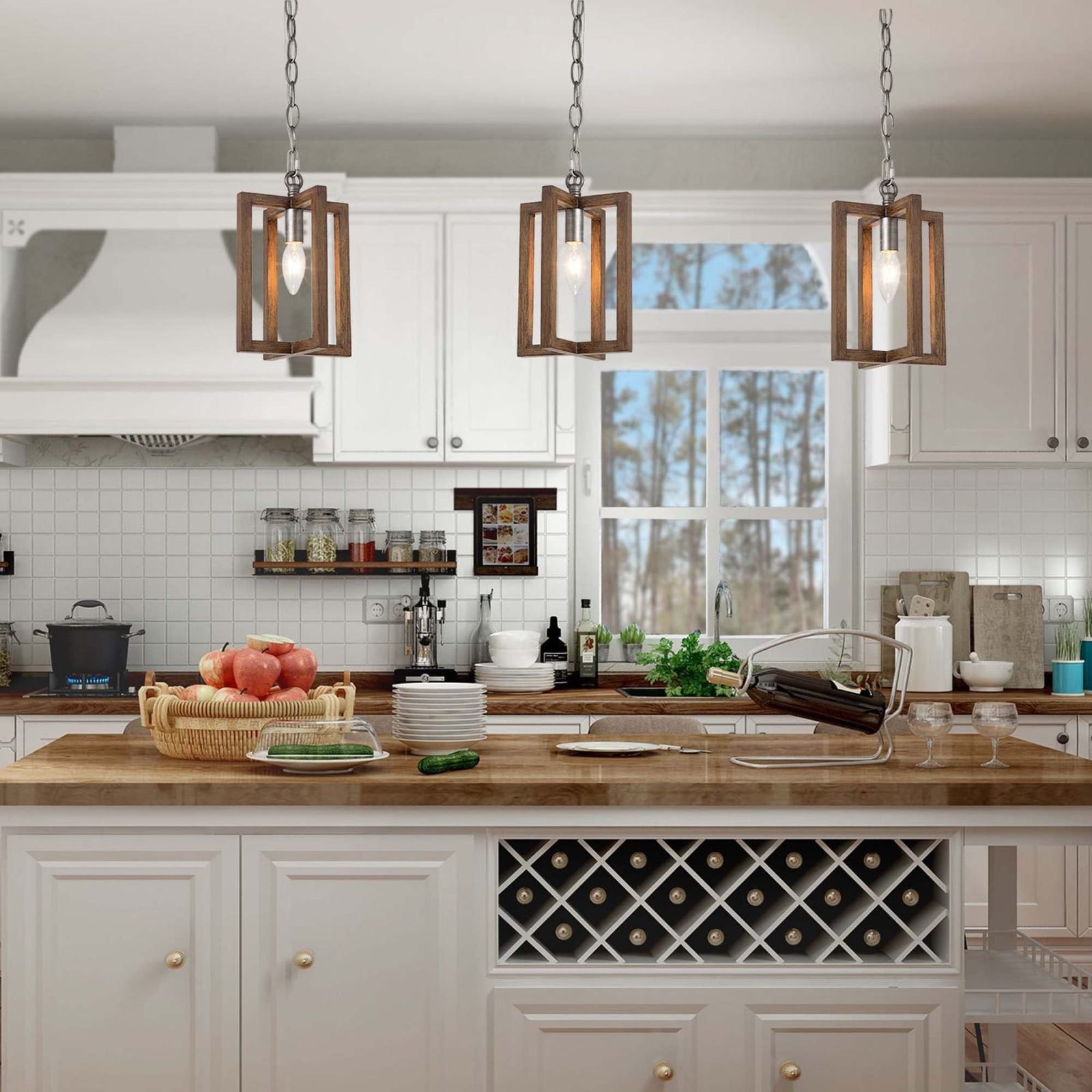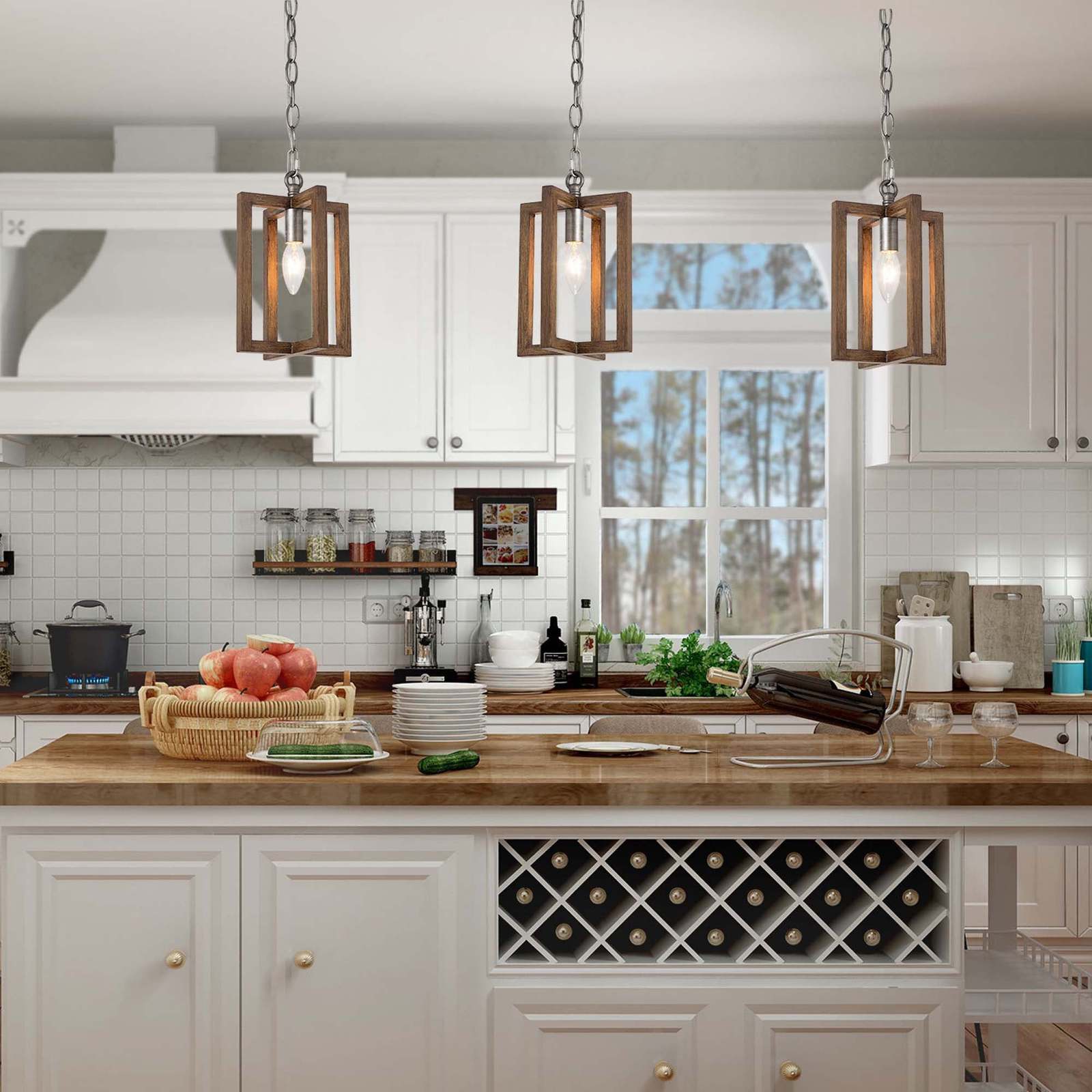 Looking for rustic kitchen island lighting? Try a fixture that has aged wood like these pendants from Overstock.
The aged wood and metal give off the perfect rustic or farmhouse vibes. Since these pendants are small, you could add 3-5 of them over your kitchen island.
Showcase an Exposed Bulb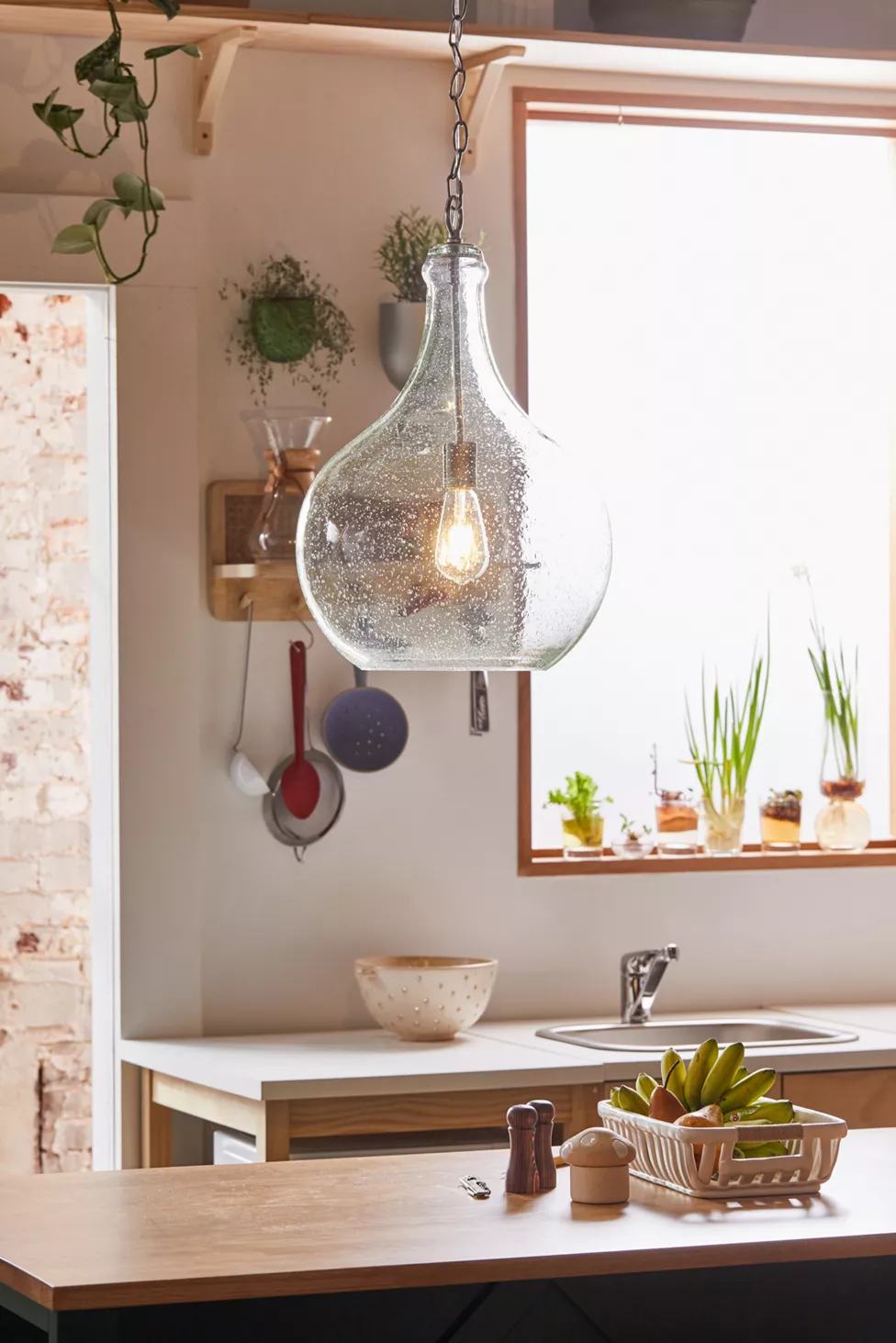 Many of today's light bulbs are pretty enough to put on display – especially vintage or Edison bulbs. If you want some effect to be on the light bulb and not just the light fixture itself, consider a clear pendant like this one from Urban Outfitters.
This blown glass pendant is a fun tear-shape and is ideal for an exposed bulb. While this light could work in nearly any kitchen, it's especially suited for boho, modern-chic, and minimal designs.
Pull off a Coastal Vibe with Ceramic Pendants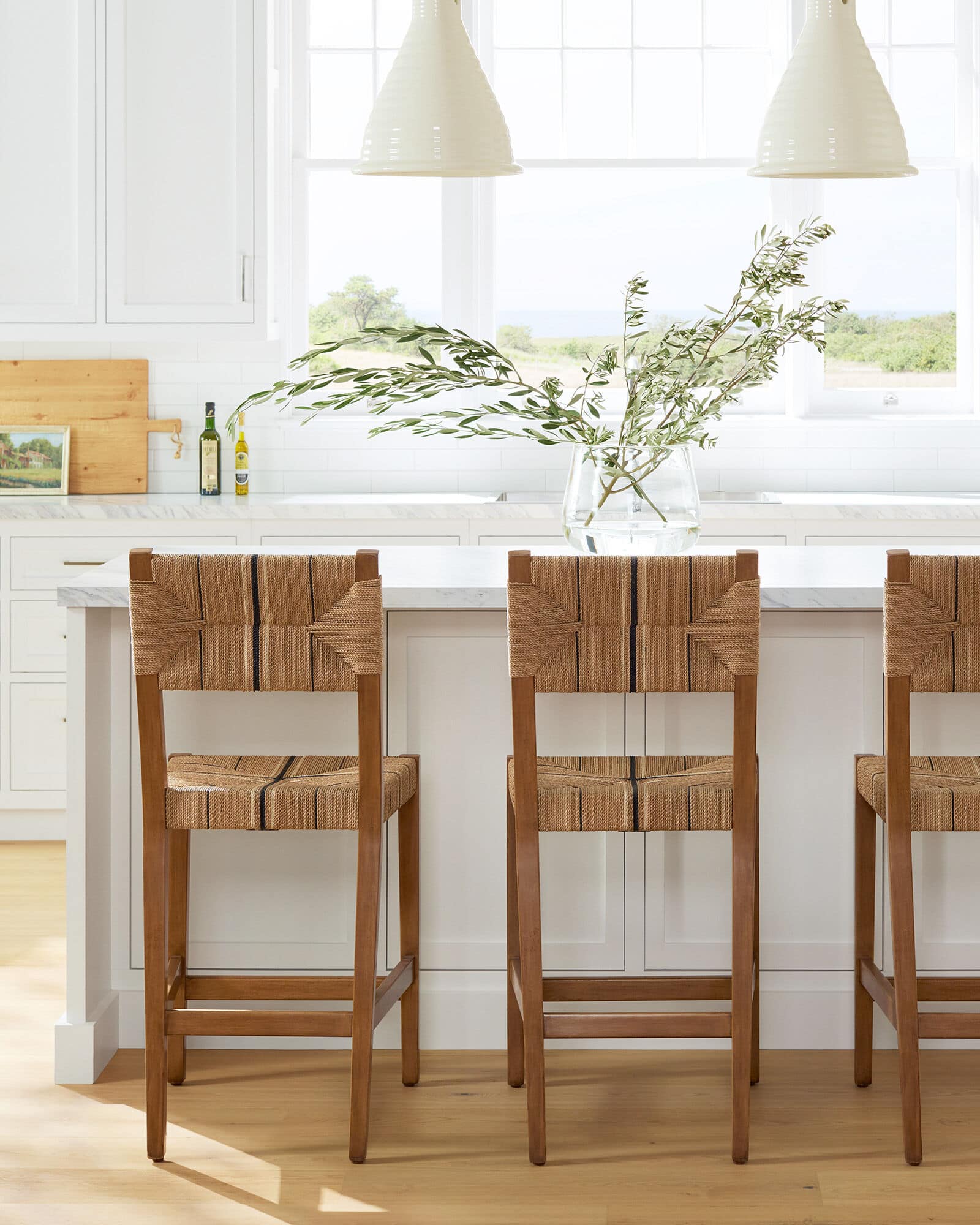 Coastal kitchens are light and bright, with natural textures weaved throughout. If you love the airiness of this style, these white ceramic pendants can help you get it.
These pendants come in two sizes, small and large, so no matter the size of your kitchen island, you can find one to fit over it.
Go Simple with a Scandinavian Inspired Light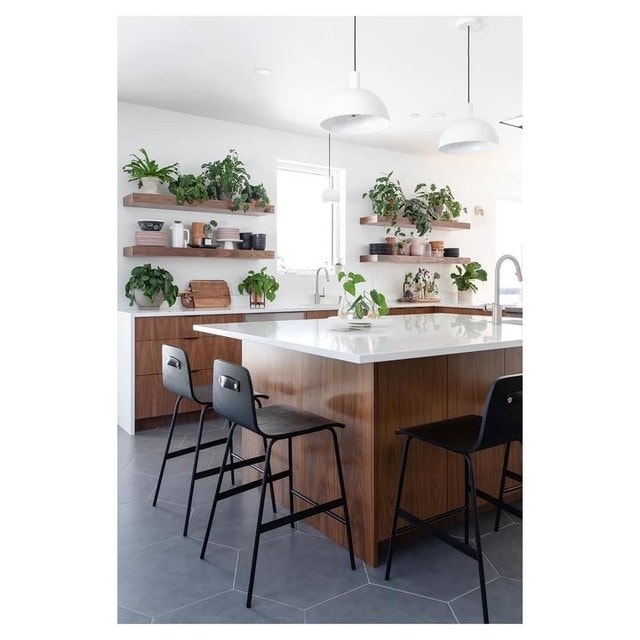 Scandinavian design is popular because of its minimal aesthetic, white walls, and touches of natural elements. If this style draws you in, why not try kitchen island pendant lighting influenced by it?
This pendant has a black cloth cord and industrial shade. It comes in four different finishes, including white, black, red, and brass.
Ditch the Pendants and Opt for a Chandelier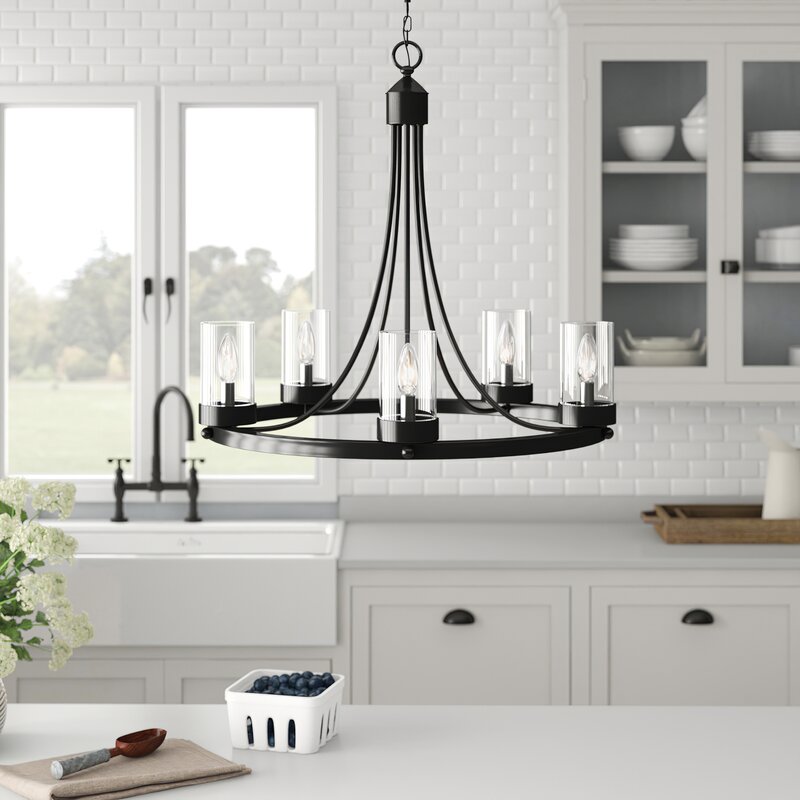 Pendants are, hands down, the most popular kitchen island lighting, but that doesn't mean you can't try something else. If you're not finding single pendants you love, try a kitchen island chandelier.
A chandelier like a wagon wheel version looks great in traditional and farmhouse kitchens. If your style is modern or mid-century, look for a sputnik chandelier.
Bring in Texture with Rattan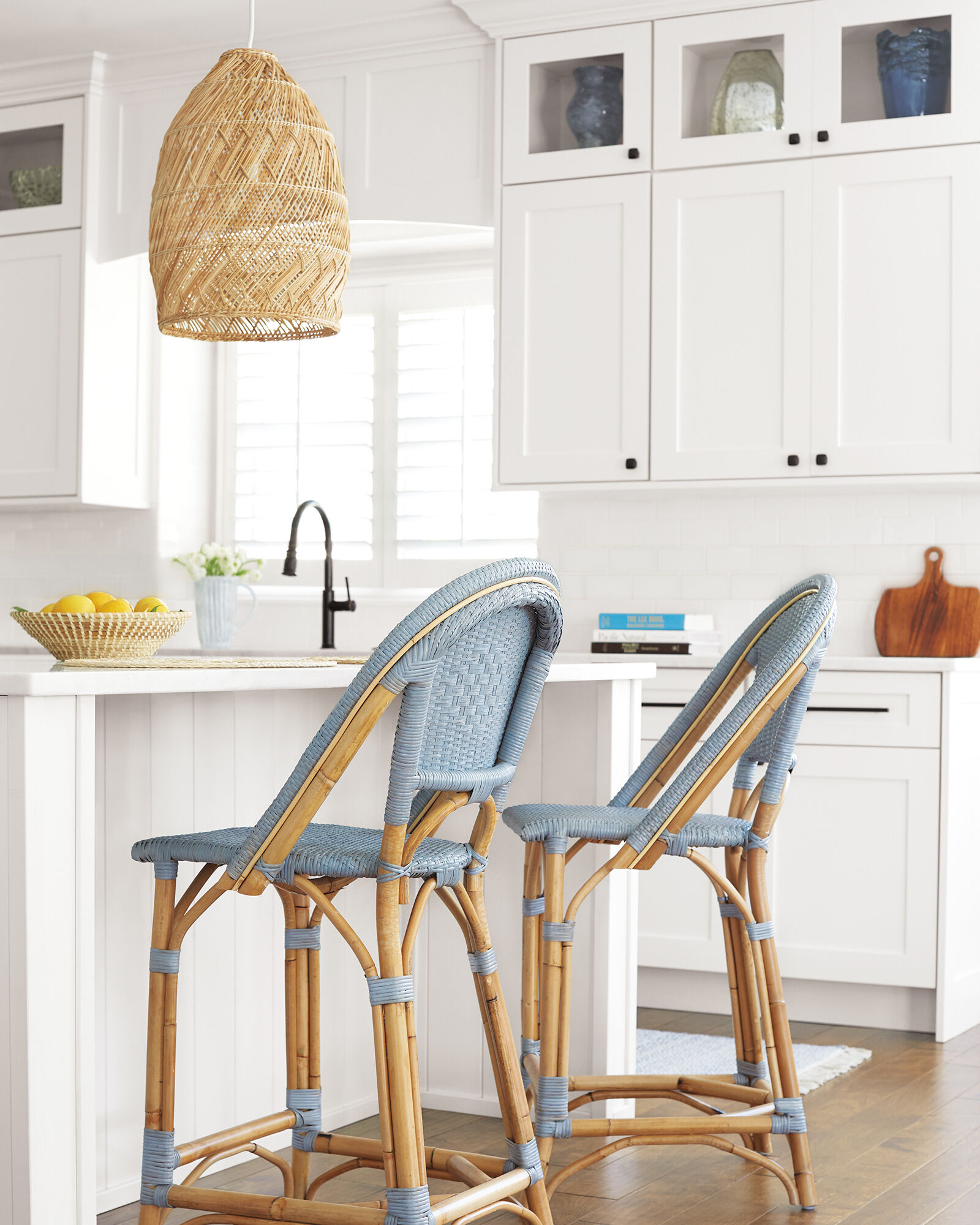 Rattan is one of the leading design elements in boho and Scandinavian-inspired rooms. However, you can also use it in farmhouse, modern, and traditional styles. This natural material adds texture and warmth wherever you put it.
If your kitchen is primarily white or bare, you can use these pendants to bring depth to the room without making it cluttered or busy.
Light Up Your Island with a Simple Dome Pendant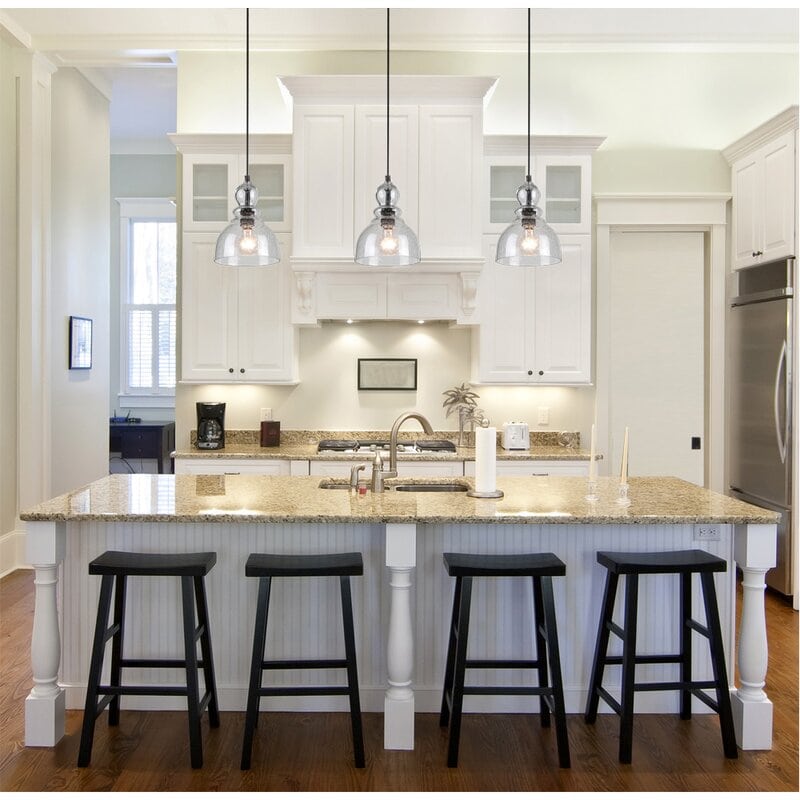 If you have difficulty nailing down your style and want kitchen island lighting that will go with every color scheme or design concept, this is it. These simple domes are made of glass and have a slightly retro feel.
These pendants look fantastic in traditional kitchens, as shown above, but can work with any style. You'll probably need more than one of these as they are "mini" pendants.
For Contemporary Style, Go with Gold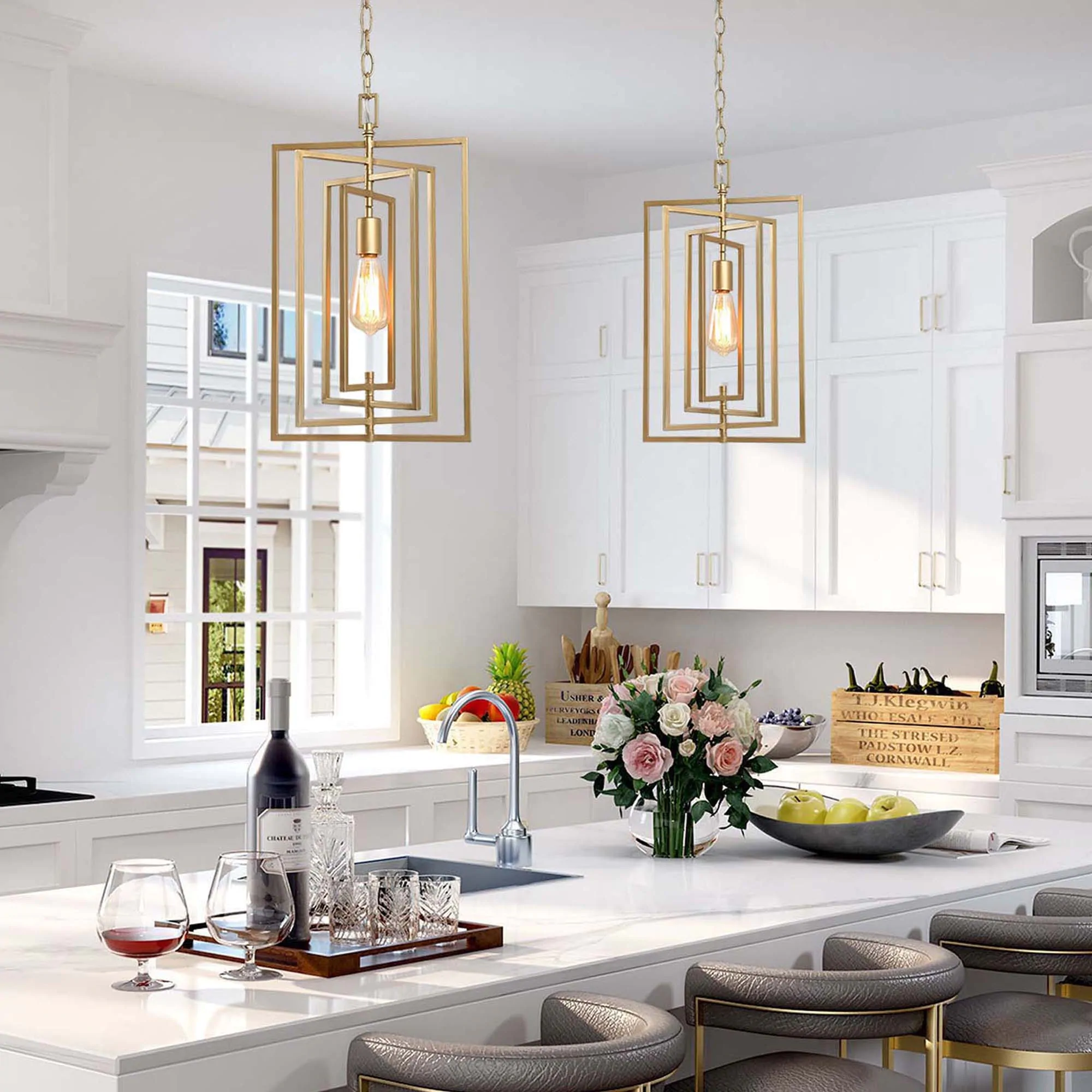 For contemporary or modern glam, gold is always a safe bet. Gold pendants like pictured above look fantastic in kitchens with white or dark-colored cabinets.
These pendants from Overstock come in two different sizes. You can also find them in black, which will work well if you need modern kitchen island lighting.
Draw Attention with Unique Pendant Lighting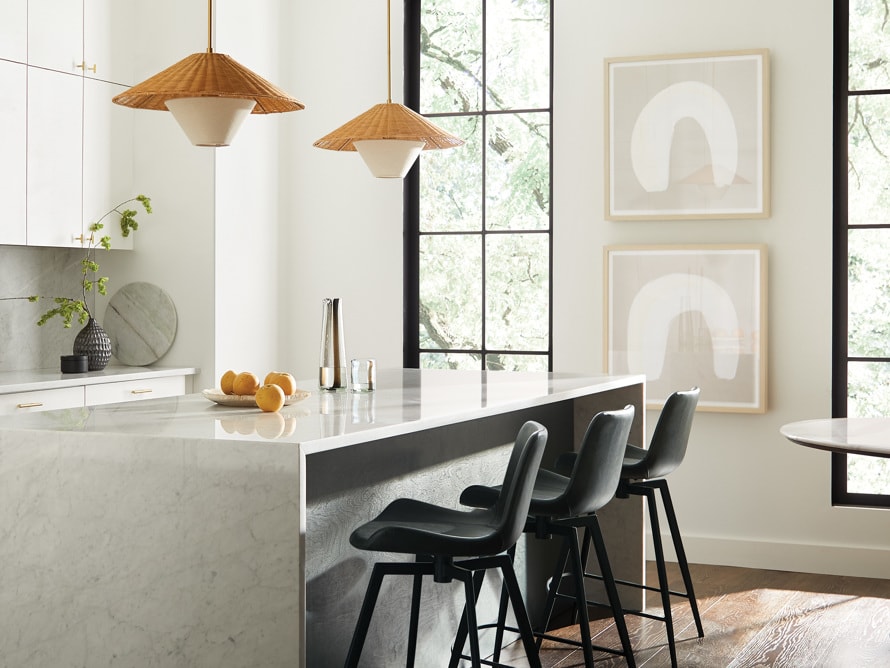 Looking for a new take on rattan? This kitchen island pendant lighting from Arhaus has a rattan shade on top and an inverted linen shade underneath for a unique look.
Pendants like these would work well in modern or casual spaces. You could use 1 -3 of these lights depending on how long your island is.
Use a Linear Fixture to Stagger Pendant Lengths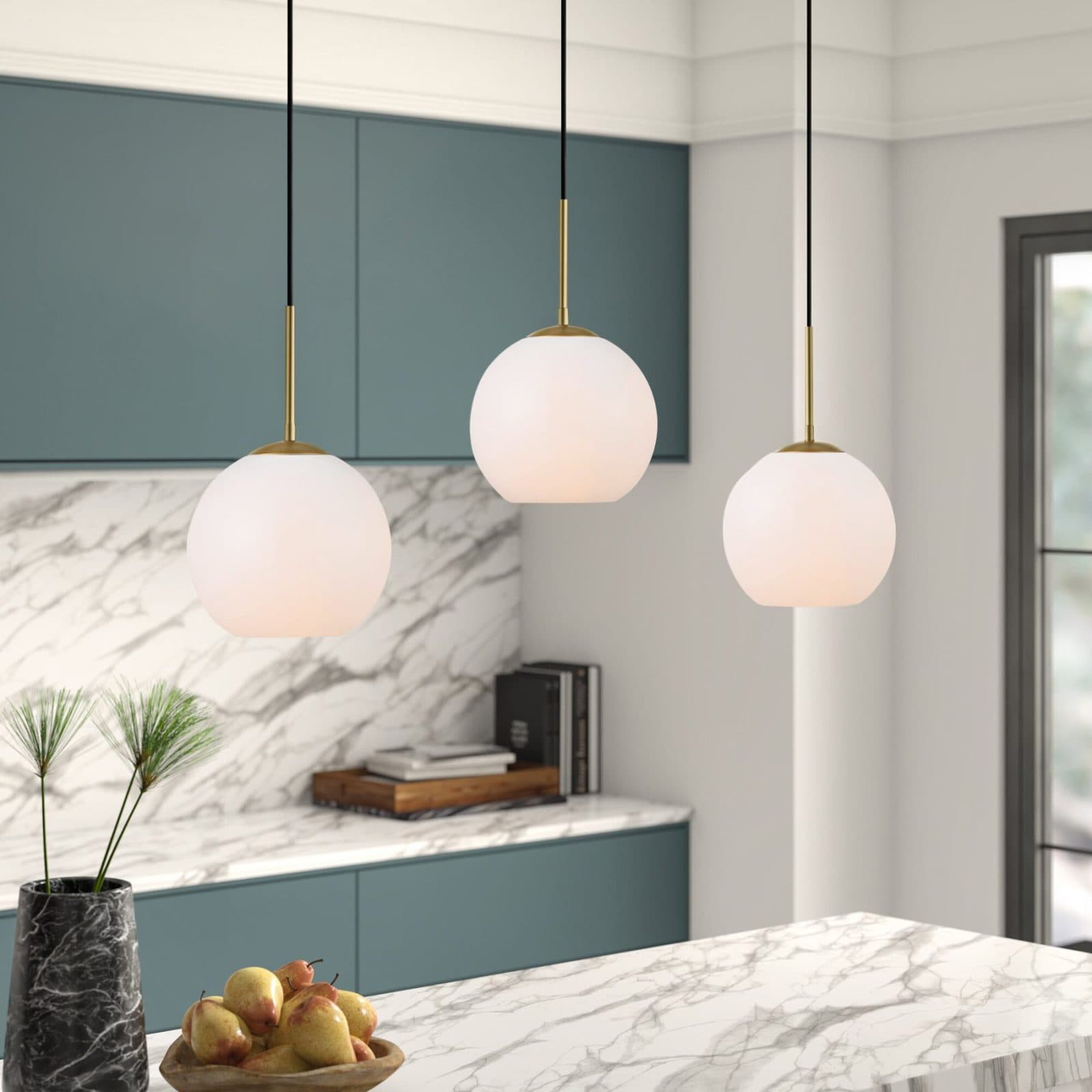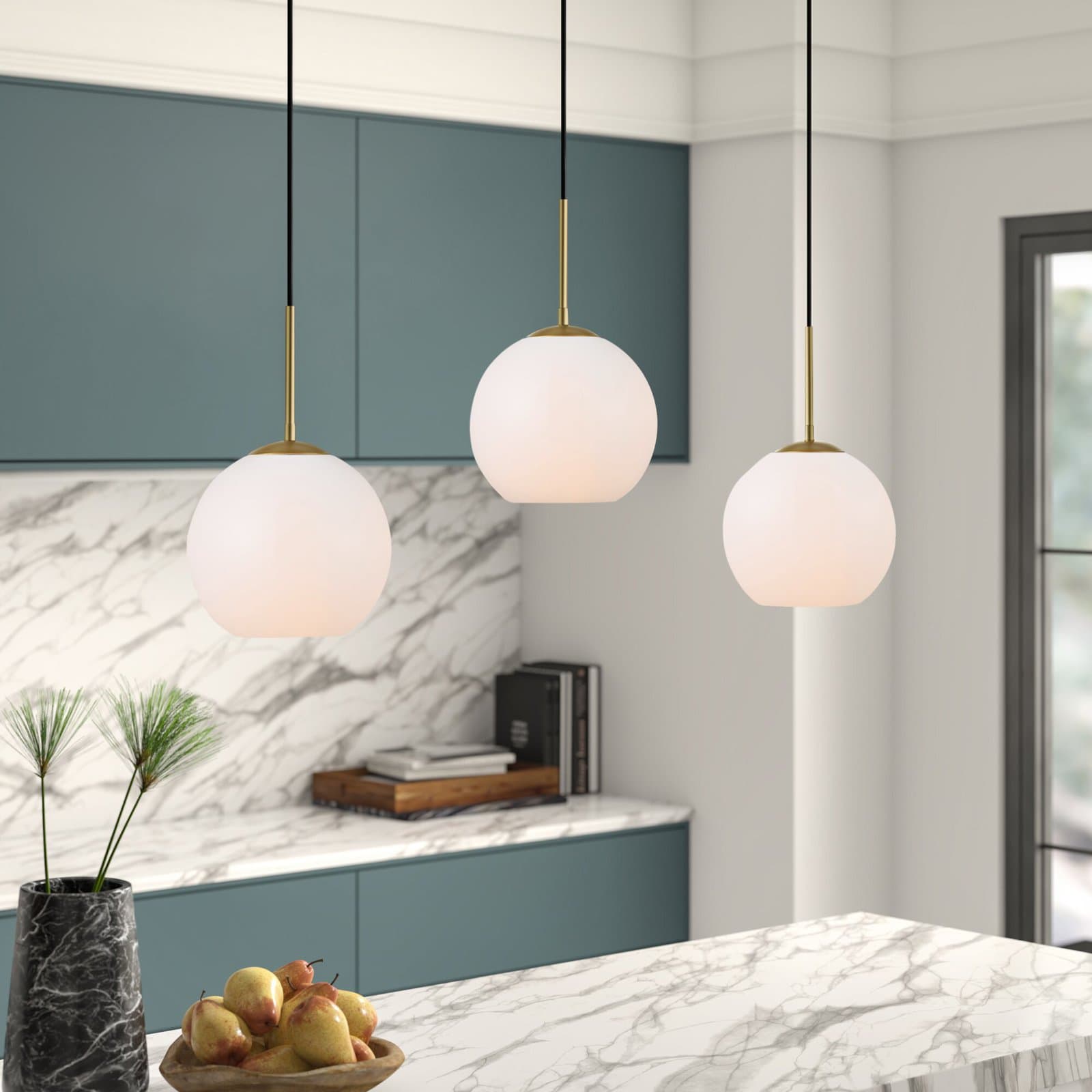 When hanging kitchen pendants, they don't all have to be the same length.
However, attractively staggering the lengths is easier said than done – which is why the best way to achieve this look is by opting for a linear pendant light fixture like this. This fixture comes with one mount, and all three pendants are already attached.
Hang Mesh Pendants in Groups of Three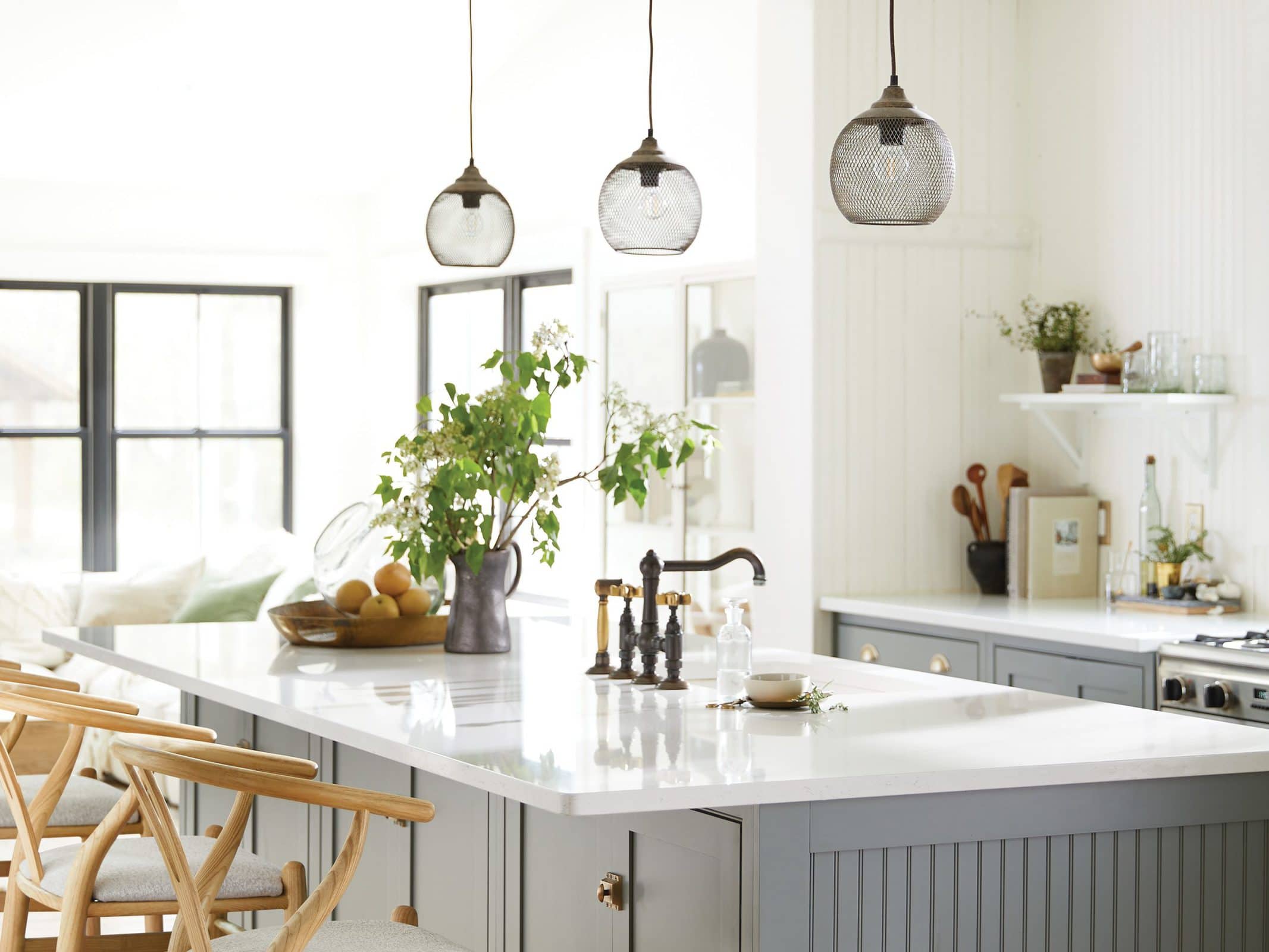 If you want to bring a rustic or industrial vibe to your kitchen, these lights can do it.
These pendants are metal with a mesh design. Since they have a little bit of a rust-colored finish, they feel like they're decades old. You can hang these in groups of three over your island or cluster them together for a fun effect.
Hone the Beachy Vibes with a Globe Pendant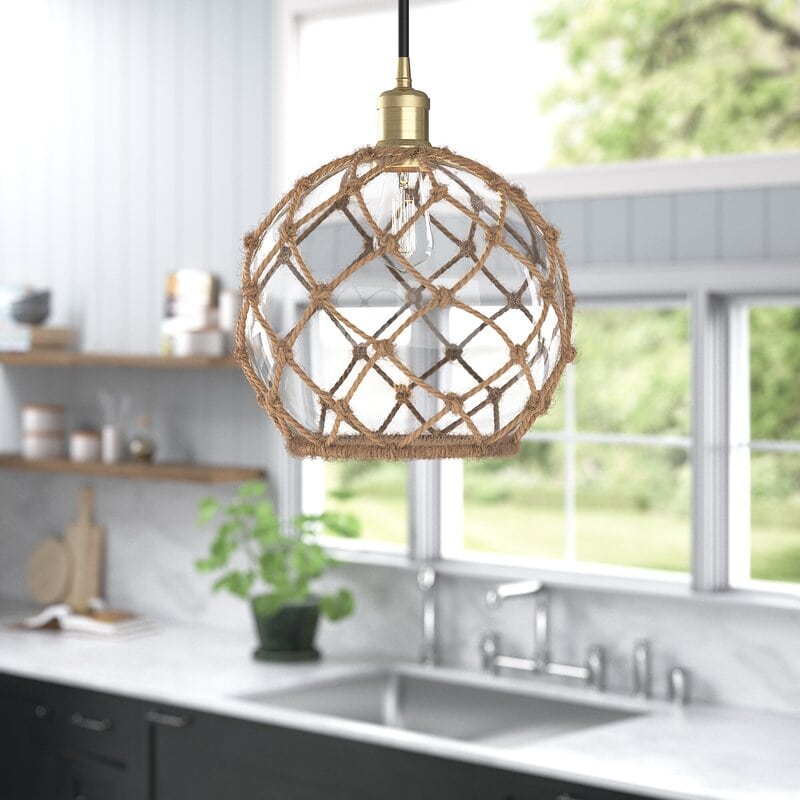 Want to bring beachy elements to your kitchen without bringing in actual seashells? Try this beautiful globe pendant wrapped in rope.
This pendant is designed for coastal kitchens but could also work with other decor schemes. You can find this pendant in two sizes and several finishes.
Maximize Lighting with Linear Pendants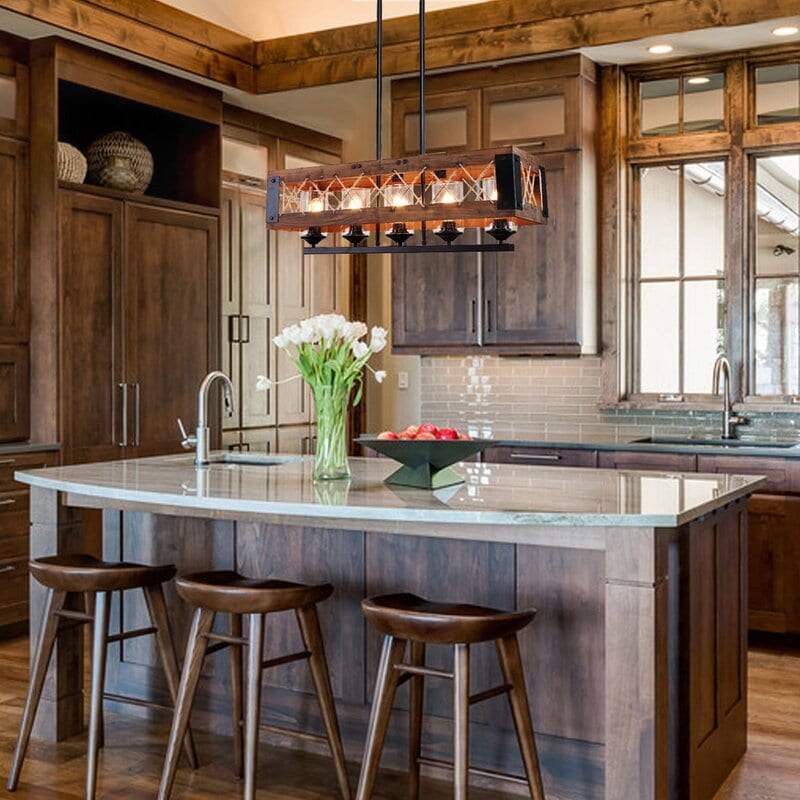 If you need to pack in as much lighting as possible, consider a fixture like this. This linear pendant light holds five lightbulbs.
The fixture is wood and metal, which would look great in rustic, farmhouse, and industrial kitchens.
Final Thoughts
Choosing the proper island lighting is a big deal if you're in the middle of a kitchen remodel. Even if you're not in the middle of a remodel, you can completely change the look of your kitchen by swapping these lights for something new.
For a boho, coastal, or Scandinavian feel, choose rattan or another natural material. If you like modern glam style, try gold or metal. And finally, if you're a farmhouse or rustic lover, look for a mix of wood and metal in your kitchen lighting.