Decorated Life is reader-supported. When you buy through links on our site, we may earn an affiliate commission. Learn More
What Color Cabinets With Gray Floors? – 15 Ideas
Gray floors offer many choices for cabinetry colors, from basic colors like white to more creative shades like yellow or blue.
This list will look at 15 ideas for what color cabinets go with gray floors. For instance, cool-toned gray floors inspire the use of cool-toned cabinets – greens or blues. But warm-toned grays look best with warm-toned cabinetry – woods with orange, red, or brown tones. Other colors are white, dark (or light) grays, or blacks.
Blend Light Gray with Country Yellow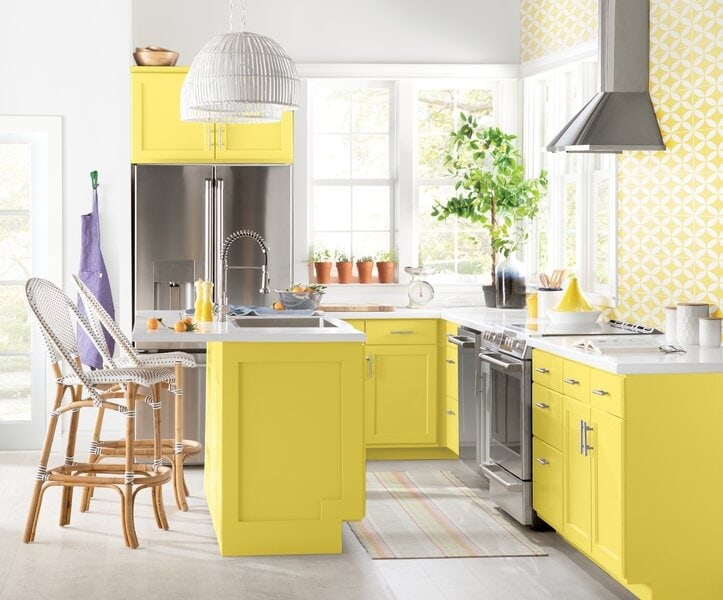 Kitchens are the perfect canvas for a cheerful cabinet color choice, like a sunny yellow to go with light gray floors. This color looks fabulous on wood shaker country cabinets with modern silver hardware.
Adding a yellow and white patterned backsplash, white counters, and white walls and trim keep the bright uses of color balanced.
Match Gray Floors with Mixed Cabinetry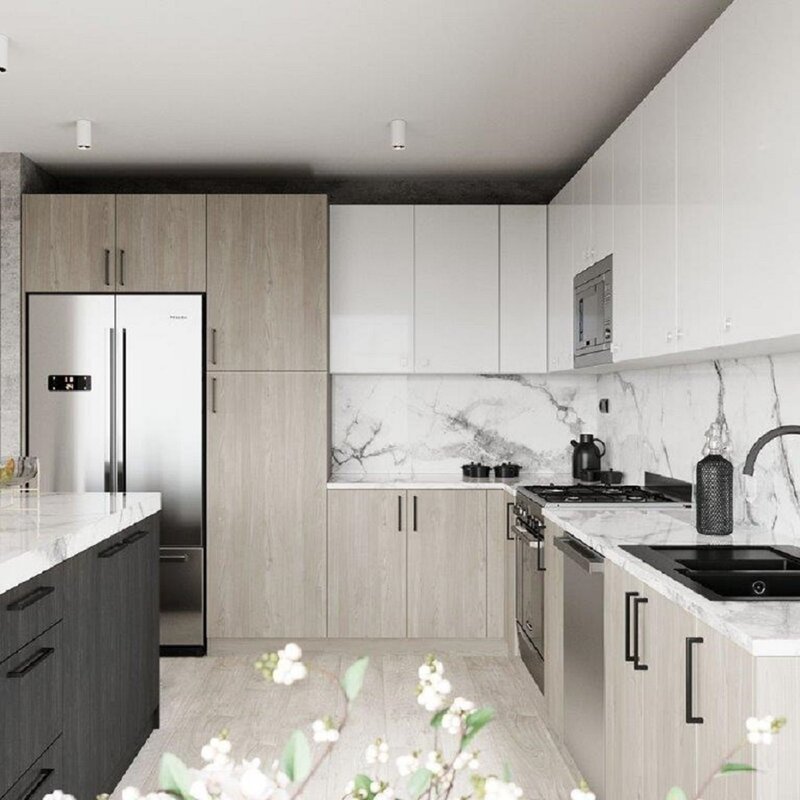 You can achieve an outstanding aesthetic for a contemporary-style kitchen with gray floors by combining cabinetry in different colors.
This kitchen features upper cabinets in a sleek flat-panel white gloss, with lowers in Gray and Shaker White engineered wood. The island is a darker gray (Carbon Marine) with white marble counters and backsplash with deep rich gray veining.
Work with a Warm White for a Wide Kitchen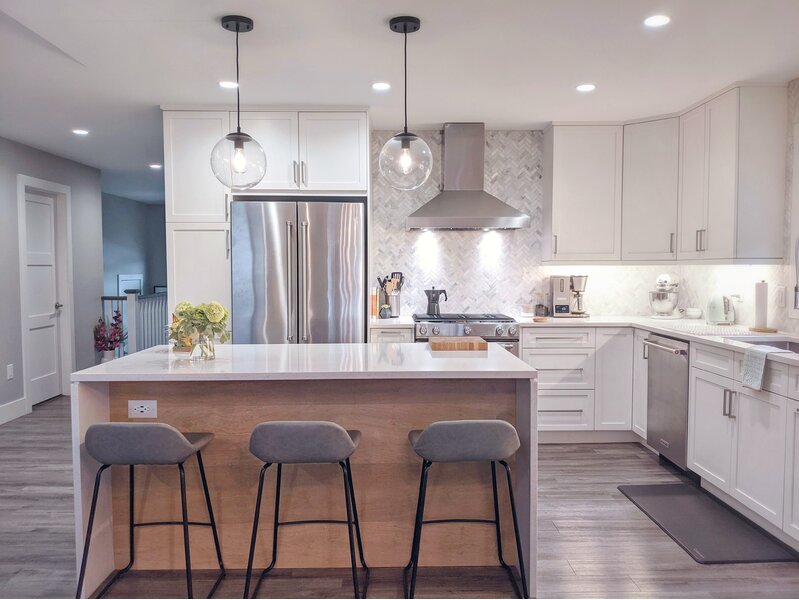 If you're crazy about storage and you have an awkward space available around your refrigerator, a butler pantry with a small cabinet over the fridge is the perfect layout.
You can make your kitchen feel wider and brighter using classic white cabinets and drawers with inset doors, and modern angular bar handles. White counters and a herringbone tile backsplash in multiple colors with a brown planked island set off the various hues in the gray floors.
Try a Traditional Look with Tan and Glass-Paned
Traditional style cabinets feature raised-panel or inset recessed doors with detailed woodwork and wide trim, making them a popular choice in homes centered around families and entertaining.
Small, single-door glass-panel cabinets are excellent for filling small spaces and storing spices. This style also lends itself to a wider color palette, like tan, which is great with gray floors.
Match Gray Maple with Gray Floors
Gray tile floors with variations of light and dark with white mixed in provide the perfect base for gray cabinets.
You can choose a darker shade of gray, matched with greige (gray-beige) walls and white doors and counters, and a cream island for the perfect color palette for shaker-style cabinets.
Involve Glossy Grays for a Modern Makeover
If you're looking to achieve a sleek modern kitchen makeover, mix glossy horizontal cabinetry in a dark charcoal gray for the lowers and lighter gray bi-folding doors for the uppers with glass-paned bottom panels.
Keeping the trim and counters a bare, natural light wood and using lots of metal accents adds all the small details needed for your kitchen to look like a modern industrial haven.
Rustic Elegance with Dark and Light Wood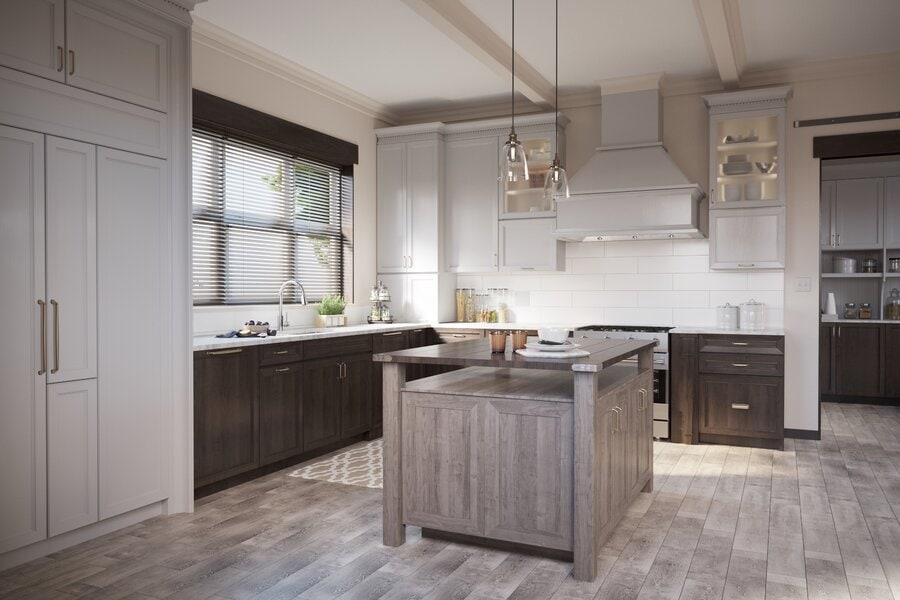 When your gray floors have color variations of earth tones, you have the perfect base for mixing your cabinet colors.
This kitchen is the epitome of rustic elegance with the mix of light gray uppers and butler pantry with espresso cabinets with gray floors and a gorgeous wood kitchen island.
Gray Granite Goes Great with Dark Cabinets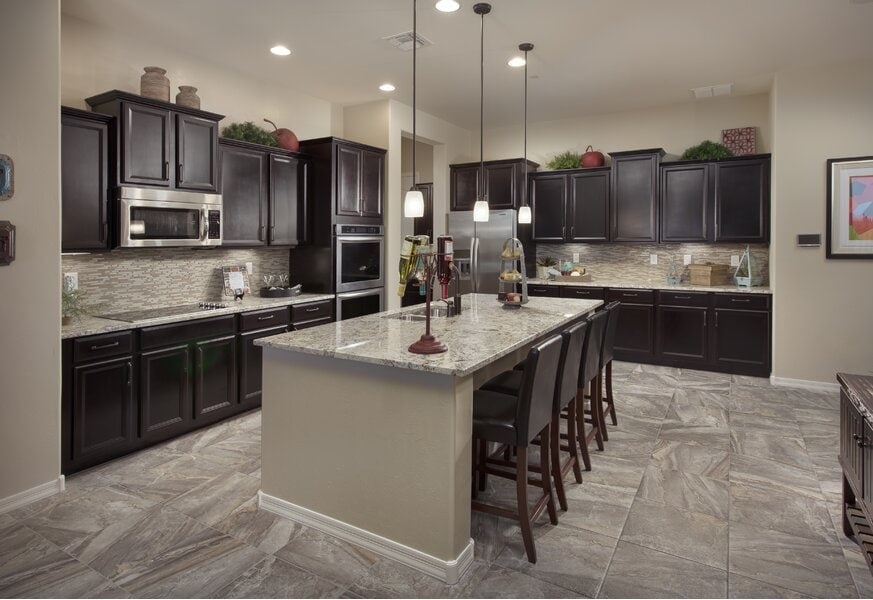 Combining dark cabinets with gray floors with white veining can create a sophisticated, modern traditional look with dark cabinetry and stone-colored counters and backsplash.
Beige walls, white trim, pendant lights, and stainless steel appliances increase the high-end luxury feel, while the light-colored island creates the perfect transition to tie the room together.
Be Busy with Blue for Cool Gray Floors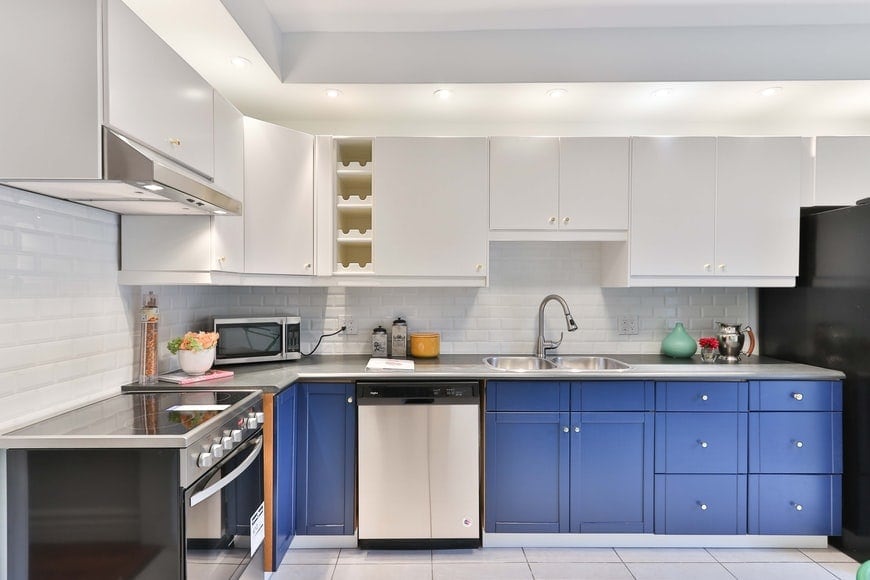 When you have cool-toned gray floors, you can get away with something bold and modern, like a kitchen featuring blue cabinetry.
Check out how these navy blue shakers with gray counters and shiny appliances make the gray tile floors look more icy and pale, creating the perfect blend of light and dark.
Nifty with Natural Red Cabinets for Earthy Look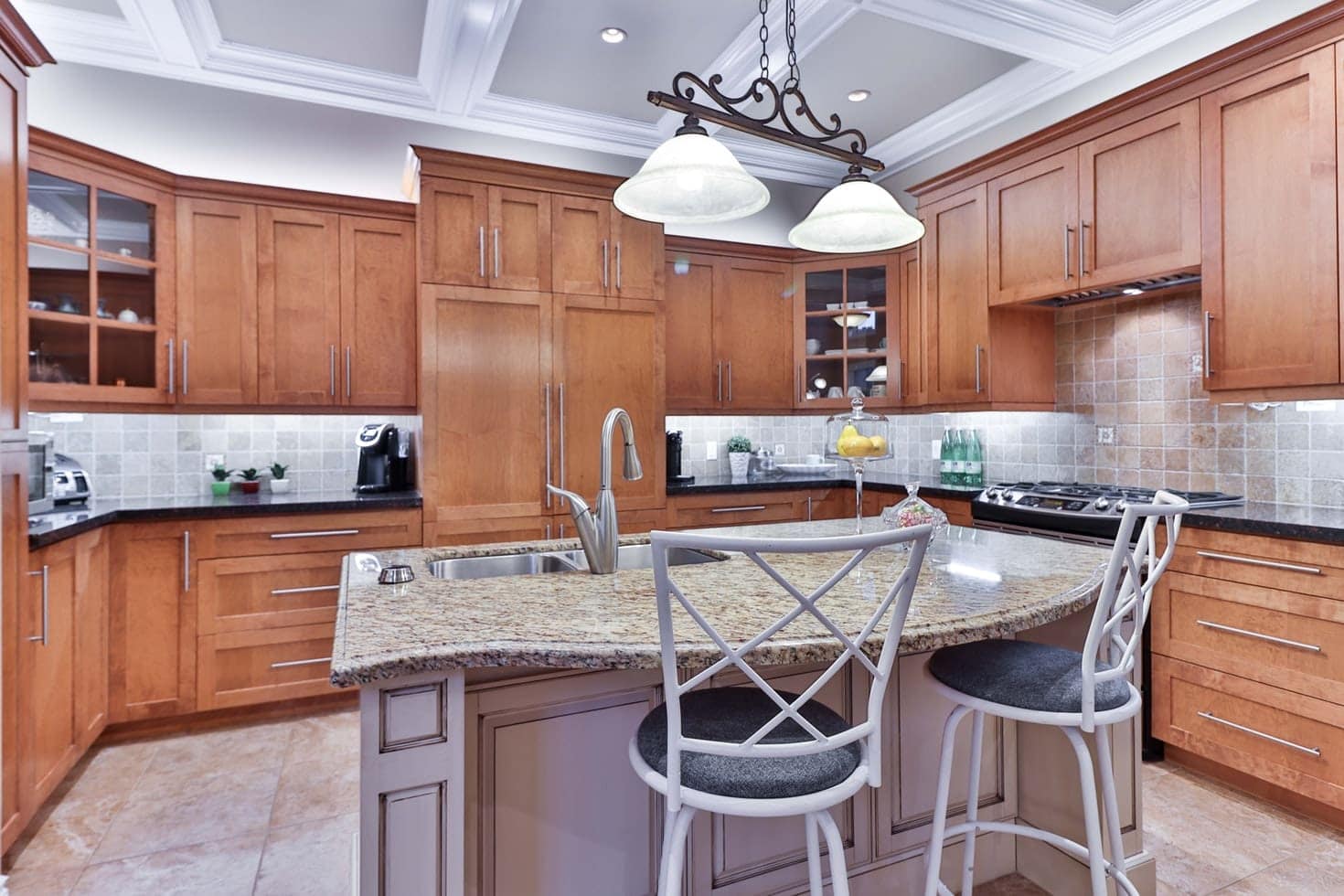 When your gray floors have red and brown undertones, you can combine cabinets in a beautiful redwood with dark counters, an island in a greenish greige, and a brown granite top.
A backsplash featuring medium squares in different shades of earthy neutrals helps pull all the contrasting colors together for a kitchen that's European or neutral inspired.
Create a Contrast with Light and Dark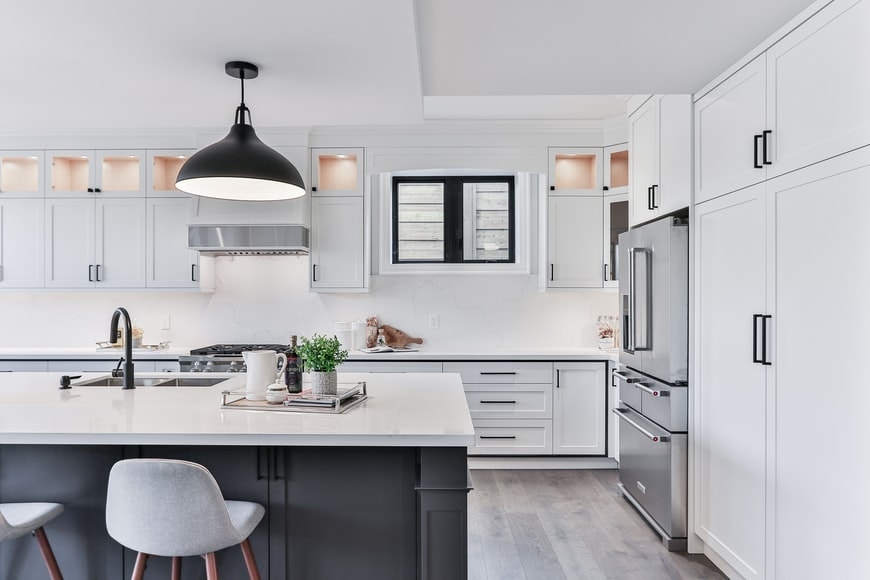 When you have a white kitchen, gray floors, you're working with the start of something amazing – a balance of light and dark for the perfect color contrast.
With sleek white shaker cabinets and butcher's pantry, and white quartz countertops, a dark gray island adds the perfect pop of color to break up all the lightness.
Turn the Cabinets Teal to Stand Out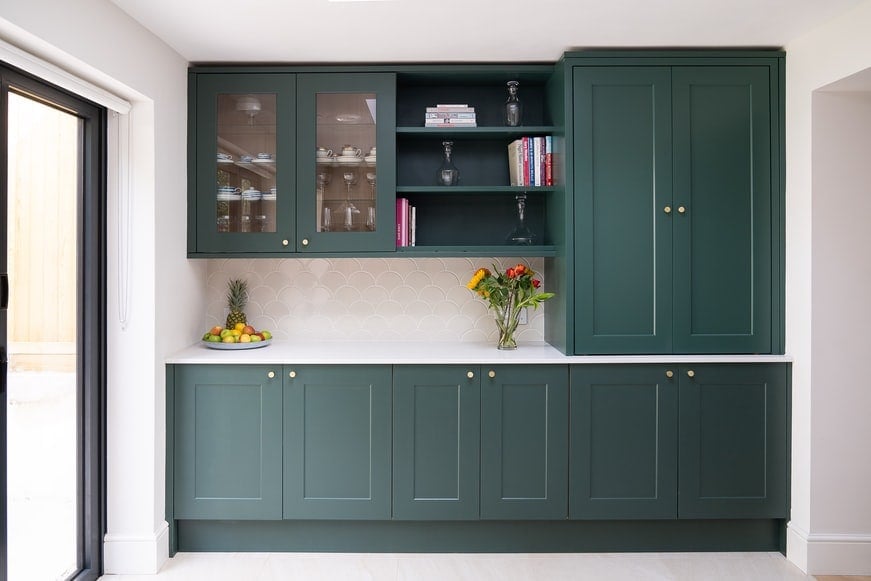 Teal-colored cabinets are an excellent way to achieve a modern, contemporary, or country feeling kitchen with a bold color choice.
However, it may be difficult to find a counter set that matches your desired color choice, making it a better option to pick unfinished cabinets and paint them yourselves.
Rich Rustic Brown Blended with White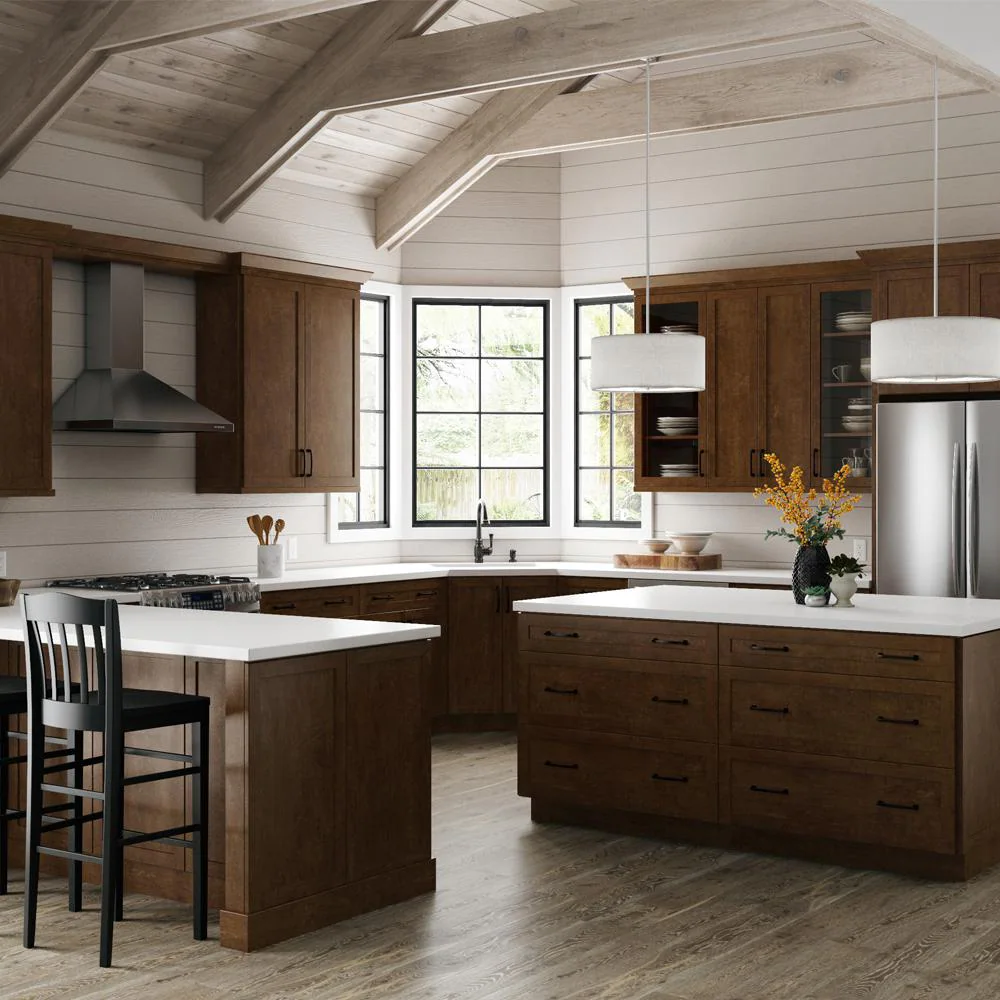 For an upscale rustic farmhouse kitchen, you can go darker with the cabinetry, like a rich wood – Soleste Spice – and then go light with exposed beams and wood shiplap.
Stainless steel appliances, dual cabinets with open shelving, and white counters complete the ensemble – fabulous for smaller spaces.
Simplistic Minimalist Kitchen Cabinetry Design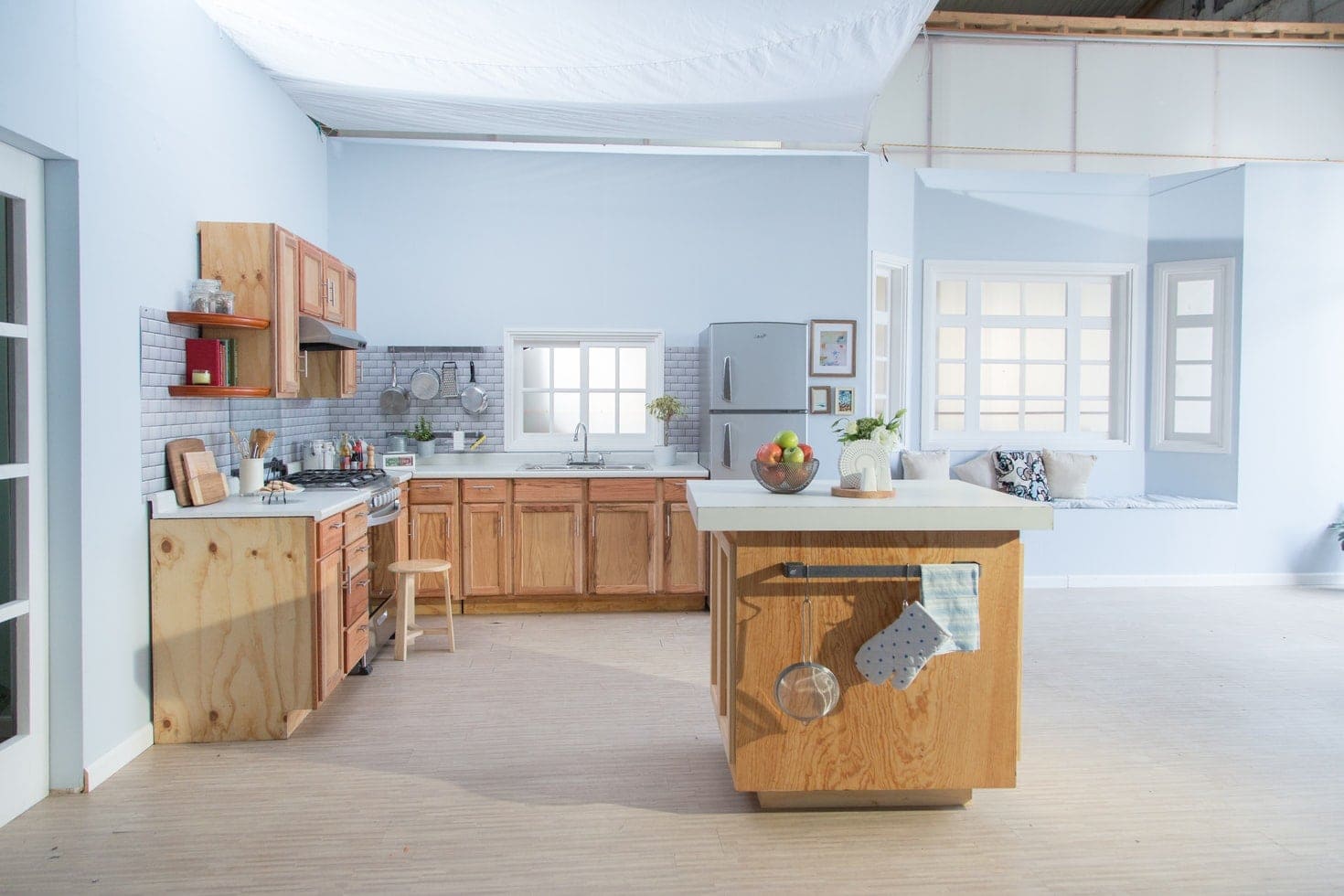 If you're not big on painted cabinets, you can create a minimalist kitchen with no-frills designs by going with cabinetry in a natural finish (or leave it unfinished).
This method is great for decorating on a budget or doing a DIY remodel, and you don't have the time or idea for a color theme.
Go for Green Cabinets with Gray Floors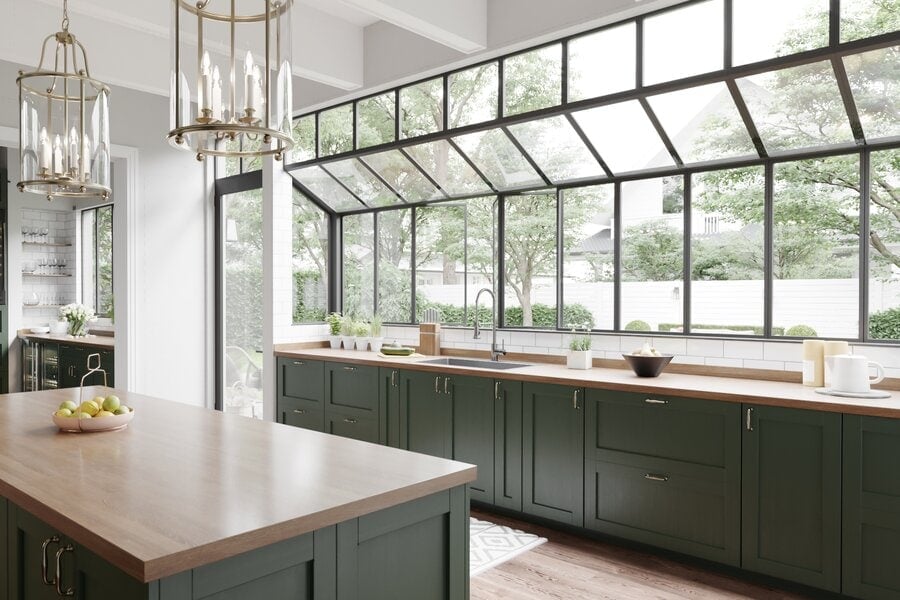 Green is not a color that you may immediately think of when discussing cabinets, but it's a color that works great for themes like country, classic, traditional, or contemporary.
We love the look of this cabinetry layout with matte green bases running the length of the kitchen with windows extending along the top in place of uppers.
Gray Floors Work with Multiple Cabinet Colors
The versatility and chameleon nature of gray means that it can look excellent with various colors. We've demonstrated 15 cabinet color ideas you have in a kitchen with gray floors. So whether you want something dark, light, or a blend of both, gray floors are the perfect base for whatever you dream up for your kitchen design.
Which color cabinets do you like to use with gray floors? Tell us in the comments!