Decorated Life is reader-supported. When you buy through links on our site, we may earn an affiliate commission. Learn More
What Color Furniture Goes with Tan Walls? 11 Ideas
Tan is back – which is great if you love this wall color as much as I do.
Since tan goes with just about everything, many designers choose this color for a neutral background that can look casual or formal. It's incredibly versatile – you can use it for farmhouse style or something more modern, and it's easy to coordinate furniture with.
If you're not sure what color furniture you'd like to get, try one of these eleven tan wall ideas.
Try a Brown Sofa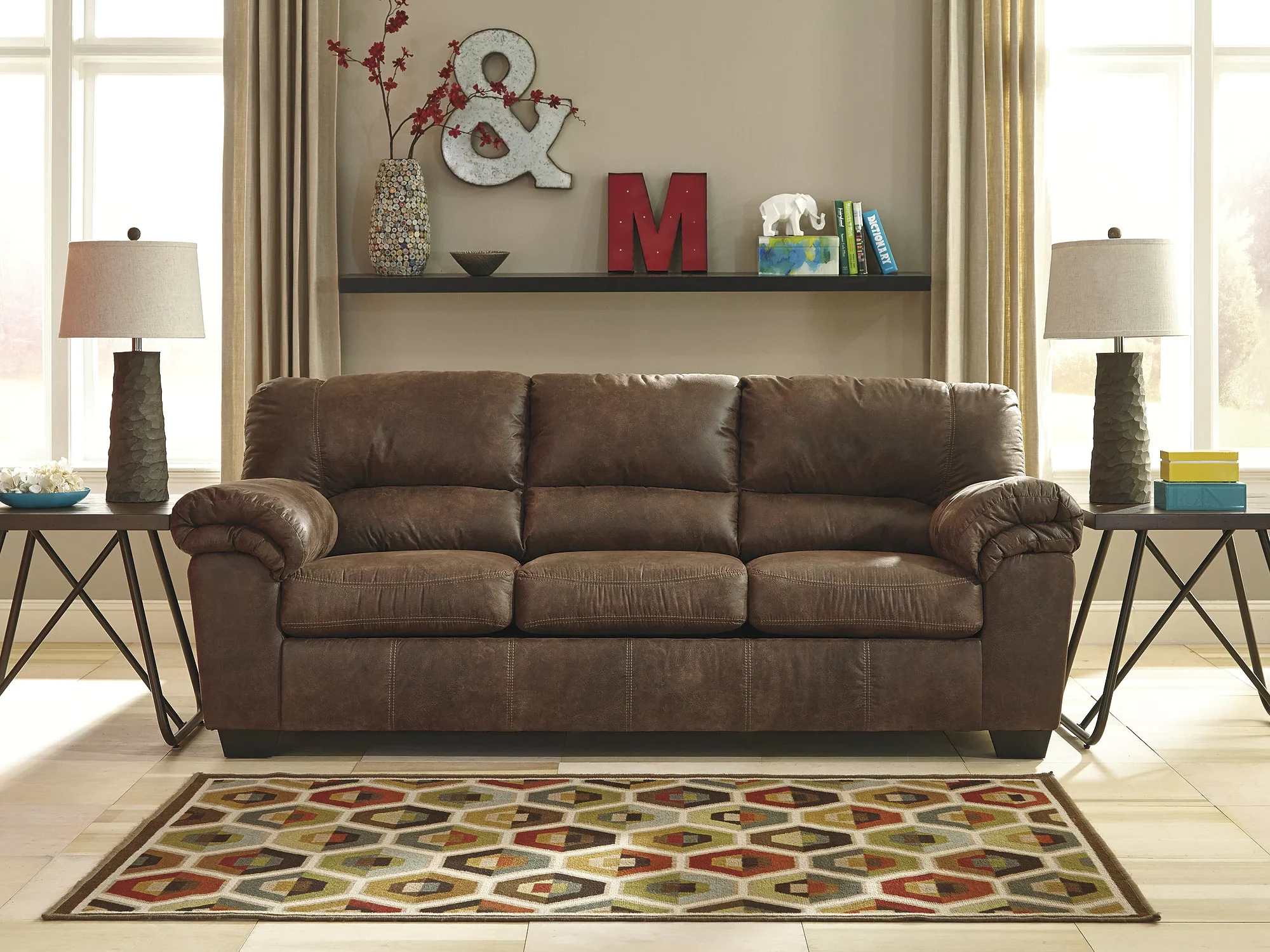 You can pair any brown sofa with tan walls – just steer clear from matching the color of your couch to the color of your walls.
Instead, if you have light tan walls, try a darker coffee-colored sofa like this. This couch is from Wayfair, and although it looks like leather, it's a polyester fabric. You can use this sofa in farmhouse, casual, or traditional living rooms.
Pair White Furniture with Your Tan Walls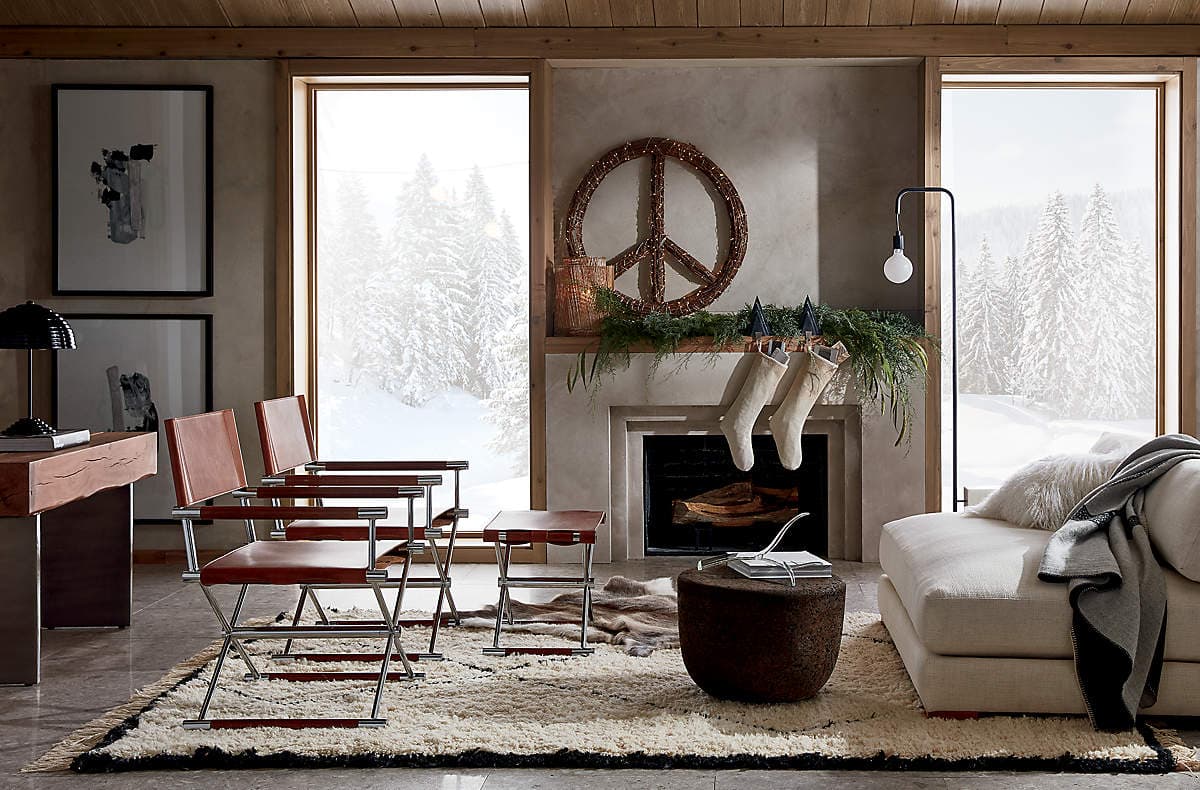 White goes with everything, including tan. However, shades of off-white, cream, and ivory usually look best.
If you are getting furniture for a casual or boho-style room, consider this sofa from CB2. It's in the shade "snow" and sits low to the ground. It has a super deep comfy cushion, perfect for relaxing.
Go for a Blue Pattern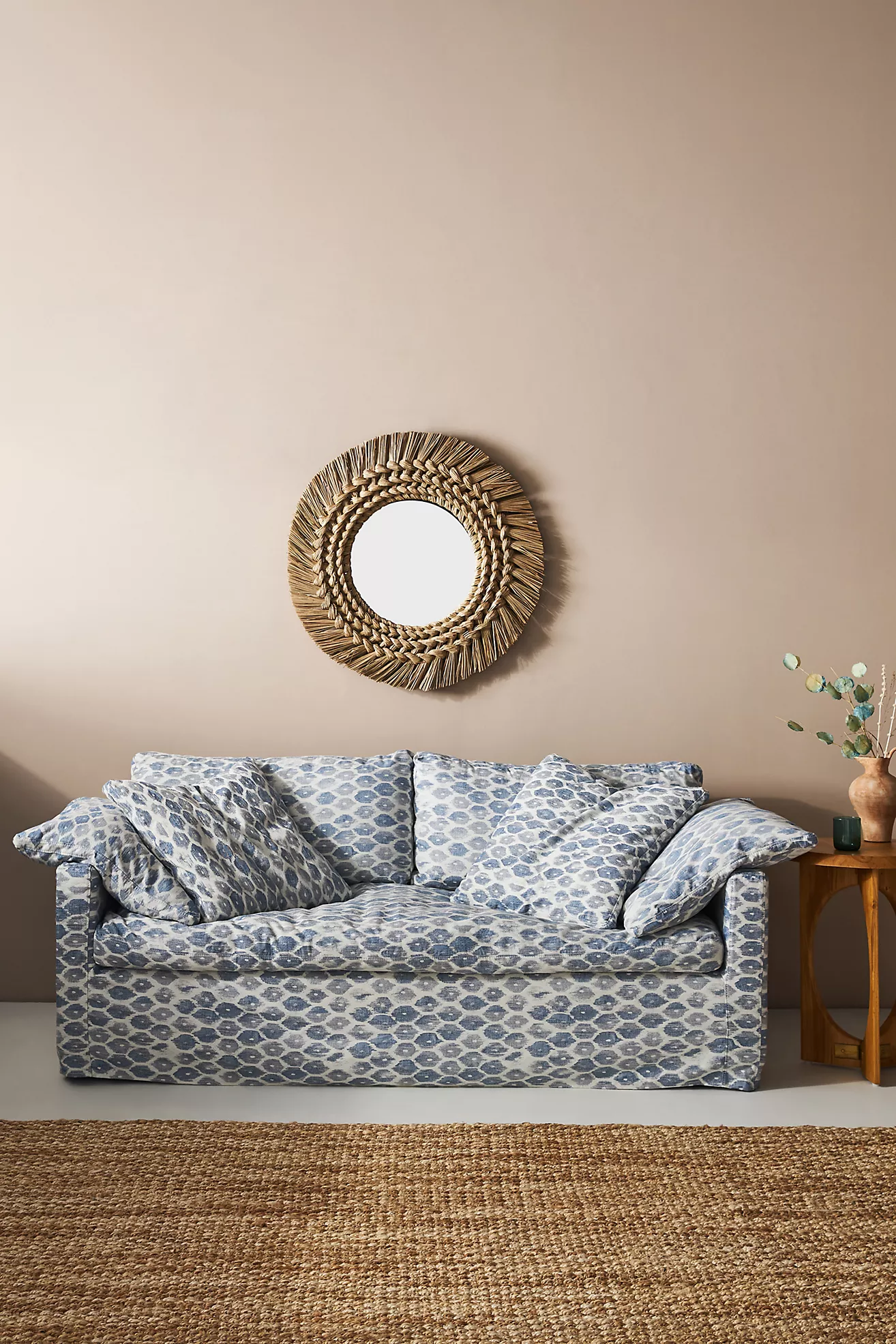 All shades of blue will work with your tan walls. But if you want something a little more unique, try finding a blue patterned piece of furniture.
You can find this sofa at Anthropologie. It is upcycled cotton-polyester and is both versatile and cozy. You could accent this with dark blue chairs or bring in wood or rattan pieces.
Use Black Coffee Tables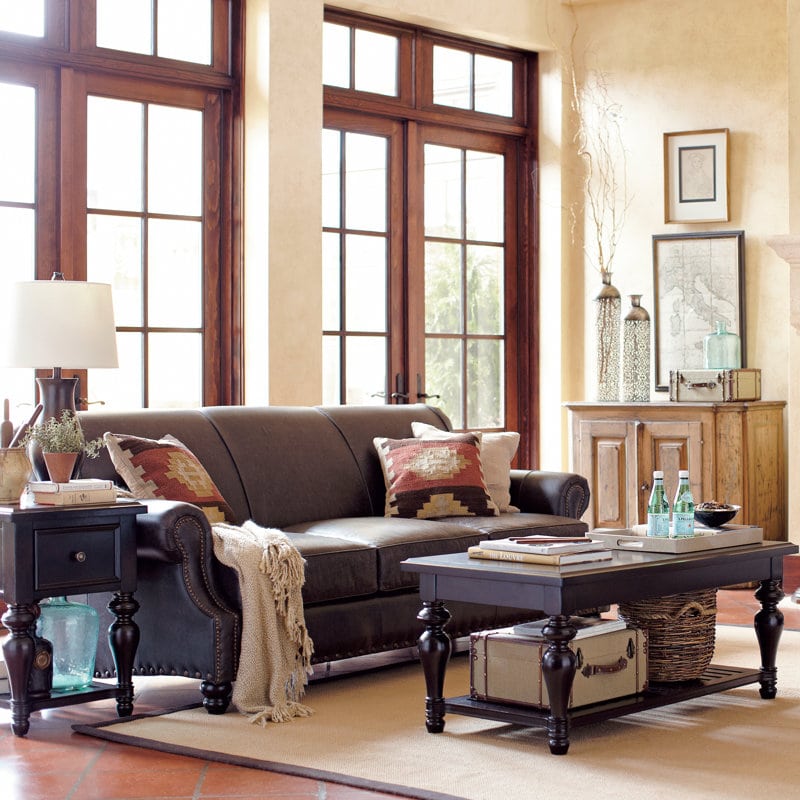 When choosing coffee tables for your room, avoid choosing wood shades similar to your walls' color. Instead, contrast them by choosing black, marble, or a dark stain.
These distressed black tables from Wayfair work perfectly for farmhouse and traditional-style living rooms. They also come in a few other colors.
Contrast Your Light Tan Walls with a Black Sofa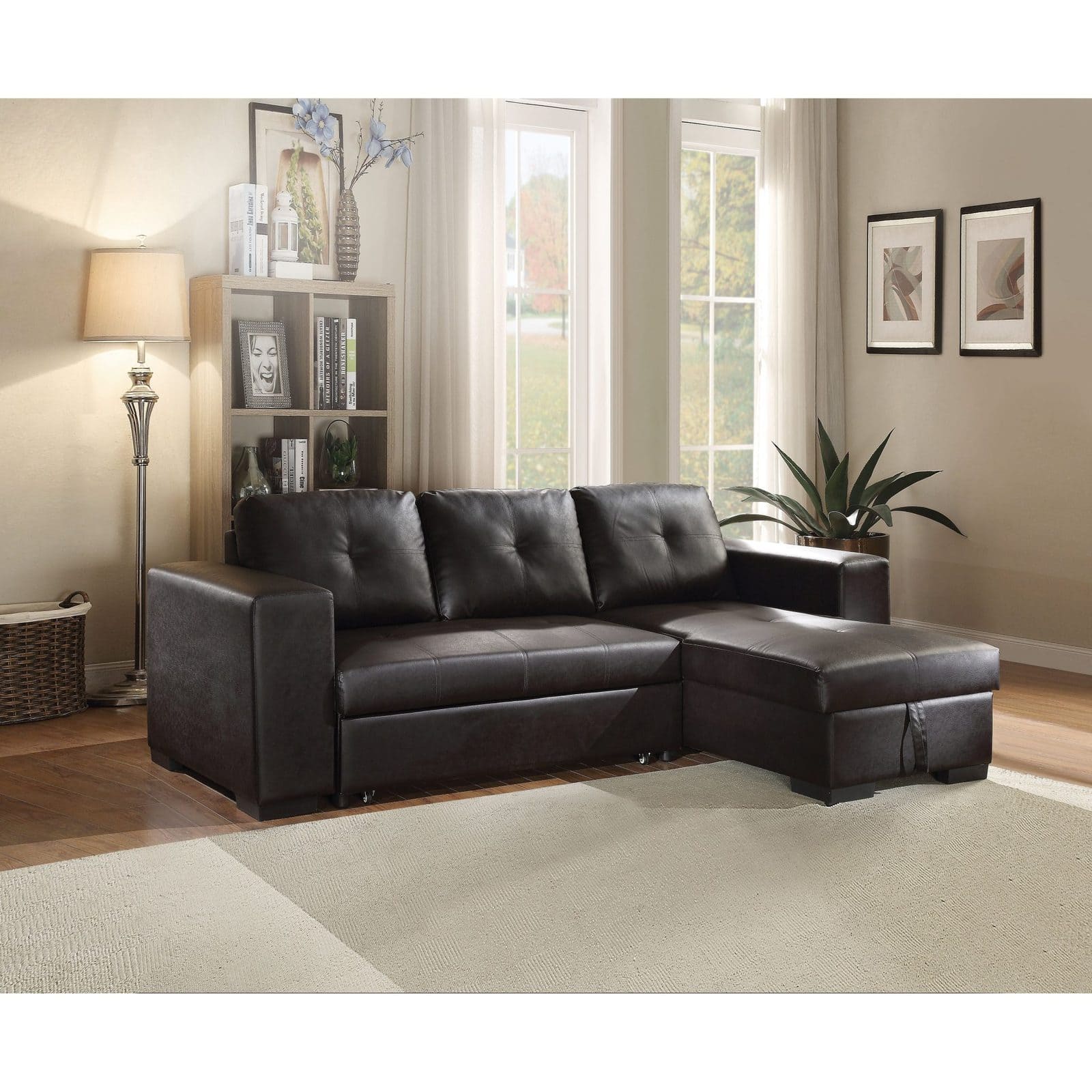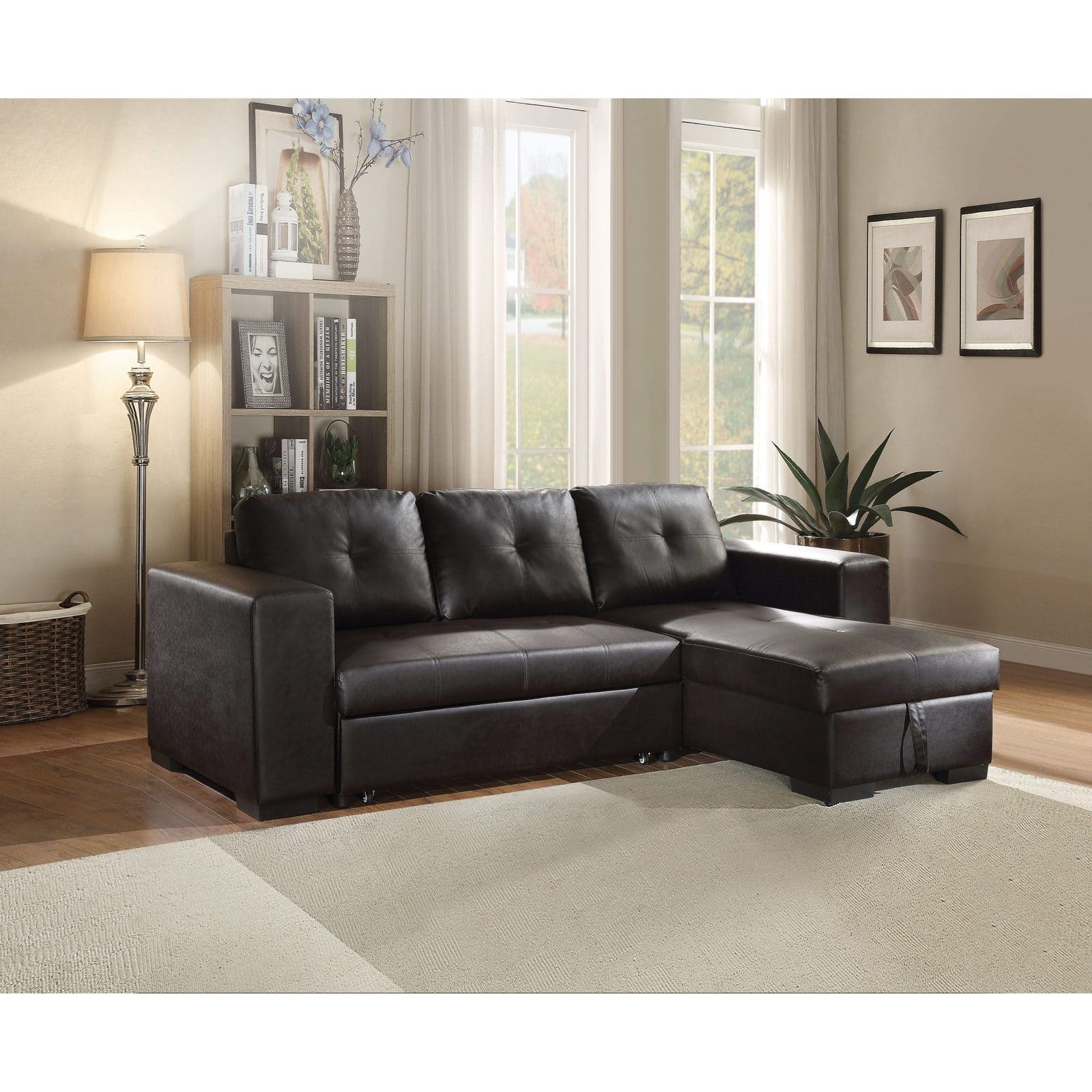 Good room design is all about balance. So if your room is mainly light, you can bring some balance with dark furniture.
One great option for a dark piece is this black sofa from Overstock. It's faux leather with a pull-out sleeper bed, and it has hidden storage in the chaise.
Bring in Gray Furniture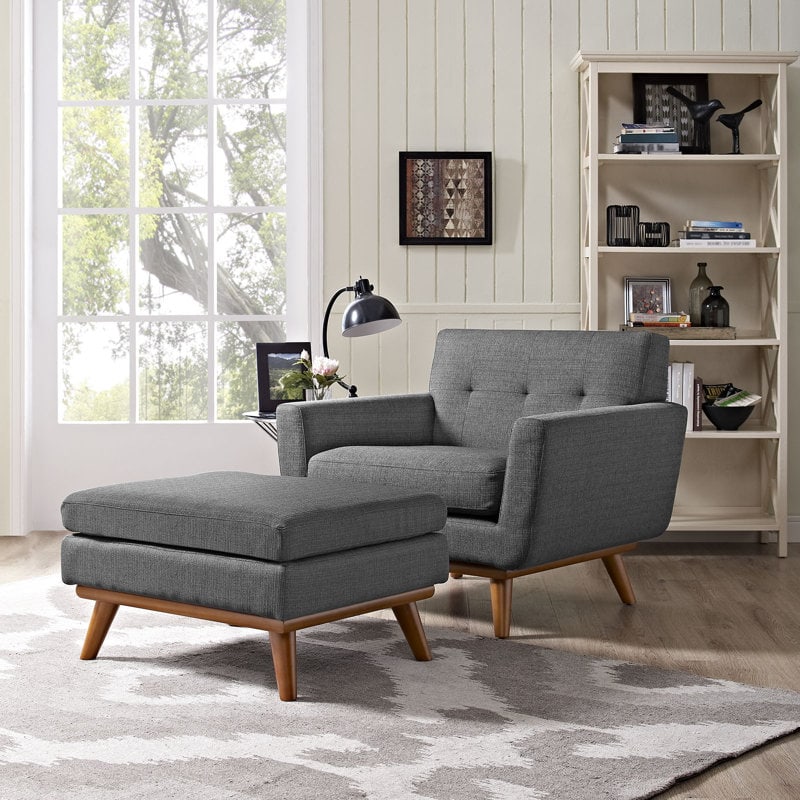 A lot of people think that gray and tan can't go together, but that's simply not true. Gray and tan are both neutrals and pair well.
If your walls are a light to medium tan, use a medium gray like pictured. If your walls are a dark tan, use light gray furniture. You can use gray for the color of your couch, accent chairs, or both.
Soften the Room with Pale Green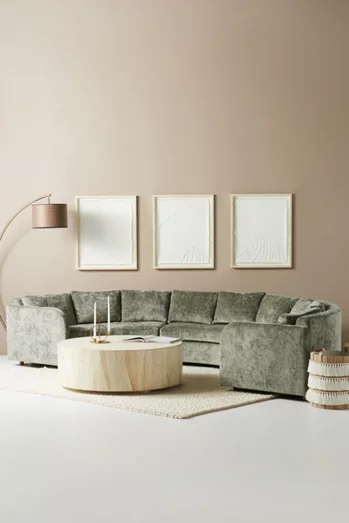 If you love color, your tan walls are the perfect backdrop for it. Consider a pale green sofa like this for a touch of softness and some retro vibes.
This green sofa from Anthropologie is perfect for open concept spaces since it can help define the seating area. In addition, its throw-back 70's inspired shape is ideal for anyone that wants to add a vintage feel to their living room.
Get Farmhouse Style with Beige Armchairs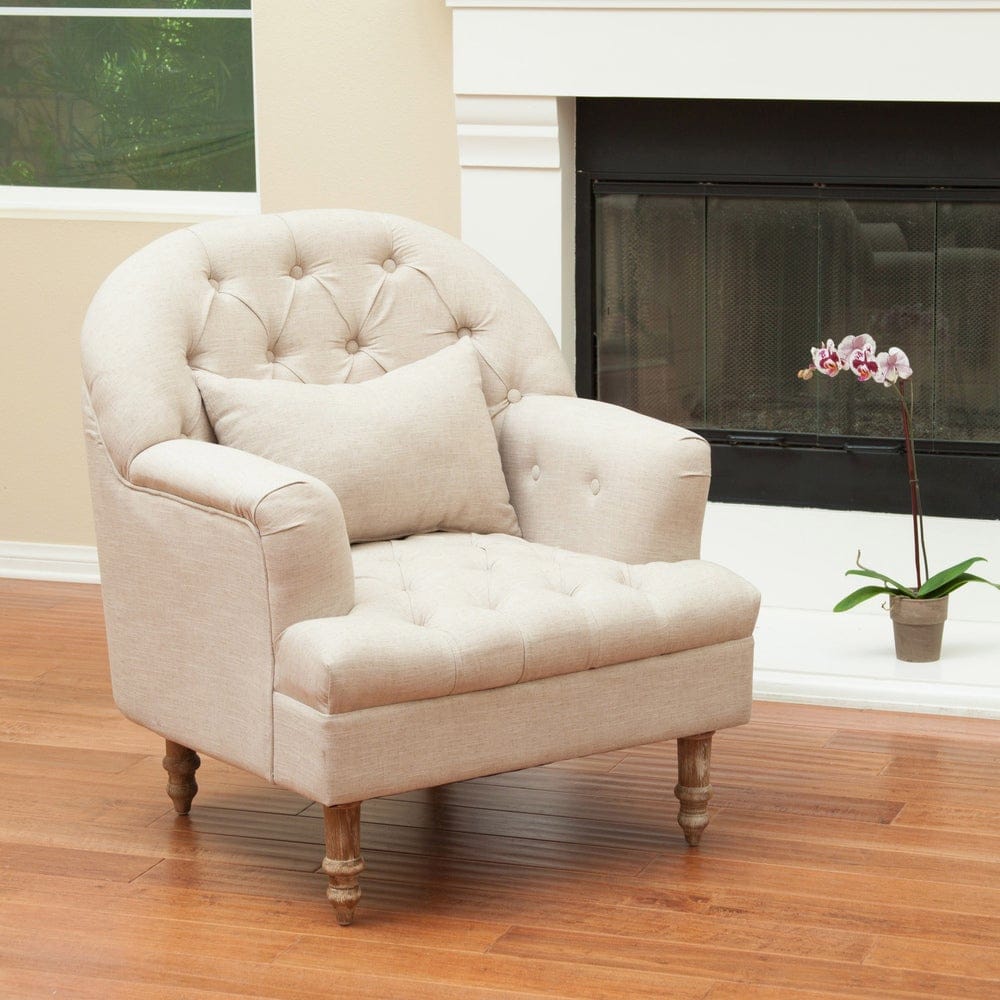 If you're after the modern farmhouse look, your tan walls are a great starting point. You can then pull in either a brown leather or an off-white sofa and use armchairs like these.
You can find these light beige armchairs at Overstock. They have the perfect farmhouse silhouette with tufting and antique-style wooden legs.
Play it Safe with Brown Linen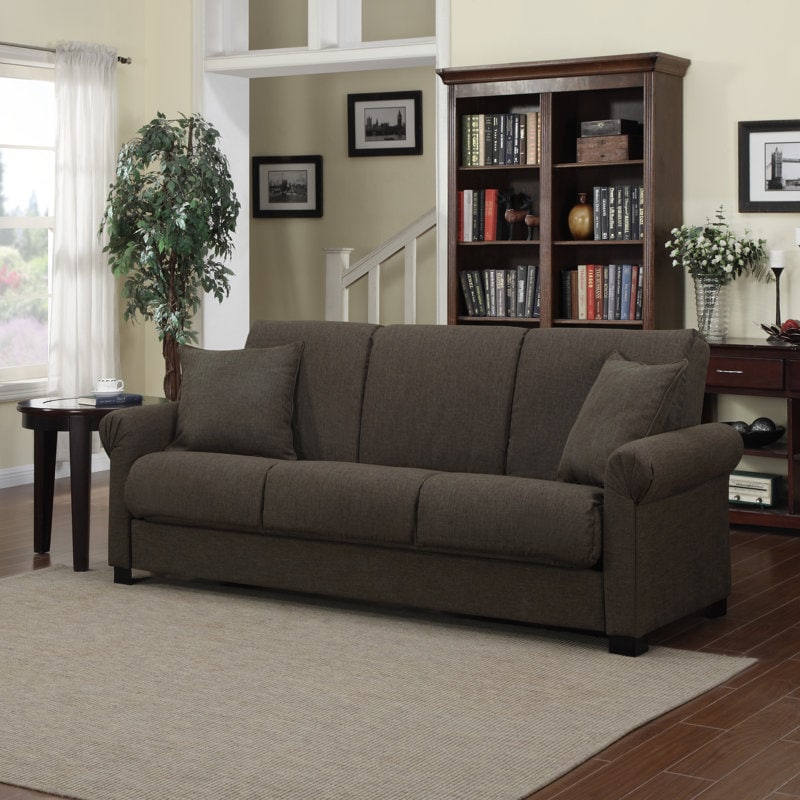 We've covered a leather-looking brown sofa, but brown linen looks just as good.
The tan and brown color combination works best for traditional or casual style living rooms. If you like the look, you can find this sofa on Wayfair. It comes in two other colors, including Caribbean Blue and Barley Tan.
Switch Up Your Look with a Red Slipcover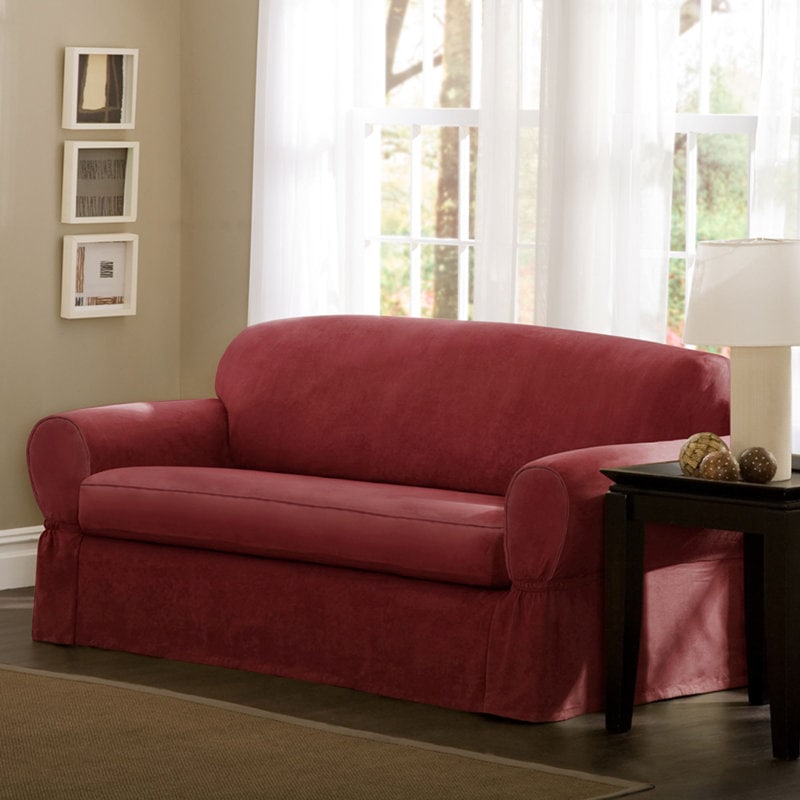 If you want to try some color in your living room, but you're not ready to commit, get a slipcover for your sofa.
You can find this slipcover at Wayfair in chocolate or red. Both will look good with tan walls and allow you to try out a new color scheme before shelling out big money on new furniture.
Brighten with Blue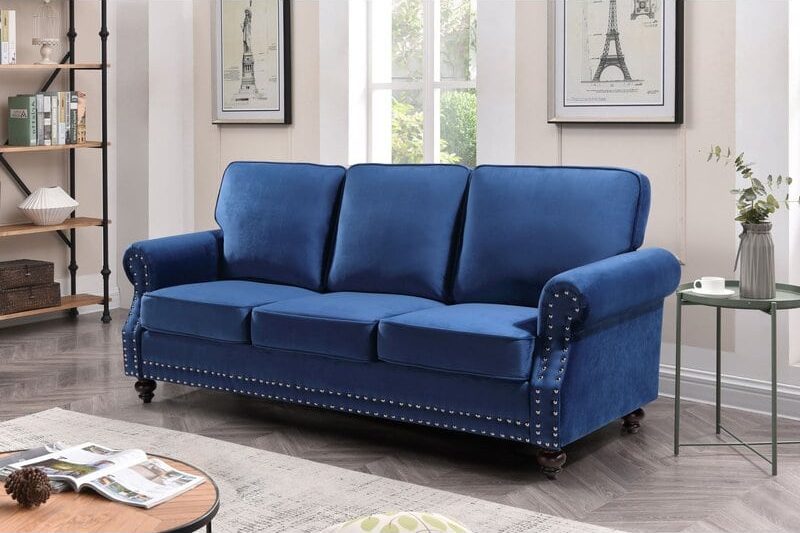 If you like blue, you're in luck because it looks fantastic against tan walls. Consider a dark blue velvet couch like this for a nice contrast to lighter walls.
This sofa is a cross between modern and vintage. It has rolled arms, nailhead trim, and soft velvety upholstery. You could use this couch in transitional, traditional, glam, or modern farmhouse living rooms.
Final Thoughts
Tan is a great neutral backdrop for just about any colored furniture. Right now, you can find a lot of farmhouse and traditional-style rooms painted in tan shades.
If you're going for the farmhouse look, consider a brown leather sofa, white couch, and beige accent chairs. For a more traditional look, choose a dark brown or black sofa.