Decorated Life is reader-supported. When you buy through links on our site, we may earn an affiliate commission. Learn More
What Color Nightstand Goes With a Gray Bed? – 14 Ideas
When decorating your bedroom, you want to consider which colors to use to ensure your design doesn't clash.
Many people wonder what color nightstand goes with a gray bed. Luckily, when it comes to gray, you have a lot of options for complementary colors. We've curated an eclectic list of colors for a nightstand for gray beds. So whether you want to go with something classic like white or natural, or you want to get wild with geometric textures, this list will have something to fit your design.
Compact and Oval in Beautiful Blue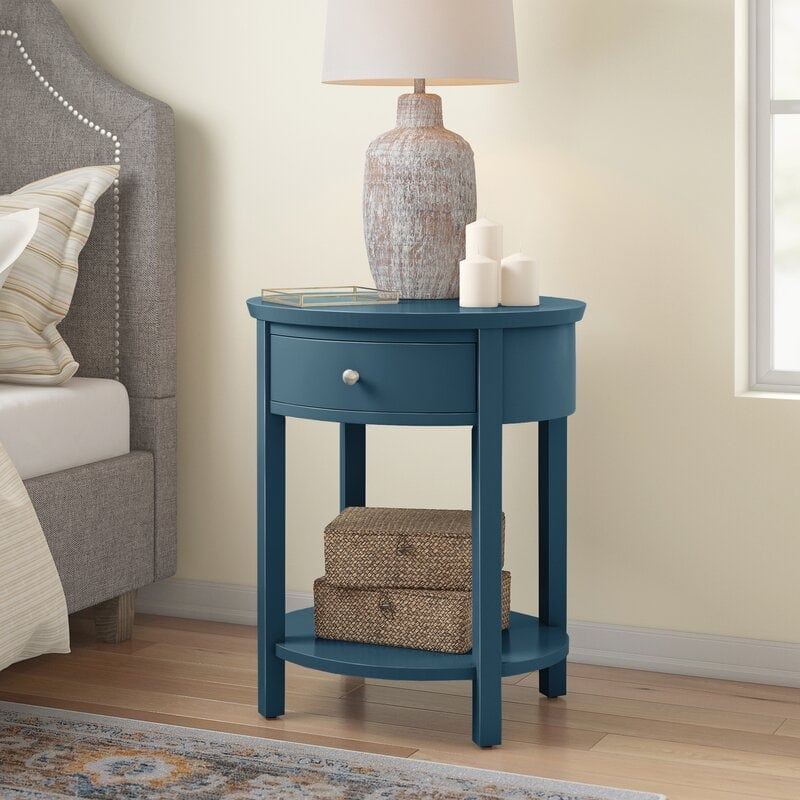 Being tight on space doesn't mean you have to sacrifice style to have functionality. For example, we like pairing an upholstered bed in gray fabric and elegant silver nailhead trim with a nightstand in dusty blue.
This compact bedside table features a single drawer and a lower shelf for storage or displaying small items. And the unusual oval shape takes up less space while giving this nightstand a fun, one-of-a-kind nuance.
Contemporary Nightstand in Dark Cherry Wood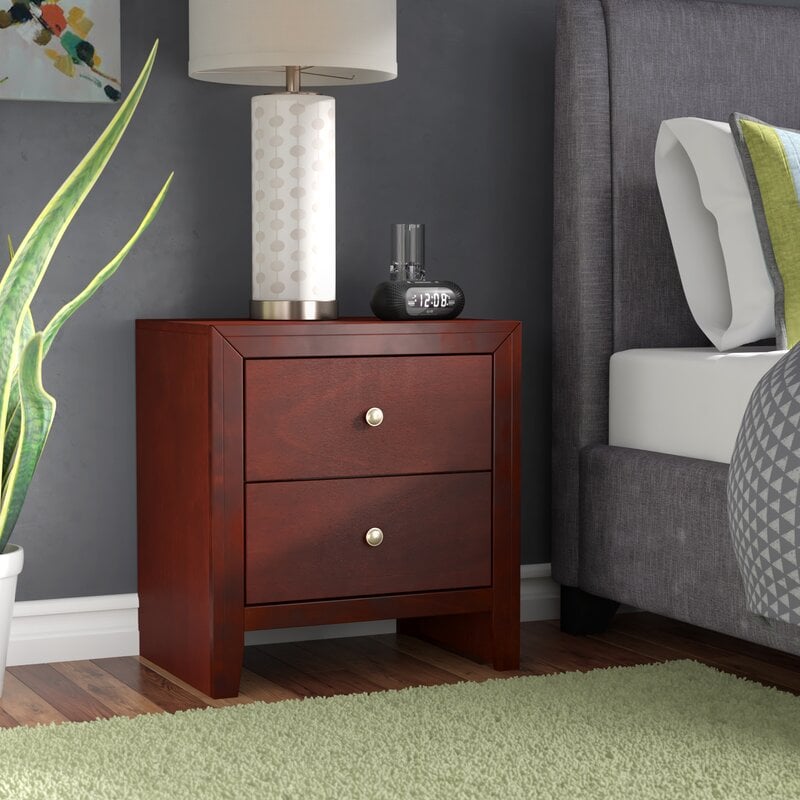 If you prefer the sleek, sharp-angled lines and understated beauty of contemporary furniture, you can achieve a stunning aesthetic by picking a nightstand in rich natural wood.
This two-drawer English bedside table offers an elegant sophistication and full functionality covered by a rich, warm brown finish with merlot undertones and brushed nickel hardware.
Rock Out with Rustic in Antique Gray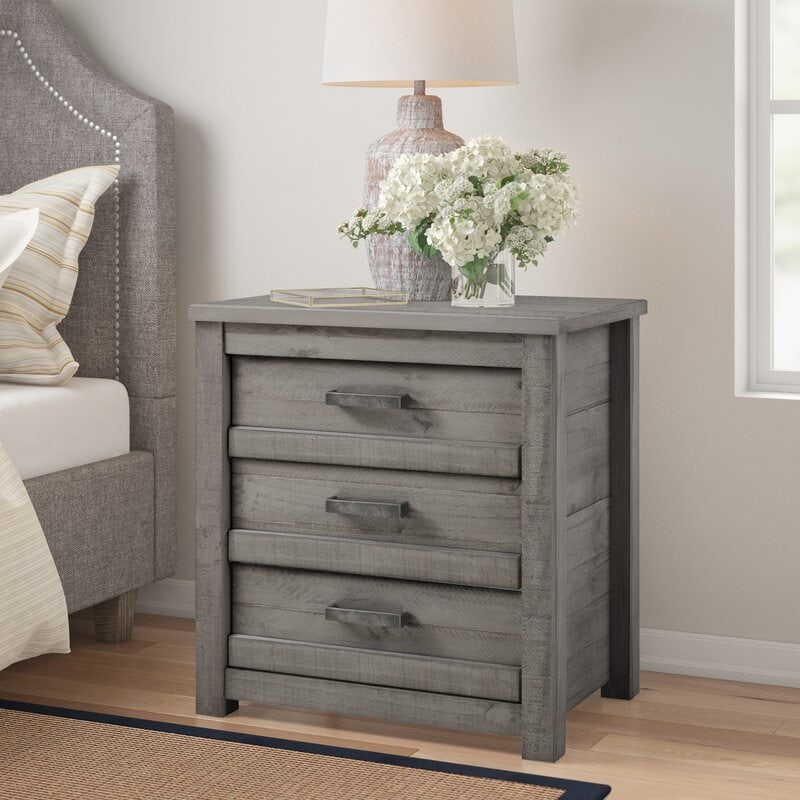 When you desire a rustic flare, we recommend a nightstand with exposed wood grain and rough-hewn wood in a traditional design.
How classically charming is this three-drawer bedside table against a denim gray bed frame? In addition to having plenty of room for storage, this nightstand features a distressed gray finish and chunky handles for a worn, traditional aesthetic.
Choose a Wood in Creamy Caramel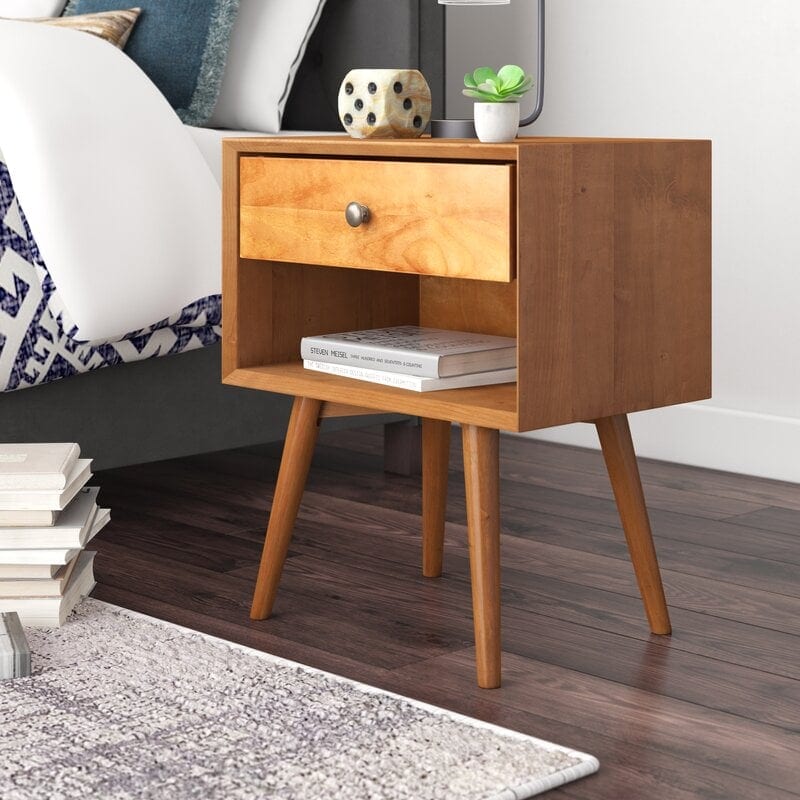 For a compact, mid-century modern bedroom, you can go with a gorgeous Brazillian pine table with splayed, conical legs, a single storage drawer, and an open shelf.
Not only will this bedside table save space, but it will also add to the room's aesthetic due to the beautiful natural wood knots and neutral caramel hue.
Try a Textured Two-Toned Table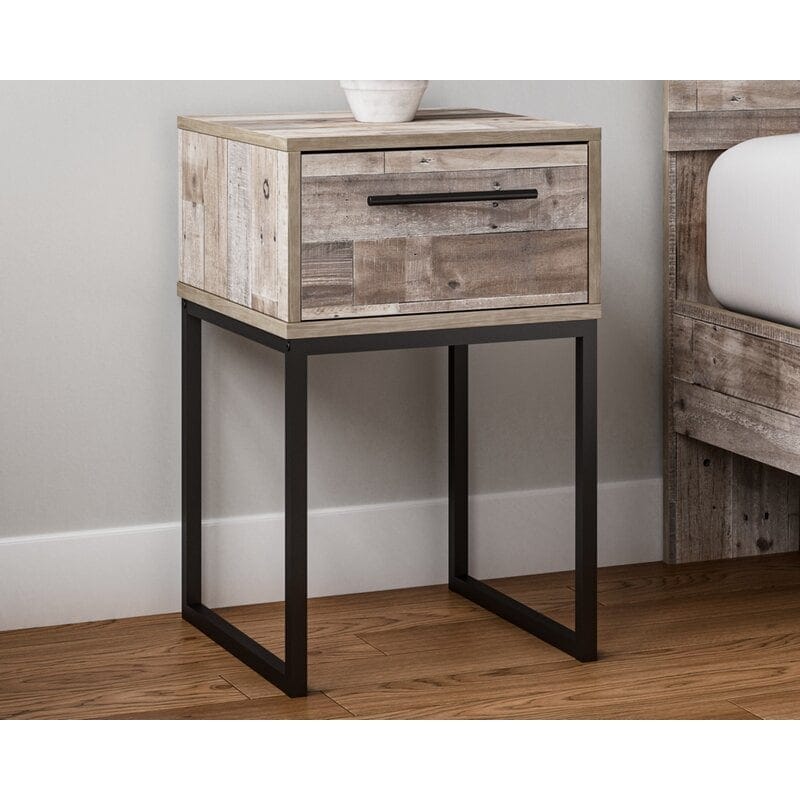 Choosing a bedside table in mixed materials can help you bridge the gap between rustic and modern, making for a more eclectic aesthetic.
This nightstand may seem simplistic due to its small size. But there's plenty of character to make it stand out as a piece of art, from the two-tone replicated walnut grain finish in muted shades of brown down to the canted metal legs.
Try a Traditional Bedside Table in Gray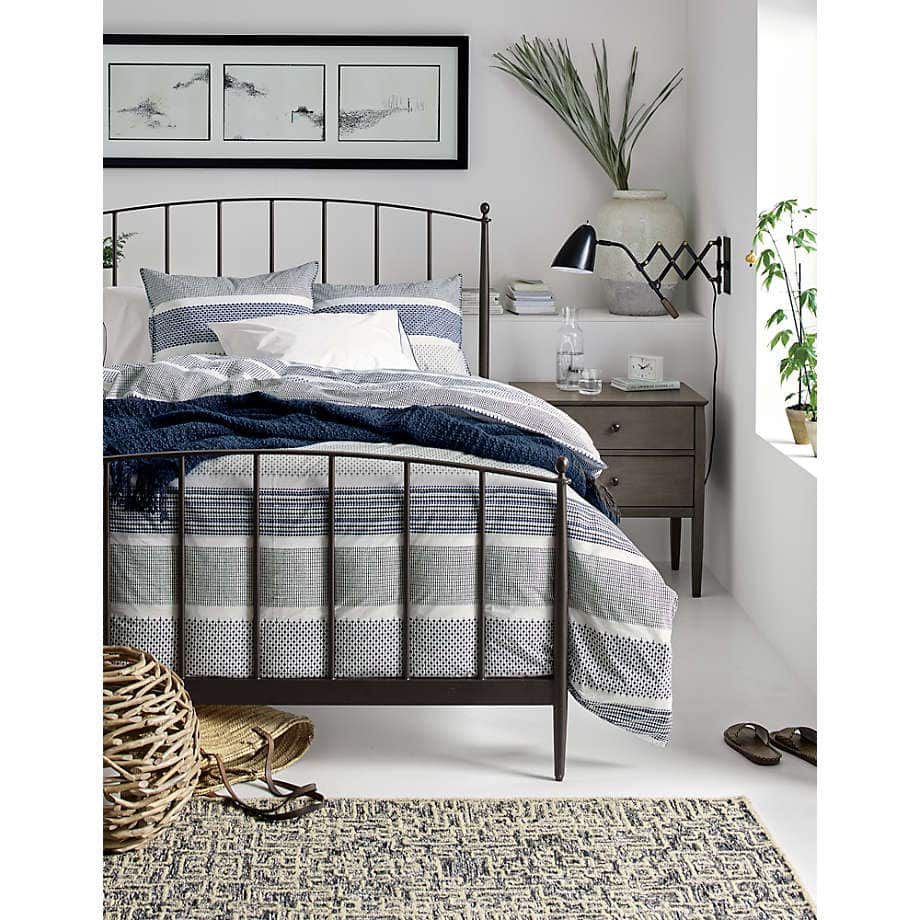 There are multiple routes to explore for nightstand colors when you have light gray bedding, like this striped gray and blue pattern, atop an industrial metal frame in a pewter gray.
Combining a metal bed frame with a wood nightstand creates a lovely aesthetic that you can twist for multiple themes, depending on your accents. We love this two-drawer poplar with a birch veneer table in a smokey brownish-gray color with round graphite knobs.
Lacquered Luxe Linen in Gray Wash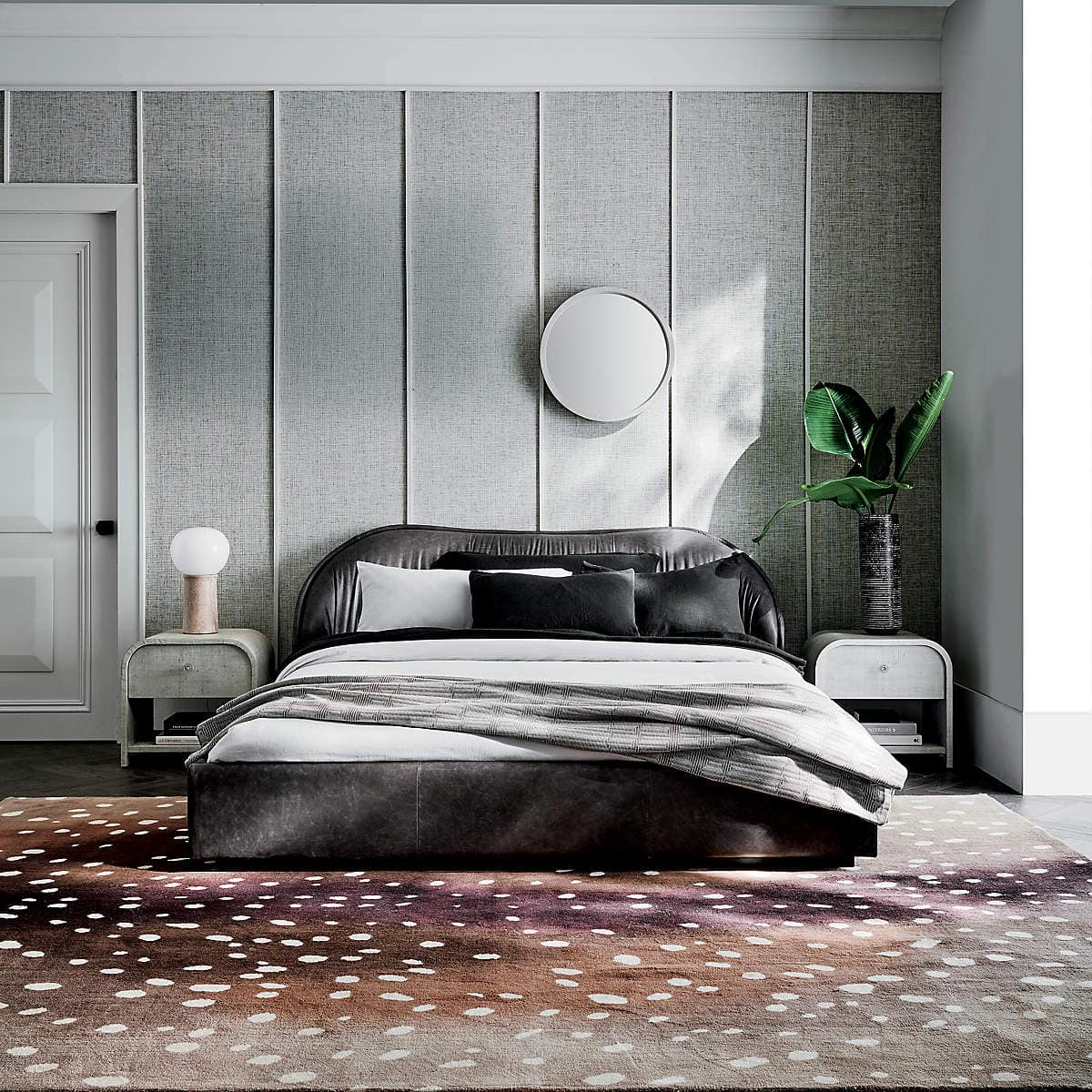 You can get a stunning contrast when you have a dark charcoal gray bed by adding nightstands in an elegant gray wash finish.
This table features rounded sides and a single drawer, and an open shelf covered by a natural luxe linen nightstand coated with lacquer for protection. Then a gray wash coating gives the final color and textured depth.
Place a Ribbed, Distressed Rattan Side Table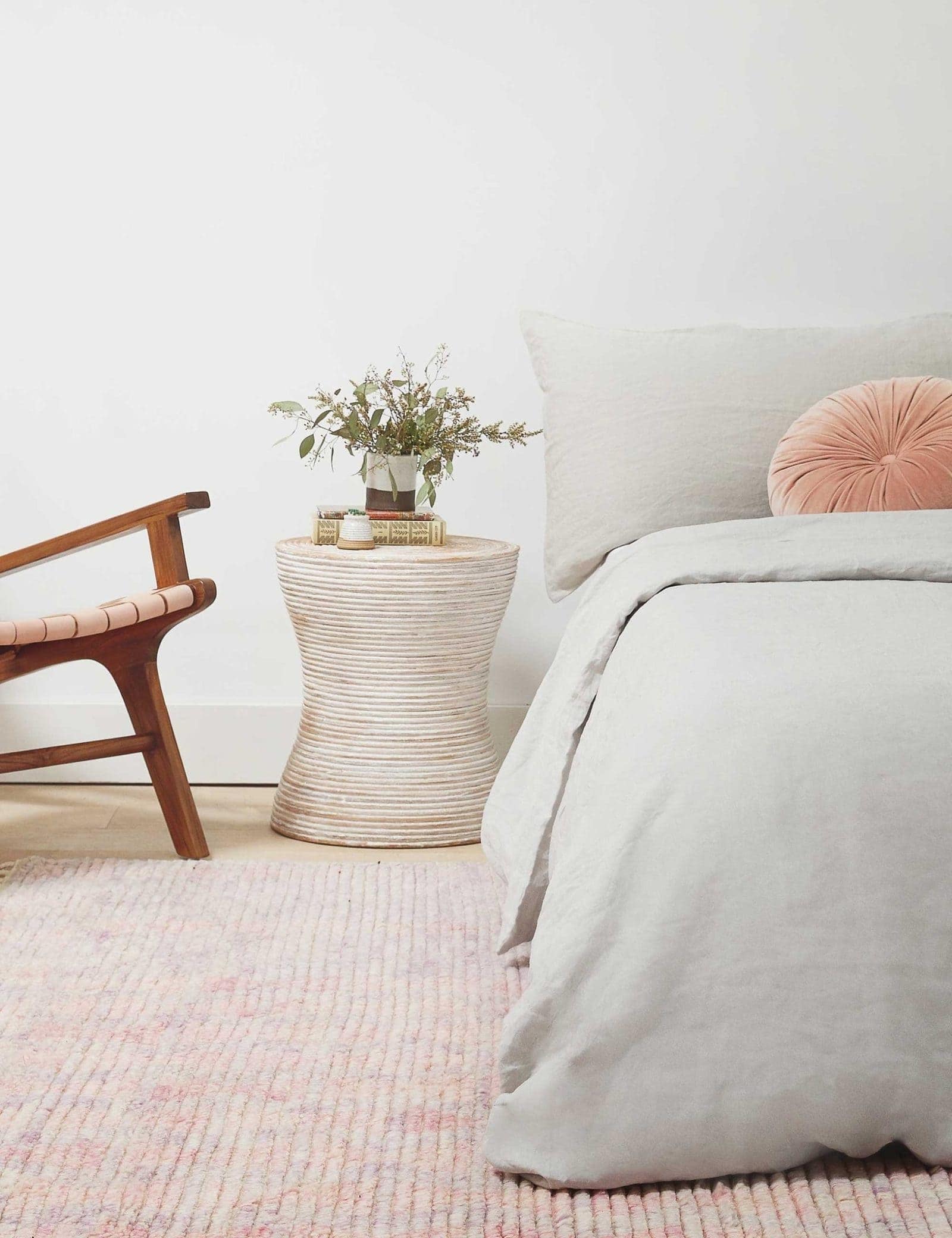 When working with light gray bedding in a modern chic themed bedroom, you can get a brilliant aesthetic using an eclectic mix of furniture.
You can skip the traditional boxy look of a dresser with drawers and go with a bedside table in a fun round shape. This table has a unique hourglass shape with a ribbed rattan wrap in a lovely distressed glaze.  
Going Great with a Textured Geometric Nightstand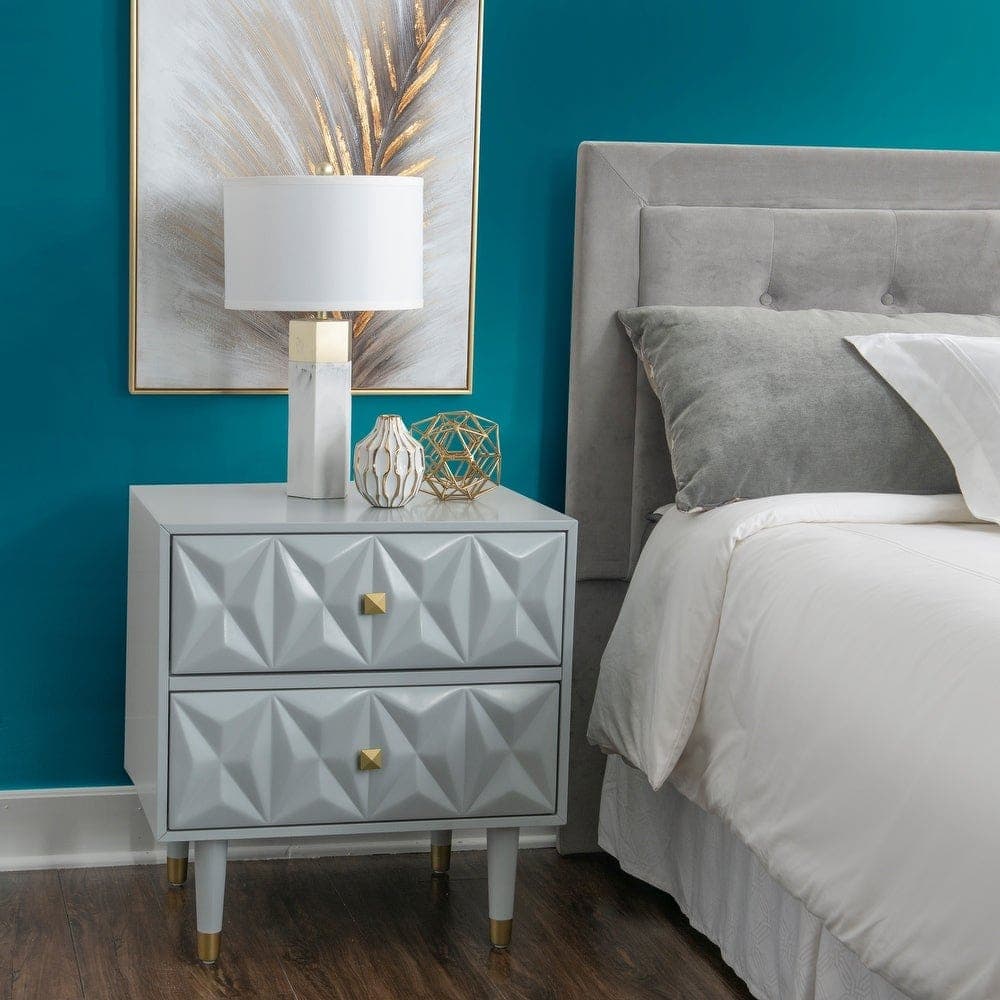 Because gray beds can look dull, picking the proper accents is crucial to give your room personality and stylish flare.
Skip the traditional table look and opt for a design with unique design features. This gray bedside table has two deep drawers with textured raised geometric fronts, gold hardware, and dipped feet.
Consider a White Mid-Century with Clean Lines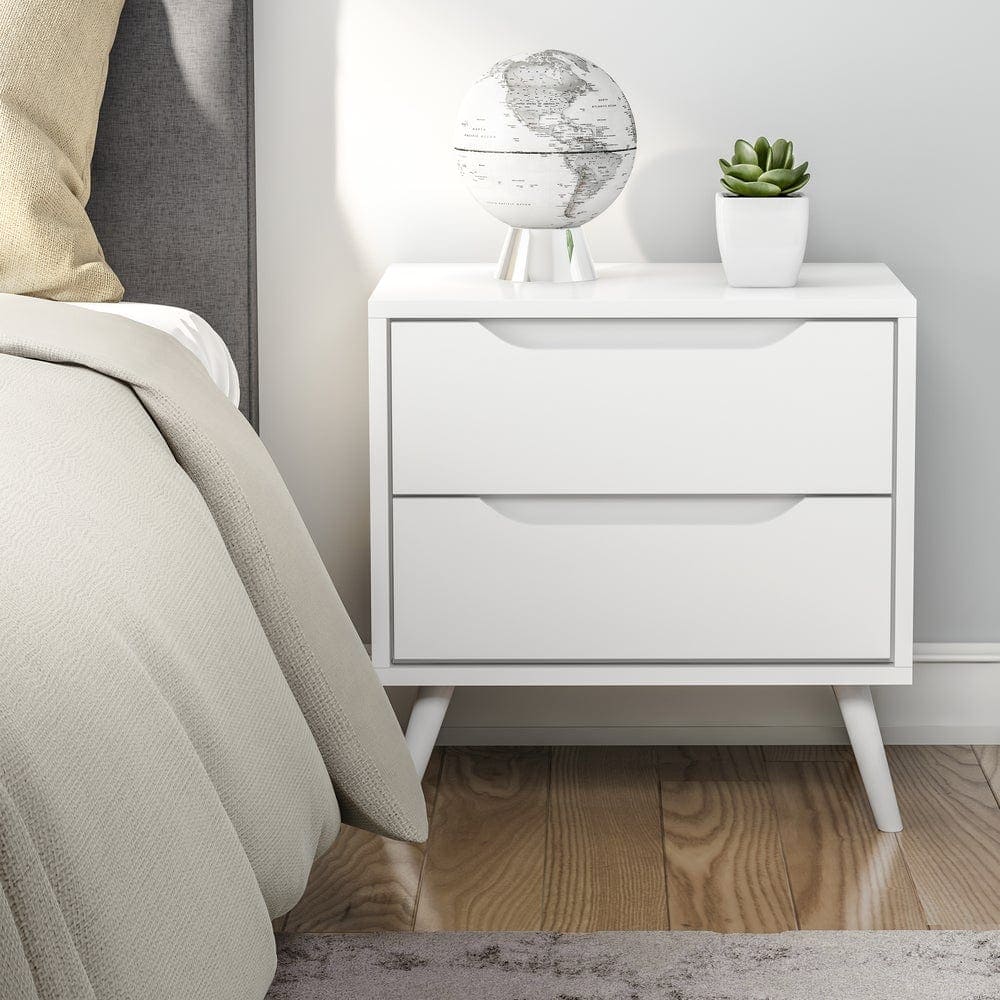 A sleek, white rubberwood nightstand is the perfect companion for a gray upholstered bed frame with neutral-colored bedding.
This mid-century modern nightstand in a classic white color with two drawers features recessed handles and spindle legs with clean angular lines for a mid-century modern vibe.
Minimalistic Mid-Century Modern in White Wood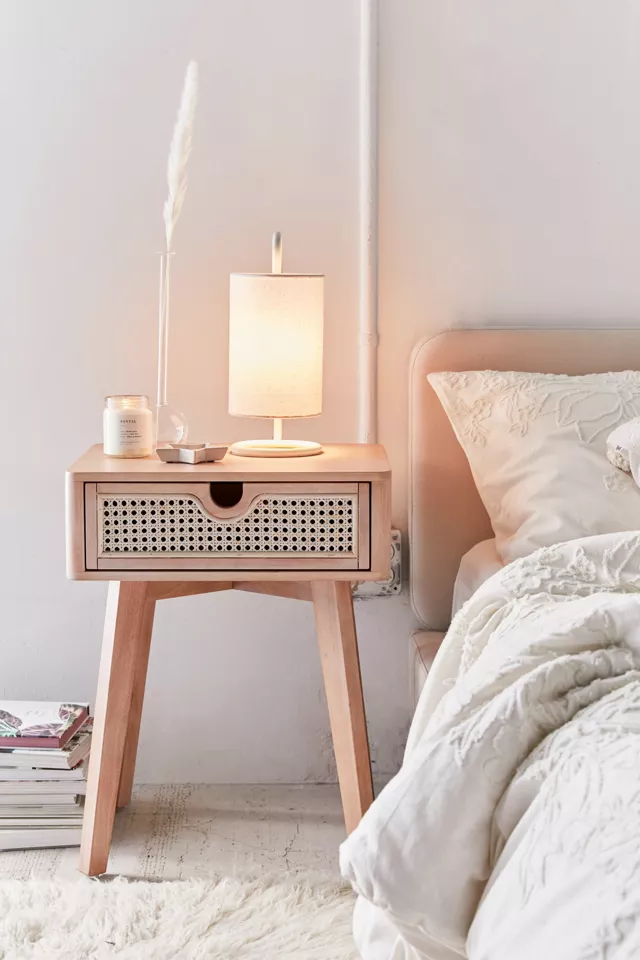 For a mid-century modern fix on a gray bed frame, you can pick a simple nightstand in a chunky, funky style, like a minimalistic shape with tapered legs.
This nightstand, made with beautiful white honey-golden colored rubberwood, features a single drawer with a woven rattan front to give a beachy vibe.
Nab a Natural Wood Nightstand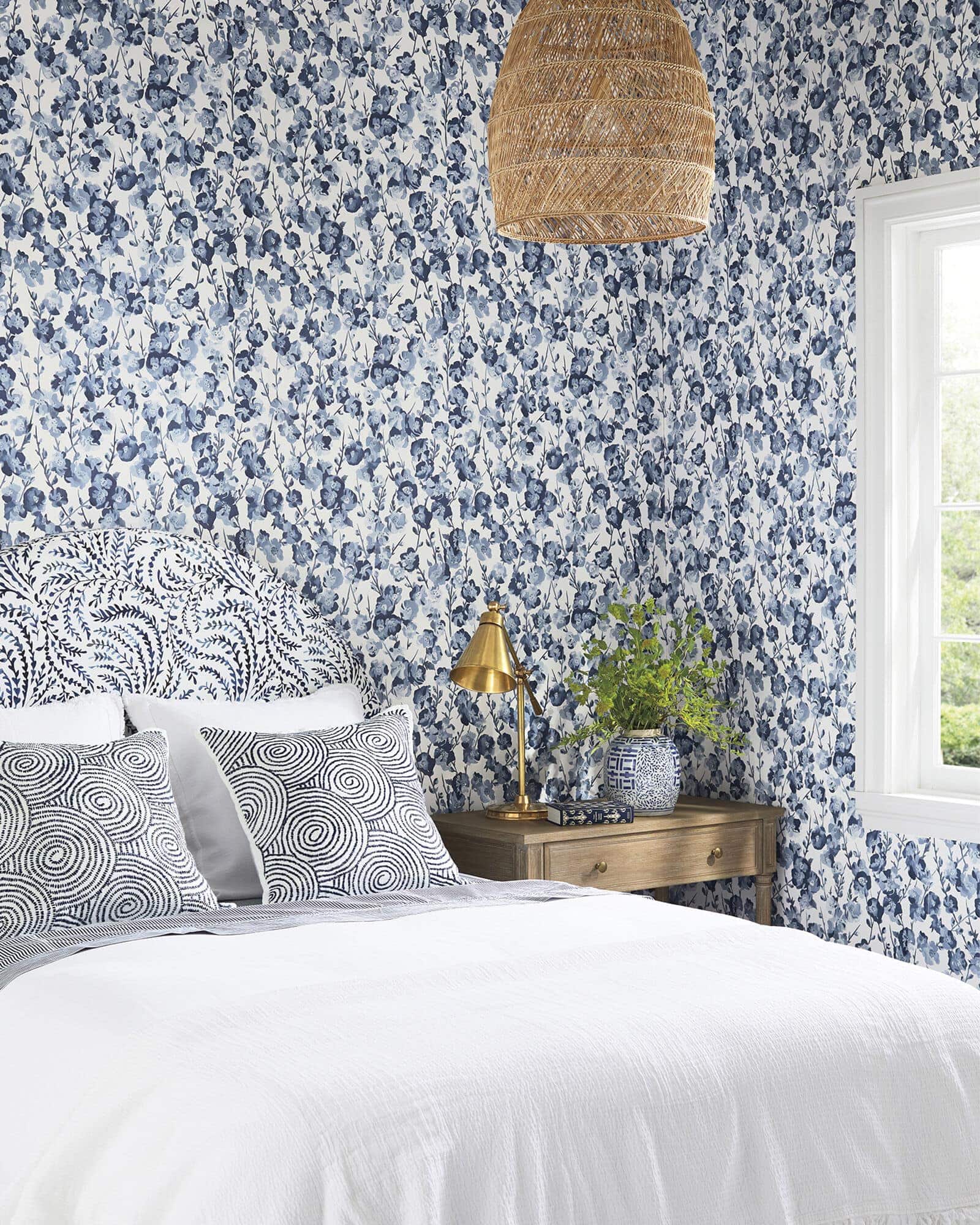 Many people feel nervous about using print patterns because the busyness can overwhelm a room's design if there's too much happening.
When you have a heavy gray print presence, picking a wood table left in a natural color can give the perfect subtle balance. This single drawer hardwood nightstand features flute legs, a rattan caning lower shelf, and an elegant neutral grain finish.
Choose a Contemporary Look in Brass and Bone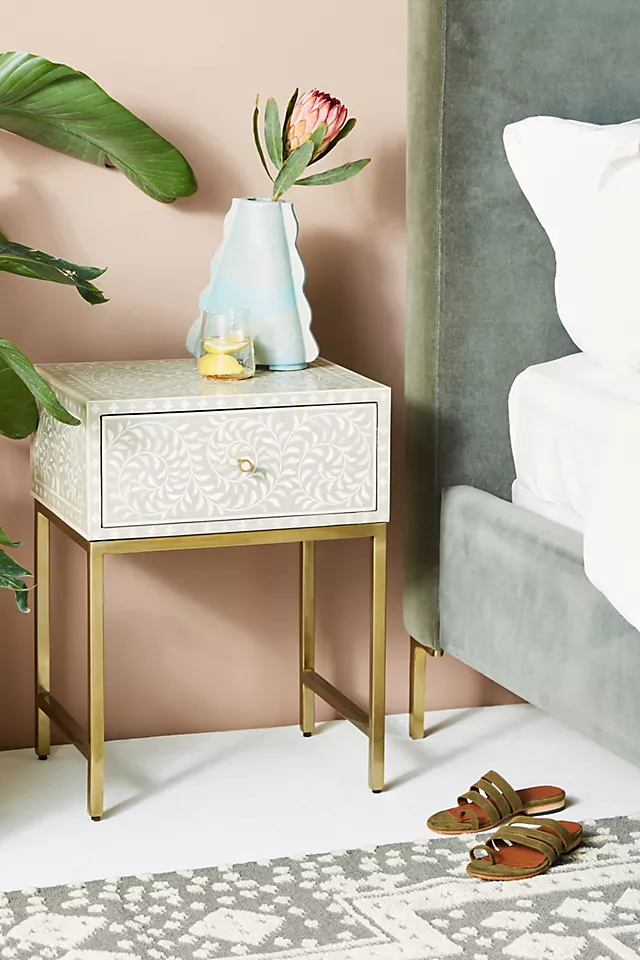 If you enjoy the beautiful funkiness of the contemporary theme, you'll adore this concoction that consists of thin, brushed brassy legs supporting a streamlined table silhouette.
The single drawer table design of light gray tropical hardwood topped with a bone inlay of foliage curves and spirals in a subtle white creates an incredible aesthetic.
Go for the Glow in Glossy White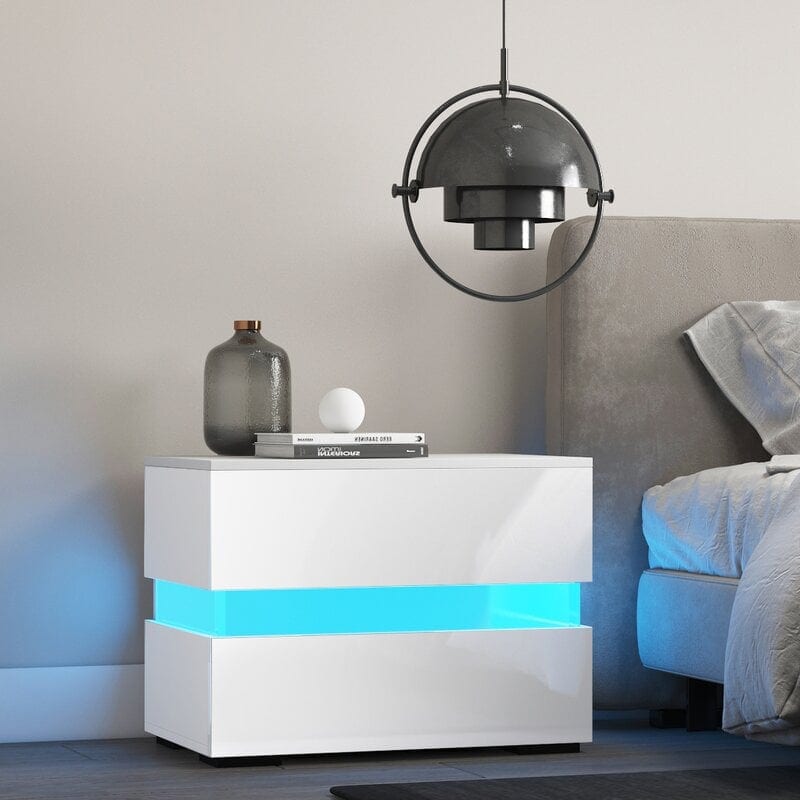 If your vibe is more contemporary and modern, you probably prefer furniture with clean, angular lines and chic, understated elegance.
This nightstand features two large handleless drawers (push to open), a platform base supporting the bracket silhouette design, and a high gloss white finish. And best of all, there's also a remote control operated LED system offering twenty color choices for illuminating your drawers or working as a nightlight.
Final Words
Choosing a nightstand for gray beds doesn't have to be a challenge. There are multiple colors and styles of bedside tables that you can use for a cohesive design. The real difficulty is choosing just one style and color.
Now that you've seen the huge range of choices you have available for nightstands that can go with a gray bed, drop us a line in the comments telling us your favorite one!