Decorated Life is reader-supported. When you buy through links on our site, we may earn an affiliate commission. Learn More
How to Decorate Above Kitchen Cabinets – [20 Ideas]
Every house has awkward nooks and crannies that aren't quite big enough for furniture but look a little odd left alone. The over the kitchen cabinets is the perfect example of this—why is it there, and should you decorate above the kitchen cabinets?
As far as decor goes, the less clutter the better. But, if the space above the kitchen cabinets really bothers you there are tons of different ways you can fill or decorate it, from something pretty that ties into the style of the rest of the room to a practical storage option that saves you drawer space. Let's take a look!
Cabinet Cutouts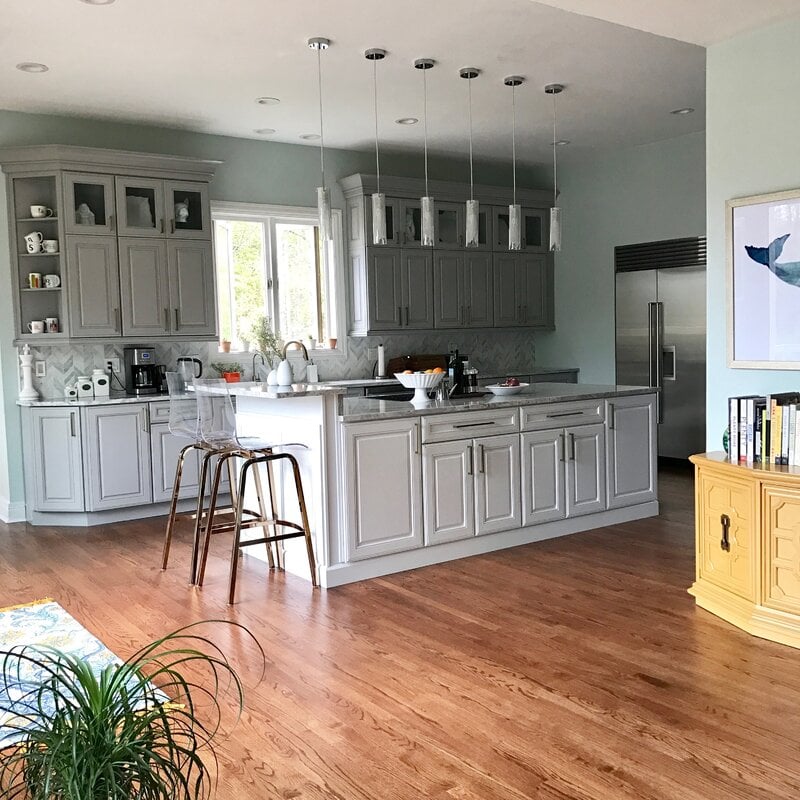 If you're handy or are installing all new cabinets, add in some faux cabinets with cutouts. The cabinets in this picture do have doors and handles, but you can skip the glass front, knob, and hinge hardware and just create cutouts instead.
With cutouts, there are still clean lines with empty space between each to still give it a minimalist look without being empty (but don't clutter up the cutouts, because that will look way too busy).
Clean Free Space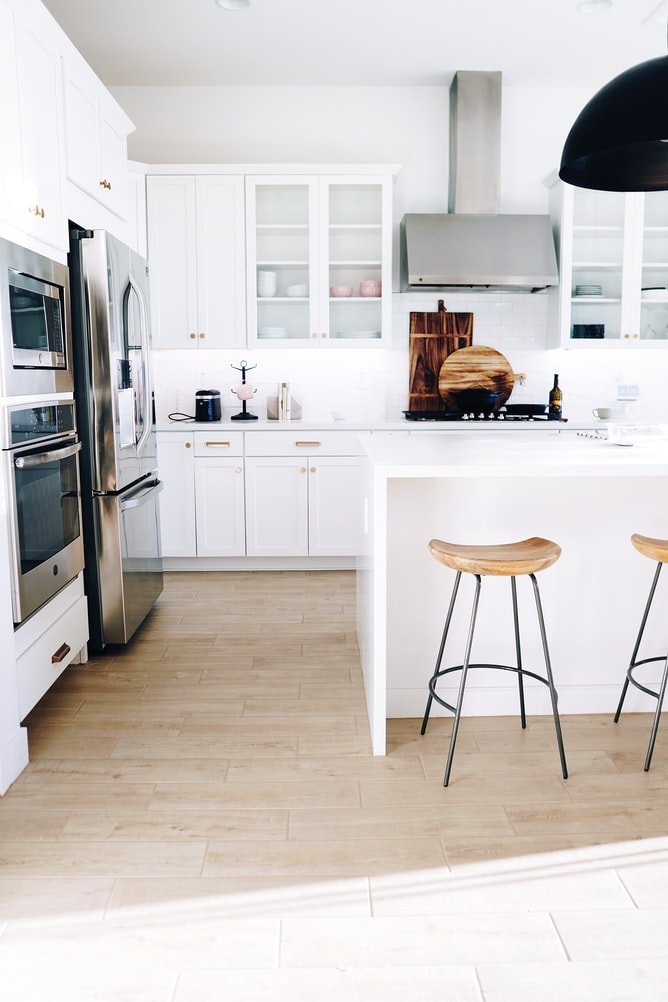 Less tends to be more when it comes to accents, so if you have a lot going on in your home or you just prefer the clean, airy look, you can skip decorating above kitchen cabinets altogether.
This look works for a lot of kitchens, but if you have an awkward amount of space between your cabinets and the ceiling (as in not a little, but not a big wide open space, either) you might want to consider doing something small up there.
Filler
A lot of newer homes have high ceilings, but the cabinets are standard size, which end up leaving an awkward gap. Adding in another row of small cabinets can be costly, so if you're handy with drywall, just fill in the area to make everything flush.
This kitchen did just that and it looks great. They even added some crown molding along the top to give it a polished look.
Creative Lighting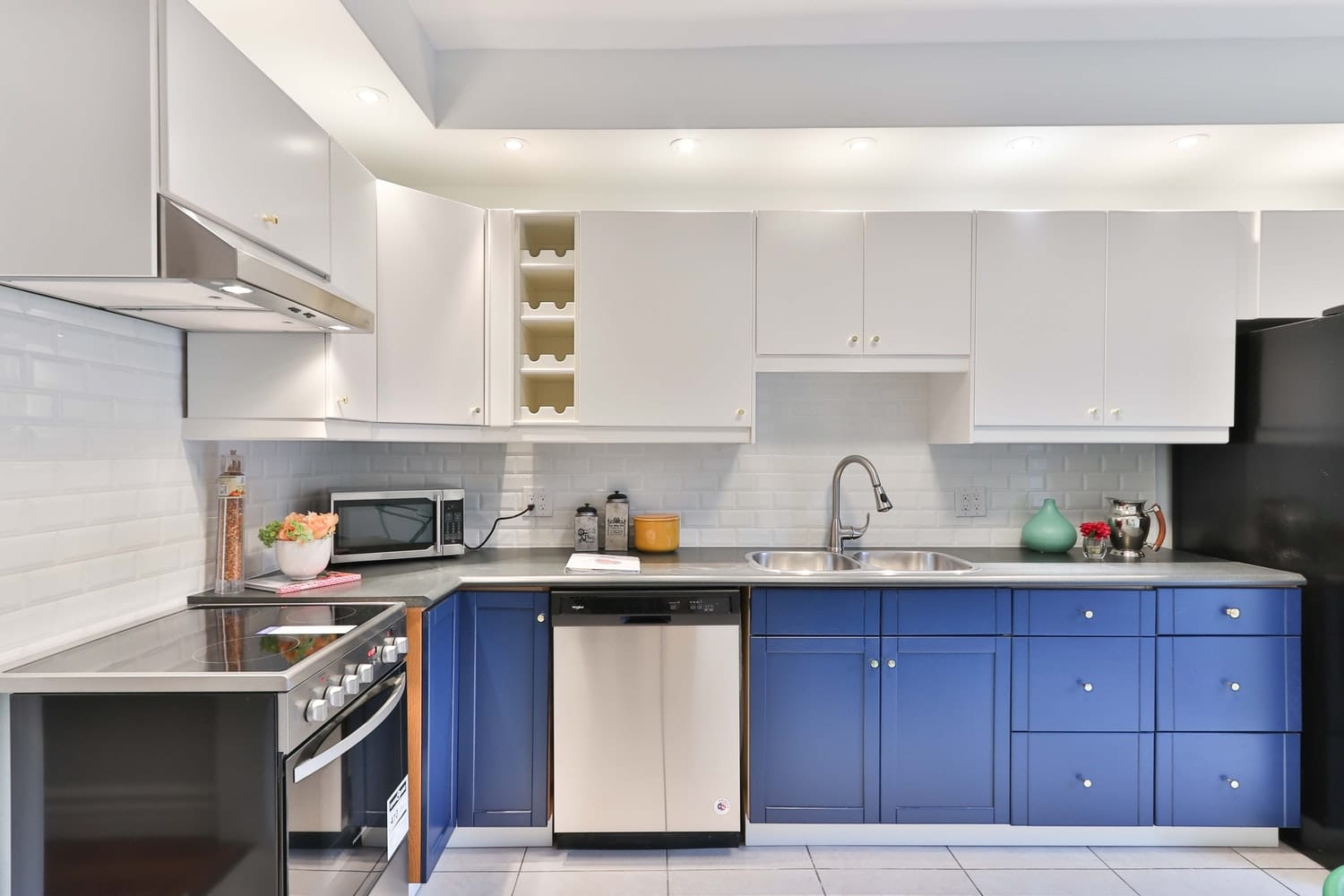 When you're decorating above kitchen cabinets with high ceilings you typically don't have to worry too much about lighting because the open space will feel bright. However, if it's a lower ceiling, adding lights can make a big difference and make the area feel more spacious.
You can install recessed lighting like the kitchen in this picture, which will not only light up the area but also your kitchen. Or, you can get some rope lights to lay along the top of the cabinets to shine light up towards the ceiling for a more dramatic look.
Frosted Glass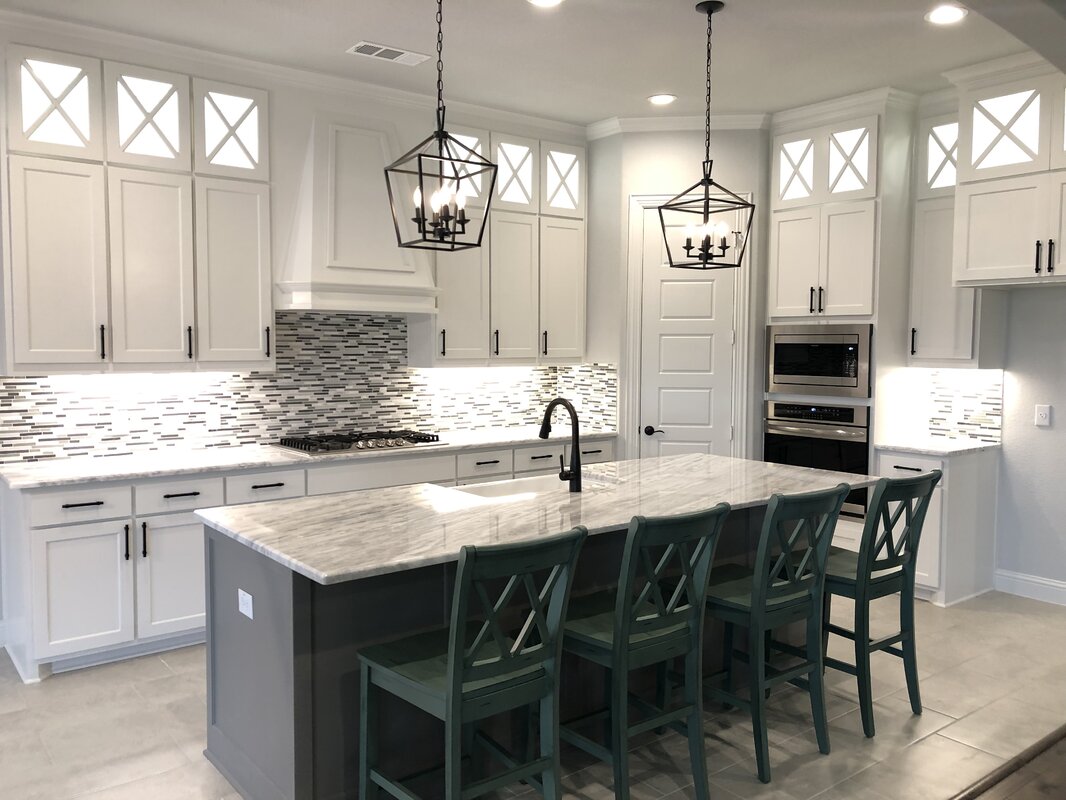 If you like the cutout idea, but still don't want to decorate in them, you can cover them with frosted glass, like in this kitchen. It creatively uses the space above the kitchen cabinets but doesn't require the labor and skill to add another row of cabinets and also doesn't clutter things up.
Depending on your kitchen layout, you might even consider putting mirrors in those spaces (especially with the 'X' over them) because it could help make your kitchen look larger or your ceilings taller.
Thematic Accents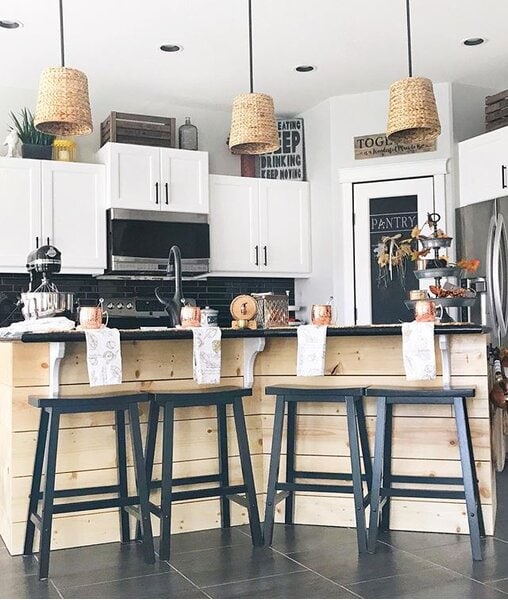 If you don't have the resources to build on top of your cabinets, or you just really love the idea of above kitchen cabinet decorations, make sure whatever you put up there is aligned with your overall decor style.
This kitchen is definitely going for the farmhouse aesthetic, so the crates, rustic sign, and vintage accents really help bring the room together.
Boho Touches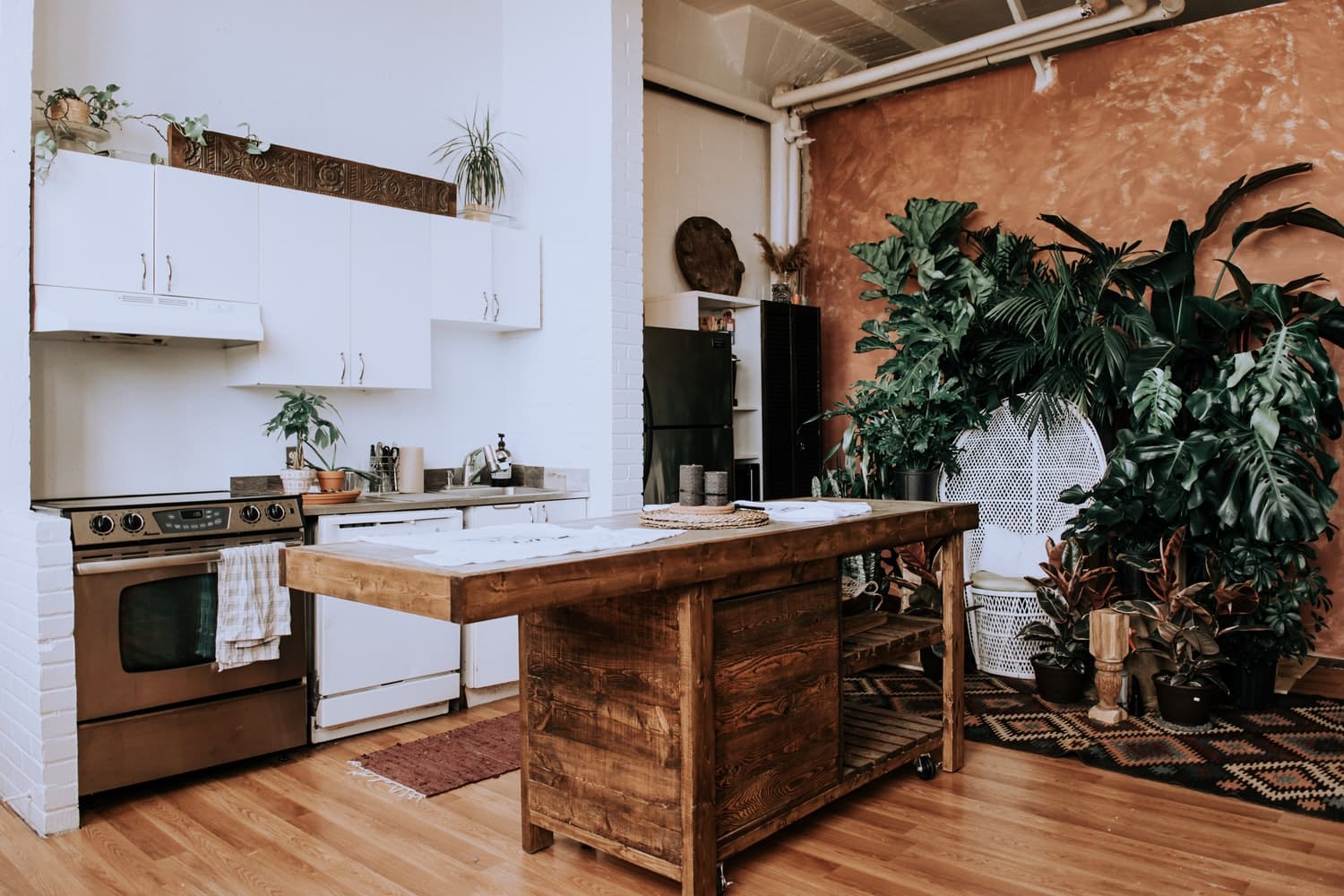 Here's an example of a space where decorations above kitchen cabinets help enhance the look of the space, especially since the white cabinets would otherwise blend in with the white wall behind it.
They really played the area well with the two green plants and a single piece of decor along the middle. It's not cluttered at all and gives off a fresh boho vibe.
Monochrome Vases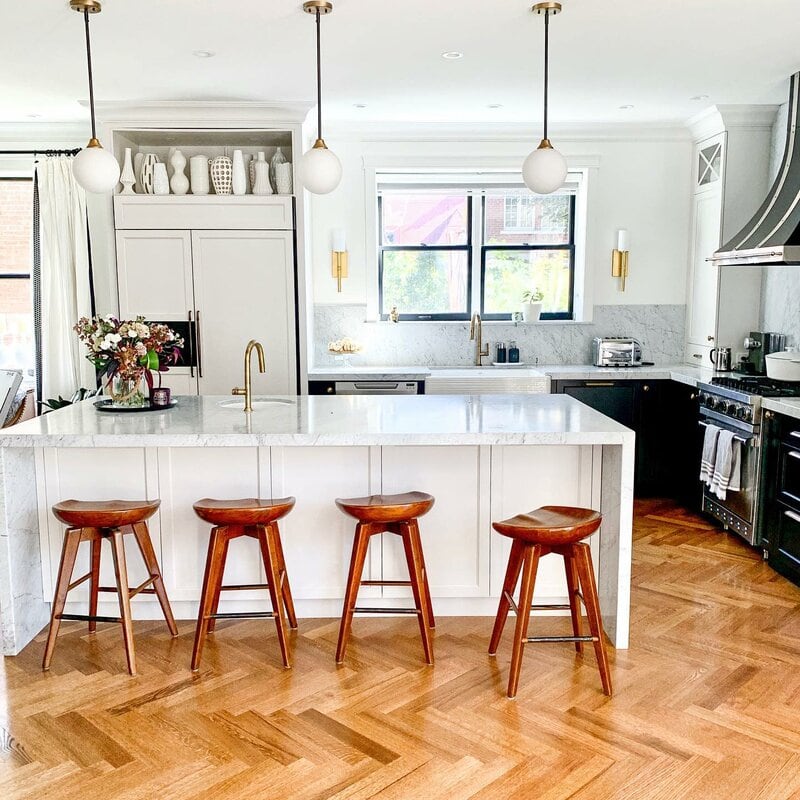 Displaying a lot of over kitchen cabinet decor in one space has the potential to create a very cluttered look, unless you do it right.
This kitchen is a great example of how a lot of decor can still look minimalist. They went with a monochrome color scheme that plays off the kitchen cabinet color and opted to fill a section that has plenty of empty space on either side. It looks amazing!
Another Layer of Storage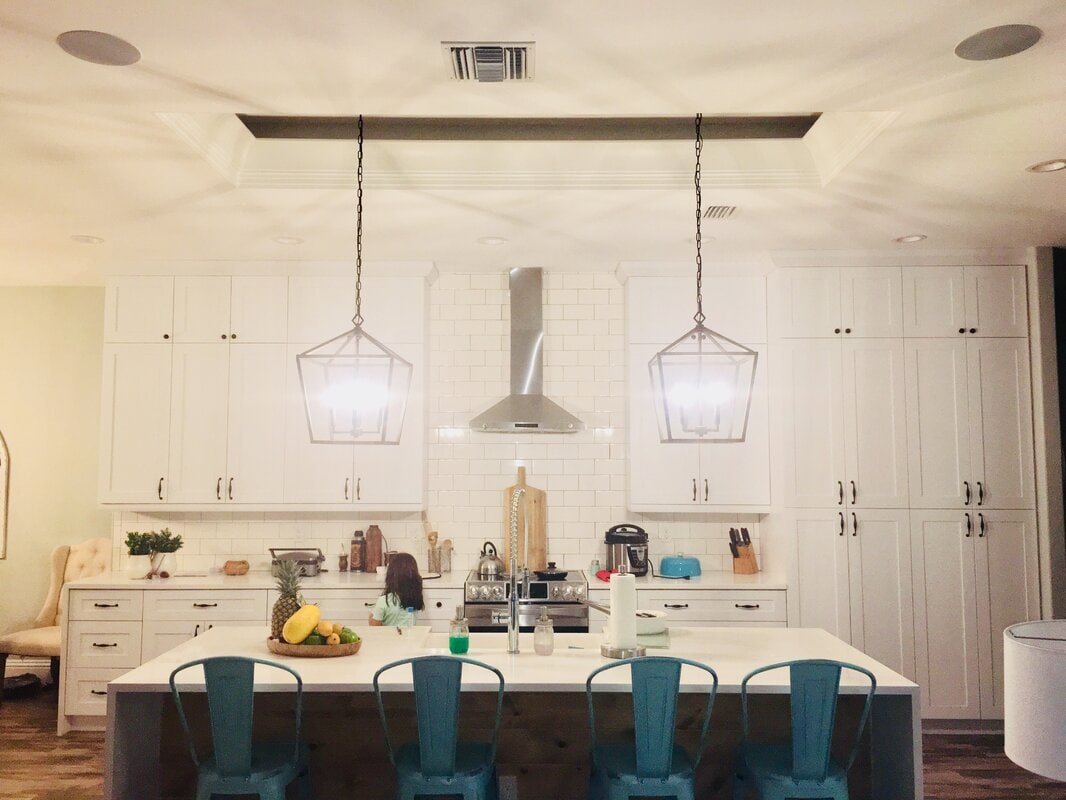 Fans of basically any HGTV show will know that adding that extra row of storage along the top of the cabinets is a huge asset, both for the added storage as well as for the overall look of the kitchen.
Again, this is something that can be costly to add, but you can do a faux version! Just fill the empty space on top of the cabinets with some wood, add some trim to create the illusion of cabinets, paint the space, and add hardware. No hinges necessary (but, there's also not any extra storage in this hack).
Basic Script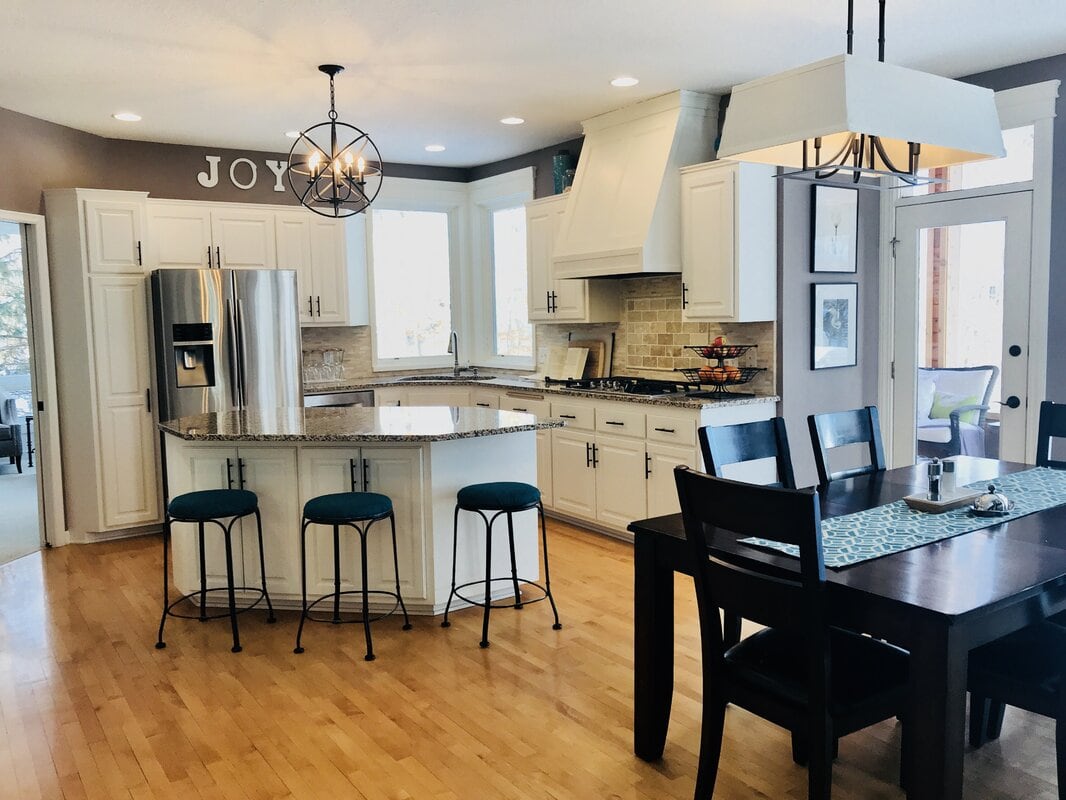 Adding some kind of script to your walls can look awful or great – it just depends on how you do it. One example of doing it right is in this kitchen!
They took the open space over the cabinets and found lettering that's sized correctly to fit the space without looking too small or taking it over. It pops from the dark wall and matches the cabinets to create a cohesive look.
Complimenting Dish Set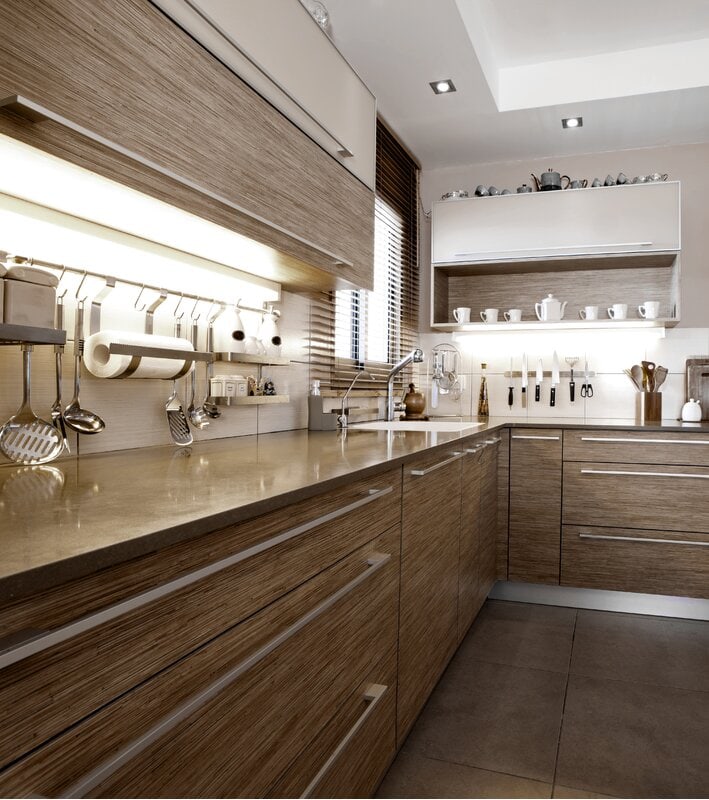 Do you have a tea or china set that you love, but don't really use very often? Use it for some kitchen cabinet decoration! You'll get a lot of joy from seeing the beloved set every day rather than having them stored away out of sight.
When setting them up, just be mindful. If you have a really long space over the cabinets, consider bunching the set together rather than spreading it all out to avoid clutter. Also, if the set has some color to it, get some dish towels in the same hue to hang on the oven to help pull the look together.
Combined with Open Shelving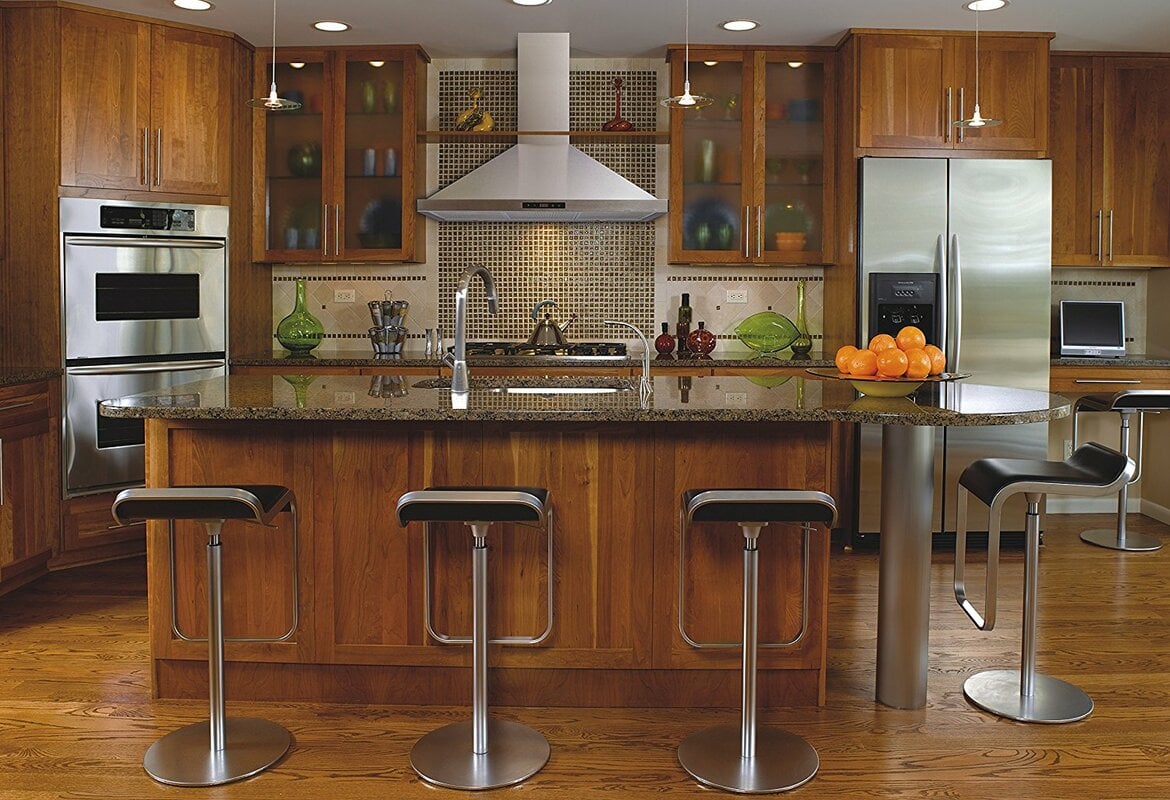 This kitchen has cabinets that go all the way to the ceiling, and while that's nice in terms of storage, it's also kind of boring to look at. Depending on your kitchen's layout, it also has the potential to make the space feel cluttered and cramped.
So, if you don't have any space over the kitchen cabinets, consider sacrificing one to create some open space. You can then hang some floating shelves, with the bottom few still providing storage, and the top sitting at the same level as about halfway up of the cabinets.
A Touch of Color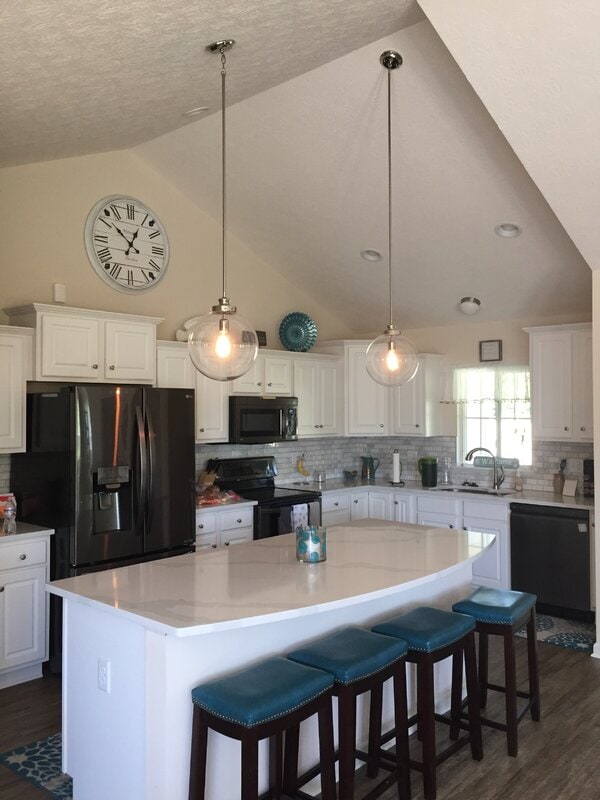 A lot of kitchens are filled with neutral colors, but if you're someone who likes a little color, you can use the space above your kitchen cabinets to add in pops of color like in this kitchen. The blue plate brings out the blue cushions on the island stools to create a cohesive look.
Second Set of Cabinets In a Different Finish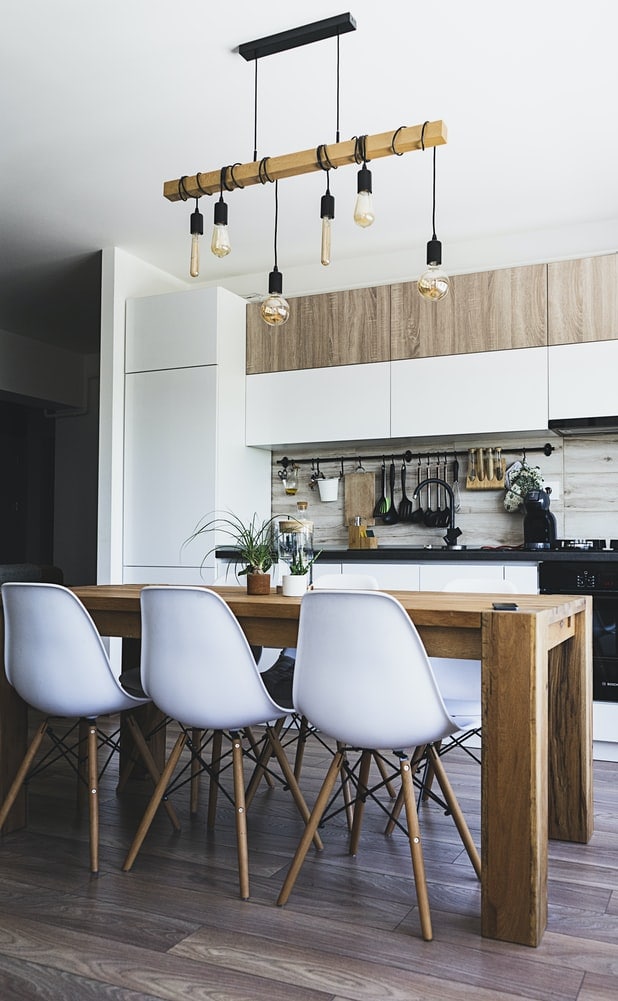 Here is a unique take on a second set of cabinets – a totally different finish! It creates a really cool contrast but still has a uniform look.
The best way to accomplish this without it looking clunky or clashing is to install cabinets without trim and to skip hardware. The kitchen in this picture totally nailed the look.
Extended Molding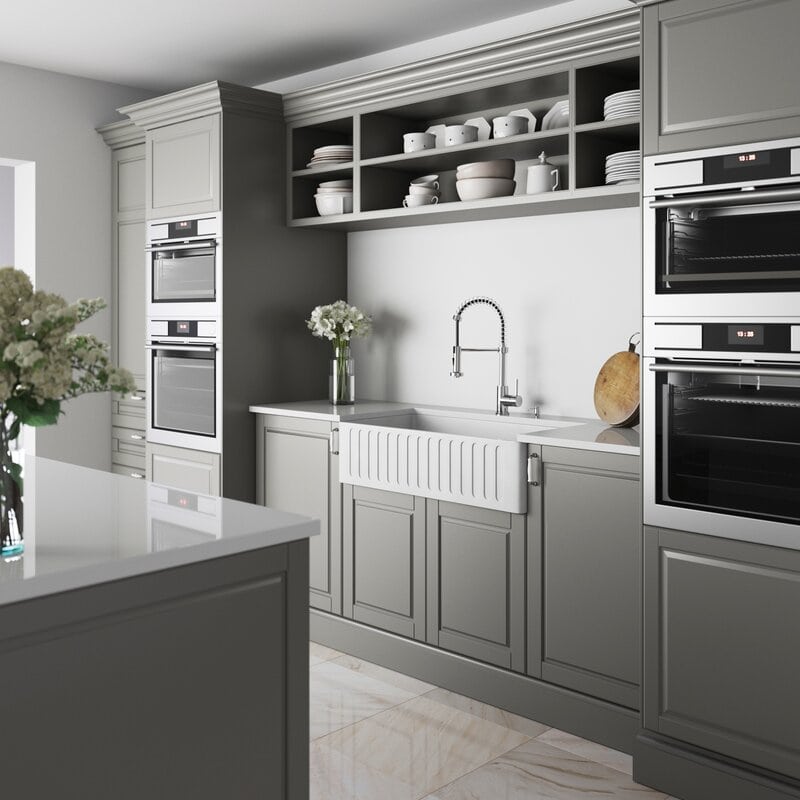 A lot of kitchen cabinets have only a little molding along the top, or don't have any at all. This can create that awkward space that makes you question whether or not you should add some decor to them.
Rather than running the risk of overdecorating the space, consider adding in some thicker molding. The extended molding will not only give the cabinets a polished look but will also fill up that awkward space (plus, it's really easy to do yourself!).
Accent Color Paint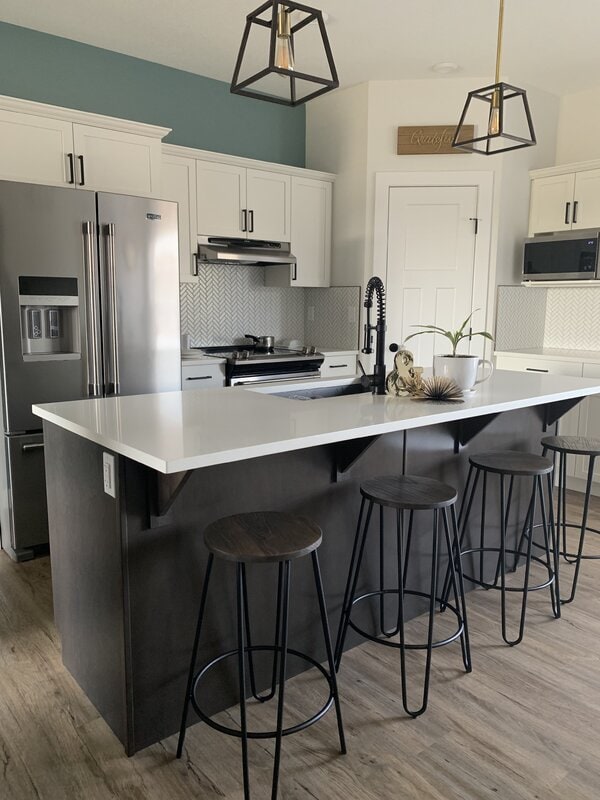 Still trying to decide what to put above kitchen cabinets in your home? How about a splash of color with an accent wall.
In this picture, you can see they chose only one wall to paint a bold color while the other is white which blends into the cabinets. The accent wall draws the eye in that direction and creates the illusion of filling the space over the cabinets without actually putting anything up there.
Backsplash Tiles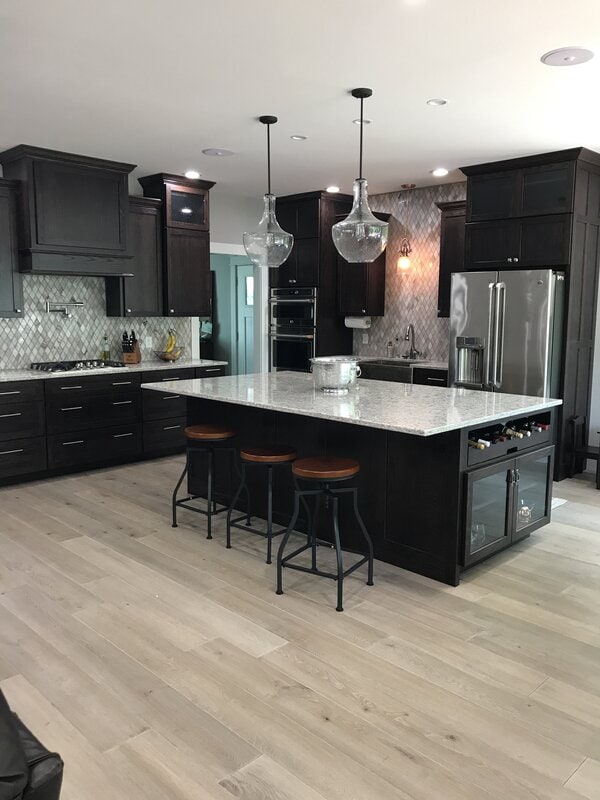 If you have a backsplash you love, extend it up to the ceiling to fill the space over the cabinets. It will add some texture and shine and still have a cohesive look.
This is a great idea, but you don't want to overdo it. If your backsplash is really busy, you may want to keep the space over your cabinets bare to balance everything out. But if it's more neutral, pick a wall and cover it to the ceiling like in this kitchen.
Metallic Accents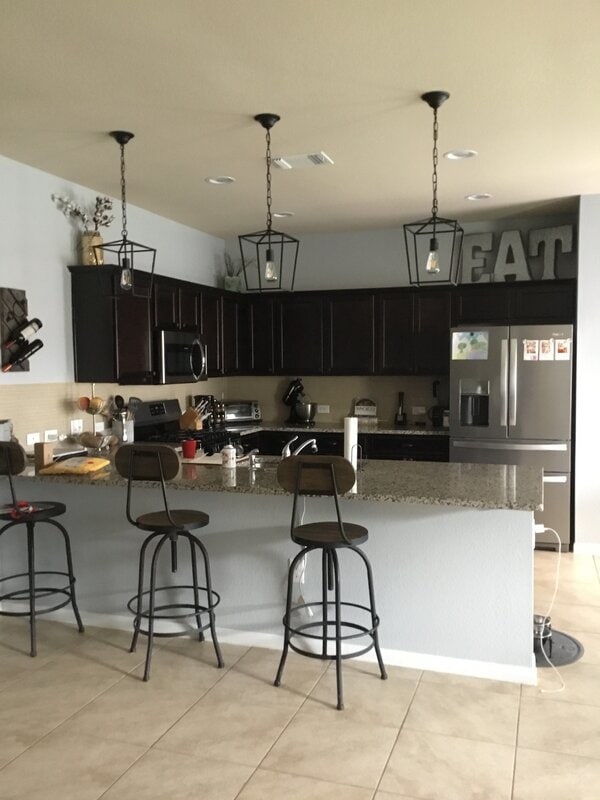 You can add in warmth and texture into your kitchen with some metallic top of cabinet decoration. If your cabinets are a dark espresso color, adding some gold or copper touches will warm things up and create a soft contrast.
Display Baskets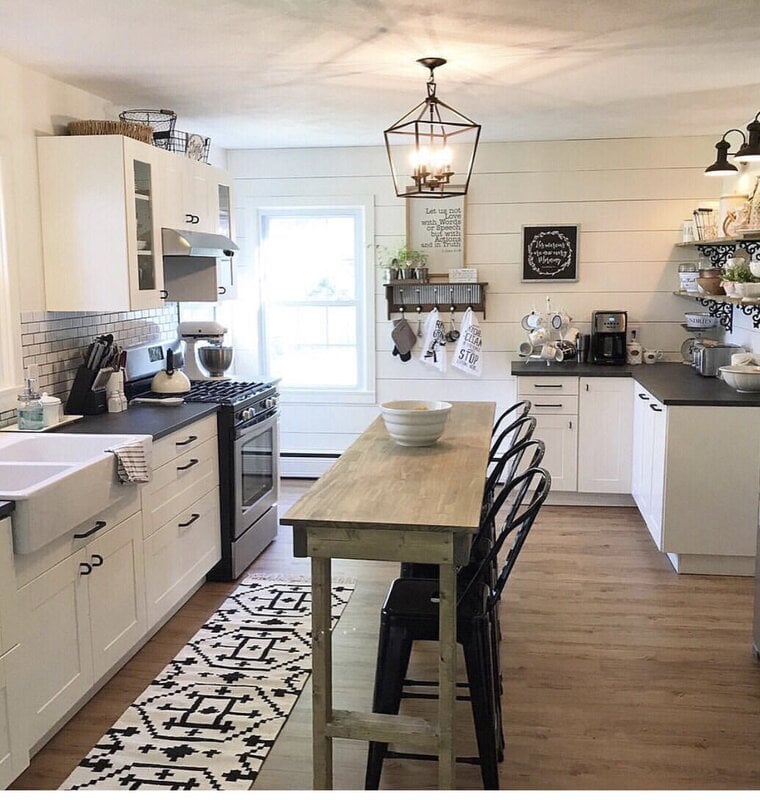 In this farmhouse kitchen, they used baskets to decorate on top of the kitchen cabinets. However, they kept it from looking cluttered by using mostly wire baskets which have a lot of open space.
This will work especially well in kitchens with white cabinets and walls because the baskets will pop without taking away from the airy feel.
Vintage Kitchen Tools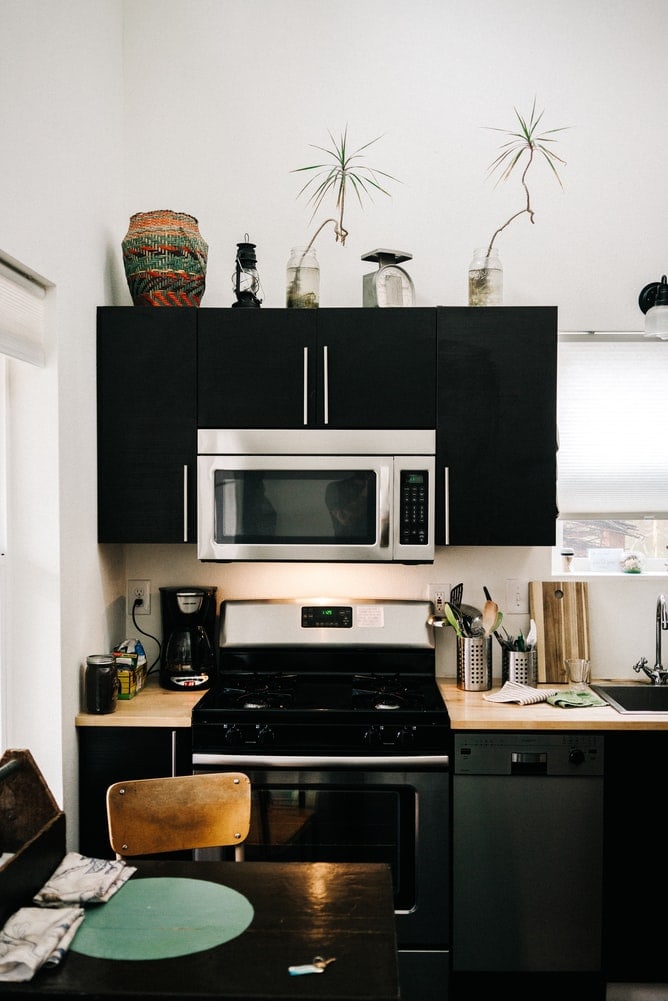 How cute is the vintage food scale on top of these kitchen cabinets? It's totally on theme (it is a cooking tool, after all) and adds a little character since it's rustic and retro. Depending on how much space you have between the cabinets and ceiling, you can display all kinds of vintage tools from some measuring cups to old water pitchers to even an old standing mixer.
Conclusion
Many kitchens are made with a space between the kitchen cabinets and the ceiling, and it's possible yours has spent the last few years collecting dust without doing much else for the room.
The good news is, there are dozens of ways to use this space in practical ways or just to decorate it and add to the overall style of the room. Depending on how much space you have to fill, it's up to you to use it to its fullest potential.
Now that you know it's not wasted space, how will you decorate above your kitchen counters?