We independently select these products — if you buy from one of our links, we may earn a commission.
How to Decorate Above Kitchen Cabinets – [20 Ideas]
Every house has awkward nooks and crannies that aren't quite big enough for furniture but look a little odd left alone. The space above your kitchen cabinets is the perfect example of this—why is it there, and what should you do with it?
There are tons of different ways you can decorate that space, from something pretty that ties into the style of the rest of the room to a practical storage option that saves you drawer space. Let's take a look!
Create Stunning Flower Arrangements with Old Book Pages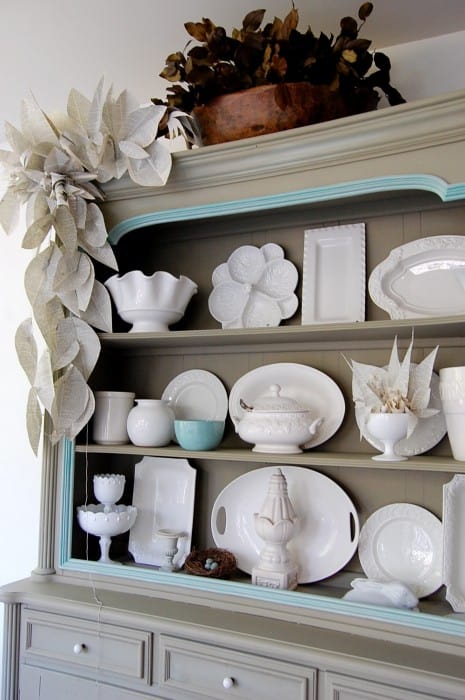 This is a completely unique option which looks absolutely gorgeous draped over the top or corner of a kitchen cabinet. These flowers made from book pages won't wilt and will last forever, unlike real flower bouquets.
If you're an expert at arts and crafts, you can take a shot at making some book page flower arrangements yourself. Fair warning, these are quite complicated, although the final result will be well worth your time!
Buy Pretty Canisters for Extra Storage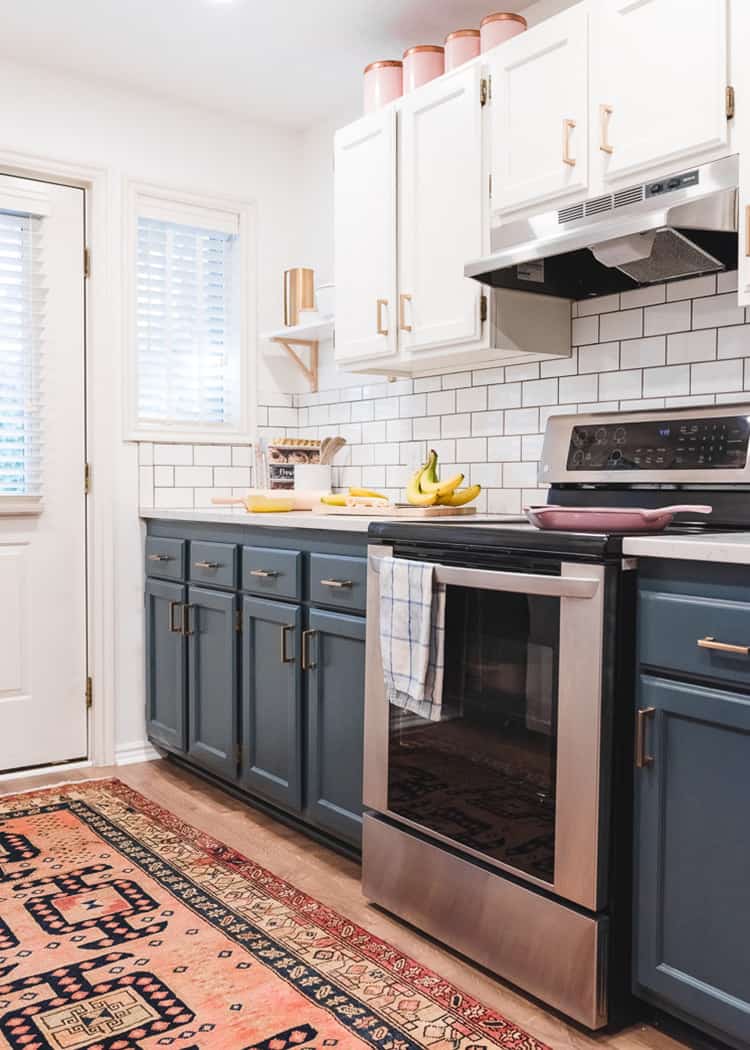 The top of the kitchen cabinet is a great place to store extra supplies, especially ones you don't need as often since it's a bit harder to reach.
You can store things like a nice cutlery set that you only use on special occasions, an emergency supply of baking goods, or candles and matches. Look for pretty canisters that go well with the room decor, like this matching soft pink and gold set pictured here.
Get Wire Baskets to Create a Farmhouse Appeal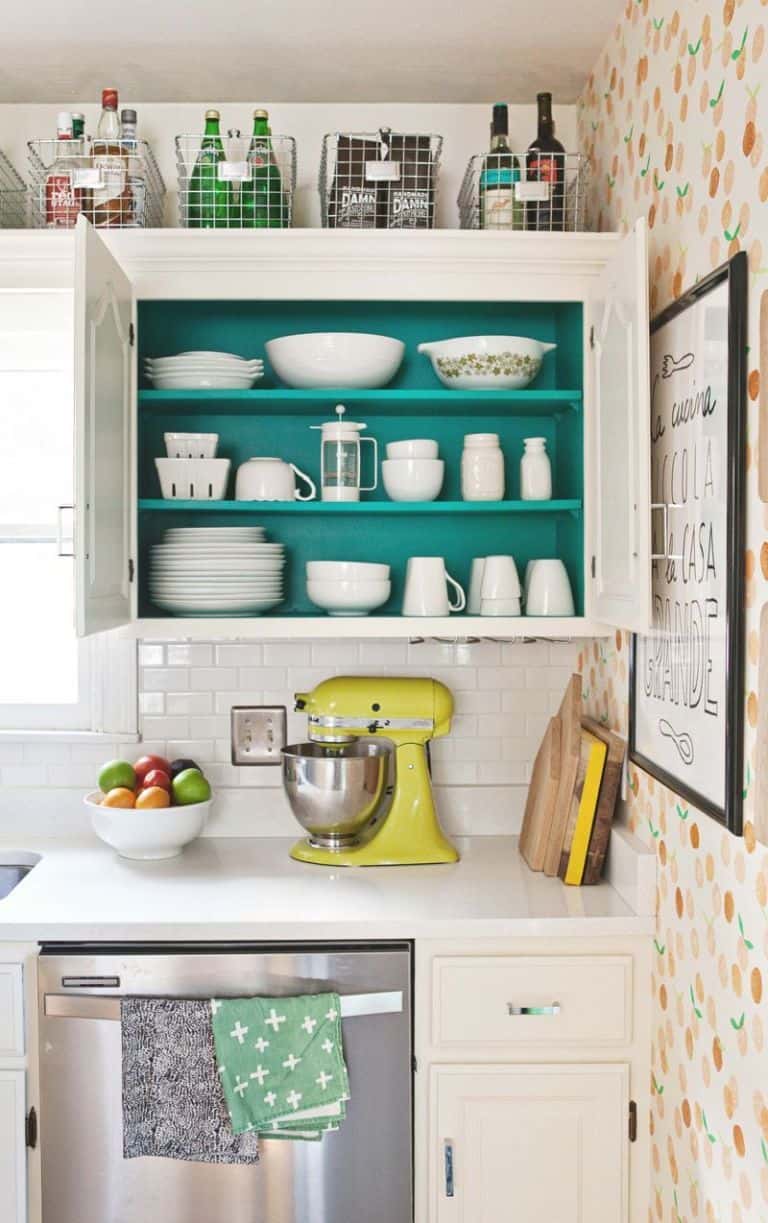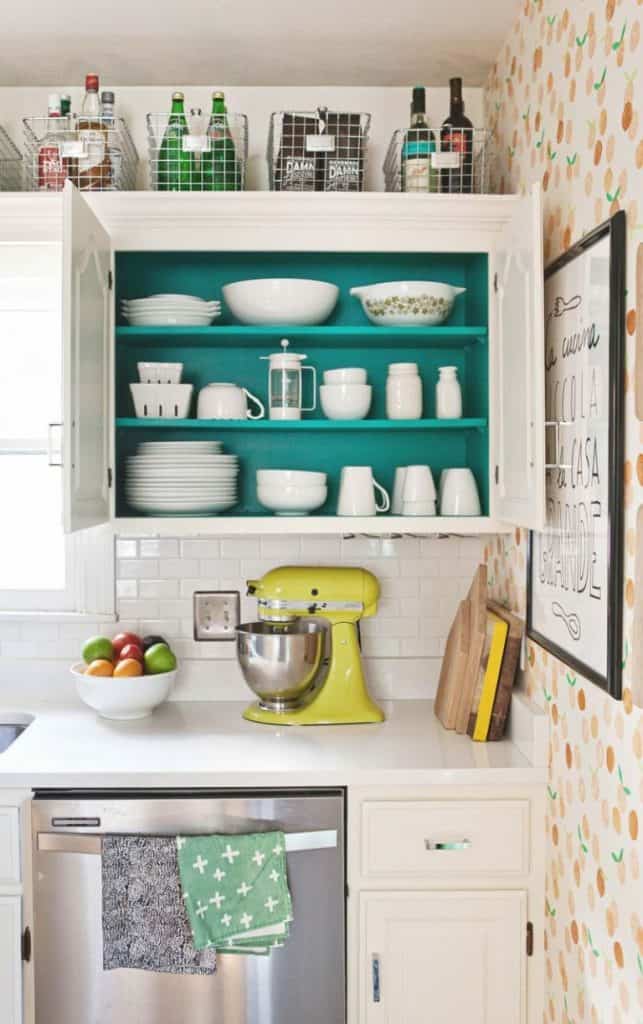 You can use wire baskets to store additional items above the sink, especially if your items are grouped by purpose. That way, you can just pull down the whole basket that you need and that's much easier than reaching for countless bottles.
In this example, it looks like the homeowner stored wine in one basket, extra bags of coffee in another, sparkling water in a third, and hard alcohol in the last one. Convenient and organized!
Add Art Pieces for a Pop of Color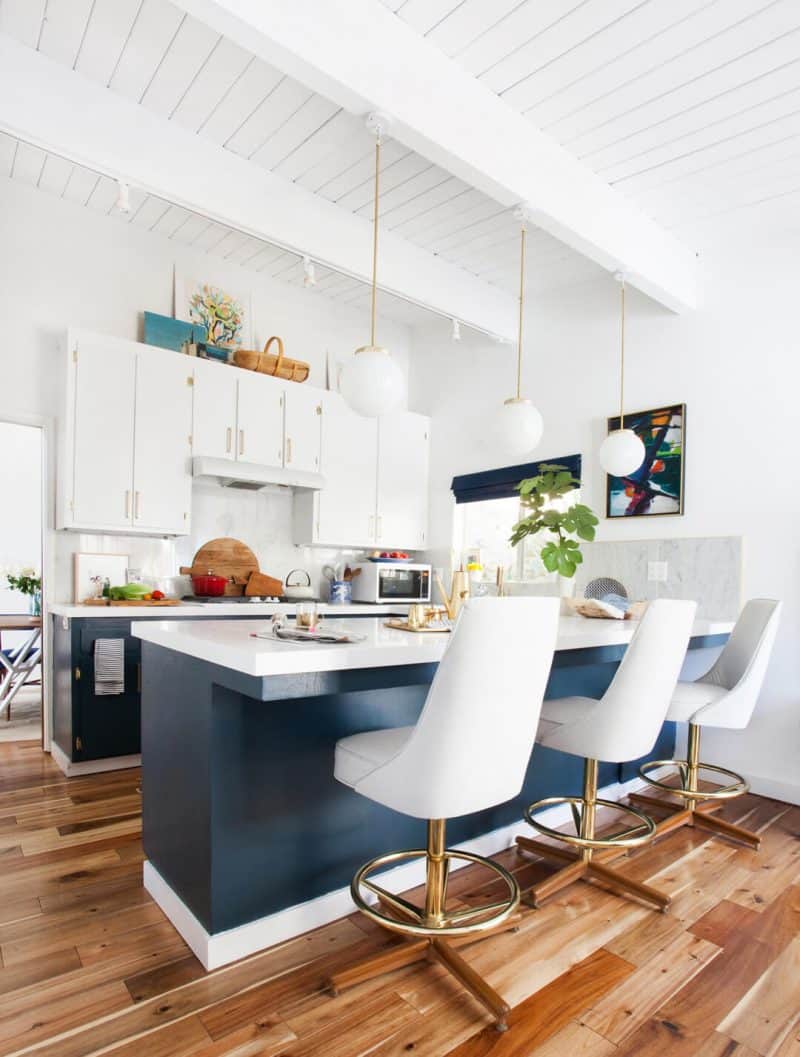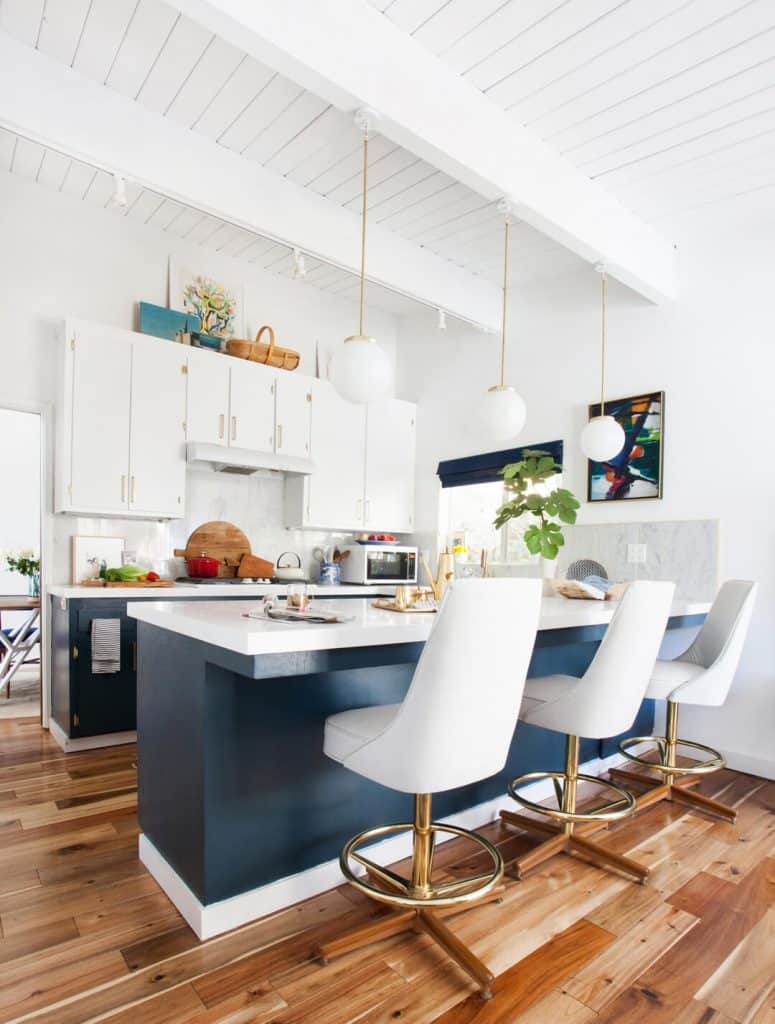 You shouldn't assume that whatever you put above the kitchen cabinets won't be seen by your guests. When you're standing further away, it's easier to see the decor you picked for that often forgotten space.
That's why you can never go wrong with a few pieces of colorful art to make the space more visually attractive. You don't even need to hang them up—here, you can see that they're just leaning against the wall.
Store Some Gorgeous Patterned Bowls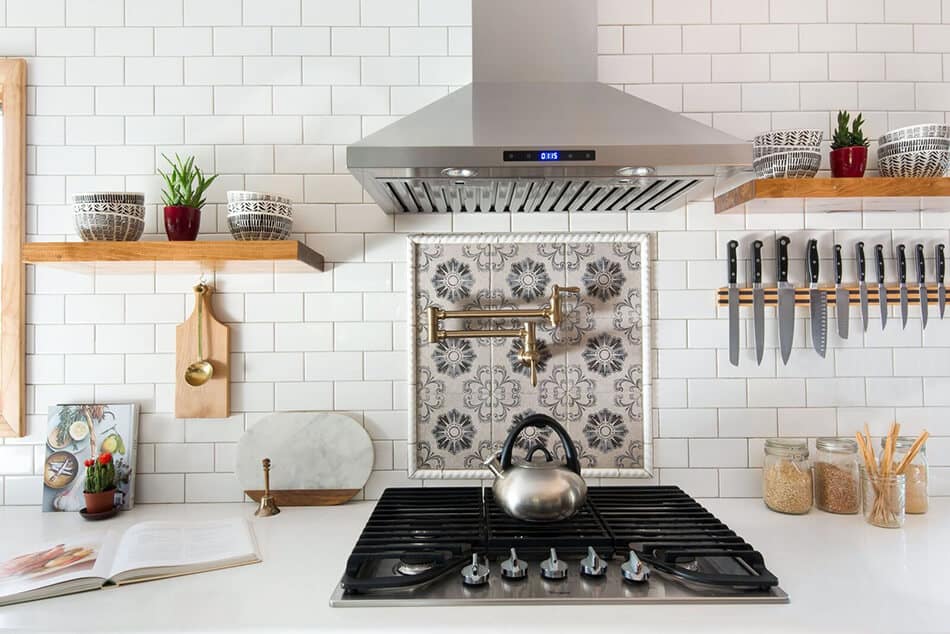 The space above cabinets (or in this case, above the kitchen counters) can be used as a display for some unique and lovely patterned plates or bowls. You can also add a couple of plants or other items to create a symmetrical display.
If the shelf is easy to access, you can put things you use more frequently. What matters is making sure your tableware adds to the decor style of the kitchen.
Hang Fairy Lights Above the Cabinets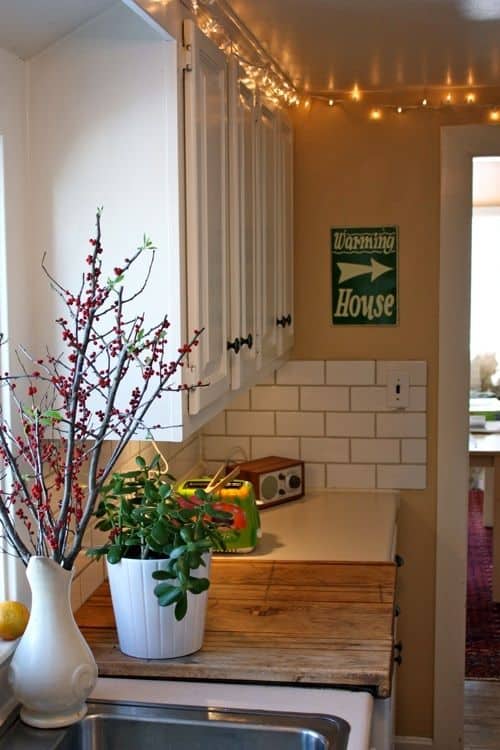 If you don't have a lot of space or the area between the cabinet and the ceiling is closed off, you can actually hang up twinkle lights or fairy lights like in this example.
I haven't yet seen a set of twinkle lights that didn't automatically cheer up the room and create a more cozy, intimate atmosphere. This is one of the simplest solutions that works for any budget.
Go for Exposed Bricks to Add Texture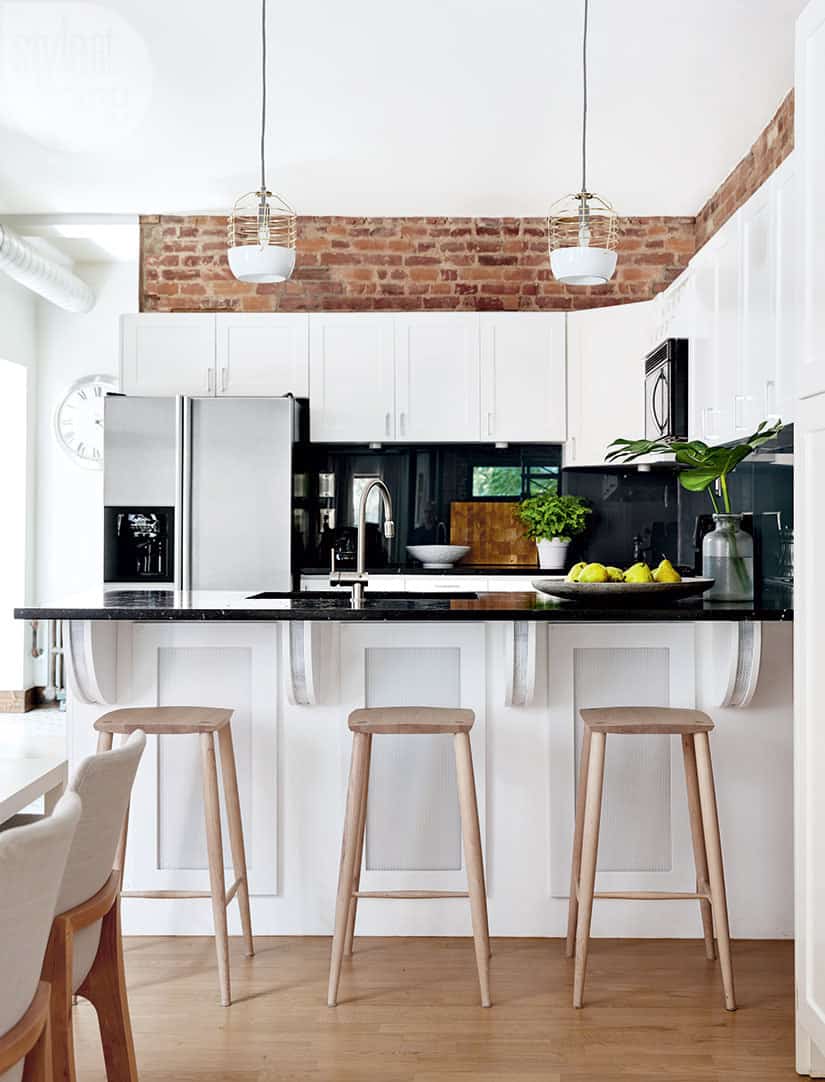 If you have a brick wall, that's perfect for this look. Otherwise, you can fake it with brick wallpaper and because it's higher up, no one will be able to tell!
The exposed brick portion only runs along the top of the wall above the kitchen cabinets because the rest of the wall is the backsplash. The brick adds texture and a splash of rustic charm to an otherwise very modern black and white kitchen.
Empty Picture Frames Are Simple and Coastal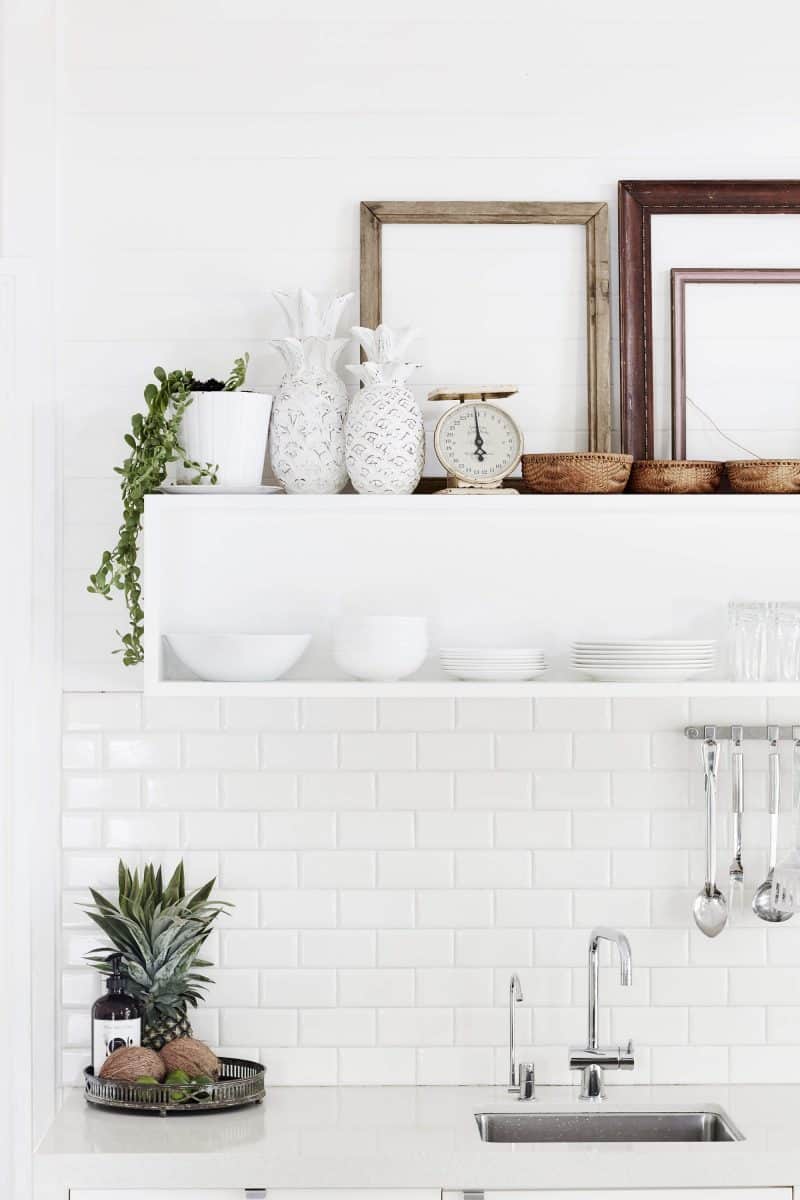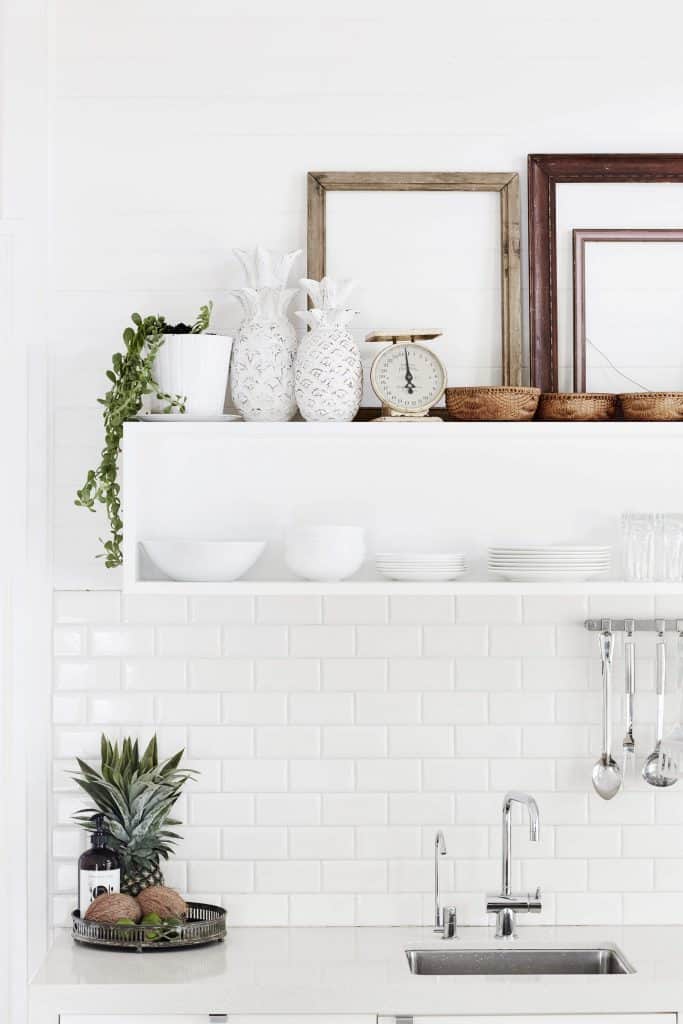 A trend that's come up in the last few years is putting up empty picture frames as decor on a mantel or shelf. It's a great option for the space above your kitchen cabinets, especially paired with a few other accessories.
The best way to achieve this is with mismatched frames of different sizes, widths, colors, and materials. Then, lean the frames against the wall so they overlap each other, and that's it!
Buy an Oversized Farmhouse Style Sign
The farmhouse look is all the rage right now, and has been for the last few years. If your kitchen is in this style, you can use the space above your kitchen cabinets to draw attention to this decor theme.
Get a large sign that's weathered, perhaps an antique, and put it up on the wall above your cabinets. This farmers' market sign is just the right amount of country chic without going over the top.
Use Pitchers as Pots for Plants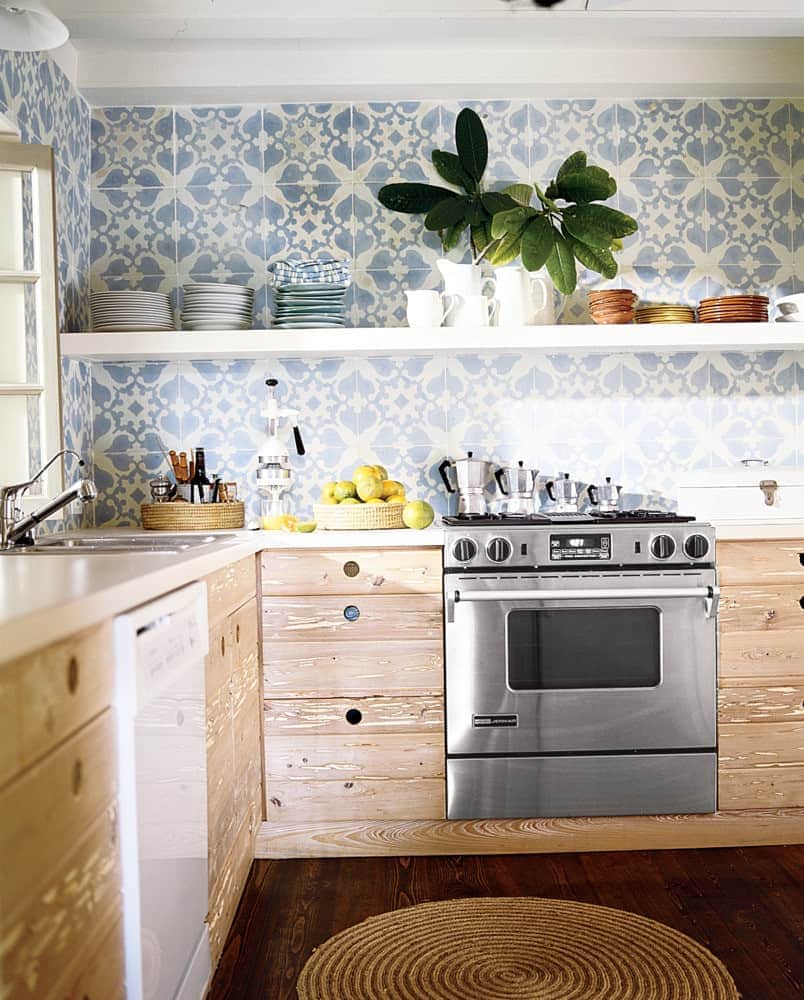 If you've got enough space above your kitchen shelves or cabinets for plants, you should consider using pitchers as your pots. It looks particularly great if your pitchers are lined up with other tableware, like the stacked plates and bowls in this example.
The final result appears seamless and effortless, with the plants creating a nice pop of life and color in the center of the shelf.
Put Up Rustic Storage Baskets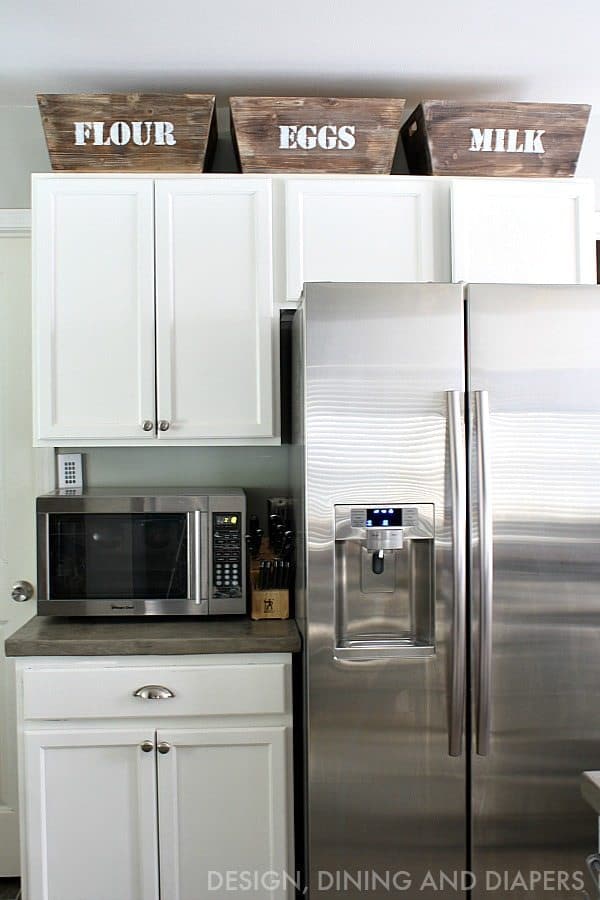 When you're looking for ways to save precious drawer space, use baskets like this for your nice table linen you only use once a year or your fancy holiday candlestick holders. These baskets are excellent because you can hide away your rarely-used items out of sight of your guests.
They're not only big enough to give you a lot of extra storage, but the old-fashioned ingredients stamped on them also have a nice rustic charm.
Go All Out with a Gallery Wall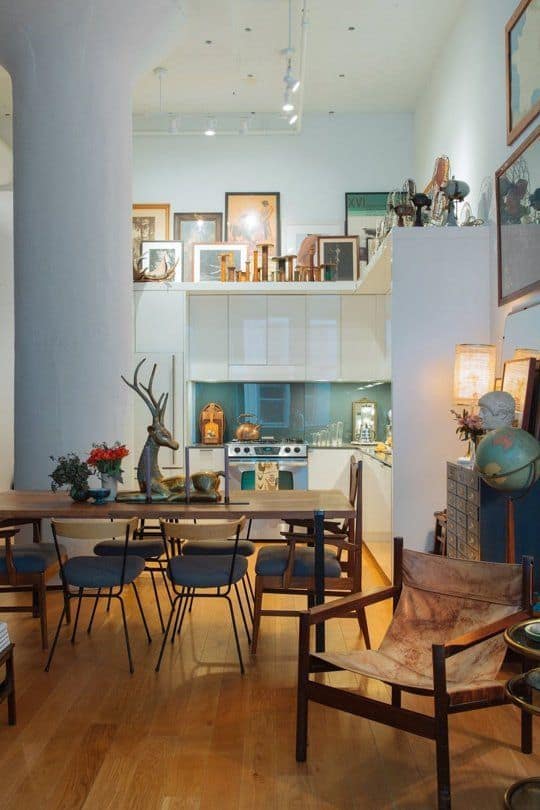 We saw that you can put up a few pieces of art or even empty frames as a neat touch above the kitchen cabinets. But what about an entire gallery wall? It's definitely possible, and this lovely artist's kitchen is the proof of that.
The homeowners leaned a number of paintings in different sizes and styles against each other above the cabinets with great success. It ends up looking incredibly artistic instead of cluttered.
Find Vintage Bottles for a Colorful Display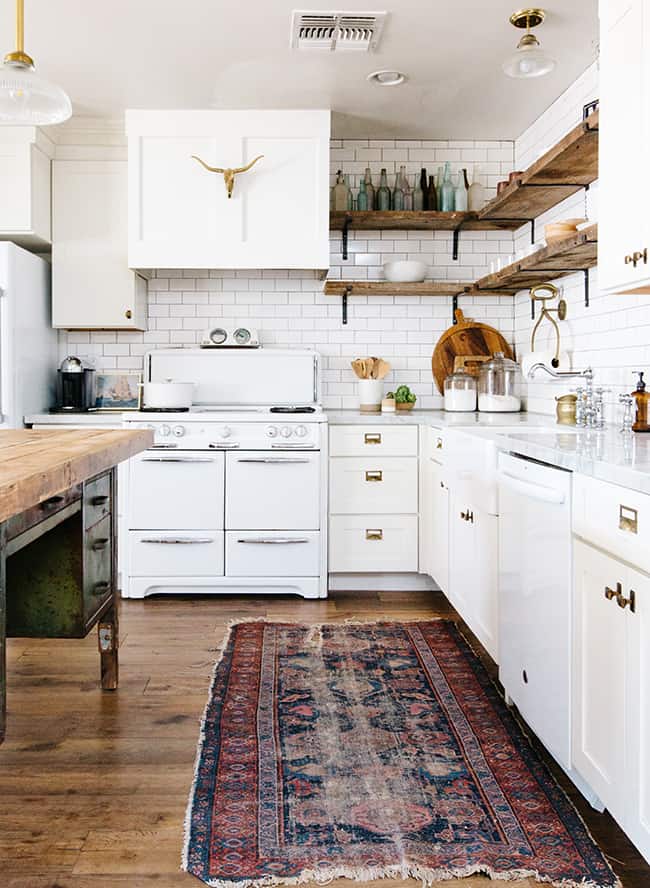 You can have a creative display above your kitchen cabinet using some vintage glass bottles. It may take some time collecting from various antique stores, but it can be a great project to take on.
Look for different colors, especially shades of blue and green, and try to find bottles in different sizes. Then, arrange them above your cabinets for this apothecary-style vibe. Don't add too much else on the shelf or it'll look cluttered.
Block Off the Space to Create Height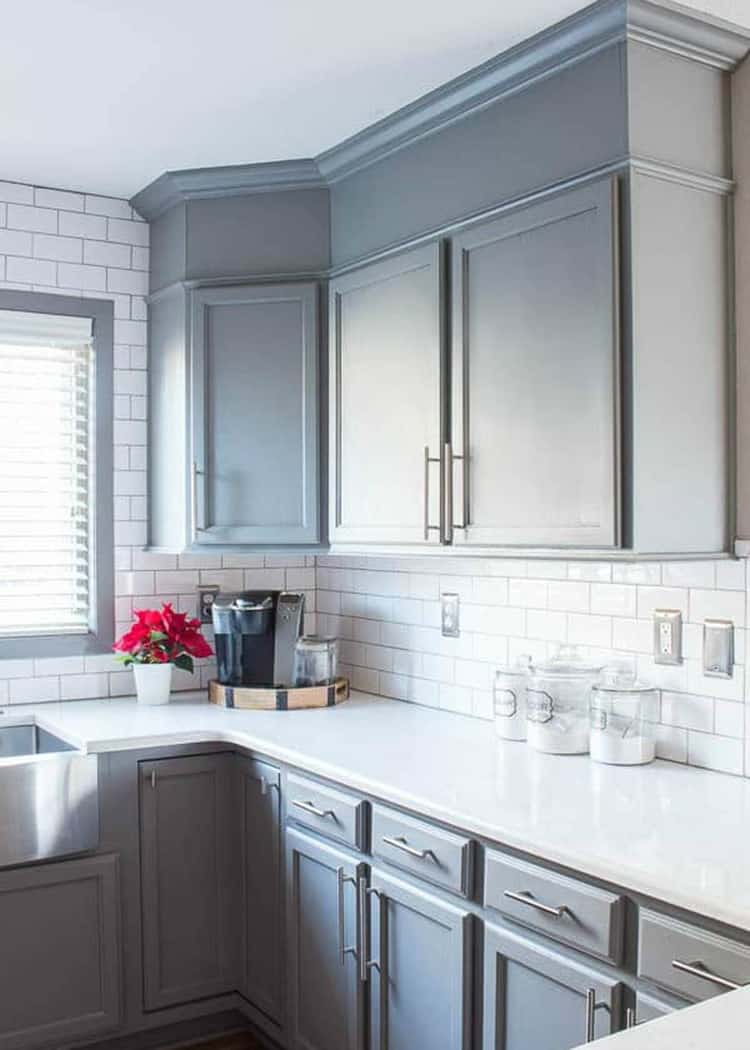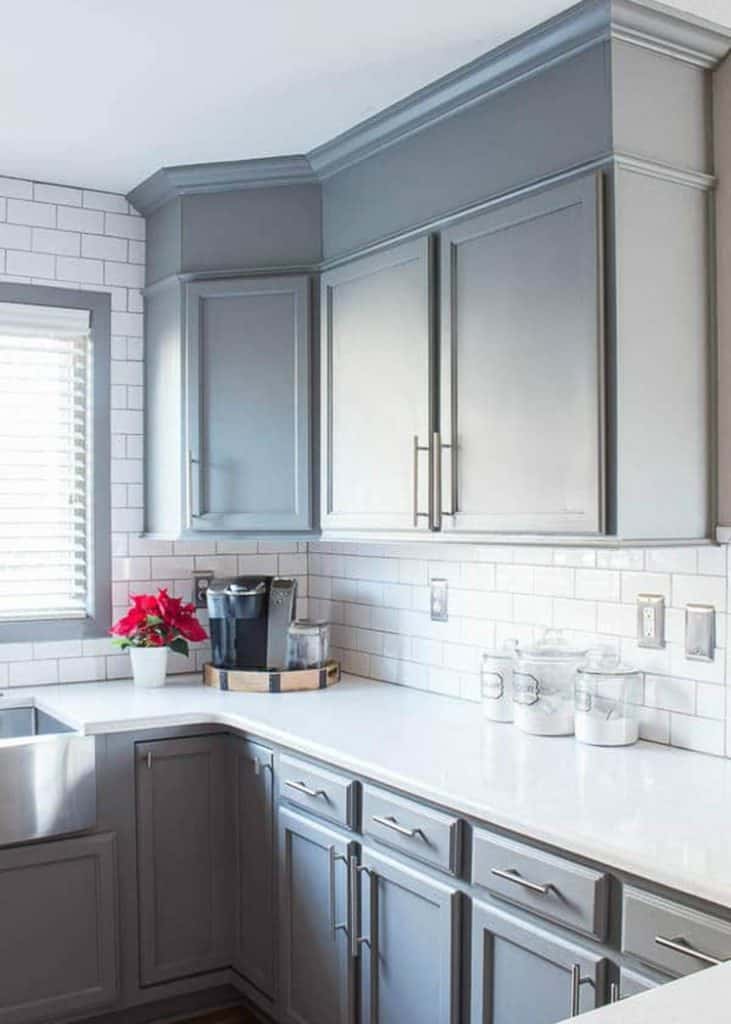 There's a neat trick you can do to create the illusion of height in your kitchen, and that's blocking off the space from your cupboards to your ceiling. By making your cabinets appear taller, the viewer will believe the ceilings are higher than they really are.
You can actually do this yourself at home using just a bit of molding and medium-density fibreboard (MDF). You'll be pleasantly surprised at the final result after you're done!
Use the Space to Store Rattan Bags and Baskets
Do you collect rattan bags and baskets? Do you have a lot of bags for groceries or storage? You can store them all above the kitchen cabinets to save space in the rest of the house and pantry.
The next time you're going on a picnic or preparing a basket for friends or family, you won't have far to look to find the perfect container!
Keep Your Cookbooks Close at Hand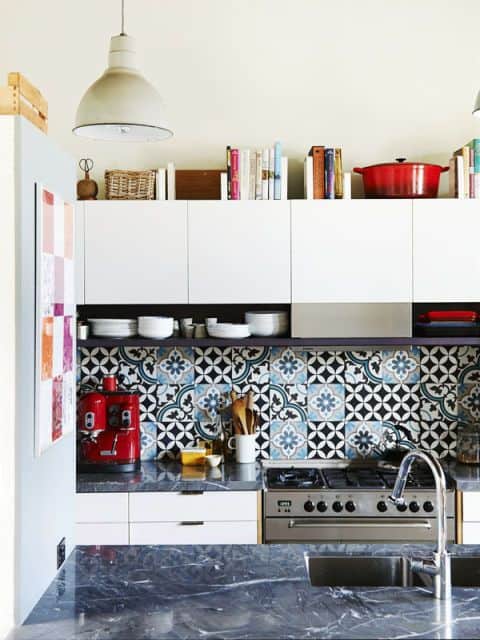 The shelf above your kitchen cabinets is a useful place to store your cookbooks and recipes. You can use a crockpot or jars as bookends for a quaint look.
This idea is better for homeowners who don't need to regularly refer to recipes, or it might be too complicated to reach for every night. You can also put your regular books up there if you've run out of space in your living room bookshelf!
Put Up Some Plates as Decoration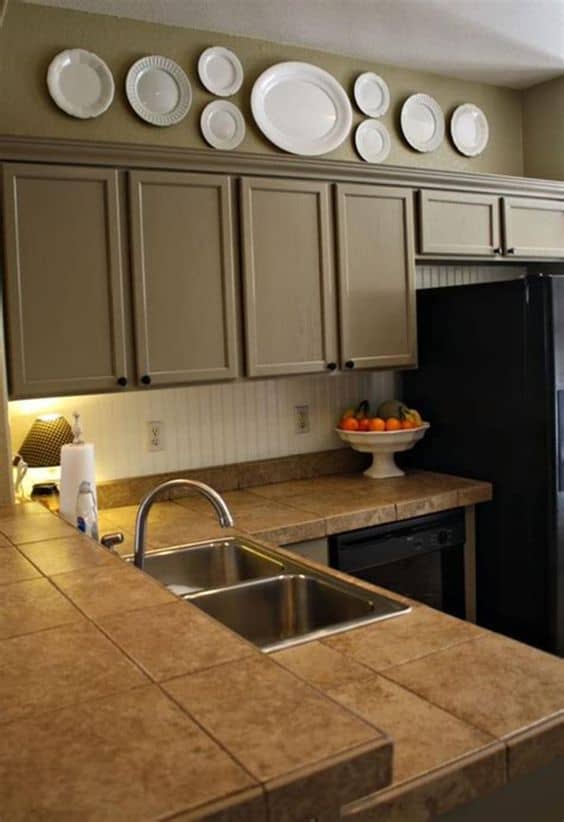 A lot of kitchen cabinet storage ideas involve stacking plates and bowls that are nicely patterned or less frequently used. This idea is a bit more unique though, because the plates are actually hanging on the wall in an interesting pattern.
You can get a nice spare set of white plates like this one for quite cheap at an antique store, or look for ones in colors that complement your kitchen.
Make a Chalkboard Wall for Inspiration and Reminders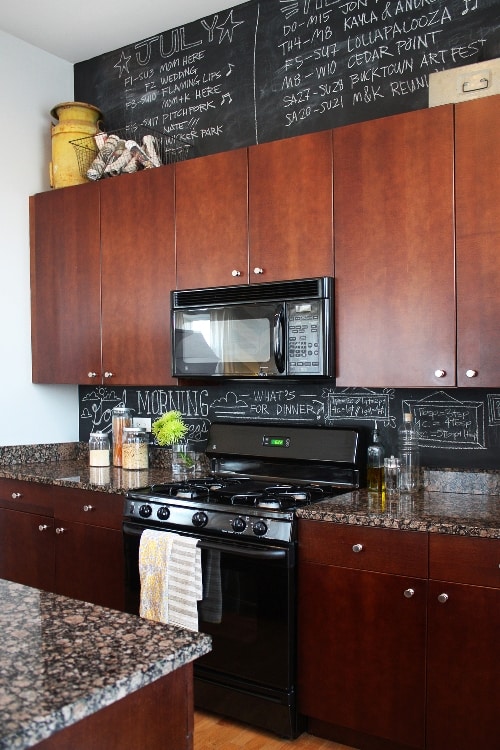 This chalkboard wall extends from the backsplash to the ceiling, covering the space above the kitchen cabinets. It's a great place to write notes, schedule reminders, and recipe ideas.
As you can see in this photo, the homeowner used the space above the kitchen cabinets, which is harder to reach, for the next few months' schedule. It's a great place to quickly check what events are coming up and you don't have to update it often.
Hang a Curtain to Hide Knick-Knacks
This is another great option for homeowners on a budget. You can simply put a tension rod and hang a short curtain to cover the space. Then, you can put whatever you need to store in that space, without worrying that it looks cluttered or messy.
This lovely pale curtain matches well with the backsplash and the rug, so it doesn't stand out or call unnecessary attention to itself.
Paint the Space a Contrast Color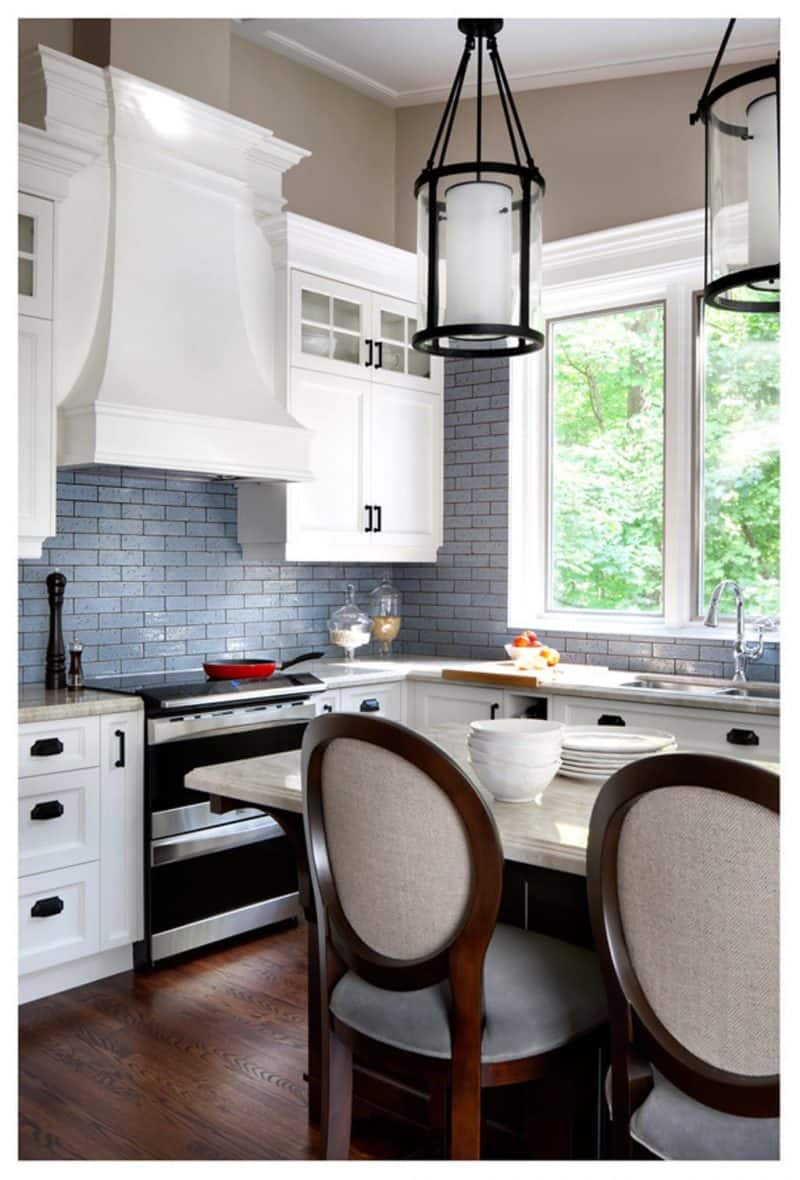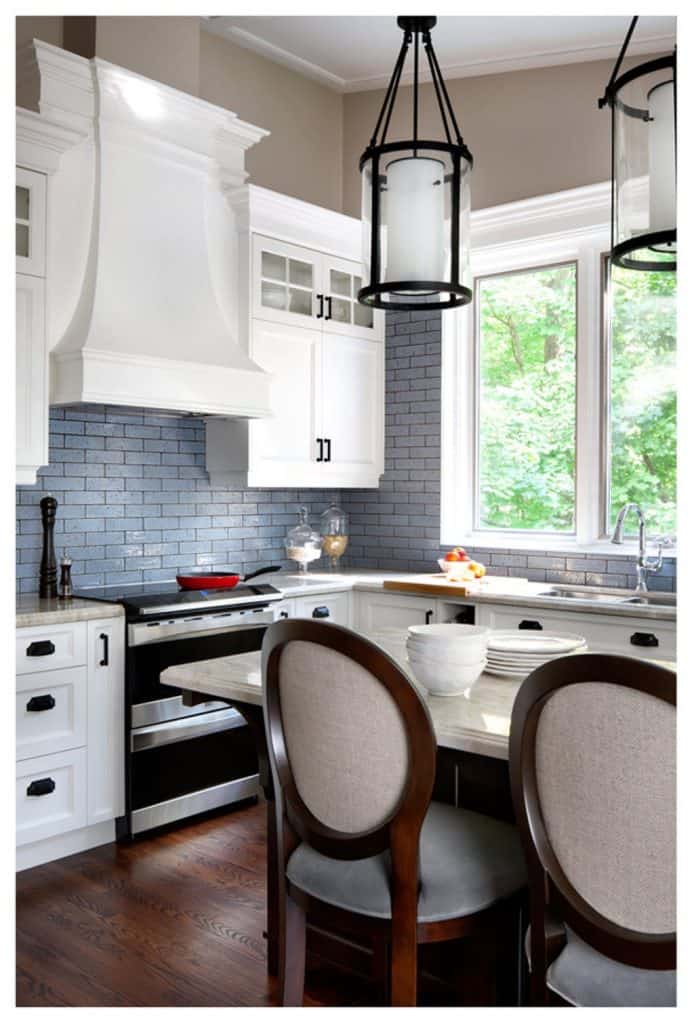 I saved for last what might be the simplest option of all, which is painting the space a nice contrast color to the rest of the kitchen. It's a simple and elegant look that you can update quite easily if you want.
Choose a color that works well with the cabinets, backsplash, and kitchen furniture, and it'll all blend together effortlessly like in this example.
Conclusion
Many kitchens are made with a space between the kitchen cabinets and the ceiling, and it's possible yours has spent the last few years collecting dust without doing much else for the room.
The good news is, there are dozens of ways to use this space in practical ways or just to decorate it and add to the overall style of the room. Depending on how much space you have to fill, it's up to you to use it to its fullest potential.
Now that you know it's not wasted space, how will you decorate above your kitchen counters?