Decorated Life is reader-supported. When you buy through links on our site, we may earn an affiliate commission. Learn More
What Color to Paint Walls With a Red Couch? – 15 Ideas
When you have a room with a red couch, you may have anxiety about choosing a color to paint your walls. Nothing makes a room feel off-balance like a clashing color palette.
Although red is a bright, bold color, it has a versatility that allows it to pair with many different wall colors, from similar-hued jewel tones that complement the richness of red to blank neutrals like white and beige for a cool contrast.
Check out these 15 ideas for what color to paint walls with a red couch.
Caliente by Sherwin Williams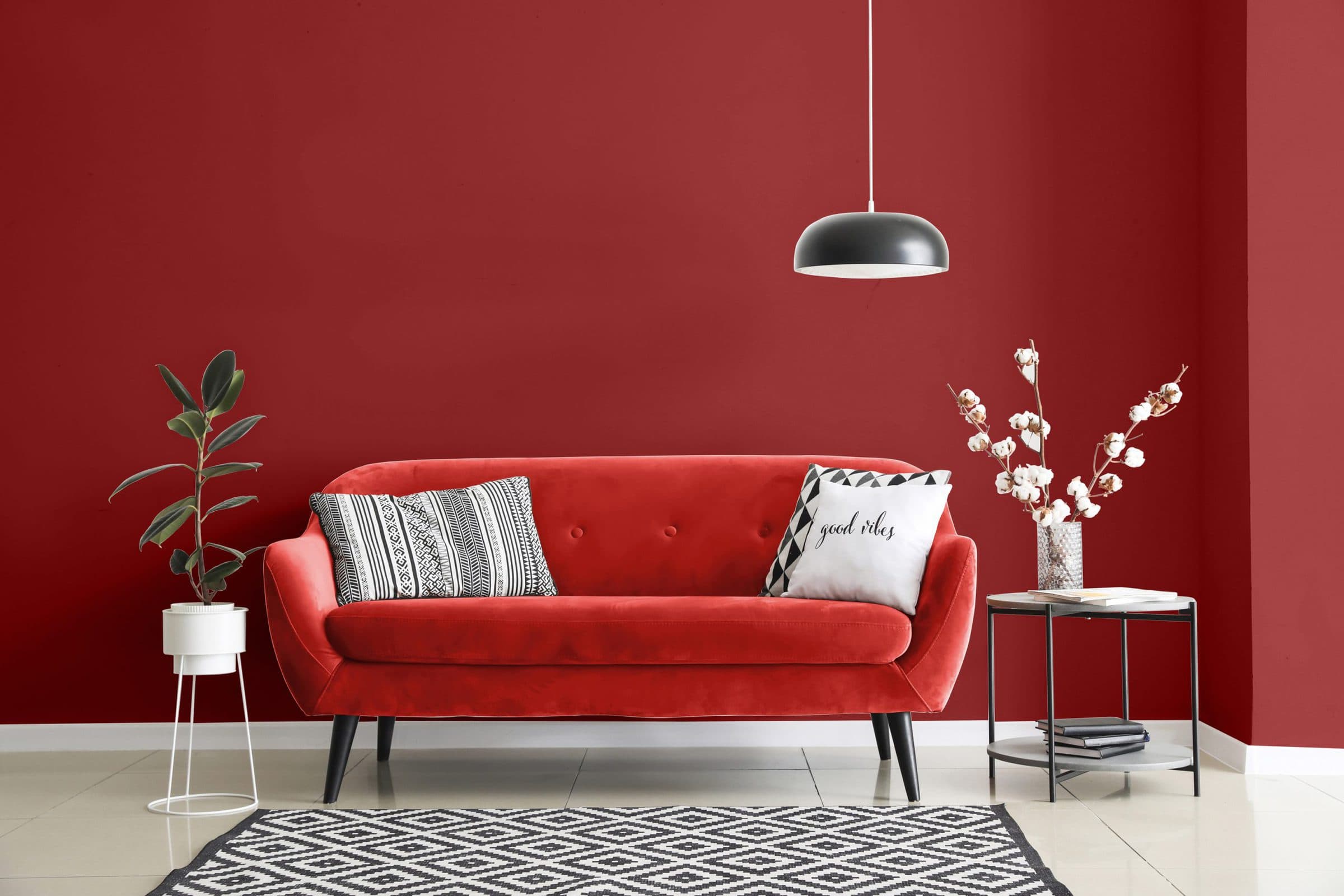 If you like a matching color scheme, you can go for red walls and a red couch. There are many different shades of red, giving you some versatility in your palette.
Caliente, by Benjamin Moore, is a luscious, vibrant red that pulses with energy. A drastically low LRV of 6.89 makes this shade pop with richness.
Fun Yellow by Sherwin Williams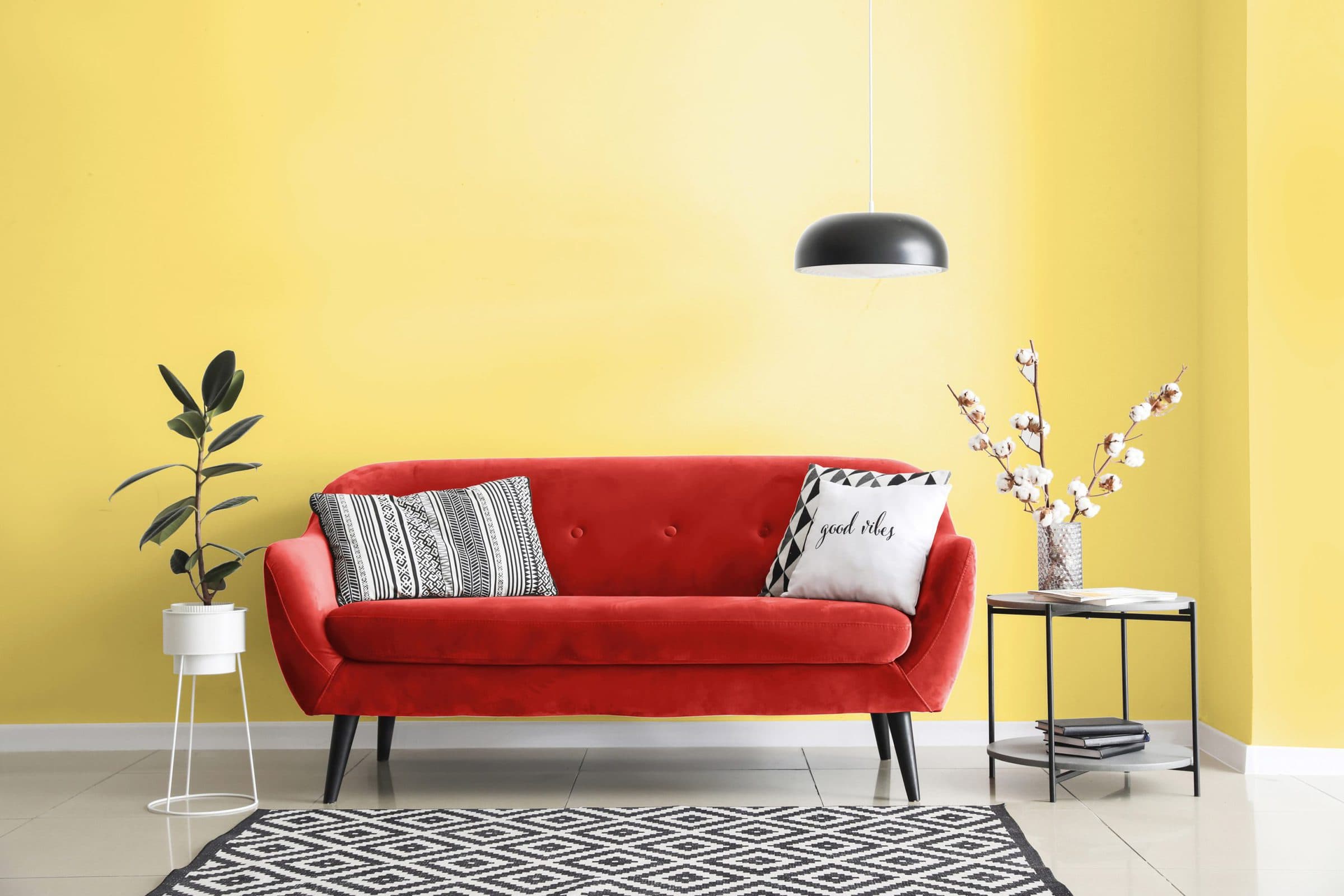 Fun Yellow is a bright, pale yellow with faint honey and gold undertones for vibrant, homey color. This light, golden shade of yellow, can help brighten your room by reflecting light around.
And pairing light yellow walls with a bright red couch can give you a fun, colorful design finely balanced between light and dark.
Cloudless by Sherwin Williams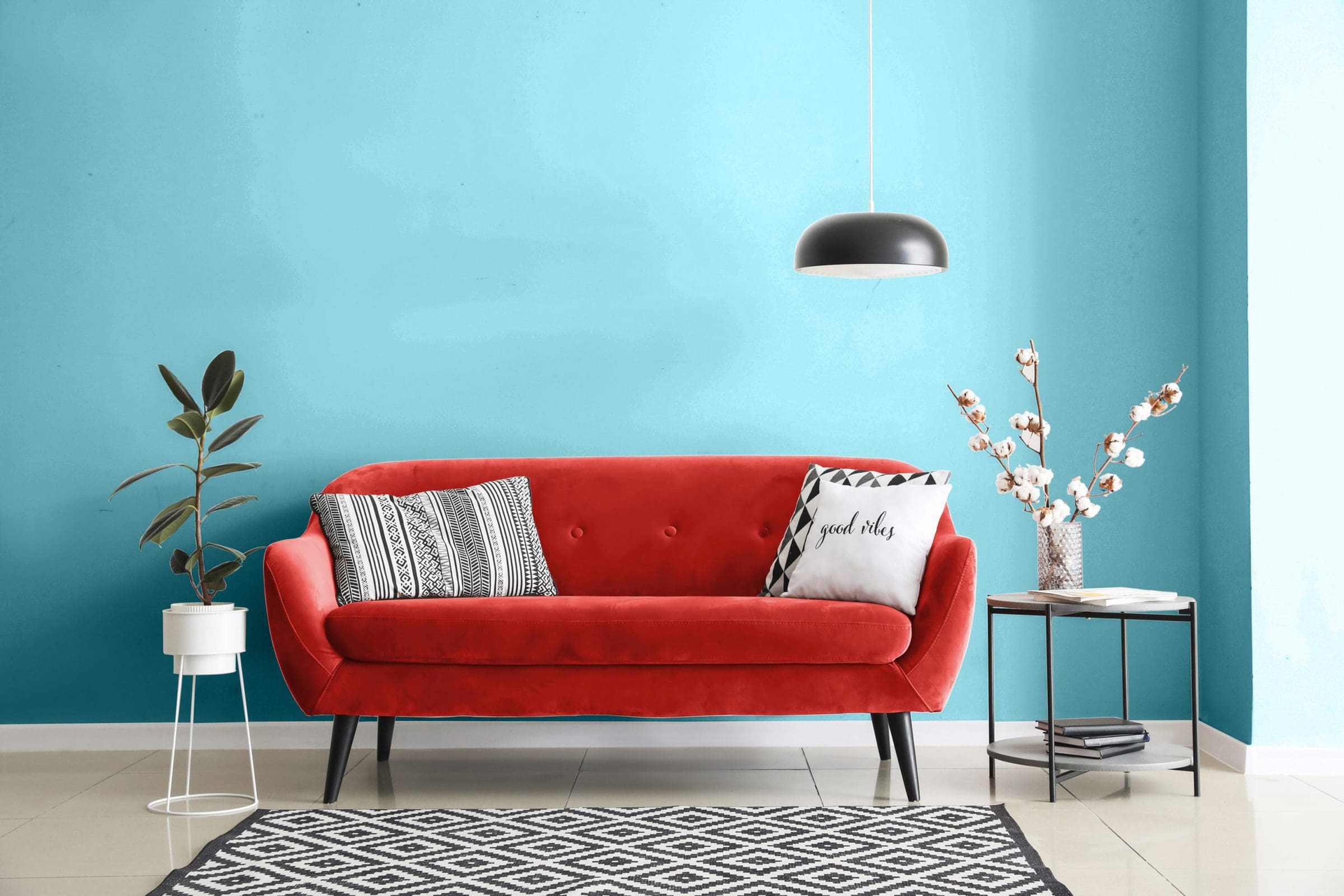 Sky blue, such as Sherwin Williams' Cloudless, may seem like a shocking color to use with the boldness of a red couch.
But on the contrary, the refreshing coolness of this shade of blue pairs subtly with the heat of red. Add a few throw pillows in geometric blue, red, and white prints for a patriotic feel or a retro 90s vibe.
Carnival by Sherwin Williams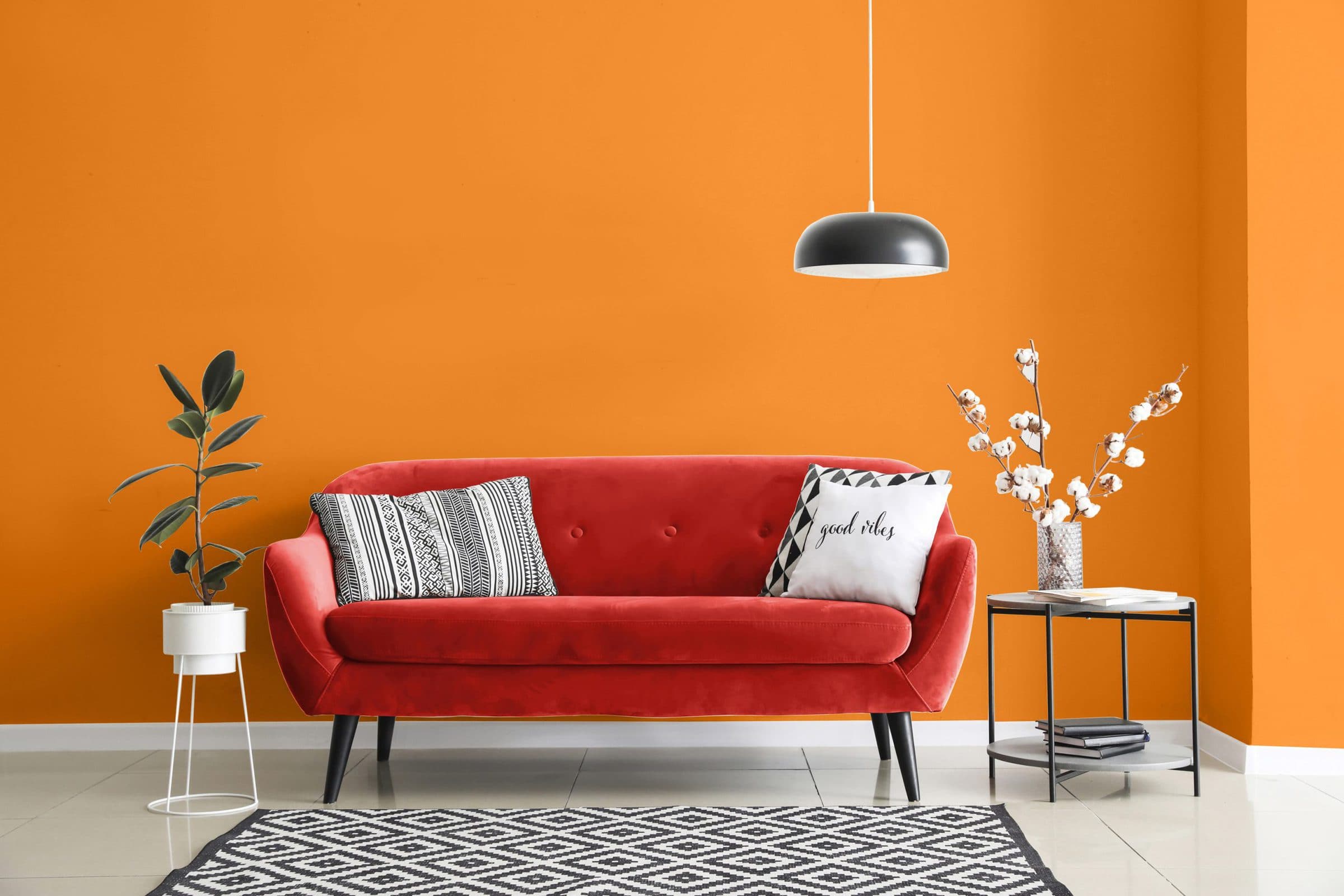 Like the gorgeous colors of autumn, red can look popping when mixed with a rustic orange. For example, SW Carnival is a bright orange that can get darker when matched with a red couch.
Tone the bright, bold palette with neutral natural colored accents in cream, ivory, light and dark brown, off-black, and pinks.
Westchester Gray by Sherwin Williams
Sherwin Williams' Westchester Gray is a modern-feeling color that can add warmth to a room with a red couch.
The darkness of the color, combined with undertones of mauve and blue hues, can mute the drama of a red couch and pull out violet hues that tone down the redness.
White Hyacinth by Sherwin Williams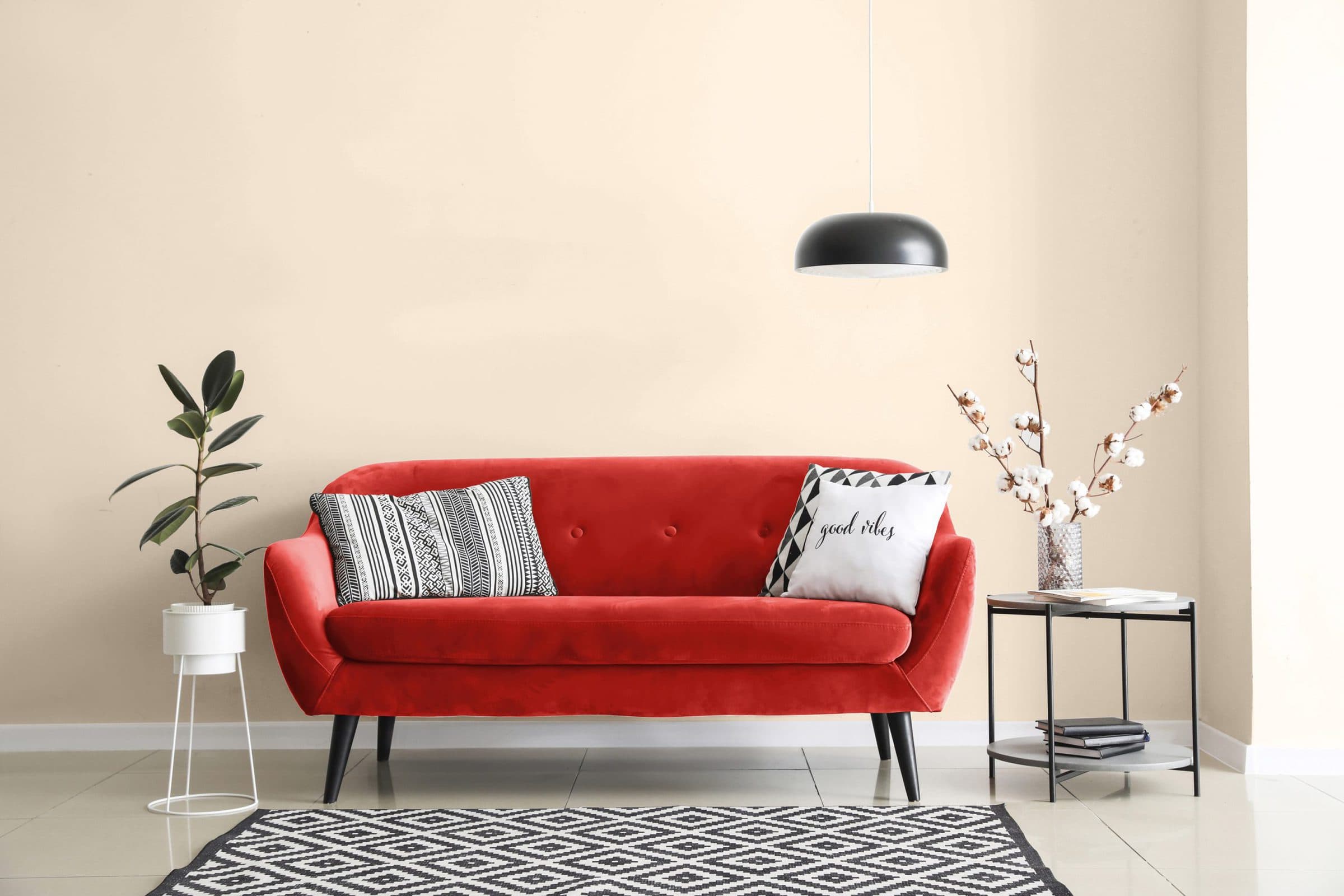 Unarguably, white is the best wall color for a red sofa. The bright off-tone of White Hyacinth helps give a modern flair to a living room with a retro red couch and a black and white accent color palette.
Although it's white, you can detect faint undertones of yellow, beige, and cream, depending on the nearby colors, giving this soft shade a fun chameleon effect.
Hale Navy by Benjamin Moore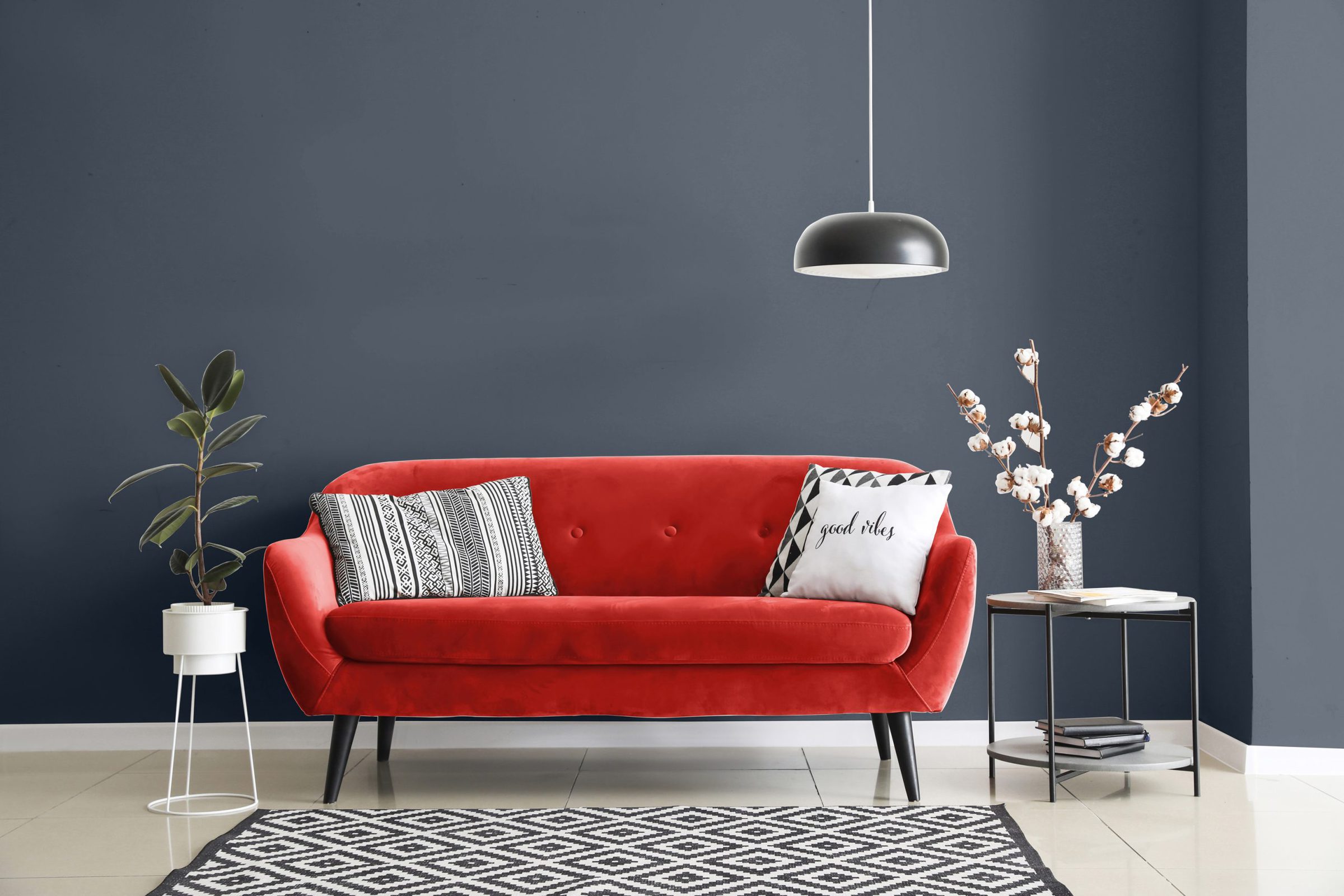 If you've never considered the color combination of blue and red, you're missing out on an amazing design concoction for modern and contemporary designs.
We love the beauty of a darker red couch, like burgundy or maroon, against walls in a brilliant dark blue, like this minimal LVR (6.3) Hale Navy from Benjamin Moore.
Alexandria Beige by Benjamin Moore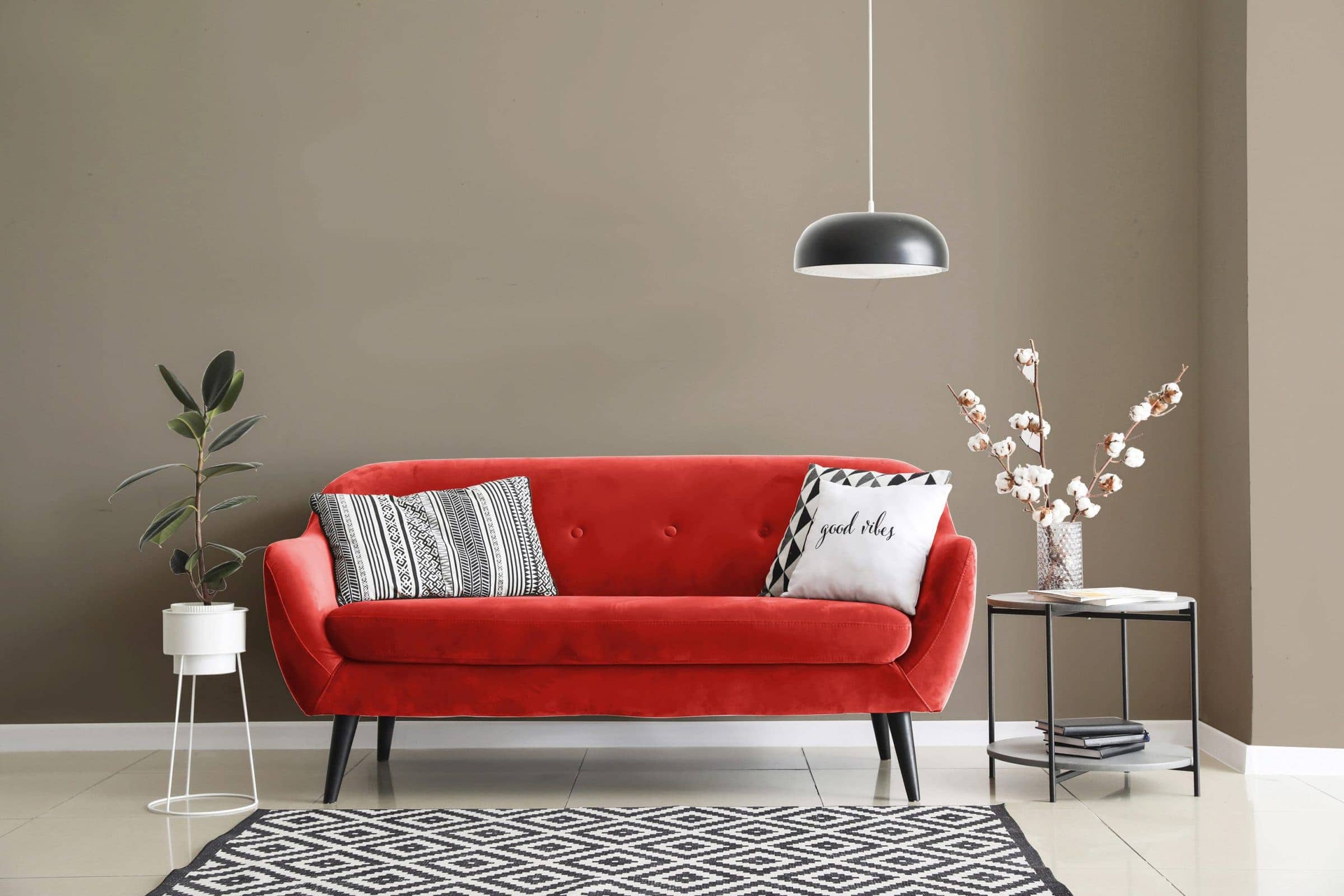 You can also get a stunning, refined nuance when using a red couch with beige walls. We're loco for the traditional timelessness of Alexandria Beige by Benjamin Moore.
With a low LRV of 28.06, this dark beige is a chameleon color, with a few multiple colors buried in the undertones, from dark brown to faint red and mauve.
Hollywood Gold by Benjamin Moore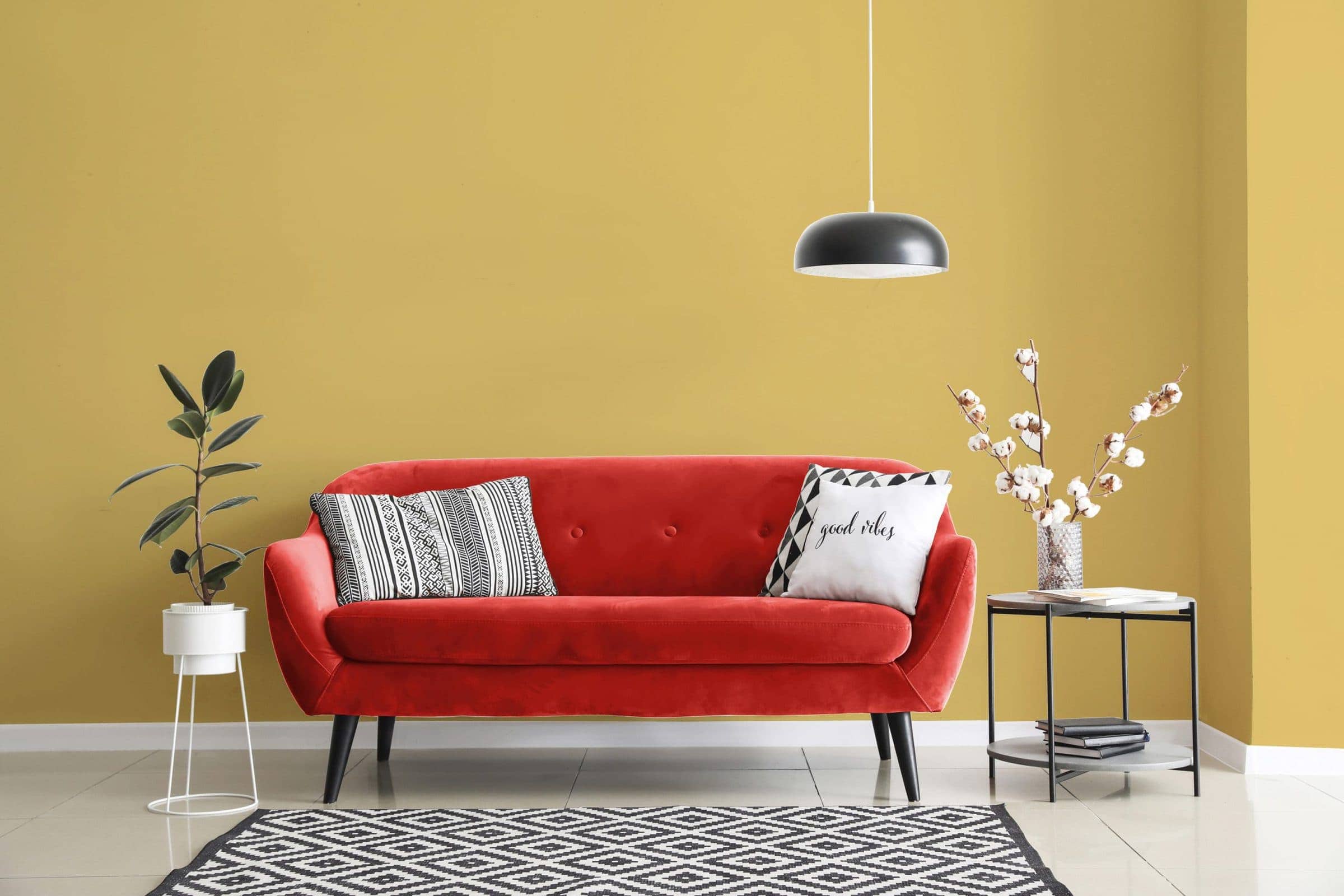 A Tuscan-inspired color palette is a huge range for people who prefer an earthy, European feel. This color scheme includes bold natural colors like brick red, burnt orange, deep black, olive green, and deep gold.
When you've got a rustic red couch, you can continue with other Tuscany influences for a warm, welcoming space. Choose a gold color for the walls with a red sofa, such as Hollywood Gold by Benjamin Moore.
Imperial Gray by Benjamin Moore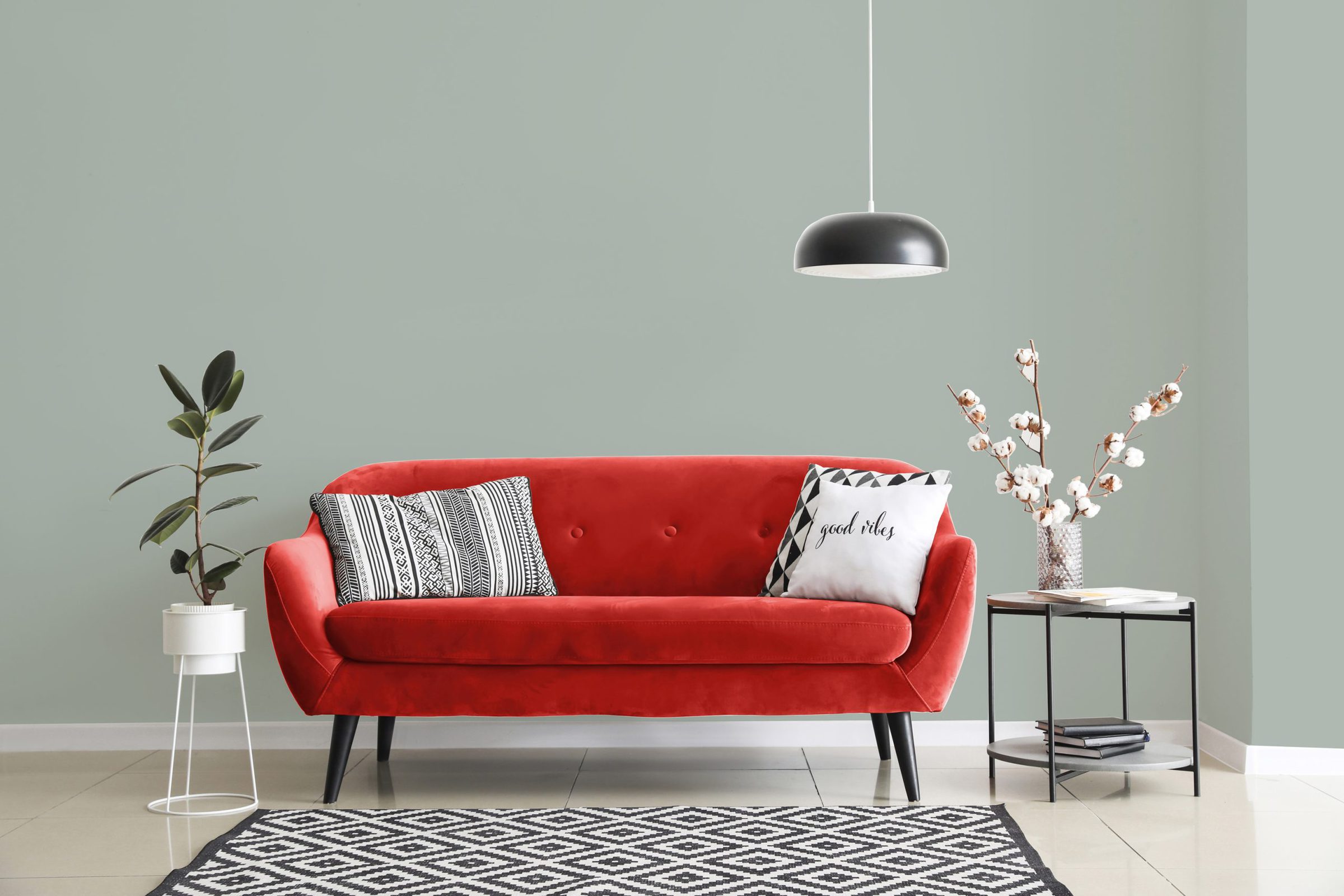 Gray and red is an intriguing color scheme that can work for multiple themes, from modern to traditional or transitional, and everything in between.
We're all about the aesthetic that comes from choosing a couch in a bold red with a dark-tinted shade of gray, such as Imperial Gray. The medium 46.97 LRV helps this darker gray stand out in bright rooms, although it may look dowdy in rooms with low light.
Atrium White by Benjamin Moore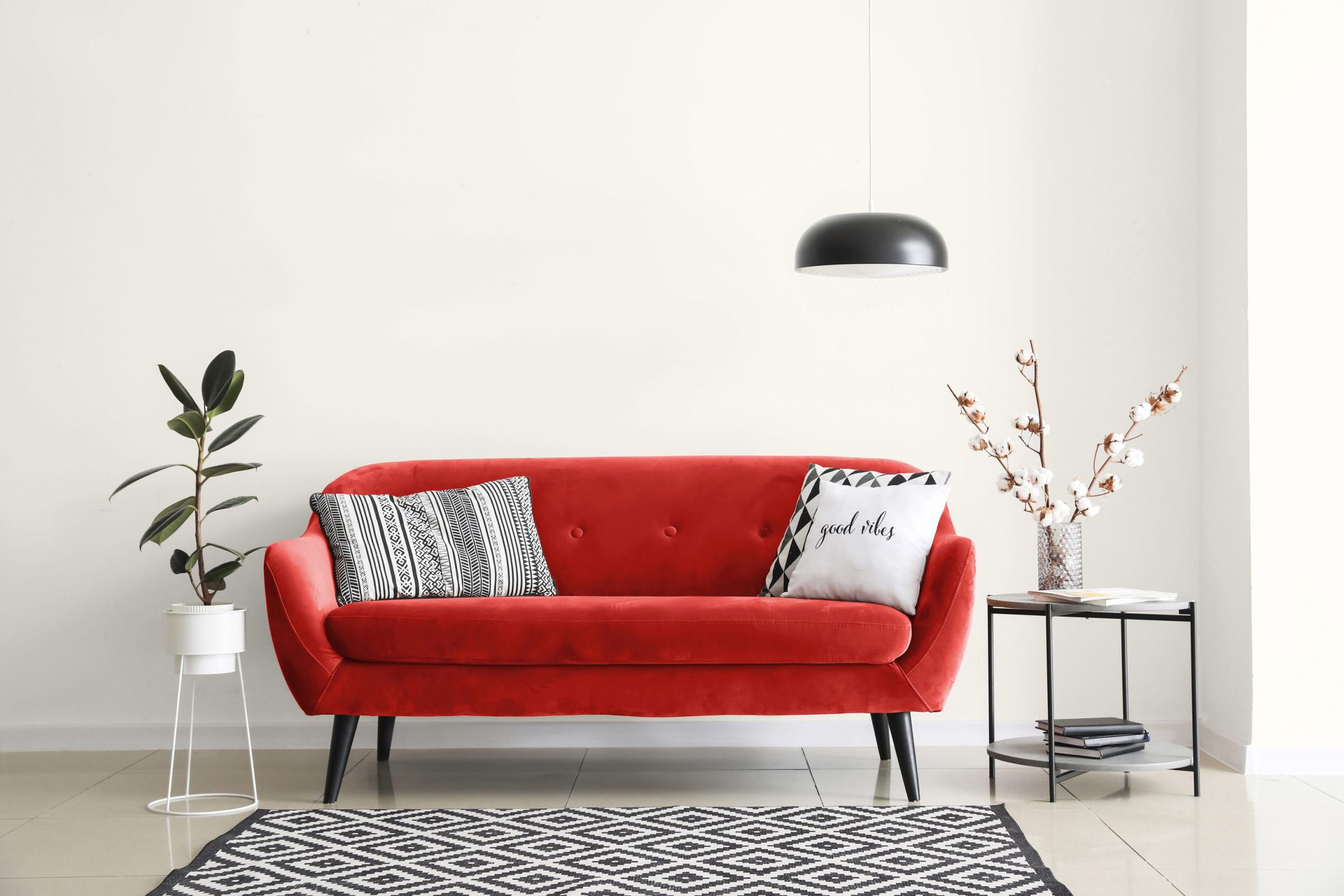 Combining a white wall color with a red couch can be a simple yet vibrant design choice. The boldness of red color can add some crucial personality to a majorly white room to keep it from looking too bland and sterile.
Atrium White by Benjamin Moore is a darker-toned white with very faint undertones of gray due to the lower LRV of 87, making this white absorb some light.
Squash Blossom by Behr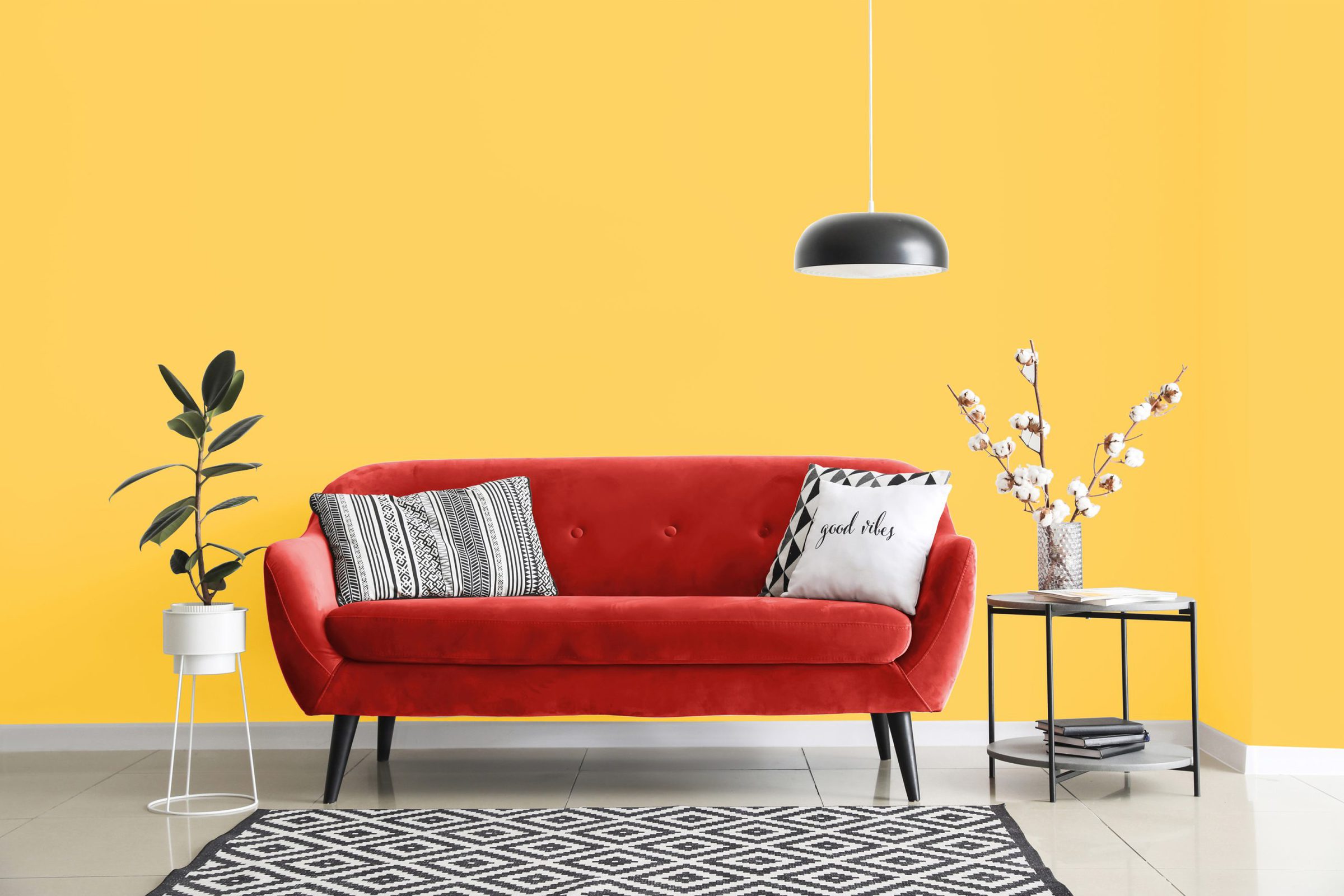 If you appreciate the natural landscape colors found in a Southwest theme – blue skies and the rich shades of the sun-baked desert – give some thought to going with a shade of yellow for the walls.
You can achieve a majorly contemporary vibe with a red couch and walls in a light, sunny yellow – try Squash Bottom by Behr. With an LRV (Light Reflective Value) of 71, this color can brighten up a room and tone down the boldness of a red sofa.
Semi-Precious by Behr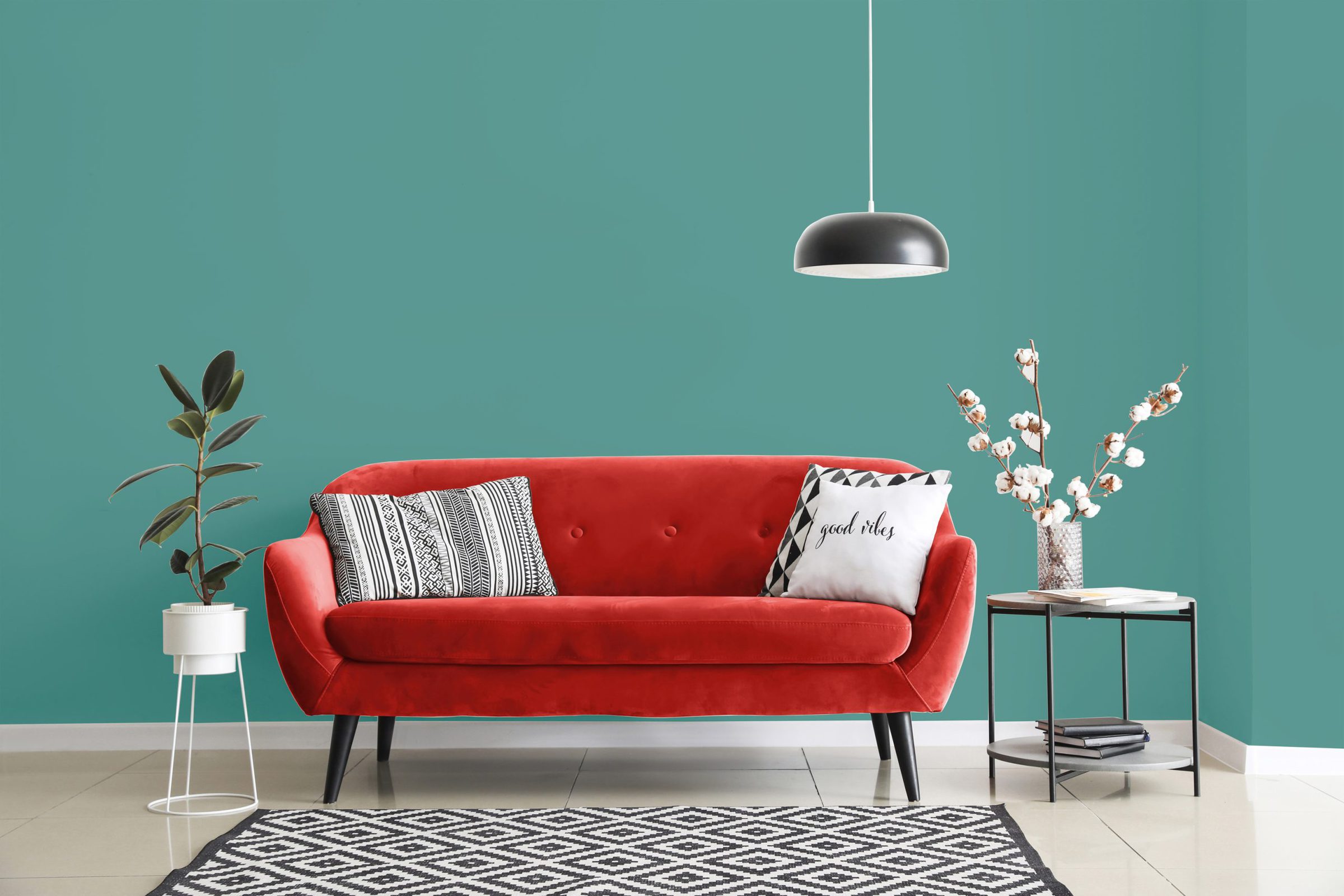 Red is a bold color that can become dominant and overpowering with the wrong combinations. But just as red can clash with some colors, it can also blend with many unexpected shades.
We're intrigued by the aesthetic you get when you match a rich, warm red leather couch with an unexpected wall color like a blue-green combination, such as Behr's Semi-Precious.
Green Smoke by Farrow Ball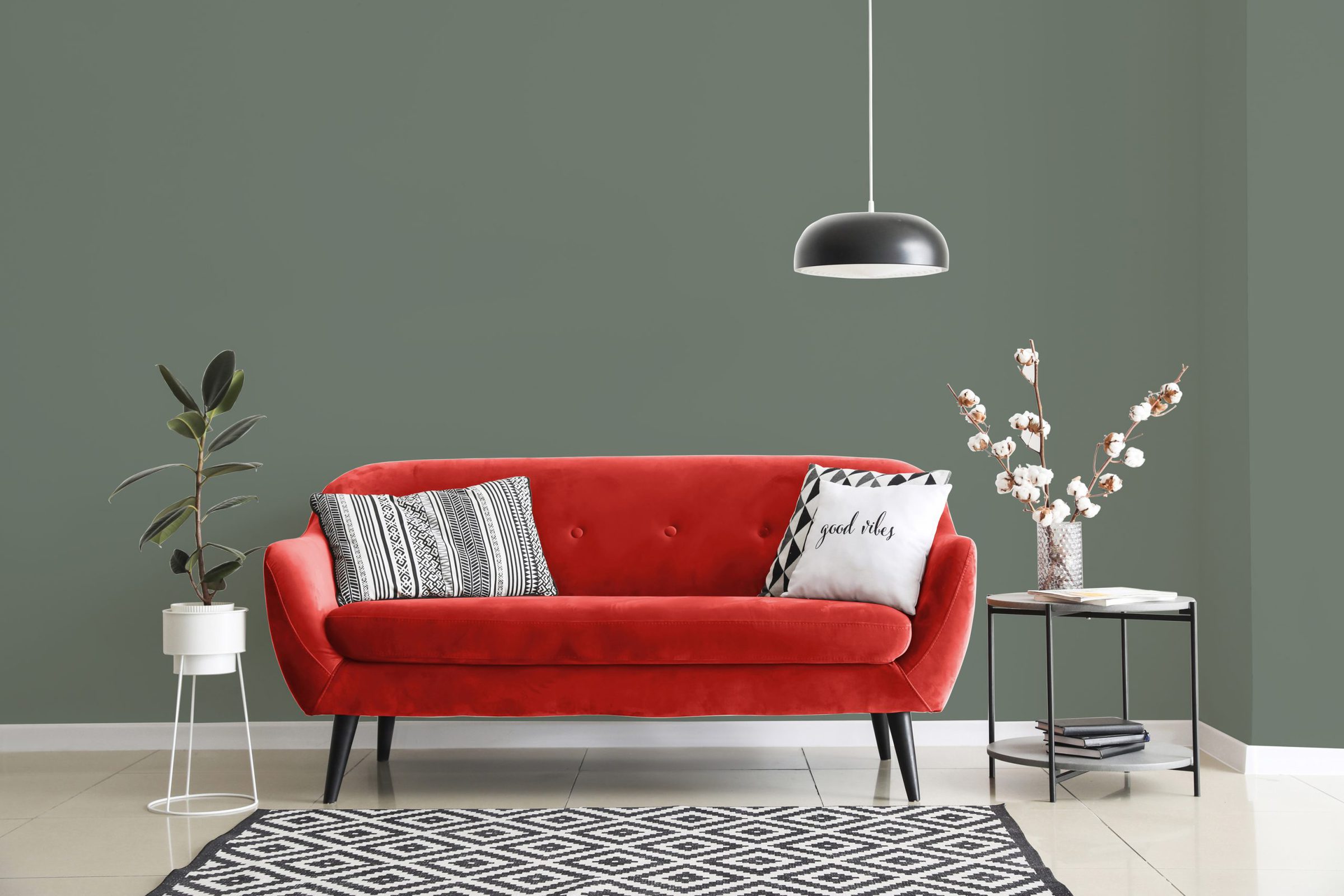 Green Smoke by Farrow & Ball is a wonderful color concoction that looks somewhat gray and quite green. Depending on the nearby accent colors, you might even notice some undertone hints of brown and blue.
Painting your walls this shade of gray-green and adding a large red couch to the mix can create a modern, transitional vibe.
Broccoli Brown by Farrow & Ball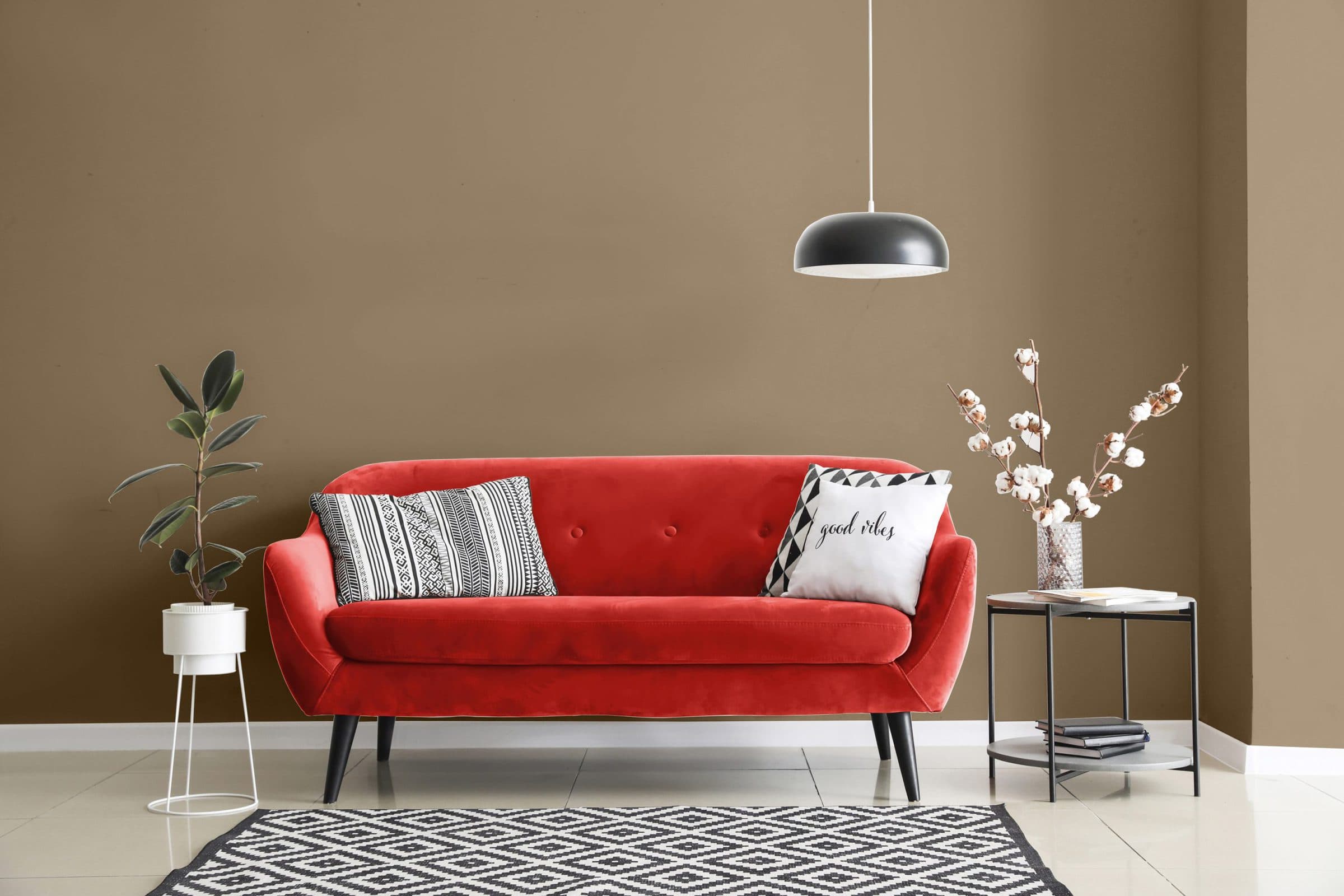 You can get a delightfully nature-inspired nuance by matching a red couch with rich brown walls. Broccoli Brown, by Farrow & Ball, offers a darker tone that can balance out the boldness of the red sofa.
Matching the warm tones of a red sofa with the warmth of a Broccoli Brown can help pull out the slight gray and red undertones in the walls for a complementary color scheme.
Final Closing
When you have a red couch, you want to consider your wall color seriously. But, pulling inspiration from other accents in the room, like the area rug, artwork, and pillows, is a great way to create a wall color that complements your red sofa.
Now that you've seen our fifteen wall color ideas to go with a red couch, drop us a note and tell us which statement moved you the most.