Decorated Life is reader-supported. When you buy through links on our site, we may earn an affiliate commission. Learn More
20 White and Gold Bedroom Ideas
Nothing feels more opulent and calming than a bedroom done in a white and gold color scheme. It's also a fantastic color palette for pairing with just about any accent color.
Join us on our journey as we explore twenty white and gold bedroom ideas. We'll look at how you can decorate with splashes of color to break up a light scheme and ways to use gold to glam up a white bedroom.
There's plenty of ideas to explore, so let's get down to the nitty-gritty!
Go for a Gold Boho Mirror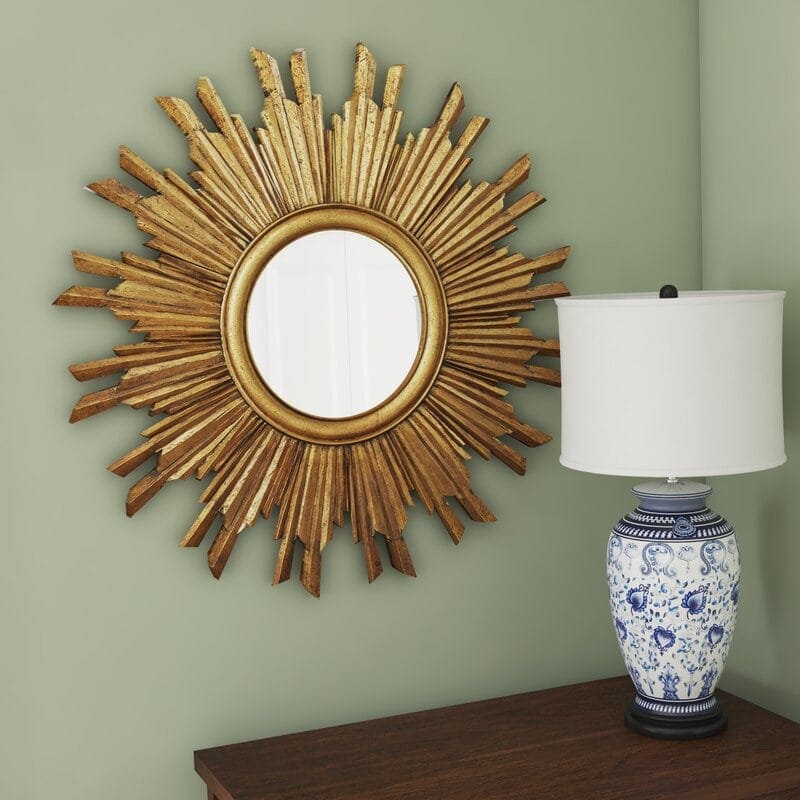 The strategic placement of mirrors is a fantastic optical illusion for making your room light, brighter and larger. And it's a tremendous decorating tool to add flair, color, and personality.
We adore this gold accent mirror in a central round (porthole) shape with a sunburst silhouette. The intricately carved wood frame in a distressed gold finish is perfect for contemporary boho white and gold bedrooms.
Add a Mid-Century Lamp to the Bedside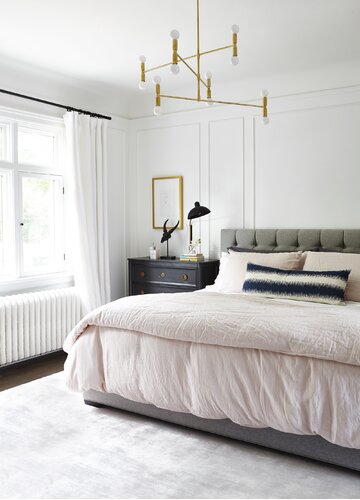 Having a lamp by your bed is essential for a functional bedroom. It's more relaxing to lounge in bed with a good book or a Netflix flick with the low ambient lighting rather than a bright overhead light.
We love this sleek lamp with a vintage bronze (gold) stem and a curved conical shade in a mid-century matte black shade for modern gold bedroom decor.
Get a Gold Bed for a Glamorous Bedroom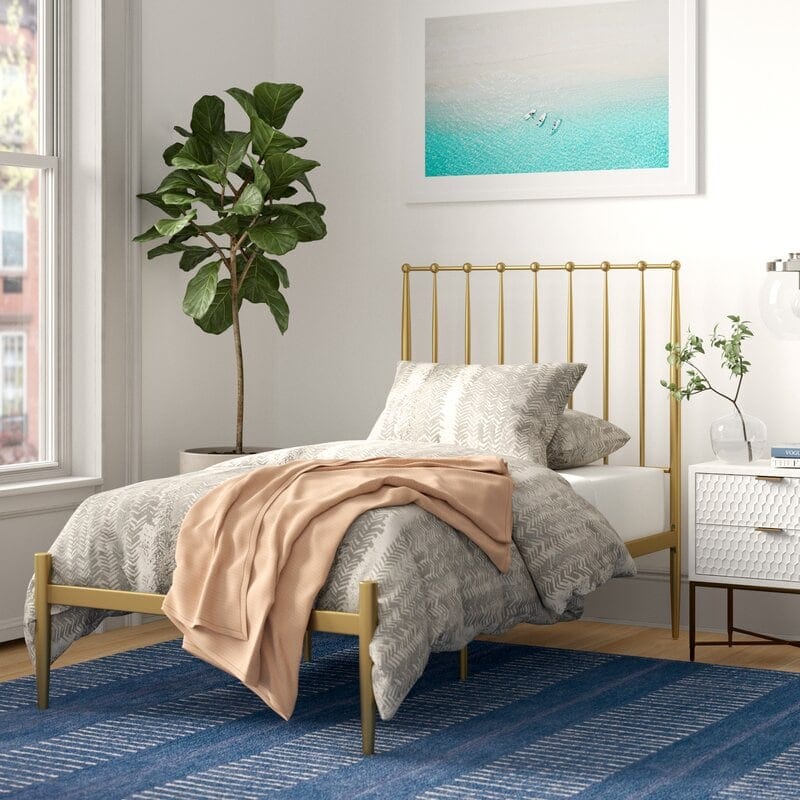 Give your bedroom a glamorous mid-century modern vibe with the use of a gorgeous bed in a sleek metal frame, geometric bedding in a neutral palette, and an elegant contemporary nightstand.
This beautiful bed frame features a shiny gold finish that accents the elegance of the globe finial headboard and tapered spindles and legs. And the slatted bottom eliminates the need for a box spring for a more minimalistic nuance.
Get Blingy with a Glorious Gold Lamp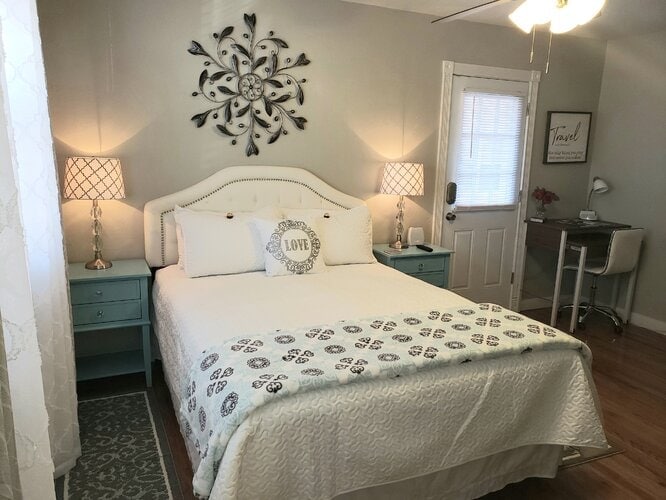 If you prefer a more glitzy aesthetic for a luxury white and gold bedroom in a farmhouse theme, you're sure to drool over all the glamor of this lamp.
The traditional metal silhouette balances out the bling in this bedazzled lamp shade full of K9 crystals that create incredible refraction of light throughout your room.
Grab Some Geometric Gold and White Curtains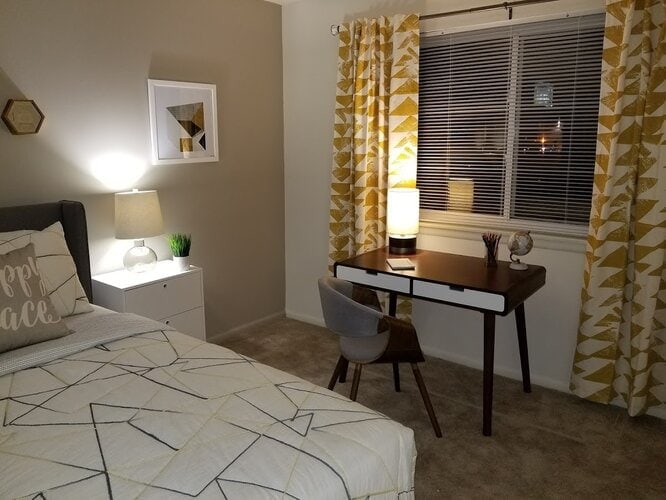 Picking the right curtains for your bedroom is not only important for covering your windows for privacy and blocking out the sun, but it's also an essential part of your room's design.
We love using a geometric print curtain for a mid-century modern nuance. Sleek minimalistic wood furniture and a contemporary geometric print bedding in white, black, and gold lines are perfect for floor-length curtains in a white and gold geometric print.
Adorn the Walls with Glossy Gold Lips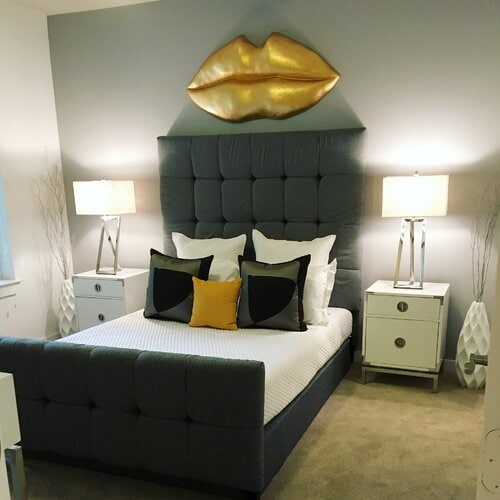 If funky retro is more your style, you can throw together an eclectic mix of pieces and call it a style. For example, this bedroom combines traditional white nightstands with chrome pieces, funky textured vases, modern metal abstract lamps, and pillows in white, green, and gold.
And to adorn the walls, you can go with a pop art piece like gaudy gold lips on a black and pink chevron pattern square canvas.
Feel Over-the-Top with Gold Bedding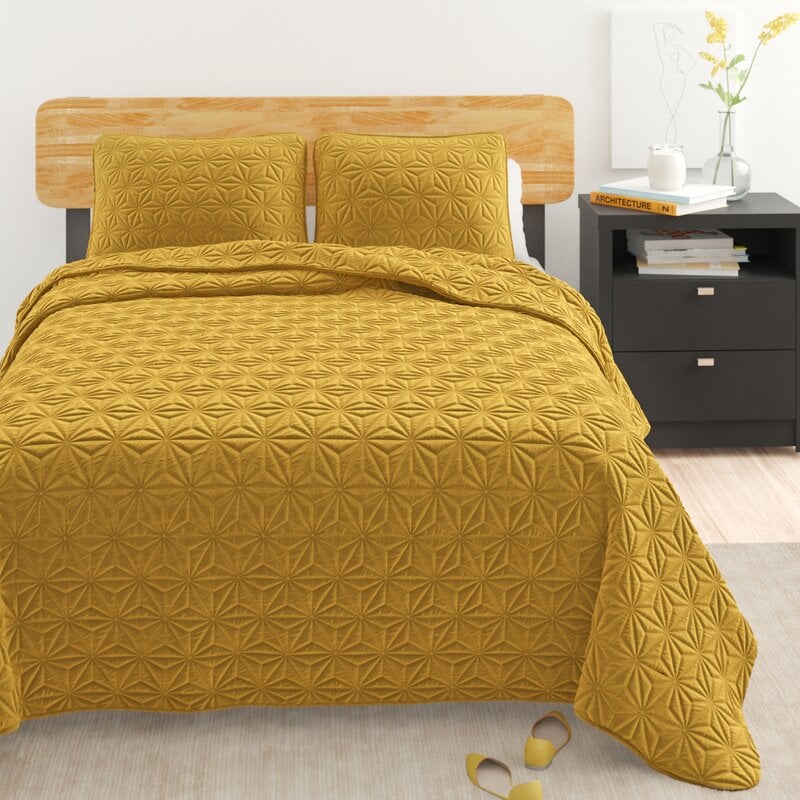 Gold is a fantastic accent color to use with white, as it can warm up the coolness of the neutral and add some color to keep things from looking sterile or washed out.
And what better way to enhance your white room's aesthetic than by using gold for your bedding. We adore this reversible textured geometric print with corded edges in solid honey gold.
Choose Gold and Blue Wallpaper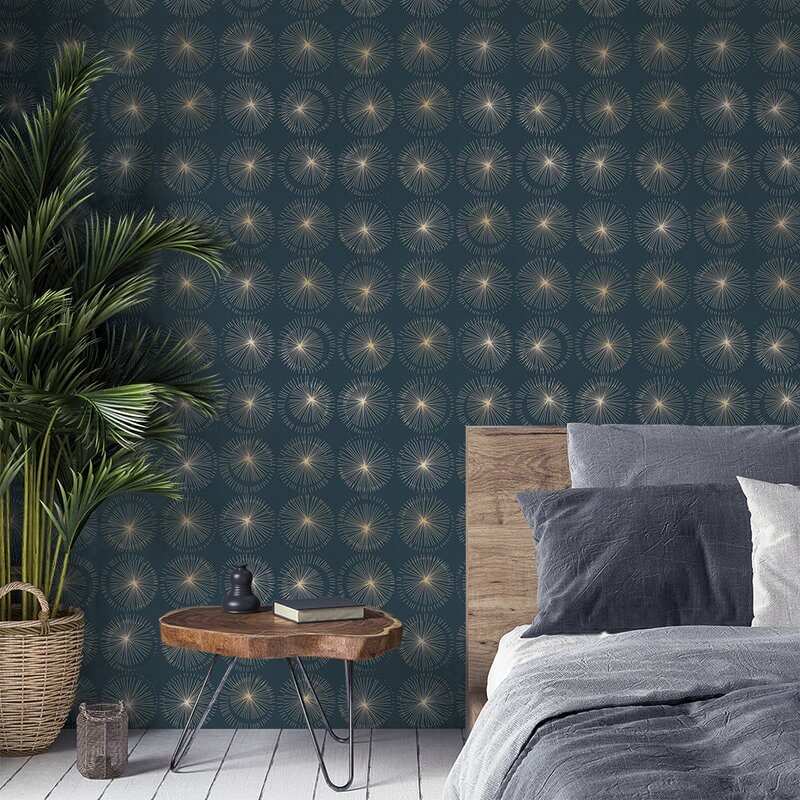 The task of hanging wallpaper used to be the messy stuff of your nightmares. And at the end of the day, your arms would be burning, the glue would be everywhere except on the walls, and that beautiful paper you picked now looks like a hideous kindergarten project.
We can't get over the ease of choosing wallpaper that you can peel and stick. No mess and no fuss. Just a glorious work of art. The rich navy blue base looks modern and stylish, and the gold sunbursts add a touch of color and design that looks fabulous with white-washed plank floors.
Create a Focal Point with a Chandelier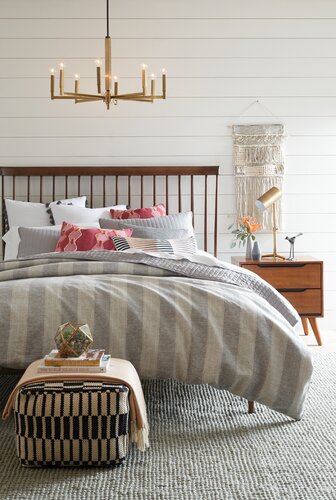 Adding a stylish chandelier is a unique way to give your room personality and functionality. There are tons of designs to choose from, giving you huge creative freedom.
We love this mid-century modern chandelier, featuring eight clean-lined arms in a gorgeous gold finish. It pairs perfectly with the different white touches, from the woven Boho tapestry wall art to the gray and white striped bedding and even the black and white patterned stool.
Mix Gold with Various Blues and White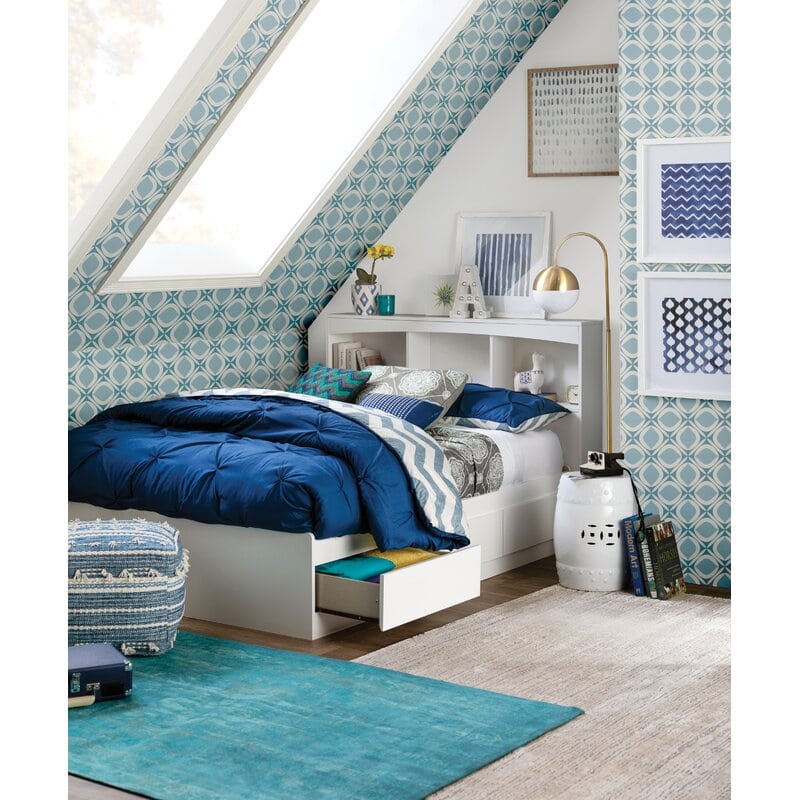 The metallic warmth of gold and the versatility of neutral white is an incredible color combination that you can pair with bold colors like this room full of various shades of blue.
In this bedroom, you can see that choosing a dark cerulean blue makes this storage bed into art, while the white and blue patterned wallpaper, pictures, and bedding add subtle pops of color tied together with a gold globe lamp. And adding a ceramic stool in classic white is perfect for an impromptu bedside table.
Metallic Gold Fish Wall Art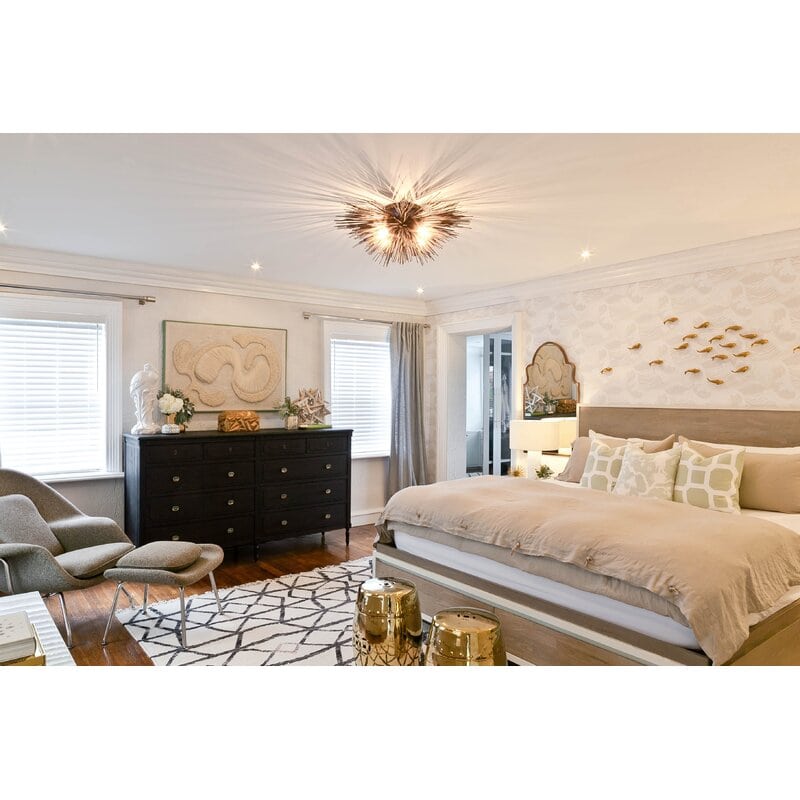 If the ocean inspires you (aren't we all?), you can capture the very essence in your white and gold bedroom with the unexpected use of adding some metallic goldfish arranged into a school for delightful wall art.
This room incorporates a lot of white and light-colored pieces, from the geometric white and black rug to the white and gray patterned feature wall and even the framed pictures, displaying an abstract image in a neutral tan. Goldfish and a funky gold light fixture complete the look.
Make Magic with Gold, White, and Rich Red Wood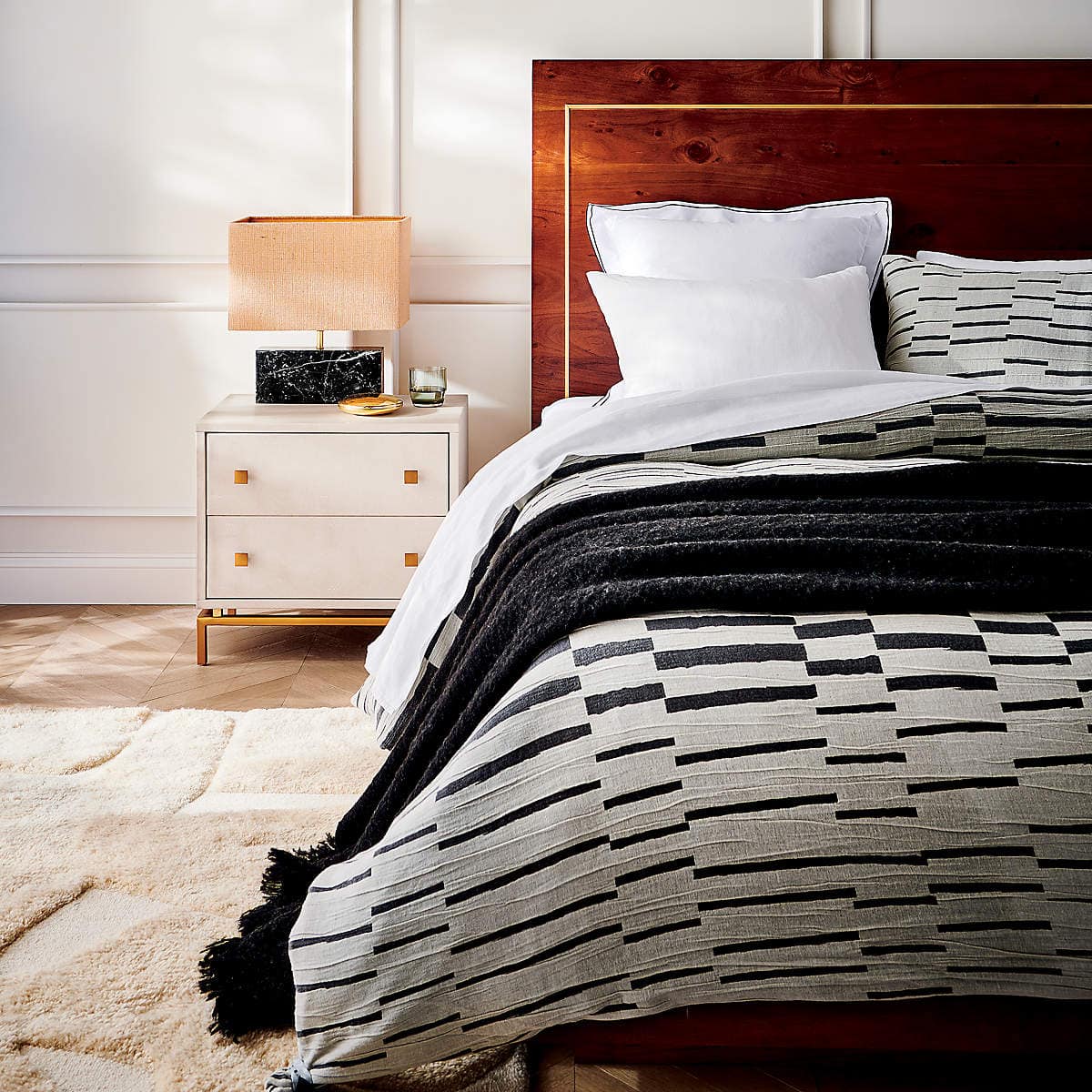 No bedroom design is complete without the use of a functional nightstand. You can get as wild as you want with the unexpected. Or you could go with a classic box shape in a soft white, with gold accents for a touch of modern.
This room incorporates an eclectic mix of furniture and colors for a one-of-a-kind white and gold bedroom. The gold square knobs match the gold trim on the rich red bed, while the modern lamp in a black marble base hosts a gold stem and a woven, rectangular tan shade.
Oval End Table in Mixed Materials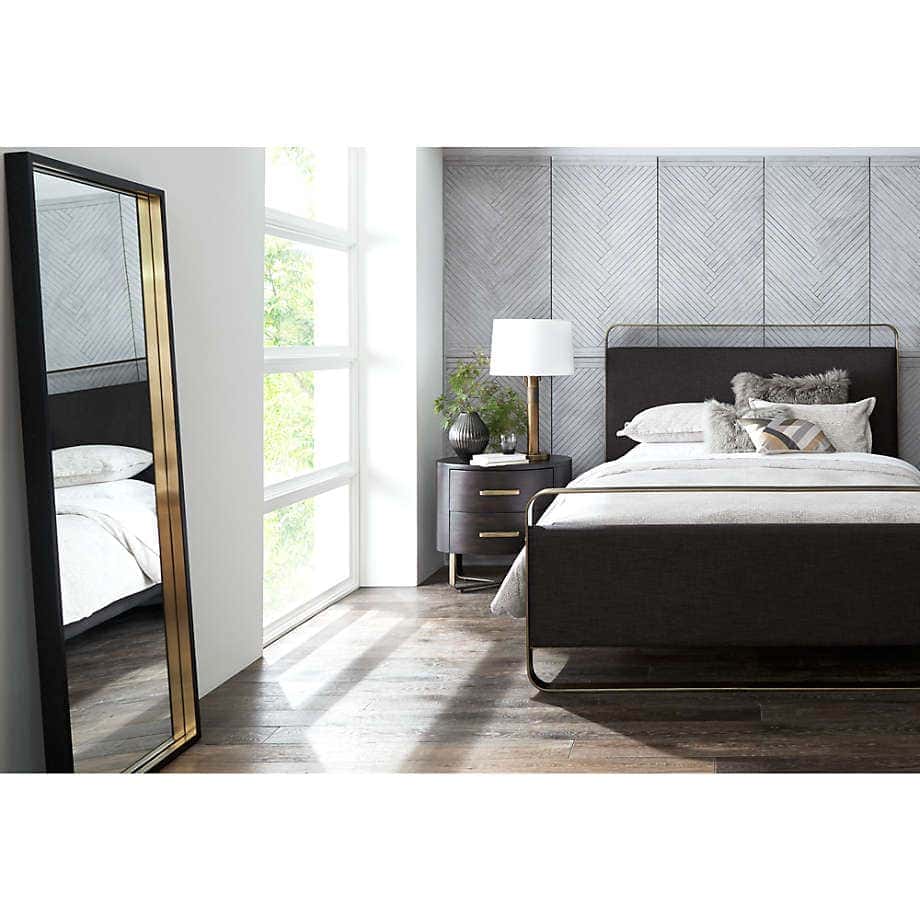 You have as many options for the end table style you want to use in your gold and white bedroom as you do with all of your design choices.
We love using an unusual nightstand, like this irregular oval nightstand in a rich dark mango that appears to float on top of gold (antique brass) curved iron legs and horizontal oval handles.
Mix In a Morrocan Rug in Nude Neutrals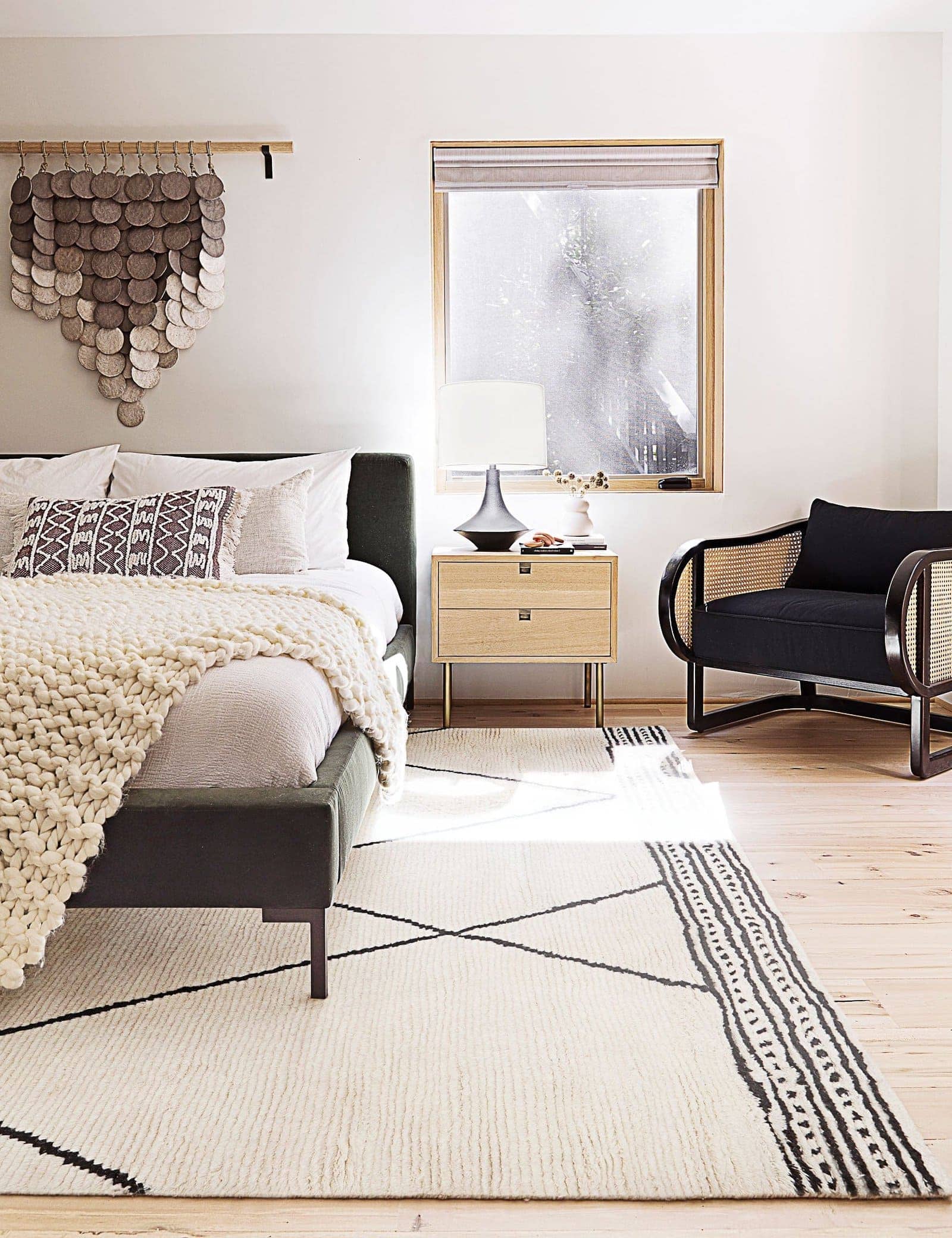 Morrocan-style rugs are a beloved design accent due to their versatility. Just about any theme can work with incorporating an elegant, understated carpet in a classic print.
This stylish rug in soft ivory features black accent lines that form a contrasting border, while the thick pile provides comfy cushioning for your tootsies (feet). It's the perfect piece to tie together a room of eclectic pieces, like the dark upholstered bedframe and sleek chair with rattan sides.
Try a Textured Tufted Headboard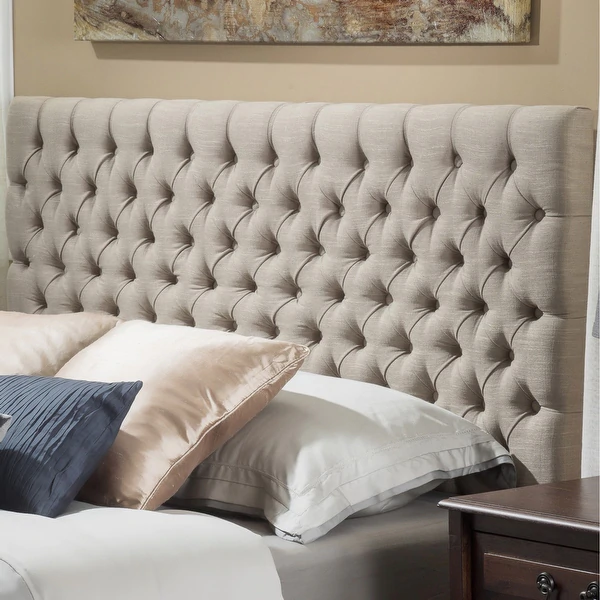 Not all white and gold bedrooms have to use these colors dominantly. In this stylish bedroom, the walls are a matte tannish gold shade, and the main use of gold and white is in the accents on the bed, such as the sheets and throw pillows.
As this scene demonstrates, white and gold go with any colors, including this transitional tufted diamond button upholstered headboard in a sand fabric (gray) color.
Show Off Your Style with Shiny Furniture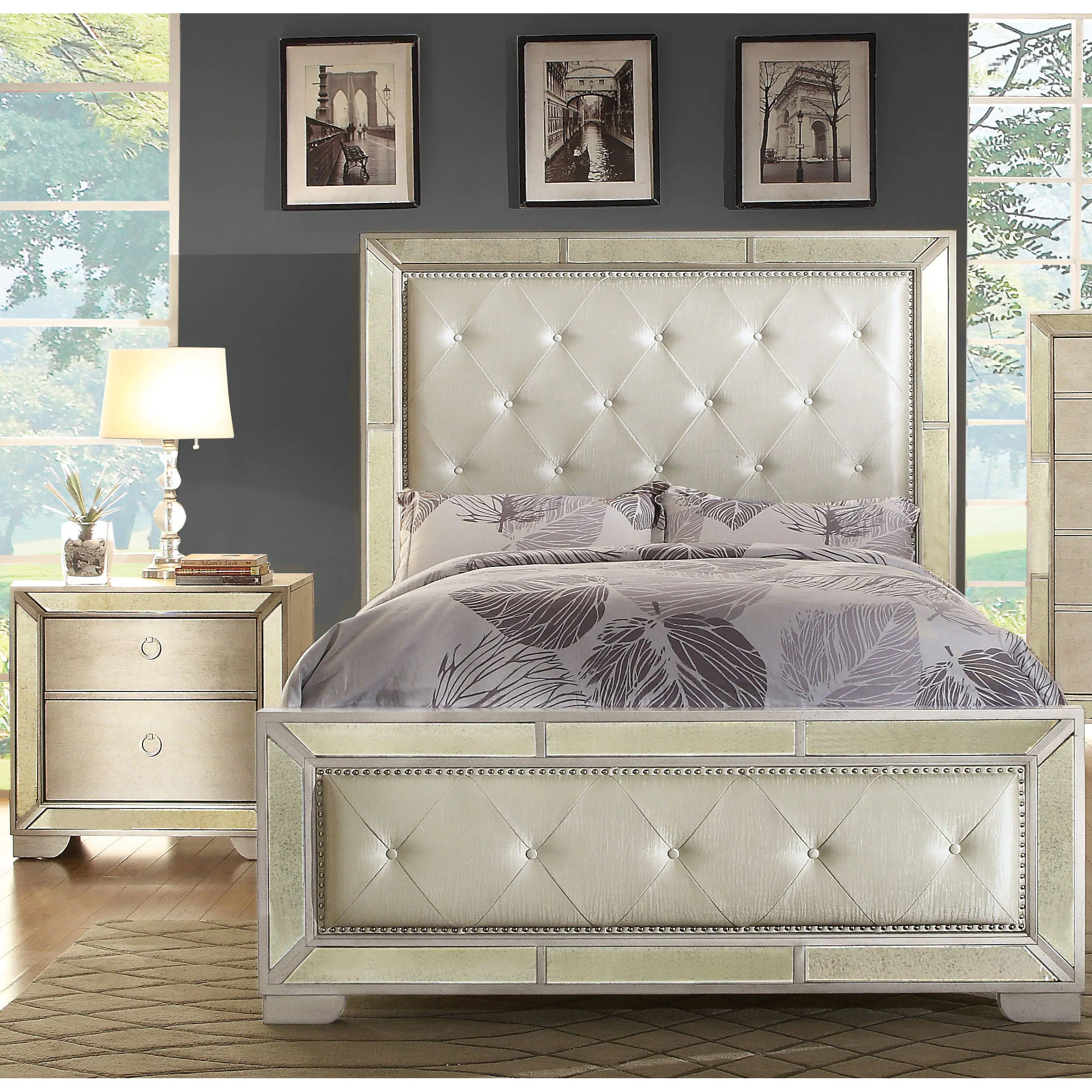 Your bedroom can receive a major fancy upgrade with the simple incorporation of an upscale furniture suit, like this shiny bed and corresponding nightstand.
The padded faux leather headboard with exposed nailhead trim, glitzy diamond tufting, and gold mirror glass-panel inserts matches the two-drawer wood nightstand with antique pull rings in a chic finish.
Consider a Clean-Lined Table in White and Gold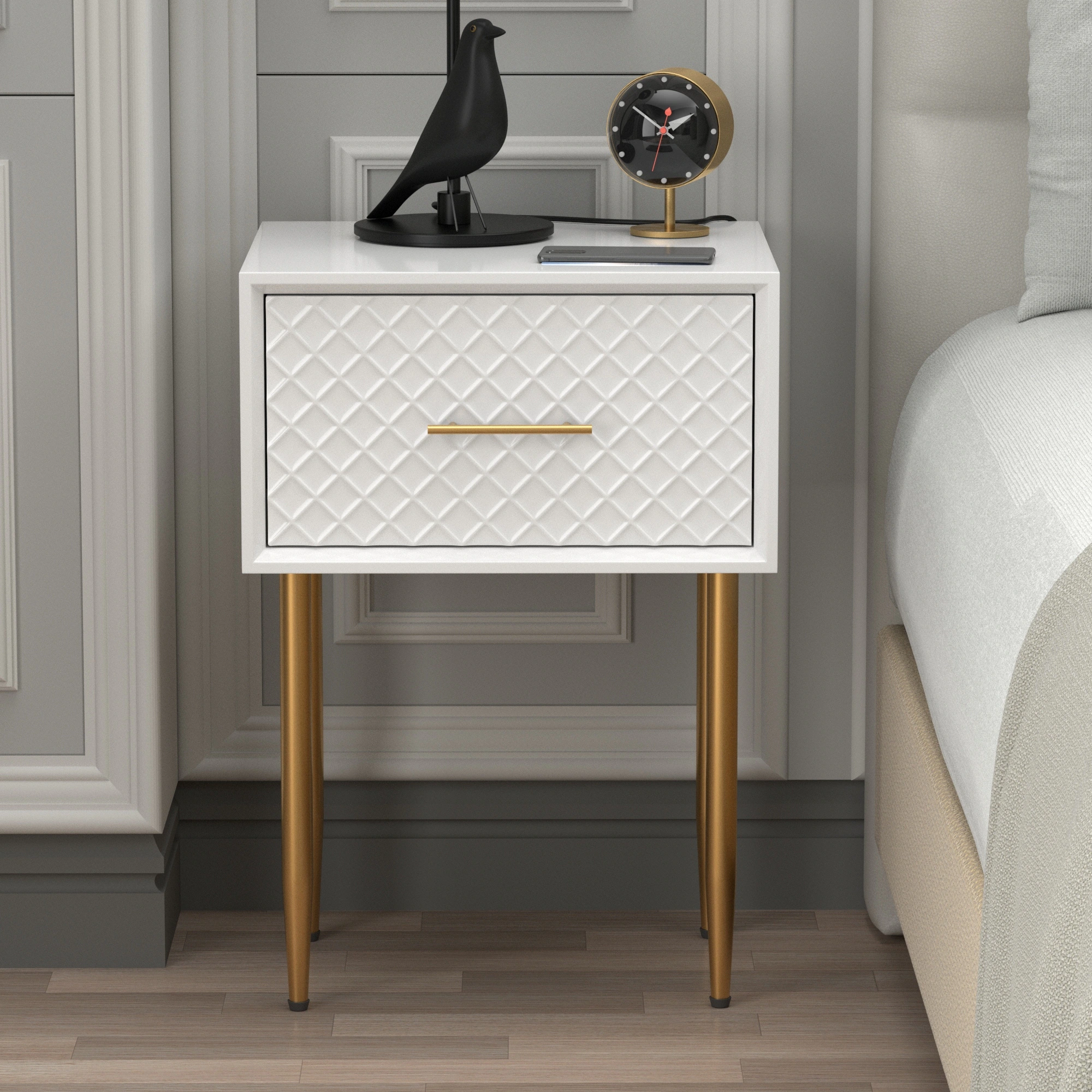 You don't have to use a lot of accent pieces and bulky furniture to achieve a classy bedroom look. Instead, you can succeed with a basic bed frame and a simple, clean-lined accent table.
This small, white nightstand features a single drawer with a sleek gold handle and a diamond textured panel front, and four skinny gold legs for a minimalistic luxury design.
Take On a Tri-Lantern Light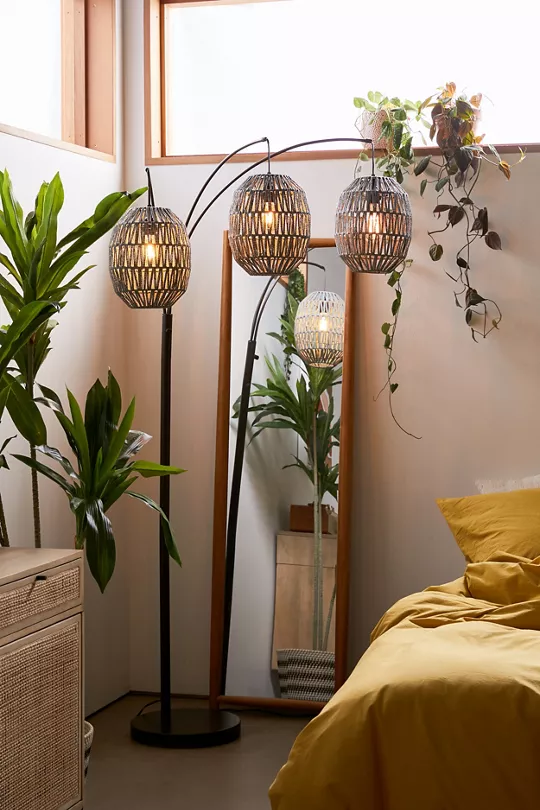 Floor lamps offer style and lighting to move around the room for better ease of use. If you enjoy a boho theme, you're sure to fall in love with the nuance achieved with this delightful lamp with three separate domes.
We're in awe over the attractiveness of this black metal base floor lamp with three woven rope lantern shades hanging from a tri-neck design. The modern bohemian flare is superb for jazzing up the neutrality of a white and gold bedroom.
Nice and Neutral Floral Rug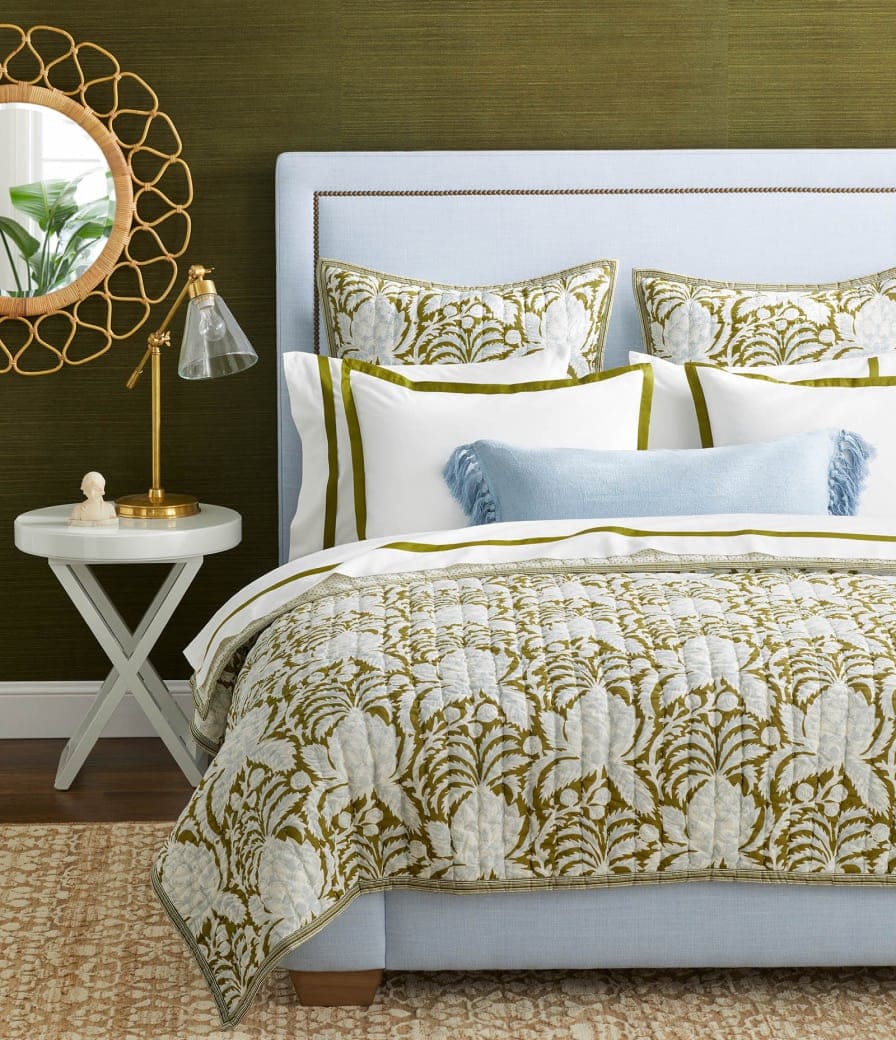 We always recommend an area rug to complete your white and gold bedroom design. Not only does a throw rug keep your feet warm and cozy, but it can also add a dramatic pop of color and style to your room to tie the entire design together.
We're crazy for this attractive simplistic rug in a neutral tri-color palette of hand-knotted twisted wool in a traditional Persian pattern consisting of varying pile heights for a raised floral textural design.
Have Fun with Fuzzy Florals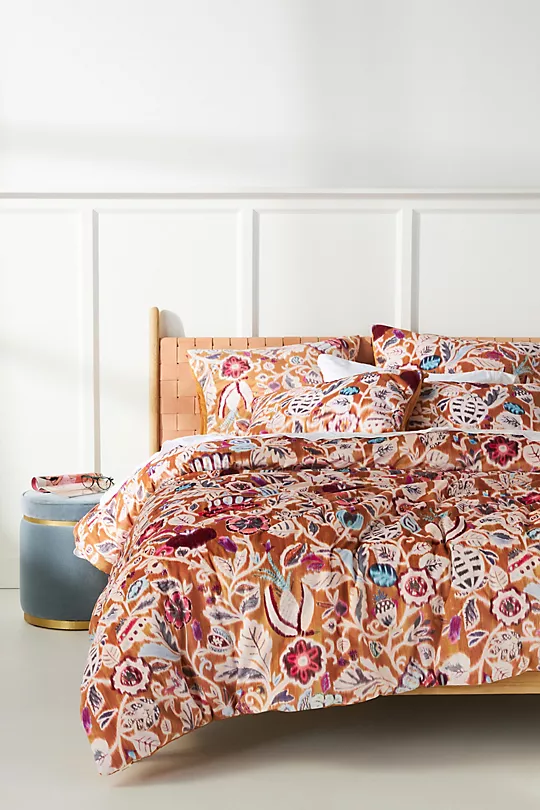 When you want to jazz up your gold and white bedroom, it's a fun trick to rely on a printed bed set in a fun pattern.
How cute is this boldly colored bedding in a delightfully feminine floral print of soft velvet?! The bold shades of orange, blue, black, and pink pop against the light blue, gold-rimmed stool that doubles as a nightstand. Then finish the look with ochre (orange) silk sheets and pillows.
Final Words
The color combination of white and gold brings forth feelings of luxury and elegance. And this color collection is both soothing and stylish, compatible with any theme and accent colors you can dream up for a one-of-a-kind bedroom.
We hope this list of twenty white and gold bedroom ideas inspired you on how to decorate your room. Don't be shy. Drop a pic or message in the comments to tell us how we've done!