Decorated Life is reader-supported. When you buy through links on our site, we may earn an affiliate commission. Learn More
Modern Black And Gray Bedroom Ideas
After a long, hard-working day – a bedroom is where you seek relaxation, relief, leisure, and calm. And one of the most important aspects when designing this space is that it should truly speak your style and personality. The modern interior design style is one of the most popular and preferred for the bedrooms. And there's no way to hold back from the sleek and refined shades of black and gray in such a space.
Generally, this safe neutral color combination is something that can easily pair with any hue, texture, and pattern. Due to extreme timelessness and versatility, this chic duo will always play clean, crisp, and moody. So, let's have a look at these 18 modern black and gray modern bedroom ideas to take inspiration from.
Modern Industrial Bedroom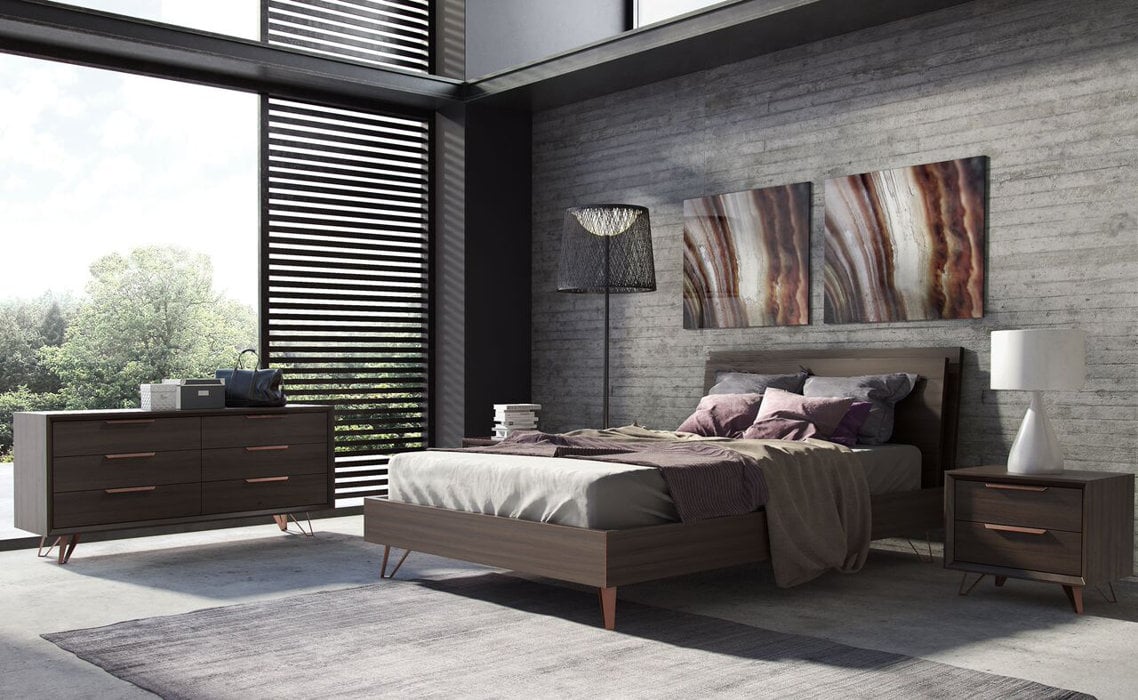 Not a mainstream modern but a blend of industrial style as well – this stark, bold, and moody black and gray bedroom envisions a sense of security, strength, and power. With a textural concrete detail on the backdrop wall, you can best add a graphical art canvas to grab attention and create a focal point.
You must also not forget the modern floor lamp and classical gray area rug that can further streamline the overall monochromatic palette.
Traditional Bedroom with Wooden Textures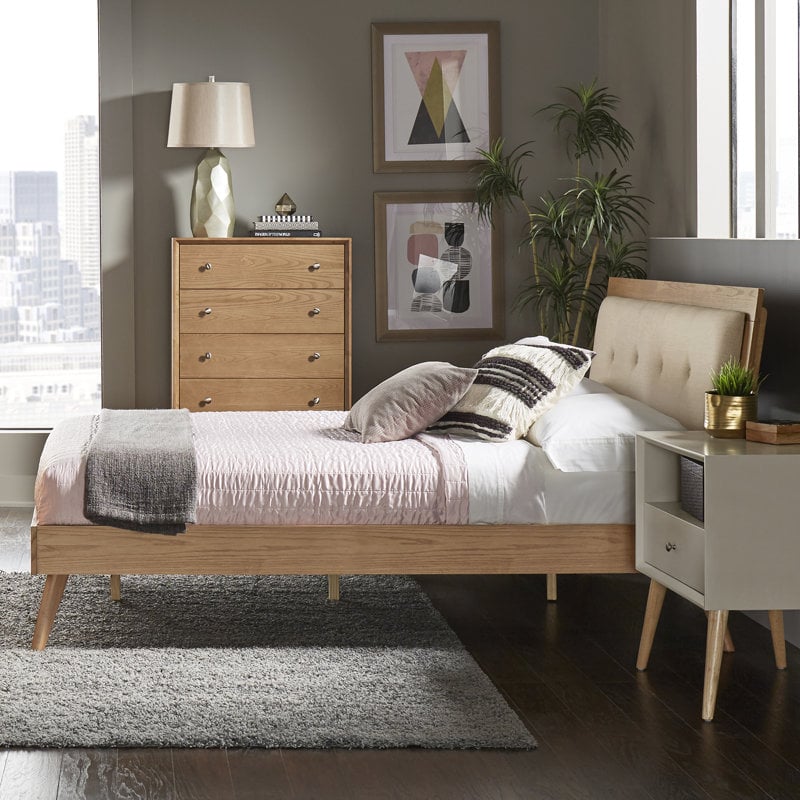 This gray bedroom displays an eye-catchy collection of soft, textural woods, feminine pink bedding, and white base and accents. It doesn't necessarily exhibit a bold and moody statement – rather, a cozy, muted, and fundamental palette that you would never regret.
Lastly, don't forget to style a large indoor plant (spider or fig tree), a couple of abstract artwork prints, and a shag area rug in this comfortable bedroom design.
Cozy Black Modern Bedroom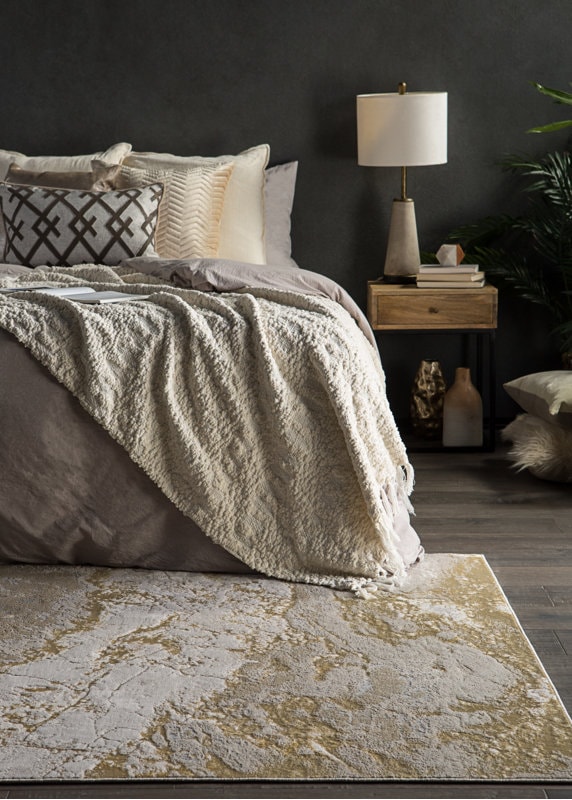 It's time to let that focal wall play a major role in the bedroom. The charcoal black paint can best complement the rustic wooden textures (on the furniture frame), cozy off-white or beige bedding, patterned throw pillows, and gold and gray abstract area rug.
A perfect blend of modern and glam, this combination will also never go out of style. Also, don't hold back from a large indoor plant in the corner that plays a focal and fundamental.
Gray Walls with Black Curtain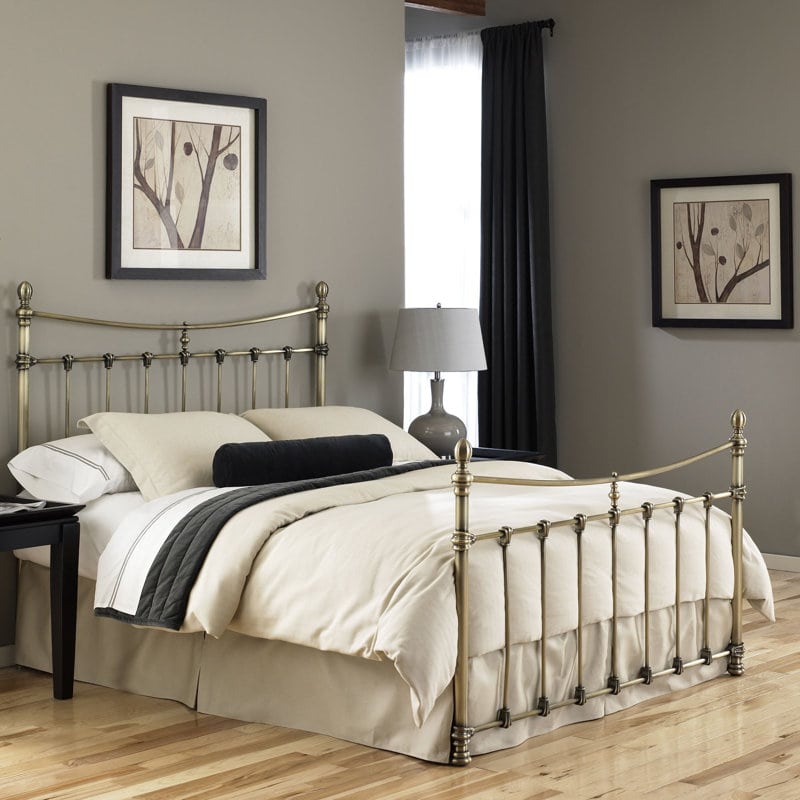 Do you want to create a moody statement with gray walls in your bedroom? Well, you must go ahead and further pair these walls with ceiling-to-floor black curtains. This will equally give your room a sense of depth, drama, sophistication, and luxury.
Furthermore, try pairing this noteworthy duo with a metal-framed bed, white or creamy bedding, and black-framed artwork pieces. Generally, a shade of gray like Sherwin Williams Repose Gray is something to have an eye on!
Transitional Modern Black Bedroom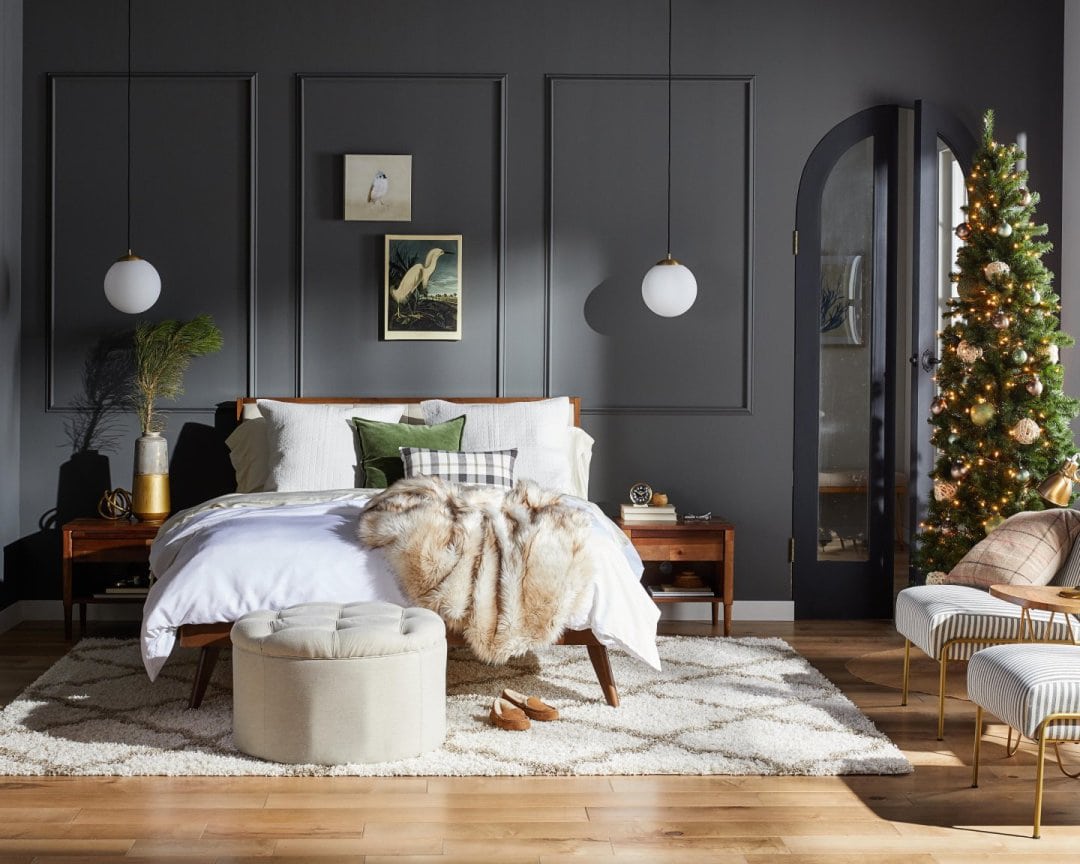 Black-hued wall paneling, walnut wooden textures, copper metallic tints, and a tinge of greenery will always make a great pair. Especially for the transitional and modern-style bedrooms, this palette is something that you must definitely watch out for.
Even though the walls in this bedroom exhibit a dramatic appeal – at the same time, the bedding, accessories, and shag area rug neutralize the overall depth to foster a calm and composed look.
Sleek and Modern Gray Bedroom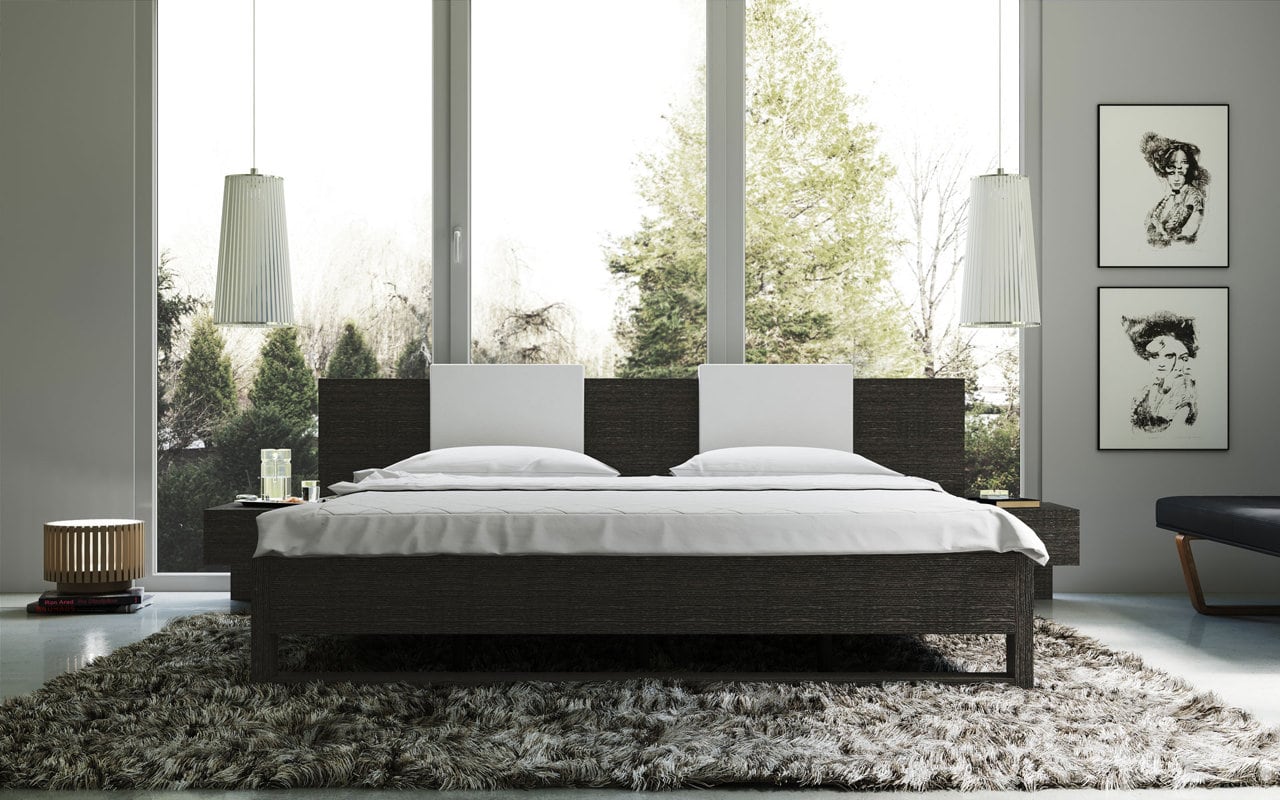 Gray-colored walls will never go out of style! And that's why this specific color makes a great versatile option to be used in the bedroom. Generally, black-hued walls can predominantly create a fearful ambiance – and that's when you know that gray is the second-best color combo for the walls.
However, there are also many other ways to infuse black in the room. Whether it is the bed frame, area rug, lighting fixtures, or the artwork frames – it's time to let the accessories play out loud.
Modern Glam Bedroom Design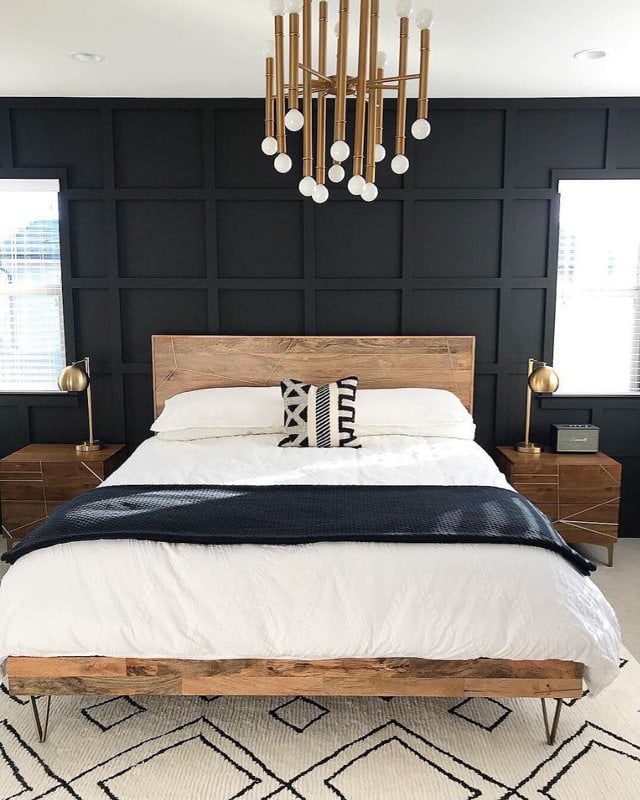 It's not necessary for the black accent wall to always create a moody and bold statement. Sometimes, you can amalgamate the daring black wall with wooden textures, gold-tinted lighting fixture, and ample white bases in the form of rugs and bedding to create a friendly, homely, and lively vibe.
And especially if you have a larger-sized bedroom with ample windows and natural light – don't hold back from an accent black-hued wall. Sherwin Williams Tricorn Black is a must recommendation for such a palette!
Eclectic Modern Bedroom Design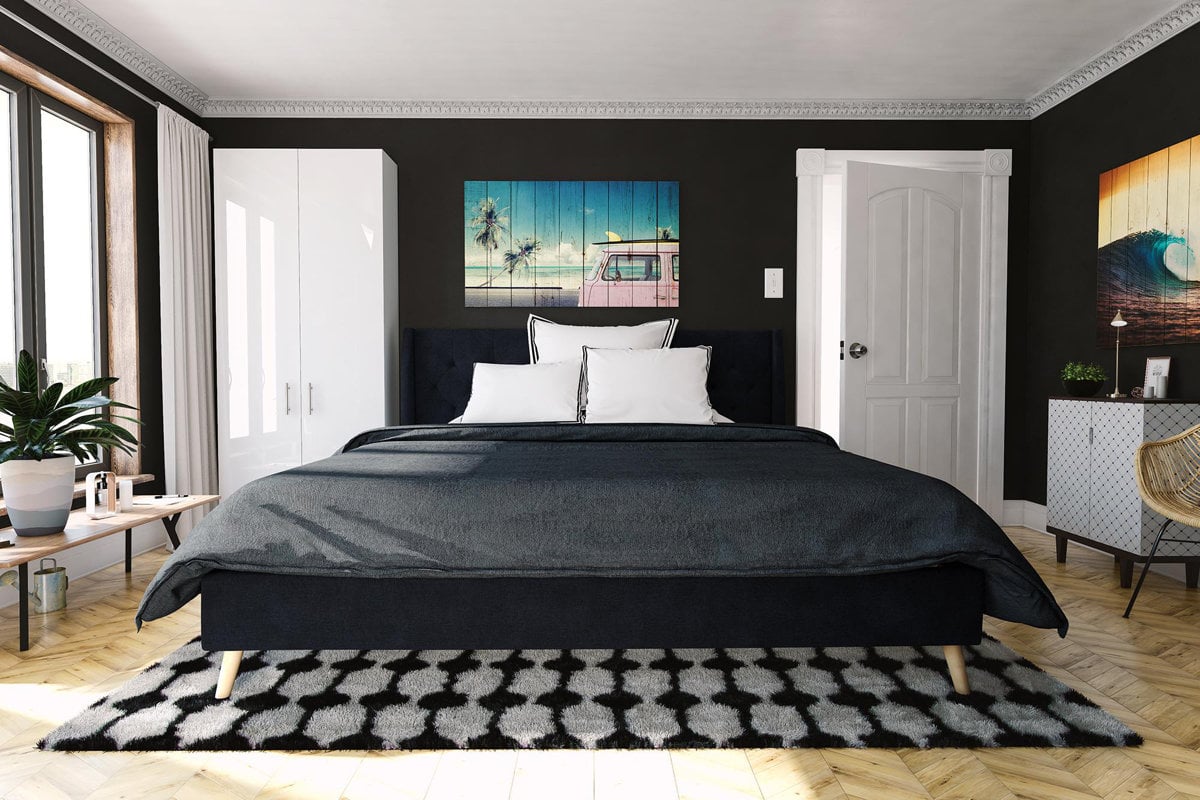 The black in your bedroom also has the potential to offer a quirky, Eclectic, and fun-loving mood. Just like in the bedroom above – you can style with multi-colored artwork pieces, chequered patterns, and an utmost detailed crown molding.
Furthermore, it's important to choose crisp and clean whites as a base that can help the adjacent colors further protrude out. Also, if you have the space and size, try painting all the walls in this bold black paint.
Gray and White Bedroom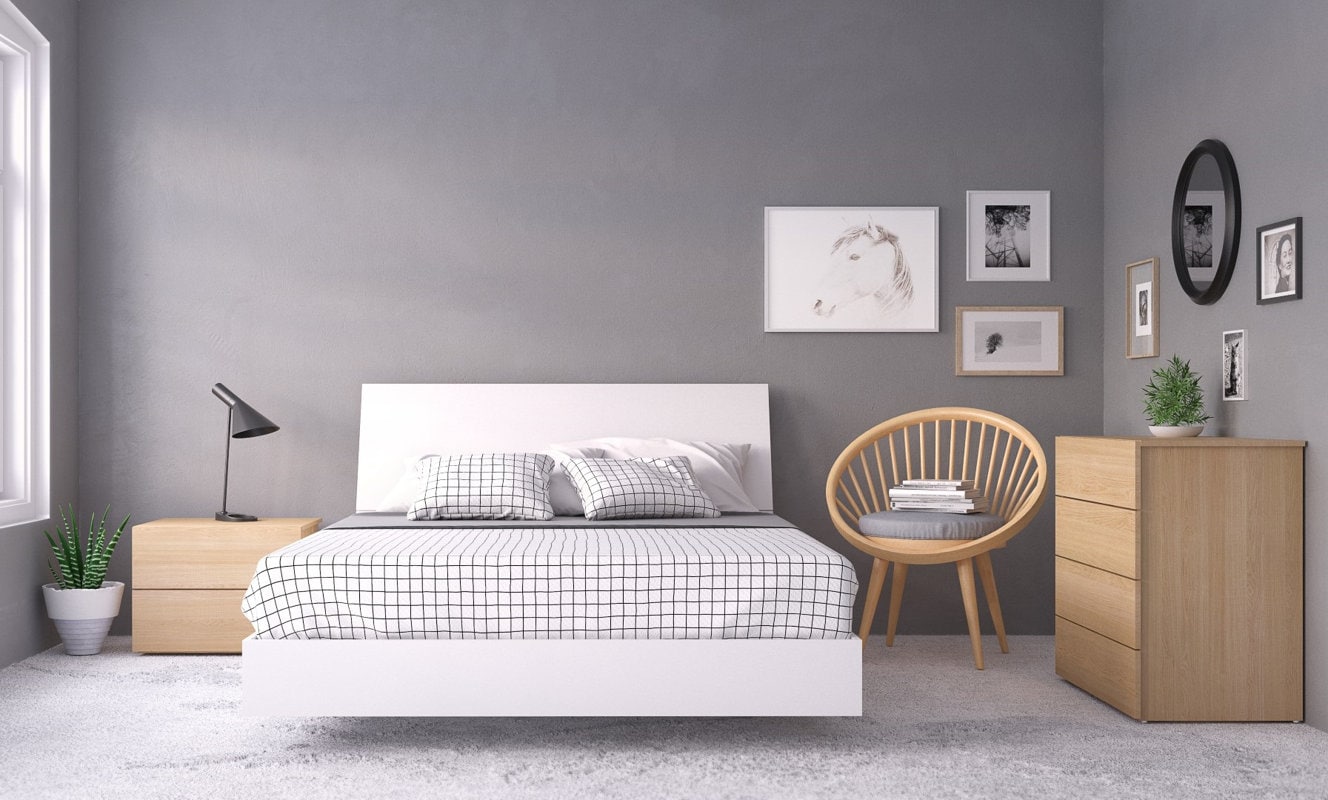 When it comes to designing a clean, crisp, and elegant bedroom – you simply can't hold back from a white bed frame, pine or oak wooden finishes, fresh indoor plants, and a classical table lamp. This way, you can even experiment with styling artworks in various heights, extra furniture pieces, and the pattern on your bedding and rug.
Secondly, this is a recommended bedroom inspiration if you're craving a sense of airiness and spaciousness (but with the benefits of a bold gray wall as well).
Moody Black Bedroom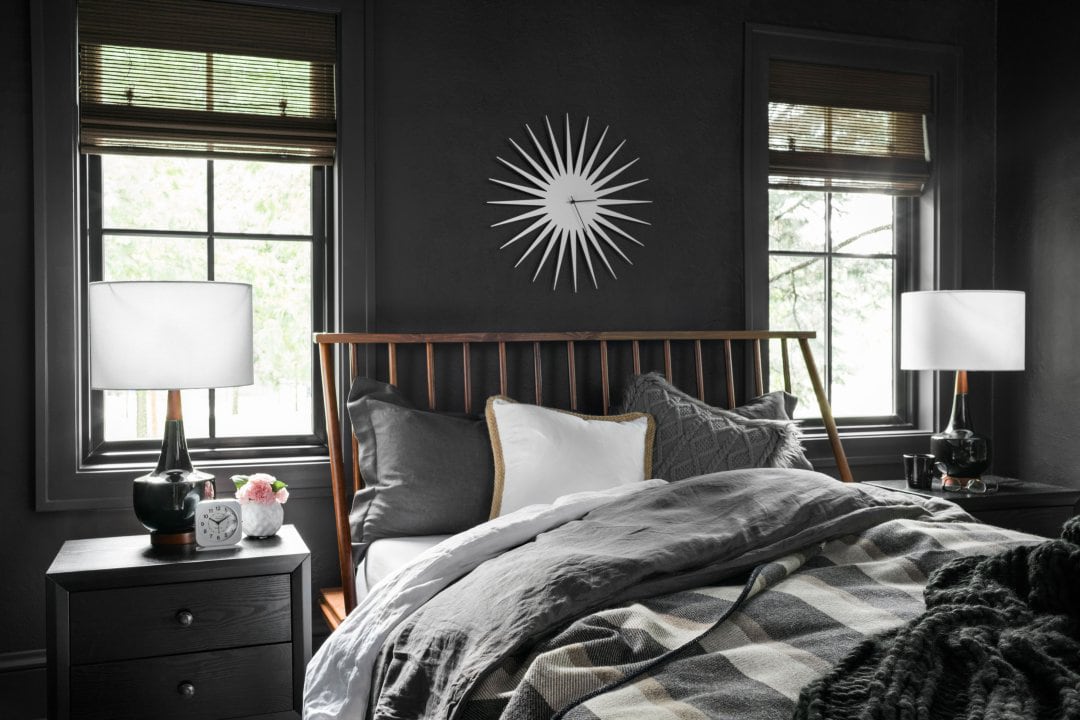 How much moody is too moody for you? Well, this modern black and gray bedroom is something to take inspiration from! It has a bold, dramatic, and dark look – but with a sense of character, thrill, and distinctiveness. And of course, if your space has ample penetrating natural light – this powerful palette is something to look forward to!
To neutralize the boldness in the bedroom, try incorporating a solid wooden bed and gray and white bedding to create a cohesive appeal.
Gray Wall with Black Bed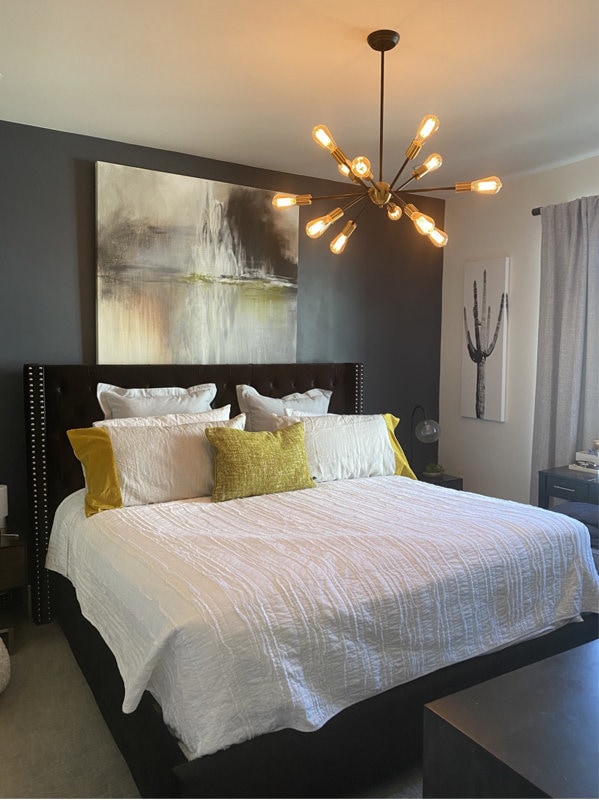 A combination of gray, black, white, and mustard will take you a long way! It feels transitional, refined, artistic and quite timeless – thus, making your modern bedroom look more gorgeous and timeless than ever.
Generally, with your gray walls, it's best to add a black-hued bed frame that equally adds a sense of contrast and depth. At the same time, don't hold back from infusing a pop of warmer hue like mustard, burnt umber, or coral.
Bedroom with Shades of Gray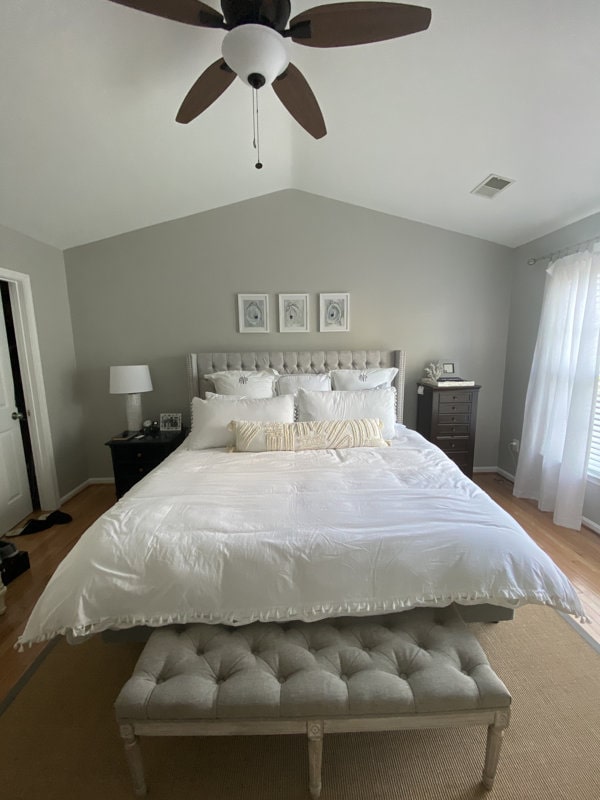 Shades of gray will never be monotonous! And especially if you play with the various tones of it on the walls, fabrics, furniture, and accessories. Generally, a balanced blend of warmer grays with the cooler ones will create an outstanding and stunning appeal.
And especially if you have a transitional and modern style – this is a must palette to look forward to! Lastly, with all the grays around, don't hold back from the clean whites on your duvets and bed sheets.
Gray and Black 'Fall' Look Bedroom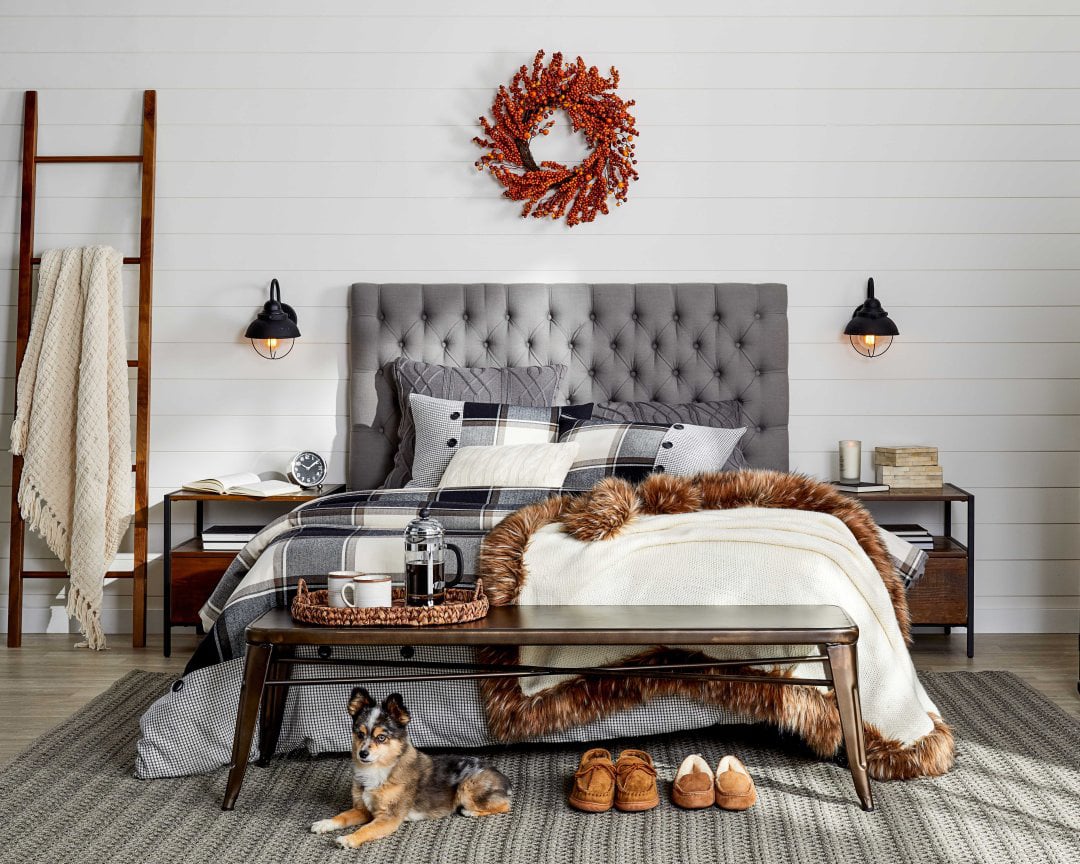 It's time to jazz up your modern black and gray bedroom with a touch of 'Fall' look indeed. Rather than picking an old-school, monochromatic color palette – this look truly embraces the feel of the season by incorporating features like a wildflower wreath and various warmer tones on the bedding and accessories.
With light gray paint on the wall, you can choose a dark gray bed or vice versa to recreate the look and achieve an utmost timeless and versatile look.
Coastal Modern Bedroom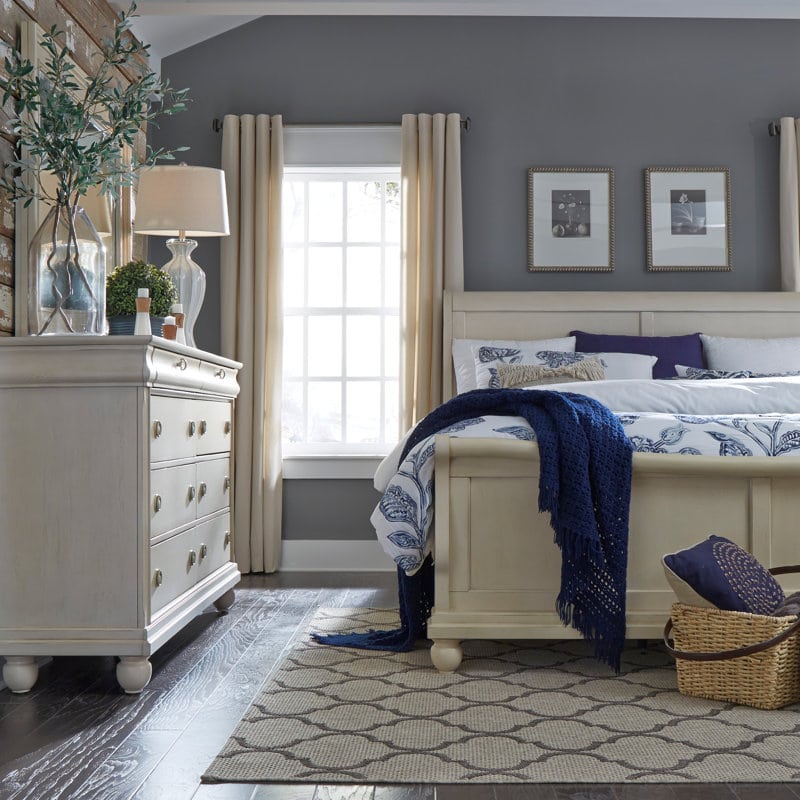 Do you adore the airy and lively vibe of the coastal style and the sleek and refined of the modern? Well, you can now blend the two to create an utmost cool, eye-catching, and awe-inspiring look. With the bold gray color on the walls, you can add a creamy base with a solid navy blue accent.
To further imbibe a refreshing and rejuvenating vibe, try adding a couple of phenomenal ficus tree plants in the baskets as well!
Light Gray Modern Bedroom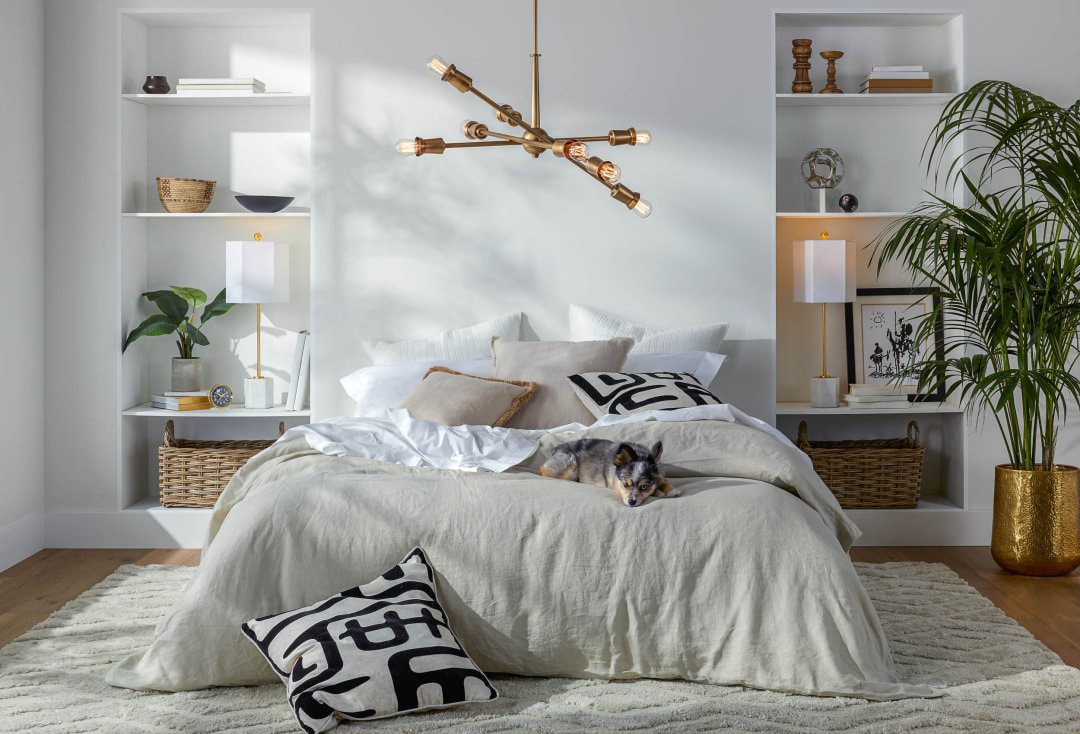 Are you stuck with a smaller-sized bedroom space and still fascinated with the beauty of grays? Well, in such a case, you must incorporate the lighter shades of grays on the backdrop wall, headboard, duvet, bed sheet, area rug, curtains, and throw pillows.
To infuse a sense of contrast and visual interest, add an eye-catching piece of chandelier, a couple of rattan baskets, and wooden textures to the backdrop.
Monochromatic Modern Bedroom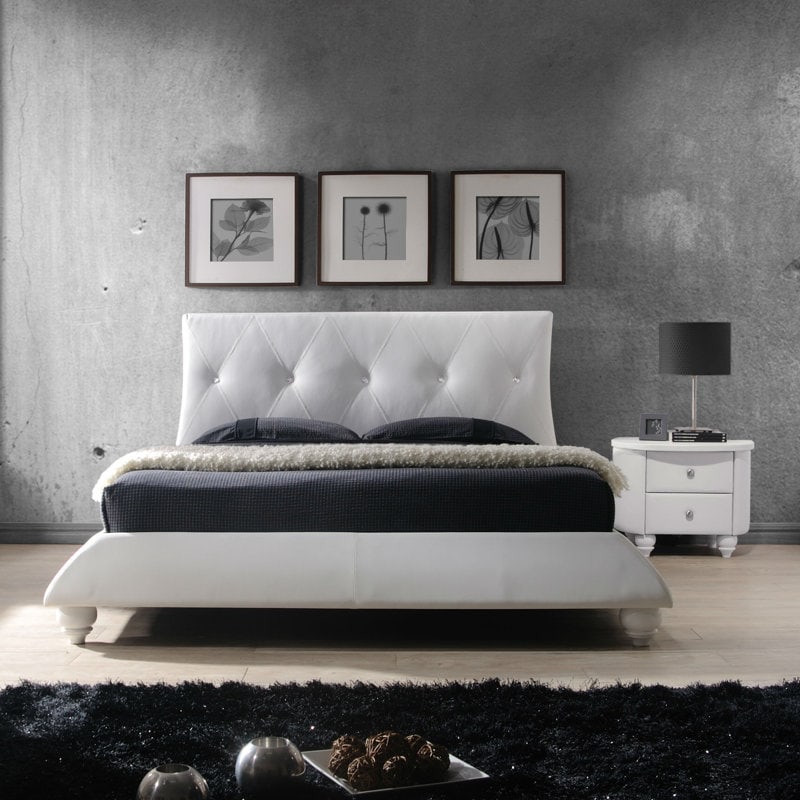 It's time to encapsulate a sense of drama, rawness, and elegance in the bedroom with the help of an all-gray, white, and black theme. The focal gray wall can immediately grab the attention while perfectly complementing the neutral white bed frame and all black bedding.
Furthermore, try pairing the theme with a white nightstand and a notable black table lamp that completes the look and makes it more powerful and breathtaking.
Feminine Gray Modern Bedroom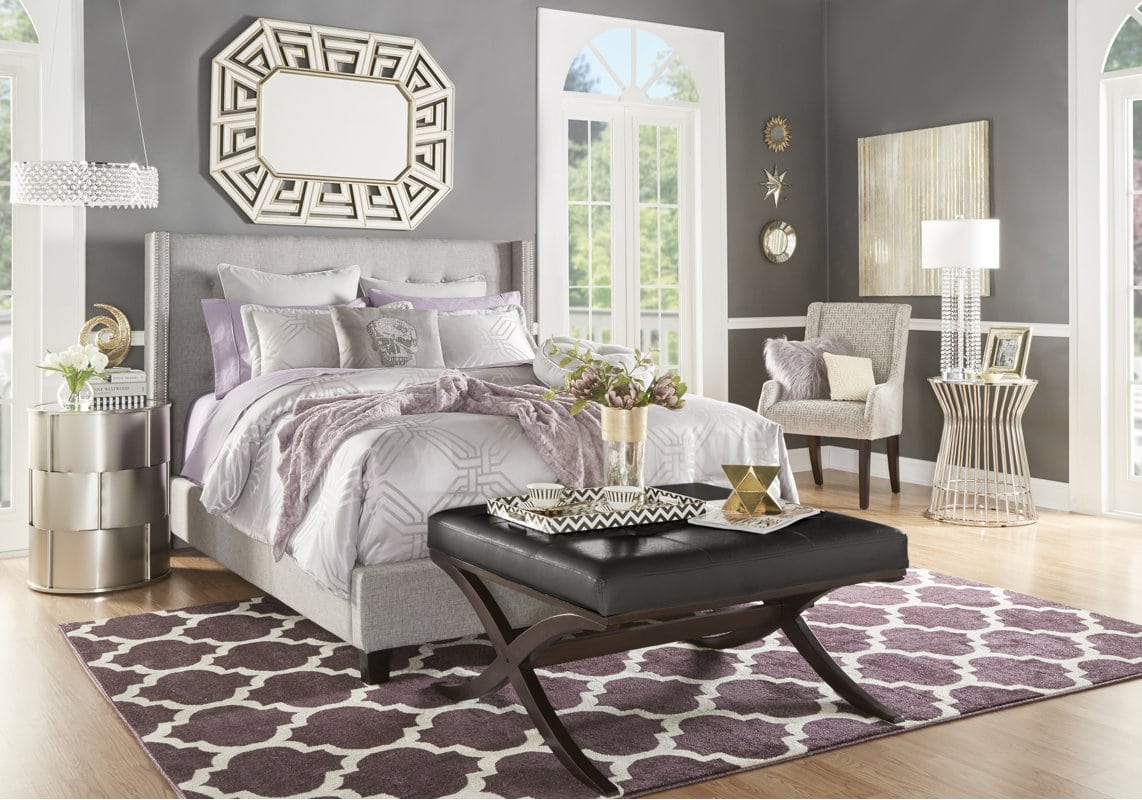 Who says that a blend of gray and black can't be soft and feminine? Well, in such a bedroom, you can add shades of plum, pink, or coral to add a feminine touch. With the bold gray or black paint on the walls, you can add a touch of these pastels on the bedding, area rug, curtains, or accessories to bring the most appealing looks.
Furthermore, adding pieces of framed mirror, gold-tinted artwork frames, lighting fixtures, and accent chairs can make your bedroom feel more warm and welcoming.
Gray and Black Bedroom with Wooden Flooring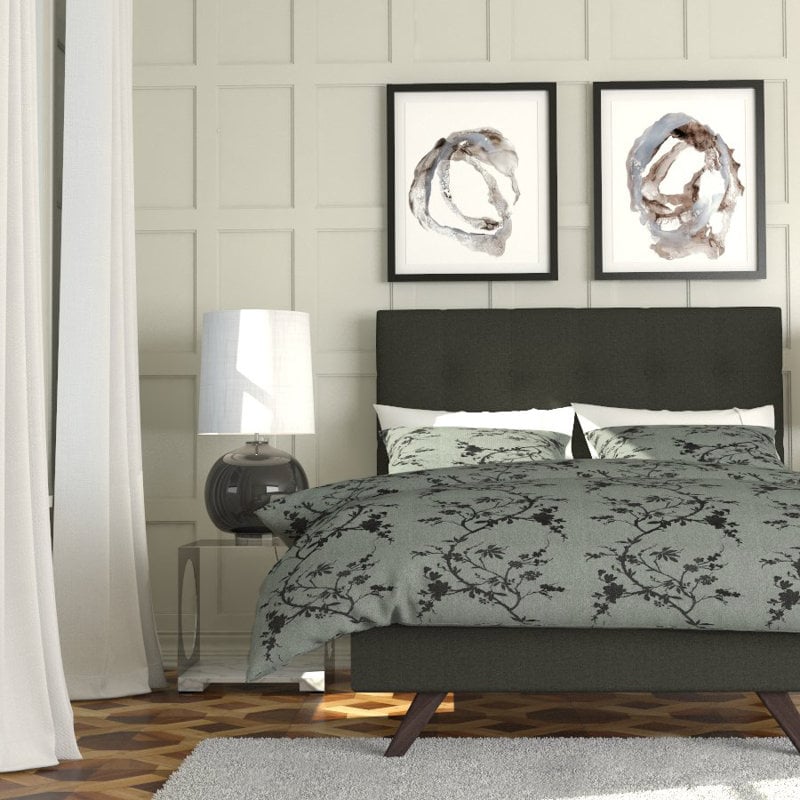 Wooden flooring has the potential to play seamless, classic, and outstanding with a blend of gray and black in a bedroom. So, for a perfect modern and contemporary appeal, you can make use of the warmer grays with clean whites to foster a chic, friendly vibe.
This gray bedroom with black furniture is also great for spaces that are smaller and confined. This way, you get the best of both worlds!
Summing It Up
A duo of black and gray is definitely timeless, versatile, and outstanding! And since you want your bedroom to express your true style and personality – it's of utmost importance to carefully analyze the color palette and play it in different forms, textures, and patterns. So, did you like any of the above-mentioned modern gray and black bedroom ideas? Well, do let me know your thoughts in the comments below!