Decorated Life is reader-supported. When you buy through links on our site, we may earn an affiliate commission. Learn More
15 Teal And Grey Living Room Ideas
Designing your living room is something that should take time, as this is a space that so many welcomed guests will enjoy! It's the perfect place to show off your personality, allowing people to get a sense of your home's vibe.
To begin, you'll need to choose a color scheme to plan around. Choosing teal and grey for your living room colors in a fun and eccentric option! Let's take a look at a few ways to style your new or revamped, teal and grey living room!
Traditional Teal And Grey Living Room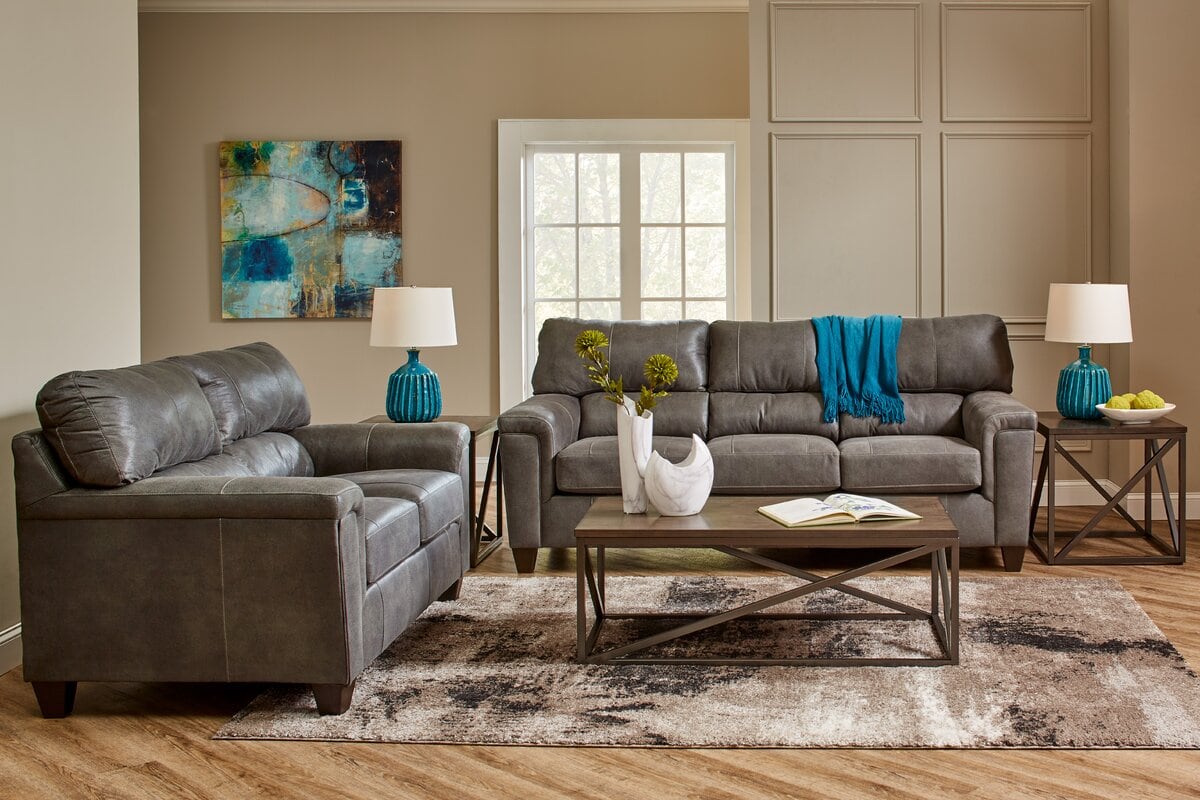 Let's begin with a traditional approach to a teal and grey living room. The idea is to have a traditional concept, while using non-traditional colors. Teal is not too commonly used in living spaces, so this color scheme works perfectly!
This may look like a traditional couch and coffee table, grey rugs or curtains, and a few teal accents. These teal accents can be showcased through lamps, wall art, or even an accent chair to complete the look!
Use Grey Furniture And Teal Accents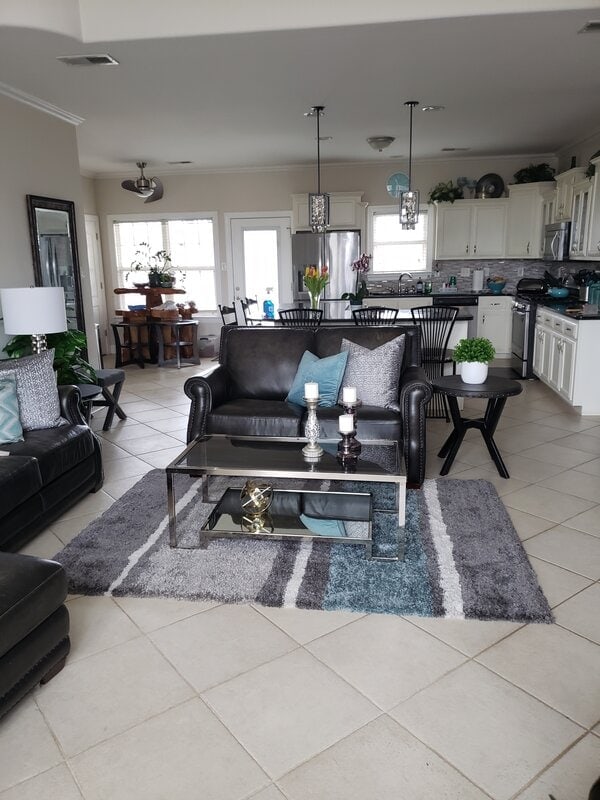 To design a beautiful living room using a grey and teal color scheme, a great idea would be to find some grey furniture first. This can be found in the form of a couch, some chairs, or an ottoman. Don't worry, these will not be hard to find!
From there, you can begin looking into living room decor that comes in teal. You may be able to find some teal wall art or pillows that stand out to you, and really encapsulate your personal style!
Grey And Teal With Yellow Accents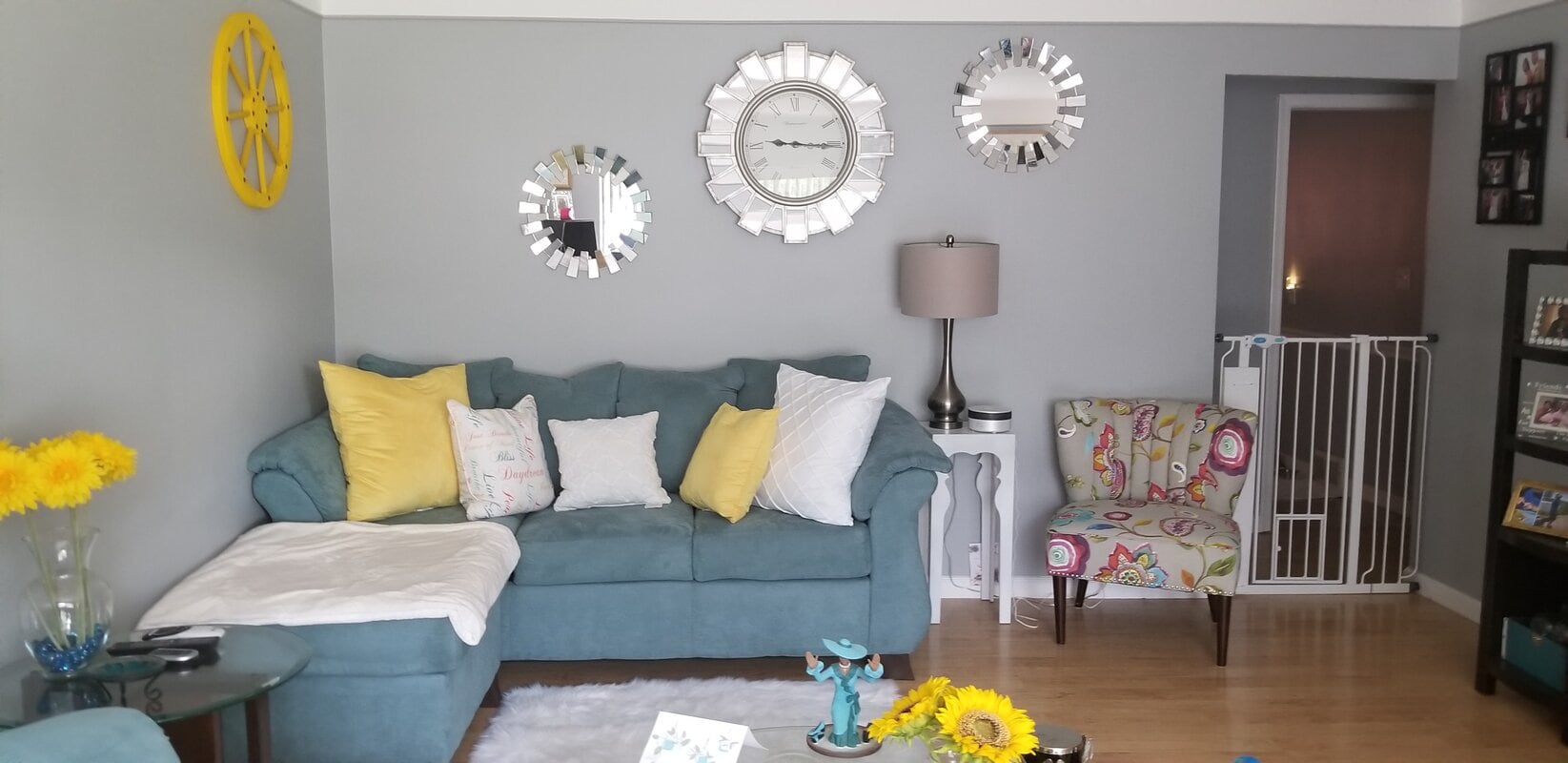 If you're planning a grey and teal living room, you may also be considering what other colors would compliment those shades. There are plenty of accent colors to choose from, one of them being yellow! Yellow is such a bright and beautiful color.
Teal and grey work well together, and yellow will add in another splash of color to your living room! If you love a more eclectic space then yellow, teal, and grey is for you! You can find yellow accent pieces that you love and scatter them around the room to bring your living room to life!
Subtle Teal And Grey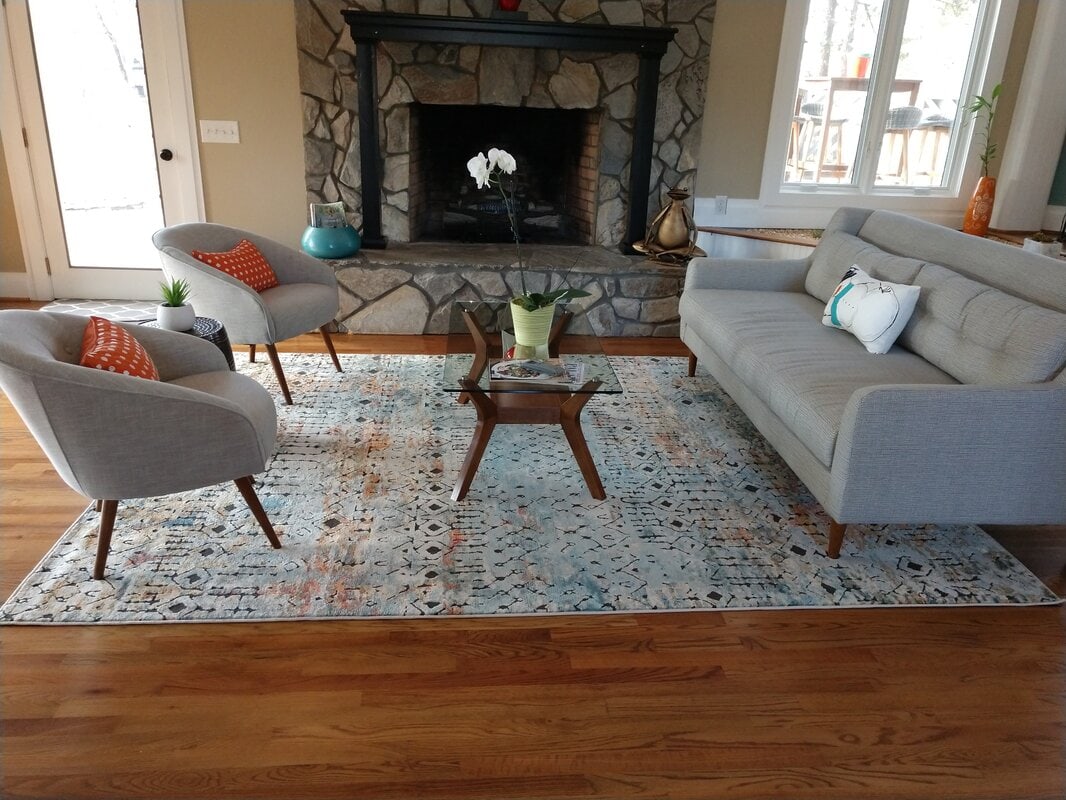 Not too sure if you can fully commit to a bright teal and grey living room? Try toning it down to see if it'll grow on you! Sometimes you can't very well envision how something will look until you put it in place, so start off simple to test it out.
Choosing lighter teal tones and greys will ensure that you have a more relaxed, calming vibe instead of a bold style. This is a great starting point, and will make your living room look incredible. Start off small, and you can't go wrong!
Designs Perfect For Your Teal And Grey Living Room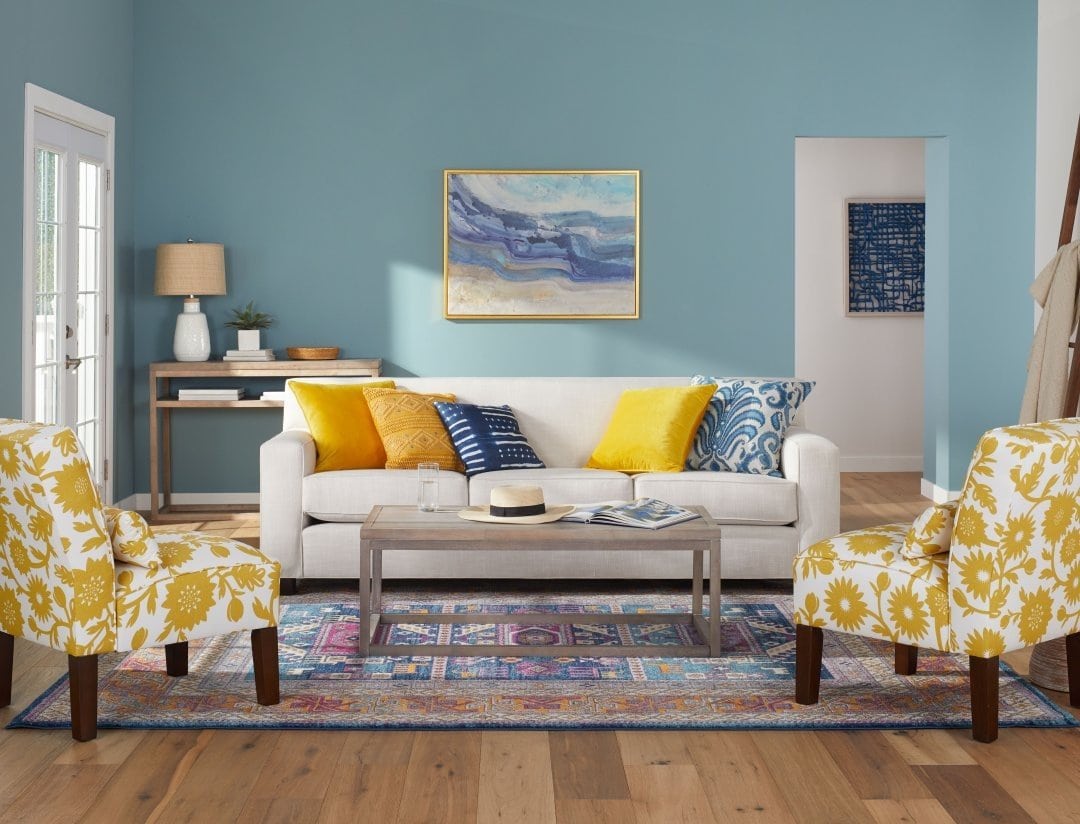 There are hundreds of perfect patterns you could choose from to showcase in your living room. Since we've got a living room color scheme picked out, we can narrow those down a bit.
Some examples of patterns that will look great in your teal and grey bedroom include: floral, animal print, or abstract. Antique, floral prints are commonly used in the living room and could be your best bet, but ultimately, it's all about your personal sense of style!
Hang Some Teal Wall Art
In order to design the ideal grey and teal living room, one of the obvious options is to use teal as your accent color. This will give your living room a lively feel and will draw attention to certain areas of the room.
Teal wall art will be easy to find in any style that will match your living room. The living room is a perfect place to hang wall art that expresses your personality! Guests will appreciate your wall decor and it may serve as a frequent talking point.
Shop similar wall art: Wayfair / World Market
Use Teal And Grey As Accent Colors
Having a teal and grey color scheme in your living room doesn't mean you are limited to only these two colors. You can still use a different base color such as white, cream, or even black. If you love a more layered color scheme, this is definitely a suitable choice!
You can incorporate teal and grey accents in your living room decor using things such as pillows, throw blankets, and accent chairs. Using teal and grey as accent colors is a fun and rare combination of additional colors. Your living room will be incredibly unique!
A Coastal, Teal And Grey Living Room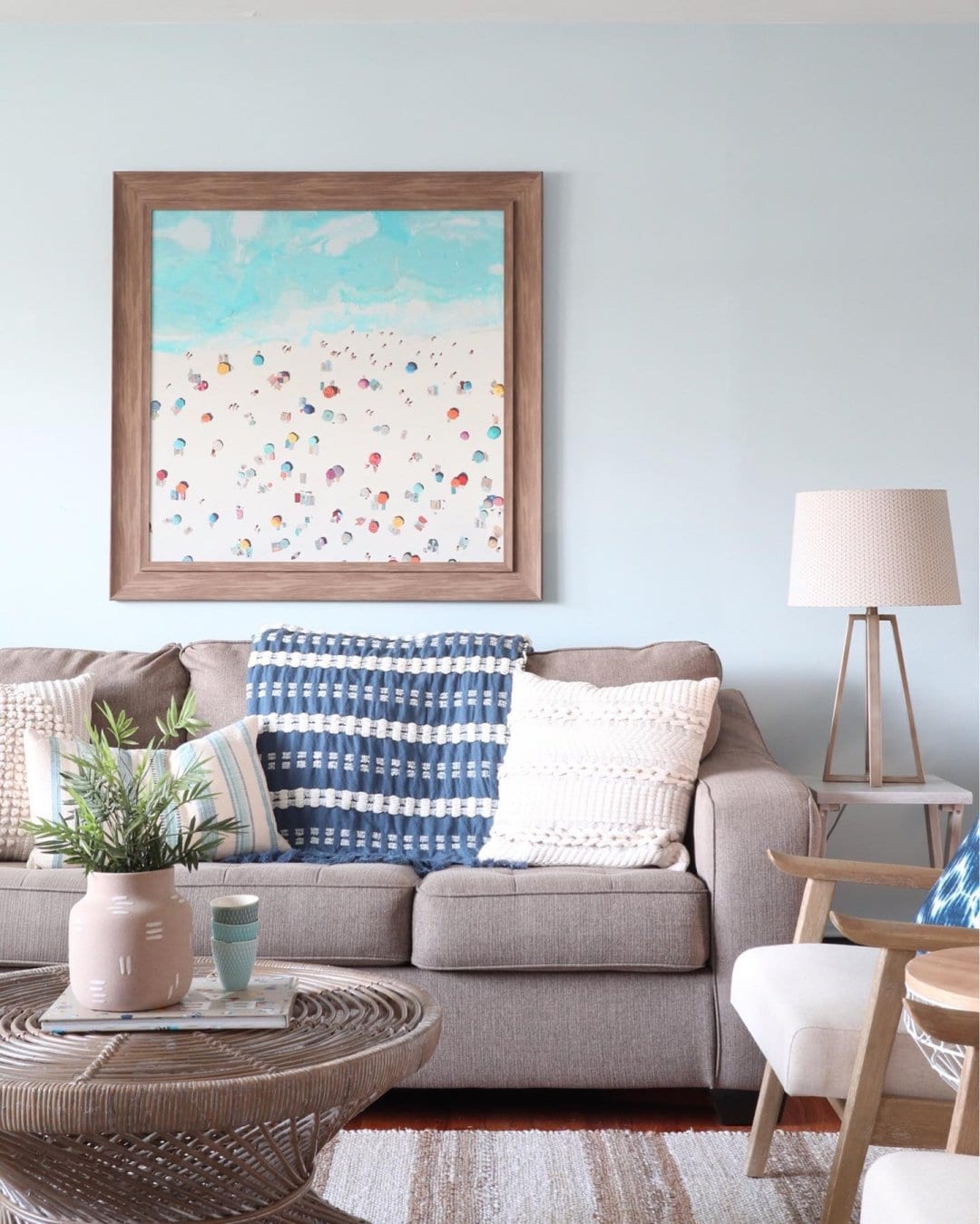 Having a coastal themed living room is a pretty popular aesthetic! It's intriguing and easy to plan. As a bonus, your teal and grey color scheme will fit in just right with a coastal look. The use of teal and grey in a coastal setting will make designing your living room a breeze.
Coastal inspired living rooms give off a wonderful sense of welcoming and seem to promote relaxation. If you're looking for a theme to match your teal and grey color scheme, a coastal theme will serve that purpose well!
Design A Contemporary Living Room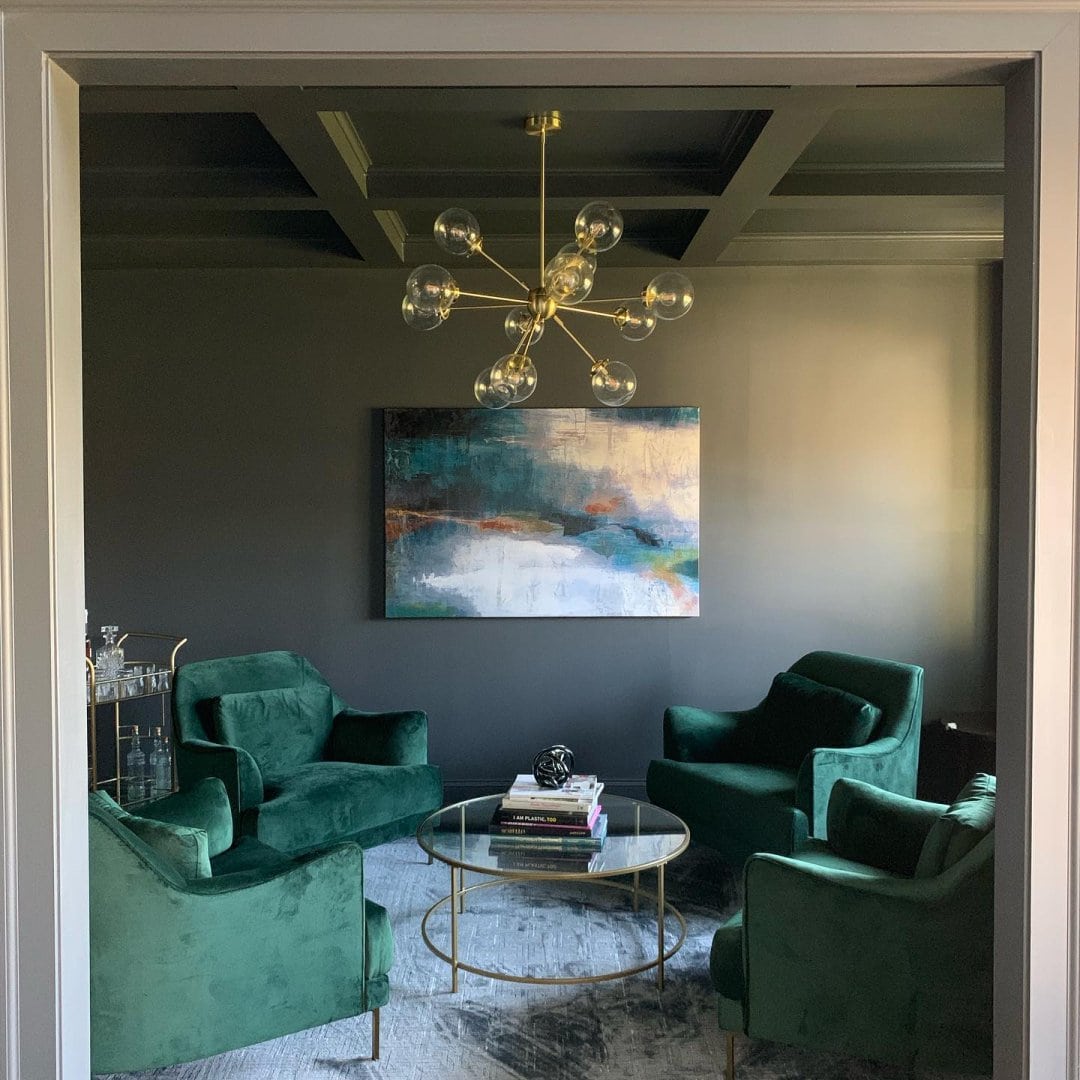 For the modern living room lovers, you'll probably stick with a more contemporary style. Modern living rooms can be reflected through the decor you choose, and are especially dependent on color scheme, so you must choose wisely!
If you're looking for a more contemporary approach to a grey and teal color scheme, consider using darker greys as well as duller teal shades. Using colors that are too bright or bold may take away from that modern look that you are striving for.
A Quirky And Eclectic Approach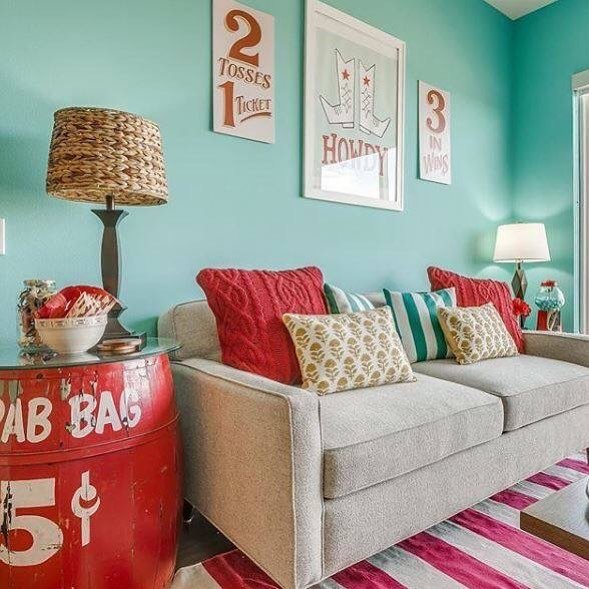 Modern, sophisticated styles are not for everyone. Maybe you enjoy a living room that will grab your guest's attention and make them curious! Eclectic and quirky decor, colors, and interior design are so fun to explore and showcase.
A really exciting way to spruce up your living room would be to find both grey and teal, off-the-wall, antique decor or furniture. These pieces are gripping, and will most definitely give your living room that unconventional vibe!
Teal And Grey Living Room Decor Ideas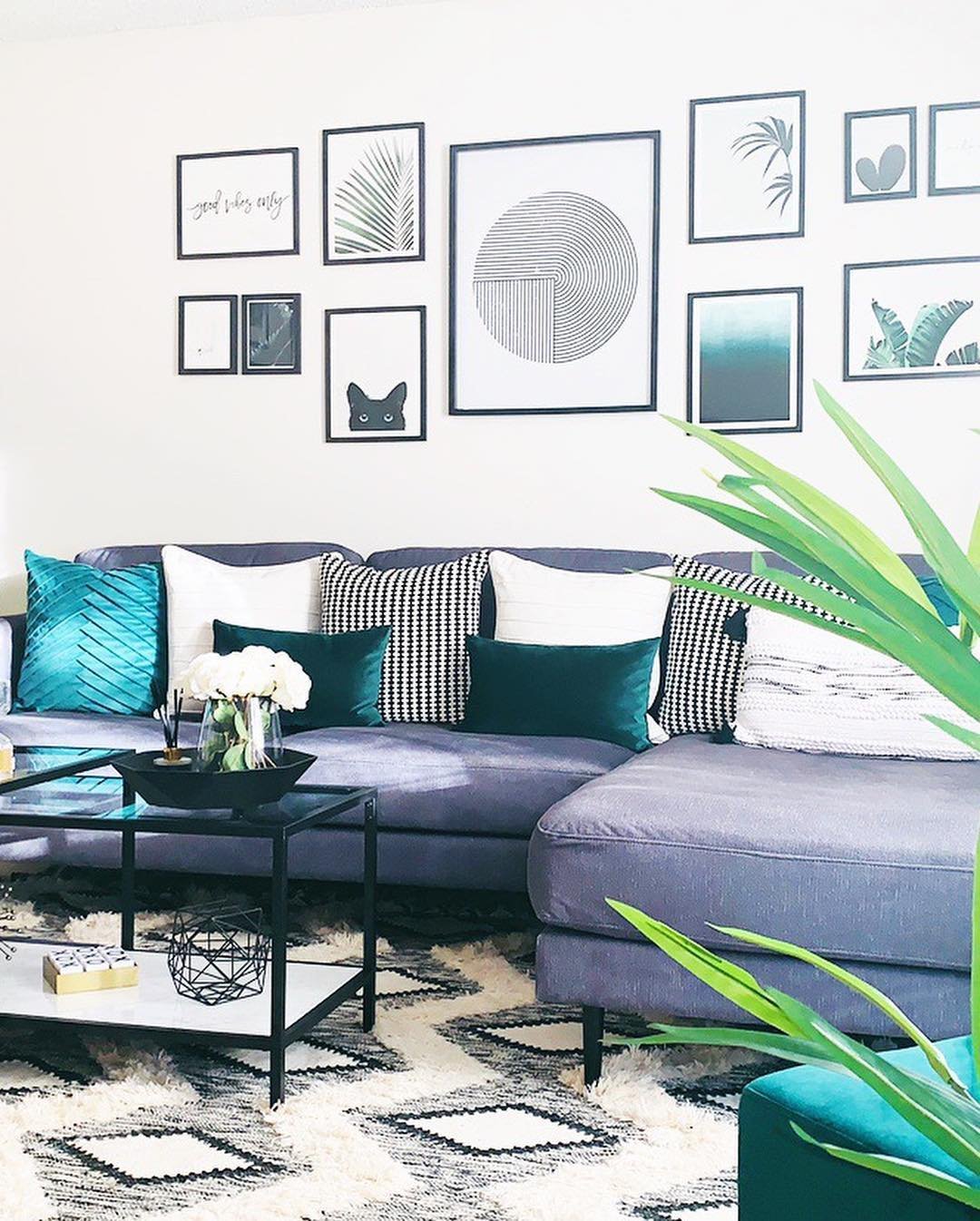 Living room decor is one of the most fun things to shop for when finishing up the area's design. Decor items can be things such as clocks, plants, bookshelves, etc. Almost anything outside of furniture and curtains.
Decor items can all serve their own individual purposes, as well as contribute to your color scheme in order to tie your living room together. Going along with our grey and teal color choice; find a true teal set of pillows or a light grey coffee table to really embody your room's aesthetic.
Embrace A Feminine Living Space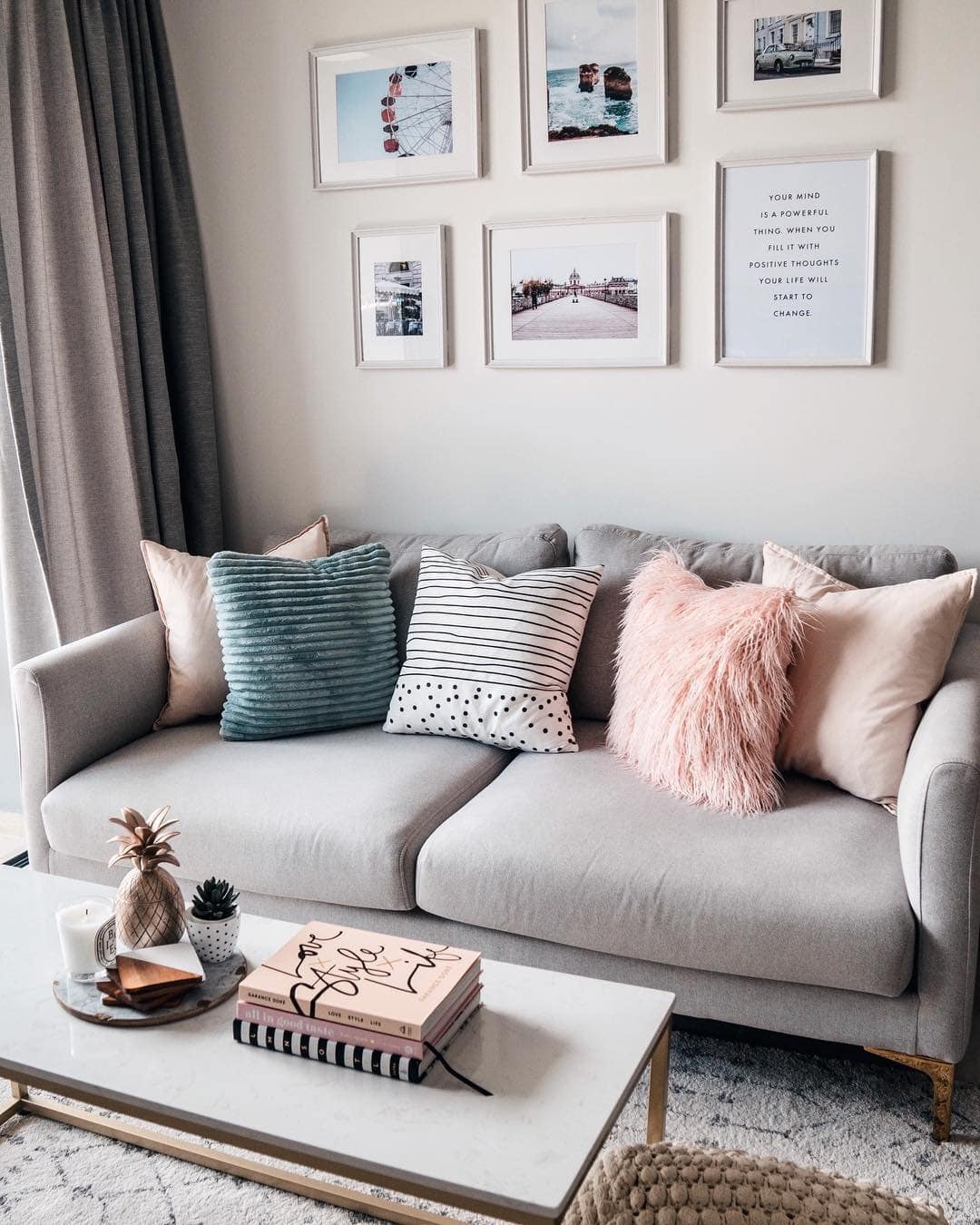 No woman should deny herself a little personalized, feminine space to truly embrace herself and feel confident before going out into the world! Usually, the bedroom is the typical place to go all out and style however you choose, but let's not confine ourselves any longer!
Create a flourishing, feminine living room including shades of bold teal and classy shades of grey. Invest in some scented candles, grey photo frames, and teal pieces of artwork, and watch your living area come to life. Kick your feet up, have a coffee, and relax!
A Neutral Living Room With Grey And Teal Tones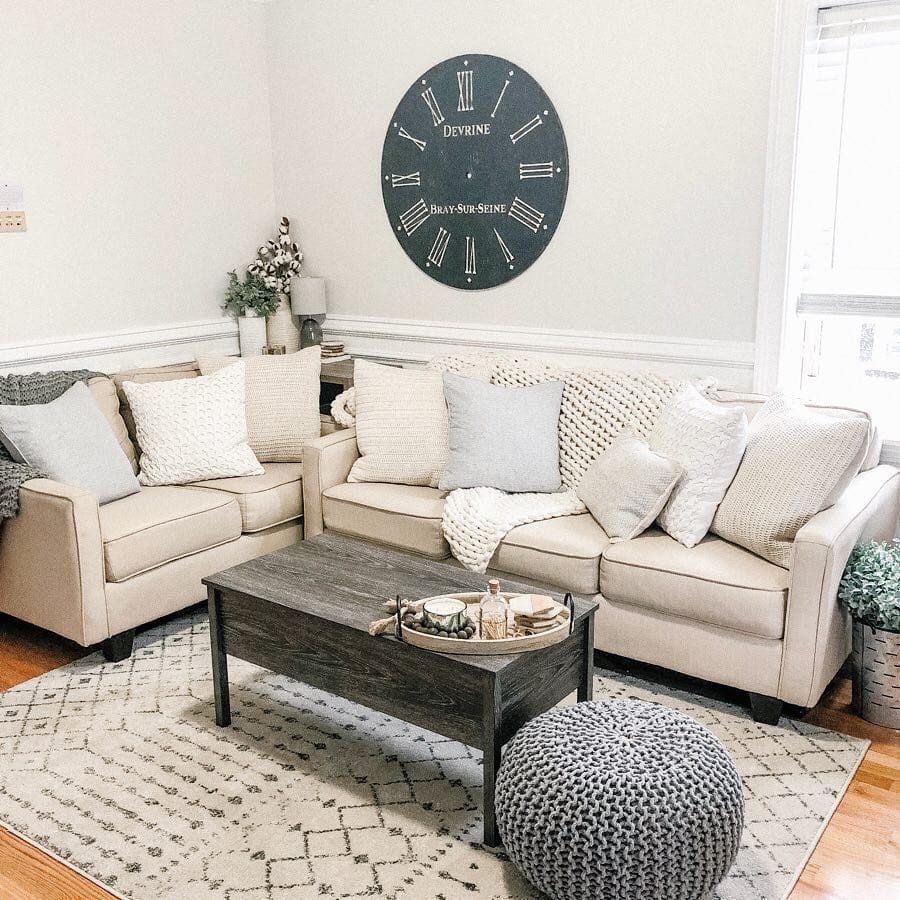 Sometimes you just feel the need to step back, and keep things very simple within your living room. Sticking to neutral shades is becoming more and more popular, and while this may be the case, you may still find yourself looking for a bit of color to include.
Grey and teal is the answer if you're on the hunt for a few additional colors to use. These will not only balance each other out tremendously, but will give your living room the splash of color that every room needs!
Get Glammed Up In Your Living Room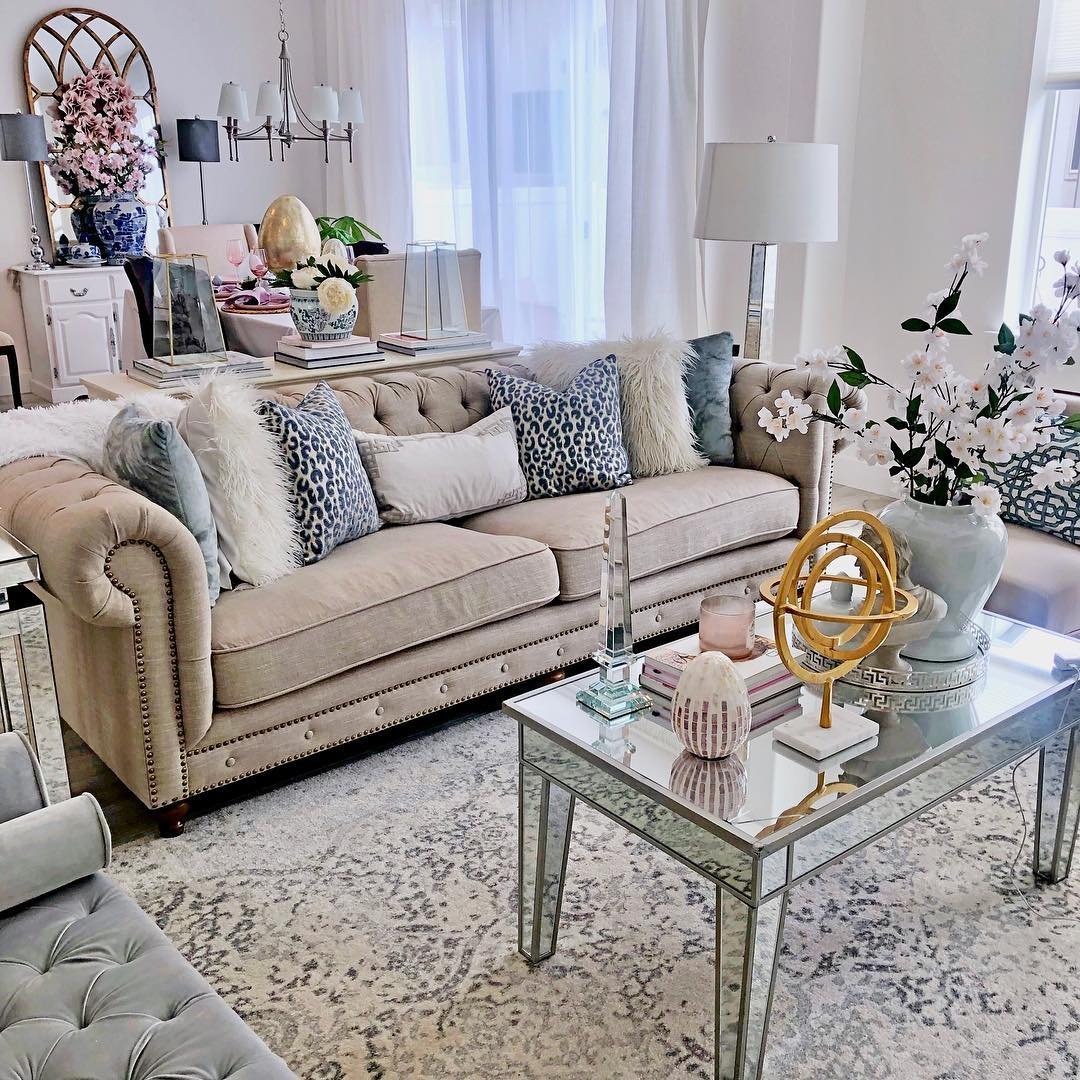 Are you the type to bedazzle almost anything possible and obsess over crystal and rhinestone decor? Then you'll need to glam up your living space! No worries, there are plenty of ways to do so.
We can achieve this expensive look using teal and grey. These colors will truly complement your other shiny pieces of living room decor. For this look, try sticking with light shades of teal, and lighter shades of grey as well.
Using Shapes And Patterns To Accentuate Your Space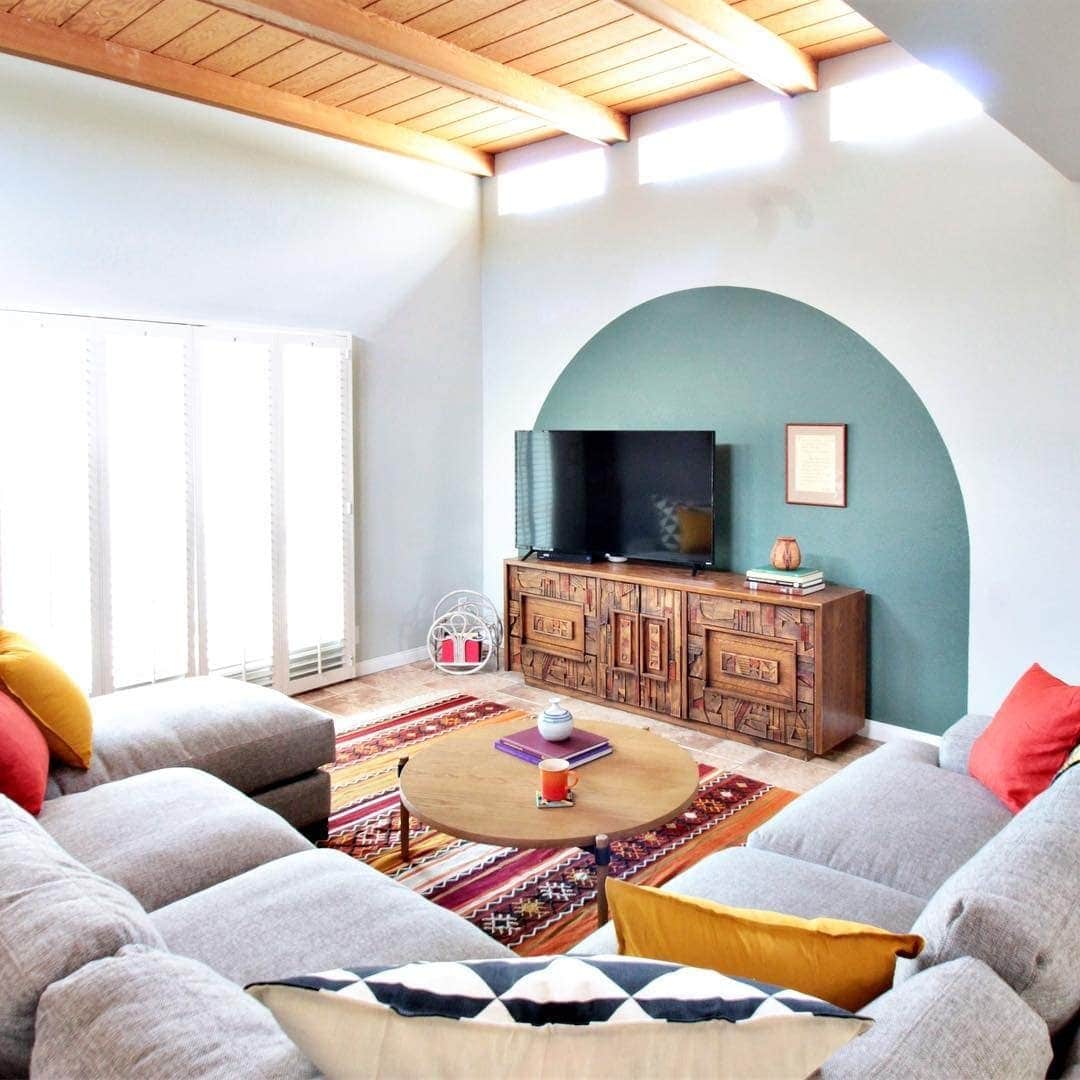 Shapes and patterns must be implemented in your living room's design. If you do not give your living space color, shape, and pattern, you'll be left with a bare space. Find patterns and shapes you enjoy, and find unique ways to incorporate them throughout the room!
There are hundreds of patterns and shapes displayed on pillows, blankets, and especially rugs that you can find in teal or grey. It all comes down to which ones you are drawn to. This is where you can really get creative with a teal and grey living room!
Test Out A Teal And Grey Living Room
When thinking of possible living room color schemes, the first thought you have may not be teal and grey, but that's because it's a lesser known and utilized color scheme. This means, no matter how you implement these colors, your living room will stand out amongst others!
If you're looking to catch the eyes of your guests, as well as provide color and intrigue, then teal and grey are a perfect match. You won't know until you test it out, and it's highly unlikely that you'll regret giving this outlandish color scheme a try!