Decorated Life is reader-supported. When you buy through links on our site, we may earn an affiliate commission. Learn More
What Color Countertops Go with White Cabinets? 10 Ideas
If you're looking for a classic cabinet color that will never go out of style, choose white. White cabinets are bright, clean, and suit just about any type of decor.
If you're wondering what color countertops go with white cabinets, here are some ideas you can use in your kitchen.
Get a High-End Look with White Stone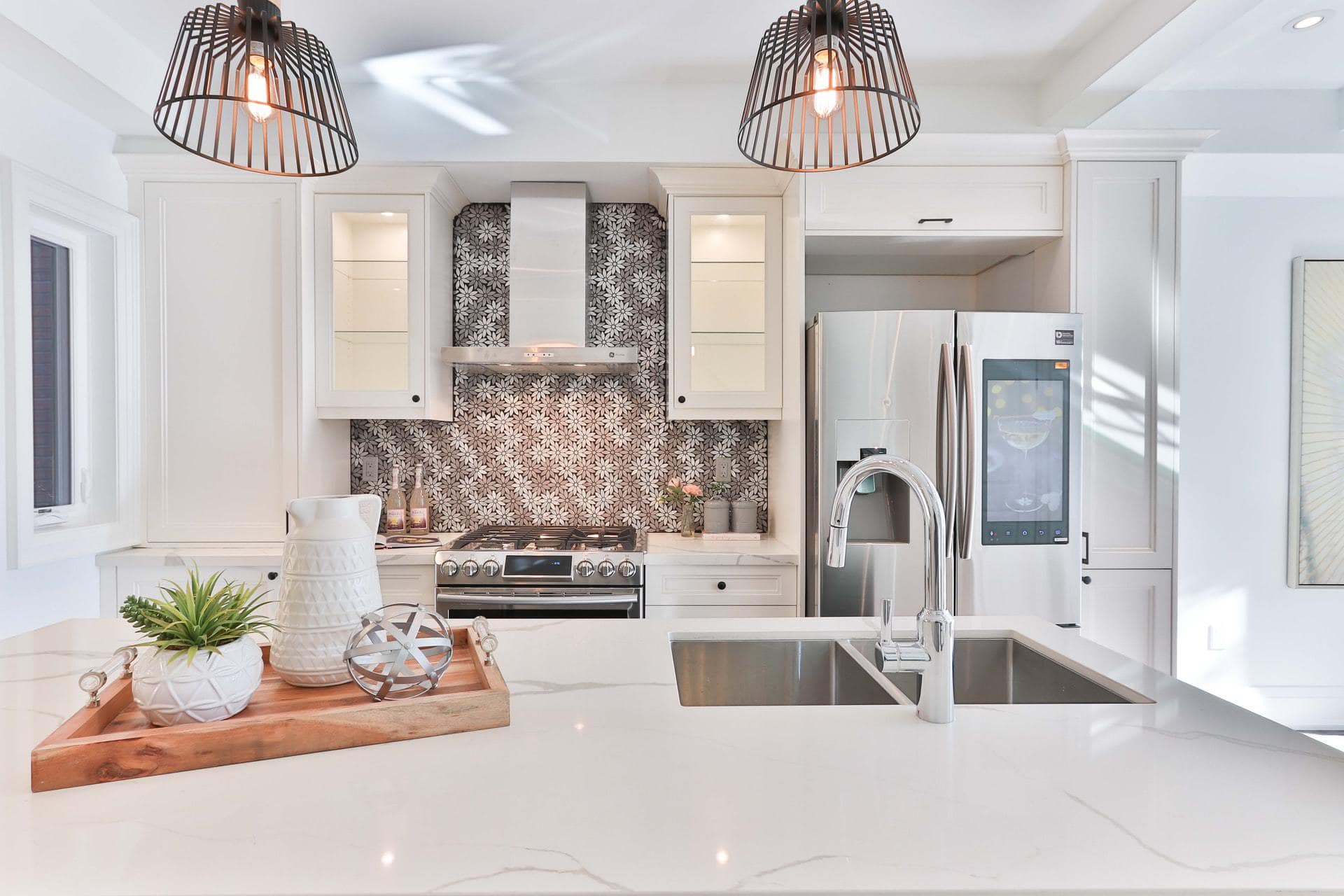 The white on white look is very clean and put together. And you can take the sophistication up a notch by using a stone counter.
Pairing white cabinets with white stone is timeless. Depending on how you decorate and the type of your cabinets, this look can work for minimal, traditional, and farmhouse-styled kitchens.
Pair Your White Cabinets with Butcher Block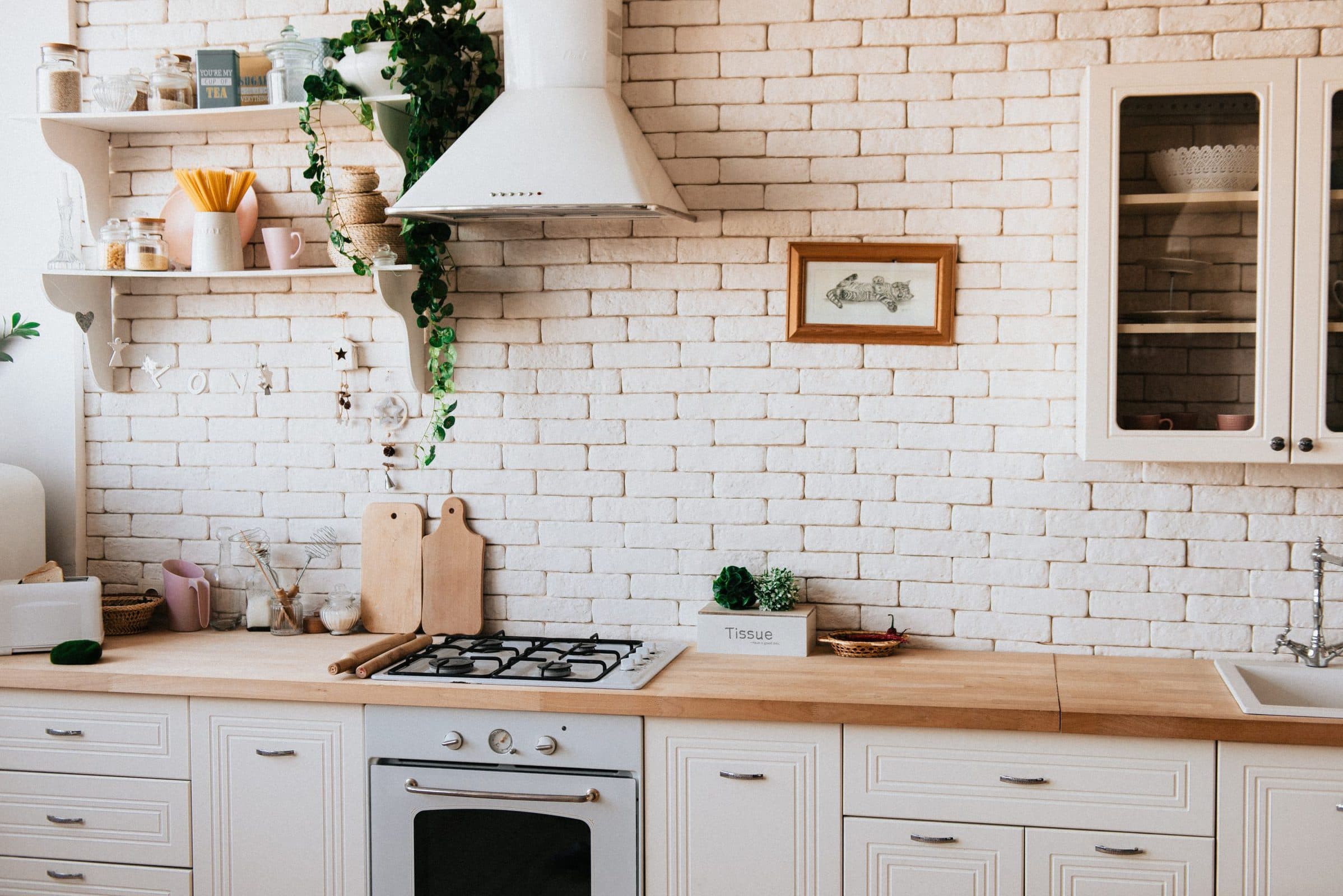 Butcher block offers a nice contrast against white cabinets and is a great way to add some texture to your kitchen. Compared to natural stone, butcher block is an affordable alternative that can last for more than two decades.
And one of the best things about this countertop is that it comes in so many options. You can find butcher block in walnut, birch, oak, cherry, and maple.
Try Gray for a Modern Look
If you're going for a modern look, a gray countertop will work. Since gray and white are both neutrals, they go great together and pair well with all other colors.
To make a statement in your kitchen, put a bold color on the wall or continue with your gray theme using a lighter shade than the countertops.
Make a Statement with Dark-Veined Marble
Marble is one of the best countertops with white cabinets. So, if you love the white-on-white look but are looking to shake it up a bit, try a marble with dark veining.
Deep veined marble can work with various design styles, including modern, farmhouse, traditional, and minimal. You can also find some quartz counters with dark, deep veining.
Use Classic Black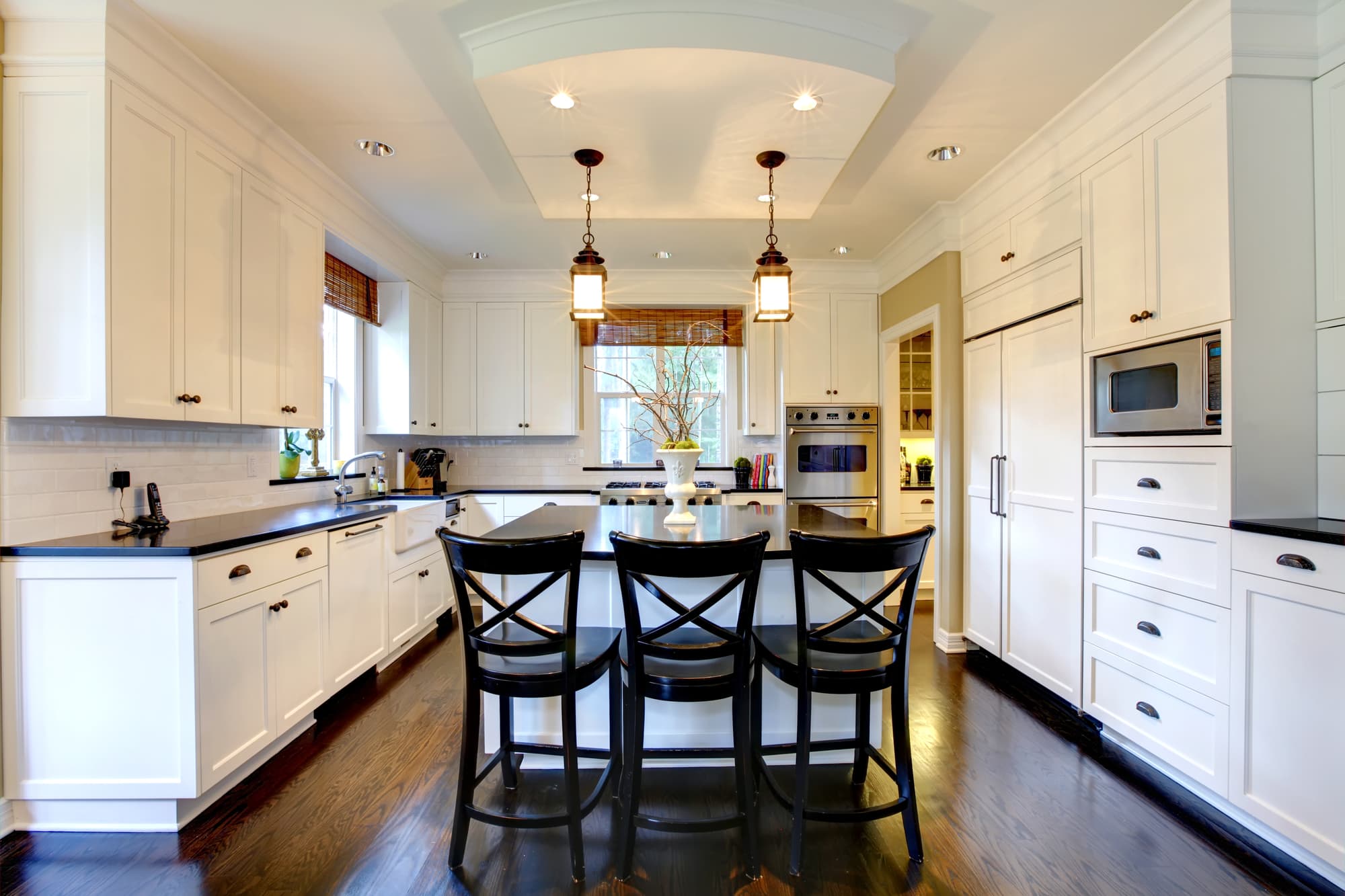 Just like white countertops will always go with white cabinets, so will black. White and black paired together is a classic look you can use no matter your decor style.
If you want a sleek, contemporary look try a black stone like pictured. Paired with black cabinet hardware and dark floors, it gives off a modern look that's still inviting.
Go for the French Country Look with a Pinky-Brown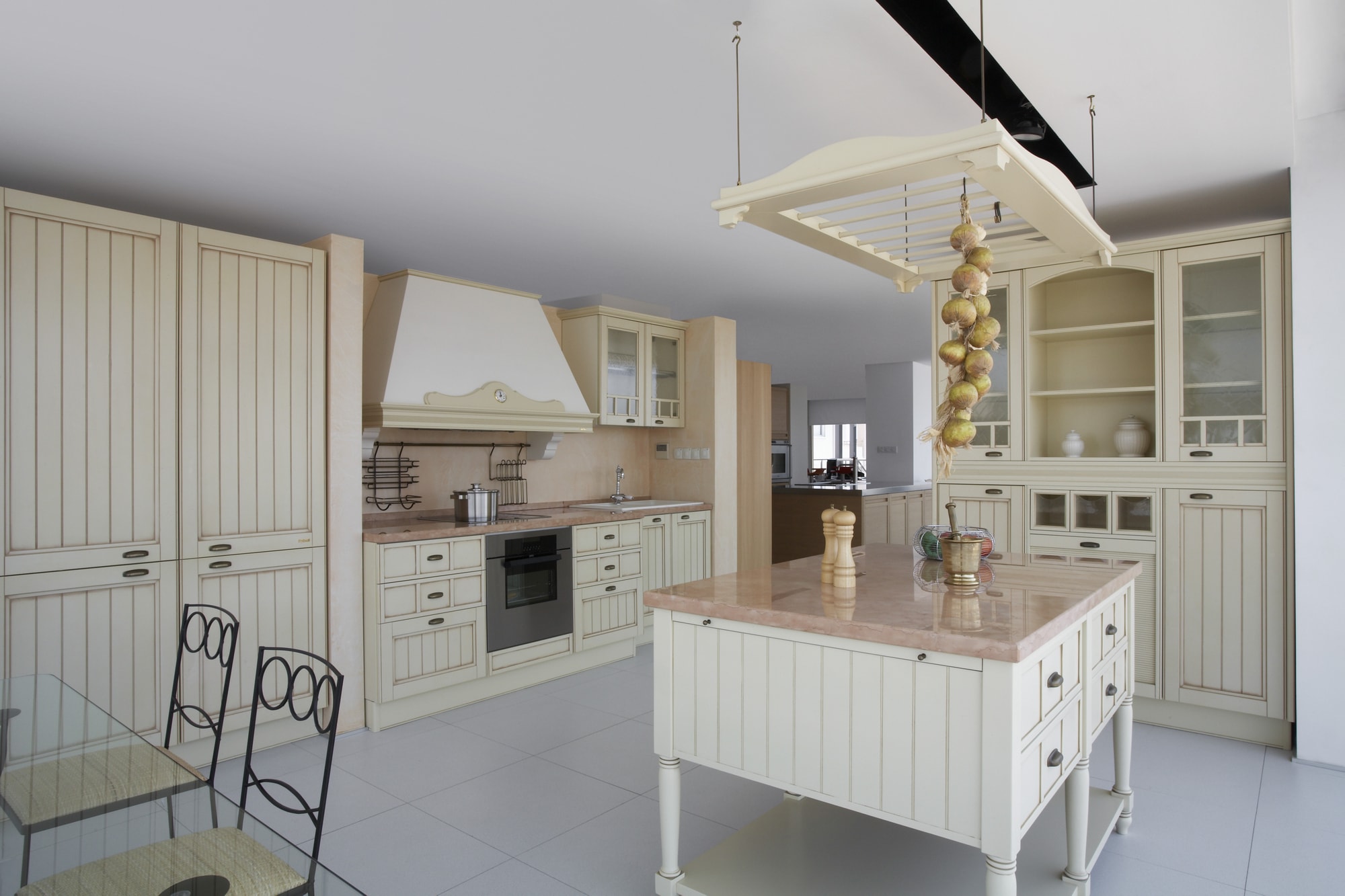 If you like french country or authentic farmhouse styles, warm up your kitchen with a pinkish brown countertop. This works best when your cabinets already have warm undertones.
If you're not entirely sold on the color of the counter but want a similar feel to your kitchen, consider a warm tan, gold, or brown speckled counter instead.
Balance Dark Floors with a Light Tan Counter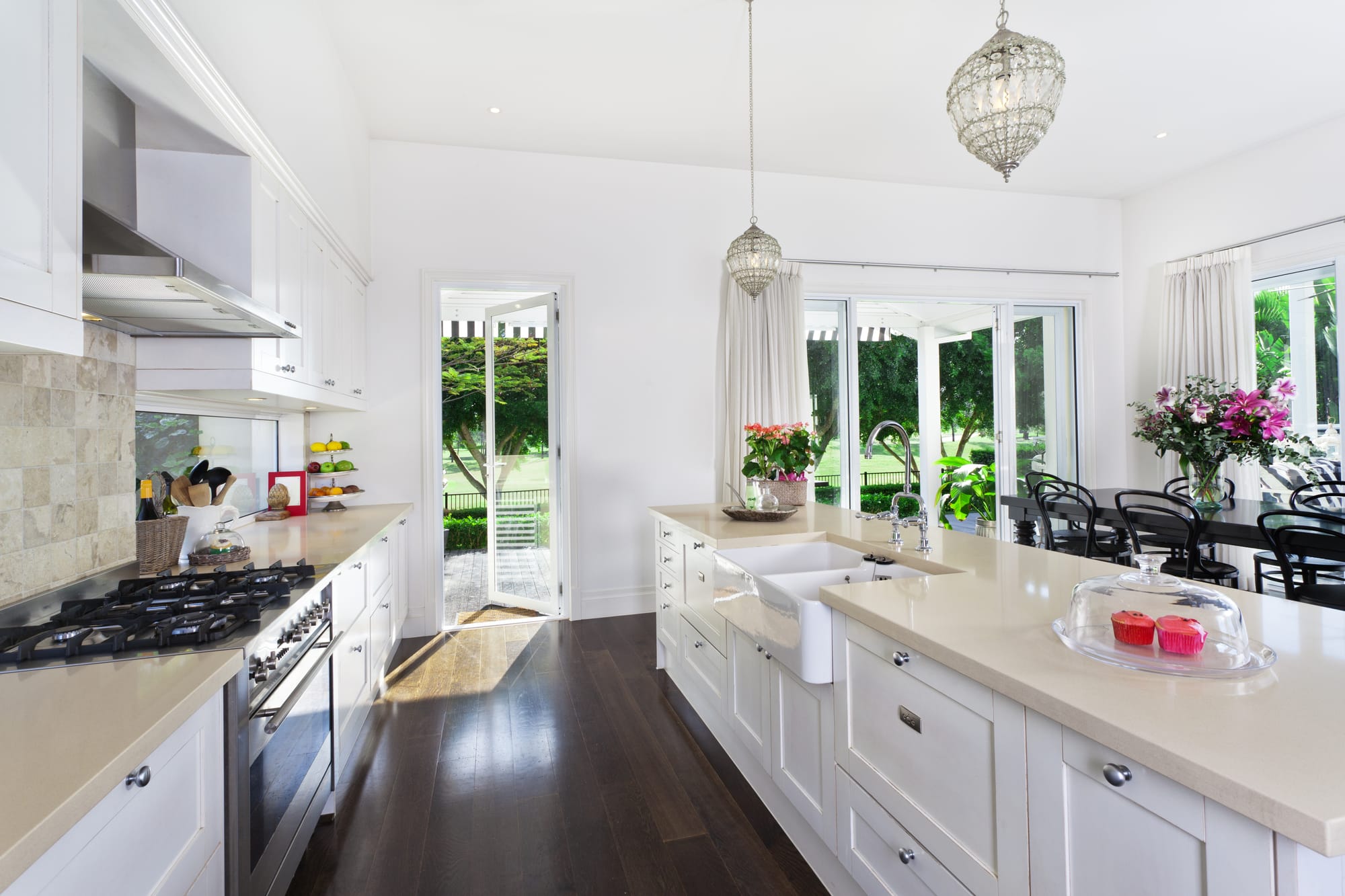 If the flooring in your kitchen is very dark, balance it out by using a light tan counter with your white cabinets.
As you can see from the photo, the light tan helps soften the room while still looking fresh. So, if you've been afraid to use tans thinking they'll look outdated, don't be. When done right, tans still look modern.
Get a Country Look with Brown Granite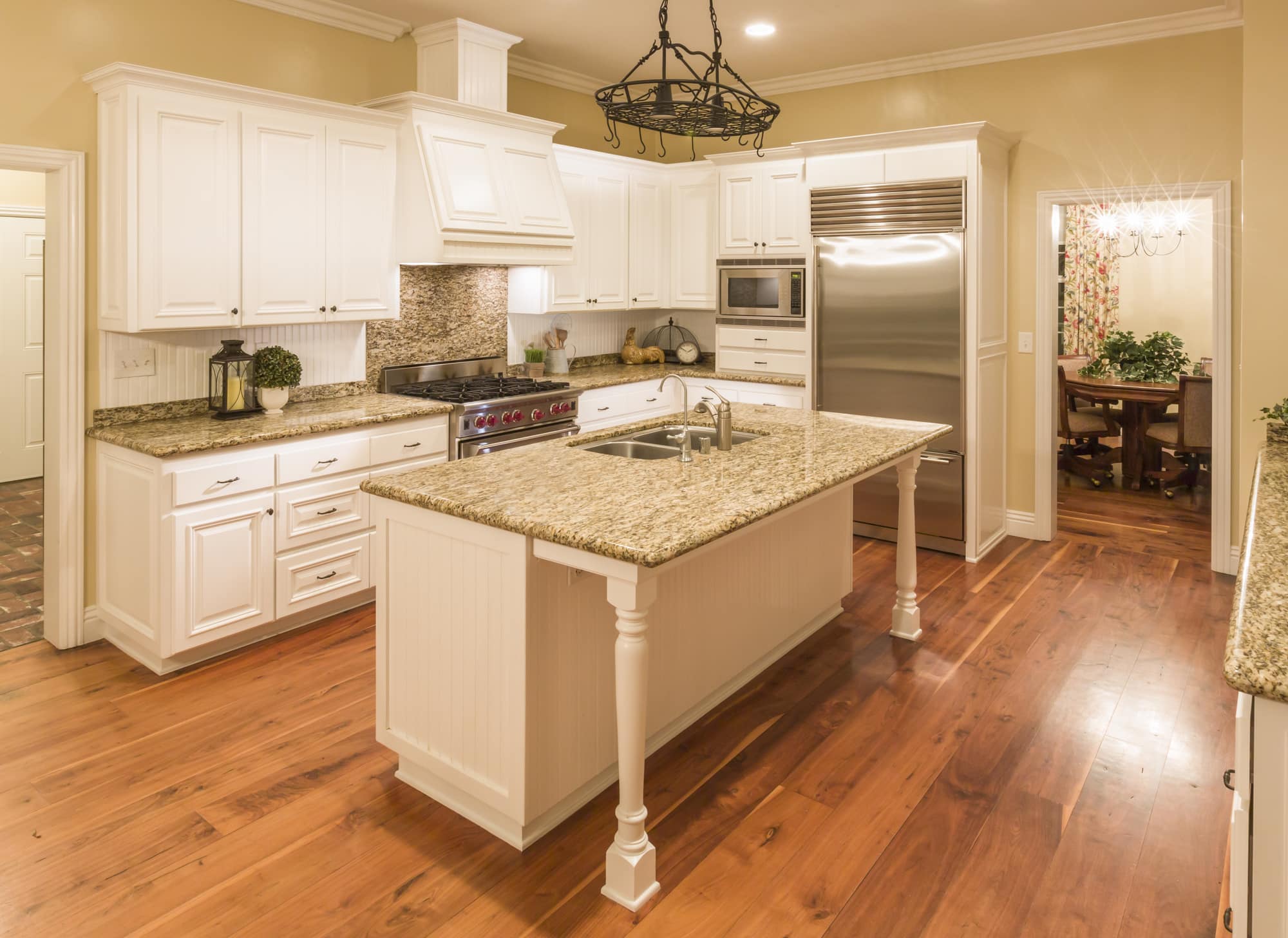 Are you going for a country or farmhouse look? You can get it with a brown granite countertop. You can use a lighter tan counter or something mid-toned.
However, you need to be sure that whatever you choose matches the undertones in your cabinet, especially if they aren't pure white. White cabinets with a brown counter will give you a neutral backdrop for the rest of your decor.
Consider Concrete for a High-End Look on a Budget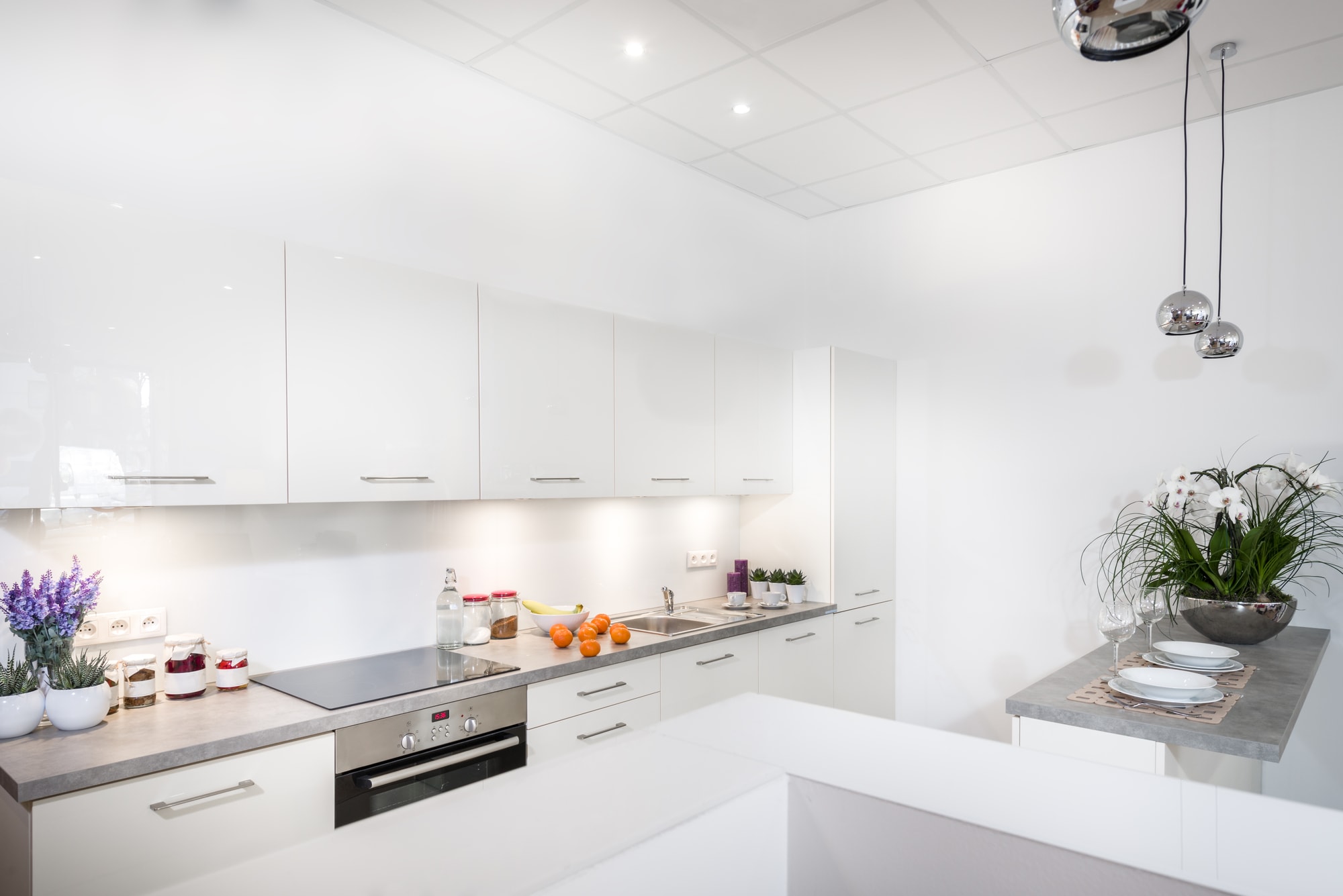 If you're looking for a durable countertop that won't break the bank, consider concrete. Concrete looks high-end, and you can dye it just about any color.
If you don't want to go the DIY route of making your own concrete counters, you can hire out the job or go for a concrete look Formica.
Make a Statement with Red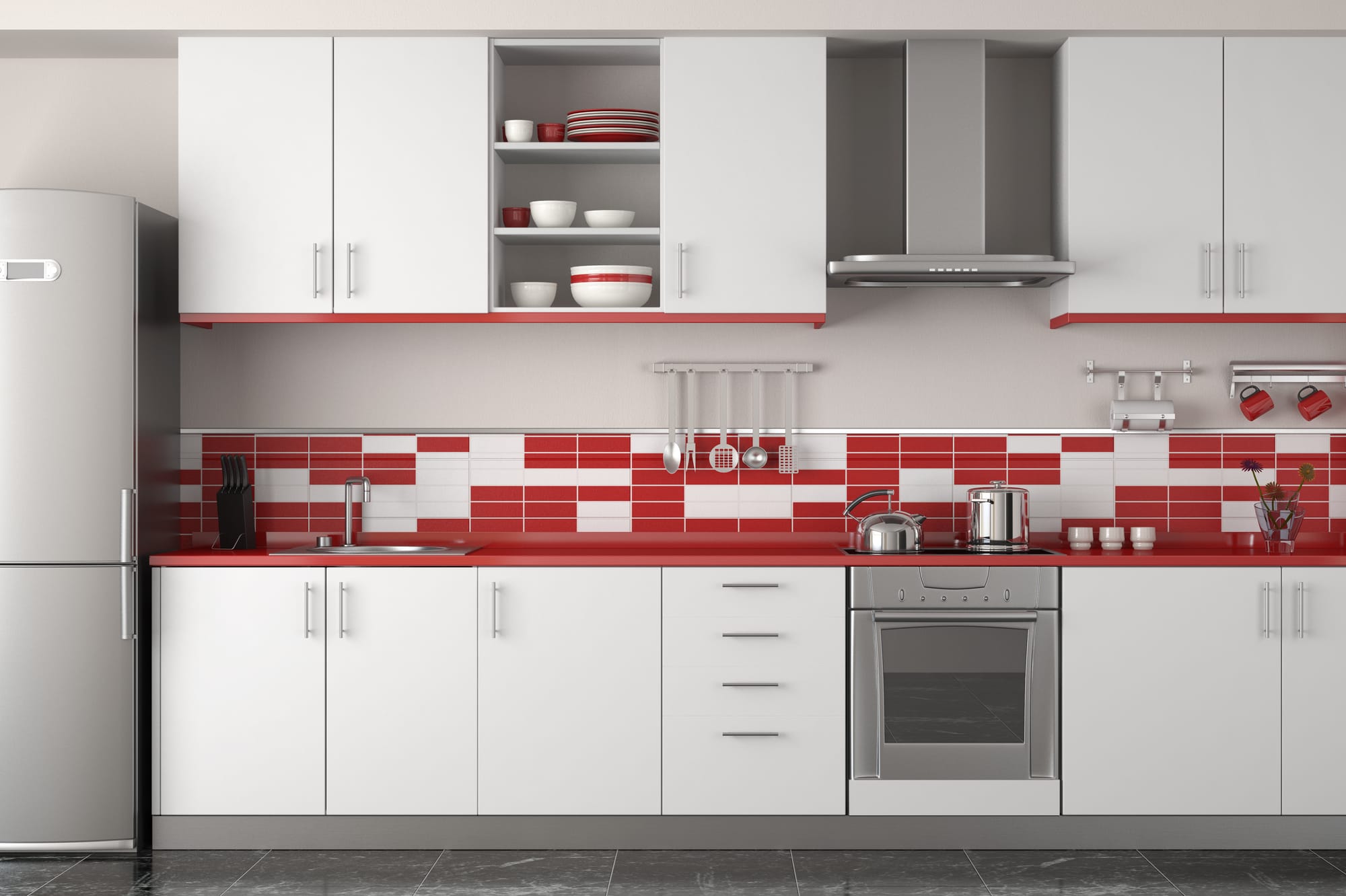 Do you like mid-century modern or ultra-modern designs? If so, skip the neutrals and try something bold, like red.
While this look isn't for everyone, it's a great way to make a statement and create a unique kitchen. You can complement your red counter with a matching backsplash or use something more neutral to tone down the look.
Final Thoughts
It's pretty easy to match countertops to white cabinets. The biggest issue is making sure the undertones in your counter complement the undertones in your cabinets.
So, if your white has some warm undertones, consider adding a warm-colored countertop and vice versa. If you want to play it safe, go with a white counter, but again, make sure the undertones match.