Decorated Life is reader-supported. When you buy through links on our site, we may earn an affiliate commission. Learn More
Blue And Gold Bedroom Ideas
The gorgeous fusion of blue and gold is a great fit for a sense of royalty, gloriousness, and magnificence. It brings just the right amount of drama, depth, and character – which isn't daring at all times.
This combination also has the potential to play cheerful, calm, and fun-loving – while at the same time, rich and glamorous. And especially when it comes to decorating the bedroom – there are endless ways to play around with blue and gold.
So, are you ready to embrace the drama with blue on the walls and gold on the accessories? Or are you looking forward to allowing blue and gold both to equally play accents? Well, we have curated 15 blue and gold bedroom ideas that will readily grab all the attention of your guests and make them go "wow"!
Gold Low-Profile Bed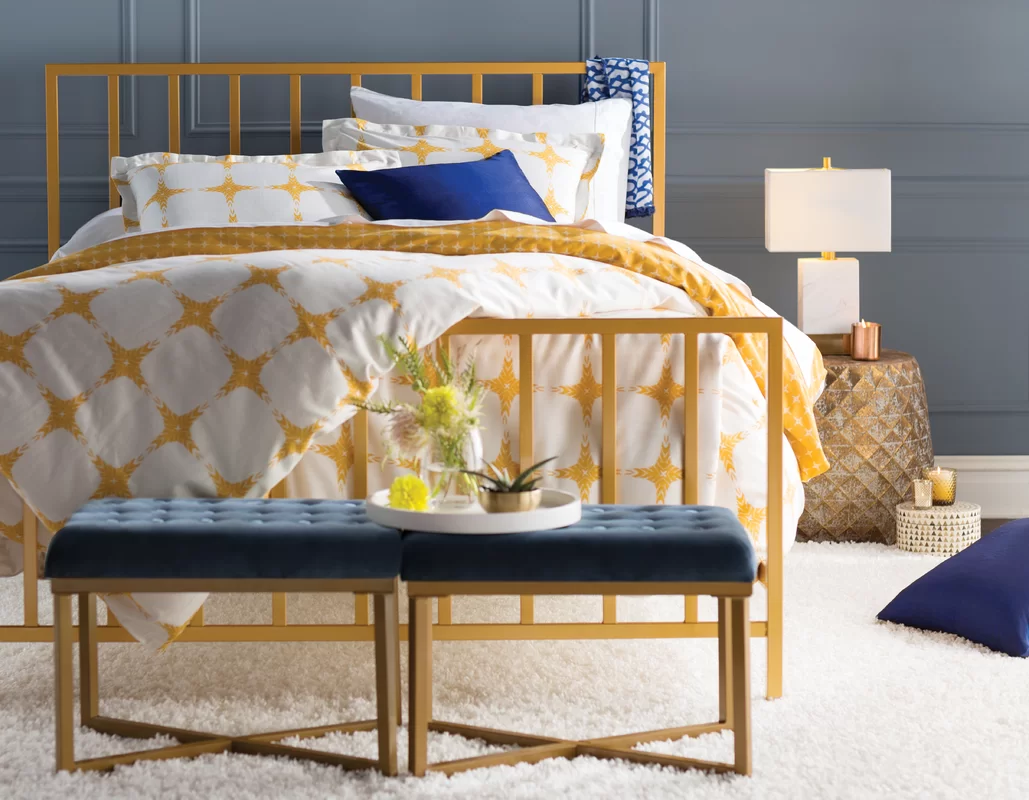 Unlock the majestic feel of your bedroom by styling this authentic and dramatic, gold low-profile bed. Crafted in steel, this bed possesses a chic metallic look that readily plays a subtle accent to the bold and dramatic blue hue on the walls.
It tends to protrude out and yet blend with the overall panorama of the bedroom. Furthermore, to balance cohesiveness, you must add a light gray or white base in the form of bedding, rugs, and other accessories.
Transitional Blue and Gold Bedroom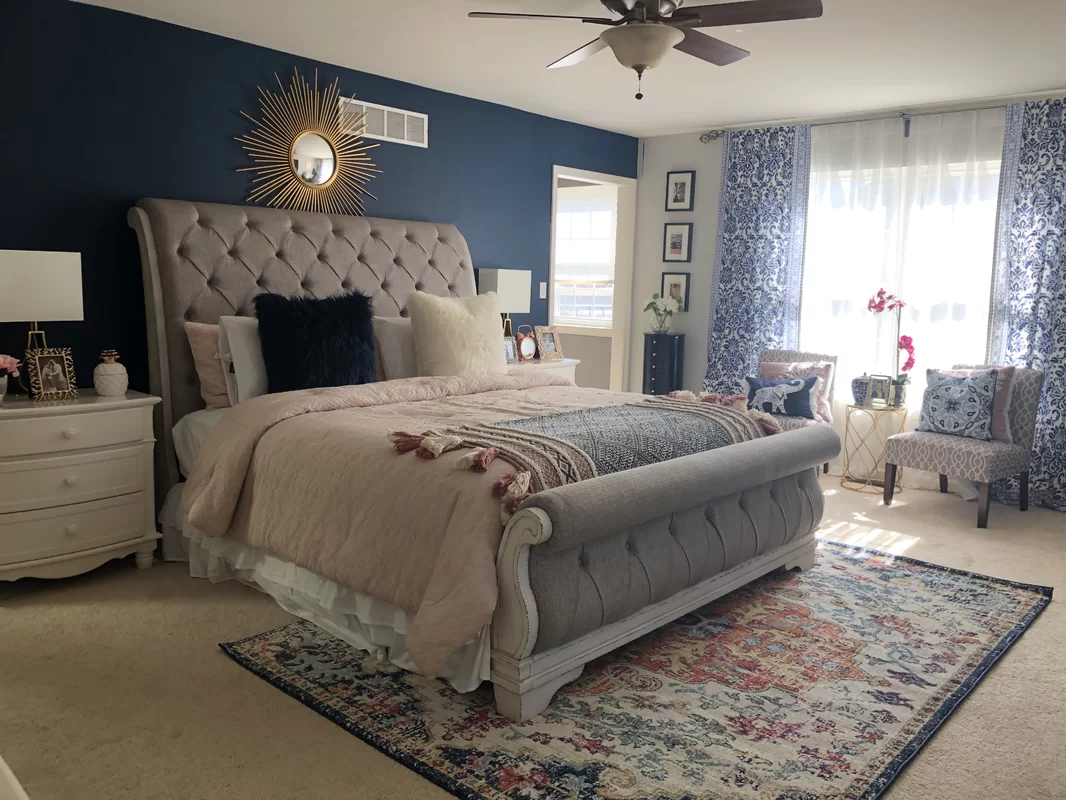 The most eye-catchy character of this transitional bedroom is the stylish wall mirror that is bound to exhibit a flair of glam to the room. In your modern navy and gold bedroom – it's not necessary to only play with these two colors. Well, you must add bases like warm gray or white to the furniture to create cohesiveness.
In this bedroom, the dark blue wall plays a dominant focal only because of the warm gray headboard and white brick mold and nightstands!
Serene Blue and Gold Bedroom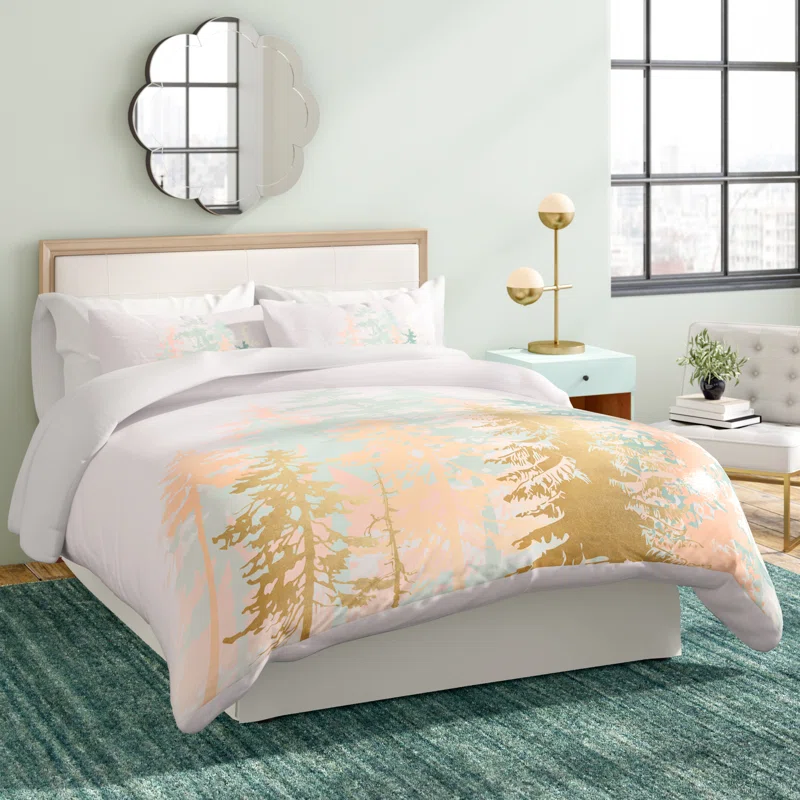 Who says that blue and gold can only foster a dark, bold, and daring ambiance? Well, it equally has the potential to play calm and soothing. And it all boils down to the particular shade of blue you intend to choose. Generally, blue greens and baby blues are something to look forward to!
In this setup, the gold in the comforter and table lamp complement each other seamlessly! And let's not ignore the mirror that further makes the space appear larger and airier.
Gold Globe Chandelier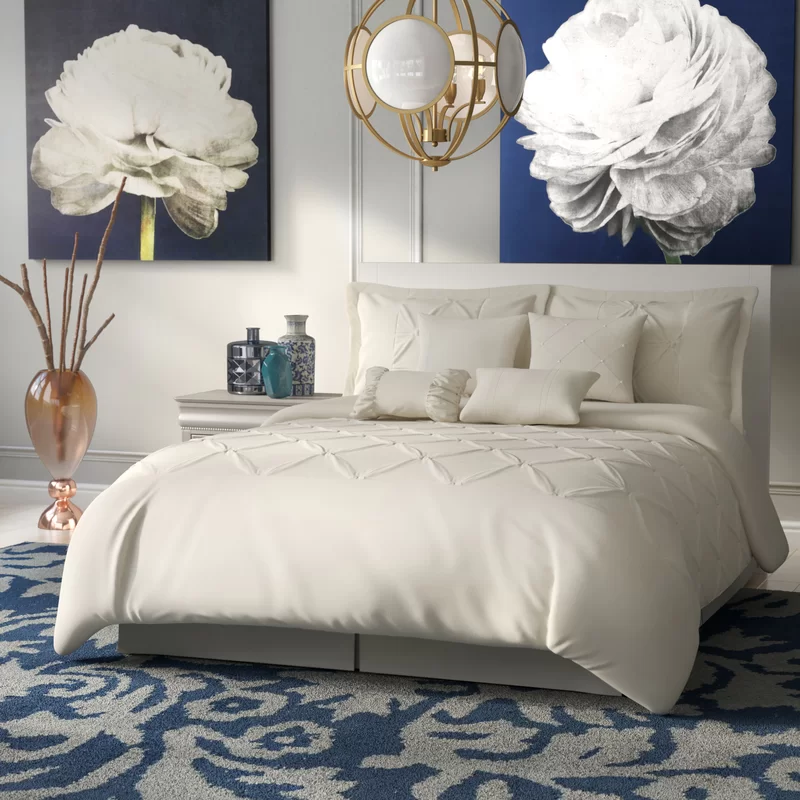 Chandeliers can instantly transform your space and make it look more majestic and splendor. And especially if it's plated in satin gold, the result will truly be glamorous and fabulous. So, whether you choose a blue accent wall or furniture – one of the best ways to introduce gold is on the lighting fixtures.
This way, your modern navy and gold bedroom doesn't appear too overwhelming or gaudy and shiny!
Playful Blue and Gold Bedroom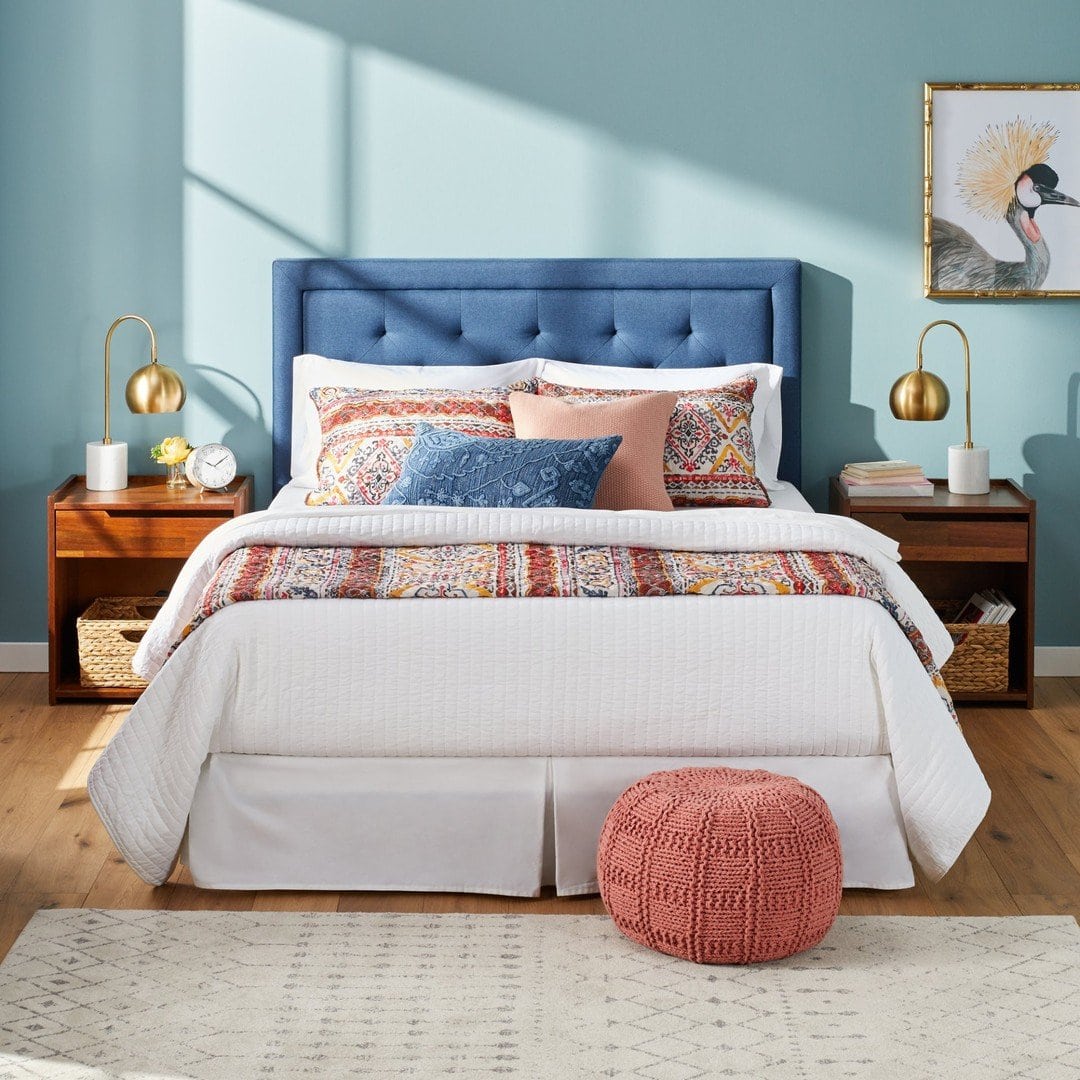 Yes! You can absolutely create a cheerful and fun-loving vibe in your blue and gold bedroom. The third color that complements the two is a shade of coral or pink that adds a touch of boho and a flair of energy to the room.
With the tones of blue on the wall and headboard, it's best to add florals or motifs in a multicolor tone on your throw pillows and ottoman accessories. Lastly, don't forget a touch of gold on your artwork frames and table lamps!
Gold Print on Canvas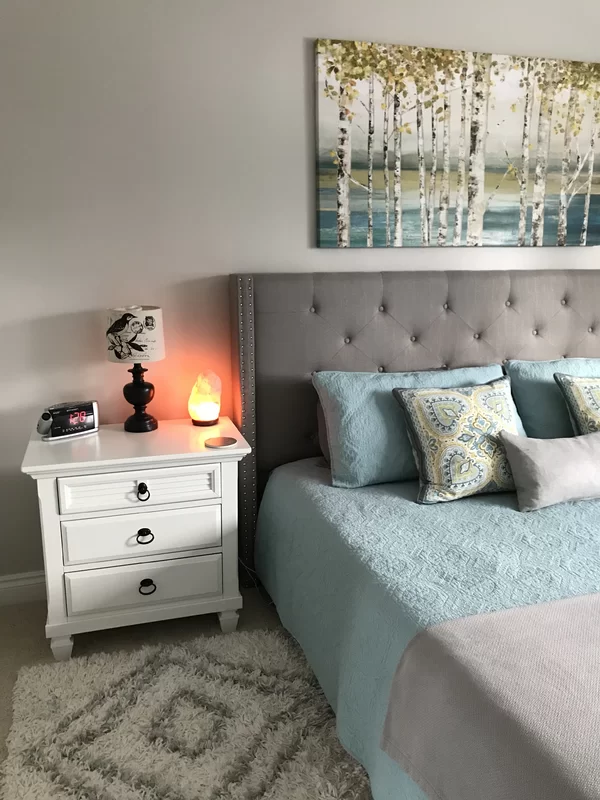 If you don't like the feel of chic metallic gold on the lighting fixtures or furniture frames – you might as well choose a print like this artwork. Even though it's not necessarily a focal gold accent, it also adds a tinge of luxury to the palette.
Yes, some homeowners find the touch of gold quite gaudy and this is the solution you can very well incorporate!
Coastal Blue and Gold Bedroom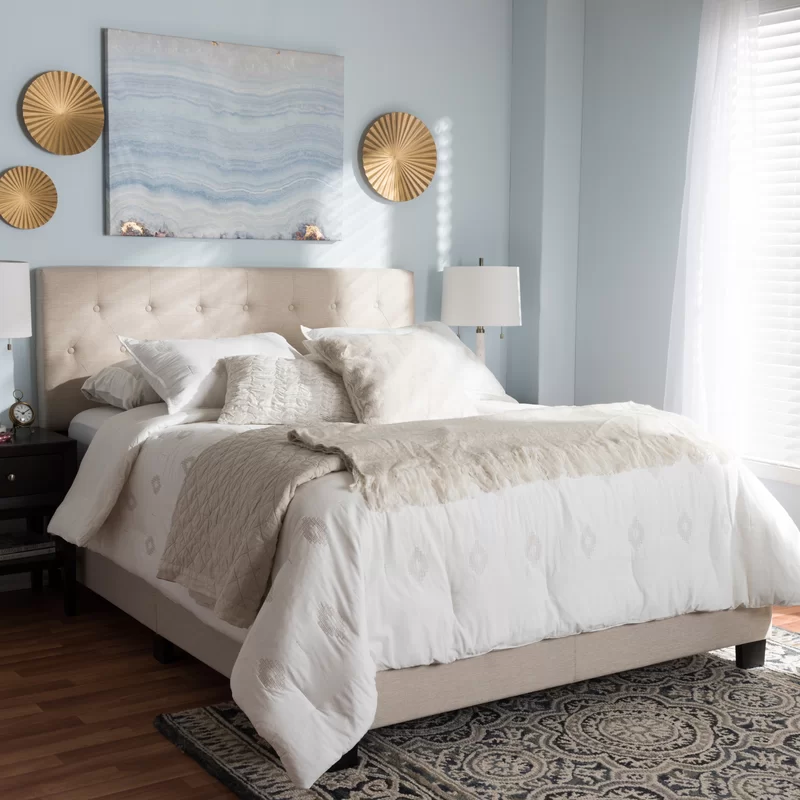 Do you admire that beachy and coastal vibe in your bedroom? Well, you can definitely enjoy that airy and breezy feel of a bedroom with blue and gold amalgamated. Yes – especially when you have to pick a tone of light blue to go!
Simultaneously, ensure to add white sheer curtains and white cotton bedding with a white comforter to imbibe an airy and refreshing vibe.
Modern Navy and Gold Bedroom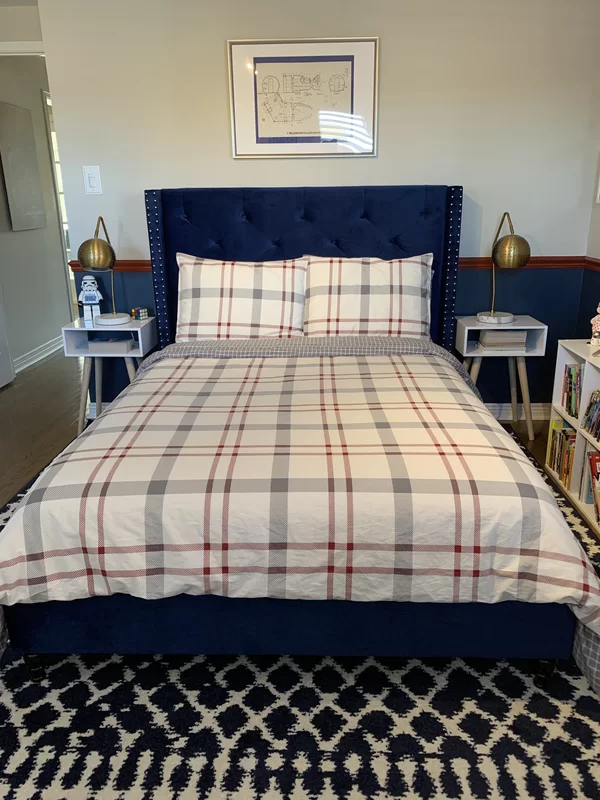 A navy upholstered bed is a primary and common way to decorate your modern navy and gold bedroom. It perfectly gives a touch of glam and at the same time, makes your bedroom feel equally bright and breezy.
Yes, you don't always have to paint that focal wall in blue. If you have the square footage issue – you can simply splash navy blue on the upholstery. Secondly, ensure to add gold in minimal amounts – to the table lamps!
Golden Bloom Wall Decor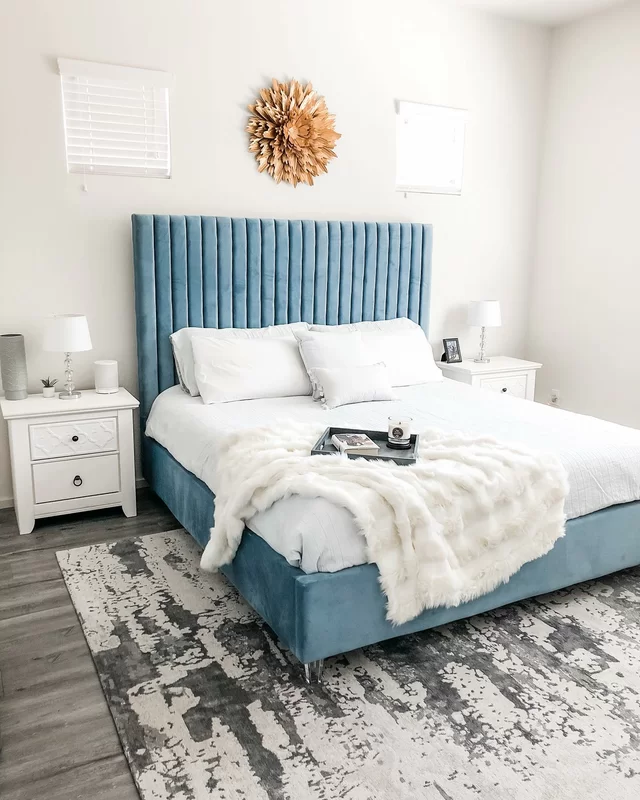 Featuring a unique, intricate gold-metallic wall decor piece – this modern bedroom is as calm and refreshing as possible. It brings you closer to the sea with a perfect contemporary and beachy vibe. And this piece of wall decor adds just the right amount of glam and richness to the room!
If you observe closely, neither blue nor gold really overwhelms or dominates the room. It's the white and light gray that truly complete the palettes.
Eclectic Blue and Gold Bedroom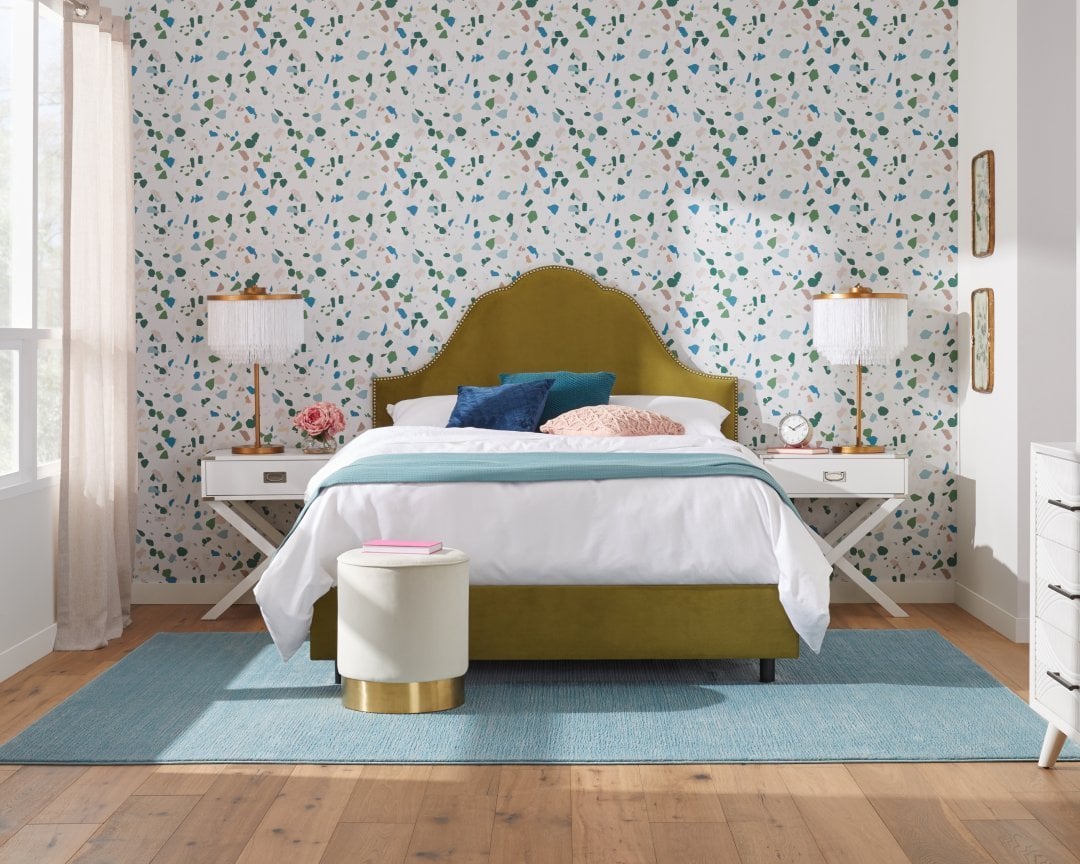 In some cases, you can add more than a third color to make your bedroom feel flawless and majestic. Well, have a look at this Eclectic-style blue and gold bedroom! In amalgamation with blue and gold are olive green, pink, and teal that complete the palette and infuse the perfect sense of eccentricity!
Try avoiding too much gold here! Hence, just a pinch of metal on the furniture frames, artwork frames, and table lighting fixtures are probably all you need!
Glam Blue and Gold Bedroom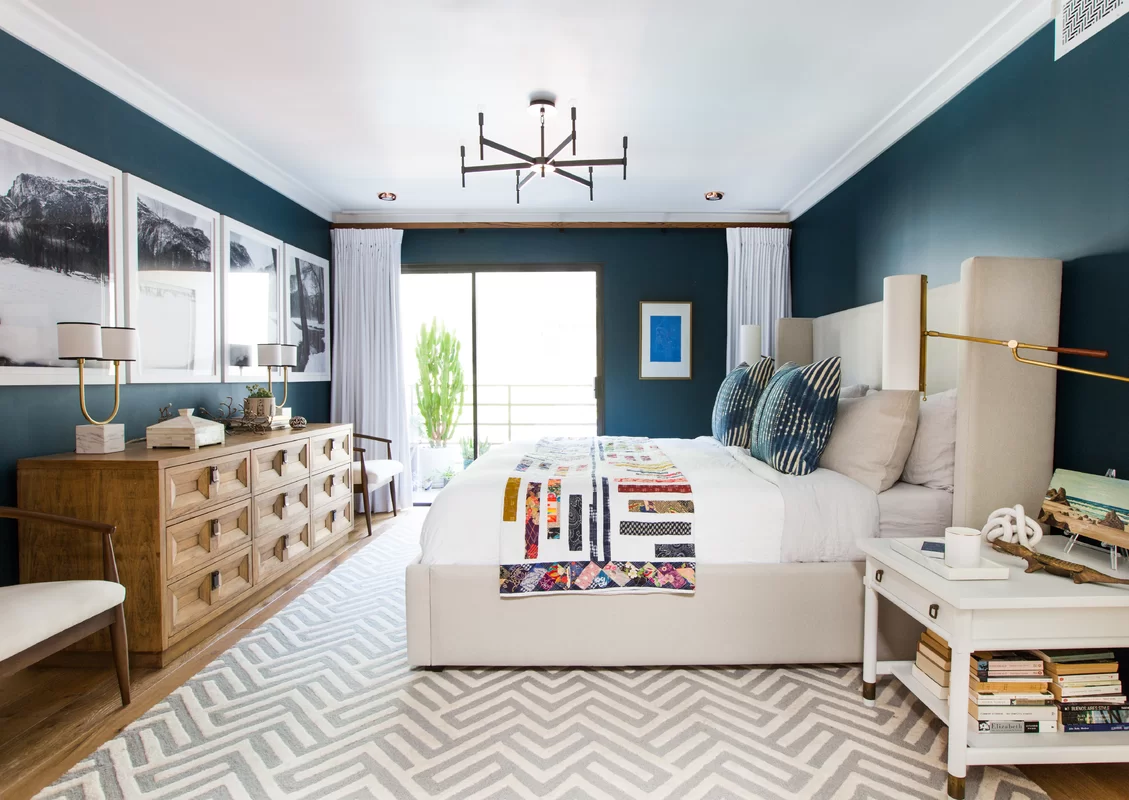 This is one bedroom idea to take inspiration from! Hence, painting all the walls of your bedroom in blue is the number one way to introduce a sense of grandeur, richness, and luxury. (Ofcourse, you must have the size and scale for it)
Secondly, infusing gold is what brings creativity in. Hence, don't forget to style the curtain rod, chandelier, table lighting fixture, and ottoman frames in it!
Neutral + Blue + Gold
This bedroom flaunts a beautiful touch of blue and gold with a subtle off-white neutral to play magic in the room. So, if you like the feel of just a little blue and gold – this living room is something to take inspiration from!
The focal blue throw pillows to an all-white background and gold-framed floor lamp gain a ton of attention. And simultaneously, make your bedroom feel lively and cohesive!
Quirky Blue and Gold Bedroom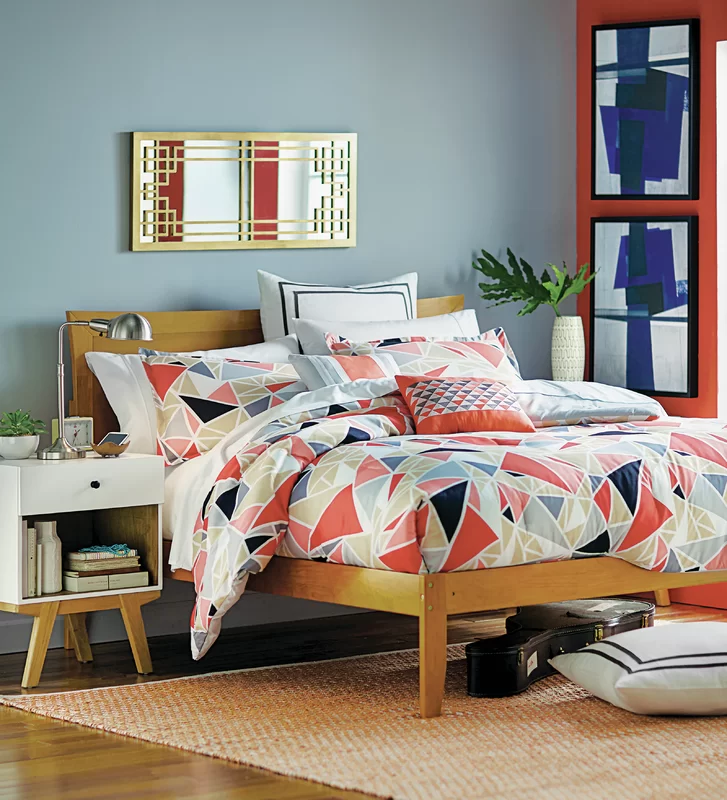 You can either create a sophisticated and elegant vibe – or, something fun-loving and playful – the choice is yours! In this bedroom setup, the blue and gold cohesively work with each other to create a unique and out-of-the-box design.
The fancy and multicolored duvet allows cooperation with blue abstract artwork to create a totally stunning appeal. And with a ton of hues, patterns, and textures – add just a single element of gold! (Whether on artwork or table accessories)
Contemporary Blue and Gold Bedroom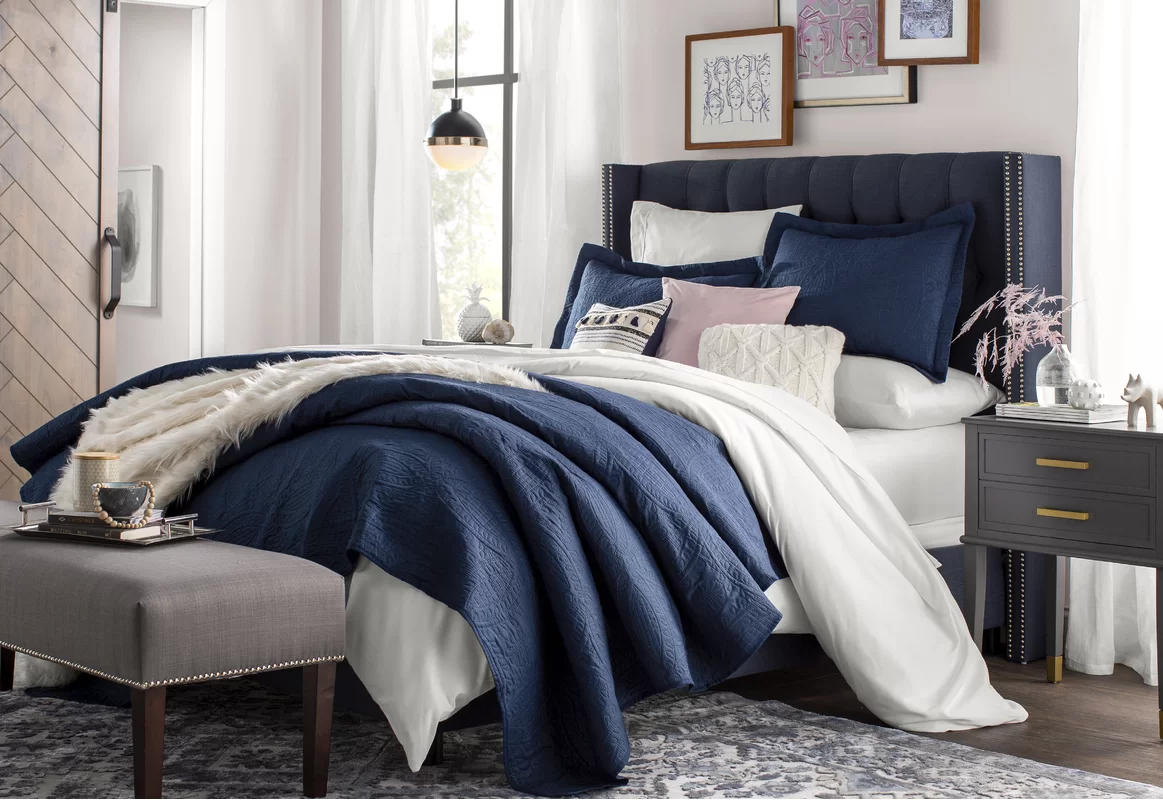 In some bedrooms, you must actually look around for gold. And one such example is the one above! Dominantly playing a tone of navy blue, this bedroom is sophisticated, soothing, comfortable, cozy, and calm. It's not truly glam – which is why you will only find the gold tints on the pull handles and accent lighting fixtures.
Add the third wheel of white and pink to further infuse a sense of visual interest into the room!
Sputnik Chandelier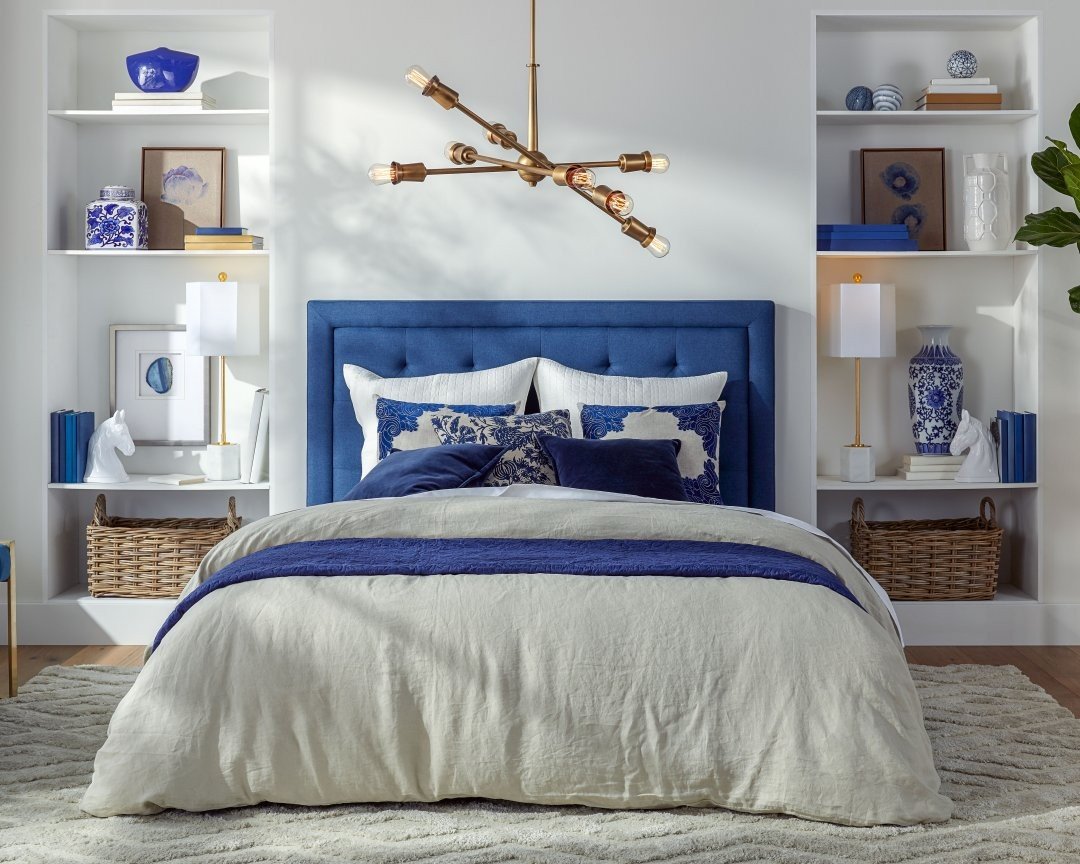 This is one of the classic blue and gold bedroom ideas. With the focal blue playing artistic on the fabrics, headboard, ceramic, and centerpieces – the overall appeal is totally mind-blowing. Also, the sputnik chandelier is like a cherry on the top!
Secondly, for a breezy vibe, there are ample whites in the background to play soothing and calm. It also enhances the blue palette and makes the two colors protrude out!
Summing It Up
Believe it or not – you will never get bored of this timeless combination. It's responsible for bringing a cool and calm vibe, or daring and sophisticated – and it all boils down to your choice! So, did any of the above-mentioned blue and gold bedroom ideas intrigue you? Well, do let me know your thoughts in the comments below!