Decorated Life is reader-supported. When you buy through links on our site, we may earn an affiliate commission. Learn More
21 Fantastic Grey and Brown Living Room Ideas You'll Love
Do grey and brown go together? Of course, they do! It's one of the classic combos. Grey is neutral, steady, elegant, and sophisticated. A good base color to pair with others. Brown generates a sense of coziness, comfort, and protection. It looks homely and natural.
But you need to combine them well for the overall result to work, so check out these 21 fantastic grey and brown living room ideas.
Combine Light-Grey Furniture With Light-Brown Wooden Floors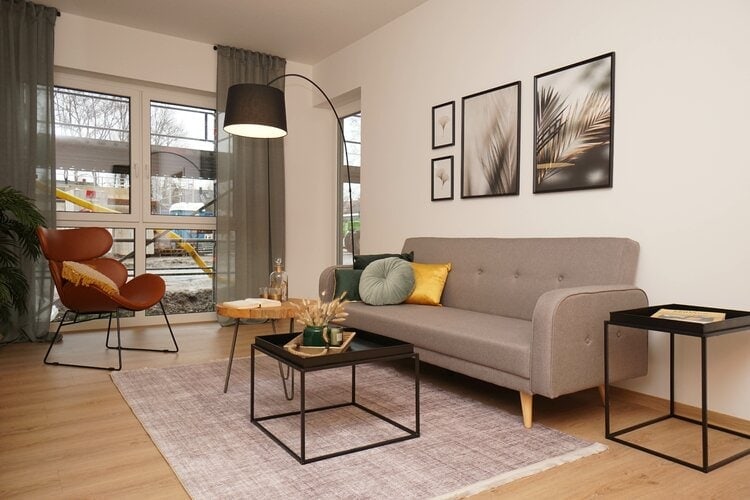 Wooden floors are a classic. If you happen to have brown wooden floors, choose a grey square arm sofa with Nordic-style brown legs and combine it with curtains, and an area rug in the same tone.
Make sure you locate the curtains the closest possible to the ceiling. It creates a feeling of spaciousness and sophistication. Also, area rugs are great for dividing and setting spaces in the living room.
All Grey Living Room With Brown Wooden Floors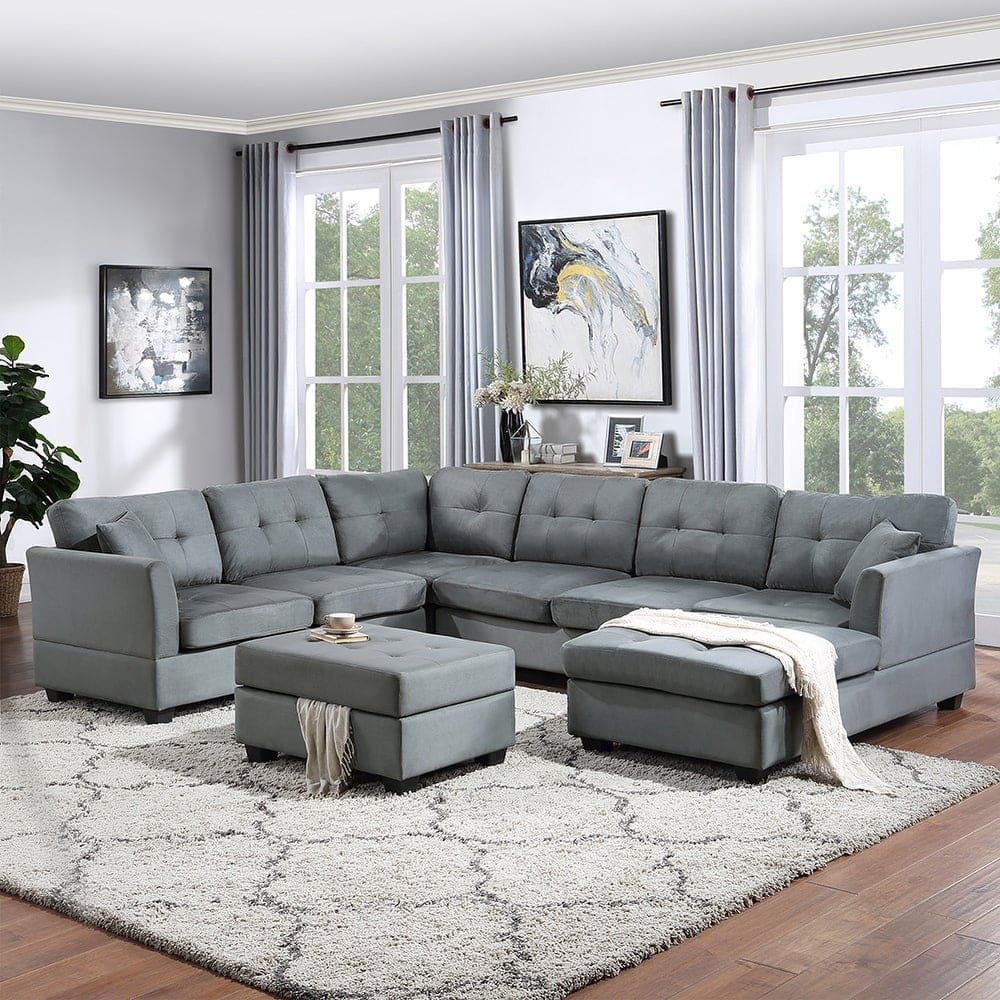 Look at this living room with grey walls and brown wooden floors. Making it all grey with a touch of brown gives a sense of sophistication, openness, and brightness, but also with a cozy touch.
So, for furnishing, try adding a grey U-shaped sectional sofa and combine it with grey long curtains. Place a brown wooden side table so it matches the floor and it keeps brown as an accent color.
Try Grey Walls With Dark Brown Furniture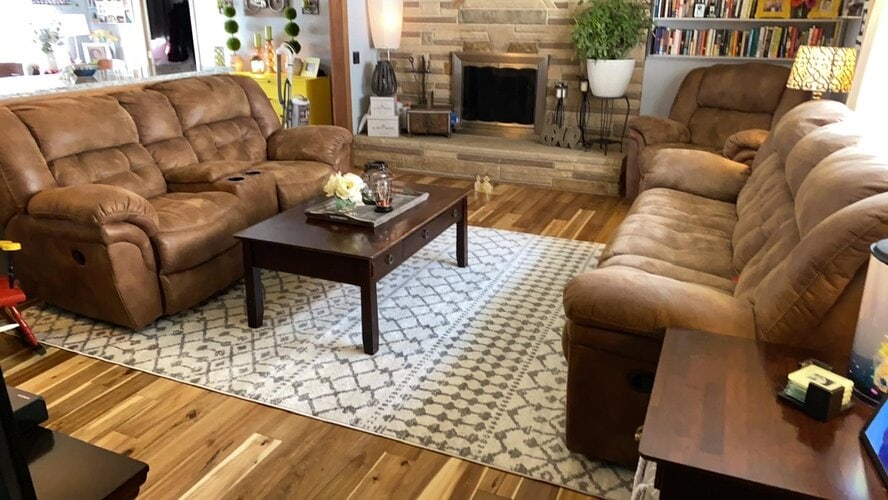 If you're more into rustic-modern decorating style, then you'll love this brown furniture and gray walls living room idea.
Locate a strong brown reclining couch on a grey patterned area rug. Combine modern style light brown wooden floors with grey walls and a fireplace in a stone wall in grey and brown shades.
Add a dark brown coffee table in the center. Then choose elements of your taste and locate them in a wooden tray on the coffee table.
Choose Light-Brown Furniture and Cozy Lighting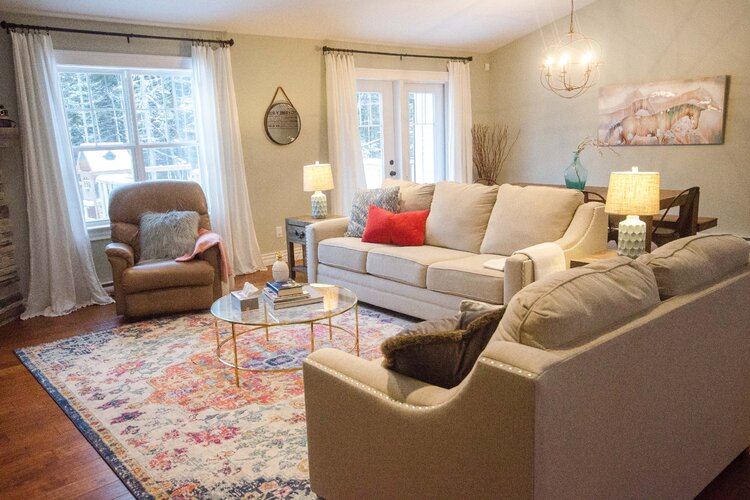 Does your living room have brown hardwood floors? If so, try painting the walls a subtle grey and add a modern multiple light pendant chandelier, plus other spotlights along with the room.
Locate the sitting area in the middle of the room (instead of up against the wall) and mix beige cozy couches with a darker grey or brown armchair. Adding a glass coffee table with golden edges will make a great combination and it'll help to enhance the lighting of the room.
Combine Grey and Brown Seats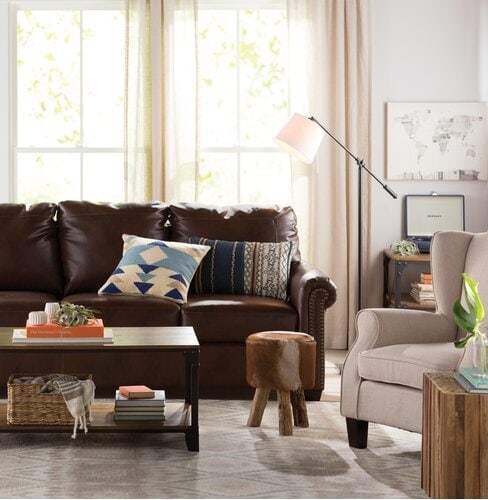 Who said your sofas have to be all the same color? In fact, combining grey and brown sofas will make your living room more dynamic, adding an interesting touch that breaks the monotony.
Match your dark brown sofa with a wooden coffee table and combine it with a grey armchair or couch.
Don't Be Afraid to Mix Styles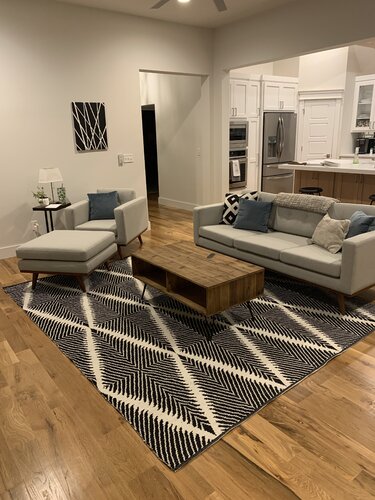 Want to mix it up a little? Go with different styles.
Use patterned area rug and pillows, and match them with a wrapped canvas on the wall. The secret is to add subtle details that make the room more dynamic.
Have a vintage wooden coffee table and a mid-century grey sofa, all with Nordic-style legs.
Paint the wall a light tone (it can be beige or a very light grey). And there you go, you've successfully combined modern, mid-century, and farm style in your grey and brown living room.
Dare to Use Dark Colors, Too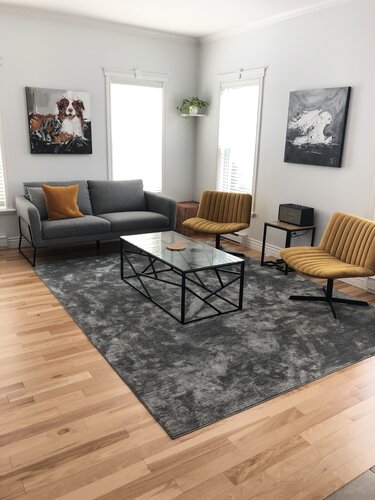 Grey walls and dark grey furniture with brown wooden floors? Definitely yes.
Paint the walls a very light shade of grey. Then choose a textured handmade dark grey rug and place it in the corner of your living room. You can combine it with a dark grey matching sofa with brown/mustard pillows and lounge chairs in the same tone.
Place one or two colored wrapped canvas photographs on the wall. There you go, a perfect dark grey and brown living room combination.
Grey and Brown Living Room With Wooden Ceilings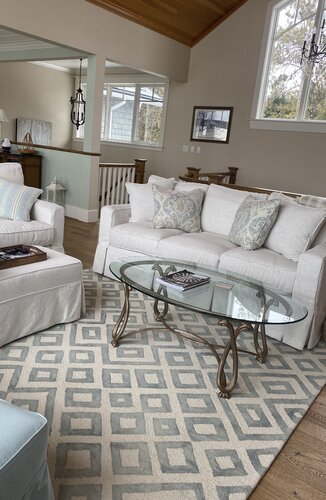 There's an amazing grey shade for the wall. It's not too light, not too dark, just a mid-grey that goes perfect with a brown and a little greyish wooden floor.
Do you know what goes extremely well with that? Wooden ceilings. Yes, if you have wooden ceilings, leverage their power. They bring a homely feeling, and combining them with light furniture and a patterned rug in a grey tone makes the perfect modern room for you to relax when you're home.
Combine Modern and Vintage Elements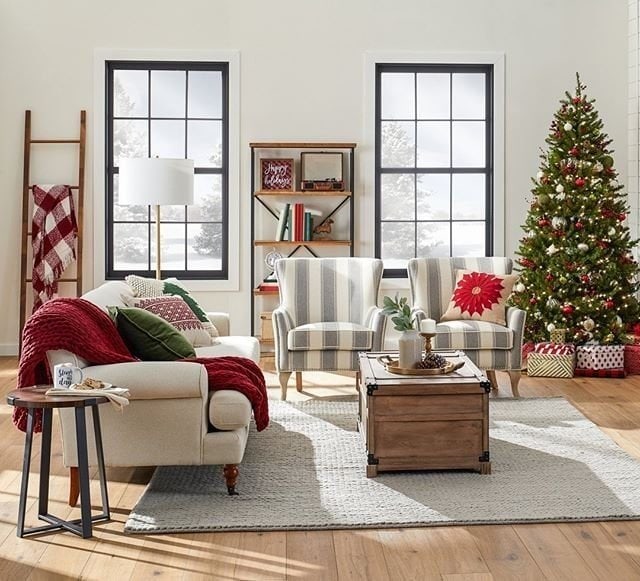 The grey and brown combination is perfect for creating a cozy and natural farmhouse style living room.
Choose a mix of rustic and vintage elements with simple and modern furniture. A brown wooden trunk goes perfectly with a farmhouse style sofa and accent chairs. The grey area rug, on the other hand, adds a touch of elegance and coziness on rustic wooden floors.
Mid-Century Grey and Brown Living Room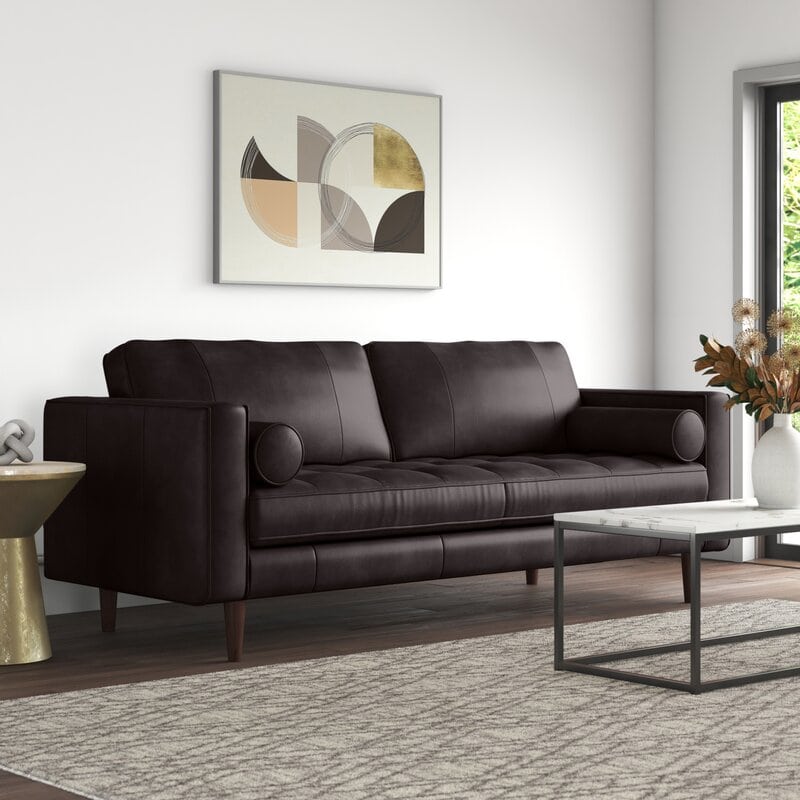 Dark brown matches perfectly with dark grey. Achieve a mid-century style by putting a dark brown square arm sofa with long legs up against a white wall in a living room with also dark brown wooden floors.
Combine it with a grey area rug and a grey marble coffee table with metal legs. Simple and minimalistic, mid-century style is great for people who like clear spaces that are also easier to clean.
Use Pillows to Make it Fun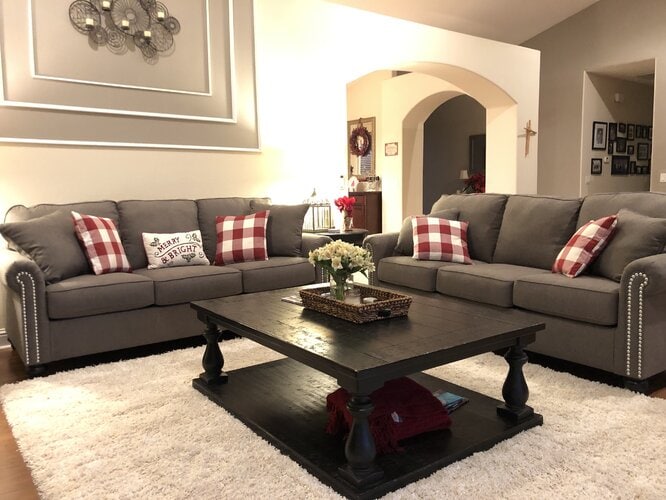 Are you into a more traditional style? Traditional doesn't equal boring.
The key is to look for elements that bring novelty and dynamism into your grey and brown living room. Mix designs, accent colors, and textures.
So, for example, you can add pillows with different designs stamped on them, and match them with a patterned or textured carpet.
Combine Different Materials on the Walls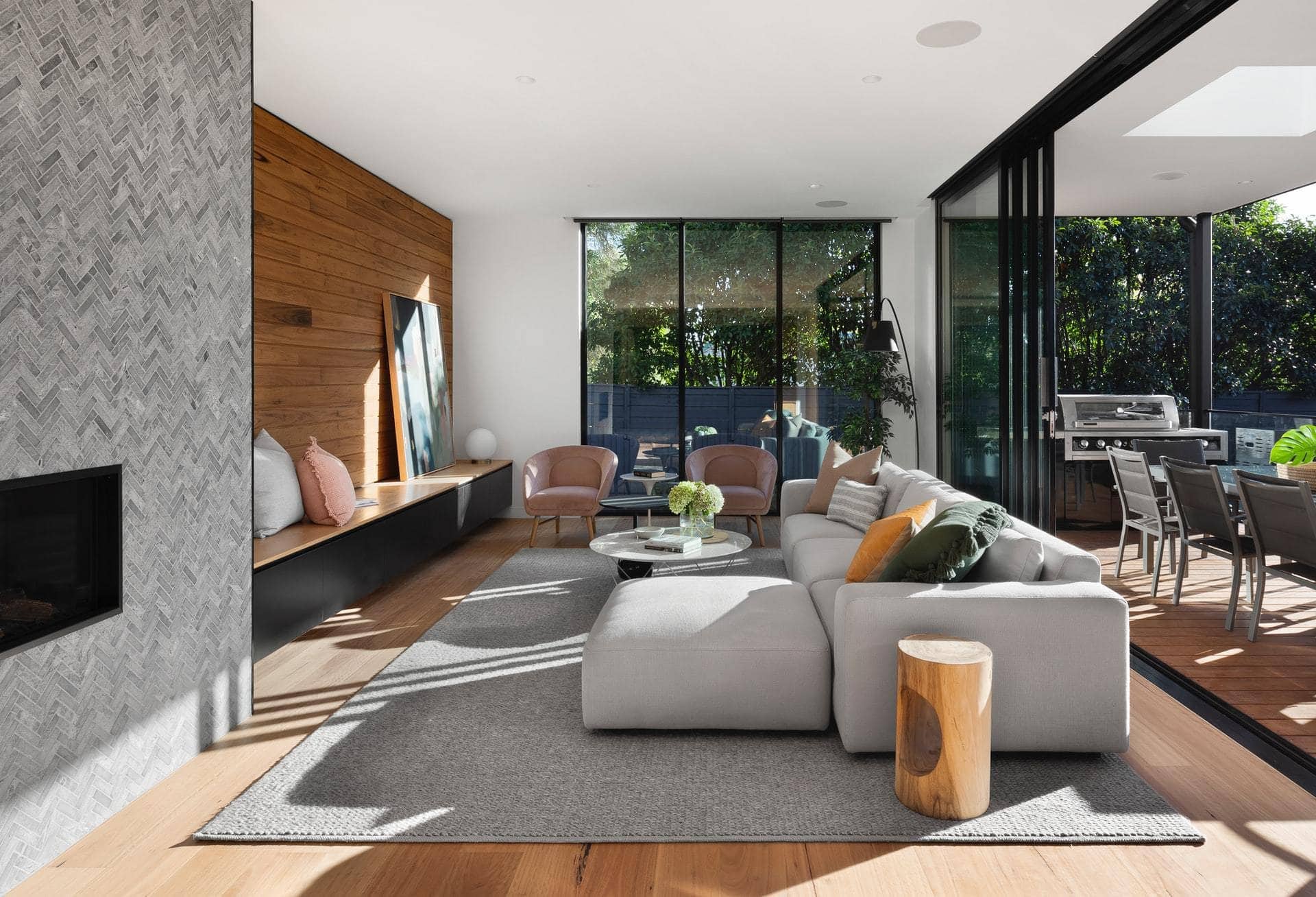 Have you ever thought of making a wooden wall in your living room? It will give the room a cabin look. And what about combining it with a grey floor-to-ceiling wall made of stone with a fireplace? Nice, right?
Add a grey rug together with a light grey sectional couch that matches the stone wall and put some accent-colored pillows. Try yellow and green.
Brown Walls With Grey Furniture Is a Good Option, Too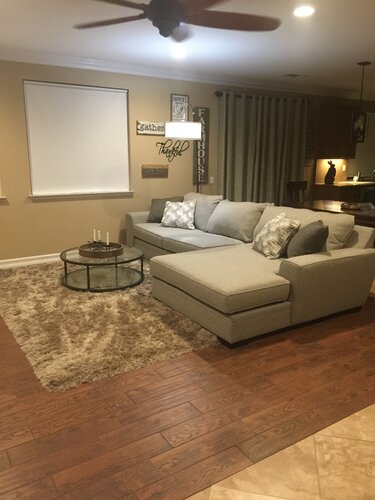 Although it may seem like a lot, having a living room with brown walls and grey furniture is actually a great idea.
Paint the walls a mid-brown shade and put a big grey L-shaped sofa in the middle of the room, so it acts as a divider.
Tack on a lighter brown shaggy carpet and grey stamped pillows with different designs to add some extra details. You can mix it with grey curtains, too.
Mid Century Grey and Brown Living Room With Accent Colors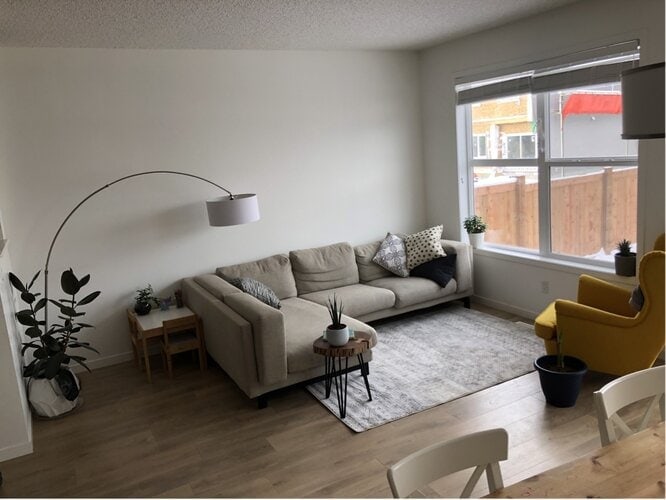 Achieve a mix between a farmhouse and a mid-century style living room by adding some accent colors.
For rooms with neutral brown wooden floors, choose an also neutral grey L-shaped sectional sofa and combine it with a strong colored armchair, like in the picture above. It can be yellow, but also orange, or pink. It depends on your taste.
You can add some stamped pillows and a plant to create a dynamic space.
Include plants to Make Green an Accent Color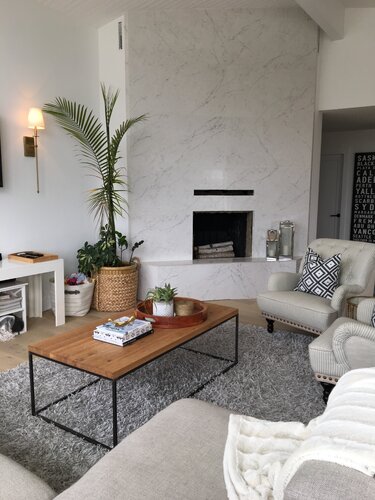 Adding plants always brings life to the room, and green is a perfect match for grey and for brown, as well.
Place them on the coffee table, on shelves, and you can even put large ones on the floor. Combine them with a nice grey shaggy rug and matching sofa and armchairs in a lighter grey.
Adding an industrial wooden coffee table with a metal rectangular base will create a sense of traditional/modern style.
Let the Brown Be in the Details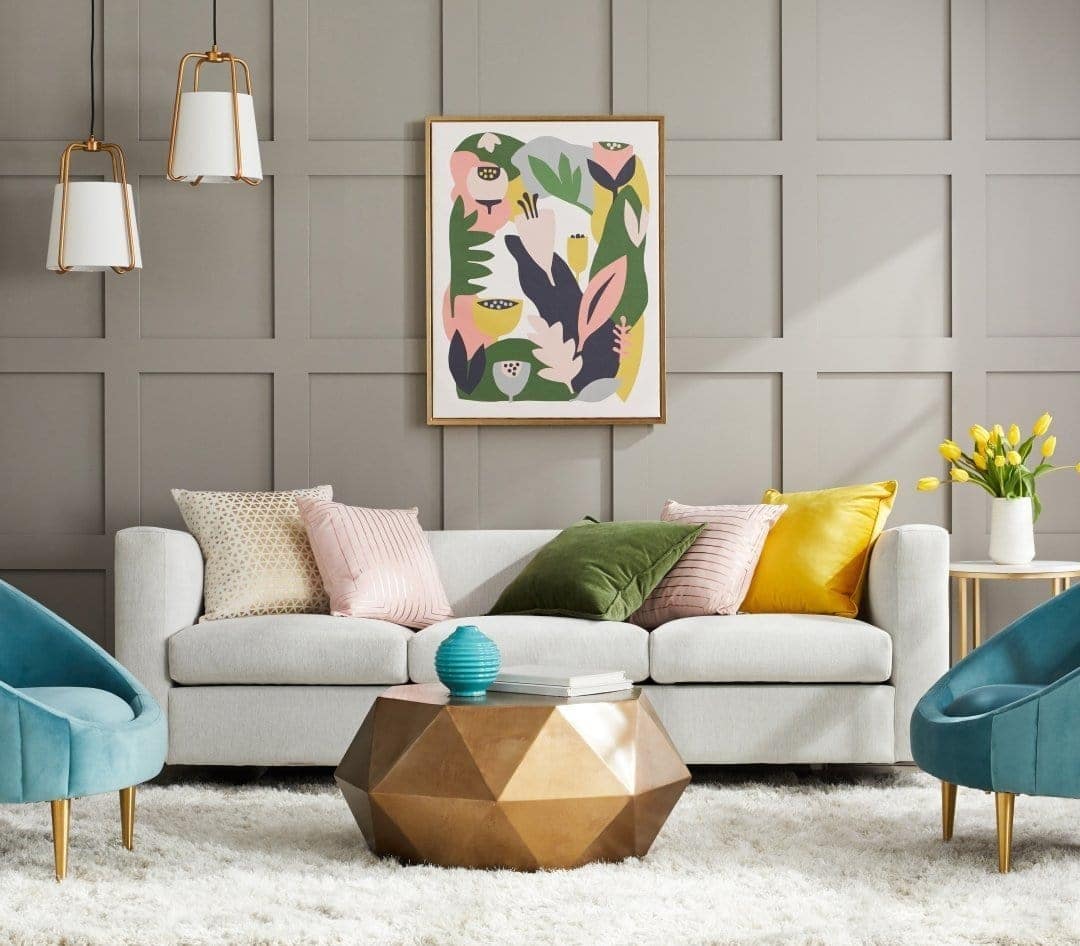 Textured walls are perfect for mid to dark shades of grey. So if you have a textured wall, don't be afraid of painting it all grey, because then you're going to add some details in brown that'll create a perfect balance in the room.
Include brown in little things. Hang pendant lights with brown or golden terminations, and match them with armchairs in accent colors and brown nordic legs, and a golden/aluminum faceted drum coffee table.
Include Camel Brown and a Touch of Grey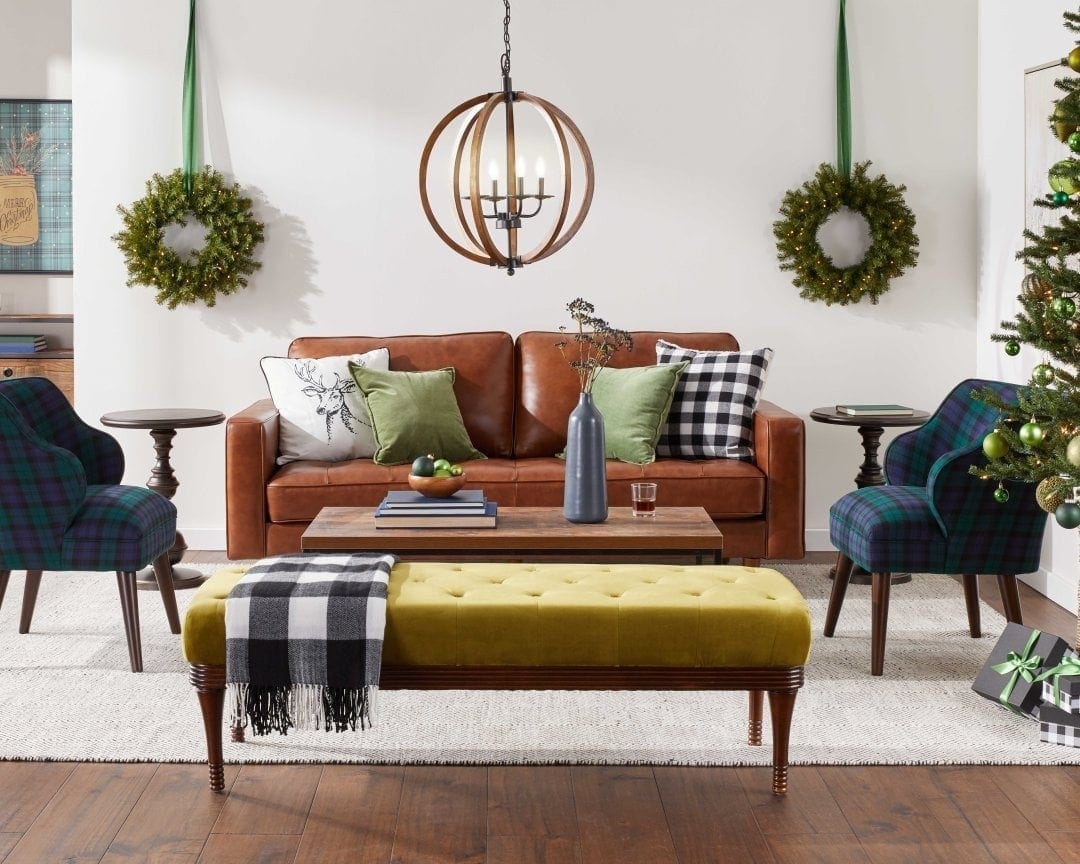 Camel Brown combined with grey creates a strong, original, and very unique style in rooms. Choose a square arm solid camel sofa with long nordic legs, and graciously match it with a farmhouse style modern rug.
Choose a rustic wooden coffee table with metal legs and match it with a pendant metal and wood chandelier with strips.
Place a bench in a mustard tone to complete this farmhouse style living room.
Place Brown Furniture on Grey Wooden Floors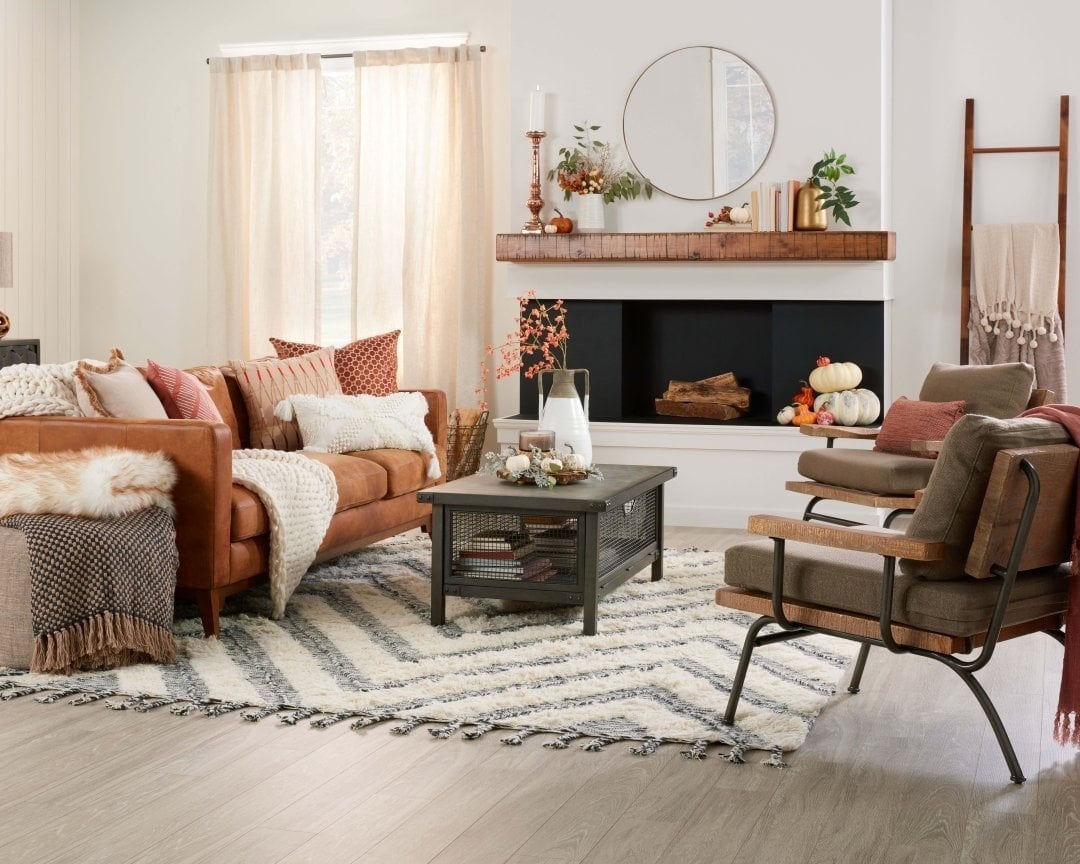 Grey wooden floors are perfect for creating farmhouse style rooms. They're modern and help neutralize spaces, so adding brown or earth-colored furniture won't be too much.
Choose a patterned area rug in a neutral tone, and a square arm sofa in camel brown. Then, place a decorative blanket ladder against the wall and if you have a fireplace, put a mirror just above. Mirrors give a feeling of spaciousness, so hanging one there can make an excellent final touch.
Add Dark Details to Your Grey and Brown Living Room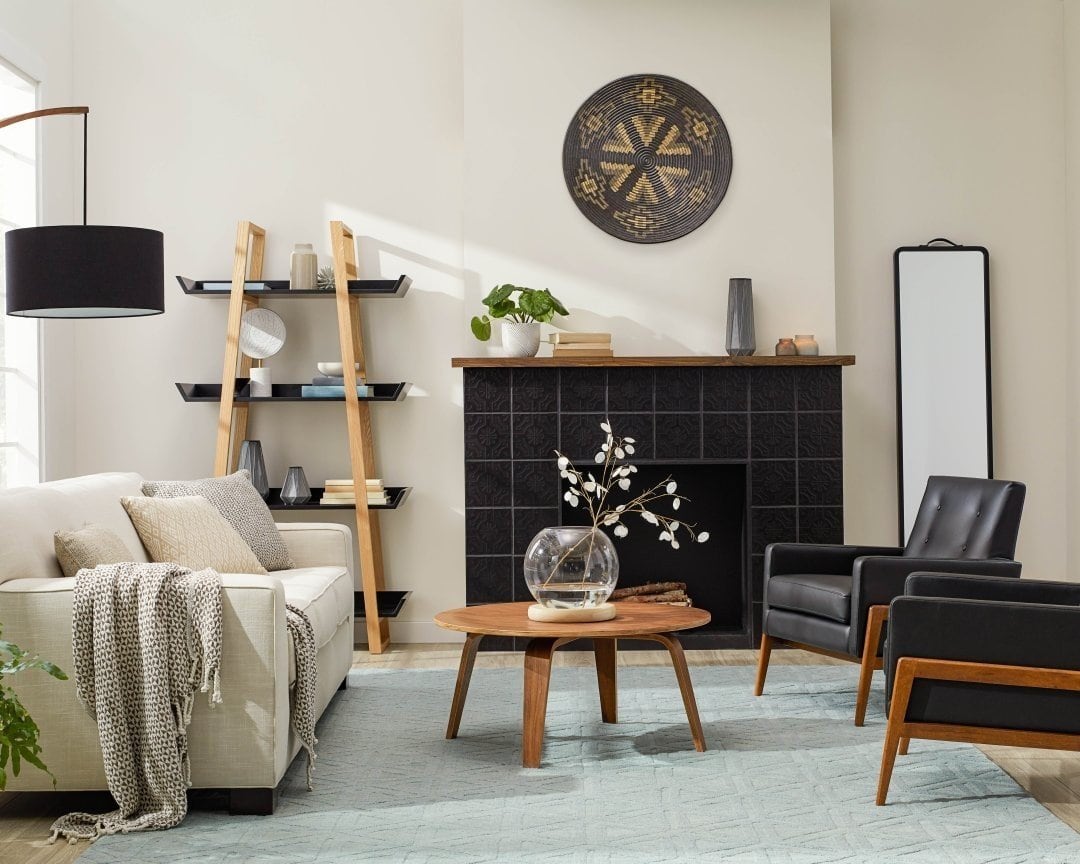 Some people are usually afraid of adding dark tones to their rooms. They feel it will make the entire room darker. But decorating with a grey and brown combination makes it perfect for adding dark shades, such as black.
Go for strong browns and light greys to create an interesting contrast. Choose a light sofa plus black armchairs with brown wooden legs, for example. Place a black floor lamp, matching a light-brown and black wood and metal shelf, too.
Go for a Big Grey Sectional Sofa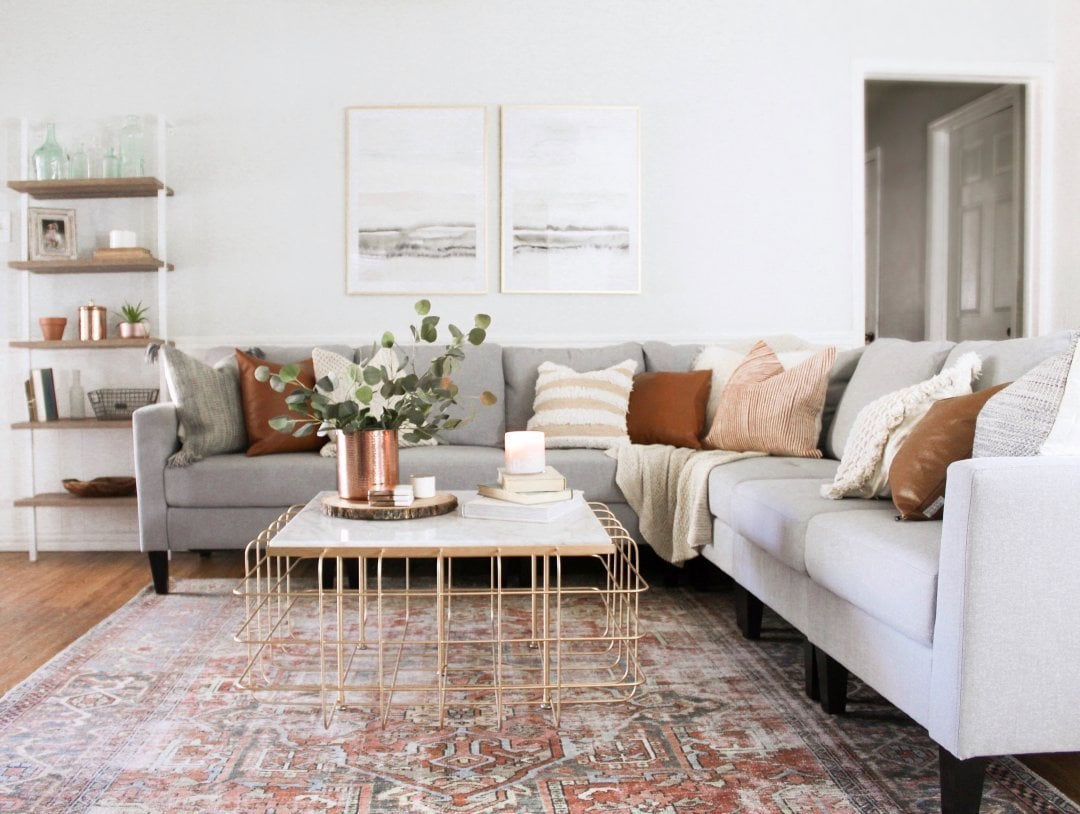 Big sofas are great for creating the living room space in the middle of a larger room.
Place a 7+ piece, L-shape grey sofa, and fill it with pillows in different shades of brown and grey. They can have stamps and textures. This will add some style and movement to the room.
Add shelves and a coffee table in brown so you get the perfect grey and brown combination for your living room.
Plants, also? Oh, yes.
Build a Floor to Ceiling Wooden Wall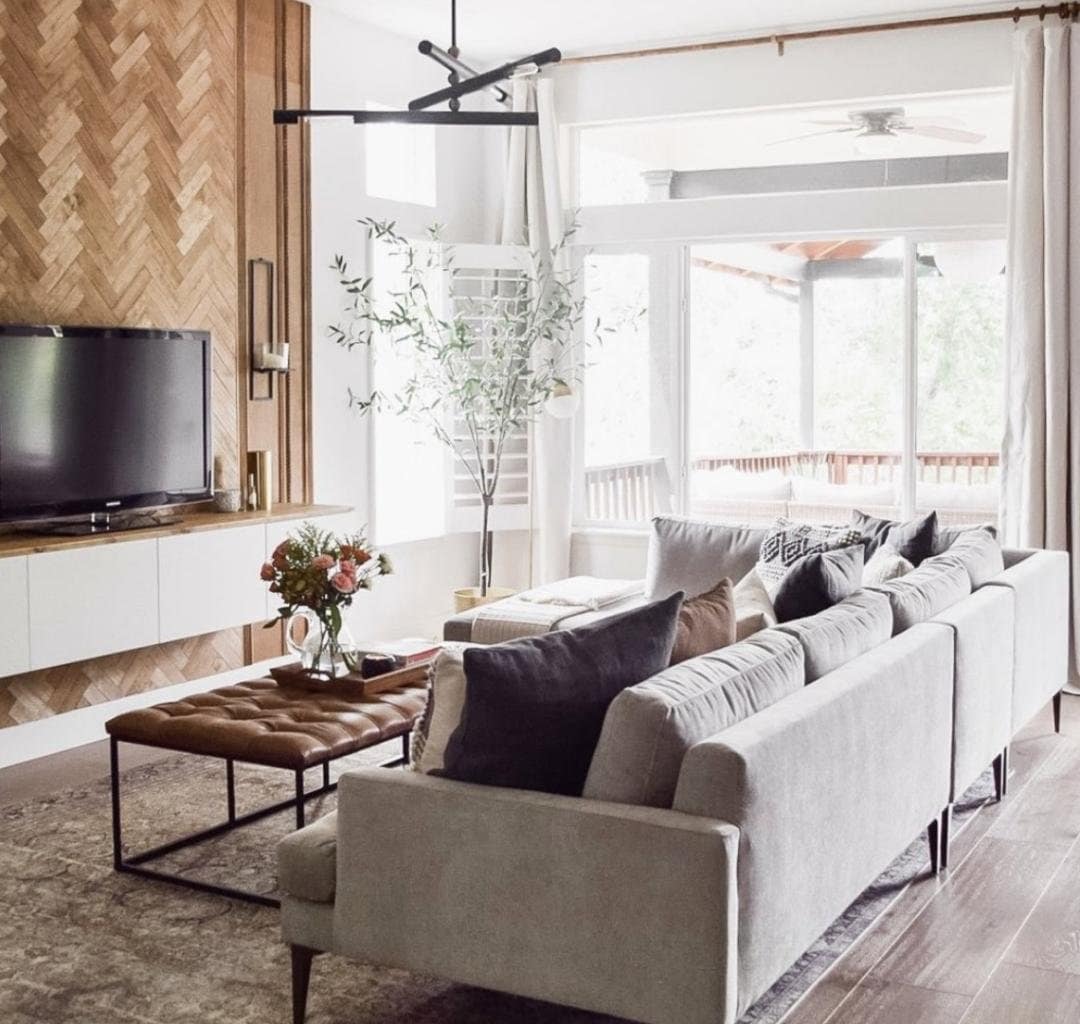 High ceilings are the perfect excuse to create wooden panels on the wall. They not only look great, but they make the room look cozier and they can also help you hide imperfections on the surface of the wall.
Building floor-to-ceiling wooden panels on the walls is a booming fashion and creates the perfect space to locate fireplaces or tv and electronics, or to build an art section, etc. Choose a grey couch and there you have the perfect grey and brown living room.
To Sum Up
You don't have to be a decoration expert to create the living room of your dreams. It's just a matter of learning the basics, choosing the style, the colors, and knowing how to combine them.
Which style do you like the most? Farmhouse? Modern? Mid-Century? A mix of many of them? Once you've made this first decision, you can think about the space you have and take the ideas on this post to start creating your new living room.
We hope these 21 powerful grey and brown living room ideas are useful and serve as an inspiration for your home decor project.