Decorated Life is reader-supported. When you buy through links on our site, we may earn an affiliate commission. Learn More
20 Neutral Beige Bedroom Decor Ideas
Beige is a neutral off-color that many people overlook for its unique talents. However, trying to define beige is like trying to pick your favorite food – very challenging!
Beige can take on different appearances based on the colors around it. This color primarily looks like a pale sandy fawn, although it can also look grayish, pale yellow, or brown that takes on gray and yellow tints. Because beige can change looks so easy, you can use plenty of decor ideas to create a neutral beige bedroom.
Check out these twenty neutral beige bedroom decor ideas to explore your huge range of design options, including complementary colors, patterns, decor pieces, and dimensions.
Pick a Contrasting Geometric Print Pillow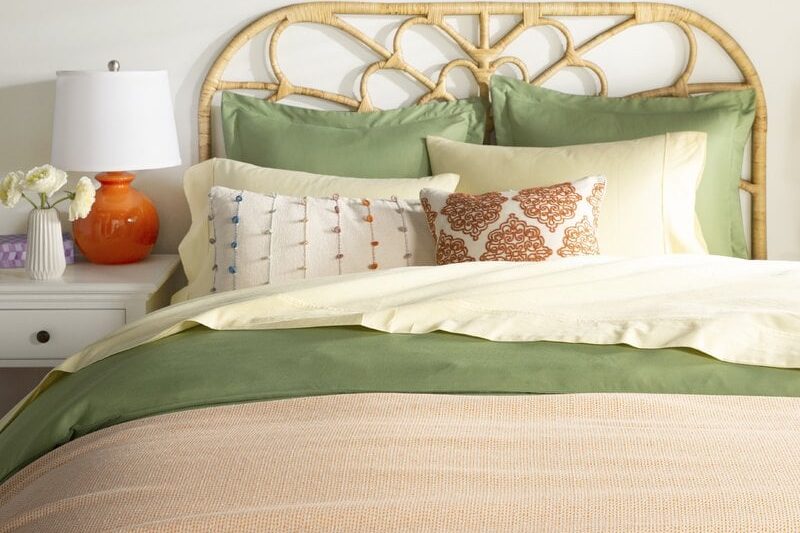 Beige is a chameleon color that can take on different appearances based on nearby colors. Therefore, we find it fascinating to combine beige sheets with the beauty of sage green pillow shams and linens.
And to add another dimension to your bed's aesthetic, go with a small rectangular throw pillow in a color that contrasts, like a traditional medallion print pattern in a spice orange atop a stark white base.
Monochromatic Color Scheme with Beige Curtains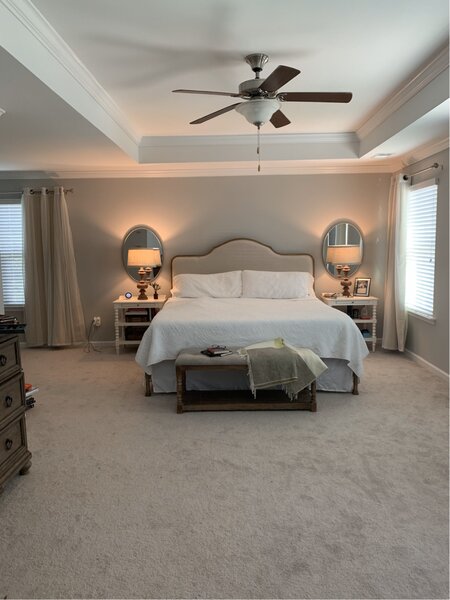 When your room consists of many neutral beige elements, from the walls to the floor and even the furniture, you can end up with a monochromatic color palette.
And adding grommet-style panel curtains – also in beige – can help block out light while looking clean. Finally, topping the panels with sheer white drapes is a secret weapon for adding a touch of class and romanticism.
Match a Metal Table with Mixed Materials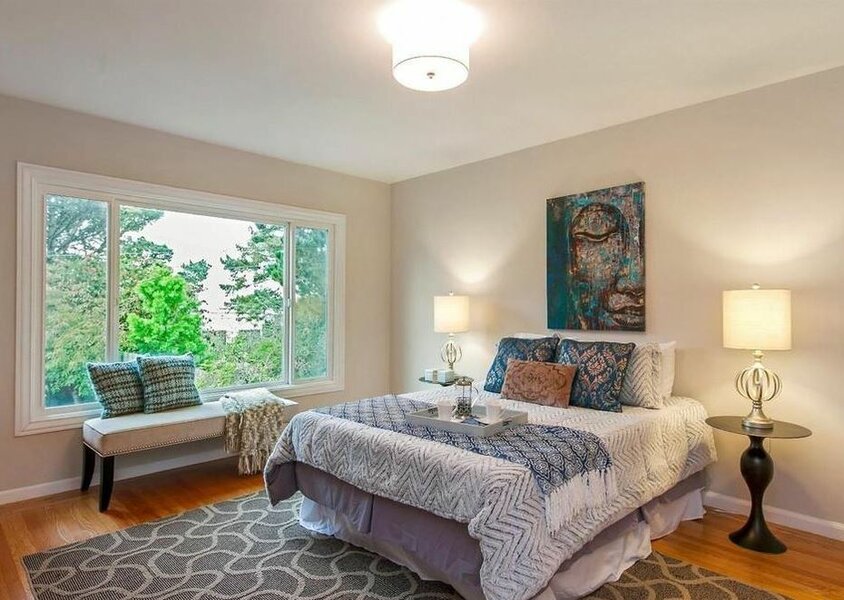 If you like the eclectic randomness of using different materials, colors, and patterns to create a unified, cohesive design, start with different types of pattern prints – blankets, pillows, area rugs.
Then you can add a modern bench, a Boho art print on the wall, and sleek pedestal end tables in a raw golden bronze or brushed nickel finish. 
Create Some Drama with an Upholstered Headboard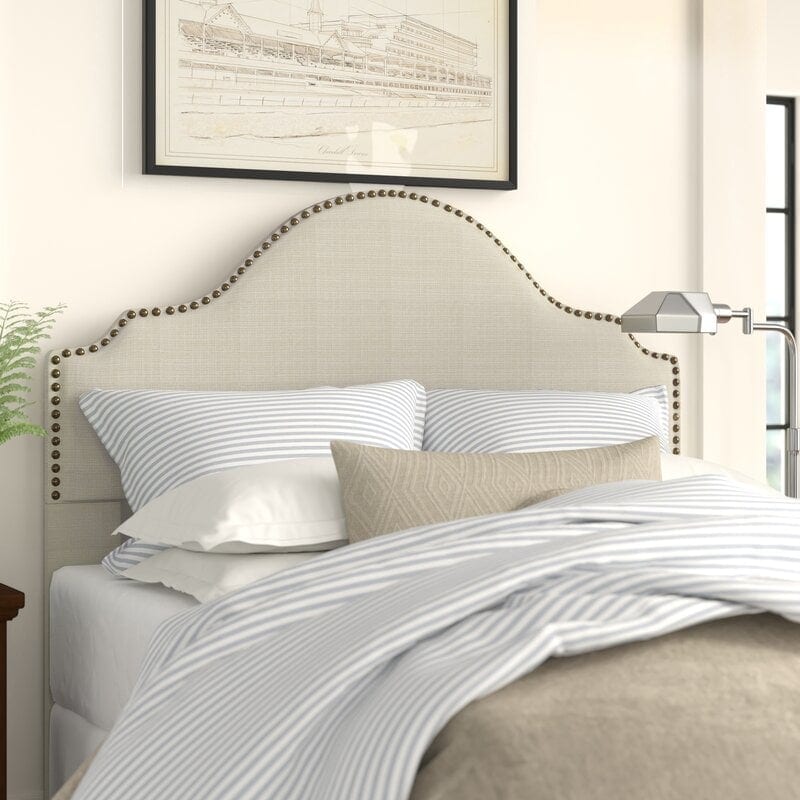 When you have a small bedroom, you may have to get creative with your room design to ensure pieces make a statement without taking up a ton of room.
One of the easiest small beige bedroom ideas is to pick a decorative bed, such as this arched beige upholstery headboard featuring a bronze nailhead trim.
Warm Up the Room with Rustic Weathered Lamps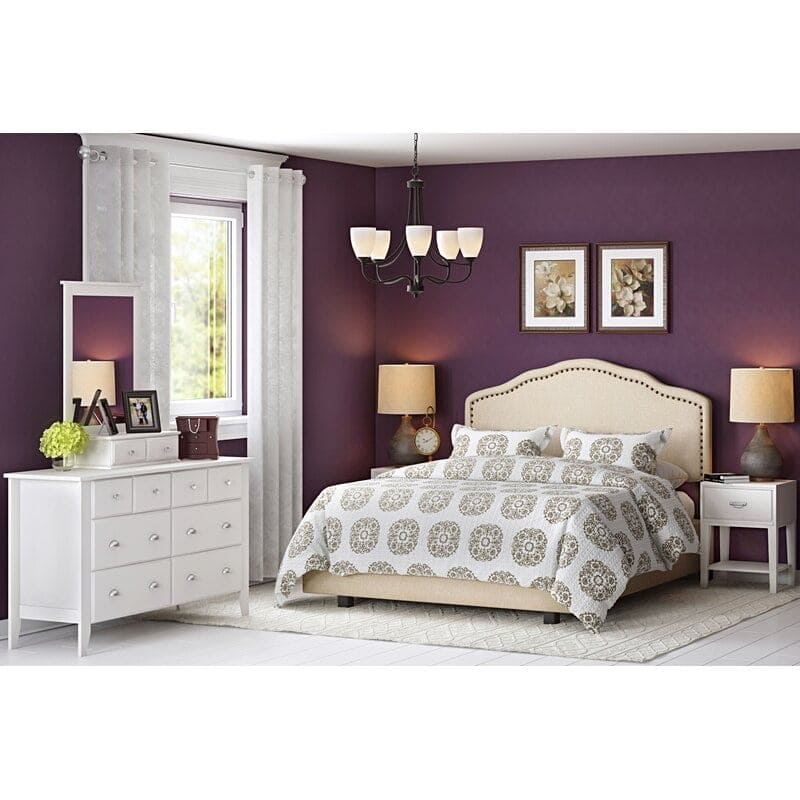 When working with beige, having the proper lighting is crucial for making the color look warm and inviting rather than harsh and bland. 
In addition to having overhead lighting, you can also use lamps to create a dynamic nuance. We love these dual gourd-shaped lamps in a charcoal finish, weathered for authentic chic rusticness.
Choose Dark Wood for the Furnishings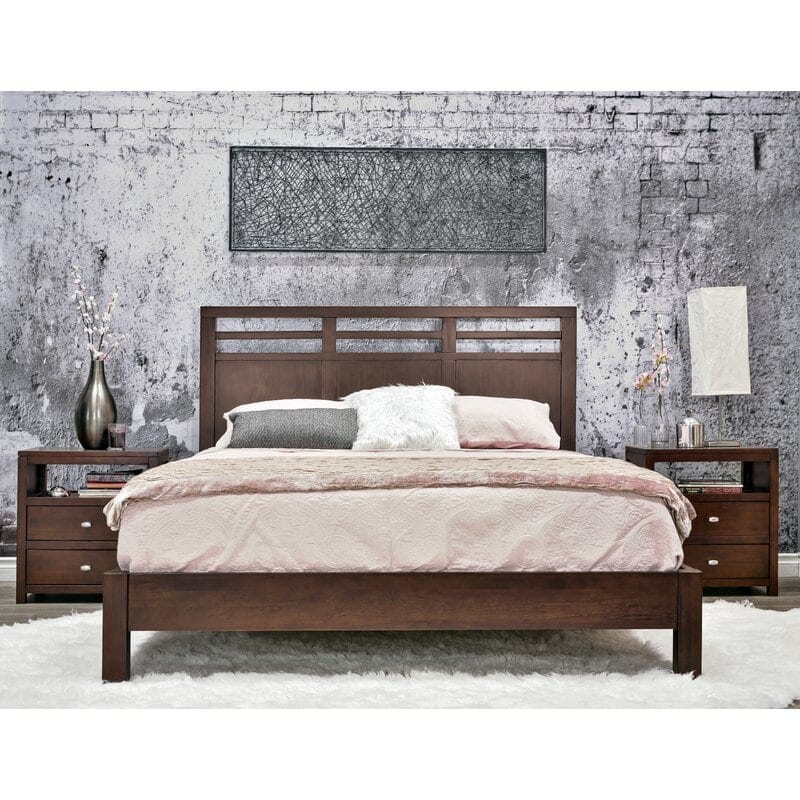 When you have greige walls – beige mixed with gray – with mauve (pink to purple) undertones, it's the perfect time to choose rich dark wood furnishings.
We're over the moon for this modern minimalistic platform bedframe in a gorgeous New Zealand Radiata wood in an espresso finish. The clean lines and paneling go perfectly with the dark wood picture frame and nightstand with cream covers and beautiful blue-toned pillows.
Try a Textured Rug with Diamonds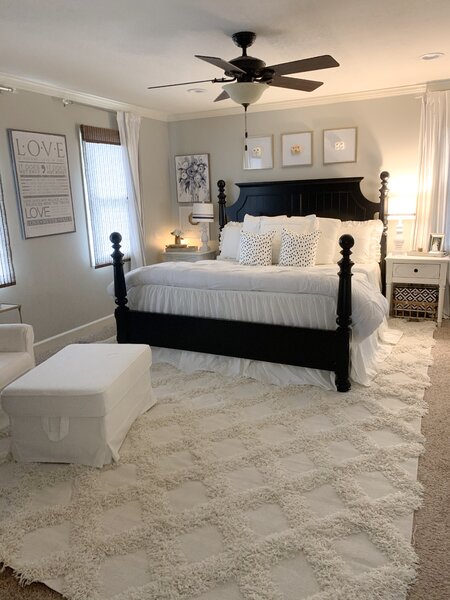 Some people would say that diamonds can work for any occasion – including on the floor. This bohemian area rug lends a romantic nuance to a heavily beige bedroom, while the delightful diamond print pattern pleases the eye.
The two-height pile of this shag carpet offers a knotted texture of the high beige pile that gives a unique texture and comfort that creates a fantastic contrast against the dark bed.
Mix Lights like Beige with Bright White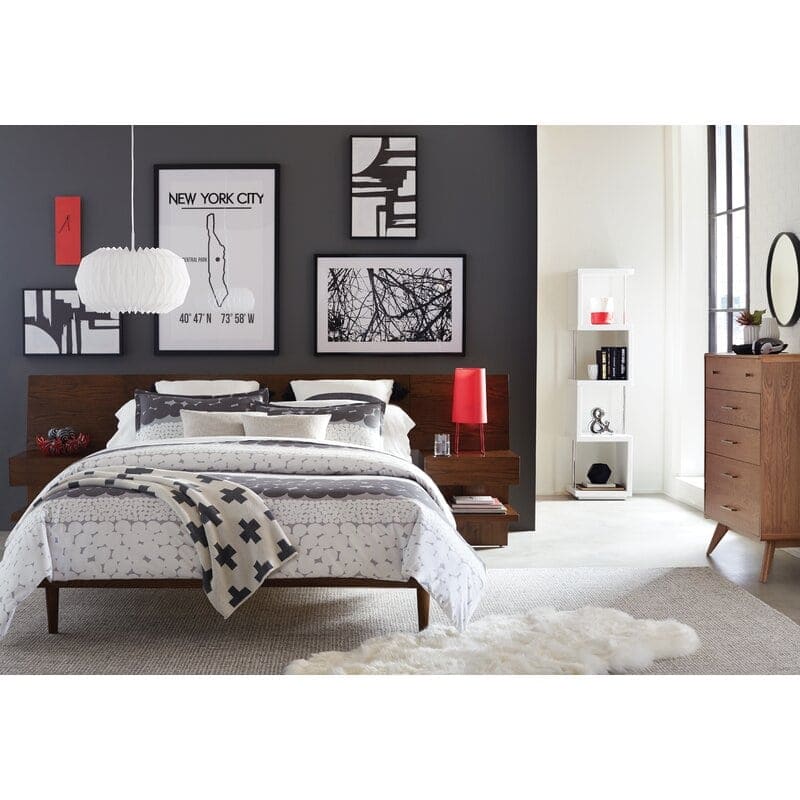 When your bedroom has heavy use of beige, from the walls to the bedding and rugs, we're crazy over the use of an accent wall in a dark navy blue.
And mix in plenty of accent pieces in bright white, like the wall art, some of the bed linens, a fluffy rug, and this delightful angular, accordion drum pendant light.
Do It Right with Light Wood Dressers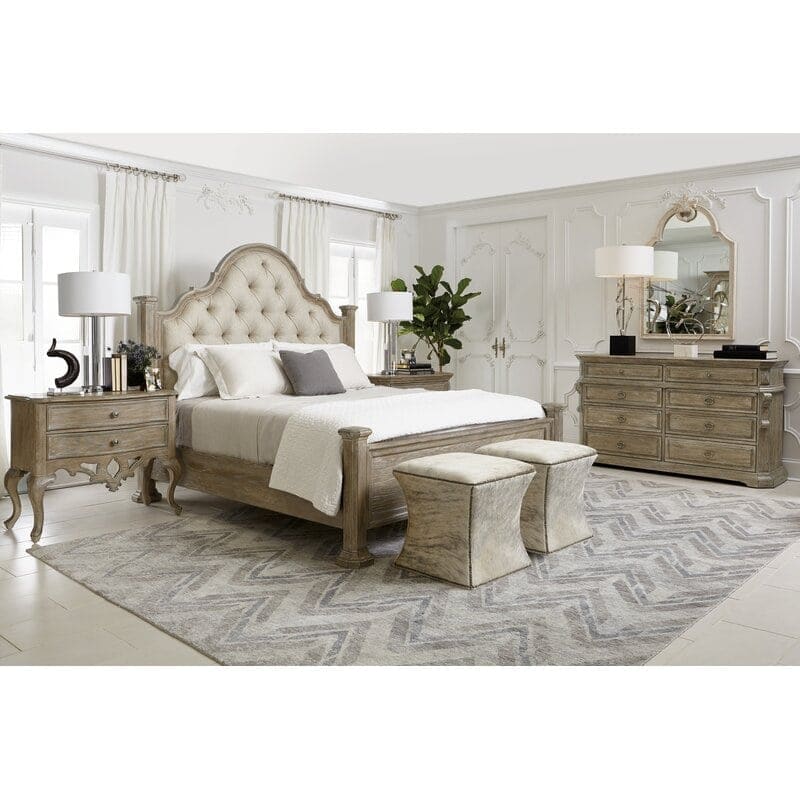 When you're working with the light neutrality of beige, like this room with a beige chevron area rug, beige linens and headboard, and beige colored walls, picking the furniture in a medium to dark wood adds the perfect amount of contrast.
This bedroom furniture comes in a traditional style and a classic weathered sand finish. You get plenty of storage from eight spacious drawers, and the mirrorless design lets you get creative with the piece you choose, such as this wall-mounted mirror with an arched top that matches the bed.
Cover the Windows with Geometric Drapes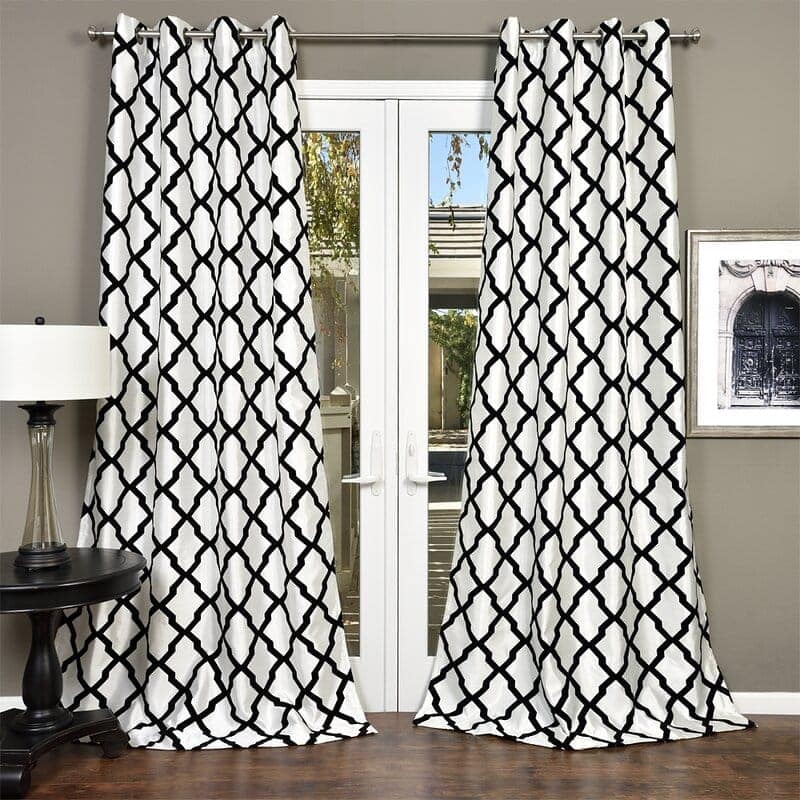 When you have dark beige walls and shelving, you can create an eclectic look by mixing patterns and colors. So, by going with beige and gray striped linens on the bed, you can blend with geometric drapes for the curtains.
We're in love with these grommet semi-sheer floor-length curtain panels in a classic white and black color palette. To get more drama, choose a length longer than you need so that the fabric can puddle on the floor.
Try a Tasseled Shag for a Bohotastic Vibe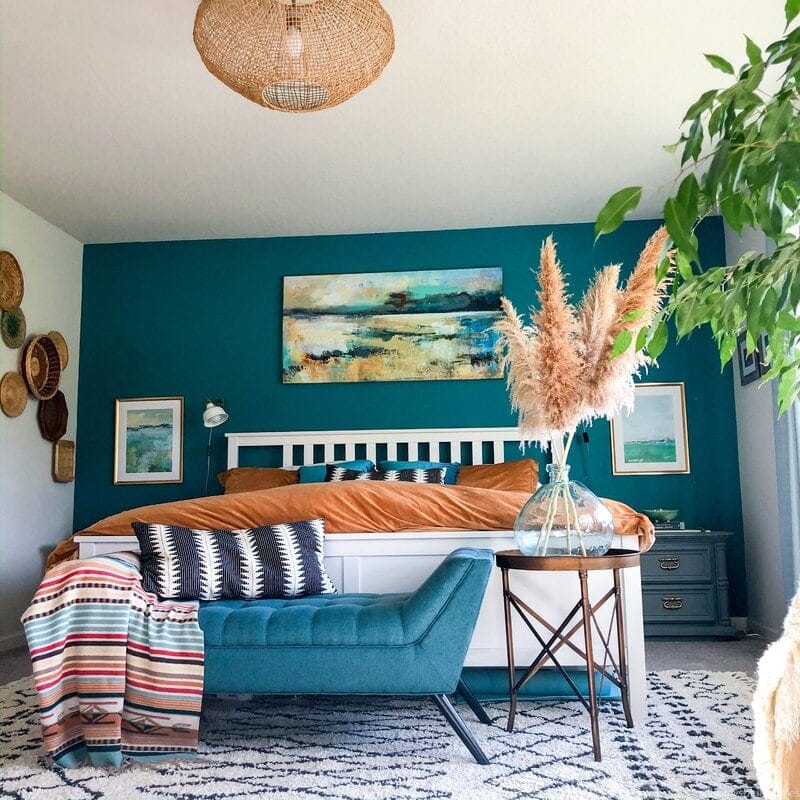 If you love a bedroom in an eclectic bohemian theme, you've likely got a bit of all different kinds of materials and colors in the space.
A shaggy rug in a neutral geometric pattern is the perfect decor accent piece to provide a pretty design without adding too much color. The high pile height (1.25"), fringed tassel ends, and black and cream geometric abstract patterns make this carpet perfect for toning down the busyness of the room.
Fresh Pink Plaid Reversible Sham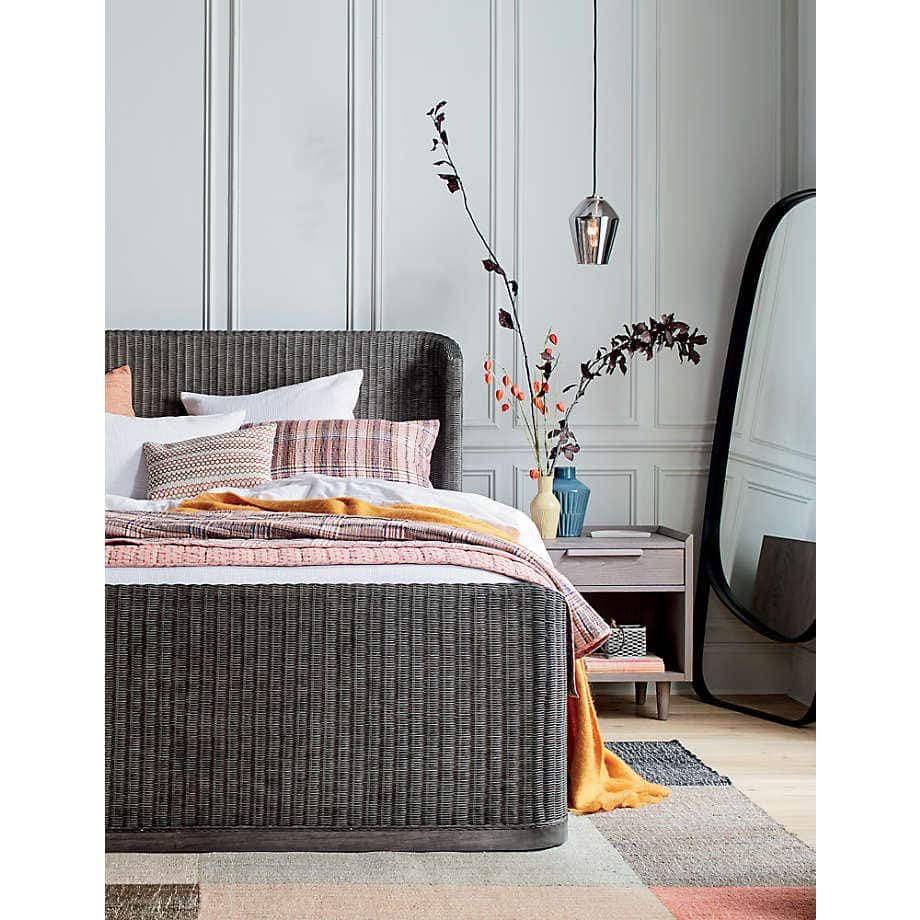 You can use your bed set to give your room some color and personality without making the space too busy when you have beige bedroom walls.
We adore pairing the plain neutrality of beige with warm earthy tones like this pink plaid comforter set featuring black, magenta, white, and orange stripe accents with a reverse Swiss dot pattern in tone-on-tone pink.
Contrast Beige Walls with a Dark Walnut and Blue Bed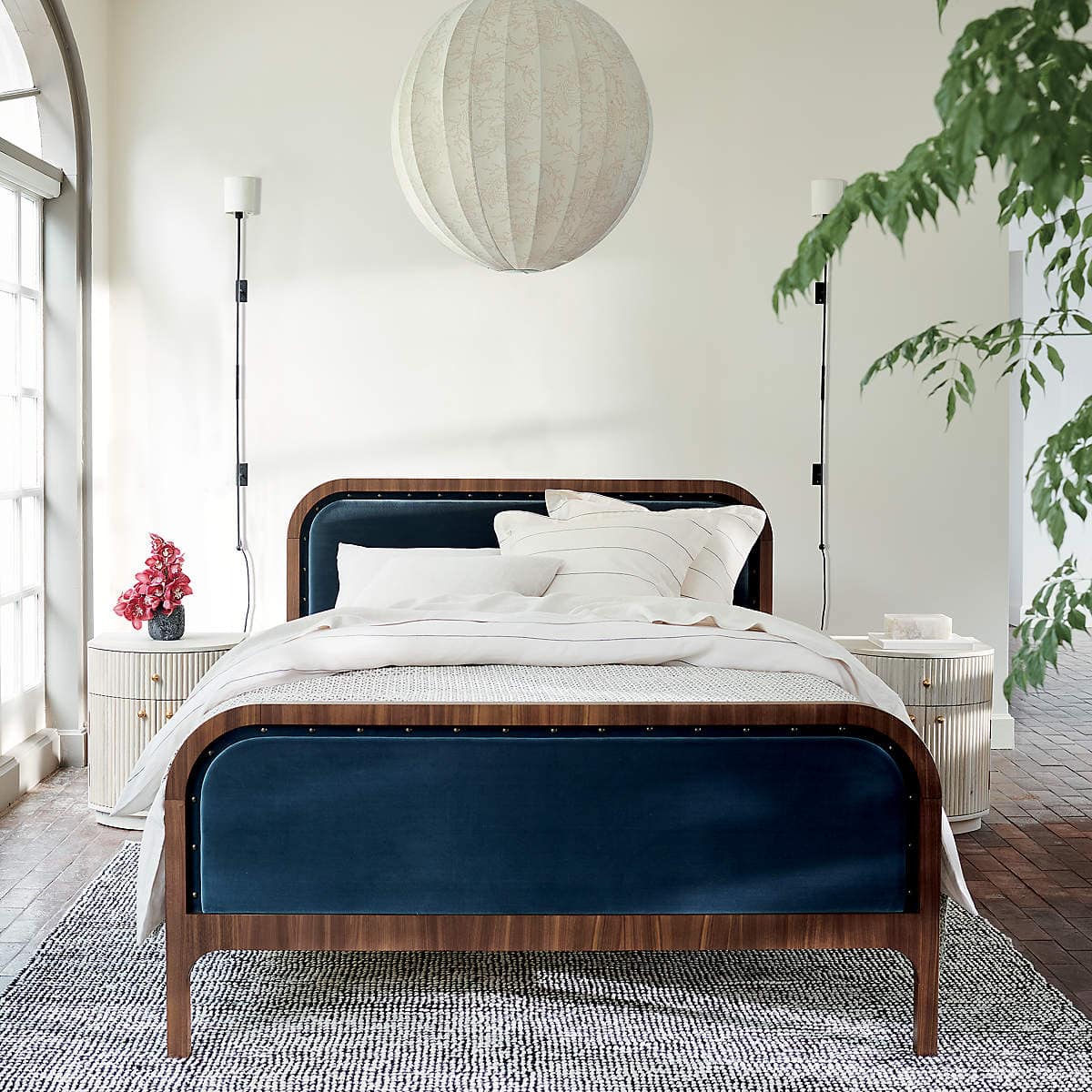 The pale non-color neutrality of a beige bedroom is the perfect base for mixing an eclectic combo of materials and styles, as this modern suite demonstrates.
A gray area rug, matching modern bedside tables, a large modern dome chandelier, and neutral bedding in shades of off-white create the perfect setup for using a beautifully stylish bed. We love this mixed-material dark walnut veneer and navy velvet upholstery head and footboards with rounded edges and brass nailheads.
Manic for Bedding in Textured Midnight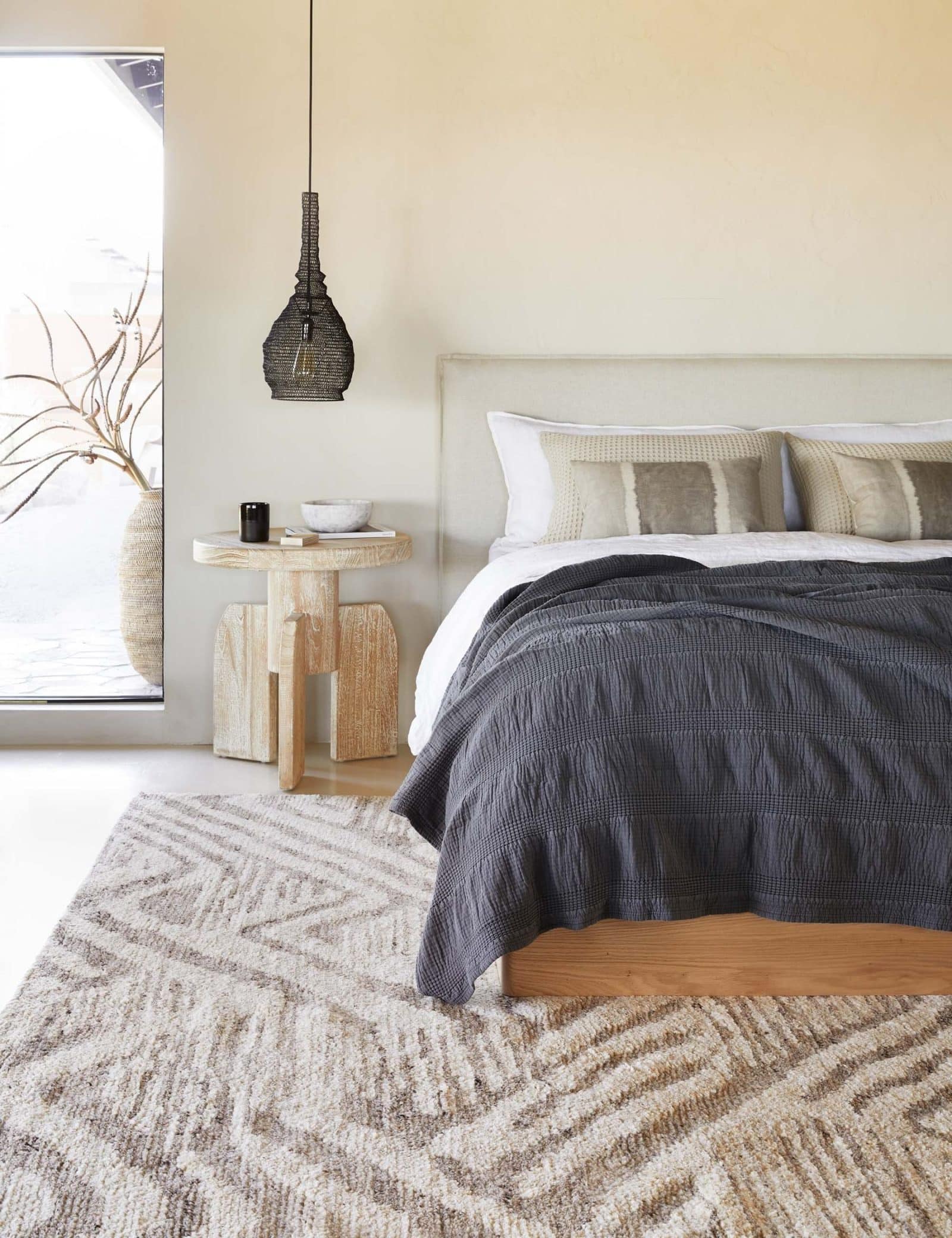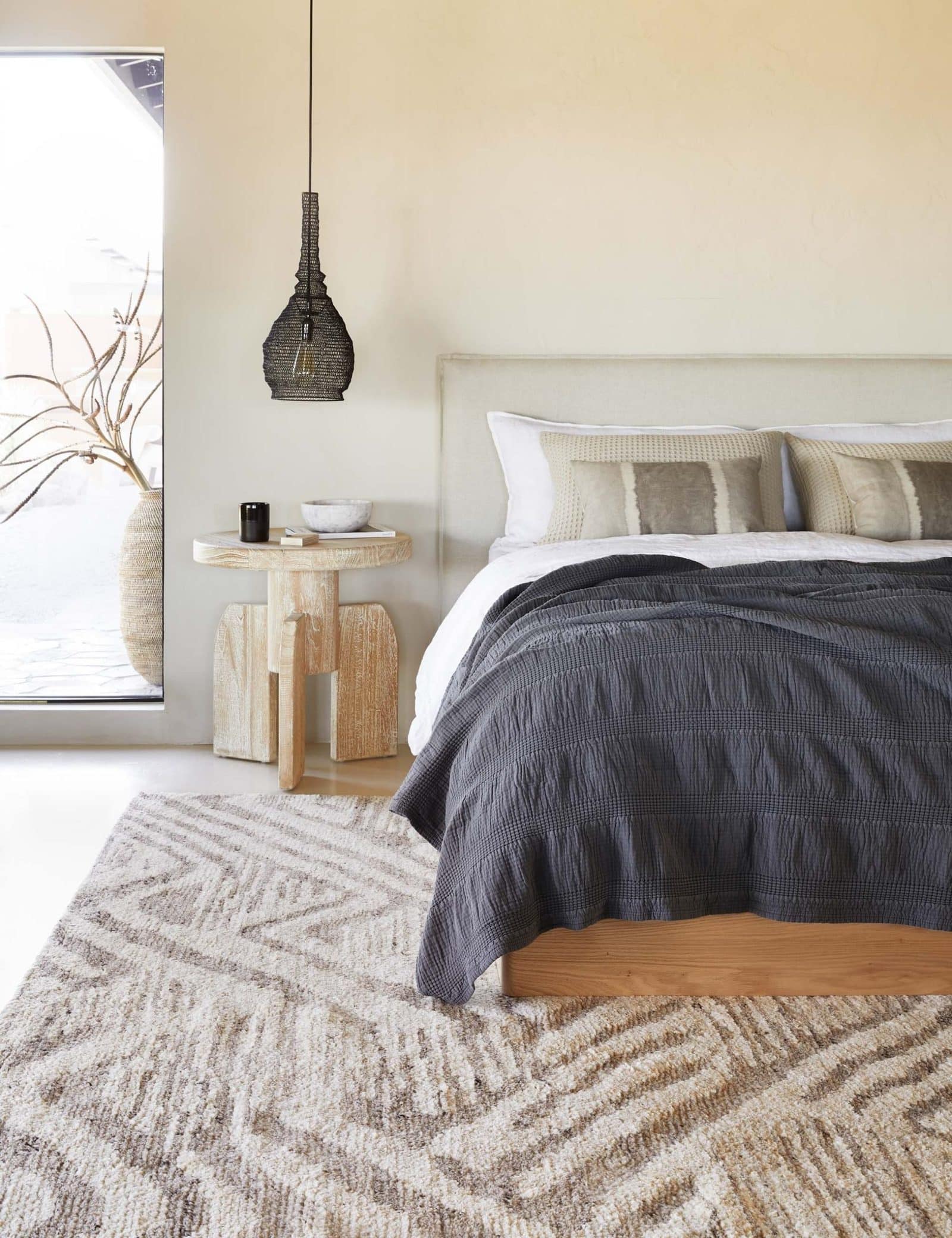 Adding bedding with rich color and visible texture is a fantastic way to add some character to counter lighter shades like beige on the walls, floors, bed frame, and tables.
This cotton coverlet fits the bill with a beautiful dark gray-blue color and soft texture in a modern pattern – Matelassa, a stitching or weaving method to resemble a padded quilted surface – creating an enhanced elevation style.
Hang an Ornate Textured Gold Leaf Mirror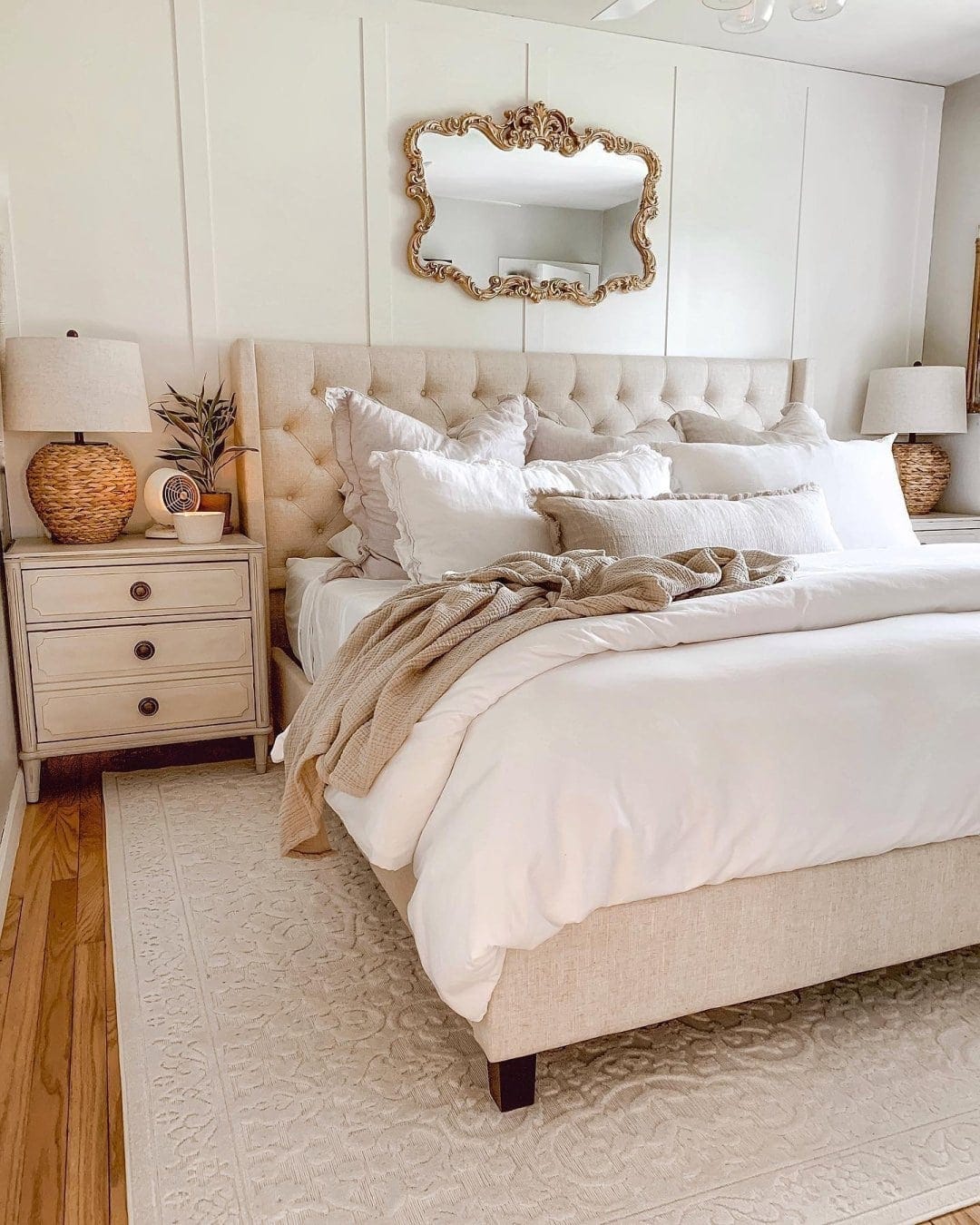 Gold goes fantastic with the neutrality of beige, giving the subtle shade some lovely honey and gold accents that can make your bedroom pop with an extra touch of glam.
The beveled glass mirror features a textured frame in a bright gold leaf that you can hang on the wall vertically or horizontally for a sensational appeal for any room design. Then finish the design with rope lamps, light wood end tables, and a tufted upholstered headboard.
Add an Artful Bench in Black Teak
When your bedroom has a lot of beige, like this round mirror, beige patterned accent wall, light nightstands, and beige bed linens, add a few super-dark pieces.
How chic is this bedroom full of neutral beiges mixed with patterns, prints, and textures with some gray bedding and carpeting? And then there are the small touches of dark colors, like the two black lamps and this gorgeous teak bench in a deep black with woven cowhide upholstery.
Throw Down a Traditional Rug for Pattern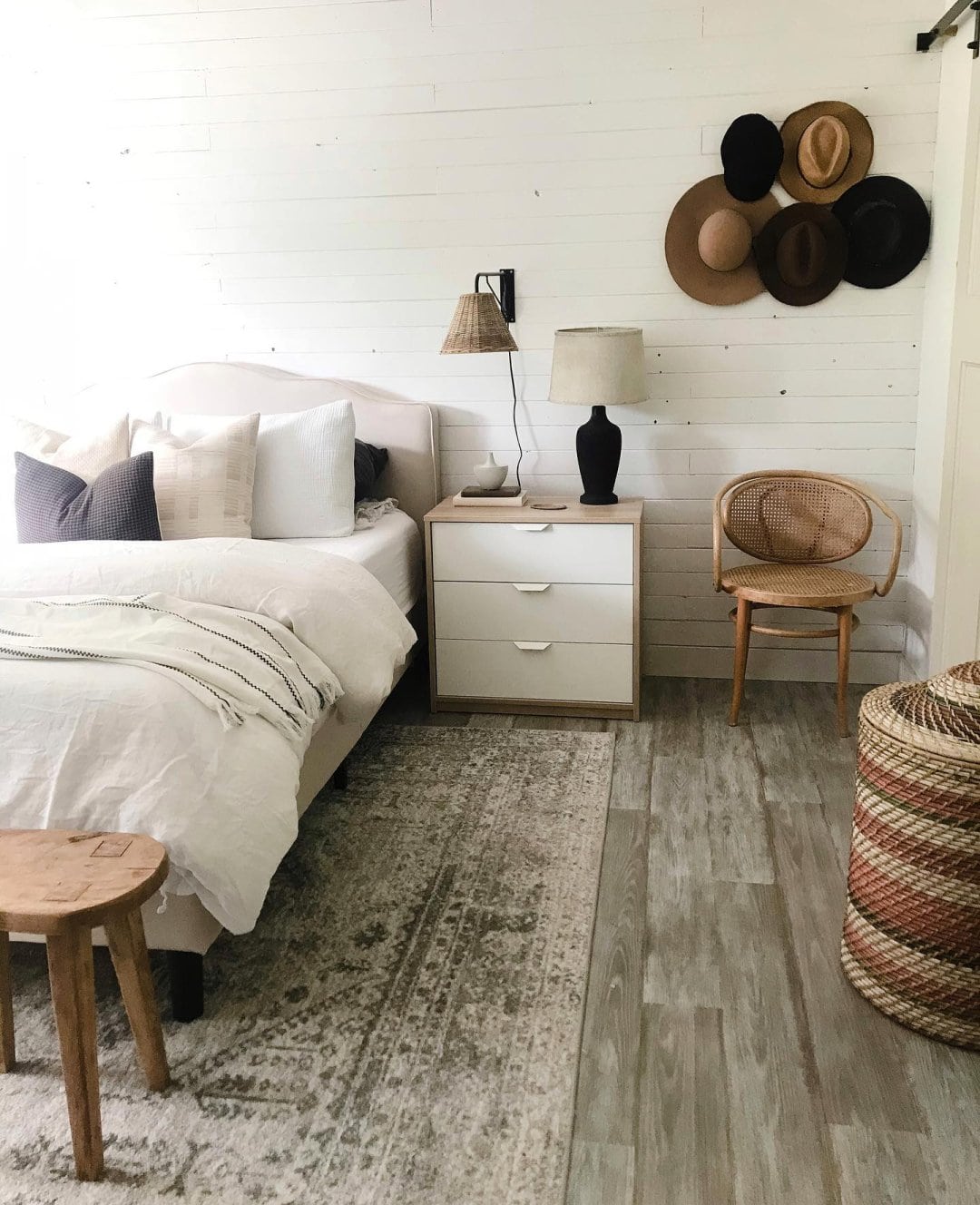 When you have a beige and gray color scheme in your bedroom, laying down a print rug in a traditional Oriental pattern and subdued color palette can bring together all the colors used in your design.
The gray headboard and blue pillows blend with the cream, ivory, and beige bedding and reflect the pattern colors of the Boho rug – ivory, black, beige, rust, gold, gray, brown, charcoal, olive, and green.
Mix In a Mirror Slanted with Storage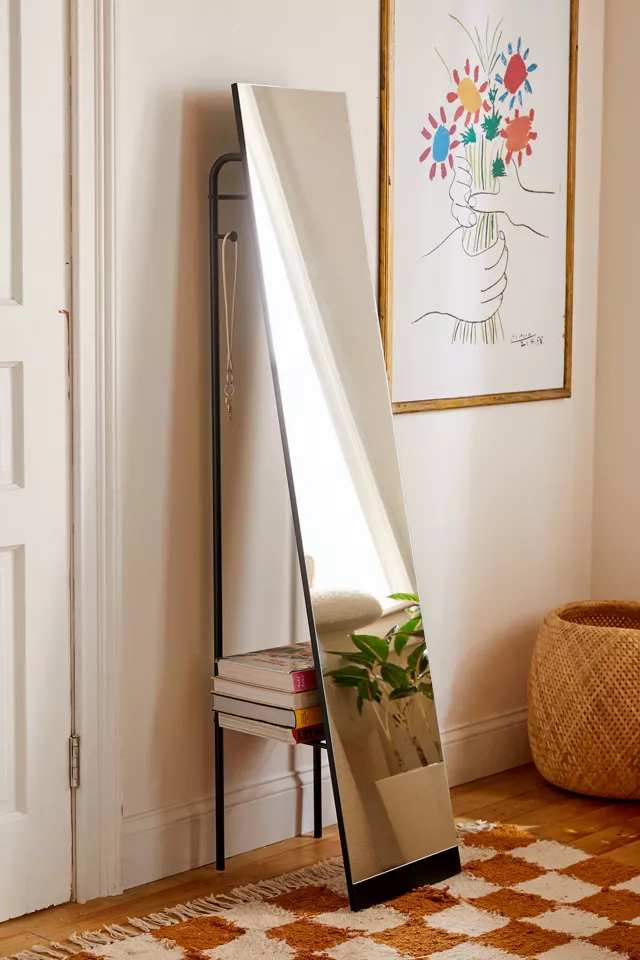 Having a full-length floor mirror is crucial for checking your outfit before heading out the door. This awesome free-standing mirror doesn't just provide a place to check your reflection while looking fabulous in a beige bedroom.
The slanted design and minimal modern metal frame in a matte black finish provide storage with two coat hooks and a wire shelf behind the mirror.
Blend Beige, Light Blue, and White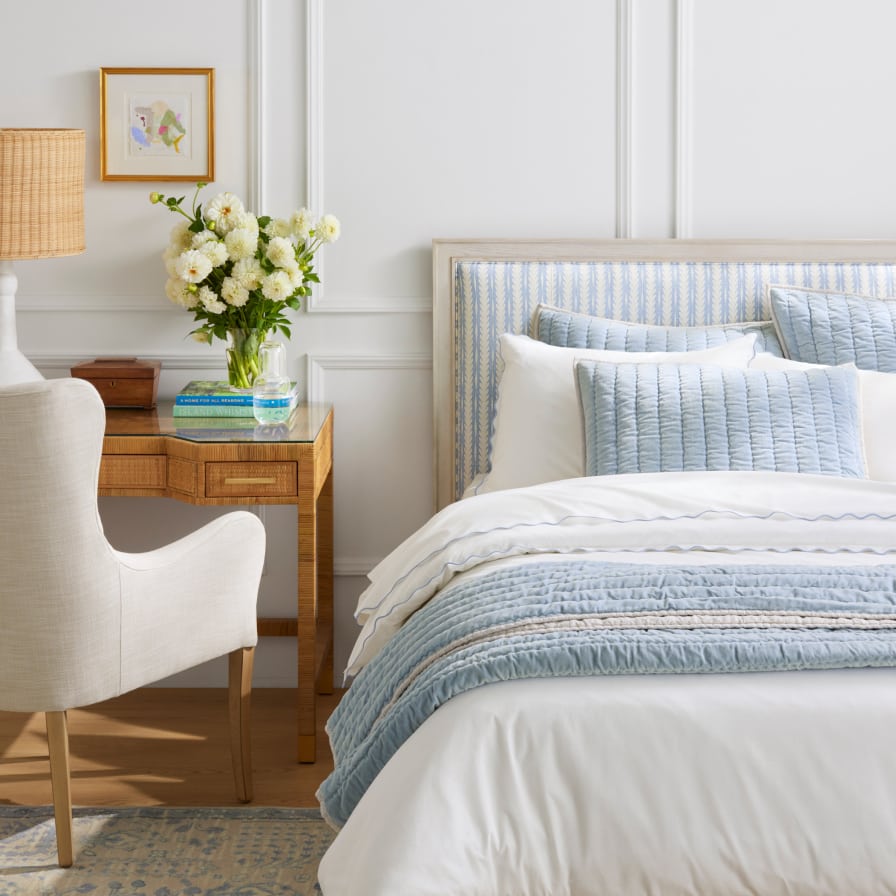 You can get an incredible aesthetic for a bright, airy neutral beige bedroom decor by blending beige and blue. Despite the heavy use of blue, this bedroom color palette is still heavily neutral.
The various light blue elements keep this room, from the coastal blue and white upholstered pinstripe headboard to the textured velvet quilt and pillow shams and down to the hand-knotted beige and blue rug neutral and classically beautiful.
Bouclé Plush Pillows in Contemporary Colors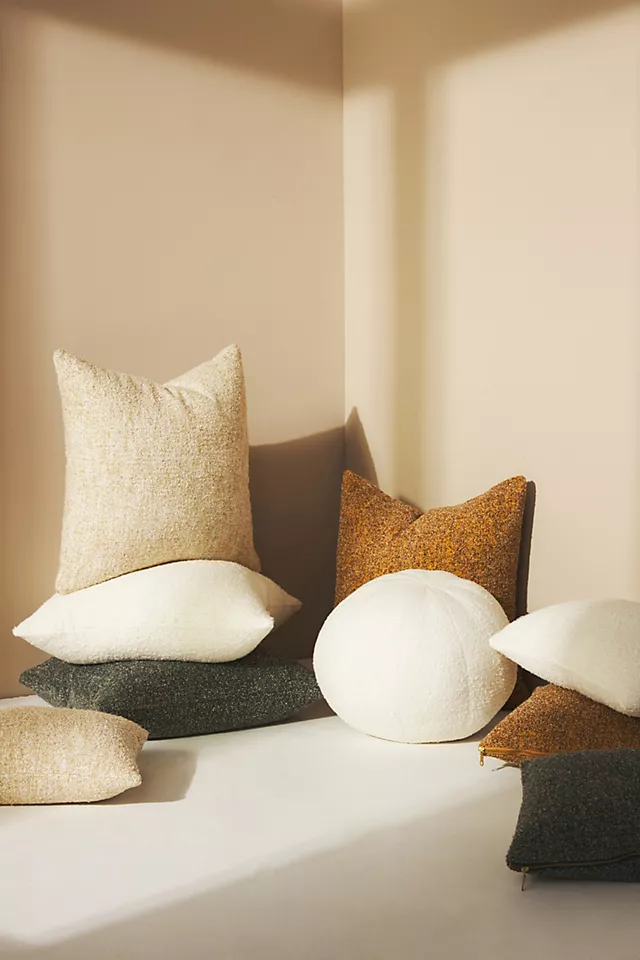 Piling your bed full of cozy, plush pillows is excellent for the room's style while adding subtle touches of color. But it also adds the nearly irresistible urge never to leave your bed.
We adore this collection of bouclé pillows, heavily desired for the material's knotted, curly texture in a vintage 1940s style. You can choose ivory, teal, ochre, and neutral colors in various sizes and shapes for extra dimension and depth.
Final Words
When you're decorating a neutral beige bedroom, you can keep the design simple by going with similar neutral colors, or you can go dynamic by choosing primary colors like blue, green, pink, or purple.
From the furniture to the curtains, bed linens, and rugs or even the lighting, there are tons of ideas to try for neutral beige bedrooms. So, which design idea is your favorite choice?