Decorated Life is reader-supported. When you buy through links on our site, we may earn an affiliate commission. Learn More
What Color Furniture Goes with Gray Walls? 16 Ideas
Gray walls are a great neutral backdrop in any room.
But since gray can be warm or cool, not all furniture colors look good with all grays. Instead, most rooms look best with a balance of warm and cool items. So, if you use a cool gray on the wall, you can pull in some earth-toned colors in your furniture and vice versa.
If you need pics for inspo, here's what color furniture goes with gray walls.
Pair Dark Gray with Light Camel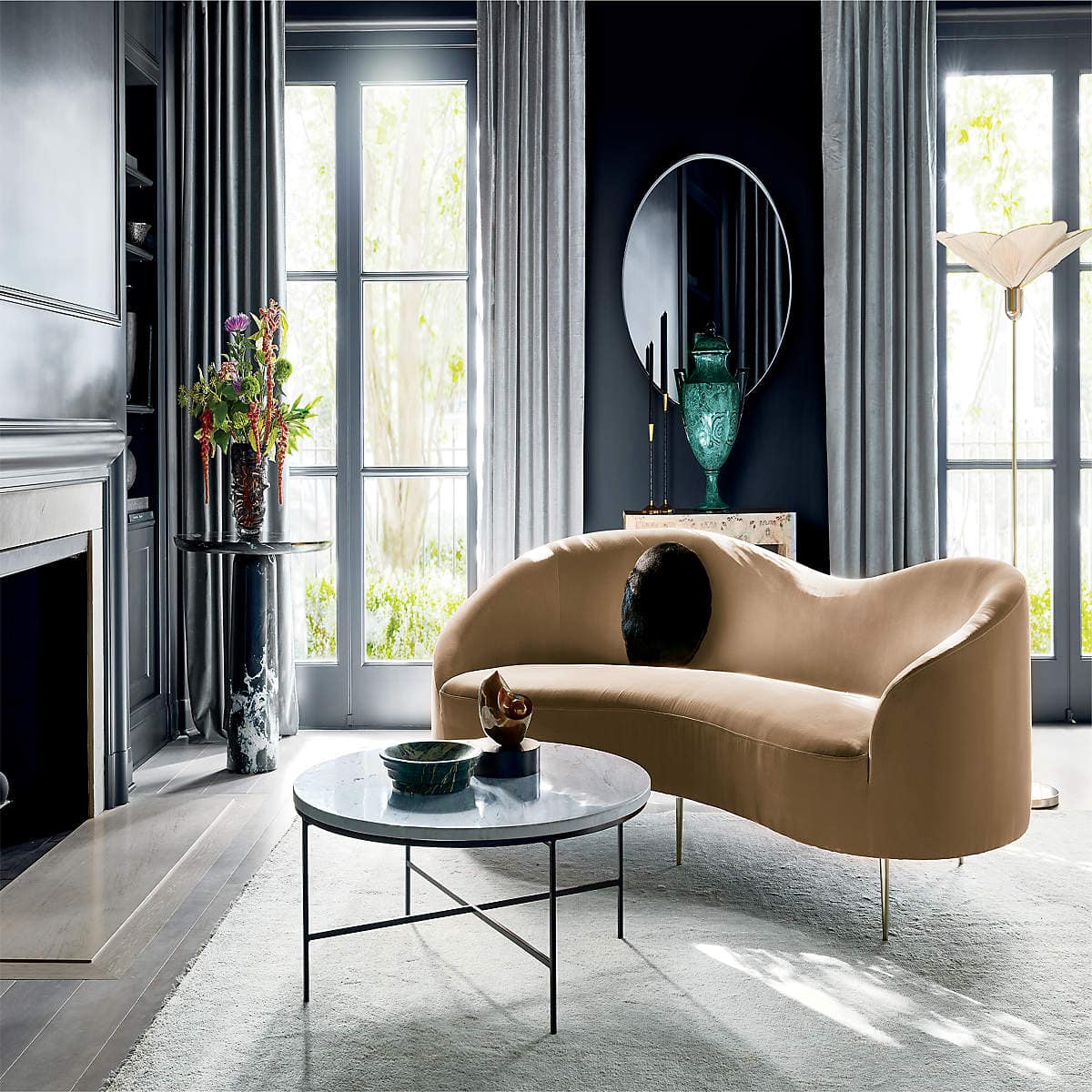 When choosing furniture for a room, the biggest concept to remember is balance. So, if the rest of your room is dark and cool, find furniture that's light and warm.
If you have a dark gray color on the wall and dark floors, contrast it with this light camel color couch from CB2. This sofa has a crescent silhouette and velvet upholstery, perfect for casual lounges or glam-styled rooms.
Use Another Shade of Gray
If you want to use a gray sofa, you definitely can. The key is to pick a couch that is a noticeably different shade of gray than your walls – if you fail to do so, your sofa will blend in with the wall, and the look will fall flat.
You can find this gray sectional at Overstock. You can mix and match the seats to create the shape you like.
Go with Off-White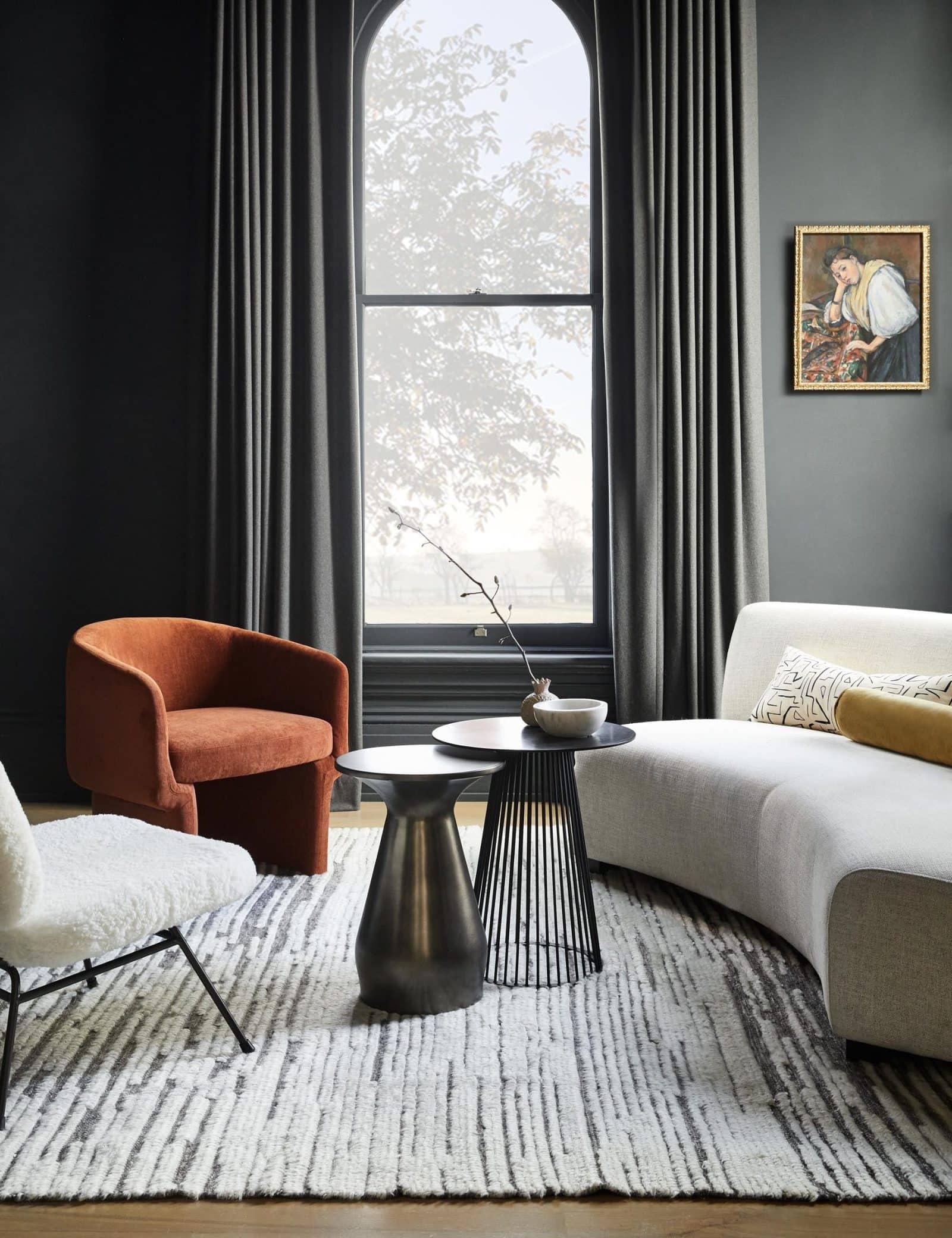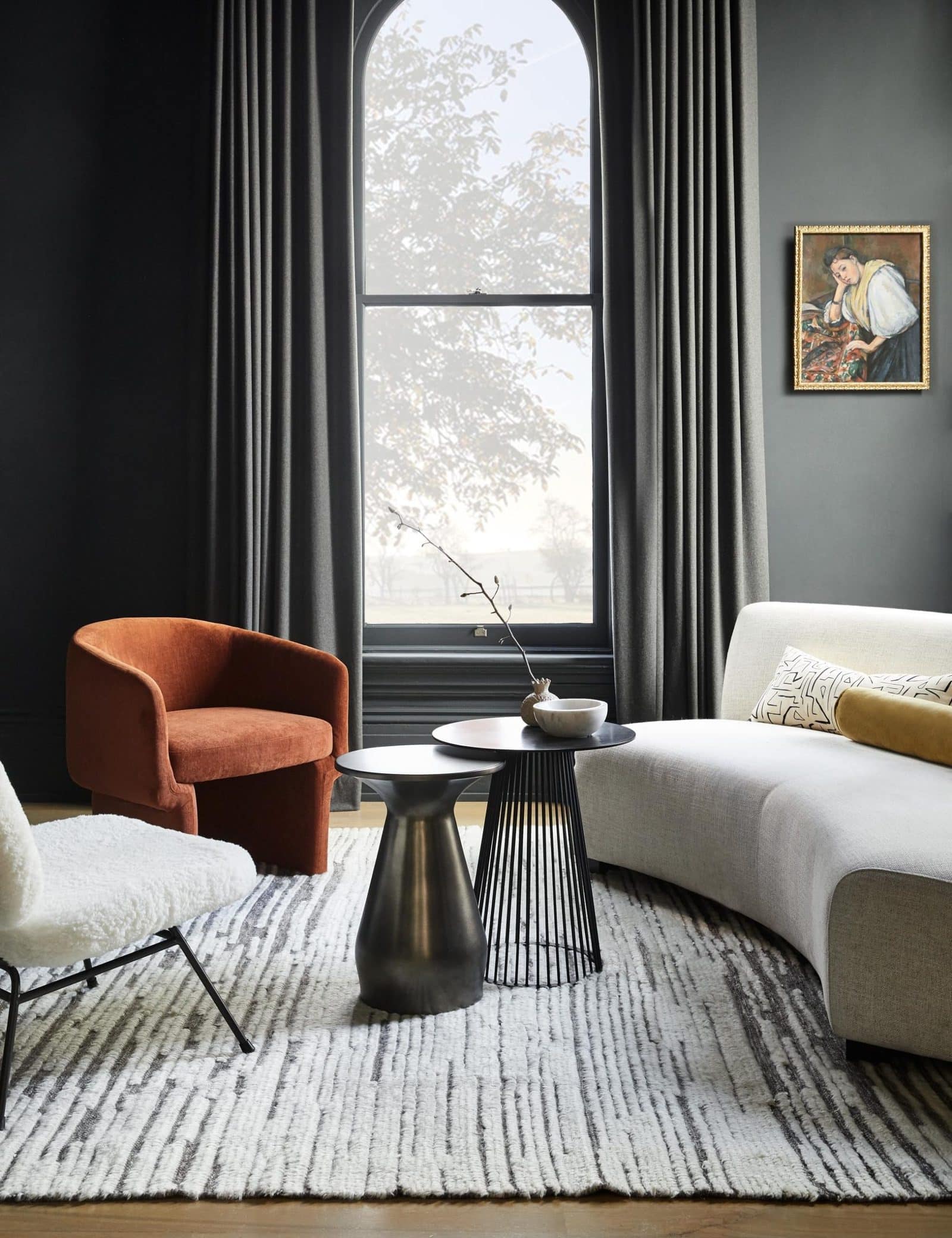 If you're wondering what color couch goes with gray walls, you can always play it safe with off-white. Off-white works with almost everything.
If you're looking for a sofa with a fun shape that still offers tons of comfort, try something like this from Lulu and Georgia. It can seat three people and is ideal for a small space or a loveseat in a larger room.
Balance Cool Gray with Warm Red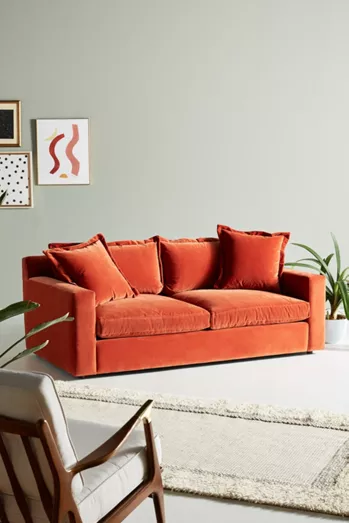 Here's a look at a cool gray wall color balanced by a warmer red sofa. This photo shows how powerful mixing warm and cool tones really is.
This two cushion sofa is from Anthropologie and is a velvet fabric in a cinnamon shade. It has a slightly retro feel but can work with most decor styles.
Combine Grays and Blues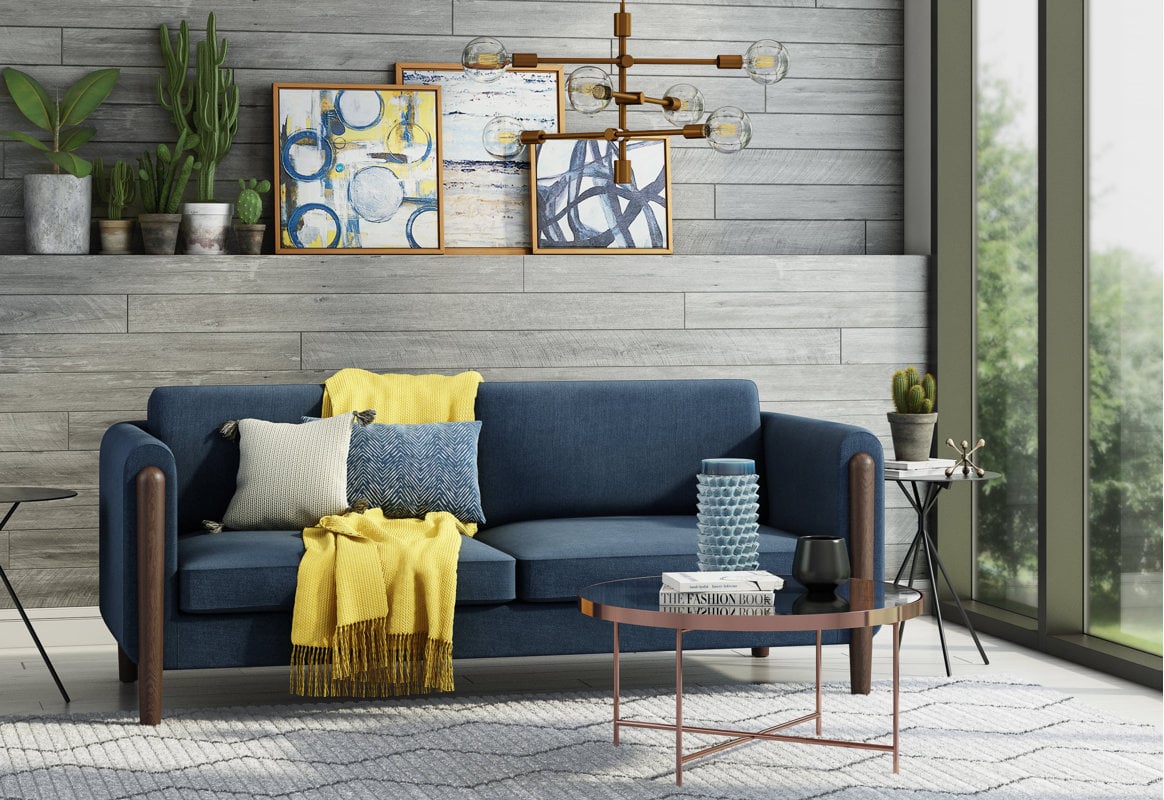 Grays and blues will always work well together. So you can use pretty much any shade of blue furniture you'd like.
In this picture, both the couch and wall color is cool. You can pull off this look as long as you have some warmth in your flooring. However, if you like a room with all cool colors, disregard the rules and go for it.
Try a Beige Sofa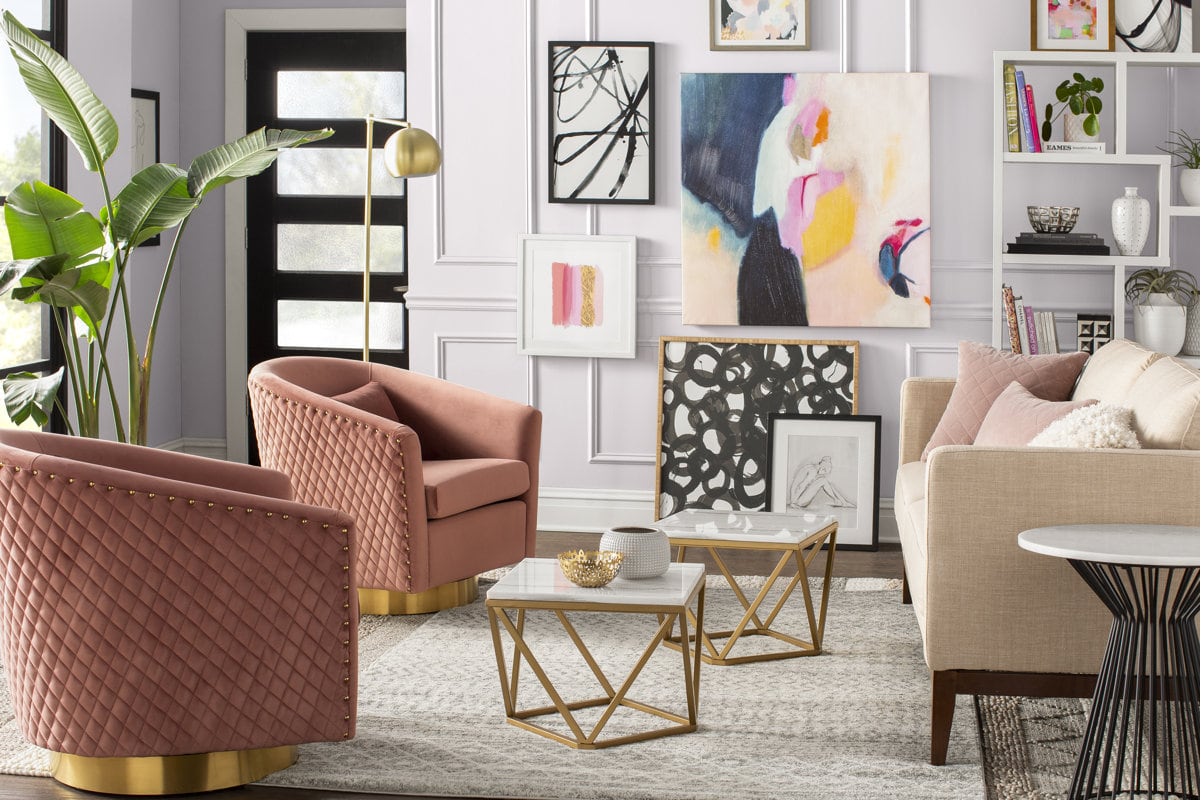 Yes, beige sofas work with gray walls. In fact, with light gray walls like these, beige sofas look amazing. They offer a warm contrast that makes the room feel more inviting.
You can find these accent chairs and the sofa at Wayfair. The sofa has a classic design that's very versatile. The chairs work best for glam and mid-century modern styles.
Pull In Wood Accent Pieces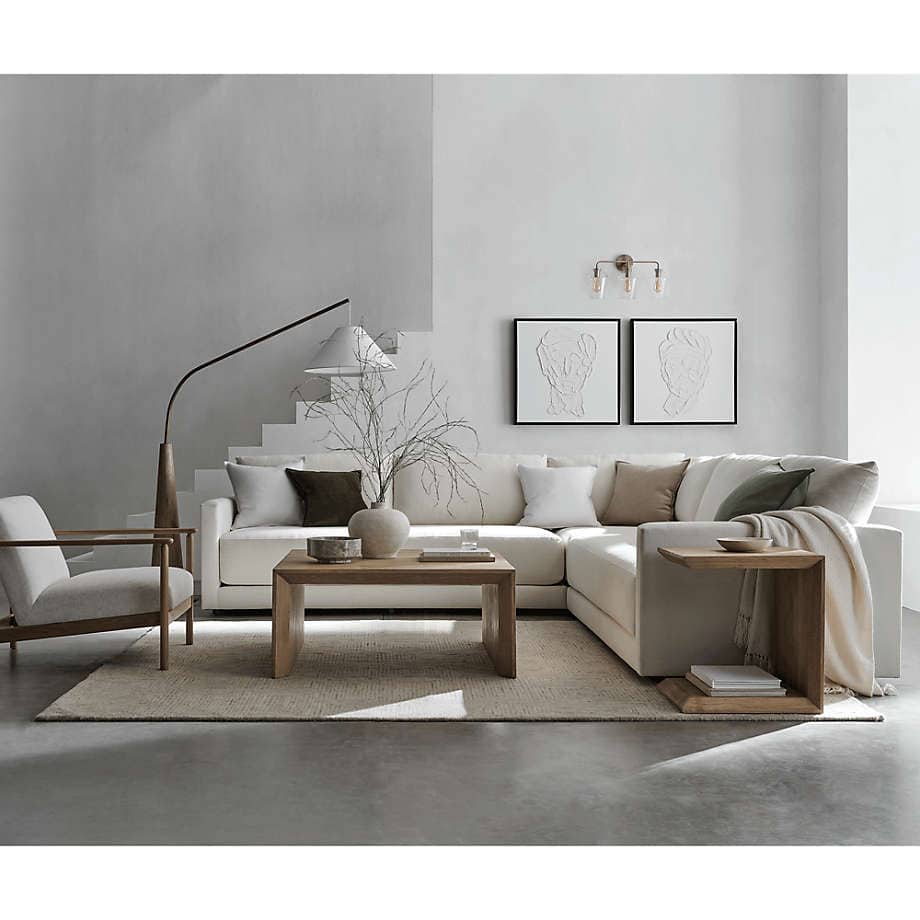 What color furniture goes with gray walls? Well, if you're looking for an accent chair, try something with a wood frame.
Wood looks great with gray. So bring it in through your chairs, coffee tables, and side tables. Just pick a tone that also complements your flooring.
Add Warmth with Brown Leather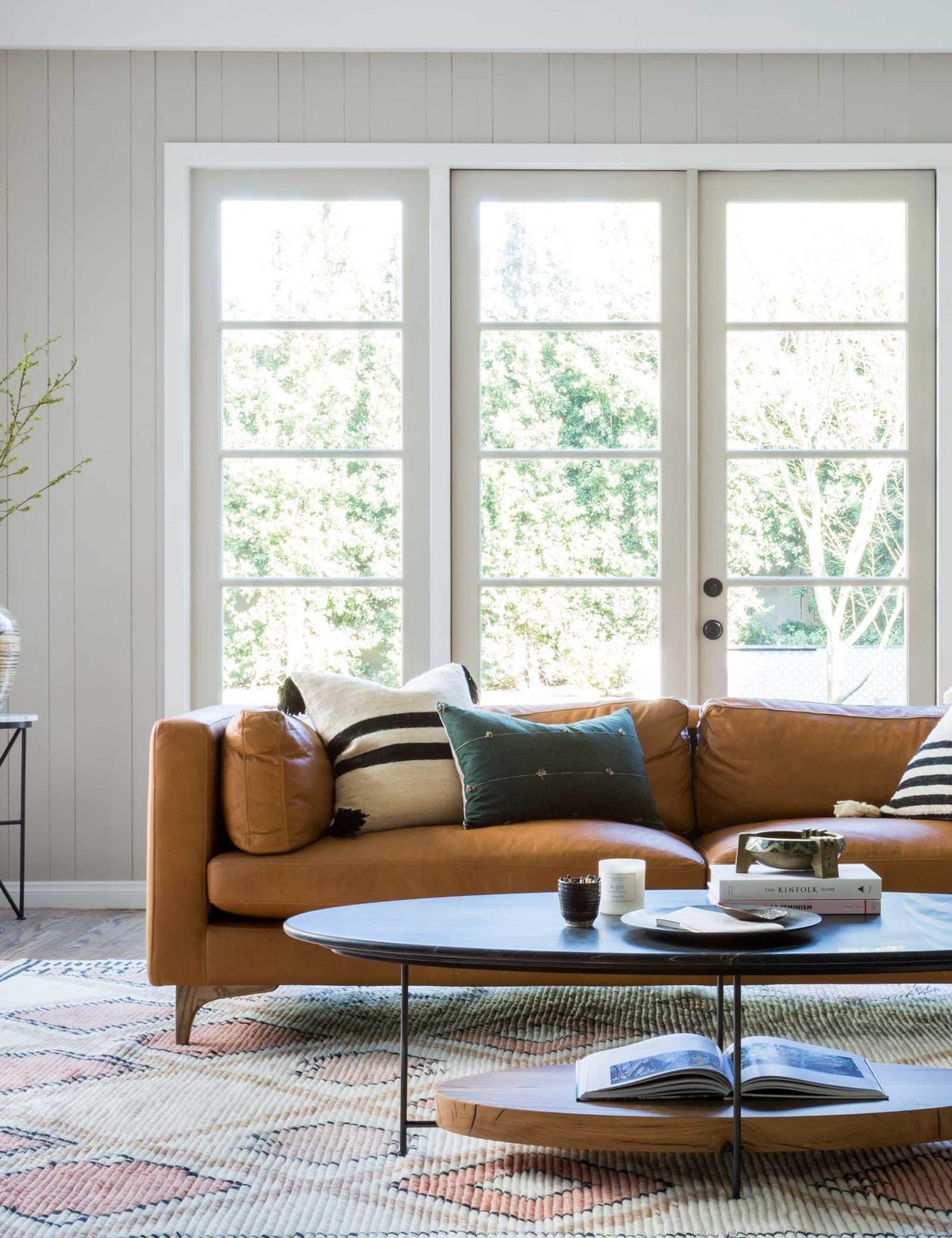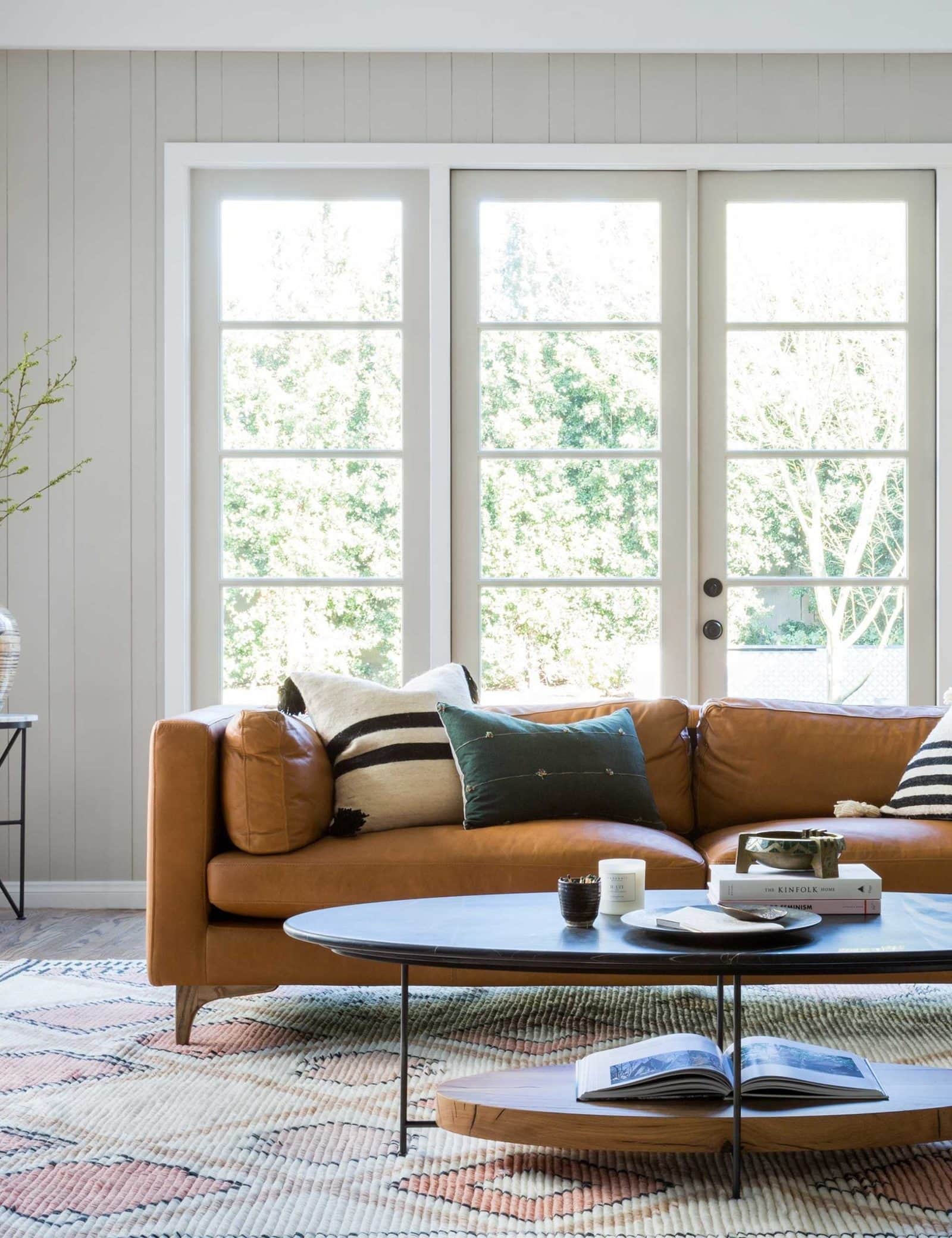 Brown leather sofas are trendy right now, which is great because they go with literally everything.
So, if you love your gray walls but have had your eye on a leather sofa, give it a try. And since a brown leather sofa will work with any color, you can paint your walls a different shade in the future without worry.
Think Pink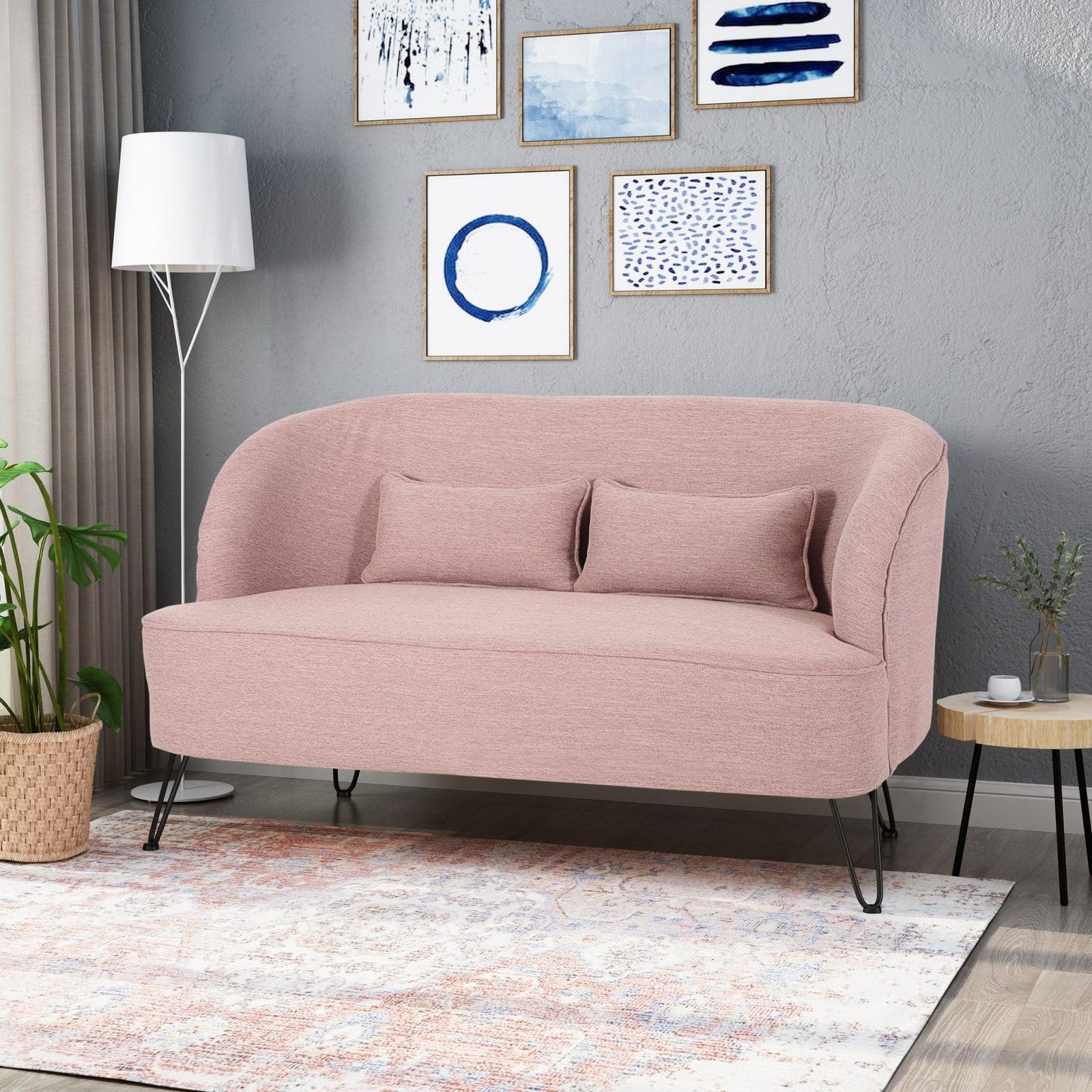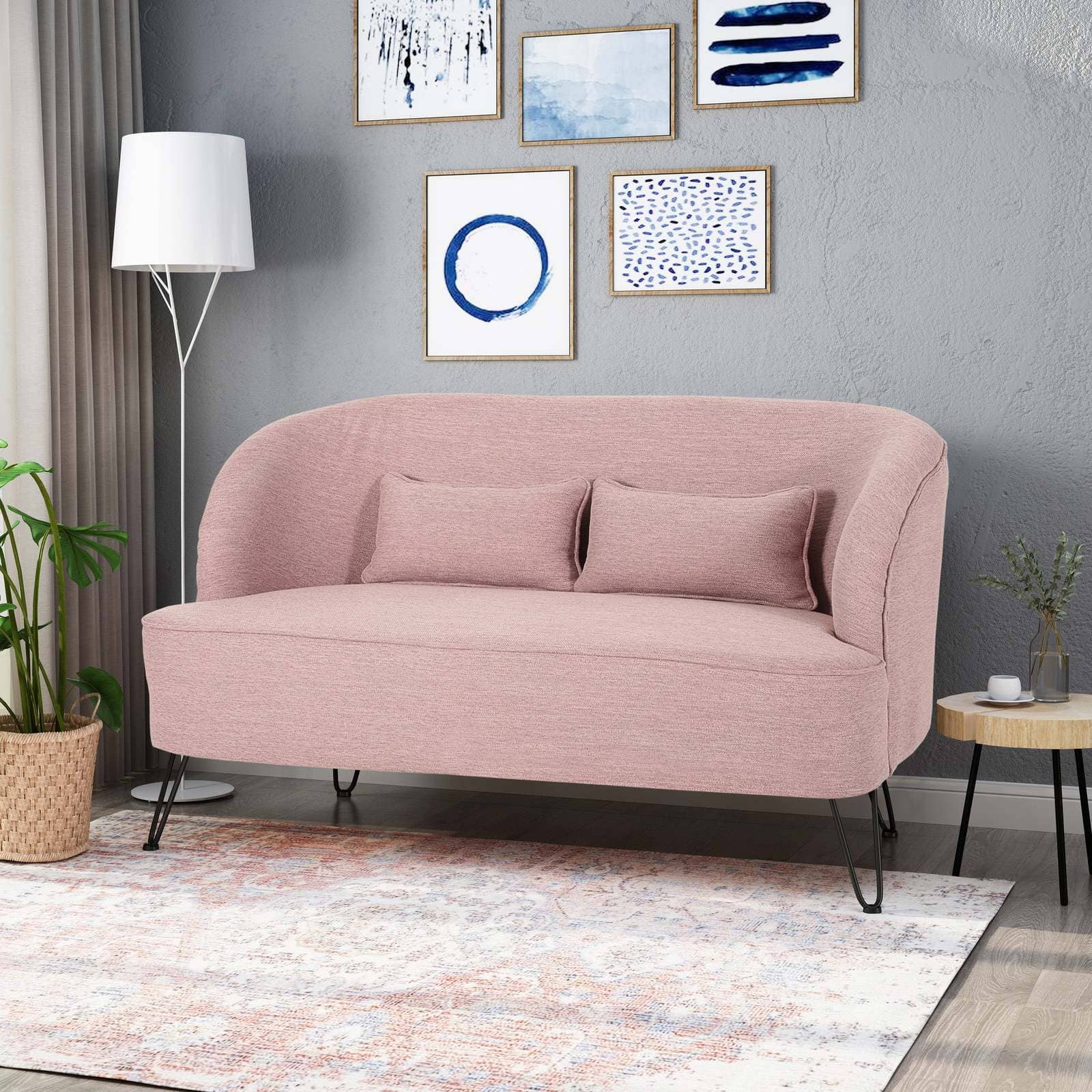 Pink and gray are a classic color combination. And light blush colors like this look amazing against medium to dark gray walls.
This pink couch from Overstock has fun hairpin-style legs. It's perfect for a modern or glam look. Also, since the sofa is loveseat size, you could use it to fill a small space.
Match Gray with a Green
Deep green furniture gives off vibrant, luxe vibes, especially when upholstered in velvet, like this petite sectional sofa.
This couch is from Anthropologie and is customizable. While you can choose from over a dozen colors, this deep green works beautifully with light gray walls.
Glam it Up with Deep Blue and Brass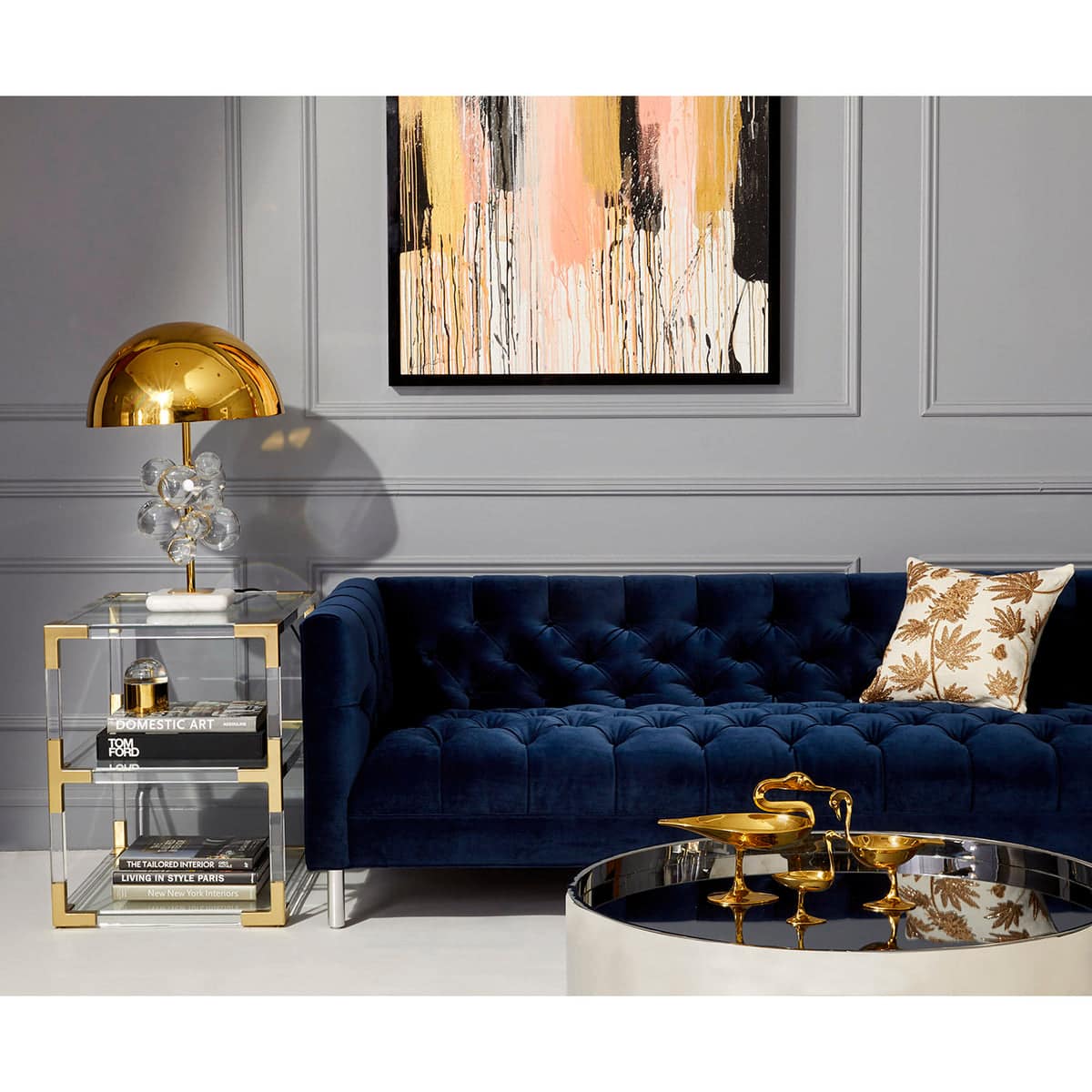 If glam is the goal, this deep blue velvet sofa is hard to beat. The couch has clean lines, while the upholstery and tufting offer a glamorous touch.
You can add to the glam look by bringing gold or brass accent pieces. For side tables, consider acrylic or white.
Get the Farmhouse Look with a Wool Sofa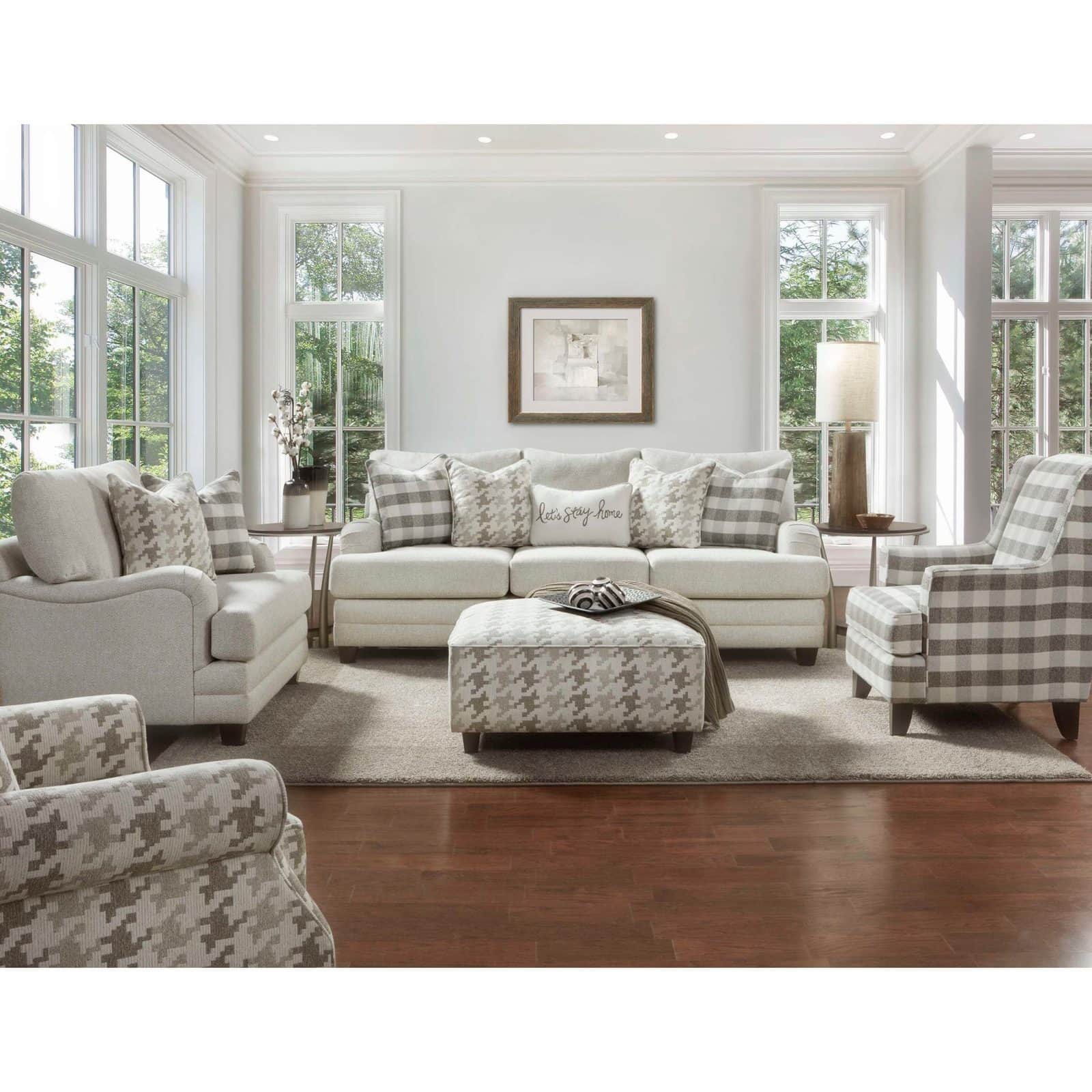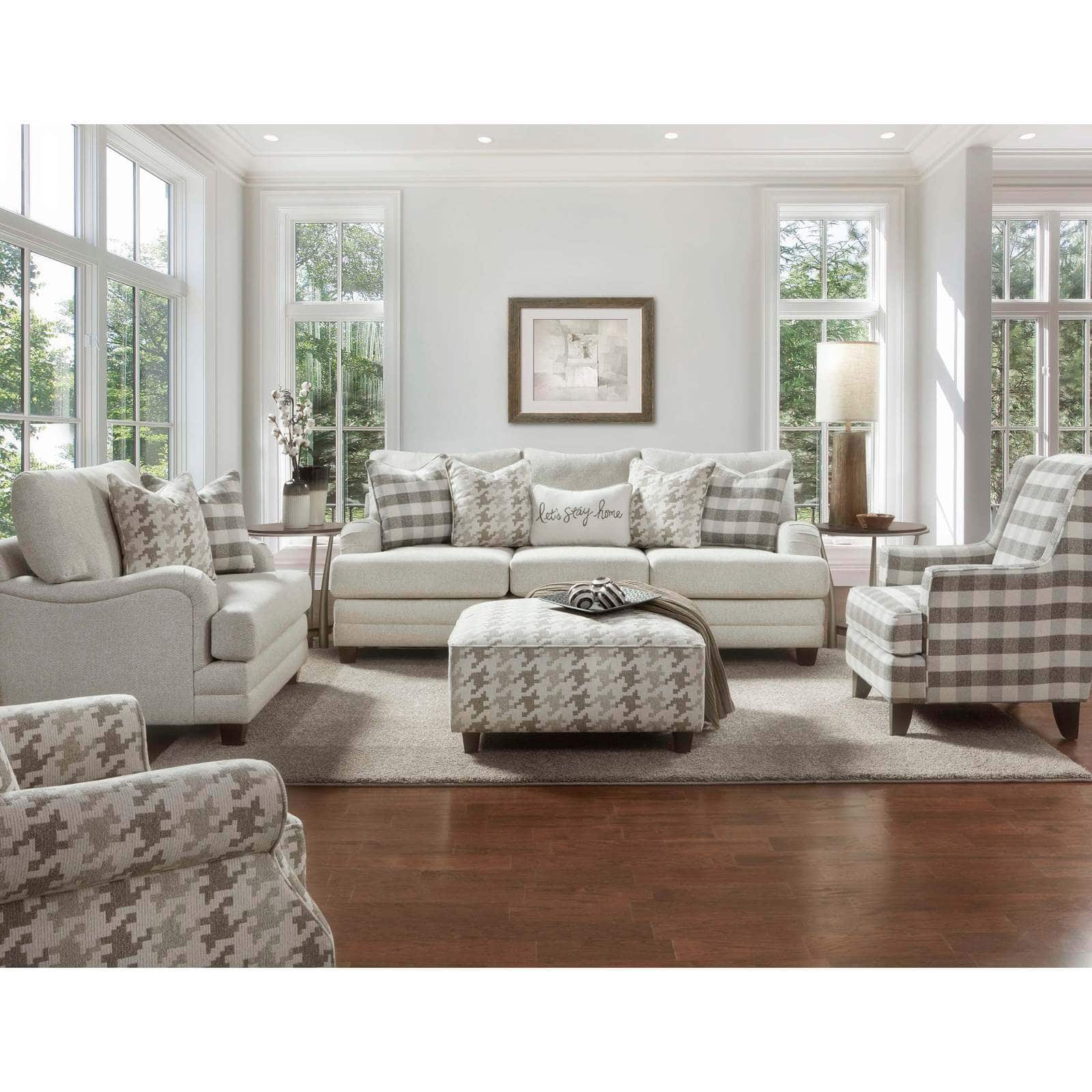 If you're after a modern farmhouse look, off-white and linen-colored furniture look excellent – especially paired with a light gray wall.
You can find this linen-colored sofa at Overstock. It comes with the throw pillows pictured for a cute farmhouse touch. You can pair this with similar color furniture or work in some brown leather accent chairs.
Pair Dark Brown with Light Gray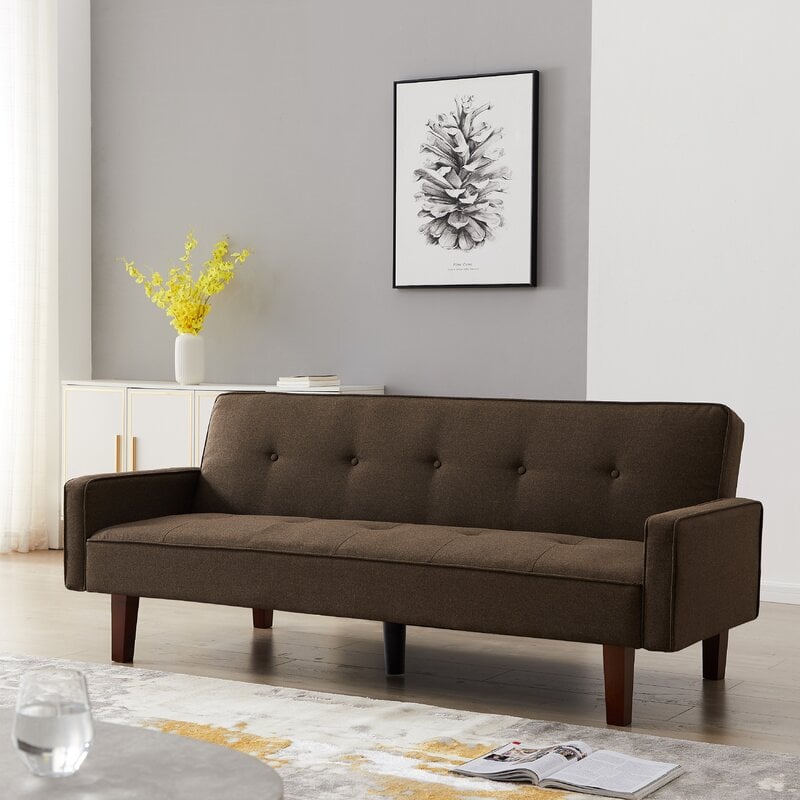 If your walls are a light to medium cool colored gray, bring in a dark brown sofa. The brown will contrast the lightness of the walls and add some warmth to the room.
You can find this brown linen sofa at Wayfair. It's excellent at hiding dirt, so perfect if you have kids. It also converts to a sofa bed.
Put Light Colors Against Dark Walls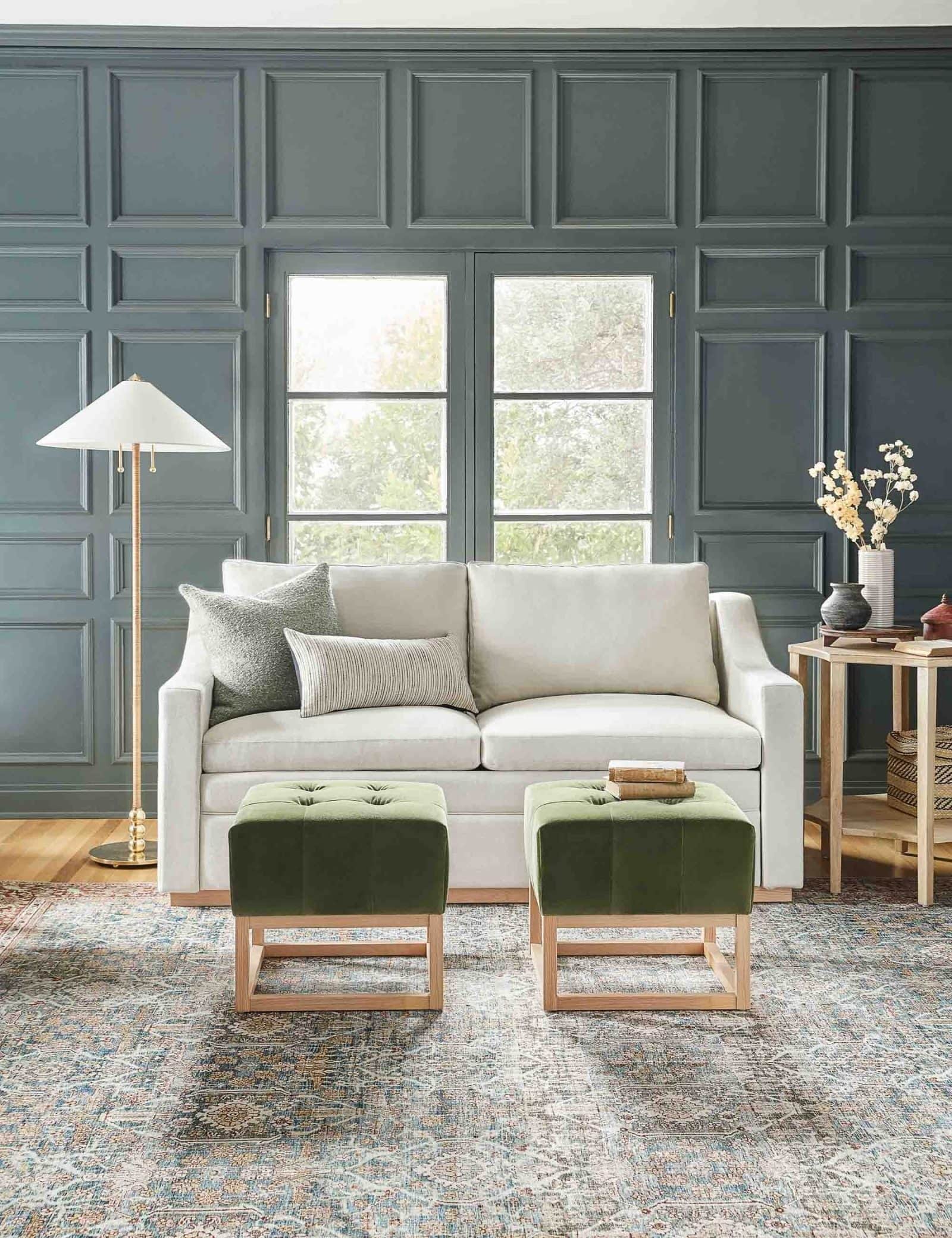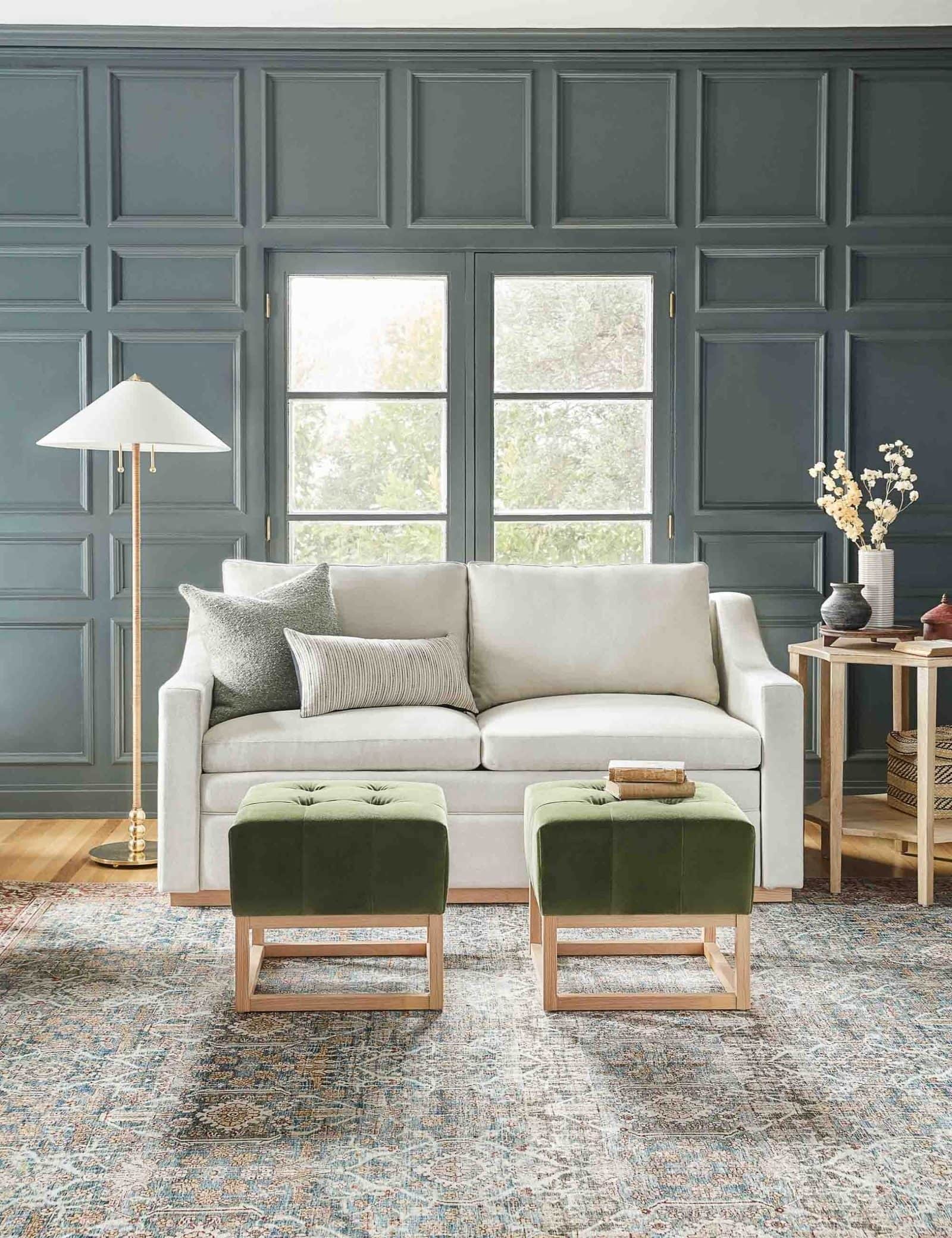 Do you like contrast? Yep, me too. You can get it by painting your walls a dark gray and then using light-colored furniture.
This sofa from Lulu and Georgia is in the shade "natural." It looks like a warm white linen color that pairs great with other earth tones. It's also a sleeper sofa, perfect if you have guests over often.
Lounge in Black Leather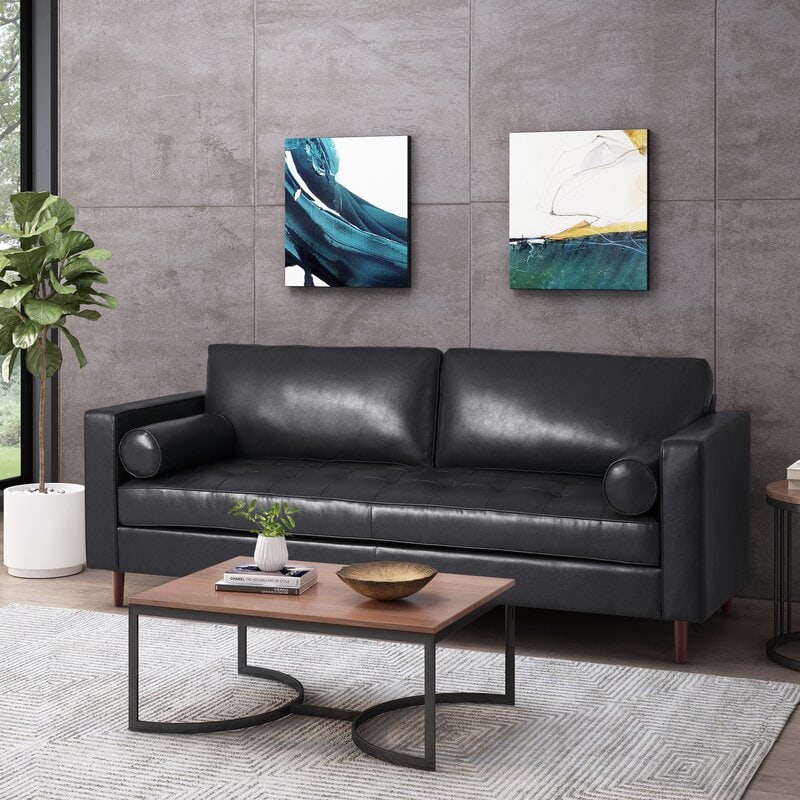 Black is a safe bet for gray walls, especially if the walls are a light to a medium shade of gray.
This black couch from Wayfair is faux leather. It has a modern shape that will work with many different style living rooms. It also comes in dark brown and cognac.
Keep it Casual with a Slip-Covered Sofa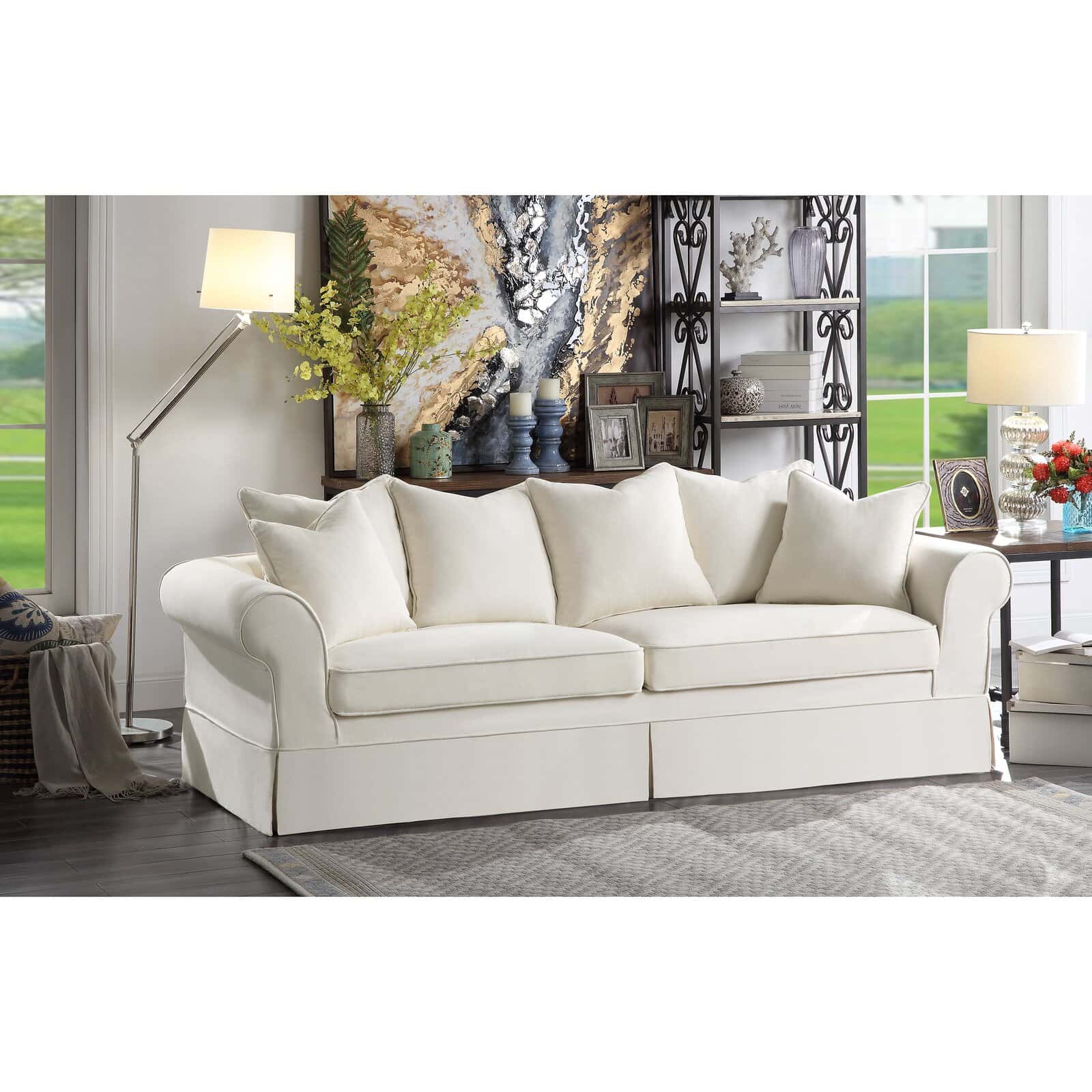 If you're after a comfy casual look, go with a slip-covered sofa. These sofas are perfect for busy family rooms and comfortable enough to sit on for hours.
You can get this sofa in a classic linen color that will match any gray wall. It also comes in ten other colors if you're not keen on the lightness.
Final Thoughts
Here's some good news: gray is very versatile. It's easy to match furniture to gray walls. Just try to balance both warm and cool colored items in your room.
For example, if you have warm-colored walls and floors, bring in some cool-colored furniture and vice versa. You can also add interest by choosing furniture that contrasts the color of your walls.