Decorated Life is reader-supported. When you buy through links on our site, we may earn an affiliate commission. Learn More
14 Purple Curtains Ideas for the Bedroom
Purple is the color of wealth, royalty, wisdom, and imagination, making it a wonderful color to use in the bedroom. Today we are going to be looking at some of the best purple curtains for the bedroom so that you can bring a touch of elegant luxury to your own room.
Whether you like deep shades of purple in opulent materials or prefer lighter shades in sheer fabrics, there will be something for you here!
Let's take a look…
Woven Purple Indie Curtains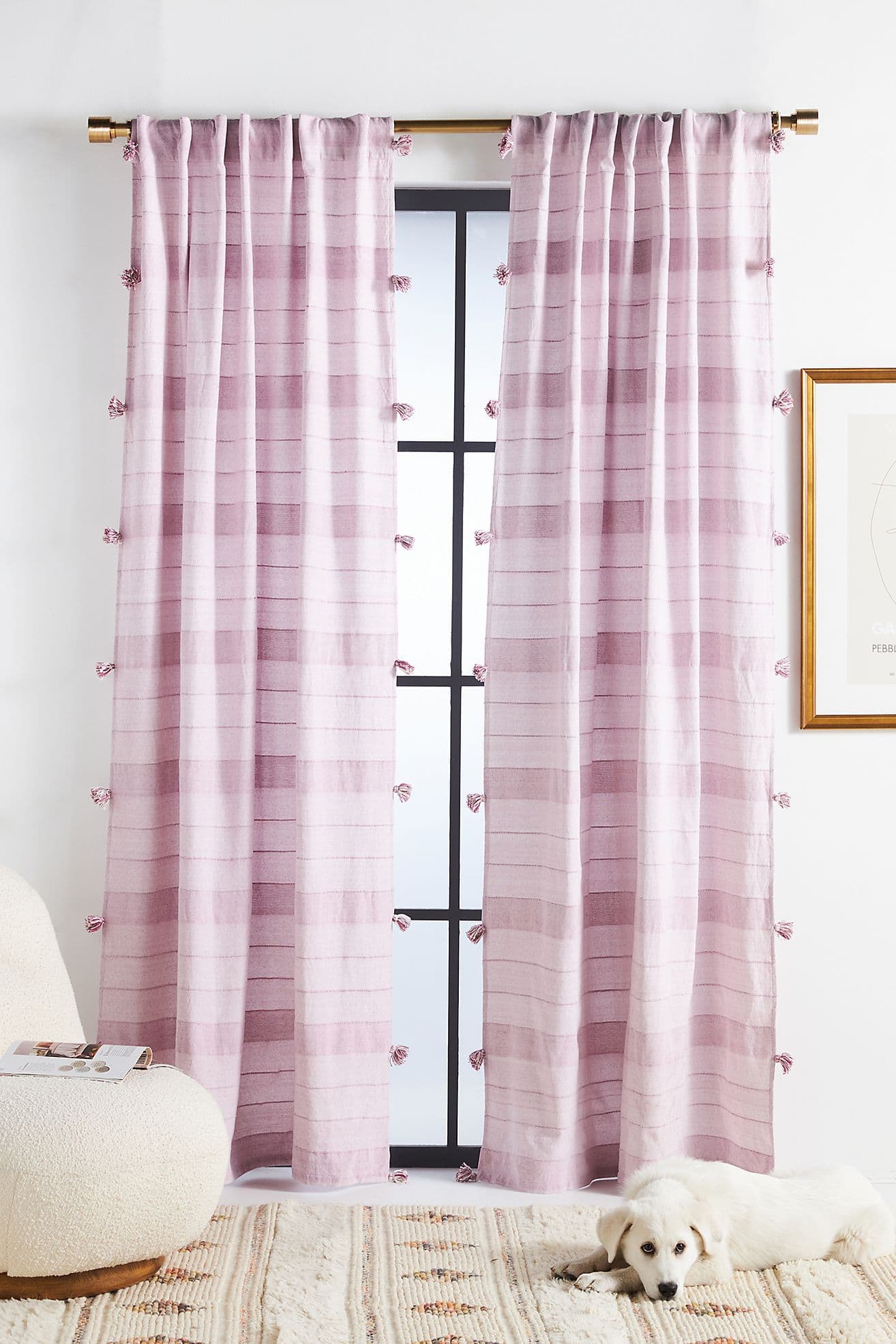 These gorgeous light purple curtains are the perfect finishing touch for a modern, feminine bedroom. Featuring a subtle stripe, and pom pom edging, these curtains are both stylish and fun.
They are a great way to add personality to a minimal bedroom – try adding gold accents in your room to contrast with the purple and give it a luxe vibe. The panels are made from a blend of cotton and polyester, so they are super easy to clean and maintain.
Grey, Purple and Beige Curtains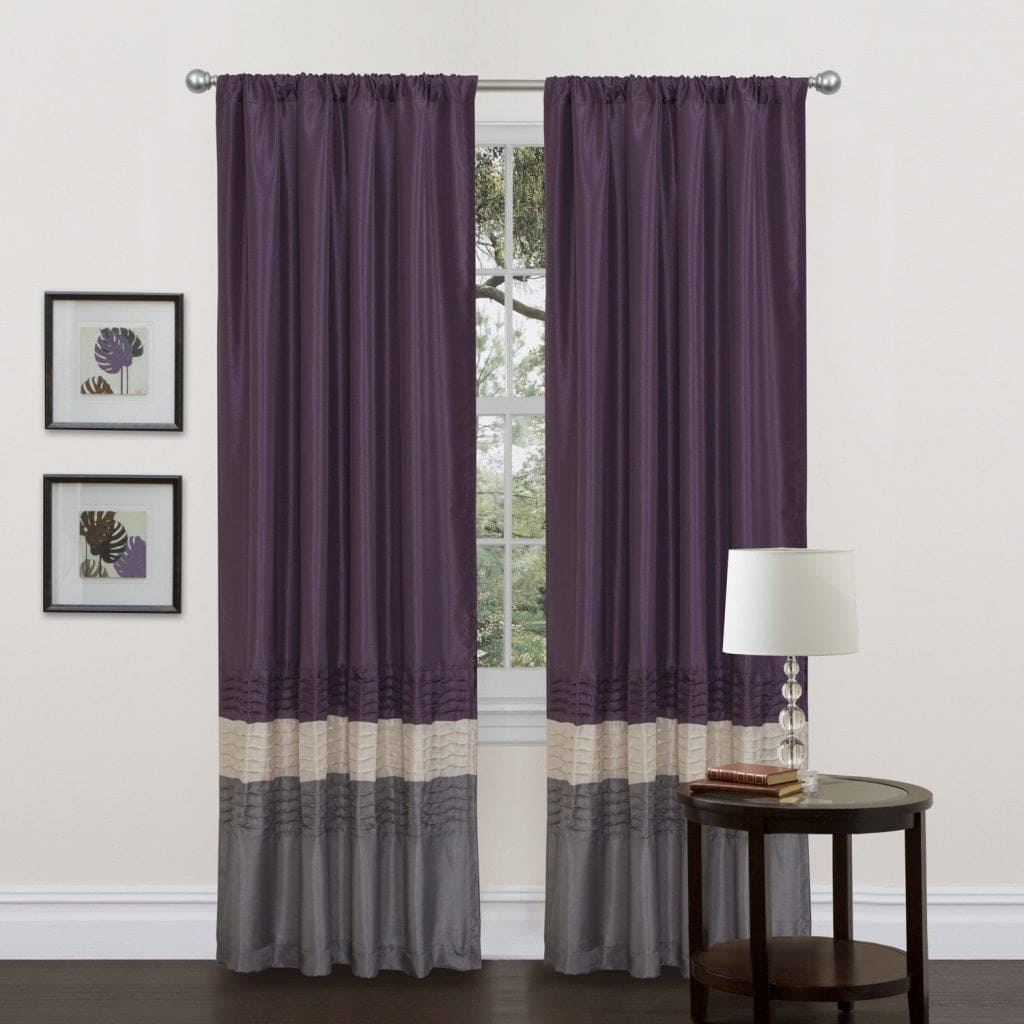 Add a touch of elegant charm to your bedroom with these grey, purple and beige curtains. Featuring a smart design, these curtains are ideal for creating a sophisticated look in your bedroom.
They would work best in a neutral bedroom with the deep purple adding just the right amount of color. The dark colors and opulent faux silk material of these curtains means they will work particularly well with dark wood floors and furniture.
Purple and Silver Curtains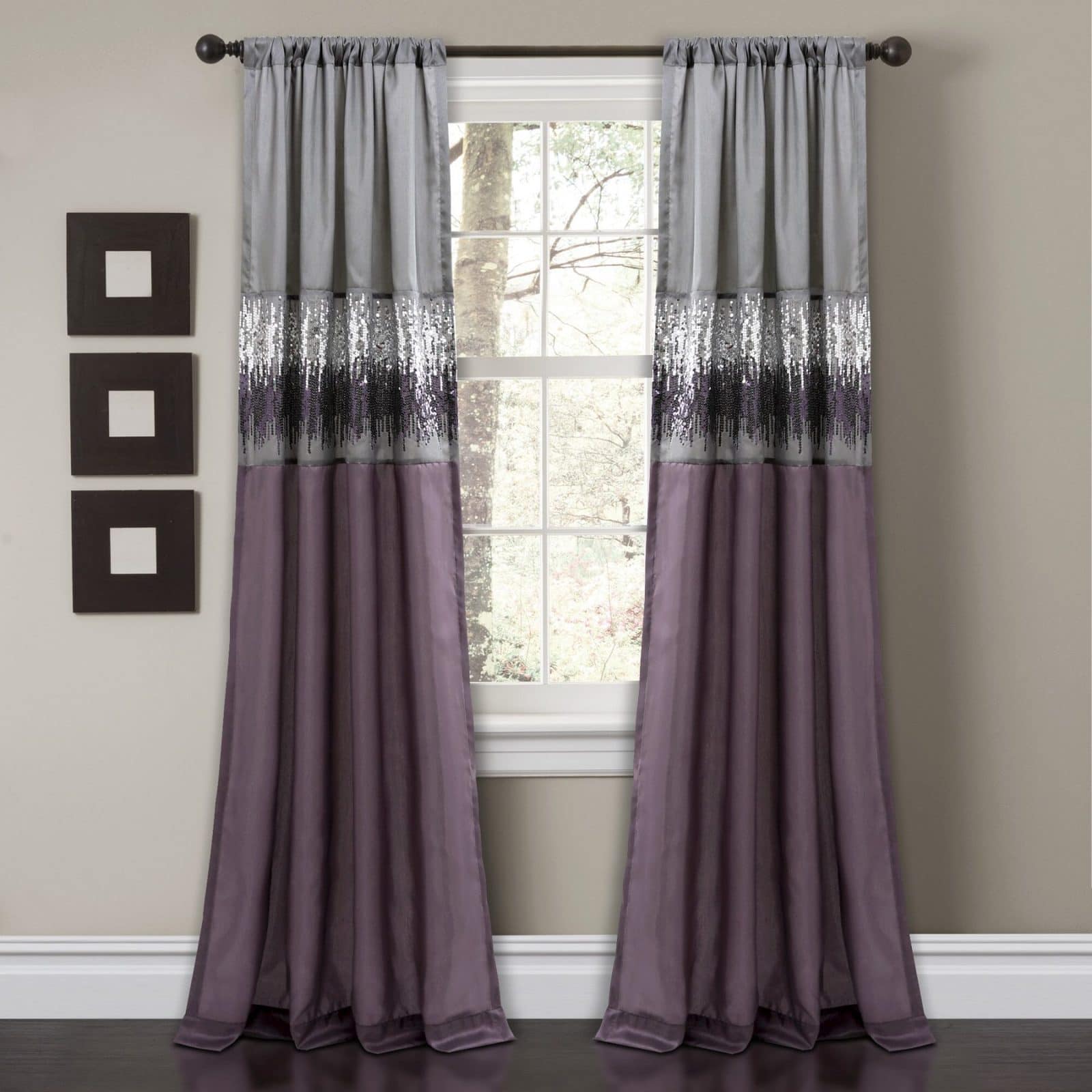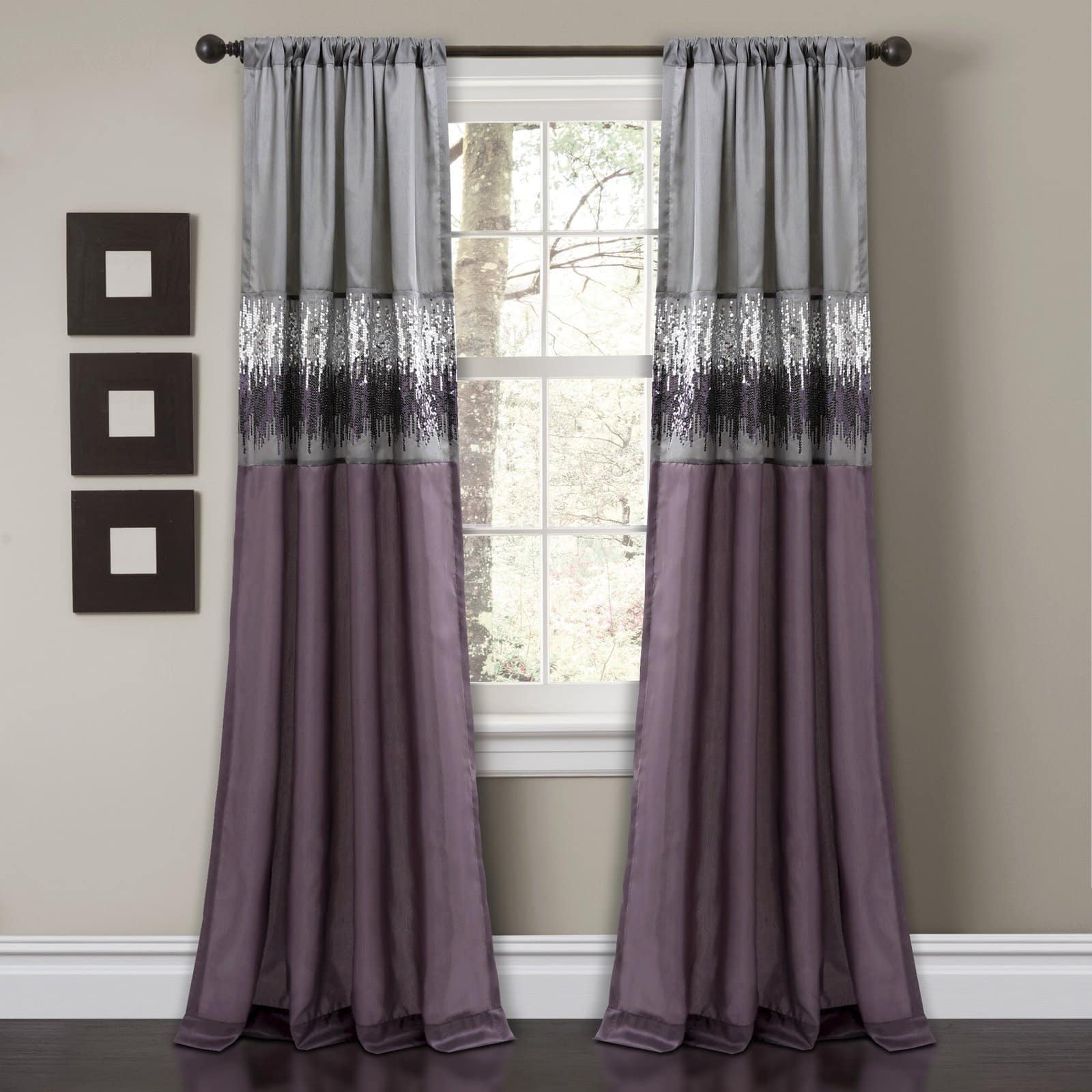 These beautiful purple and silver curtains are perfect for anyone who's looking for bedroom curtains that are a little more unusual. They are made from a beautiful faux silk material and decorated with purple and silver sequins to create a unique, eye-catching design.
These curtains do not completely block out the light, but if you like to sleep in complete darkness, you can combine them with blackout roller blinds.
Mauve Velvet Louise Curtain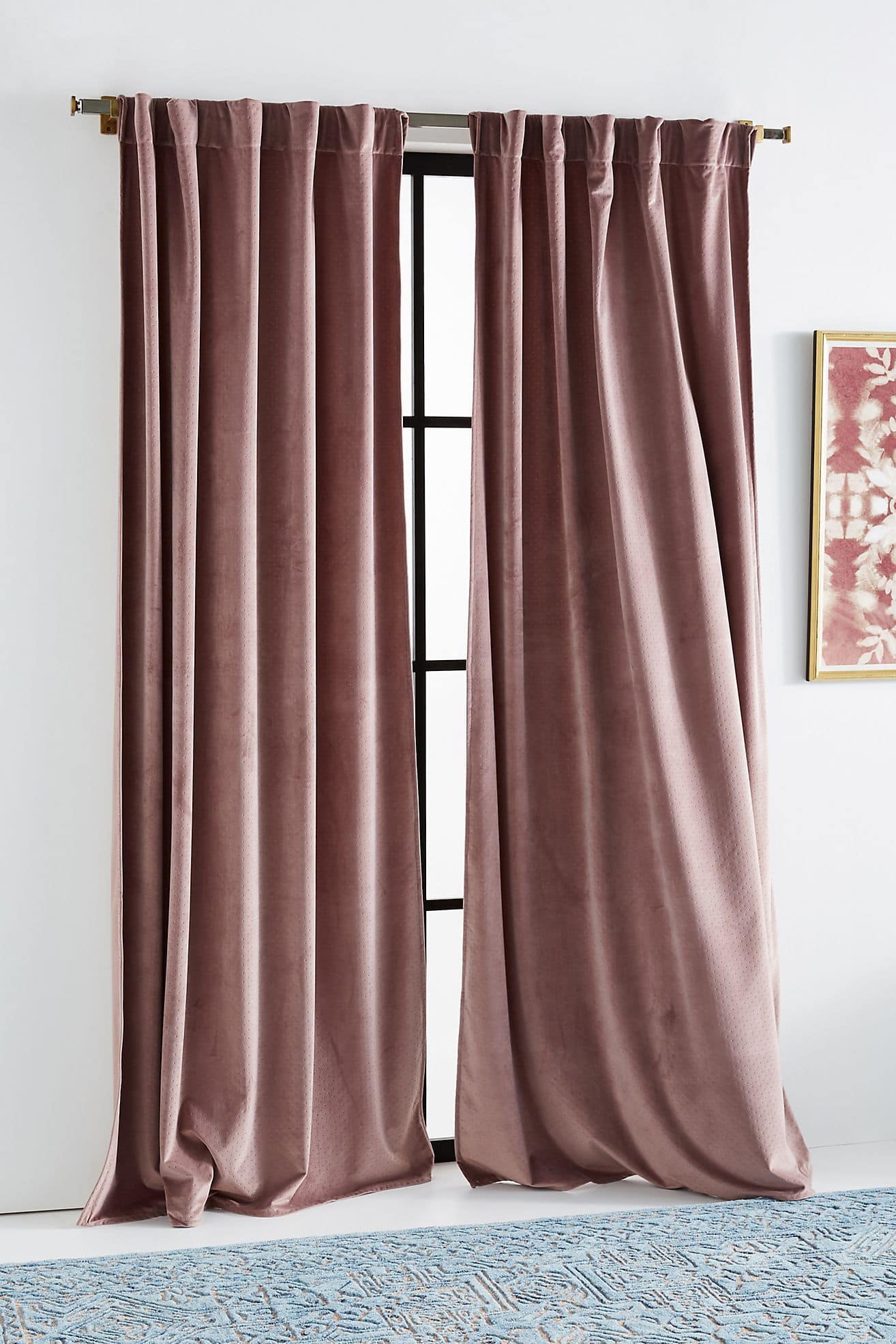 If you want to create a stylish, opulent look in your bedroom, then try these mauve velvet Louise curtains. The sumptuous velvet material features an elegant design with subtle dots on the material, giving it a unique look and feel.
Curtains like this look best when they are slightly too long, allowing them to puddle on the floor slightly, so order them with a couple of inches to spare. This is a great way to get a glamorous look in your bedroom!
Tulle Overlay Star Cut-Out Curtains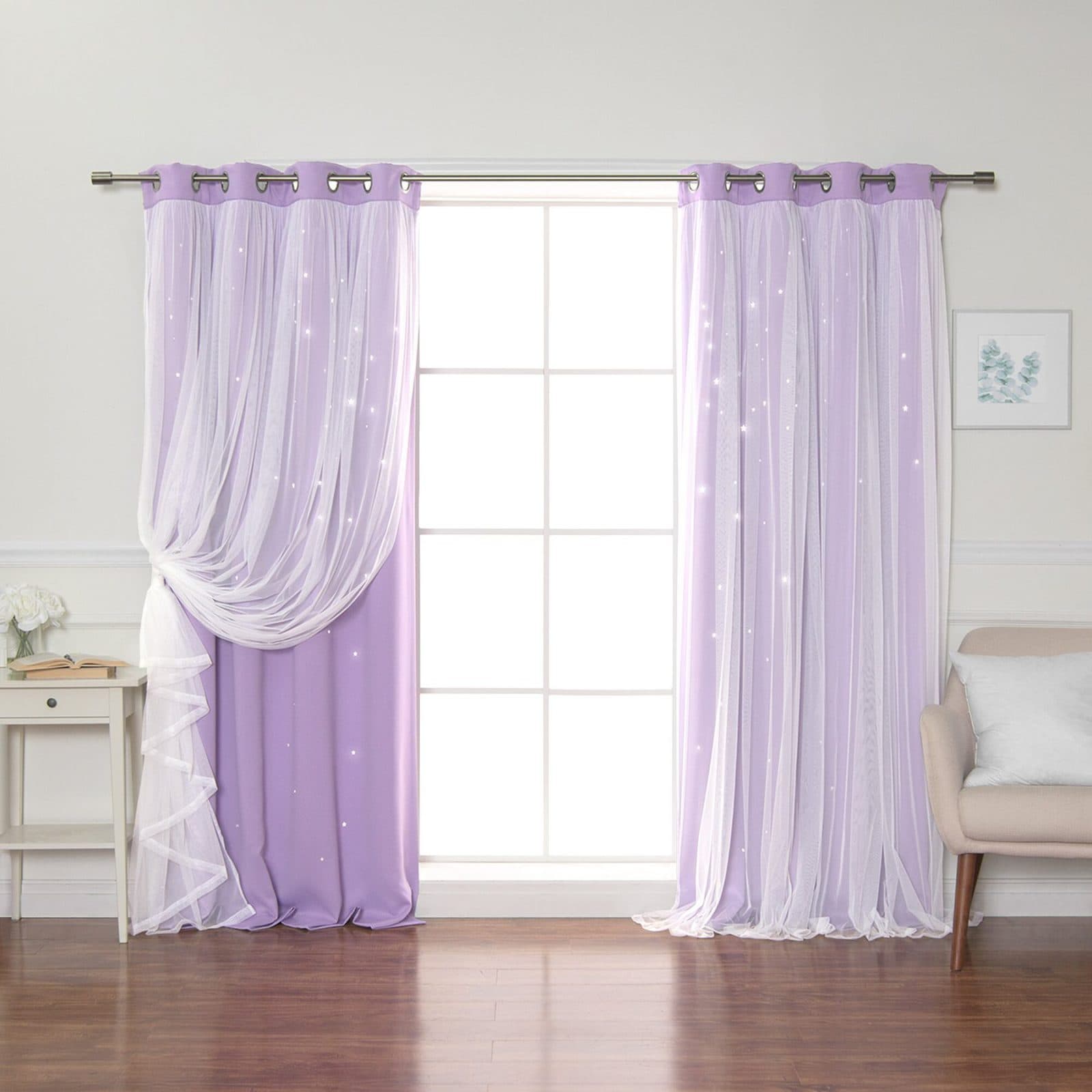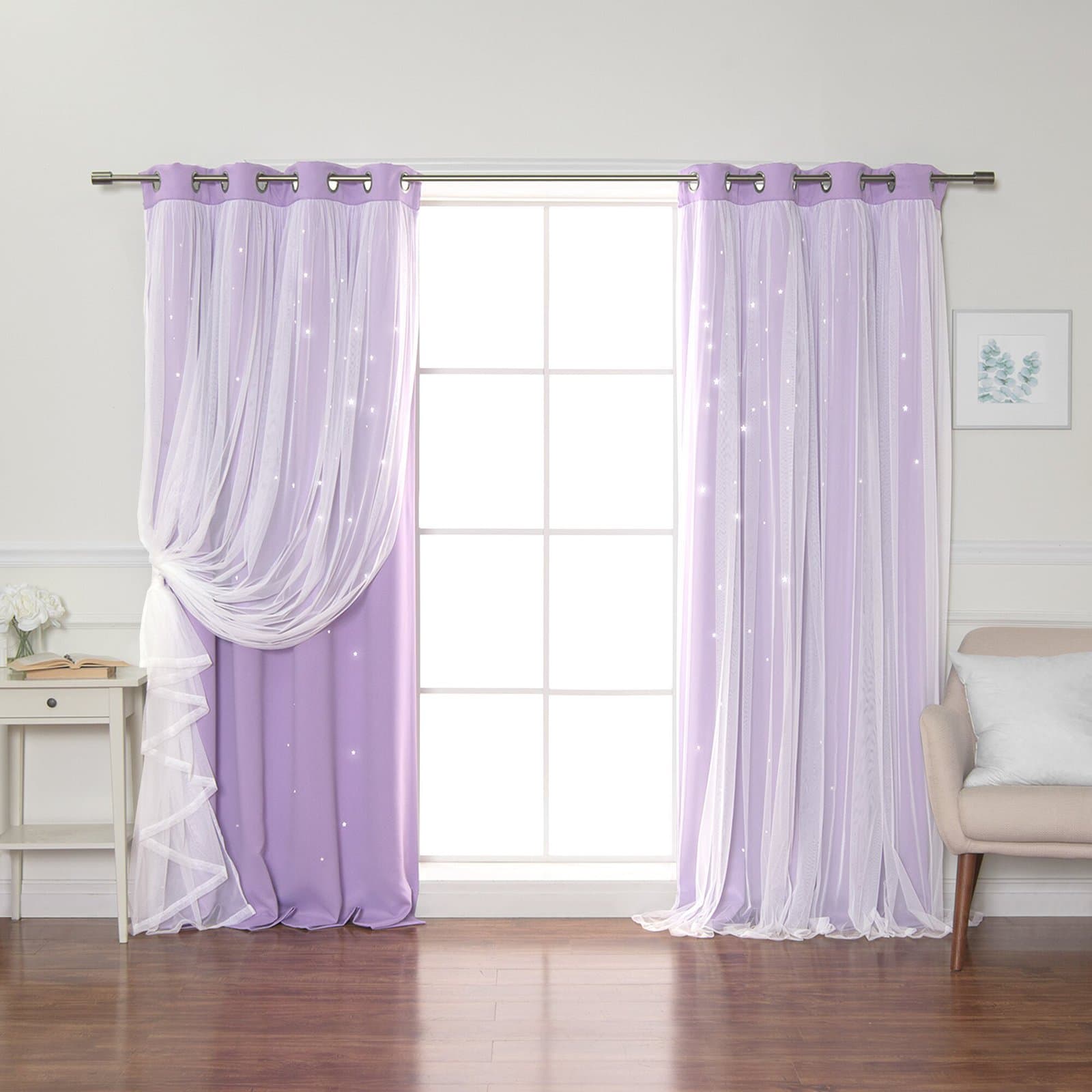 If you're looking for purple curtains for a children's bedroom, these tulle overlay star cut-out curtains are a great choice! The curtains are made of heavy blackout material, with delicate stars cut out, allowing tiny bits of light to filter through. This design, coupled with the tulle overlay, creates a magical effect that children will love.
As well as being beautiful to look at, these curtains are thermally insulated, so they will keep bedrooms nice and warm too.
White and Purple Curtains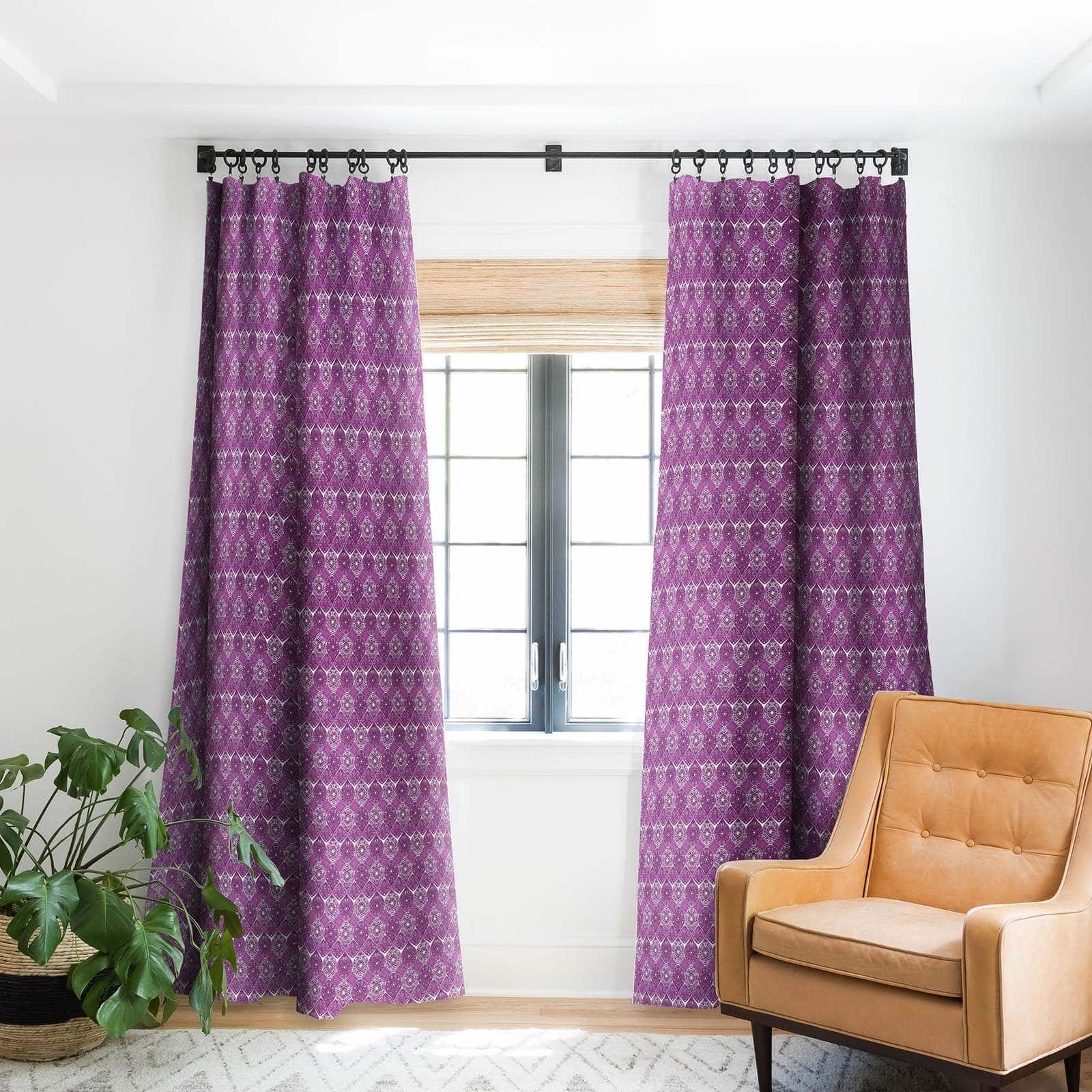 These white and purple pattern curtains feature a fun pattern that will draw your eye to the window area in your bedroom. They're a great choice for anyone who wants to make a statement in their bedroom!
The material blocks out almost 100% of the light, so you won't have to worry about being woken up at sunrise with the daylight pouring in. They are machine washable, making them a practical choice for busy households.
Solid Purple Room Darkening Bedroom Curtains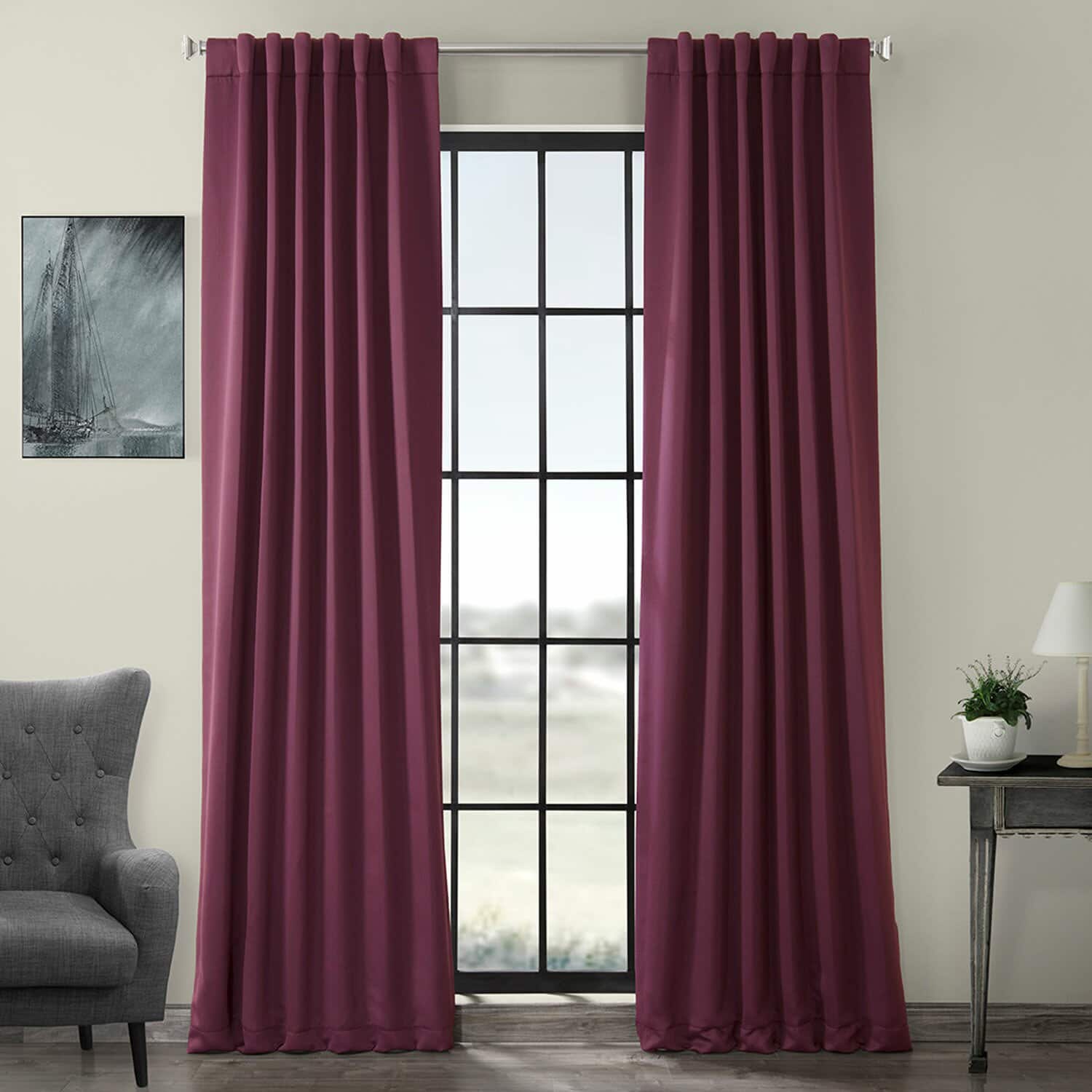 If it's simple elegance you're looking for, then you can't go wrong with these solid purple thermal curtains. Aside from the fact that they hang so beautifully, they are an ideal choice for a bedroom due to their room darkening properties.
These curtains are thermally lined, which helps reduce noise (another factor for a great night's sleep), and they will stop the heat escaping, keeping your bedroom warm at night too.
Purple and White Ombre Curtains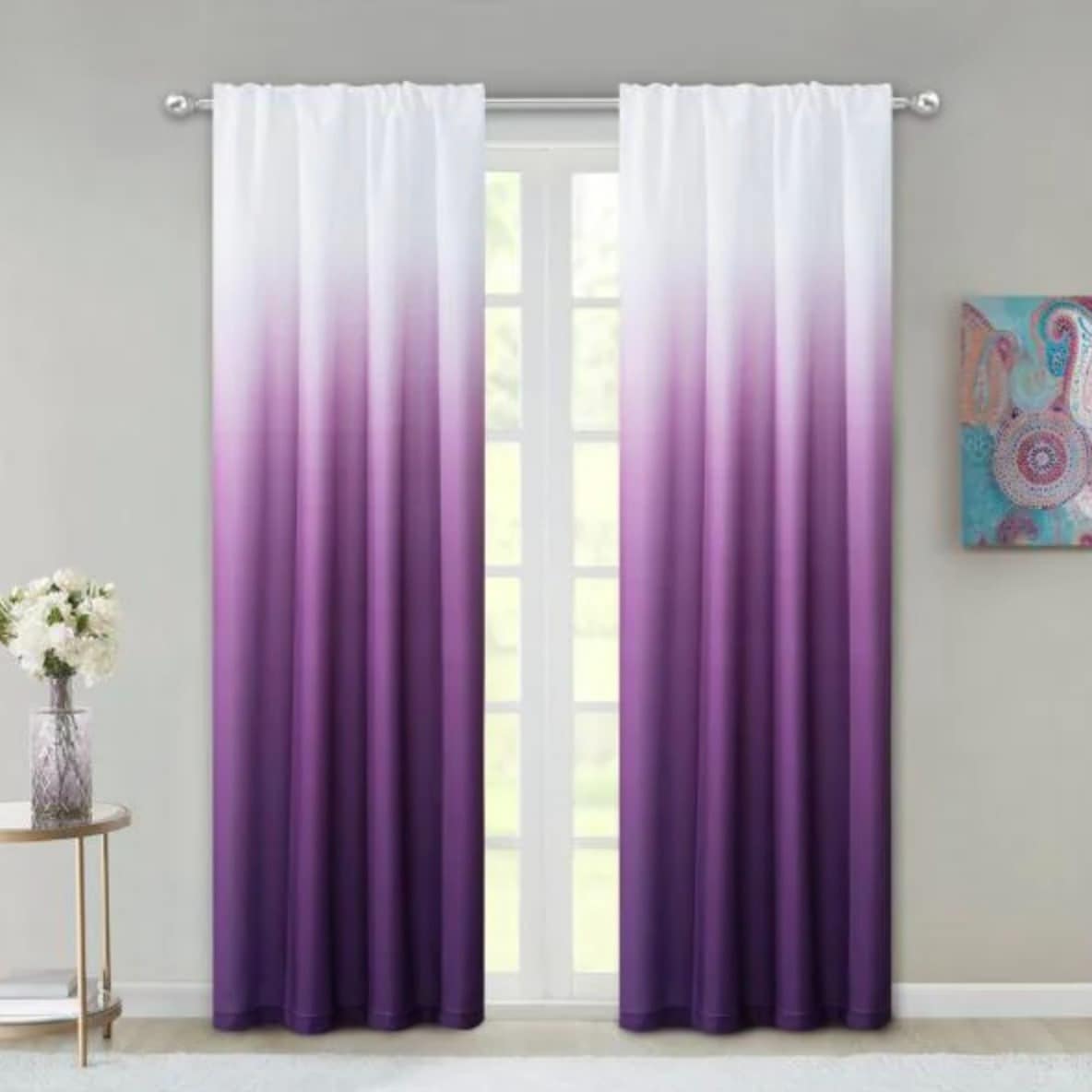 These contemporary ombre curtains would work really well in modern minimalist bedrooms, adding a splash of bold color to the space without being too 'in your face'.
These curtains do allow some light to filter through, creating a beautiful glow as the daylight comes in in the morning. If you prefer complete darkness, you can always add a blackout roller blind behind these curtains.
Lavender Blackout Curtains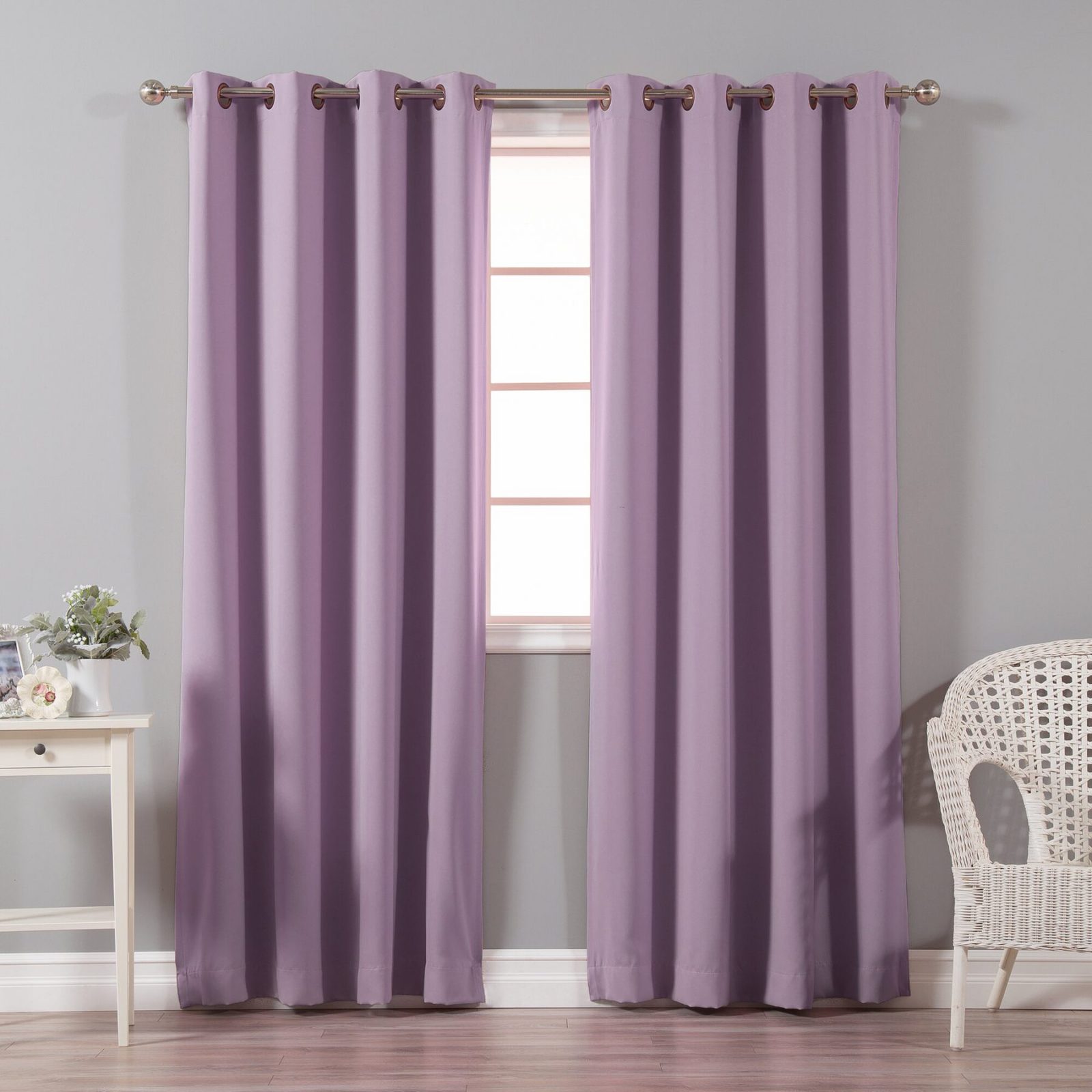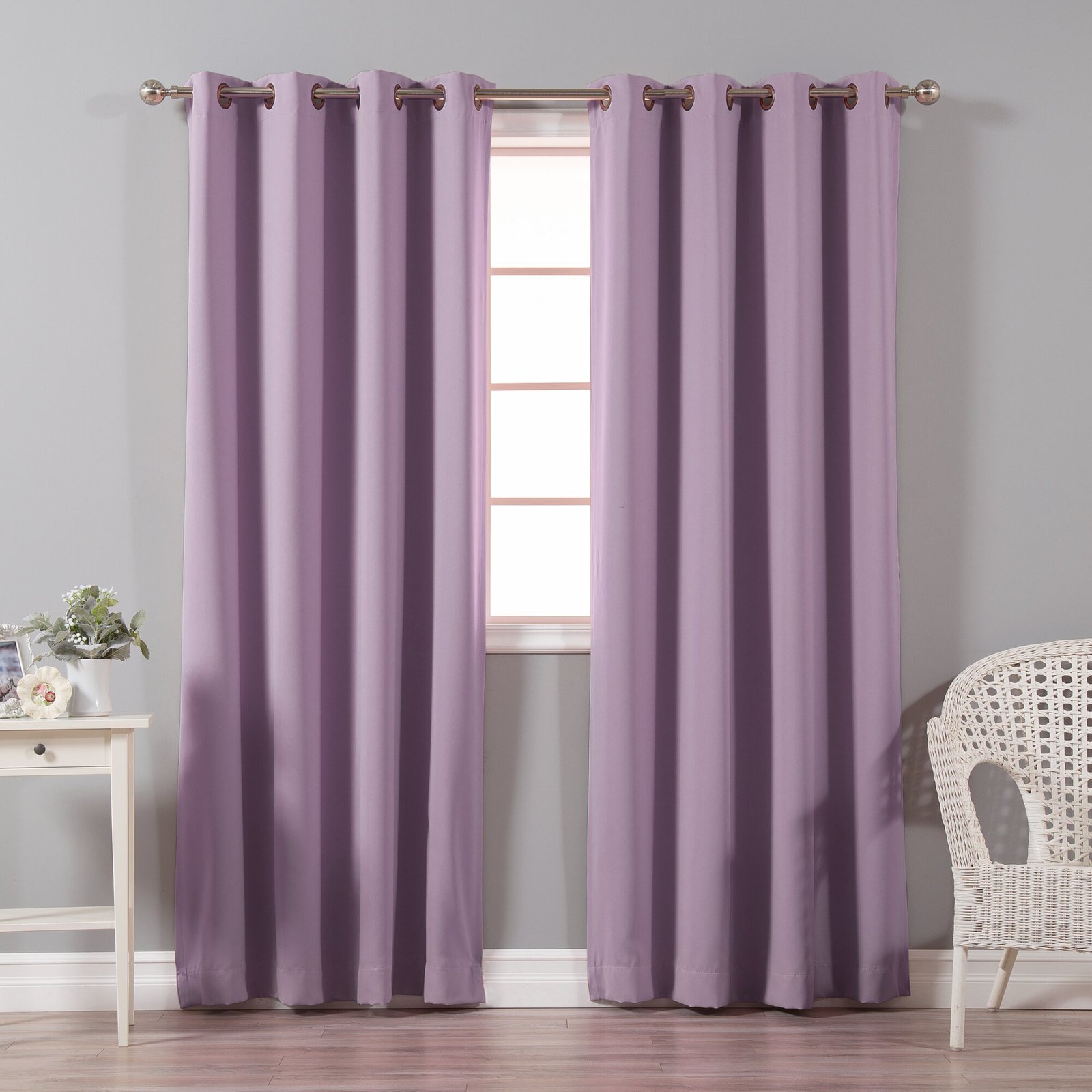 These stylish, modern curtains are perfect for anyone who loves contemporary interiors. The subtle lavender color of these curtains will bring a touch of color to your bedroom without being overpowering, which is perfect if you're looking to create a relaxing bedroom design.
They are beautifully soft too, with a silky finish that works well in feminine bedrooms. The grommet top makes these curtains easy to install and ensures that the fabric hangs in smart, clean lines.
Blackout Pom Pom Curtain in Lavender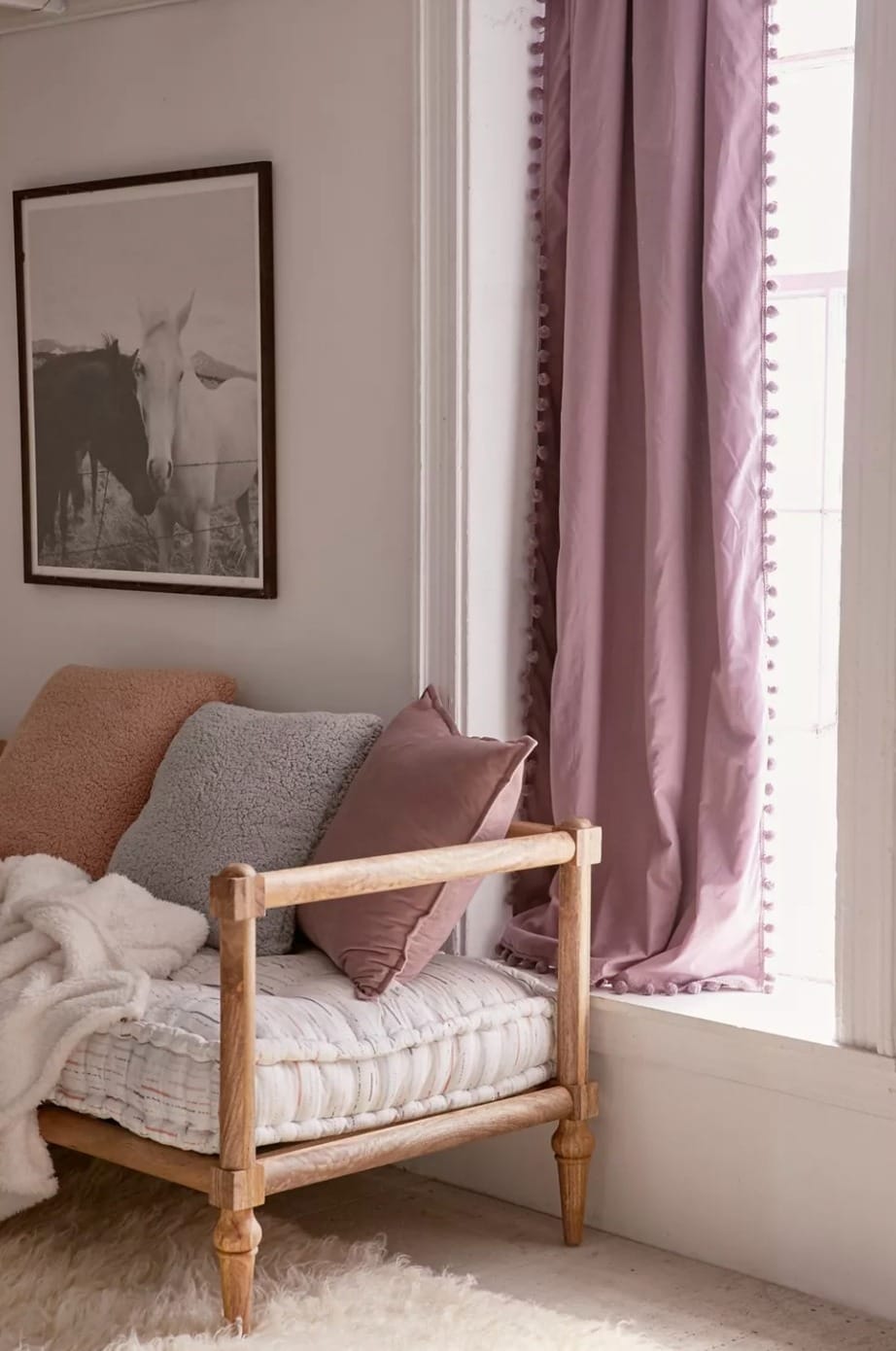 If you're a lover of the boho look, then you will love these purple blackout pom pom curtains! The playful design and high-quality cotton material is a quick and easy way to give your bedroom an effortlessly chic look.
As well as looking great, these curtains have the added benefit that they provide complete darkness at night, thanks to their blackout material. Perfect if you like to sleep in in the mornings!
Tulle Overlay Lilac Curtains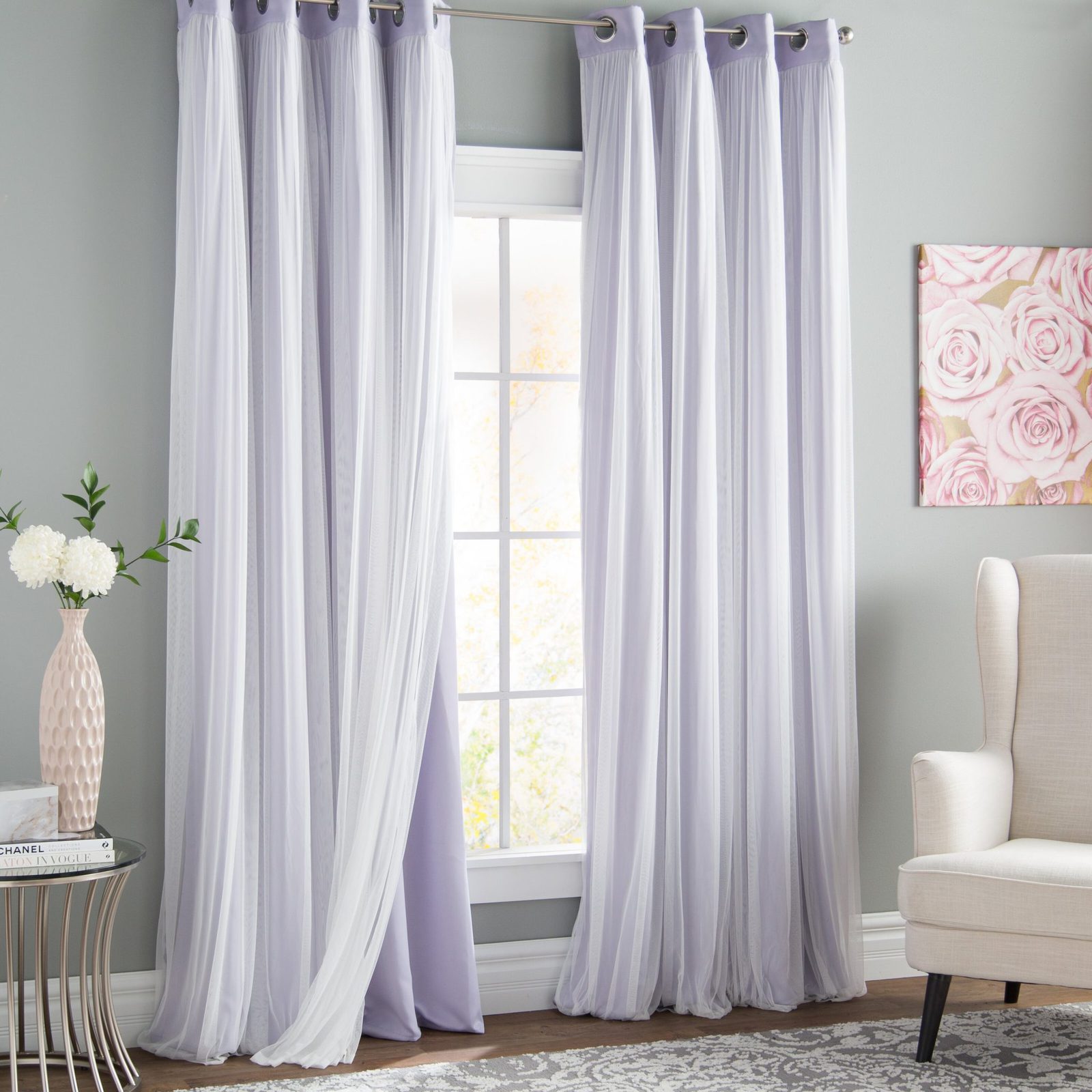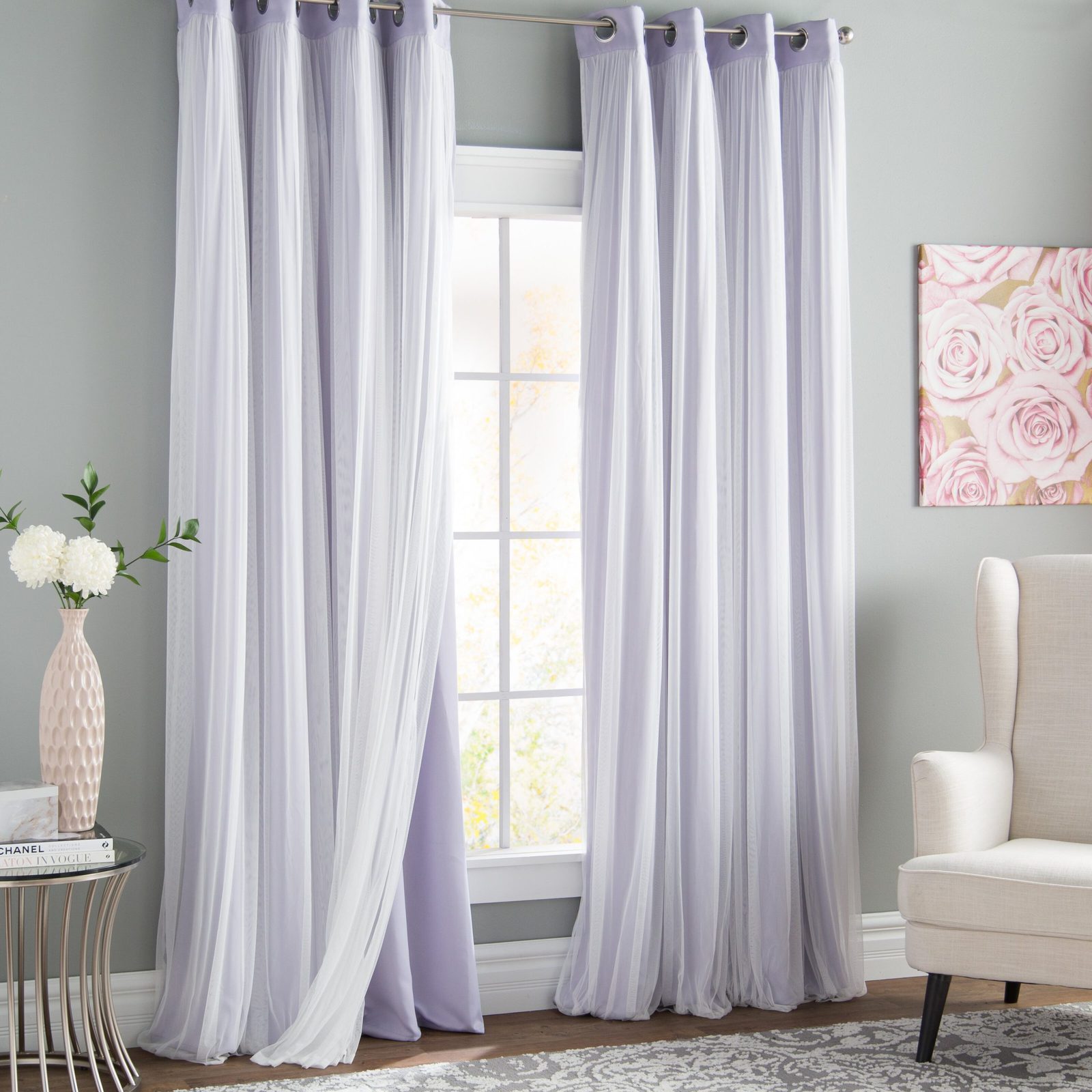 Feminine, elegant, and graceful. These gorgeous curtains are a must-have for anyone who wants to create an ethereal look in their bedroom. You wouldn't think that curtains that look so light and sheer would block out the light, but the back layer of these curtains is made from blackout material which will give you complete darkness.
Best of all, these curtains are machine washable, so they are easy to maintain, even if you have kids and pets around.
Polka Dot Lilac Curtains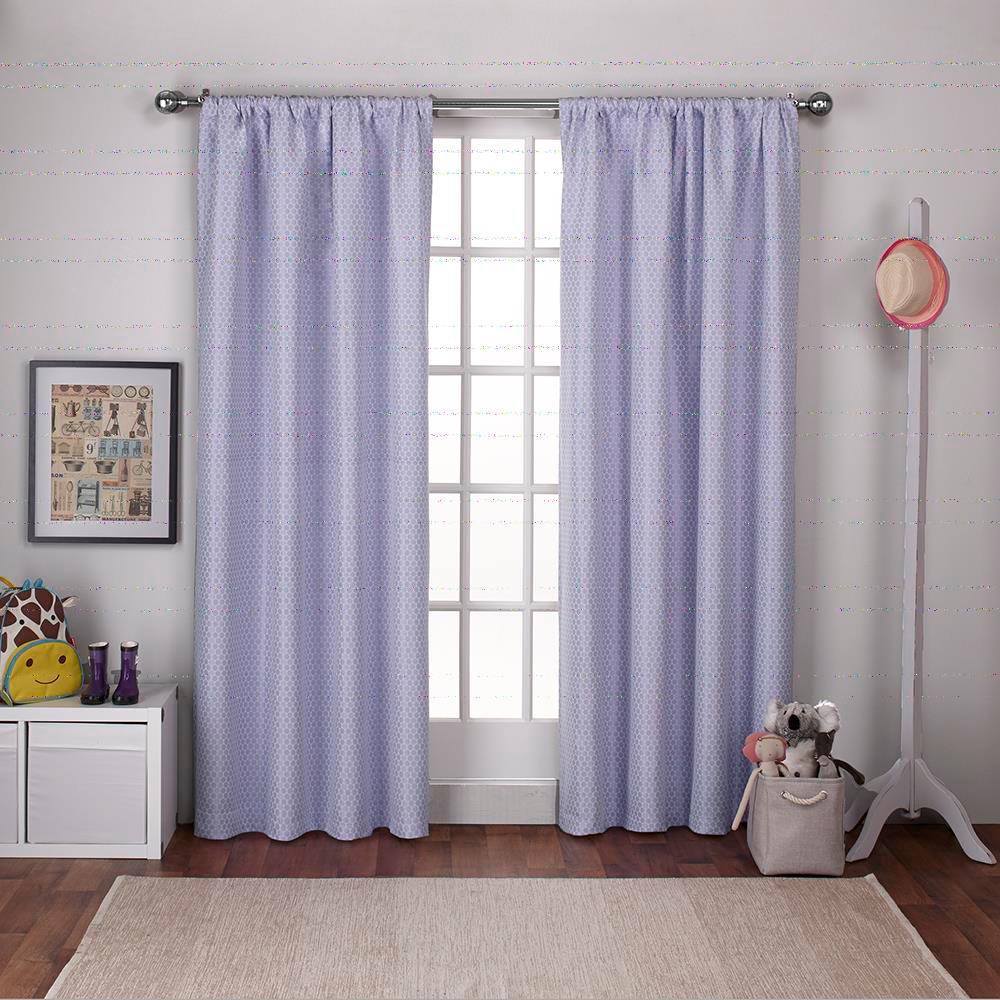 These are a great option if you're looking for curtains for a children's room or nursery. The playful polka dot pattern is modern and stylish, and the soft color is ideal for creating a relaxing look in a bedroom.
These curtains will block out 100% of the light, creating a perfect sleeping environment. They also have thermal properties, keeping your room cool in the summer and warm in the winter.
Cotton Velvet Window Panel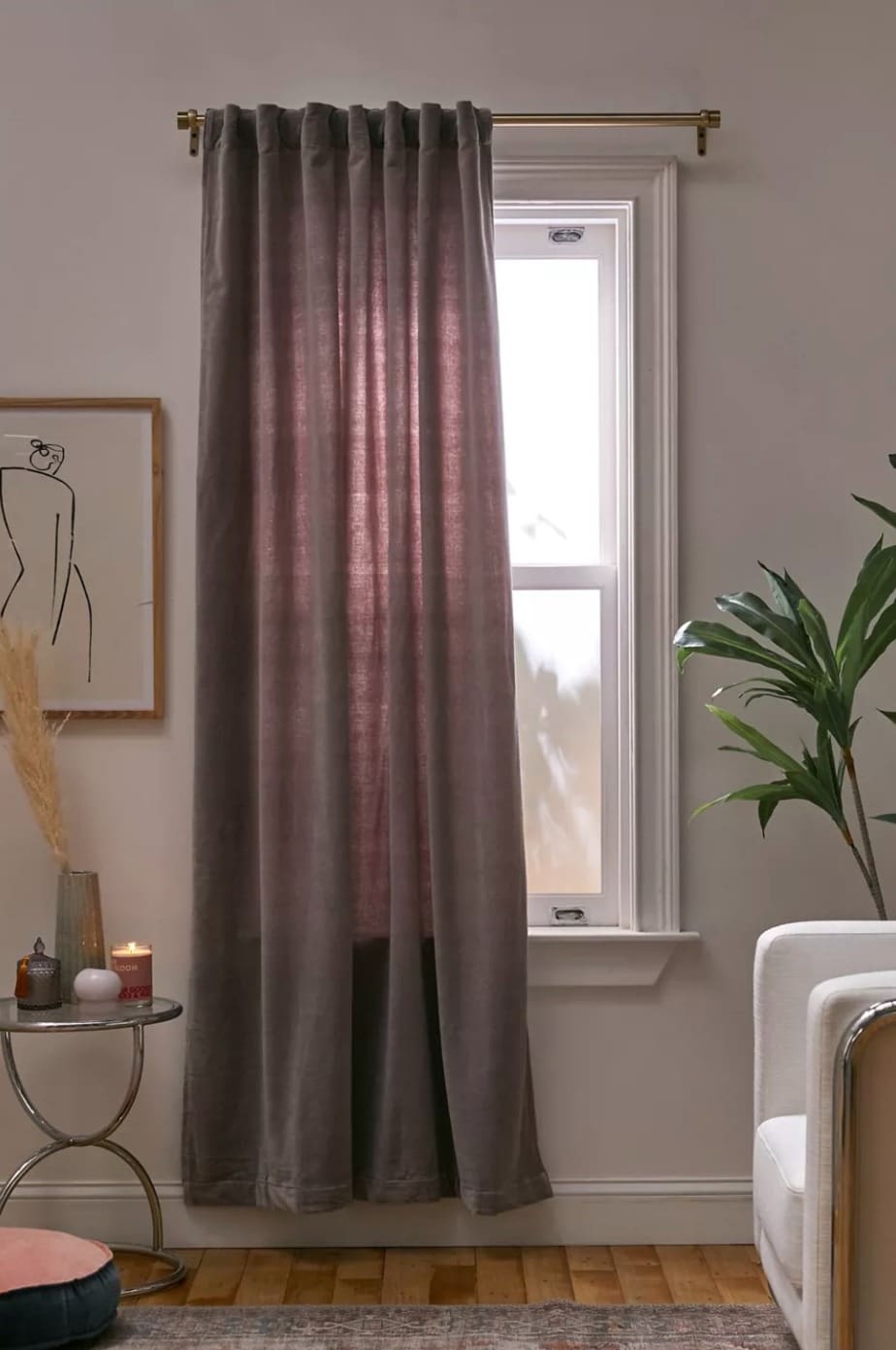 This cotton velvet window panel is ideal for smaller windows. The lush velvet will give your bedroom an elegant chic feel, and the purple color will add a touch of warmth to your space.
The curtain panel hangs using hidden rod pockets at the back, which gives it beautiful folds in the right places for a sophisticated look. If you have a larger window, you could use two of these panels together to create a gorgeous pair of curtains.
Smokey Plum Silk Blackout Curtains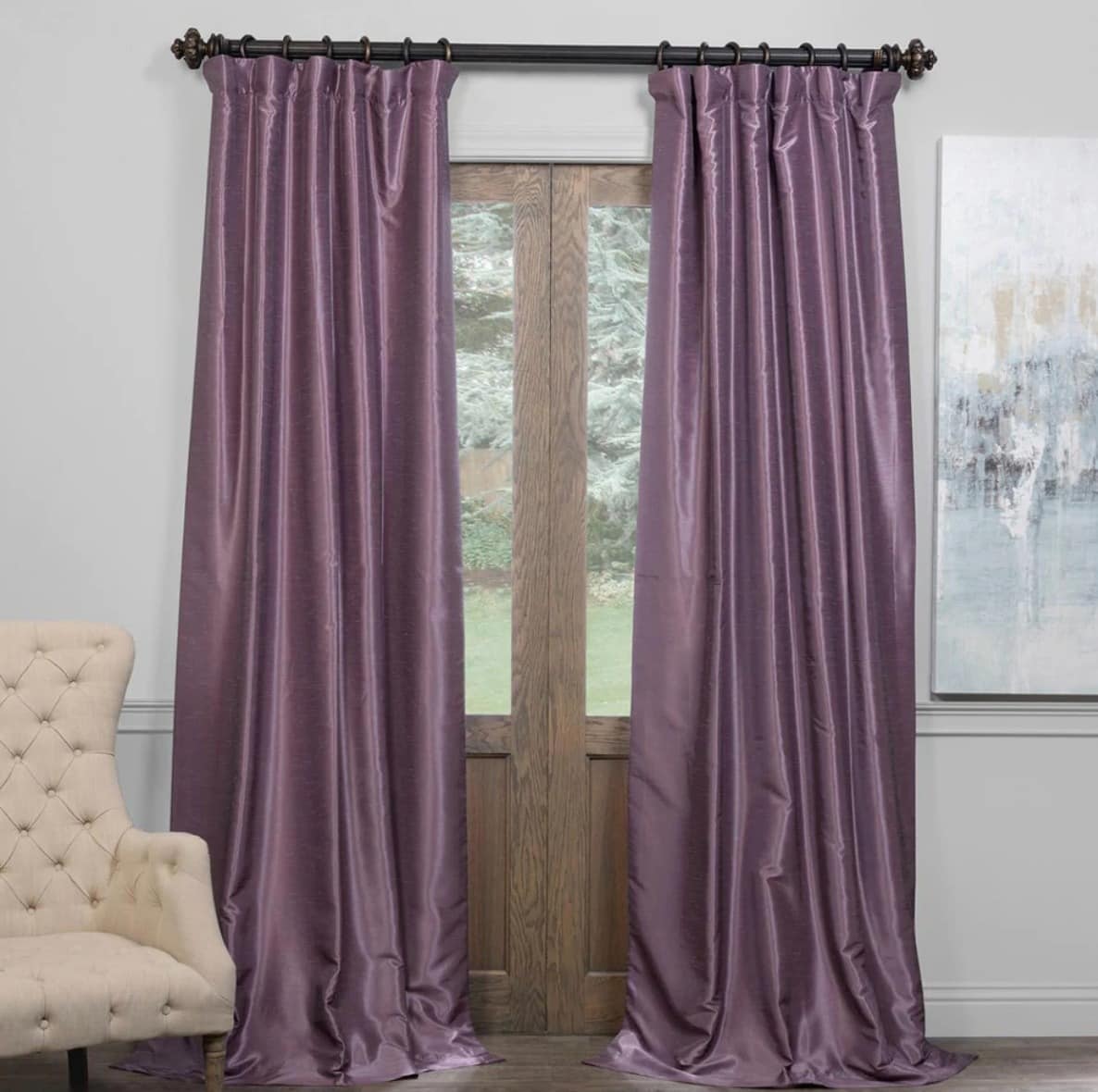 These smokey plum, faux dupioni silk blackout curtains are perfect for creating an opulent, luxurious look in your bedroom. The classic design will work well in more traditional style interiors and would be a wonderful finishing touch to an elegant bedroom design.
Each curtain panel is lined and insulated to keep your room cool in the summer and warm in the winter. They also block out all daylight, ensuring you get a restful night's sleep.
Final Thoughts…
Choosing curtains for your bedroom is the finishing touch that will pull everything in your design together, so it's worth spending some time to find the perfect set.
Many studies have shown that sleeping in complete darkness can help you get a better night's sleep, so blackout curtains are always a great choice for the bedroom. If you prefer the look of sheer curtains, you can always add in a discreet blackout roller blind behind your curtains.
When you measure for curtains, remember to choose curtains that are at least two times the width of your window, to ensure they hang properly. This will give your curtains a nice full look, even when they are drawn.