Decorated Life is reader-supported. When you buy through links on our site, we may earn an affiliate commission. Learn More
15 Paint Color Ideas for Small Bathrooms Without Windows
Choosing a paint color for small bathrooms can be tricky when there's no natural light. Without windows, your space can feel dark and closed off.
We'll use these fifteen best paint colors for windowless bathrooms to demonstrate how to make your space feel more open and bright. Small bathrooms with no natural light work best with bright colors. Darker paints will make your area feel claustrophobic and dreary. Lighter colors can reflect light, making your space feel larger and more welcoming.
Dover White by Sherwin Williams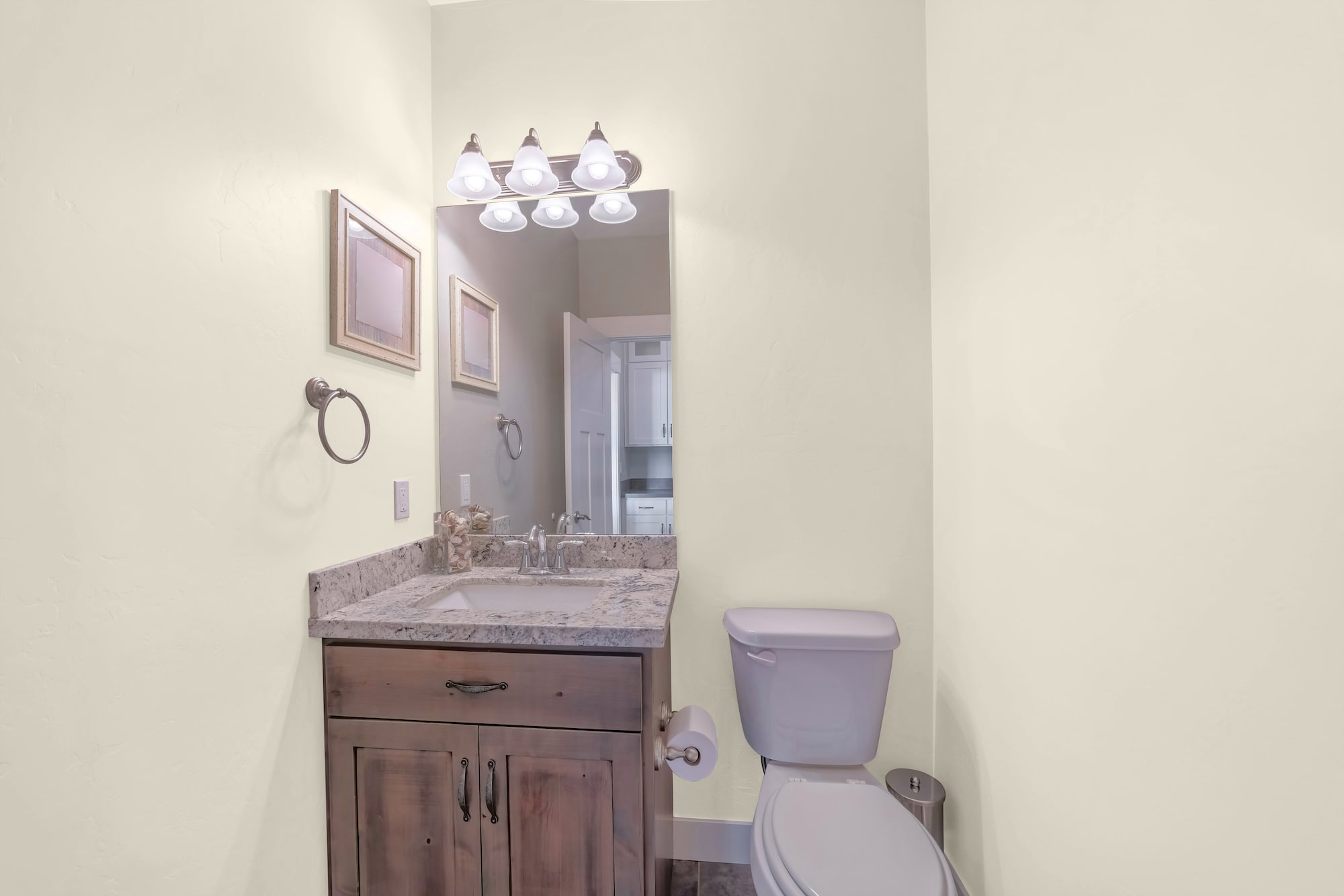 Dover White – Sherwin Williams – is a charming color for small bathrooms with no natural light. This neutral paint offers a high 83 LRV that bounces light, giving the impression of a larger space. 
This shade of white is the perfect choice when you want a color with some pigmentation to give it a tinted look. Rather than being a crisp, clean white, this option has a slight tint that gives it more of a cream or yellow off-white that's ideal for small bathrooms.
Light French Gray by Sherwin Williams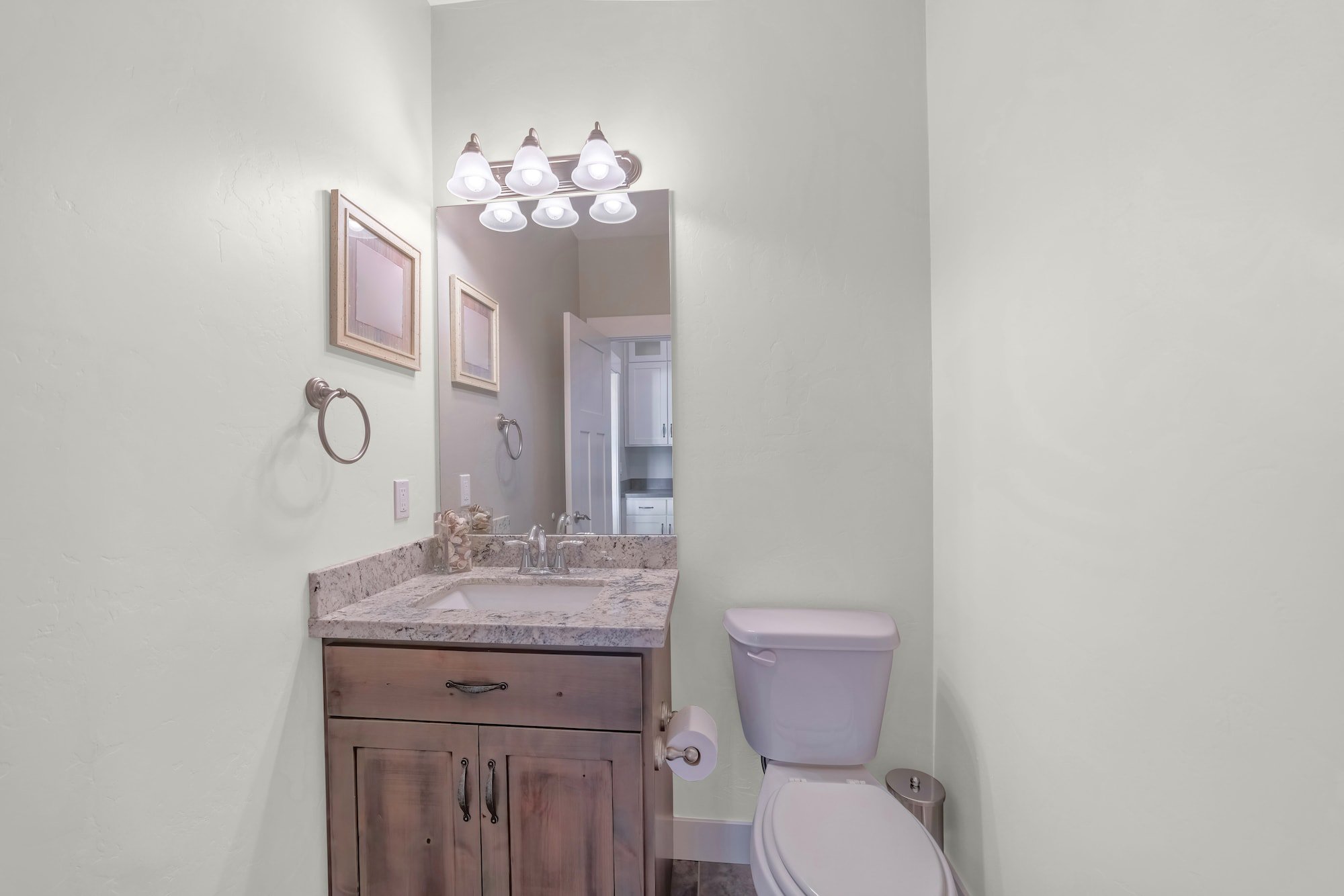 Sherwin Williams' Light French Gray is another suitable choice of color for small, windowless bathrooms. We like using gray-toned neutrals when you want to have some tint to your space.
We're in love with this color of gray because it gives you enough color for decor. But it's not so dark that it causes your space to feel cramped and closed off.
Antique White by Sherwin Williams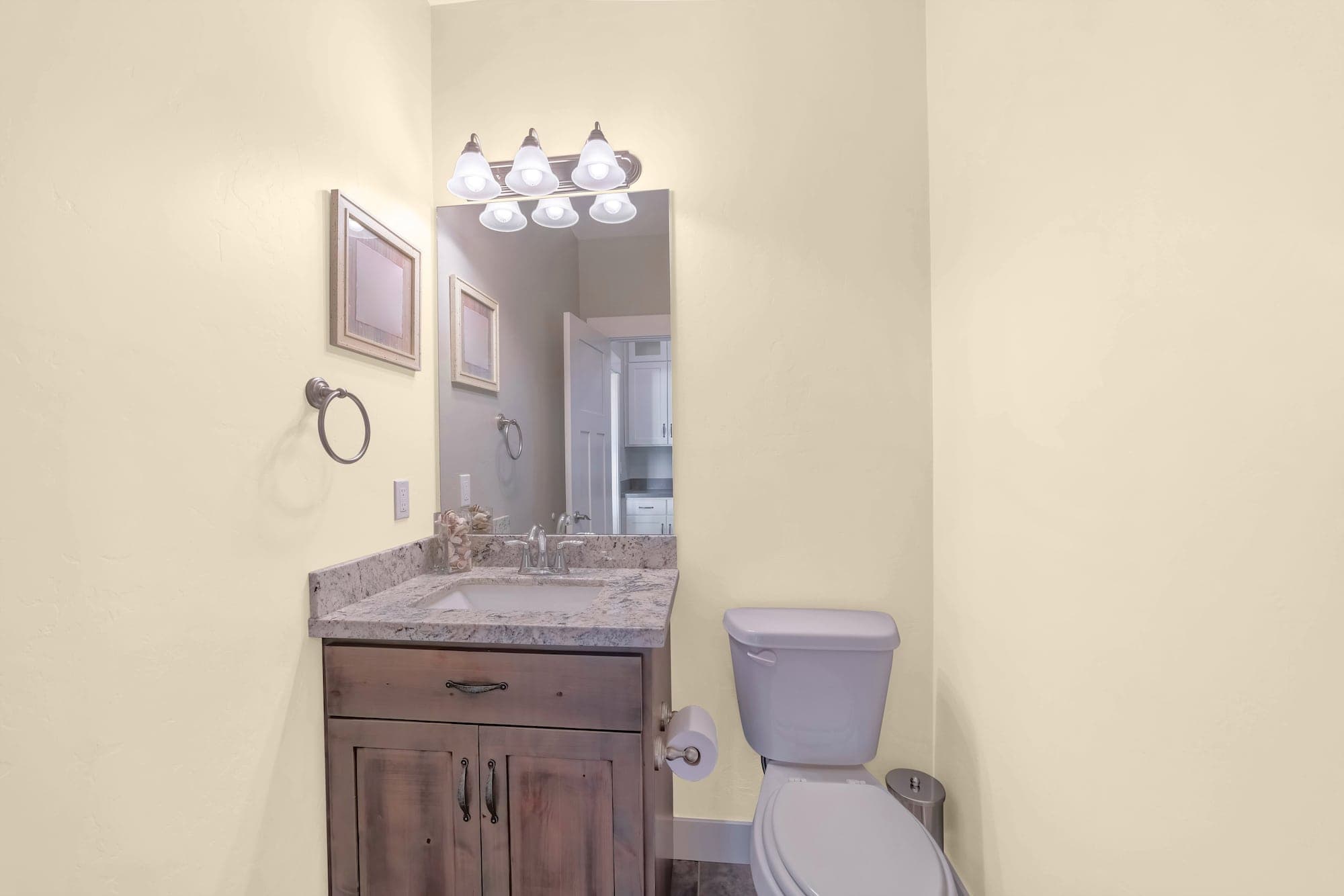 If you want to give your bathroom an old-school, vintage vibe, consider going with an off-white like Sherwin Williams Antique. This soothing color of white brings back feelings of a time when things moved a bit slower, and the world wasn't so hectic.
The visual of Antique White is just as you'd expect from the name. It's a white that has started to yellow due to age. This color is warm and pigmented for more beige or tan tinted white.
Icy Lemonade by Sherwin Williams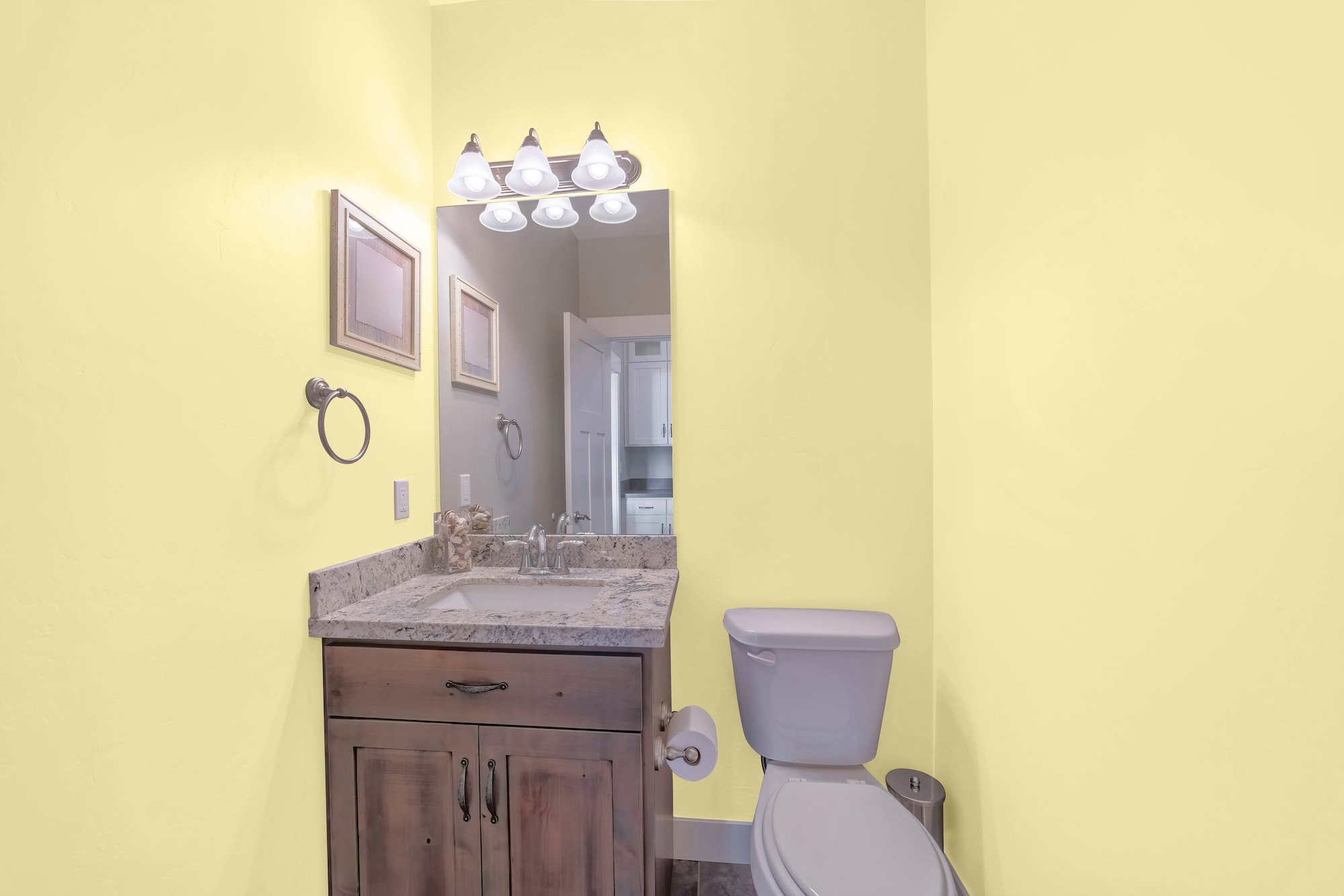 Yellow is also a popular wall color choice for small bathrooms that don't have natural light. The soft warmth provides a cheerful glow that reflects light into the room.
Adding large mirrors and carefully arranged artificial lighting can help this color make your room feel more expansive and welcoming. Accenting with Greek Villa beige and Pure White creates serene tranquility that's spa-worthy.
Elation by Sherwin Williams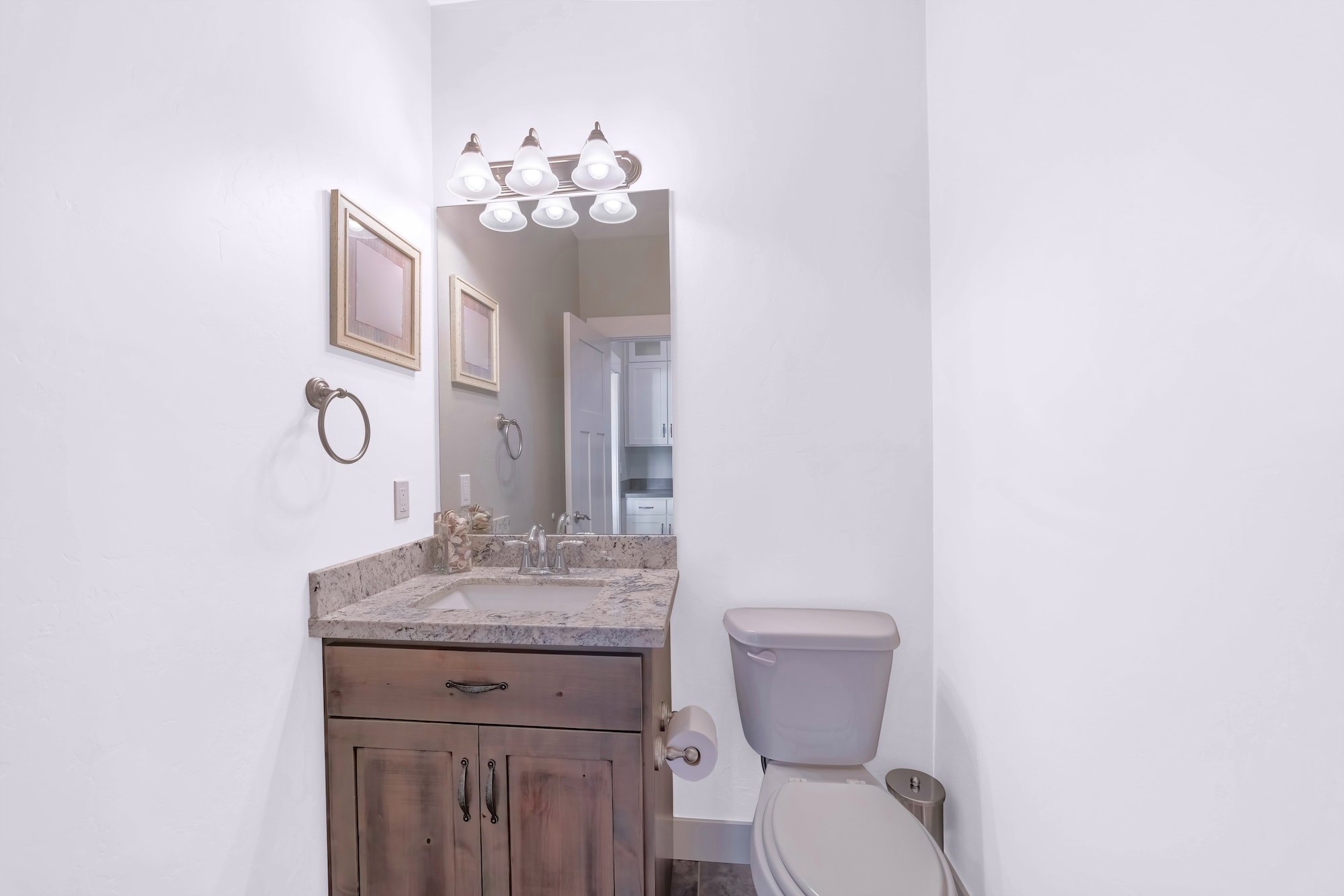 Give your bathroom subtle hints of tint with a soft, pale shade of purple. SW's Elation is an incredible color for small bathrooms without natural lighting.
This blend of colors shows like gray with faint lavender and purple undernotes, without looking like your space is a shrine to Barney, the big purple dinosaur.
Teaberry by Sherwin Williams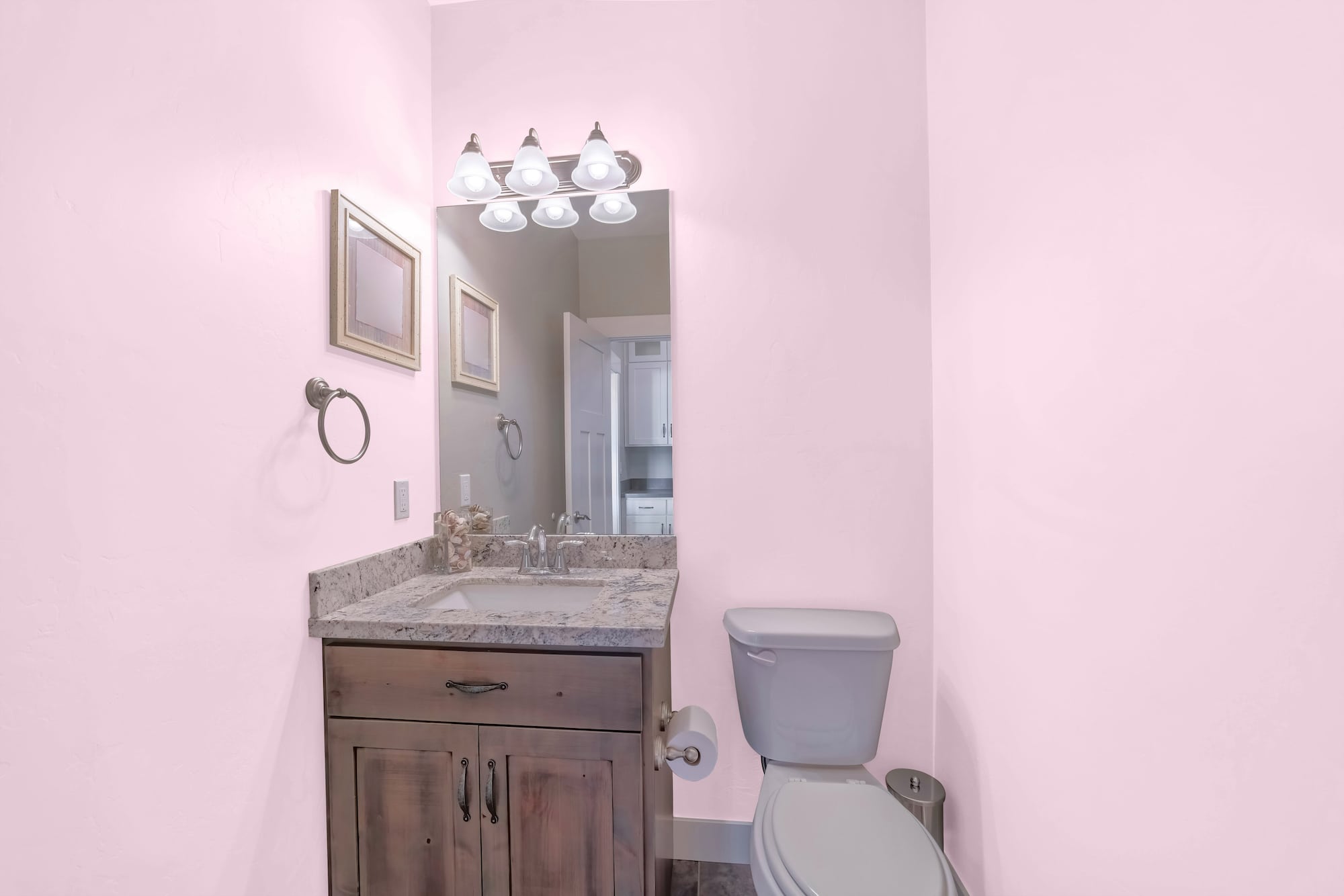 Teaberry by Sherwin Williams is a subtle, dusty pink for a chic, feminine bathroom retreat. This lighter pinkish mauve gives your bathroom walls a shock of color without making you feel like a Pepto-Bismol commercial.
Complimenting Teaberry with contrasting neutrals like Ibis White, a creamy beige, and Upward, a cool gray with faint purple undertones adds contrast. And a darker Rosebay pink accent gives a touch of drama.
Spa by Sherwin Williams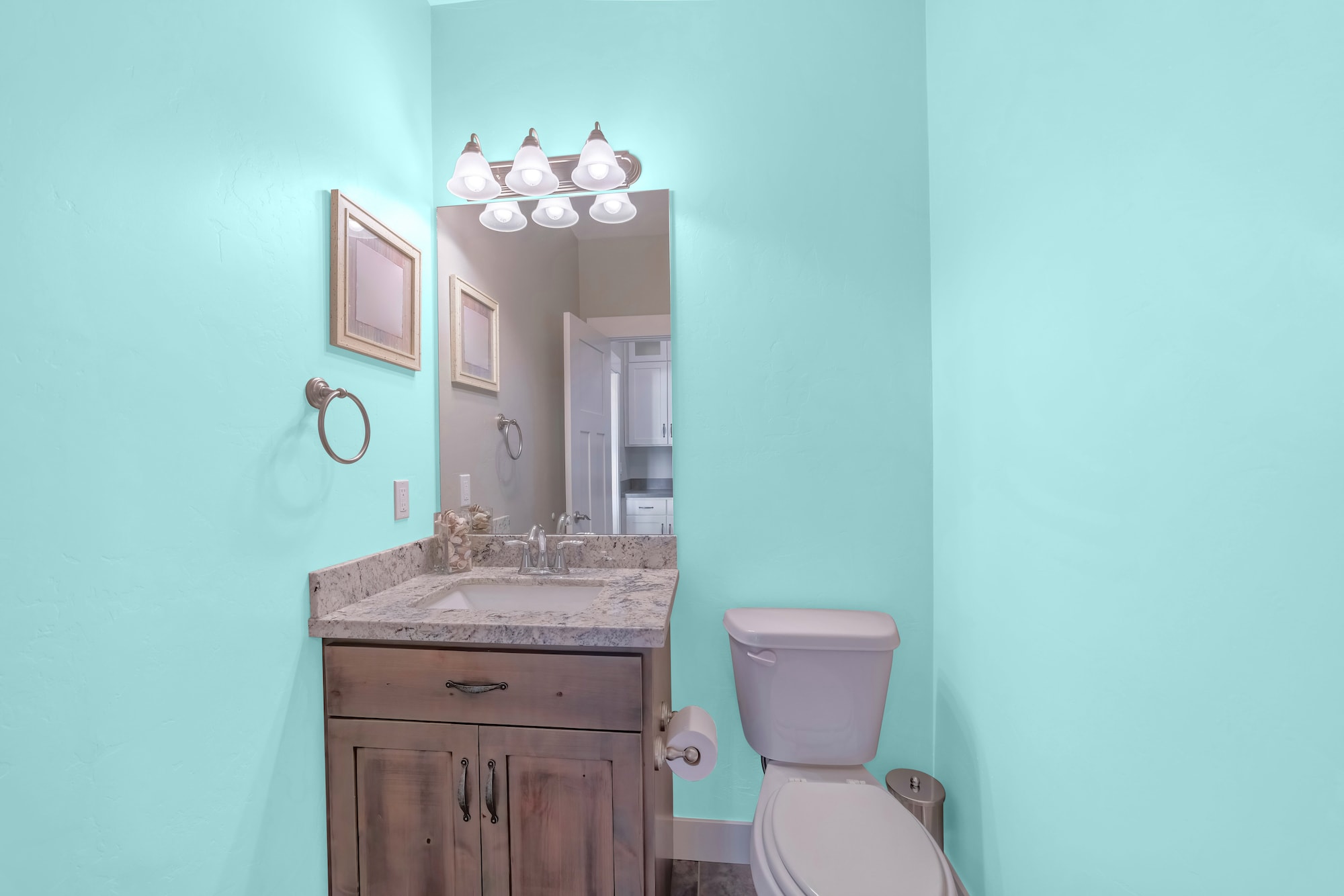 If you're looking for a bold, water-inspired wall color for small bathrooms, check out the beautiful visual you get with Spa. This jewel-toned color is a balanced blend of blue and green with slight gray hints.
Using a bright, bold color in a small bathroom is an interesting optical illusion that makes your room feel more spacious and luxurious. Try a soft gray for the ceiling like Glimmer with a tan Polar Bear and yellow Sunny Veranda accents.
Quiet Moments by Benjamin Moore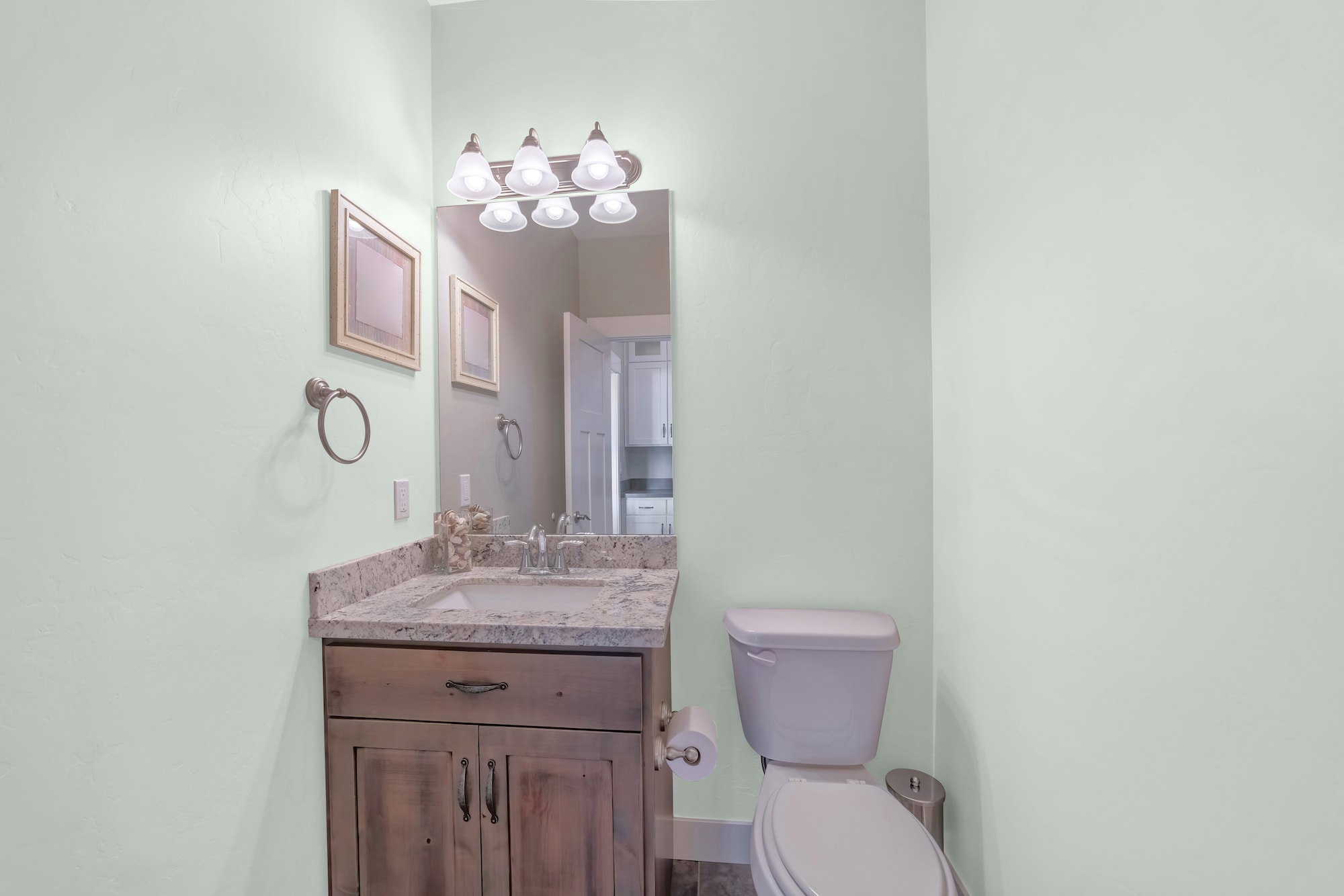 Benjamin Moore produces a soothing shade for bathroom retreats that's a bit of everything – blue, green, and gray.
Painting your small bathroom Quiet Moments will guide you on your way to a relaxing meditation station that welcomes you when you walk in the door.
Hint of Violet by Benjamin Moore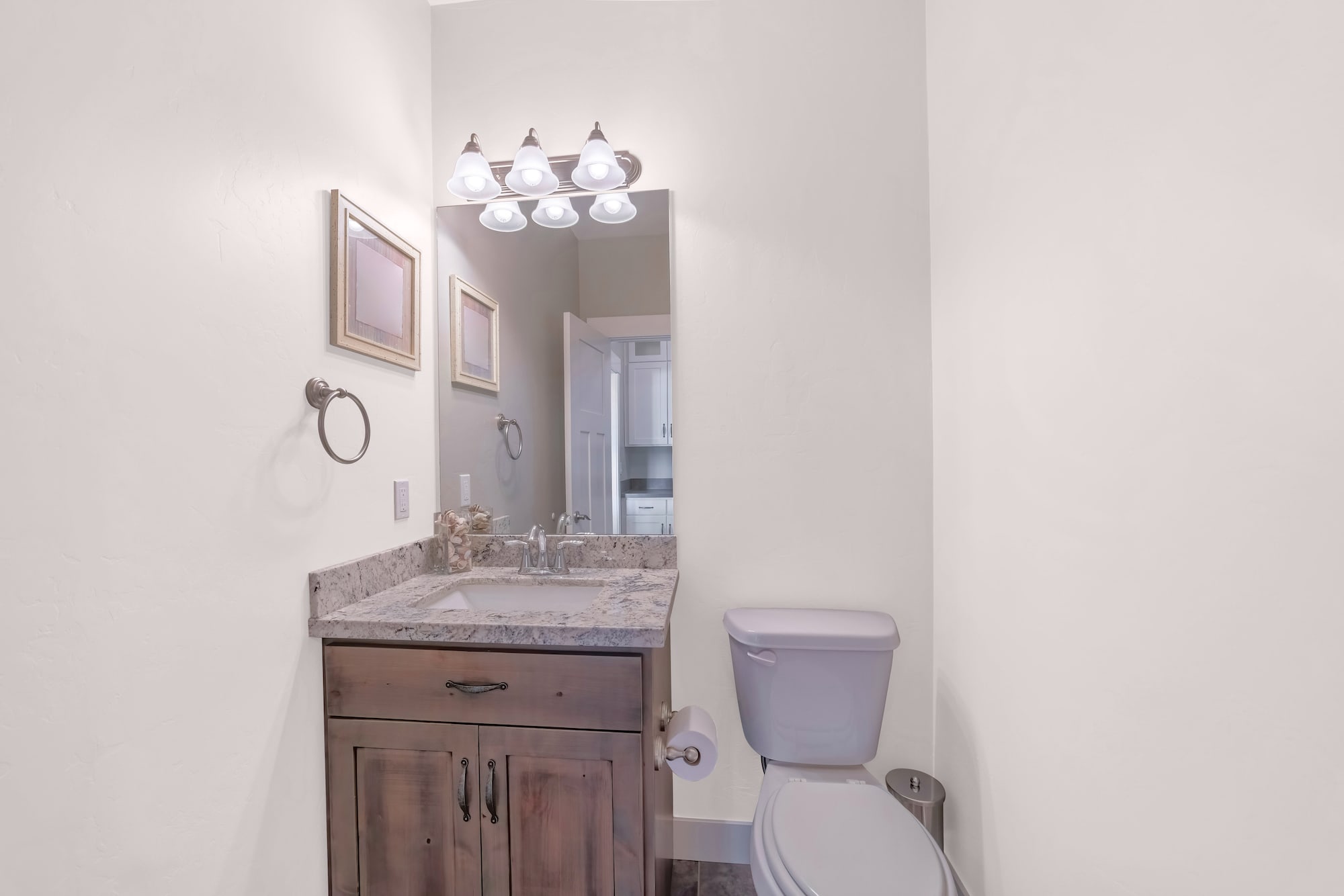 Give your bathroom just the right amount of color pigmentation by painting your walls Hint of Violet. This color looks slightly lavender but slightly gray or mauve, depending on the light.
It's an awesome color for windowless bathrooms, as it's light enough to keep your space feeling big. But it's not a shocking saturation of purple color.
Pale Moon by Benjamin Moore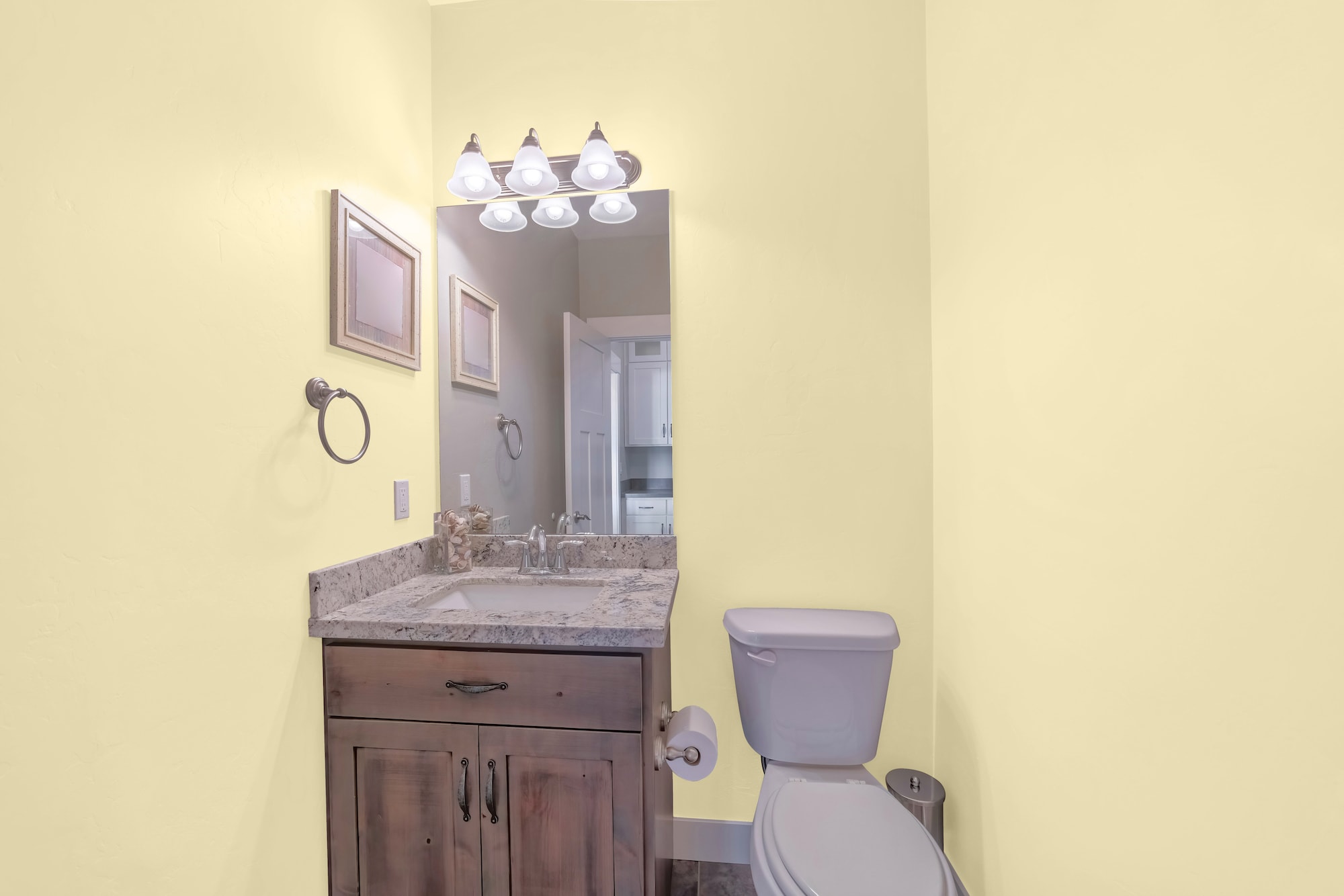 Pale Moon is a delicate pale yellow with beige undertones. A fabulous neutral, this color is light and bright enough to open up your small bathroom.
Adding another neutral to the trim and ceiling, like a beige, tan, or Opaline, gives you a vintage, old-timey feel that's perfect for rustic or naturalist-themed bathrooms.
Barely Teal by Benjamin Moore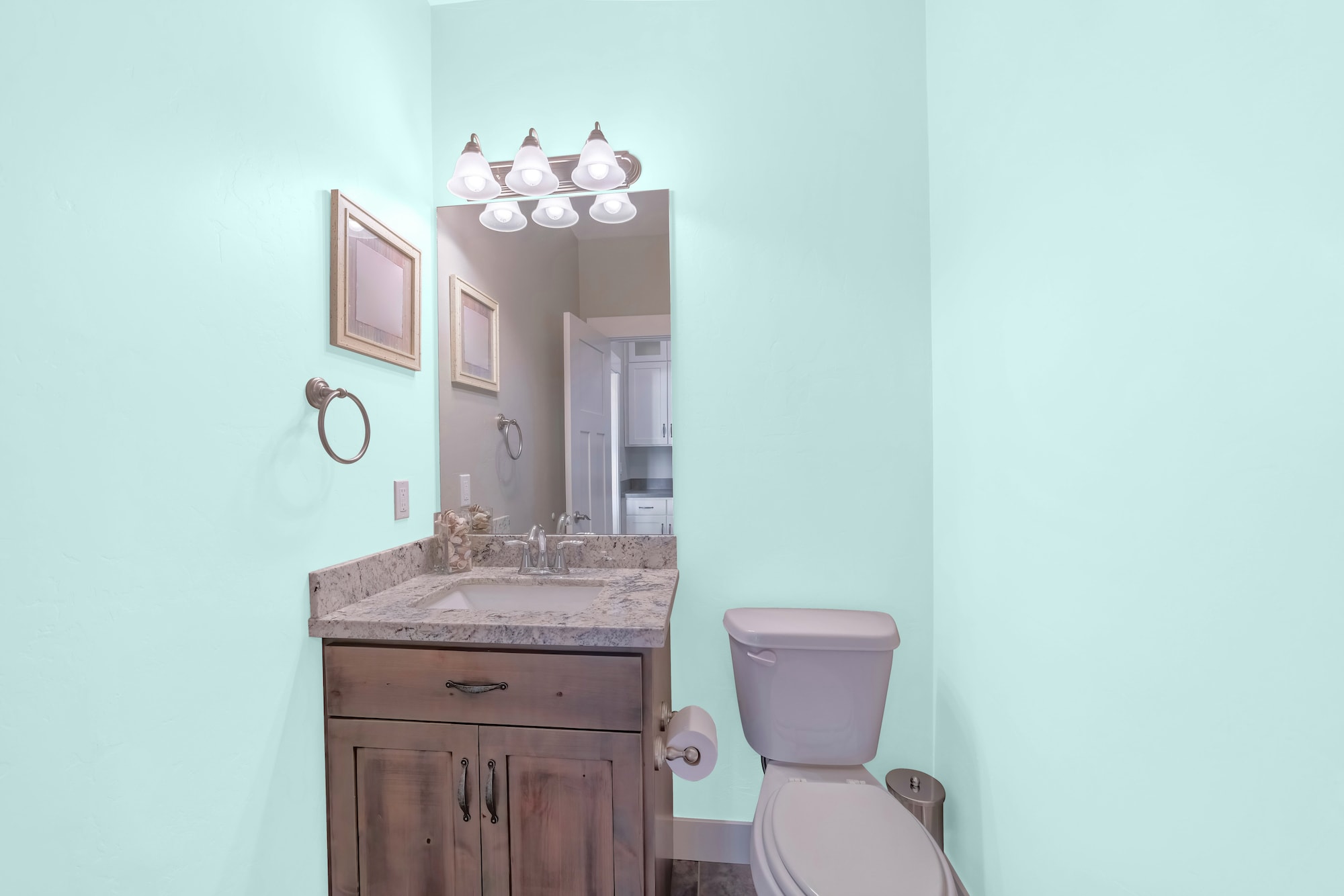 Give your walls barely-there color with Barely Teal by Benjamin Moore. This teal variation is a soft, pale blend of green and blue, with just the faintest hints of gray.
An 82 LRV gives this color the ability to reflect light into the room. A well-placed mirror or two and the right lighting make your enclosed space feel larger and inviting.
Platinum by Behr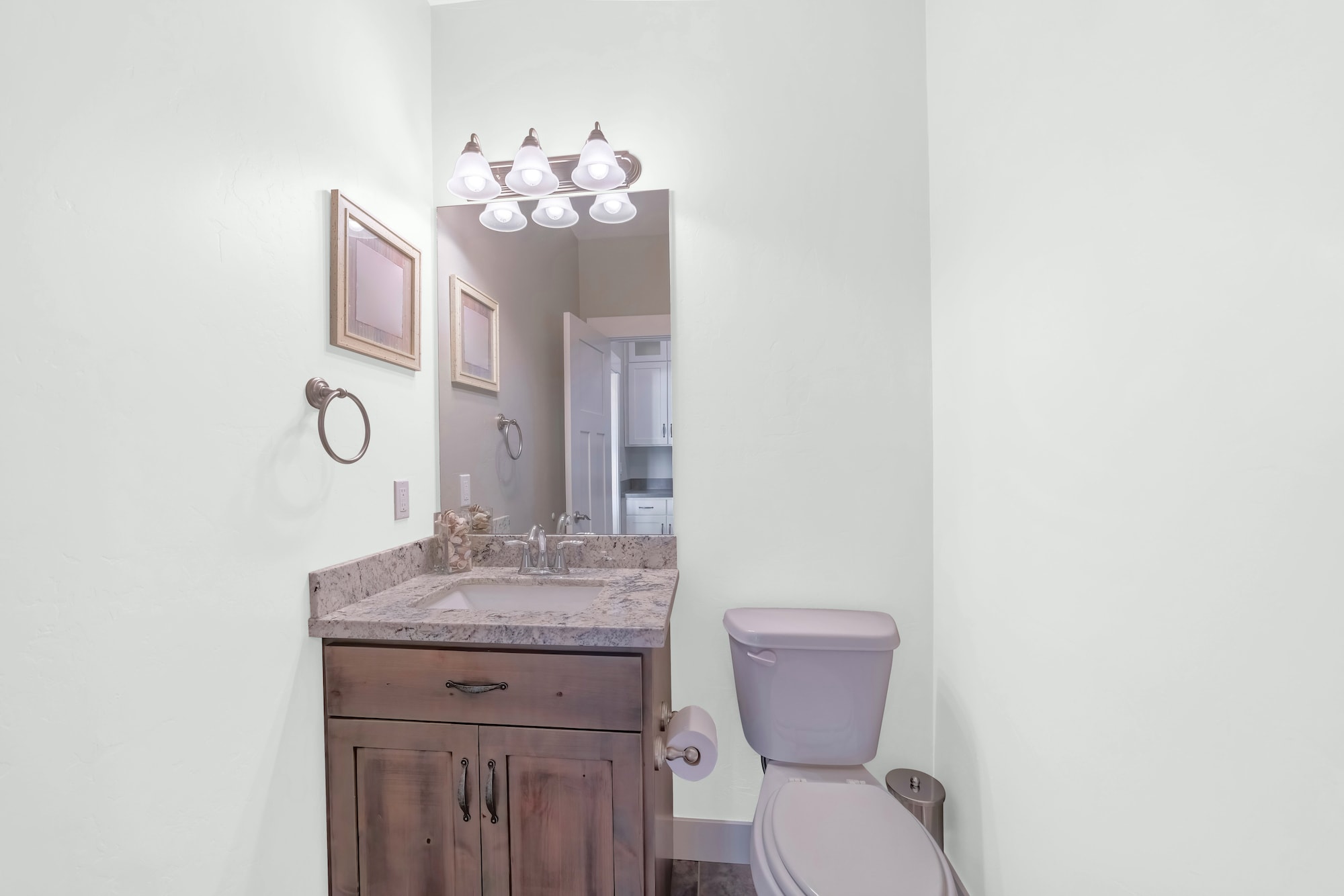 Behr's Platinum is a soothing, crisp shade of gray that can make your small, windowless bath feel brighter and larger.
This delicate shade of gray has a bit of beige, a bit of green, and a whole lot of personality. The light base and higher LRV of 65 helps this color brighten up closed-off spaces.
Pink Proposal by Behr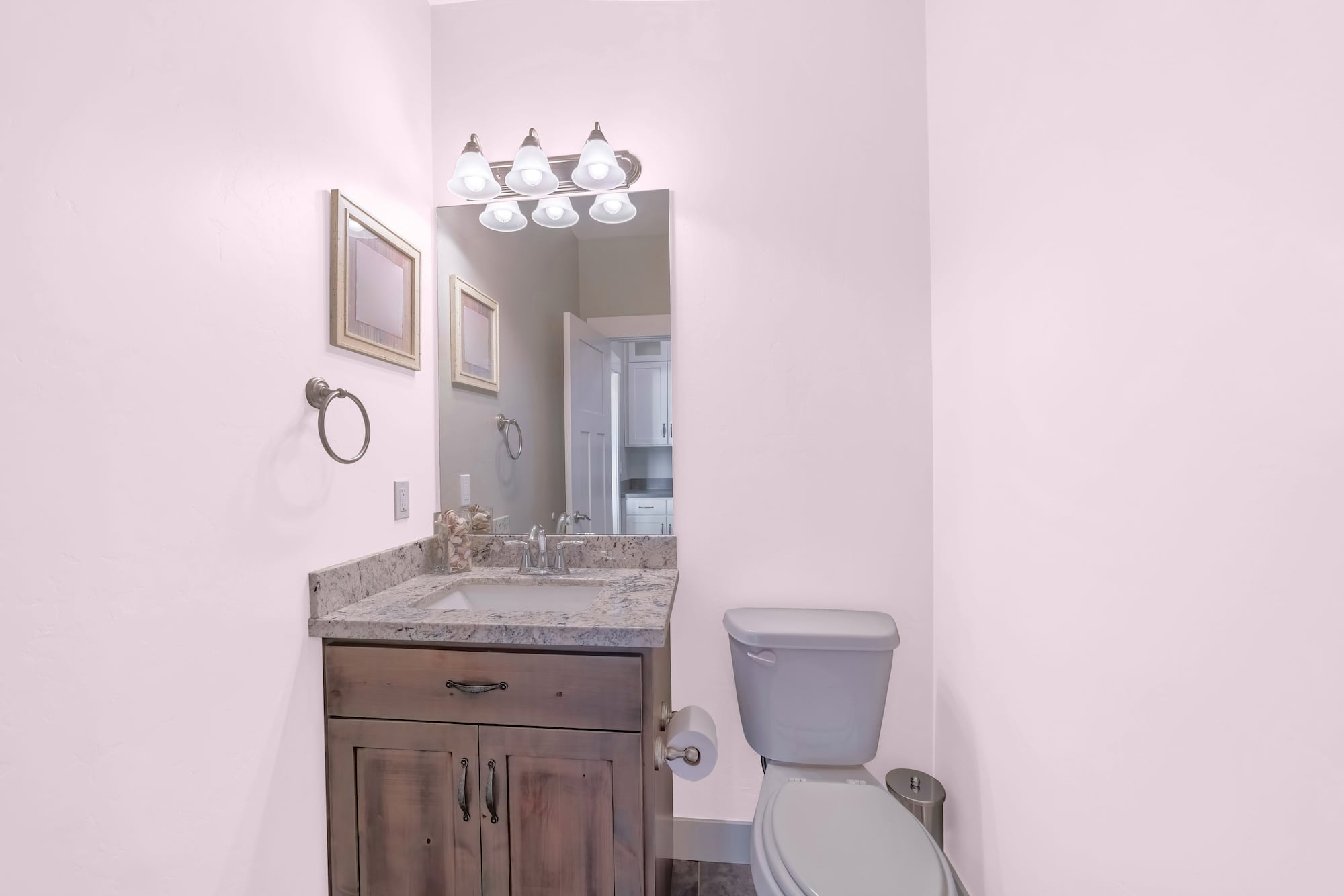 Pink Proposal is an awesome color when you want the appeal and vibe of using pink without committing to a heavy, feminine, bubble-gum pink.
A high LRV of 78 makes this pale pink fantastic for reflecting light. While the smoky gray layers underneath the pink add subtle tinting.
Salt by Farrow & Ball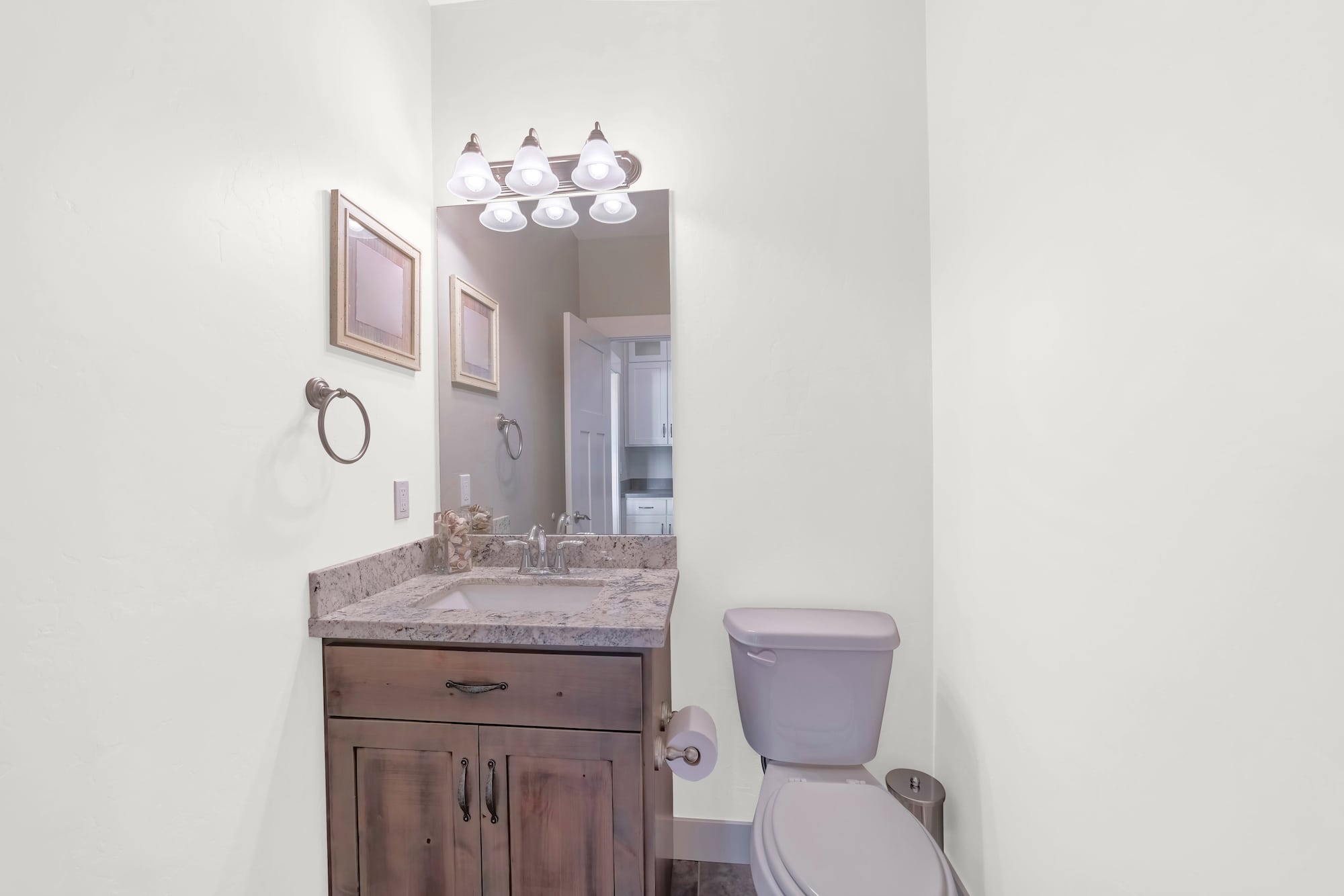 Salt is a crisp, bright white inspired by the crystalline layer salt air leaves behind surfaces along the Pacific Ocean.
Smoky gray tints accentuate the white for slight pigmentation for a brightening.
Dimpse by Farrow & Ball
Another choice for gray walls is Dimpse by Farrow & Ball. This delicate cool gray takes you to the countryside with a twilight-inspired tone.
This crisp color has faint blue undertones that rock modern, minimalistic, transitional, or chic architectural themes.
Choose a Light Paint Color for Smaller Bathrooms
When you're working with the challenge of having a small bathroom with no access to natural light to brighten things up, you have to get creative with your paint colors. Picking a dark color will make your space feel closed off and claustrophobic.
Lighter colors, like these 15 windowless bathroom paint colors, can give the optical illusion that your space is more spacious and *