Inspiring Lighting Solutions for Every Room
Posted on December 10, 2016 by Christine in
Home Decorating
.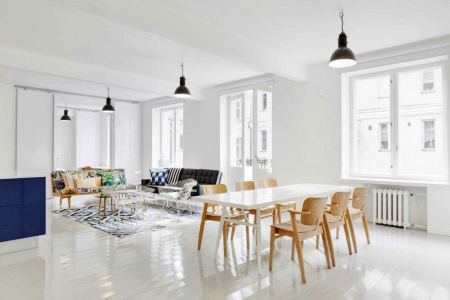 Inspiring Lighting Solutions for Every Room
Guest Post Chloe Taylor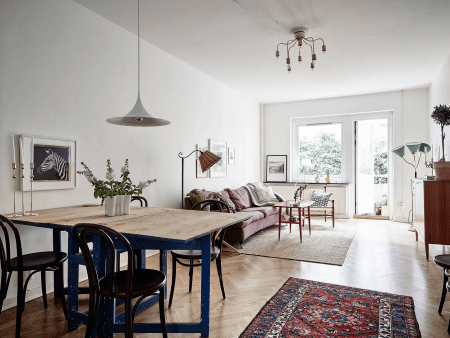 Source: stadshem.se
A soothing color scheme and rich textures are essential to a stylish home, but on their own, they don't necessarily make a home truly shine. That's where lighting comes in: if selected with care, indoor lights can add a new dimension to your space and bring out the finest décor features. But how do you pick the right lights for each of the rooms in your nest to achieve superior aesthetic effects? It's not as difficult as it may seem if you know which lighting options work best for your space.
Hallway Lights to Guide the Way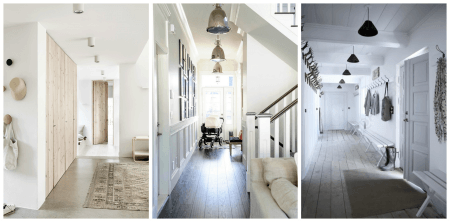 Source: decordots.com, homebunch.com, blog.beckers.dk
In most homes, hallways receive little or no natural light, which is why the choice of entryway lighting is particularly important.
To set the mood to positive right there at the doorstep, outfit the hallway with an overhead fixture, and top it off with task lights placed atop the entry table. If you wish to achieve a lavish entryway effect, a vintage chandelier will be a better option as it will send light scattering across the hall and create a charming kaleidoscopic effect.
Lightening Up In the Living Room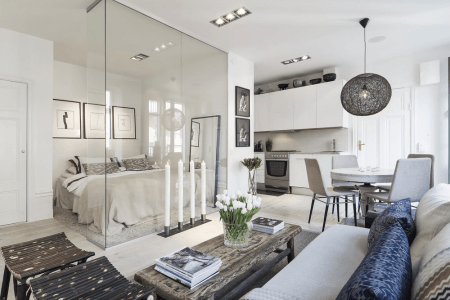 Source: .impressiveinteriordesign.com
Choosing the right lighting for the living room can be tricky: lights that are too bright will result in an ambiance of a PD interrogation room, whereas insufficient lighting will render an ominous atmosphere to your space.
For this reason, it would be best to opt for ambient lights such as dimmable recessed lighting or sconces: this way, you'll be able to adjust luminosity intensity for every occasion and different times of day. It may also be a good decision to layer lighting and complement ambient with strategically placed wall lights: this will help hack optimal luminosity in different parts of the room.
Bright Lights for Your Home's Heart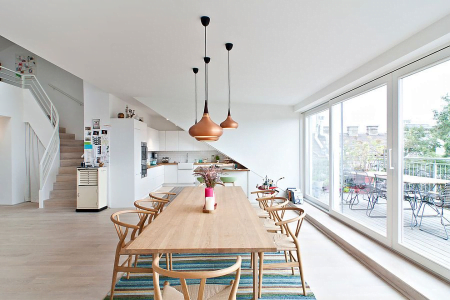 Source: decoist.com
They say that kitchen is the heart of every home; as such, your cooking area deserves bright yet cozy lighting. Modern-looking kitchen pendant lights suspended above the island are currently on trend, and you can also throw in recessed ceiling lights or under-cabinet lighting to dial up the atmosphere to snug and inviting.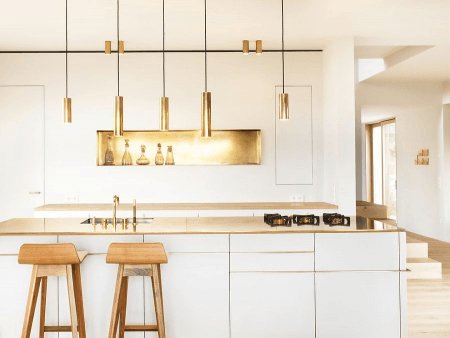 Source: decoist.com
Classic ceiling fixtures have gone out of fashion by now, so try to avoid overhead neon lights in the kitchen and dining room as they will render a sterile, hospital-like feel to the area dedicated to meal prep and family dinners.
Bathing in Soft Shower Room Lights
If you want to bathe in soft light during your soaking sprees, you should pick bathroom lighting accordingly. Bathroom sconces ranging between 40 and 60 watts will help define your shower room and accentuate different parts of it, so place them at eye level next to the mirror, above the tub, or beside the shower.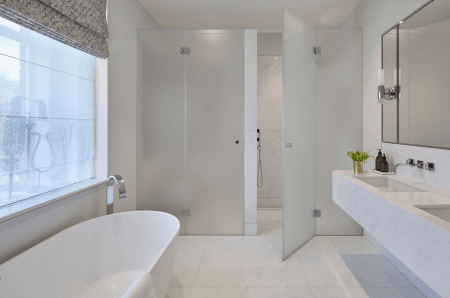 Source: helengreendesign.com
To warm up the space, you can opt for tinted bulbs, but bear in mind that colored lighting will affect the result of your makeup application sessions, so don't go multicolor if you have a habit of applying foundation and eye shadows in the bathroom.
Shedding Light on Bedroom Romance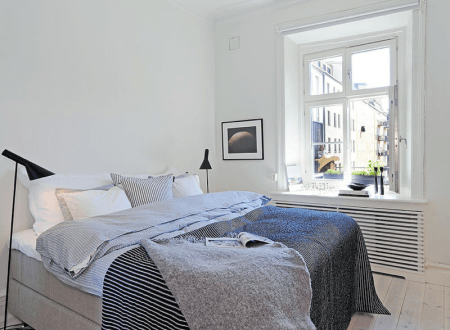 Source: homedit.com
Bedroom lighting fares best when layered and fitted with dimmer switches. On top of dimmable ambient lighting such as chandeliers or recessed lights, you can outfit your boudoir with 60-watt shaded nightstand lights with to reduce eye strain while providing optimal luminosity conditions for your late-night reading sprees. Another easy way to layer lighting in the bedroom is to use track or accent lights to lighten up prominent spots such as the mantelpiece or gallery wall, or to use tall floor lamps to illuminate dark bedroom corners.
Lighting may not a home make but it certainly adds depth and character to your living area. By choosing the right lights for every room in the house, you'll boost the aesthetic value of your nest and infuse each part of it with warmth and good mood.
And if you want to hack long-term well-being and utility savings, consider replacing incadescents with LED or CFL bulbs: the update will also shed green light on your life at home and add a sustainable note to your chic décor.
Save
Save
Save
Save